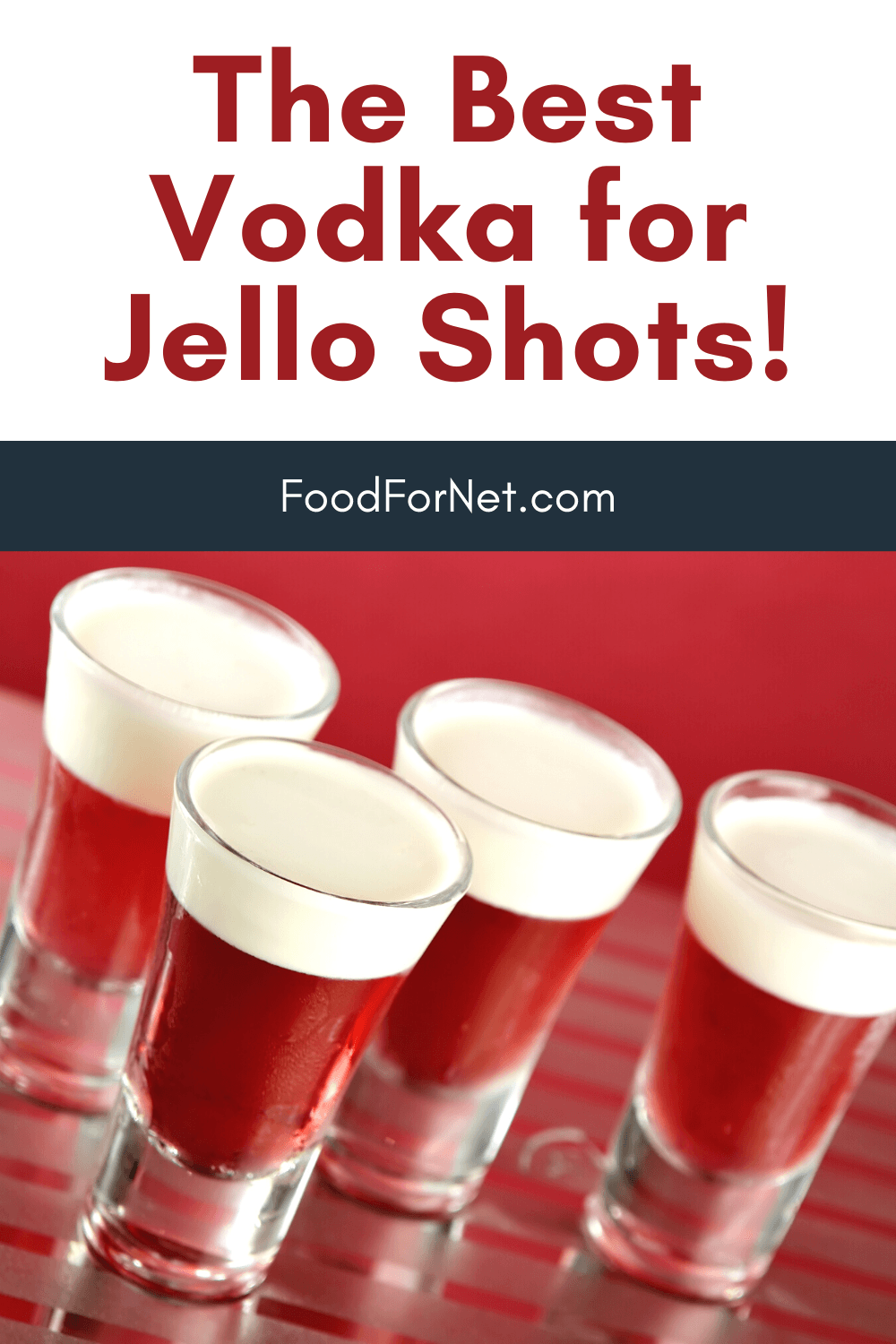 Colorful, sweet, and full of sugar, jello shots just scream "party." They're easy to make and don't usually contain too much alcohol so you can play plenty of drinking games without going too far.
You don't need to use something super expensive but you should also avoid the cheapest of the cheap. You don't want too much vodka coming through, jello shots are supposed to be smooth and tasty. The best vodka for jello shots is a neutral, middle-shelf bottle of smooth vodka. The good news is that one bottle goes a long way when creating jello shots, so you'll never break the bank. You could play around with flavored vodka too, just to make your shot a little different.
While not exactly a drink, jello shots are still considered a cocktail. Like any cocktail, they have a history. Like most cocktail origin stories, it's a little fuzzy. One easy piece of evidence is found in a 2009 song by comedy musician Luke Ski.
The song credits the invention of jello shots to mathematician Tom Lehrer. Lehrer is said to have created the now-famous gelatin shooters as a means of sneaking booze into a Military Christmas party in 1956.
This definitely happened, but it's not the first sign of them in all of history. Lehrer himself laughs at the notion, stating that while he did think of the idea independently, he knows he wasn't the first or only.
In fact, evidence of booze-infused gelatin goes back to 14th Century Europe, where they were known to add wine to aspics. Aspic is simply a term for any meal encased in gelatin, which was common back then. The wine was probably used to add flavor. Not exactly a jello shot, but evidence of the concept nonetheless.
In truth, no one knows where the idea for jello shots – as we know them – originated, but the mystery just adds to the fun.
The Best Vodka for Jello Shots
1. Smirnoff No. 21 Vodka

Smirnoff No. 12 is a classic in the world of vodka, offering a quality addition to many cocktails. It's an award-winning spirit with a great flavor and dry finish. Its smoothness and clarity is unmatched.
Triple-distilled and filtered ten times, you can't deny the care and attention that goes into this famous drink. Although it's a popular one for parties and mixed drinks, it offers a solid sipping experience as well, as long as you don't expect an overwhelming flavor or complex profile.
The nose is pretty neutral, with a few subtle notes of grain if you pay attention. The palate is soft on the mouth with a subtle sweetness and a little oil.
The vodka is mostly neutral while remaining smooth and clear. These two things make it the absolute perfect choice for jello shots – there'll be no trace of alcohol burn nor will it take over the flavor of your favorite jello.
2. Absolut Vodka

Another legend in the world of vodka, Absolut Vodka is a great option for an affordable but quality vodka for jello shots. The company began in New York in 1979. It wasn't long before they were a local favorite, and not much longer to become known around the country.
A little while longer, and the whole world knew the name of Absolut Vodka, and their momentum wasn't slowing down. Though they've only been a company since 1979, the recipe can actually be traced back to an 18th-century medicine bottle. The bottle was found in an antique shop in Sweden and was the inspiration for the first bottle of Absolut Vodka.
The nose is quite neutral, with the slightest hint of sweet wheat. It's soft and gentle on the mouth with the same mild wheat notes on the palate. The finish warms up just a little with the tiniest bit of bite as you finish your sip. It's a must for fans of a neutral vodka, the subtle flavors imbued in a high-quality drink making for the perfect set of sweet, colorful jello shots.
3. Grey Goose

Grey Goose is a premium vodka that results from an intense passion for spirits. It was launched in 1997 and was one of the very first super-premium vodkas to come available on the market.
Only the finest French ingredients are used, including top-of-the-line wheat and pure, clear limestone-filtered spring water. It's wonderfully smooth with a light sweetness to it, but it's so nice and neutral that it's a common choice for gifting. There is no strong flavor so it's unlikely any fan of vodka won't have a use for it.
The aroma offers nothing more than a scent of subtle, dusty wheat with a touch of black pepper and lemon peel. The palate is much the same, a tad bit sweet with a crisp flavor of wheat. It's a medium-light body with a clean, crisp finish.
4. Absolut Citron Vodka

While neutrals are a good go-to, citrus flavors work well if you want something with a little extra kick. They're still pretty light but they add that touch of extra flavor without introducing any burn or harsh alcohol flavors.
Absolut Citron vodka is an affordable, good-quality option with a variety of citrus flavors. They've got orange, lime, lemon, mandarin, and grapefruit in there. The company launched the drink in 1988 and it quickly became a roaring success. It set the standard for other citrus vodkas and it's known for creating a perfect cosmopolitan.
The nose offers bright, vibrant notes of citrus without overwhelming you completely. It offers the perfect intensity without an overload of citrus. It's just balanced enough to allow the grain flavors to shine through as well. If you pay close attention, you'll notice a touch of orange blossom in the background.
The palate has a similar experience, with the perfect amount of lovely citrus coming through right away. The grains bring a slight sweetness to the mix and the finish is warming with a gentle, subtle bite.
5. Hangar 1 Buddha's Hand Citron Vodka

Hangar 1 Buddha's Hand Citron Vodka is aptly named as the vodka is produced in a former airplane hangar. This not only offers enough space to get things done but it's a unique setting with lots of history attached.
It's another quality citrus option for those looking to add a little something to their already sweet jello shots. They infuse their Budda's Hand Citron Vodka with – you guessed it – Buddha's Hand. This is a sweet, ancient citrus fruit that was first found hundreds of years ago in China and India. The fruit is related to the lemon, but it has its own qualities.
Its acidity is milder than that of the lemon but it adds hints of jasmine, basil, and apricots when infused in the vodka. This is the perfect accent to the subtle hints of citrus already present in the drink. The vodka is further balanced by warmer notes of cinnamon, pepper, and other spices.
Making Jello Shots

The options here are truly endless, so you can have lots of fun with it. Once you've chosen your ingredients, it's easy. The following proportions make about ten shots:
Three ounces of your chosen gelatin mix
One cup of boiling water
½ cup of cold water
½ cup of your chosen vodka
Ten two-ounce cups
Putting it together only takes a few minutes:
Lay your cups out without their lids
Add boiling water to your gelatin mixture and whisk until the gelatin is completely dissolved
Add vodka and cold water, whisking again to combine
Refrigerate until set, usually about two to three hours. Keep in the fridge until you're ready to serve. They'll last about a week if kept refrigerated.
Choosing a Flavor Combination
Any flavor of jello mix can become a jello shot. A smooth, neutral-tasting vodka won't add anything other than alcohol content. If you're having a big party, this is great because you can serve up a simple flavor to please even the pickiest party-goers.
But, that doesn't mean you can't use flavored vodka to create something more unique. This is where you should be careful, though, as not everything goes with everything. Some trial and error may be required to find the best combination of jello and vodka flavors.
Use some of these tried and true combinations for super sweet and exciting flavors:
Cherry gelatin and lime vodka make Cherry Limeade.
Peach gelatin and vanilla vodka make Peach Cobbler.
Lemon gelatin and whipped vodka make Lemon Meringue Pie
Pineapple gelatin and coconut vodka make Tropical Punch
Mixed fruit gelatin and blueberry vodka/raspberry vodka make Fruit Punch
Strawberry gelatin and lemon vodka make Strawberry Lemonade
These are just a few. There are hundreds of combinations, some with additives like fruit chunks or flavored liqueurs. Think about some of your favorite desserts and play around with jellos and vodkas to recreate them! Half the fun of these is in the experimentation.