Skyy Vodka doesn't have deep, centuries-old roots like some of your favorite vodka companies and other distillers, but that doesn't mean they haven't made an impact in their comparatively shorter time on the market. They're known for their attention-grabbing, unforgettable ads as they are for their bold, quality vodka and impressive line of flavors. Today, I'd like to look at some of the best Skyy Vodka flavors available.
While everyone loves to enjoy their tasty, refreshing flavors, their original vodka isn't one to be ignored. It's made with the utmost care, attention, and expertise. It's a formidable expression on its own, only being enhanced by the many infusions they've created over the years.
While all of their efforts have a different profile with a unique character, some simply come out on top. Between strong and authentic flavors, undeniable versatility, and overall popularity, these are the best Skyy Vodka flavors that you should always be on the lookout for!
The Best Skyy Vodka Flavors
1. Skyy Pineapple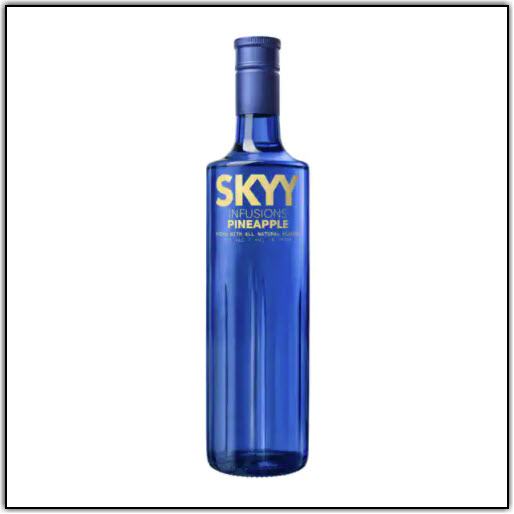 Skyy Pineapple is undoubtedly one of the most popular flavors in their line-up of flavored vodka. Not only is it made with high-quality, authentic ingredients and a top-notch process, but its flavor is divine. Pineapple is a tropical staple and the star ingredient in many bold and exotic cocktails.
So many people love the beach, they love exotic destinations, and just plain love summer and warm weather. Unfortunately, not many of these people are lucky enough to live on the beach or in such a tropical destination. So, the next best thing is to foster beachy vibes and create a vacation-like atmosphere wherever they are. This is done with a combination of good music, good weather, good company, and of course – a perfectly crafted exotic cocktail in hand!
Sky Pineapple is the perfect base for any such exotic cocktail, offering sweet, tangy, bold flavors to any mixed drink. Or, add some ice and enjoy it on the rocks! Skyy is passionate about their cocktails no doubt, but the vodka is smooth and tasty enough to drink on its own, too.
On the nose, this one offers an intense and tropical nose with bold notes of freshly cut pineapple. The palate leads with bright and juicy ripe pineapple with a light-medium body and a pleasant, non-cloying sweetness to the finish.
2. Skyy Blood Orange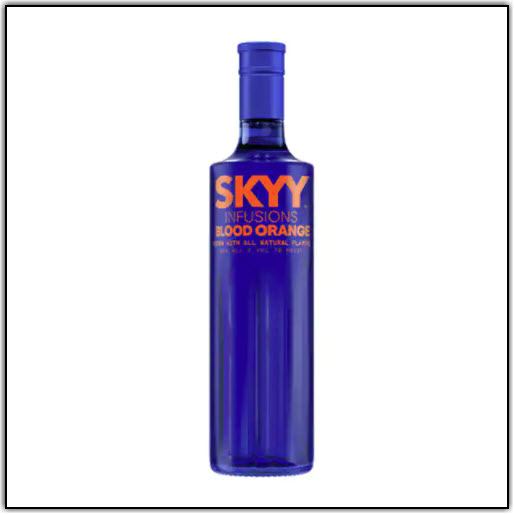 In general, citrus is a popular flavor, but many gravitate towards blood oranges specifically not only because of their unique flavor but because of the intensity. In cocktail form, Skyy Blood Orange is the perfect base for a bold, orange-flavored cocktail with a nice zesty kick.
While many go right to the myriad of possible cocktail recipes with this delightful expression, it's also delicious when enjoyed chilled or over ice. For a quick and easy refresher, simply add some soda water. That's the beauty of a flavored expression made with such quality – you can enjoy it in so many ways!
Blood orange is readily apparent on the nose, coming on full force with bright and fruity aromas abound. The palate is just as bright with notes of juicy blood orange and berries in the background. The finish is an exciting and smooth burst of sweet, tart, zesty flavors.
3. Skyy Honeycrisp Apple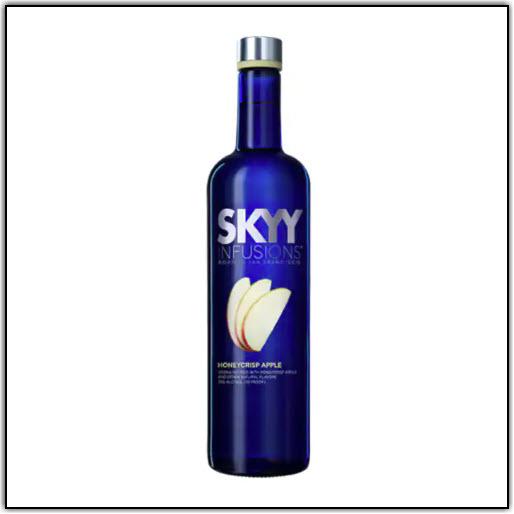 Skyy Honeycrisp Apple is a unique member of the Skyy flavor family, offering fresh, crisp apples throughout its profile, making it the ideal base for all your fall cocktail needs. From sweet, warm mixed drinks to warm, boozy cider, you need a smooth, tasty base and Skyy has you covered with their authentic apple-flavored expression.
The aroma here is rich with fresh smashed apples and a vanilla background. The palate opens with notes of sweet apple building to a tart peak with notes of vanilla cream, fading into a warm, peppery finish with bitter apple skin and a touch of alcohol backing.
The fresh, sweet apples make it a great sipper when chilled or poured over ice, and the warm bite on the finish optimizes its performance in cocktails, offering a balanced profile.
4. Skyy Citrus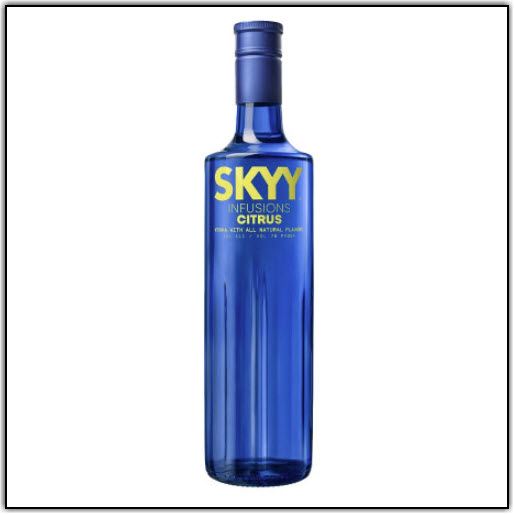 Skyy Citrus is perhaps the most versatile of the Skyy flavors, as a good, zesty citrus base can be used for so many different things. The lemon-lime combination in this expression tastes amazing on its own, thanks to the wonderfully smooth and well-made base vodka Skyy uses. Add some ice or some simple soda water for a refreshing, zesty drink with almost no effort!
It works well in cocktails meant to be bold and tangy or can be used to balance rich, powerful drinks that need something to cut through intense sweet flavors.
All of Skyy's vodkas are delicious and bright but this one is particularly refreshing with bold notes of fruity, freshly squeezed lemon, and subtle lime undertones on the nose. The palate is similar with a crisp, zesty combination of lemon and lime with a smooth, ultra-refreshing finish.
5. Skyy Georgia Peach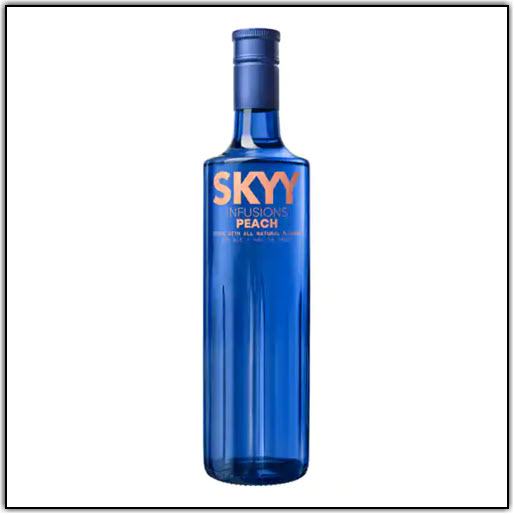 Skyy George Peach is another that tops the list of Skyy flavors because of how fresh, juicy, and downright delicious the palate is. The enticing peach flavor is also a versatile one, making a great base or add-on to a long list of sweet, refreshing summer cocktails.
It's another one that's amazing when sipped chilled or over ice. Some soda water will make a nice spritzer, or many have found that a dash of cranberry juice makes a quick and lovely combination. It's also been compared to a "light peach schnapps" making it perfect for situations where you want the flavor in a way that doesn't overwhelm.
On the nose, it's full of sweet, fresh peaches. The palate opens with similar notes – lots of sweet, inviting peach. The flavor builds slowly and tart notes of apricot balance the sweetness as the mouth begins to warm towards the end. The finish is a little tingly with a peppery touch on the very end.
Fun Facts About Skyy

It's no secret that Skyy Vodka is taking the world of spirits and cocktails by storm. They're one of the most widely enjoyed lines of vodkas, offering an amazing original spirit and an impressive line of flavors. But, this is not all they have going for them! While it may not affect the vodka itself, Skyy is an interesting company with an interesting history – pull some of these points out at your next cocktail party and impress your friends with more than just a great new flavor!
It's All American
Skyy says that they're among the very first vodkas to be made entirely from American water and grains. They also pioneered a special distillation and filtration system that they keep close to home, using it to remove impurities and bring out a citrusy, spice-like scent that is distinctive to their collection.
They're Very LGBTQ Positive
Regardless of how good a drink or any other product is, many consumers are becoming more and more socially conscious. They care about more than just the product and wish to support companies that are doing good, making a difference, and supporting things that align with their own values.
For many, Skyy checks all the boxes. Not only are they supportive of the LGBTQ community, but they're also heavily involved.
They've sponsored parades in Los Angeles, New York, New Jersey, Austin, and more. They also offered support to an international LGBTQ film festival in San Francisco, which is the longest-running, largest exhibition of its kind in the world.
They've worked with other large corporations such as Amazon to bring awareness around issues such as equality. They also aired a very high-profile TV commercial featuring a lesbian couple promoting LGBTQ marriage rights.
These are some of the highlights but are not even the only things the company has done for and within the community.
The Founder is a Genius
Maurice Kanbar, aged 89, is a long-standing entrepreneur of over 60 years, he's a member of Mensa, and has one of the highest IQs in the whole world. He's also a generous philanthropist, with institutions such as Kanbar Hall and Kanbar Performing Arts Center proudly bearing his name.
It's All Because of a Martini
For all of Skyy's impressive history, notoriety, and popularity in fruity cocktails, the origin is pretty simple. Kanbar started Skyy Vodka for no reason other than the pursuit of the perfect martini. Originally, all he wanted was to find the perfect vodka to create the ultimate classic martini.
He was, unfortunately, unsuccessful. There were good vodkas out there no doubt, but none that quite met his sky-high standards.
So to him, the only logical solution to this problem was to make his own! Which is exactly what he did. Not only did he strive for greatness with his very first vodka, but the effort never stops. The company as a whole honors him every day with their unwavering dedication to quality and constant innovation. Kanbar got his perfect martini and the rest of us get to enjoy his exquisite line of vodka and all its assorted flavors.