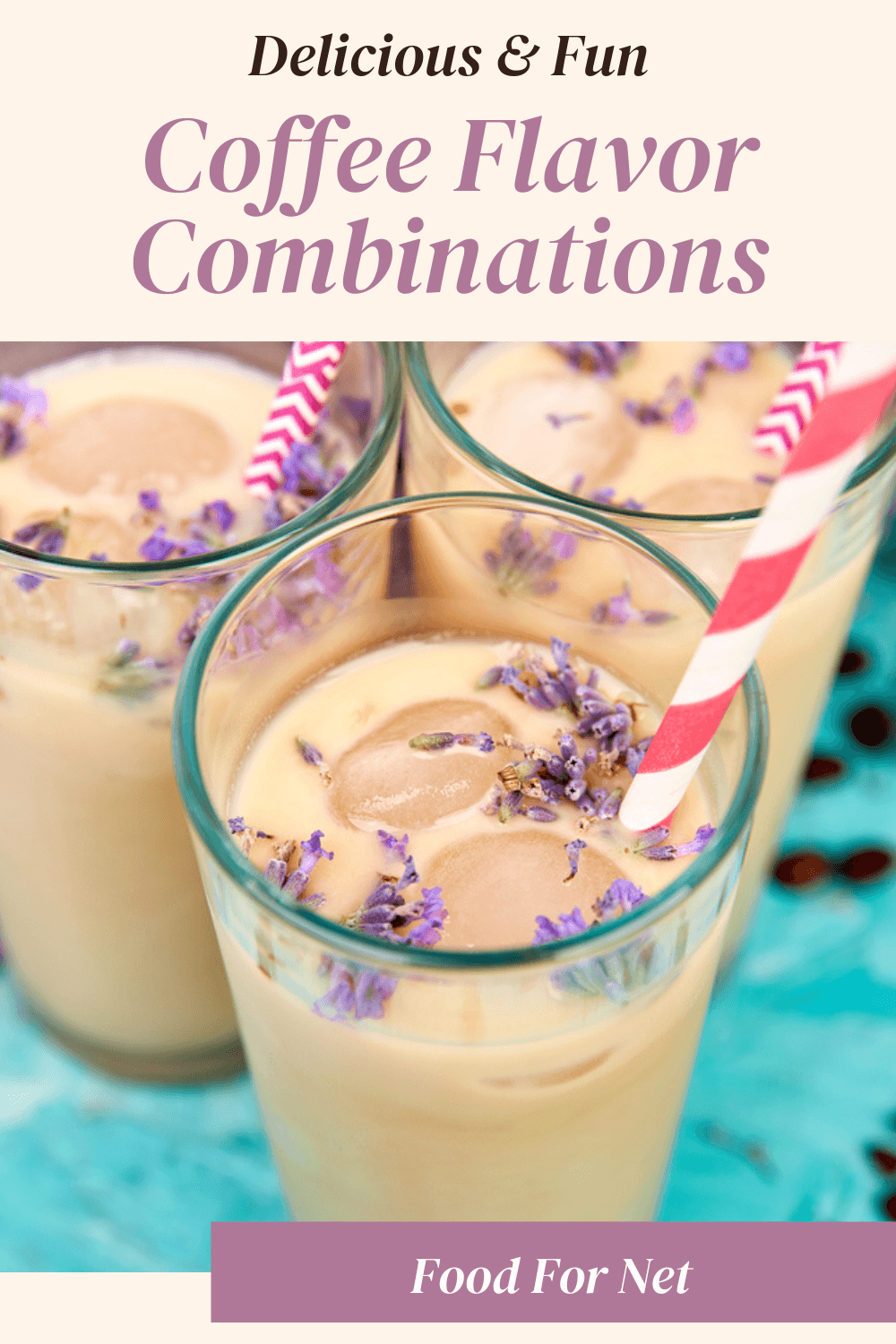 For many of us, coffee is a daily ritual. It's how we start the day and offers an energy boost right when we need it the most. It has even been linked to a surprising number of health benefits and might even be good for us. Still, coffee can get a bit boring, especially if you have multiple cups of it every day. That's why we're talking about coffee flavor combinations.
These are all ways to make your coffee more exciting and enjoyable. We're not just talking about adding a dash of vanilla syrup or perhaps some cocoa powder. Those ideas have been done to death.
Instead, we're interested in more unusual flavors and flavor combinations, particularly those that combine multiple ingredients. Some of these will work with any type of coffee. Other times, you might need to start with a mild drink, like a latte. Otherwise, the strength of the coffee would drown out any other flavors.
Interesting Flavor Combinations For Coffee
Peppermint Mocha

Mochas are famous. That's hardly surprising, as the coffee and chocolate combo is tough to beat. But, why not mix it up a little?
Adding some peppermint to your mocha is a great way to do this. You get an excellent hit of flavor contrast from the peppermint, one that would be particularly good near Christmas.
A Dirty Chai

You're familiar with regular chai tea, right? That drink typically combines black tea with spices and often some milk. A dirty chai follows the same pattern, except that it also includes a shot of espresso.
The espresso increases the caffeine content of the drink and makes the flavor profile more engaging too.
Orange And Spices

Here's a second flavor combo that uses spices, but this time there is some orange in here too (probably in the form of orange essence or orange syrup). The orange is a fantastic addition, as it provides a brightness not found in regular coffee.
You could also play around with the amount of orange, making it either strong or subtle.
Salted Caramel Latte

Combining salt and caramel was once a novel idea that no one saw coming. While the idea is much more commonplace these days – salted caramel is still pretty amazing.
After all, caramel on its own is a bit too sweet. Adding a little sharpness in the form of salt helps to offset this sweetness, giving you a fantastic treat.
A Horchata With Coffee

A horchata is a creamy Mexican drink that relies on water, rice, sugar, cinnamon, and vanilla. The drink can be served warm or cold and is delicious either way.
Not surprisingly, these flavors work excellently with your coffee. The easiest approach is to prepare a horchata and use it instead of milk in your coffee. This gives you all the flavors of the Mexican drink without diluting your coffee too much.
Vanilla And Rosemary

Rosemary is most often used as a herb for cooking, but you can also include it in desserts and hot drinks. Here, you're using a combination of rosemary, vanilla, and coffee to create a nuanced flavor profile.
This combination works best in a milky coffee drink. Otherwise the taste of the coffee would overwhelm both the vanilla and the rosemary.
White Chocolate Raspberry

This flavor combo should be a little more familiar combo – white chocolate and raspberry. Those ingredients are paired together time and time again, as they're an excellent combination.
In particular, the creaminess of white chocolate is contrasted perfectly by the vibrant raspberries. Adding some coffee to the mix just makes even more delicious.
Banana And Caramel

Banana probably isn't your first thought when it comes to coffee flavors. Yet, it offers a sweetness and creaminess that works in some situations.
An example of this combination comes from Nespresso, which focuses on mixing banana puree, milk, caramel sauce, and espresso to create a dessert-inspired drink. Their recipe scored an average rating of 3.3 across 104 reviews, so plenty of people weren't that impressed.
Still, you might find that you love the flavor, particularly if you have a good ratio of ingredients.
Apple, Cinnamon, And Caramel

Apple, cinnamon, and caramel – what could be more perfect for the fall? You've probably used these same flavors in desserts. Mixing them into your coffee is simply the next logical step.
The most decadent version of this drink involves using caramel syrup as a key ingredient. This gives you a decadent drink that tastes like dessert. The apple aspect could come from apple puree, apple butter, or caramel apple sauce. Honestly, though, plenty of ingredients will give you this same flavor balance.
Biscoff With Caramel

If you love the flavor of Biscoff, why not incorporate it into your coffee? Doing so can be as easy as stirring Biscoff spread into your hot drink.
Adding caramel sauce isn't essential, but does make the drink so much better. Besides, who can go past coffee and caramel? Those two flavors are simply wonderful together.
Gingerbread Chai Latte

Gingerbread lattes are pretty good on their own, as you get a rich ginger flavor that's rare in other coffee drinks. But, why stop there, when you can add chai into the mix too?
Doing so gives you the flavor of black tea and spices, creating a delicious warming drink. You could even make an iced version without much effort. This would allow you to still enjoy the flavors when the weather warms up.
Tiramisu In Your Coffee

Have you ever thought about putting an entire dessert in your coffee? Probably not, as it's a strange idea. Still… some people have taken this approach with tiramisu coffee.
Tiramisu is a fantastic dessert to choose, as it normally includes coffee anyway – so you know the flavors will complement each other.
Living the Gourmet has a great recipe that allows you to try the idea for yourself. The finished coffee is every bit as rich and decadent as you may have imagined.
Caramel Brûlée

A caramel brûlée latte is a pretty famous Starbucks drink. Not surprisingly, it's designed to give you most of the flavors of the classic creme brûlée dessert (most of which come from the creme brûlée sauce the company uses).
There are plenty of copycat recipes out there, allowing you to make the treat at home instead. Most of these use caramel sauce and either vanilla extract or vanilla syrup. This gives you the right flavor profile without too much effort.
You could even add a little salt – to give you a salted caramel brûlée. The salt stops the latte from being too sweet.
Cinnamon Berry Latte

For this drink, you're using cinnamon, berries, and your regular coffee. Blueberry is the most popular approach, but any type of berry would do the trick.
You don't need to use fresh berries either. You could turn to jam or berry syrup.
It's important to focus on a milky coffee drink for this one, perhaps a latte. Otherwise some of the flavors may get drowned out by the coffee.
Peanut Butter And Honey

Peanut butter in coffee? Strange as it may sound, peanut butter does actually complement coffee. It gives you an interesting nutty flavor and can also make your coffee a little creamy.
Then there's the honey. This adds some much needed sweetness to contrast against both the coffee and the peanut butter.
White Chocolate Mocha

Mochas are delicious and popular. They're also incredibly common, so they can get a bit boring after a while. A white chocolate mocha is a fantastic alternative.
To make this, you simply need some type of white chocolate powder or syrup. This could be one designed for drinking chocolate or perhaps white chocolate protein powder. The latter would also make your coffee surprisingly filling.
Cinnamon Mocha

Cinnamon is an easy way to make a mocha more interesting. You could do this with a regular chocolate mocha or with a white chocolate one. Either way, the cinnamon adds a little warmth to the drink and makes it much tastier.
Gingerbread Mocha

Here's another mocha riff. This time you're combining gingerbread spices with your coffee and chocolate. Doing so creates a fairly complex treat, as the coffee, gingerbread, and coffee flavors are all vying for attention.
Apple Crisp Macchiato
Starbucks offers an apple crisp oat milk macchiato as one of their star drinks. It uses a variety of flavors, including oats, brown sugar, apple, and cinnamon, and even has a spiced apple drizzle. The drink is a little like fall in a cup.
This drink isn't limited to Starbucks though. Plenty of recipe creators have made their own versions. Some may even be better than the one from Starbucks (and will certainly be cheaper!).
Besides, making the macchiato at home gives you much more control over the flavor profile. You could even add other ingredients, like caramel, to create a more exciting drink.
Sugar Cookie And Cinnamon

Cinnamon sugar cookie is actually Green Mountain K Cup coffee flavor, which makes the coffee incredibly easy to prepare. There's also a more traditional version from Cameron's Smooth Coffee.
You could try making this one yourself as well. The sugar cookie flavor is mostly just sugar and vanilla, then you have cinnamon and perhaps a few other spices.
Maple Pumpkin Spice

Pumpkin spice lattes are famous, but what about making a maple pumpkin spiced version instead? You can probably guess how to prepare this drink already – it's simply a pumpkin spice latte sweetened with maple syrup.
The maple syrup does add plenty of extra depth, giving you a richer and more enjoyable drink.
Chocolate Cream

A chocolate cream coffee isn't as unusual as it sounds. It's basically a mocha with vanilla syrup. The vanilla syrup is an easy way to make the drink taste more decadent.
Who knows? You might never go back to a regular mocha after trying this version.
Honey Lavender

Lavender is becoming surprisingly common as a dessert flavor, so why not add it to your coffee as well? The addition of honey gives you some sweetness, along with an extra flavor nuance.
Getting lavender in your coffee is a little tricky, but it's not overwhelmingly difficult. The easiest way is to make honey lavender syrup. This is something that you might also use in some honey cocktails.
Pina Colada

Here's a fun one – a pina colada in coffee form. The drink relies on some pineapple juice, plus either coconut milk or coconut water.
The drink is tastiest when served as an iced coffee, especially with coconut cream on the top. You could theoretically make it as a hot coffee too, but the drink wouldn't be nearly as good (after all, pina coladas are always served cold).
You can also make other types of colada coffee. Just swap the pineapple juice out for another type of fruit juice.
Maple And Sea Salt

Earlier on, we talked about preparing salted caramel coffee. This flavor combination follows the same theme, but it uses maple syrup instead of caramel.
The focus on maple syrup gives this hot drink a completely different flavor profile. The difference isn't bad though. You might even prefer this version over a salted caramel latte.
Baileys Coffee

This flavor combination should already be familiar. You're simply including some Baileys in your coffee, which makes your drink creamier (and a bit boozy too!). You could also make this using alcohol free Baileys. That would give you a similar flavor profile without the booze.
Cinnamon And Chicory

Adding cinnamon and chicory to coffee is a Turkish tradition. The chicory provides a slightly nutty taste and can even make your coffee thicker.
You can use cinnamon and chicory with regular coffee or as a caffeine free alternative to coffee. Both approaches work well.
Cardamom And Honey

Cardamom is a strong and sweet spice, one that can be used in savory dishes and also in desserts. It's a fantastic addition to coffee, especially if you use honey for some extra sweetness.
Orange Creamsicle

Want the flavors of an orange creamsicle in your coffee? Doing so is simple – you just need to add some orange syrup. After all, you're already getting the creamy part of the flavor from your milk.
Some people mix things up, like this recipe, which relies on vanilla extract and orange essential oil. While essential oil is an unusual ingredient, it would still give you a hit of orange flavor.
White Chocolate Hazelnut

What's not to love here? This flavor combines coffee with white chocolate and hazelnuts, giving you a sweet and nuanced drink. It's fairly easy to make too, as white chocolate syrup and hazelnut syrup are easy to find.
Some brands also make their own hazelnut flavored coffee, so you just need to add the white chocolate. Simple, right?
Vanilla Cardamom

Vanilla and cardamom work excellently together, as the sweetness of the vanilla contrasts excellently with the spice and complexity of cardamom.
You don't need to stop with these two ingredients either. Try adding some cinnamon as well for extra nuance.
Vanilla Rosemary

If cardamon isn't your thing, what about using rosemary instead? While rosemary is normally used in cooking, it can be tasty in desserts and coffees too.
To use it, you'll first need to make a rosemary simple syrup or a vanilla-rosemary version. This works much better than trying to use rosemary in your coffee directly. You can then use the syrup in other hot drinks or even cocktails.
Matcha And Coffee

Have you ever combined matcha and coffee in the same drink? The approach isn't done often, but can work surprisingly well.
Plus, serving matcha and coffee together gives you a double hit of caffeine in your drink. That's hard to beat.
Irish Coffee

At its simplest, Irish coffee involves adding a shot of Irish whiskey to your coffee. Doing so makes it boozy and improves the flavor profile.
However, the authentic version of this coffee cocktail is even better. It relies on brown sugar in the coffee, coupled with whipped cream on the top. The cream doesn't just look good; it also provides a fantastic flavor and texture contrast.
Blackberry, Lavender, And White Chocolate Mocha

Who says that raspberries are the only fruit you should combine with white chocolate? Blackberries are another excellent choice, especially since they have a rich flavor.
Using blackberry syrup (or jam) and some source of white chocolate will give you a white chocolate mocha. But, you can take things one step further and include some lavender in the mix too. This flavor combination really does work and sounds pretty delicious.
Related Content