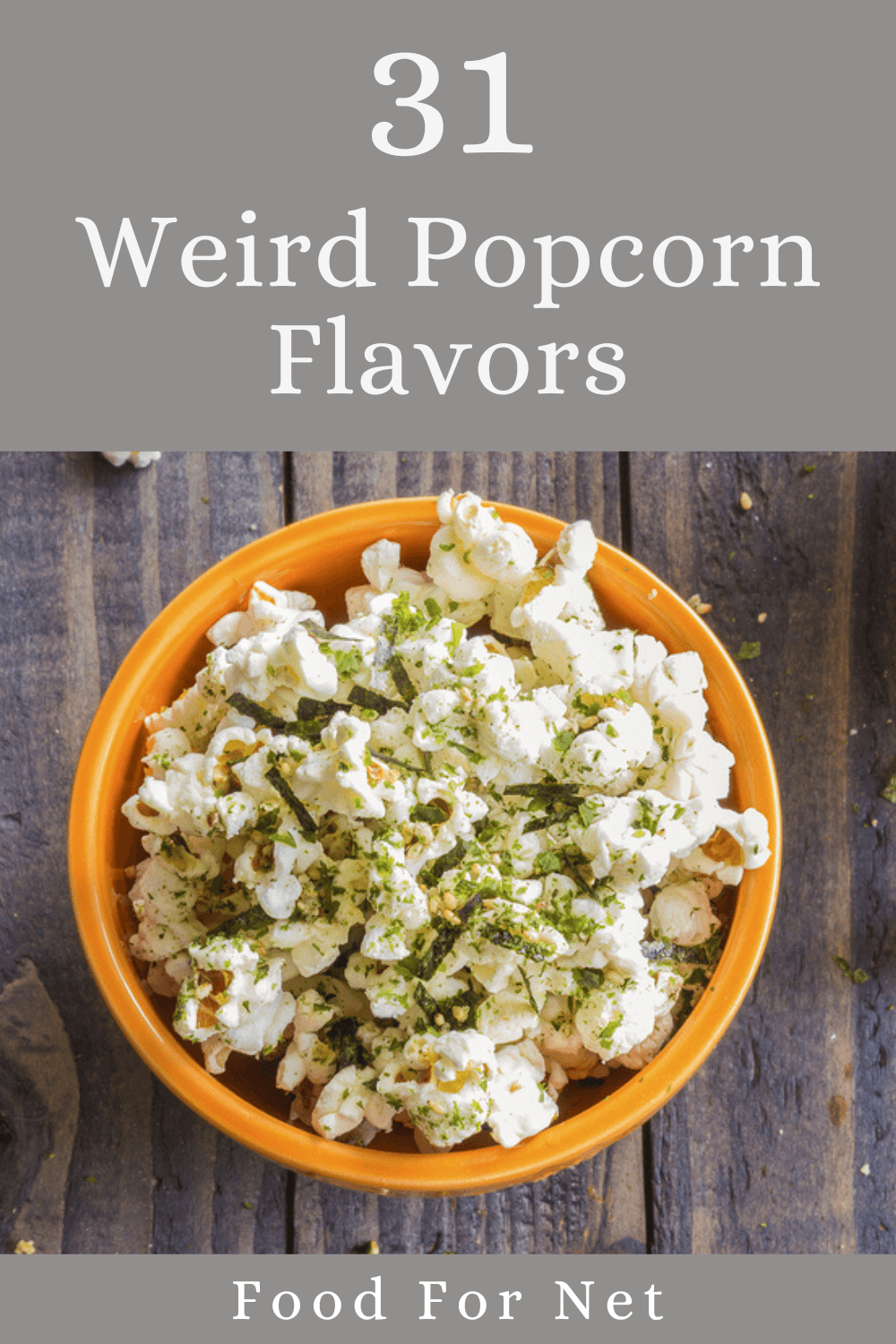 Popcorn is an amazing treat, isn't it? It's not just reserved for the movies either. It's something we can easily make at home, buy from the store, or even order from popcorn of the month clubs. If you've spent much time with popcorn, you've probably noticed that there are some weird popcorn flavors out there.
We're not just talking about slightly strange combinations either. Some of these are downright bizarre. It's hard to imagine how someone even first imagined these, not to mention how they created the flavor combinations.
For this list, we're focusing on two types of weird flavors. Some are combinations of ingredients that make zero sense on paper. Others are completely normal flavors that simply aren't what you'd expect on popcorn.
But, just like with weird cookies and weird candy, many of these flavors do taste good. A surprising number of them even come from pretty big popcorn companies. That should mean that the flavors have been through plenty of testing to make sure they're delicious.
P.S. if these flavors are a bit much for you, you could always stick to gourmet popcorn instead. There's still a huge variety of flavors, but most of them are tamer than the ones on this list.
The Weirdest Popcorn Flavors
Mince Pie

This popcorn flavor was designed as a Christmas treat, one that encompasses all the flavors of a traditional Christmas fruit mince pie. It's an impressive one too, as the popcorn includes the flavors of fruit, almonds, spices, and aged brandy.
The version from Joe & Seph's even uses 5% brandy. That's fantastic and a makes this an ideal perfect Christmas gift.
On a related note, if you want unusual popcorn, Joe & Seph's is certainly worth checking out. They currently have 89 different flavors and many of them are unexpected.
We've mentioned a few other Joe & Seph's flavors on this list, but honestly, we could have made an entire post with just their popcorn and nothing else. Their selection is truly that eclectic.
Prosecco

Rather than popcorn that tastes like a Christmas treat (or, at least attempts to), how about one that resembles alcohol instead? Prosecco popcorn is designed to be light and refreshing, with a similar flavor tone to actual prosecco.
This could easily be done without using any alcohol. But, some versions use a little prosecco as well. Doing so makes the flavor profile more authentic and makes this popcorn quite a novelty.
Dry Martini

While we're on the topic of alcohol, how about popcorn that's designed to taste like a dry martini? This is a recipe for adults rather than kids – and not just because kids won't appreciate the flavor. It's also another popcorn flavor that can include alcohol as an ingredient.
Gin And Tonic

We're not going to spend too long talking about cocktails, as it's possible to create a popcorn-based version of almost any cocktail under the sun – and plenty of people have done just that.
Gin and tonic popcorn is worth mentioning though, partly because it's such a distinctive flavor. It also seems incredibly difficult to replicate in popcorn. In fact, reviews for Joe and Seph's version suggest that while it tastes delicious, the flavor isn't immediately recognizable as gin and tonic.
That's a shame, but it's still a win that the flavor is popular. There's never any guarantee when you're working with unexpected flavor combos like these.
Olive Oil, Mozzarella, Tomato, And Pepper

Some flavor combinations sound perfectly fine on paper – they're just not something you'd ever expect to see as a popcorn seasoning. That's what's happening with this olive oil, mozzarella, tomato, and pepper popcorn.
Does the combination work? That depends on what you're looking for. It should be delicious if you love savory flavors, but much less appealing if you want something sweet instead.
Marmite

Marmite is controversial enough on its own. The yeast based spread has an intense and almost overwhelming flavor. Some people love it. Others can't stand it.
Adding marmite to popcorn, well, that kicks things up to an entirely new level. Even if you're a marmite lover, this particular popcorn might be hit and miss.
Cheese On Toast

Cheese on toast is surprising, yet also makes a bit of sense. After all, popcorn often has a toasty taste and cheesy toppings aren't that unusual, so why not take both of those things a few steps further?
It could be an excellent starting point if you want unusual popcorn that isn't completely bizarre.
Blue Cheese, Walnut, And Celery

In some ways, this popcorn flavor doesn't need an explanation. I mean, you already know blue cheese, walnut, and celery all taste like.
You might even combine those ingredients as part of a salad. But, as a popcorn flavor? That's a completely different story.
Cheeseburger

Have you ever wanted your popcorn to taste like fast food? Me neither. Someone must have liked the idea though, as cheeseburger popcorn really exists.
There's even a recipe for it over at foodrepublic.com. It's a fascinating recipe, as the ingredients include Worcestershire powder, mustard powder, beef trimmings, bacon, and cheese powder.
Thai Peanut Satay

Speaking of unexpected savory popcorn flavors, what about Thai peanut satay popcorn? This popcorn truly mimics the flavor of Thai peanut satay.
It would be an interesting snack for anyone who loves peanuts but gets bored of peanut butter.
Curry

Have you ever added curry powder to your popcorn? This is a surprisingly common approach, perfect when you want a savory flavor without much effort.
If you wanted extra nuance, you could try adding black pepper or perhaps even sugar. The sugar would create a sweet-savory balance that sometimes works very well.
Wasabi

Wasabi popcorn is another easy and surprising option. You can make it by simply using wasabi butter or wasabi powder over your popcorn.
Or, if you enjoy a sweet and spicy contrast, how about wasabi, cayenne pepper, sugar, and salt? That combo won't be for everyone, but the same is true for most entries on this list.
Black Licorice

Here's another divisive flavor – black licorice popcorn. This isn't just a random recipe either. A couple of companies actually produce this, including Coastal Maine Popcorn.
The popcorn really does taste like black licorice, so it's best reserved for black licorice lovers. Or, perhaps for pranking friends.
Garlic Bread Popcorn

I've seen two versions of garlic bread popcorn. One relies on parmesan cheese, plus either garlic powder or garlic salt. This gives you a fairly traditional popcorn flavor that you mightn't even recognize as garlic bread.
The other skips parmesan and simply melts regular cheddar cheese over the popcorn. While this is a very unusual style for popcorn, it does give you a delicious cheesy garlic bread flavor.
Oreo Popcorn

Oreo popcorn is fun, tasty, and not that difficult to find. Seriously, there are dozens of different recipes. Most of them use broken up Oreos (or mini Oreos), plus ingredients like white chocolate chips, mini marshmallows, and sweet cream.
There's no need to guess with this popcorn – it will taste exactly like you expect it to.
Lavender, White Cheddar, And Chives

Lavender is an unusual flavor for popcorn to begin with. Combining it with white cheddar and chives is even more unexpected.
Yet, it's easy to see how this would work. Not only do white cheddar and chives pair together well, but they're both fairly nuanced flavors. This means that you'll still be able to taste the lavender.
Mozzarella And Tomato Pizza

Pizza popcorn is way more common than I could have ever imagined. Some recipes go as far as using tomato paste as an ingredient, while others turn to sundried tomatoes instead. You could even include real mini pepperonis in the mix.
If all of that wasn't enough, there's this mozzarella and tomato pizza popcorn from Joe & Steph's. This follows a different style, where most of the flavor is on the popcorn itself, rather than in extra ingredients.
Brie And Jam

Brie and jam combine together surprisingly well, giving you a sweet, salty, and creamy combination. The popcorn version aims to give you the same flavors in every bite.
The creators at Al's Popcorn suggest including the flavor as part of a charcuterie board. This would be an excellent way to make the board more exciting.
Loaded Baked Potato

Loaded baked potato popcorn is slightly misleading. Most versions focus on the toppings you get on a baked potato, rather than the potato itself. So, you'll often see bacon, cheese, chives, and sour cream.
Why not though? The toppings are what make loaded potatoes so exciting anyway. Popcorn is also much easier to eat than an entire potato.
Grilled Cheese And Tomato Soup

Want the flavor of grilled cheese and tomato soup without hassle? If so, this popcorn flavor could be just the thing.
Personally, I have no idea why this popcorn flavor exists at all. Perhaps some people really do love it or maybe some recipe creator just got very bored. Whatever the reason, grilled cheese and tomato soup popcorn exists and can even be ordered online.
Barbecue Seasoning And Sugar

This is a more homemade popcorn approach. Some Redditors mention that the combination of barbecue seasoning and sugar is exceptional on popcorn.
The ingredients give you a sweet, savory, and salty combination that's very easy to pull off.
Cheetos Dust

You can use Cheetos dust to cover popcorn as well. This is basically just crushed up Cheetos, so your popcorn ends up with an intense color and flavor.
Just watch out, as you'll probably get messy fingers from the experience.
Ramen Flavoring

The flavoring packets for ramen can be used as a popcorn topping as well. This is particularly good if you have recipes that use ramen noodles and avoid the packet.
You could possibly use sugar as well, which would give you the sweet and savory contrast that we mentioned before. Sugar isn't essential, though. Even just ramen flavoring on its own works surprisingly well with popcorn.
Grasshopper

This popcorn gets inspiration from the bright green creme de menthe cocktail. You can find creme de menthe baking chocolate, making this a very easy popcorn flavor to prepare.
To make it even more exciting, you could crush up mint cookies and mix these in with the popcorn. One recipe even uses green chocolate drizzle on the top for an amazing color contrast.
Lao Gan Ma

Lao Gan Ma is a fairly famous chili sauce that features in many recipes. It's an odd popcorn flavor though, due to the flavor intensity and the texture of the sauce.
It's required some creative minds to work out how to turn Lao Gan Ma into a form that works on popcorn. One approach comes from 50hertzfoods.com and starts off with a Lao Gan Ma pepcorn salt. This can easily be used on popcorn or countless other dishes.
Worcestershire, Nutritional Yeast, Sriracha, And Salt

This combination comes from a user on Reddit. It features a balance of some quite intense ingredients, particularly the Worcestershire sauce and the sriracha.
How the flavors combine is anyone's guess. But, at least it relies on familiar ingredients, so you could make it at home.
Kitchen Sink

Kitchen sink popcorn could be pretty much anything. In this case, it's an oddball flavor from greatpopcorn.com that consists of white chocolate popcorn that's been topped with sprinkles, candies, pretzels, and other unnamed toppings.
Even without knowing the other ingredients, it's clear that this will be a very sweet type of popcorn. It looks pretty cool too, as it's peppered with bright globs of color. You could easily make your own version at home too, like the one in the image.
Nutritional Yeast

Nutritional yeast is getting increasingly popular as a popcorn topping, particularly for vegans. It's still a strange idea, though, as you're throwing deactivated yeast on top of your popcorn.
The yeast does give you a tasty nutty cheese-like flavor. Cheese-like is the active word though, as nutritional yeast doesn't taste exactly like cheese. Honestly, it isn't even that close, it's just one of the best options that vegans have.
Kale Powder

Kale powder is something you can make at home. It just involves baking kale until it is crisp, then breaking it up into tiny pieces. Once you have the crushed kale, you can use it as a popcorn topping.
You'd get plenty of nutrients and some antioxidants from doing so. I'm less convinced about the flavor though. It's hard to imagine kale popcorn actually tasting any good.
Furikake

Furikake is a Japanese seasoning that's often used with rice and fish. It's also an interesting popcorn topping. Some people use furikake on its own or perhaps with some butter.
Others make a more complex recipe, like hurricane popcorn from Hip Foodie Mom, which includes sesame oil, furikake, rice crackers, ghee, and even roasted seaweed sheets (although these are optional).
The recipe highlights one of the fantastic things about popcorn – you really can experiment.
Tajin Seasoning

This final addition is another one you can make at home. Tajin seasoning combines chili peppers, lime, and sea salt, making it ideal for anyone who likes things a little spicy.
You could easily use the seasoning on popcorn and nothing else or add other ingredients. I've even seen sweet tajin popcorn recipes that include sugar, cinnamon, and chocolate chips to contrast against the tajin.