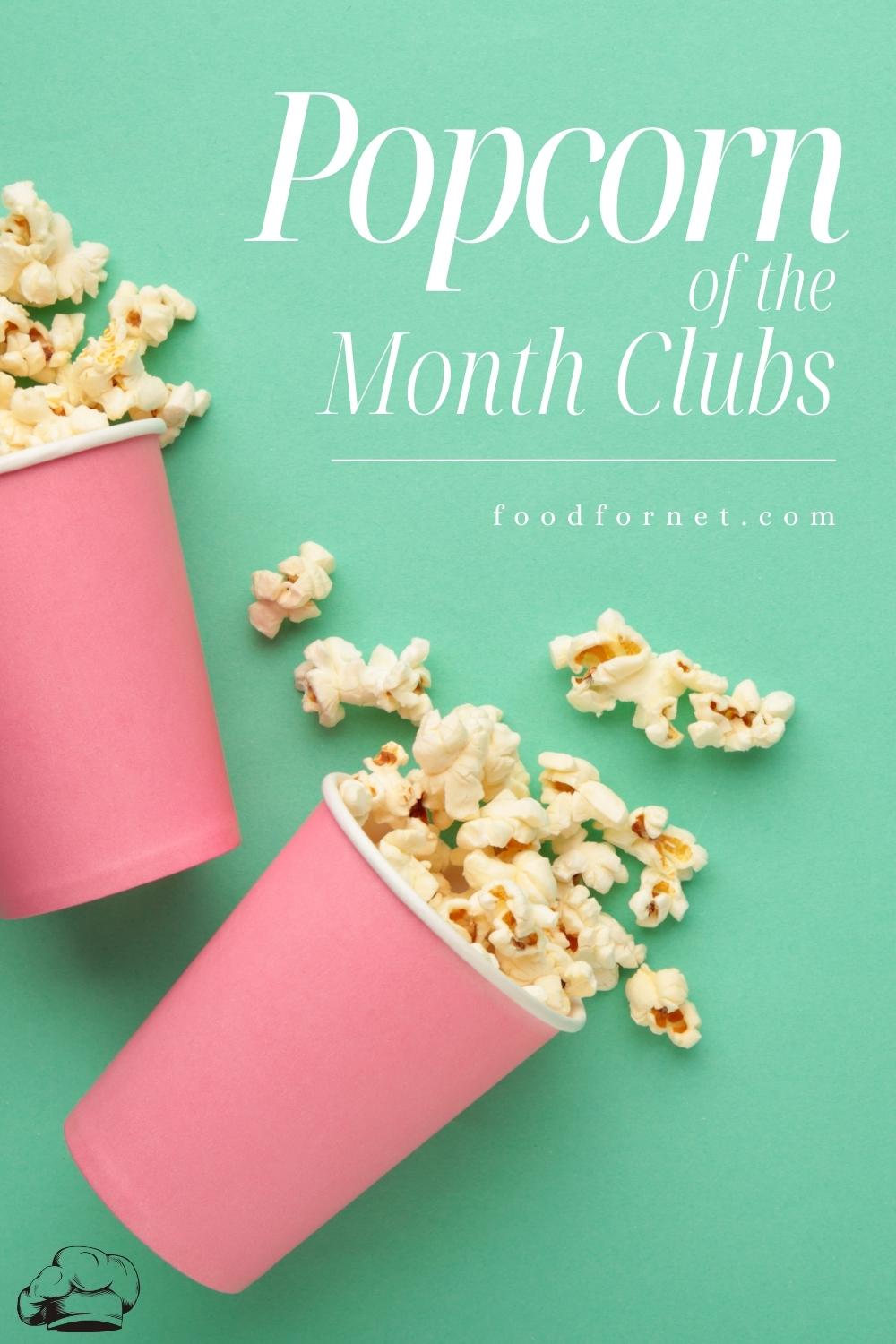 Who doesn't love popcorn? This globally enjoyed snack has been around for centuries and was once used in ancient Aztec ceremonies. Popcorn has continued to evolve from ancient times to the classic, salt & butter, to today's gourmet flavors like Sea Salt Caramel. Popcorn of the month clubs can now deliver both classic and modern gourmet flavors to anywhere in the country.
The best way to truly enjoy the flavor evolution of popcorn is to join a popcorn of the month club. Now you might be thinking that a popcorn of the month club sounds a bit silly, but it's one of the most fabulous ideas out there. Think about it, a variety of fun flavored popcorn delivered conveniently to your door, what can be better than that?
One of the reasons popcorn of the month clubs is so well-liked, besides getting a delicious treat, is the multitude of fabulous flavors you get to experience. Honestly, it blows my mind that so many varieties exist, and a popcorn of the month club is the optimal way to try them all.
Are you wondering how it works? Well, there is a wide variety of clubs to choose from with a multitude of plans, from three months to a full-year membership. Some of the clubs allow you to customize your orders whereas other clubs surprise you with their popcorn of the month flavor. A few subscriptions offer one flavor a month, whereas others send two or more flavors.
With so many membership options available, you're guaranteed to find the perfect club. Popcorn of the month club memberships is excellent gifts to send to friends, family, or coworkers.
Which club should you start with? My favorite is Amazing Clubs Popcorn of the Month Club. As with all their clubs, they focus on quality and variety, meaning they spend time sourcing craft, artisanal, and handmade products from around the USA, then rigorously taste-test them to find the best before shipping the popcorn to your home.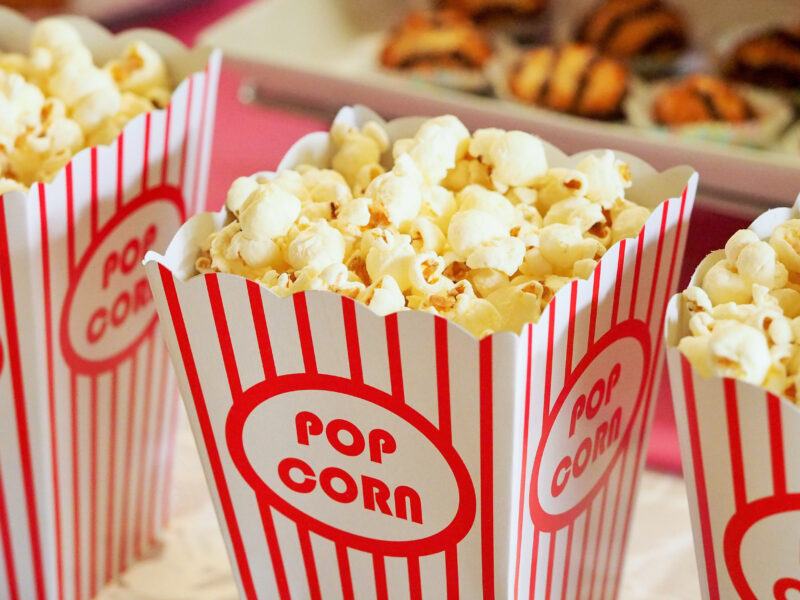 Popcorn of the Month Clubs
Amazing Clubs Popcorn of the Month Club

Amazing Clubs was founded in 2003, offering only one club. However, by their third year, they were offering seventeen membership options, and now sixteen years later, they have a whopping 44 gift clubs.
Amazing Clubs has an easy customer satisfaction guarantee:
If the recipient doesn't care for the program, for any reason, Amazing Clubs will do all they can to correct the problem or provide a refund accordingly.
Customers can choose to skip deliveries for any reason including if the customer doesn't care for the following month's flavor or if they are not going to be around, due to a busy travel schedule.
Lowest price guarantee, if you see the same thing at a lower price Amazing Clubs will match that price and reimburse you for the difference.
Amazing Clubs specializes in both food and drink clubs, and amongst those clubs, they offer an excellent popcorn of the month membership.
Their popcorn of the month club includes:
2 Gallons of Popcorn divided into three different flavors popped in 100% coconut oil
Popcorn Lover's Newsletter which talks about the flavors of that month, fun popcorn facts, and more
Create Your Own Club has four membership options, 3, 6, and 12- month, and the Seasonal with four deliveries
Some of the flavors included are Sea Salt Cheddar Cheese, Crunchy Almond Mocha, and White Chocolate.
Subscriptions cost between $30.95-$32.95 per month. Subscriptions can be paid either in full or by shipment.
Harry & David Moose Munch® Premium Popcorn Club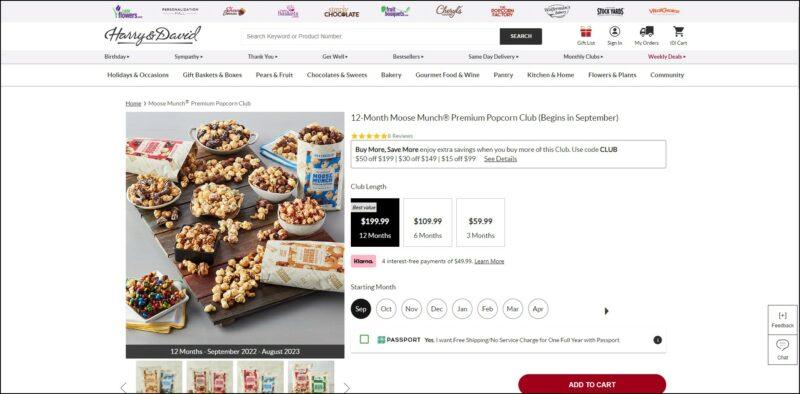 Harry & David have been perfecting their gift baskets since 1934. The two brothers, Harry & David, started their business venture in Oregon when they took over their family-run orchard.
Harry & David best known for gourmet treats, still pick, craft, and pack each gift basket by hand. In addition to their famous pears, baked goods, confections, meats & cheeses, Harry and David also offers an exceptional array of popcorn flavors.
With such a wide assortment of popcorn flavors, it might be challenging to choose just one, so the Harry & David company came up with a monthly popcorn subscription. The popcorn of the month club allows you to enjoy a different flavor each month.
They used to have two popcorn of the month club options, but as of to date, only The Moose Munch Premium Popcorn Club is available:
This club membership comes in three different monthly options, three, six, or twelve months.
Each month you will receive two varieties of popcorn. Also, their website lists what you will get each month in your delivery.
Harry & David also offers a subscription plan on a few of their more popular popcorn flavors. So, if you have a favorite H&D popcorn, you can sign up to have only that flavor delivered each month.
Membership prices range from $59.99 – $199.99, depending on the duration and type of membership you sign up for.
The Popcorn Factory Snack of the Month® Popcorn Subscription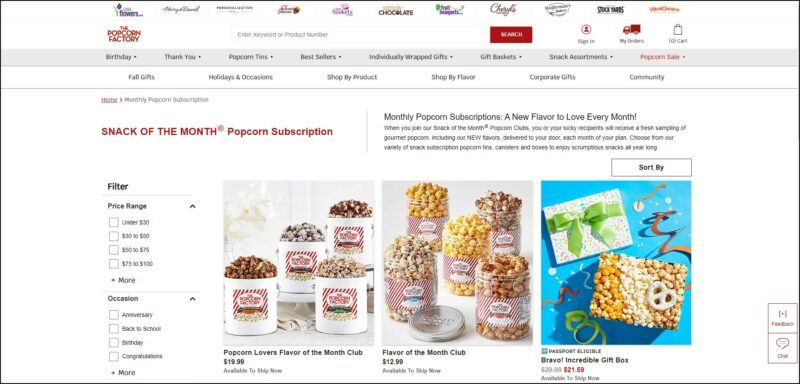 The Popcorn Factory was founded in 1979, and now pops more than one million pounds of popcorn every year! The corn they use is sourced in the US, and they only pop their popcorn in pure corn oil. Additionally, their popcorn is 100% Kosher.
Plus, they stand behind their product with their guarantee Popcorn Promise: You and your recipients must be absolutely delighted!
The Popcorn Factory offers two Popcorn Memberships Options:
Popcorn Lovers Flavor of the Month Club
Flavor of the Month Club
The two memberships are identical, except for the size. The Popcorn Lovers comes in a one-gallon tin and holds anywhere between 7-33 ounces of popcorn for $19.99 per month. The Flavor of the Month membership is smaller and comes in a canister containing between 2.5-9.5 ounces of popcorn for $12.99 per month.
Besides the size difference, both memberships are 12-month subscriptions that are shipped during the first week of every month. Plus, each popcorn of the month is listed on their website, so you will know what to look forward to the following month.
Some of the flavors you will enjoy throughout the year include Cracked Pepper and Sea Salt, Tangerine Vanilla Caramel, Mint Chocolate Chip, and Mesquite BBQ.
Shirley's Popcorn of the Month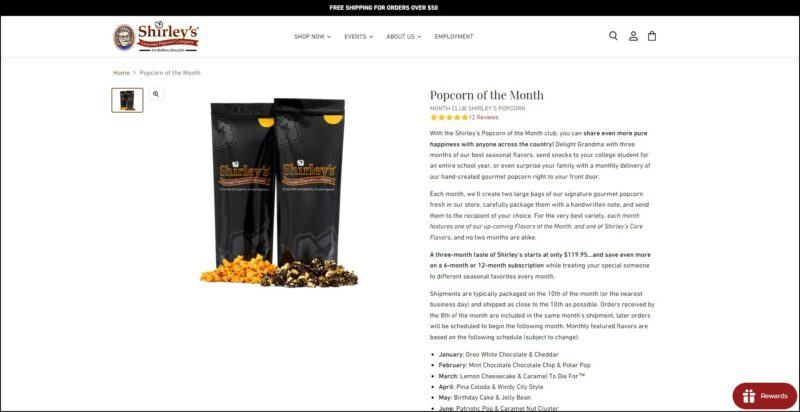 Shirley's Gourmet Popcorn Company started at the Shannon Theatre, being sold as a classic movie snack. However, the popcorn grew in such popularity that people began to inquire about how they could buy the popcorn without having to buy a movie ticket.
Shirley's popcorn came by its name because of Shannon Theatre's well-known employee, Shirley. Shirley started at the theatre in 1982 and was the one responsible for creating this delicious buttery treat.
Fast forward several years, and now Shirley's popcorn has expanded beyond the walls of the theatre and is now available at seven retail stores plus online.
Shirley's popcorn can be ordered as a gift box, individual bag or tin, sample pack, or even as a popcorn of the month subscription. The monthly popcorn subscription includes:
Each month will feature one of their upcoming Flavors of the Month, and one of Shirley's Core Flavors, and no two months are alike
Featured flavors are based on a schedule (subject to change), for example, for September it's S'mores & Polar Pop
3, 6, and 12-month membership options
Popcorn is packaged and shipped on or near the 10th of every month
The monthly price ranges from $33.33 – $40.00.
Coastal Maine Popcorn Monthly Club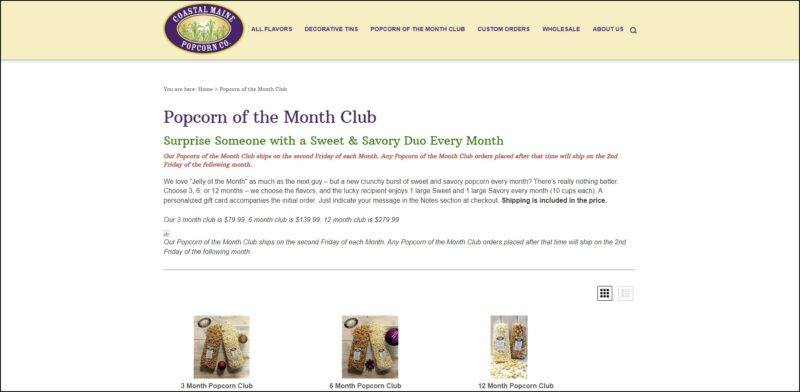 Coastal Maine Popcorn Company opened in June of 2008, in Boothbay Harbor Maine.
Coastal Maine's popcorn is air-popped without the use of oil and is made in small batches. Each batch is sorted to ensure the popcorn is fully popped, removing any partially popped or broken pieces.
Their dedication to quality has helped to grow their business from a single store into a lucrative online and wholesale business. You can purchase their popcorn at their original store in Maine or order online and have it shipped.
You can get Coastal Maine Popcorn by the bag, tin, or popcorn of the month subscription. The popcorn of the month subscription includes:
3, 6, or 12-month option
Two large bags (9-10 cups) of popcorn, one sweet and one savory
Popcorn is shipped out on the second Friday of the month
Flavors are pre-selected some of the flavors offered are Buffalo Wing, Chocolate Bacon, Cotton Candy, and Olive Oil & Pink Himalayan Sea Salt
Prices range from $23.33 – $26.66 per month.
Fisher's Popcorn Subscriptions

Fisher's Popcorn was started in 1937 by Everett Fisher and Edmund Pusey under the name of Pixton's Popcorn on the Boardwalk in Ocean City. After Pusey left the company, the popcorn was rebranded Fisher's Popcorn. Though the company remained under the family name, a new branch was opened and operated independently in Delaware.
The Delaware branch expanded into the wholesale market, making its popcorn available in over 2000 stores nationwide. The popcorn is still made at their Delaware stores, which are open to the public.
Fisher's Popcorn offers a Popcorn of the month club, a subscription to this club includes:
3, 6, 9, and 12-month Option
1/2, 1, 1.5, 2.5, 3.5-Gallon buckets
A flavor, you select at the time you place the order, flavor options include 3-Way Split Butter, Caramel, & White Cheddar, Kettle Corn, Caramel Peanut, and Old Bay
The Flavor of the Month Club is similar to the popcorn of the month club, but instead of the same flavor every month, you receive a different kind each month.
Prices range from $9.25 to $46.50 per month.
Great American Popcorn Company Flavor of the Month Club

Great American Popcorn Company was established in 1994 by David and Catherine Lewis in Galena, Illinois. They both chose to leave corporate life and opt to start their own business founded with impeccable customer service in mind. Fast forward to today, the virtue is evidently instilled in the family.
High-quality ingredients including only the best non-GMO popcorn were used to ensure the highest quality of their products. They take pride in handcrafting their gourmet popcorn where small batches are made daily. They also didn't miss to hit the mark when it comes to packaging – the popcorn is freshly hand-packed with care and sent via their famously bright red box.
Their Flavor of the Month Club is a great way to ensure you're enjoying their new flavor every month. You can opt to give it as a gift. You can also cancel anytime should you change your mind. Subscription includes:
New flavor each month, for their August flavor it was Pickle Me Ranch Puffs and Galena Puffs
Two bags of top flavors, about 8-10 cups
You can choose from monthly, every other month, 3, 6, or 12 months subscription
Their popcorn costs $21.95 per month.
Karen's Artisan Popcorn Monthly Popcorn Club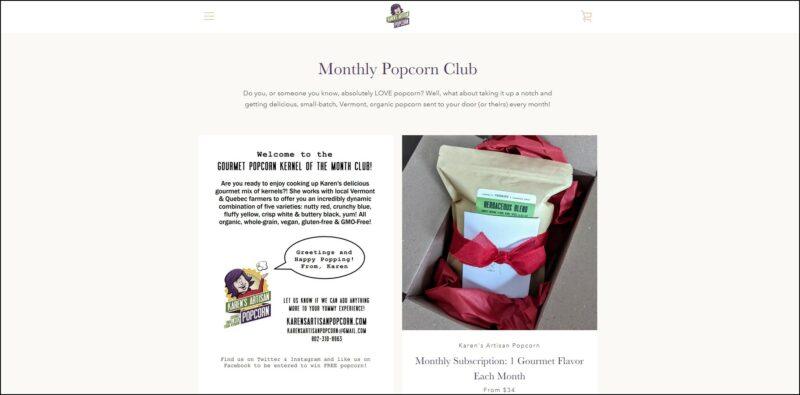 Karen's Artisan Popcorn is a product of one's love for baking, interest in the science behind cooking, and excitement for movie-watching. All of this gave way to the invention of their now, flagship flavor – Herbaceous Blend, a carefully kettle-cooked organic popcorn with herbs, spices, and sea salt.
Karen does take popcorn making seriously – from concocting innovative recipes, formulating secret techniques, and sourcing exceptional ingredients. The packaging part is not overlooked either – each bag of this artisan popcorn is hand-packed in a heat-sealed FDA-approved zip-top bag to keep them fresh for up to 40 days.
They are currently offering three different Monthly Popcorn Clubs that will ensure you're getting delicious, small-batch, Vermont, organic popcorn month after month. The subscription includes:
3 types of subscriptions whether you want 1, 2, or 3 different gourmet flavors every month. The flavors are sent in rotation but you can opt to arrange their 12 gourmet flavors according to your preference
Subscription length can be adjusted from 2 months up to 12 months. Depending on how many flavors you chose upon subscription, that's the number of large bags you'll be getting.
Some of the flavors they offer are Sea Salt Sublime, Maple Kettle Bliss, Candied Berry, and Sea Salted Caramel Corn
Pricing starts at $15 per month for Monthly Subscription: 1 Gourmet Flavor Each Month, $27 for Monthly Subscription: 2 Gourmet Flavors Each Month, and $37 for Monthly Subscription: 3 Gourmet Flavors Each Month.
GoPo Monthly Popcorn Subscription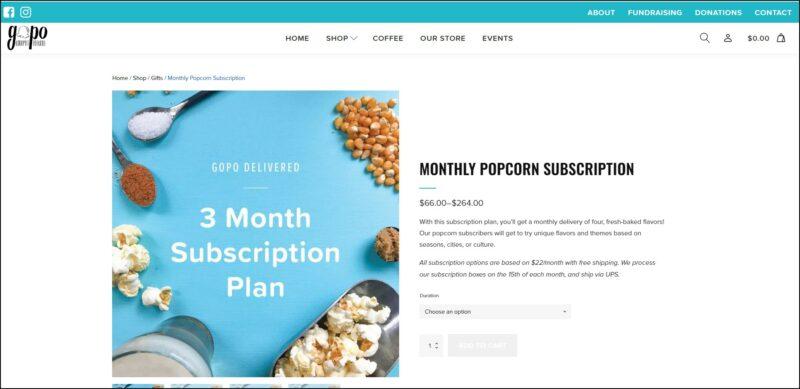 GoPo, or Gourmet Popcorn is the creation of a husband and wife team that started in March of 2013. They want to create a unique popcorn destination so they did exactly that. Today they now have their own storefront but they originally sell them via Plume – a small boutique where you can still pick your orders if you're somewhere around their area.
They have a total of 8 flavors that they keep year round but monthly they have 4 rotating flavors to match the season. Their dairy-free or gluten-free version is always available. Their kitchen is also open 6 or 7 days a week to ensure their popcorn gets rotated within 72 hours.
They are currently offering four different subscription plans that include:
Monthly delivery of 4, freshly-baked unique flavors and themes reflecting the season, cities, or culture
You can opt for the 3-month, 6-month, 9-month, or 12-month subscription
Boxes are processed every 15th of each month and are shipped via UPS
Prices for the subscription start at $66.00 up to $264.00.
Koated Kernels Popcorn of the Month Club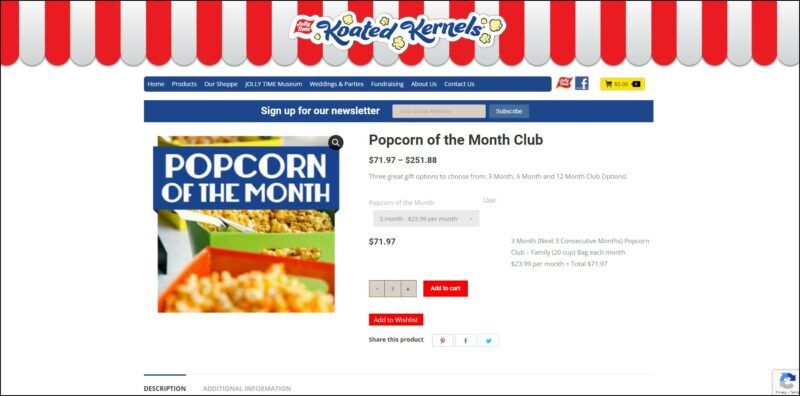 Koated Kernels was founded in 2011 by sisters BJ McClellan and Beth Boettcher, granddaughters of Jolly Time founder, Cloid H. Smith. They started selling their specially crafted popcorn at a farmer's market in Sioux City but they quickly gained popularity and the rest is history.
Their not-so-secret ingredient to delicious popcorn is that perfect kernel of butterfly popcorn which can beautifully retain a crunchy texture. All of this coupled with fine ingredients, then stirred by hand and then baked daily, resulted in more than 20 specialty recipes of popcorn today.
Their Popcorn Club is currently available in three great options which include.
A Family Bag or Gift Box of about 20 cups of popcorn which flavors will depend on the calendar of flavors – for instance for the month of September, it's White Cheddar Cheese.
There is a 3, 6, and 12-month Club Options
Family bag or gift box will be shipped within the first week of each month
The listed price of $71.97 to $251.98 already includes shipping and handling costs.
Al's Delicious Popcorn Club

Al's Delicious Popcorn was founded in 1985 in Columbus, Ohio. It's a family-owned business that's been perfecting its popping skills for the last 30 years. Today, they are proud owners of over 65 varieties of delectable gourmet popcorn. Some of these are the Bananas Foster, Cheddar Pretzel Ale, Cincinnati Style Chili, Jalapeno Beer Cheese, Sinfully Chocolate, and Spicy Fiesta Pop.
They take pride that their gourmet popcorns are hand prepared in their own store and not in some remote processing facility – this is their way of ensuring that quality is not overlooked even for a second. Indeed a business operation runs truly by the family.
Al's Popcorn Club offers three plans that ship monthly – Gift Box, Favorites, and Popcorn Lover:
You can pick your own flavors or you can leave it to them to surprise you
Depending on the plan you choose you can get either 6 snack bags, a 3.5 lb. gallon tin, or a 6.5 lb. gallon tin
They will reach out to you via email after you signup and paid for your first month to complete your registration and provide you with logins for your future orders so that you can pick your preferred flavor for the upcoming month (you can also leave that to them if you want to be surprised)
Pricing starts at $28 to $48 per month.
Joe & Seph's Monthly Popcorn Subscription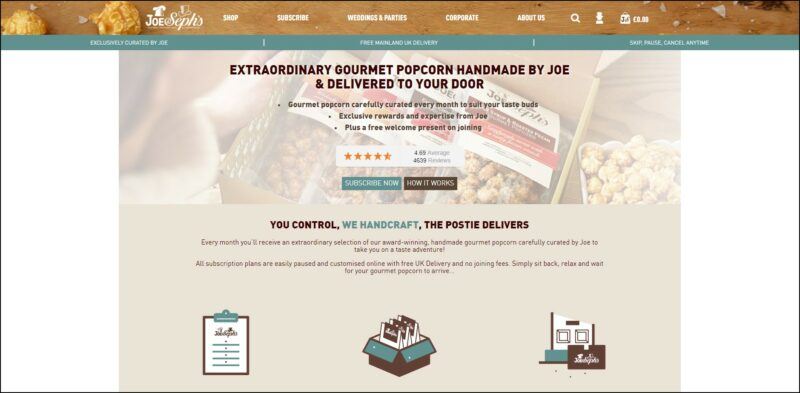 Joe & Seph's Gourmet Popcorn made its first debut in 2010 when it sold out in a food show in just two days. And after getting their first prestigious retail listing, it pretty much launched them into who they are today – proud owners of over 50 gourmet popcorn flavors and 10 caramel sauces. They've also won over 40 Great Taste Awards from the Guild of Fine Food (the Oscars of the food world).
Their popcorns are handmade in England by a small team of pastry chefs. They also air-pop extra large kernels for better texture and taste. And aside from using only the finest and 100% natural ingredients, they also take pride in their flavor sequencing – their very own unique cooking technique.
You will have to go through a series of steps to customize your popcorn subscription:
First, you need to choose who is it for, then you need to personalize it by either choosing 'Everything'(True Discovery) and 'Bespoke' (Finely Tuned)
If you chose 'Bespoke' you'll have to choose between devilishly decadent, sweet and tangy, rich and creamy, eclectic and curious, smooth and seductive, and seriously sophisticated.
After that, you will then need to choose between:
Connoisseur's Collection – which will get you seasonal flavors, exclusive flavors, and Joe's newest innovation along with Joe's tasting notes (curated by Joe)
Classic Collection – which will get you the best sellers, award-winners, and Joe's tasting notes
All packages will have the 4 standard popcorn pouches
You can choose the length of subscription from monthly, 3 months, or full year
Plans costs between £20-£192.
Bulk Candy Store Funfair Treats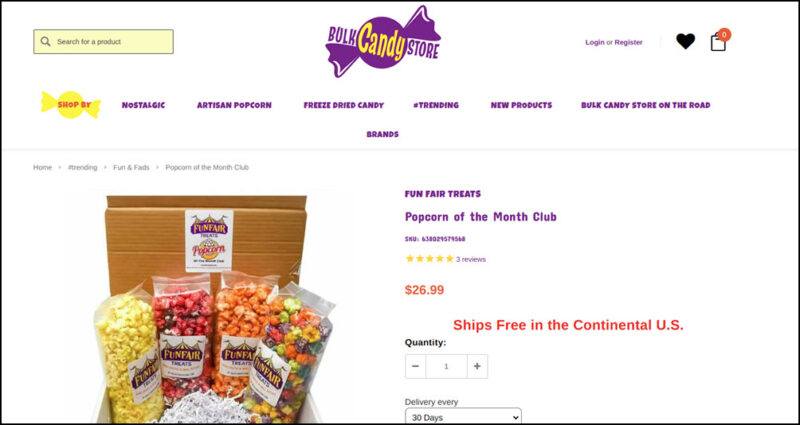 The Bulk Candy Store offers a fairly simple Popcorn of the Month Club, which features 4 bags of popcorn per shipment. The company currently makes more than 50 flavors of popcorn, so there's plenty of variety from one month to the next. You're not likely to receive many repeat flavors at all.
Some of the flavors include s'mores popcorn, tropical popcorn, strawberry popcorn, churro popcorn, and plenty more. There are also sometimes themed limited edition flavors in the mix, like one designed especially for Valentine's Day.
The subscription costs $28.99 per month, which is pretty good for the amount of popcorn you receive.
Pop Central Popcorn

Pop Central Popcorn takes an interesting approach, as they don't just have a single popcorn club. They have 4 different clubs instead, each focusing on different types of popcorn flavoring. Their first is a Sweet & Spicy Popcorn Club, which costs $175 for a 6-month subscription (running from Dec through to May).
Then there's the Sweet Stuff Popcorn Club, which just sends you sweet popcorn. This is a 6-month subscription as well and costs $145.50. However, this time the shipments are sent out on alternate months throughout the year, rather than in a 6-month block.
Next is the Salty and Savory Popcorn Club. This one also gives you 6 packages of popcorn, sent on alternate months throughout the year. However, it's the most expensive club, costing $196 for the 6 shipments.
Finally, there's the Holiday Popcorn Club. This is just a 3-month subscription for $105. Shipments for this club go out in December, February, and April – themed around Christmas/New Year, Valentines/Mardi Gras, and Easter/Spring.
These different clubs give you plenty of options for popcorn flavors and package sizes. It shouldn't be hard to find a club that's perfect for you.
Laughing Mountain Flavor Of The Month Club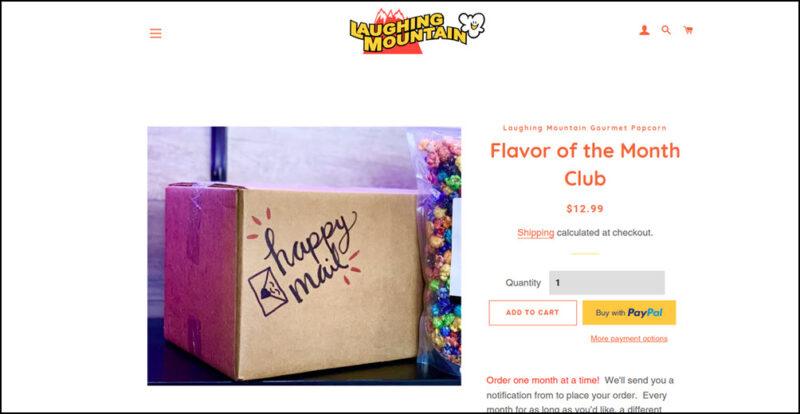 The Laughing Mountain Flavor of the Month Club is perfect for keeping things simple. The subscription just costs $12.99 per month. The club even prompts you for payment each month, making it easy to cancel if you want to.
Each shipment provides a single bag that contains roughly 14 cups of popcorn. The flavor changes each month. For example, Loaded Baked Potato is shipped out in April, Mexican Street Corn is shipped in June, and Dill Pickle in November.
There's a full list of flavors on the site. However, the listed flavors aren't guaranteed, as the company may sometimes change one when it's time to ship.
Miss Hannah's Gourmet Popcorn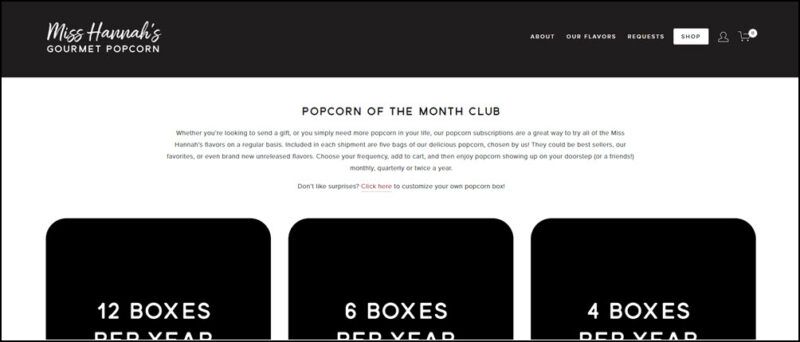 Miss Hannah's Gourmet Popcorn offers some fascinating flavors, including C2 Explosion, Coconut Creme, Garlic Peppercorn, Hurricane, and Rosemary Parm. The company's Popcorn of the Month Club is a fantastic way to try some of these different flavors for yourself.
Each shipment provides 5 different flavors. These include best sellers, customer favorites, and sometimes completely new flavors.
The monthly version of the club costs $60 per month. There's also a bi-monthly version, which averages out to $63 per shipment and ships out every 2 months. Or, the quarterly version, for $66 every 3 months.
Metropolis Gourmet Popcorn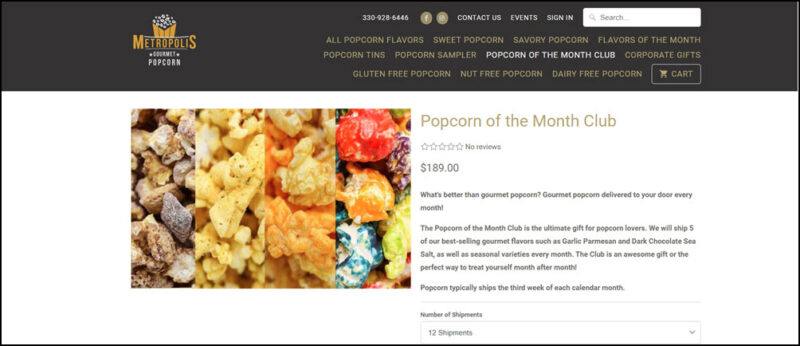 The Metropolis Gourmet Popcorn club ships out an impressive 5 popcorn flavors each shipment. Many of these are best-selling flavors, but seasonal varieties sometimes make it into the mix too.
There are 2 versions of this club. The first costs $189 and includes 12 shipments. The other costs $69 and gives you just 4 shipments instead. Some potential flavors include Dark Chocolate Sea Salt, Salted Double Caramel, Sweet Heat, and Loaded Baked Potato. These aren't incredibly unusual, but they're certainly tasty.
Kernel Crate Popcorn Subscription

The bright and bold Kernel Crate Popcorn Subscription sends out 3 flavors each month in a brightly colored cartoon-like box. The popcorn is always fresh and popped just a few days before customers receive it.
Some of the flavors are truly unusual, like Ghost Pepper Kettle Corn or Horchata, while others are more familiar. The sweet flavors come in 3-ounce bags, while the savory ones are sometimes in smaller 1-ounce bags instead.
The monthly price ranges from $15.49 to $18, depending on the length of your subscription. This subscription is managed through Cratejoy, so people new to the service may be able to get a discount (which is always a bonus!).
Damn Good Popcorn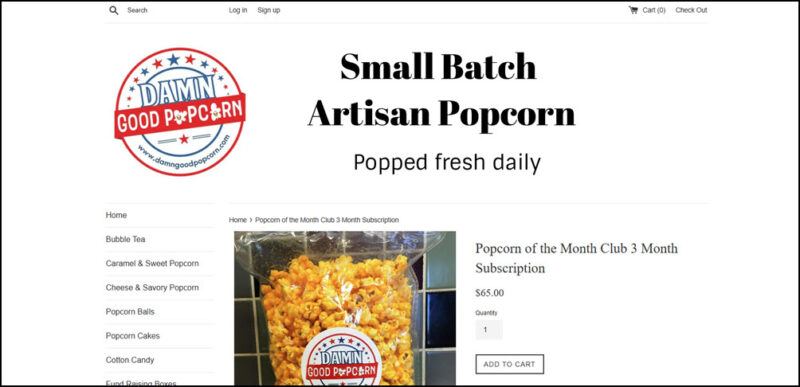 Finally, there's Damn Good Popcorn. This is a simpler subscription than most, shipping out a single large bag of popcorn each month. The flavors alternate between 3 styles – candy coated, savory, and cheese.
The 3-month subscription for this club costs $65, while the 6-month version costs $105 instead. There's also a 12-month version, but prices aren't given for that one.
Related Content
Frequently Asked Questions
Are There Any Popcorn Kernel Of The Month Clubs?
Almost all the popcorn clubs focus on popcorn that has already been popped and seasoned. The main exception is Karen's Artisan Popcorn. In addition to a regular subscription that sends out gourmet popcorn every month, Karen also offers a popcorn kernel of the month club.
This gives you a bag that contains five different kernel varieties, including blue, yellow, black, white, and red kernels. It's a one-of-a-kind subscription that's perfect if you want full control over your popcorn. This might also be the club you want if you're planning to build a popcorn bar.
Is There A Microwave Popcorn Subscription?
Monthly popcorn clubs all have a small-batch artisanal focus, where they're often focusing on gourmet flavors and styles. You won't see many big brands in the clubs and most stick to minimal processing.
As such, the popcorn is normally already popped and seasoned for you. There aren't any microwavable options at all.
The closest you could get would be to order microwave popcorn through Amazon's Subscribe & Save program. This provides up to 15% off your order and sends you items every month. Doing so could feel much like a popcorn club, except your order has no variety (it will be exactly the same each month).
Does Popcorn Feature In Any Snack Subscription Boxes?
Snack subscriptions are fun if you're looking for a variety of snacks. There's an almost endless supply of boxes to choose from, in every style imaginable.
Whether they contain popcorn depends on the box's focus. For example, natural boxes often include air popped popcorn with healthy seasonings, while a college-style snack box might include microwave popcorn instead.
You're less likely to find popcorn in international snack boxes, although you might still see it occasionally.
Are There Healthy Popcorn Clubs?
Coastal Maine Popcorn Co. is an excellent choice for healthy popcorn. Their kernels are always air popped, allowing the company to avoid oil. They also focus on high quality ingredients and avoid anything artificial. Unusually, the subscription provides one sweet and one savory flavor each month, giving you plenty of variety.
Karen's Artisan Popcorn is a good choice too. The flavoring ingredients are always natural and there are a few savory flavors that help you keep your sugar intake low. You could also just stick with her kernel of the month club. This way you can choose your own healthy toppings.