Who doesn't love popcorn? This globally enjoyed snack has been around for centuries and was once used in ancient Aztec ceremonies. Popcorn has continued to evolve from ancient times to the classic, salt & butter, to today's gourmet flavors like Sea Salt Caramel.
The best way to truly enjoy the flavor evolution of popcorn is to join a popcorn of the month club. Now you might be thinking that a popcorn of the month club sounds a bit silly, but it's one of the most fabulous ideas out there. Think about it, a variety of fun flavored popcorn delivered conveniently to your door, what can be better than that?
One of the reasons popcorn of the month clubs is so well-liked, besides getting a delicious treat, is the multitude of fabulous flavors you get to experience. Honestly, it blows the mind that so many varieties exist, and popcorn of the month club is the optimal way to try them all.
Are you wondering how it works? Well, there is a wide variety of clubs to choose from with a multitude of plans, from three months to a full year membership. Some of the clubs allow you to customize your orders where other clubs surprise you with their popcorn of the month flavor. A few subscriptions offer one flavor a month, whereas others send two or more flavors.
With so many membership options available, you're guaranteed to find the perfect club. Popcorn of the month club memberships are excellent gifts to send to friends, family, or coworkers.
Which club should you start with? My favorite is Amazing Clubs Popcorn of the Month Club. As with all their clubs, they focus on quality and variety, meaning they spend time sourcing craft, artisanal, and hand made products from around the USA, then rigorously taste-test them to find the best before shipping the popcorn to your home.
Popcorn of the Month Clubs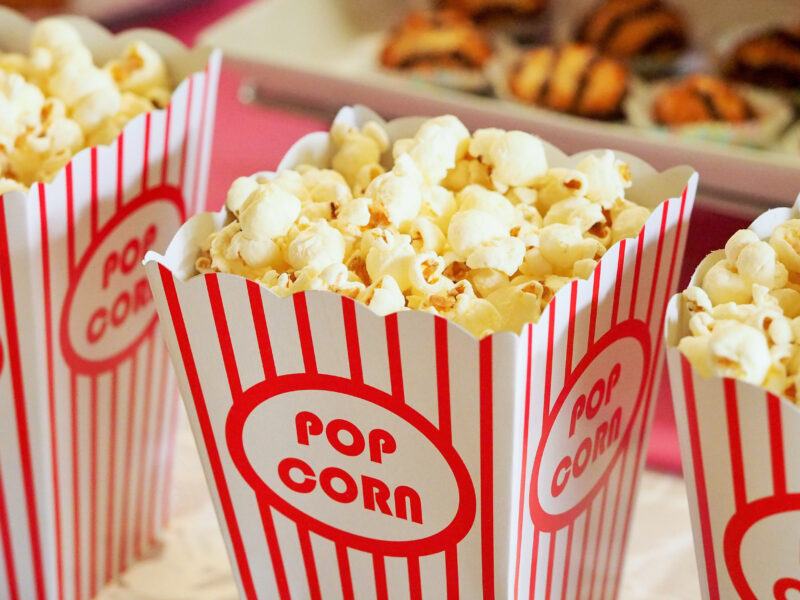 Amazing Clubs
Harry & David
Popcorn Factory
Shirley's Gourmet Popcorn Company
Coastal Maine Popcorn Company
Gourmet Gift Baskets.Com
Fisher's Popcorn
Amazing Clubs

Amazing Clubs was founded in 2003, offering only one club. However, by their third year, they were offering seventeen membership options, and now sixteen years later, they have a whopping 40 gift clubs.
Amazing Clubs has an easy customer satisfaction guarantee:
If the recipient doesn't care for the program, for any reason, Amazing Clubs will do all they can to correct the problem or provide a refund accordingly.
Customers can choose to skip deliveries for any reason including if the customer doesn't care for the following month's flavor or if they are not going to be around, due to a busy travel schedule.
Lowest price guarantee, if you see the same thing at a lower price Amazing Clubs will match that price and reimburse you for the difference.
Amazing Clubs specializes in both food and drink clubs, and amongst those clubs, they offer an excellent popcorn of the month membership.
Their popcorn of the month club includes:
2 Gallons of Popcorn divided into three different flavors popped in 100% coconut oil
Popcorn Lover's Newsletter which talks about the flavors of that month, fun popcorn facts, and more
Create Your Own Club has four membership options

3 Month
Seasonal – Four Deliveries
6 Month
12 Month

Some of the flavors included are Sea Salt Cheddar Cheese, Crunchy Almond Mocha, and White Chocolate.
Subscriptions cost between $22.95-$24.95 per month. Subscriptions can be paid either in full or by shipment.
Harry & David

Harry & David have been perfecting their gift baskets since 1934. The two brothers, Harry & David, started their business venture in Oregon when they took over their family-run orchard.
Harry & David best known for gourmet treats, still pick, craft, and pack each gift basket by hand.
In addition to their famous pears, baked goods, confections, meats & cheeses, Harry and David also offers an exceptional array of popcorn flavors.
With such a wide assortment of popcorn flavors, it might be challenging to choose just one, so the Harry & David company came up with a monthly popcorn subscription. The popcorn of the month club allows you to enjoy a different flavor each month.
They have two popcorn of the month club options:
The Moose Munch Premium Popcorn Club – This club membership comes in three different monthly options, three, six, or twelve months. Each month you will receive two varieties of popcorn. Also, their website lists what you will get each month in your delivery.
Moose Munch Premium Popcorn Discovery Box Subscription – This subscription can be canceled at any time, so the duration of your membership is customized to your needs. With this subscription, you will receive two 10-oz bags during the last half of the month.
Besides these two memberships, Harry & David offer a subscription plan on a few of their more popular popcorn flavors. So, if you have a favorite H&D popcorn, you can sign up to have only that flavor delivered each month.
Membership prices range from $14.16 – $29.99 per month, depending on the duration and type of membership you sign up for.
The Popcorn Factory

The Popcorn Factory was founded in 1979, and now pops more than one million pounds of popcorn every year! The corn they use is sourced in the US, and they only pop their popcorn in pure corn oil. Additionally, their popcorn is 100% Kosher.
Plus, they stand behind their product with their guarantee Popcorn Promise: You and your recipients must be absolutely delighted!
The Popcorn Factory offers two Popcorn Memberships Options:
Popcorn Lover's Flavor of the Month Club
Flavor of the Month Club
The two memberships are identical, except for the size. The Popcorn Lover's comes in a one-gallon tin and holds anywhere between 7-33 ounces of popcorn for $19.99 per month. The Flavor of the Month membership is smaller and comes in a canister containing between 2.5-9.5 ounces of popcorn for $12.99 per month.
Besides the size difference, both memberships are 12-month subscriptions that are shipped during the first week of every month. Plus, each popcorn of the month is listed on their website, so you will know what to look forward to the following month.
Some of the flavors you will enjoy throughout the year include Cracked Pepper and Sea Salt, Tangerine Vanilla Caramel, Mint Chocolate Chip, and Mesquite BBQ.
Shirley's Gourmet Popcorn Company

Shirley's popcorn started at the Shannon Theatre, being sold as a classic movie snack. However, the popcorn grew in such popularity that people began to inquire about how they could buy the popcorn without having to buy a movie ticket.
Shirley's popcorn came by its name because of Shannon Theatre's well-known employee, Shirley. Shirley started at the theatre in 1982 and was the one responsible for creating this delicious buttery treat.
Fast forward several years, and now Shirley's popcorn has expanded beyond the walls of the theatre and is now available at seven retail stores plus online.
Shirley's popcorn can be ordered as a gift box, individual bag or tin, sample pack, or even as a popcorn of the month subscription. The monthly popcorn subscription includes:
2 Flavors separately packaged in large bags (10-12 cups each)
Popcorn flavors included are one classic and one premium flavor, some of the flavors included are Cinnamon Buns, Pumpkin Spice, Windy City Style, and Oreo White Chocolate
3, 6, and 12-month membership options
Popcorn is packaged and shipped on or near the 10th of every month
The monthly price ranges between $24.98 – $21.66.
Coastal Maine Popcorn Company

Coastal Maine Popcorn Company opened in June of 2008, in Boothbay Harbor Maine.
Coastal Maine's popcorn is air-popped without the use of oil and is made in small batches. Each batch is sorted to ensure the popcorn is fully popped, removing any partially popped or broken pieces.
Their dedication to quality has helped to grow their business from a single store into a lucrative online and wholesale business. You can purchase their popcorn at their original store in Maine or order online and have it shipped.
You can get Coastal Maine Popcorn by the bag, tin, or popcorn of the month subscription. The popcorn of the month subscription includes:
3, 6, or 12-month option
Two large bags (9-10 cups) of popcorn, one sweet and one savory
Popcorn is shipped out the second Friday of the Month
Flavors are pre-selected some of the flavors offered are Buffalo Wing, Chocolate Bacon, Cotton Candy, and Olive Oil & Pink Himalayan Sea Salt
Prices range from $16.66 – $21.32 per month.
Gourmet Gift Baskets.Com
GourmetGiftsBaskets.com was founded in 2002 by the Abood family when Ryan Abood, realized the need for gourmet gifts. The inspiration behind GourmetGiftBaskets.com came from the family-owned floral shop in New Hampshire. This small family-owned business started in the basement of the flower shop but over time, grew into a multi-million dollar company.
GourmetGiftsBaskets.com offers a wide variety of gift baskets including coffee & chocolate, meat & cheese, wine, baked goods, themed, and popcorn. Beyond gift baskets, they also offer two different monthly clubs, cheesecake, and popcorn of the month clubs. Their popcorn of the month club includes:
Monthly or every other month shipment options
Sent out during the first week of each month
3, 6, 9, or 12-month subscriptions
1, 2, or 3.5-gallon tin buckets
Pre-selected single flavor, some of the flavor options are Sea Salt & Cracked Pepper Kettle Corn Peanut Butter Cup, Springtime Crunch, Cookies & Cream, and Cheesy Cheddar
Prices start at $19.17 and got to $44.17 per month.
Fisher's Popcorn
Fisher's Popcorn started in 1937 by Everett Fisher and Edmund Pusey under the name of Pixton's Popcorn on the Boardwalk in Ocean City. After Pusey left the company, the popcorn was rebranded Fisher's Popcorn. Though the company remained under the family name, a new branch was opened and operated independently in Delaware.
The Delaware branch expanded into the wholesale market, making its popcorn available in over 2000 stores nationwide. The popcorn is still made at their Delaware stores, which are open to the public.
Fisher's Popcorn offers a Popcorn of the month club, a subscription to this club includes:
3, 6, 9, and 12-month Option
1/2, 1, 1.5, 2.5, 3.5-Gallon buckets
A flavor, you select at the time you place the order, flavor options include 3-Way split Butter, Caramel, & White Cheddar, Kettle corn, Caramel Peanut, and Old Bay
The Flavor of the Month Club is similar to the popcorn of the month club, but instead of the same flavor every month, you receive a different kind each month.
Prices range from $16.25 to $46.50.