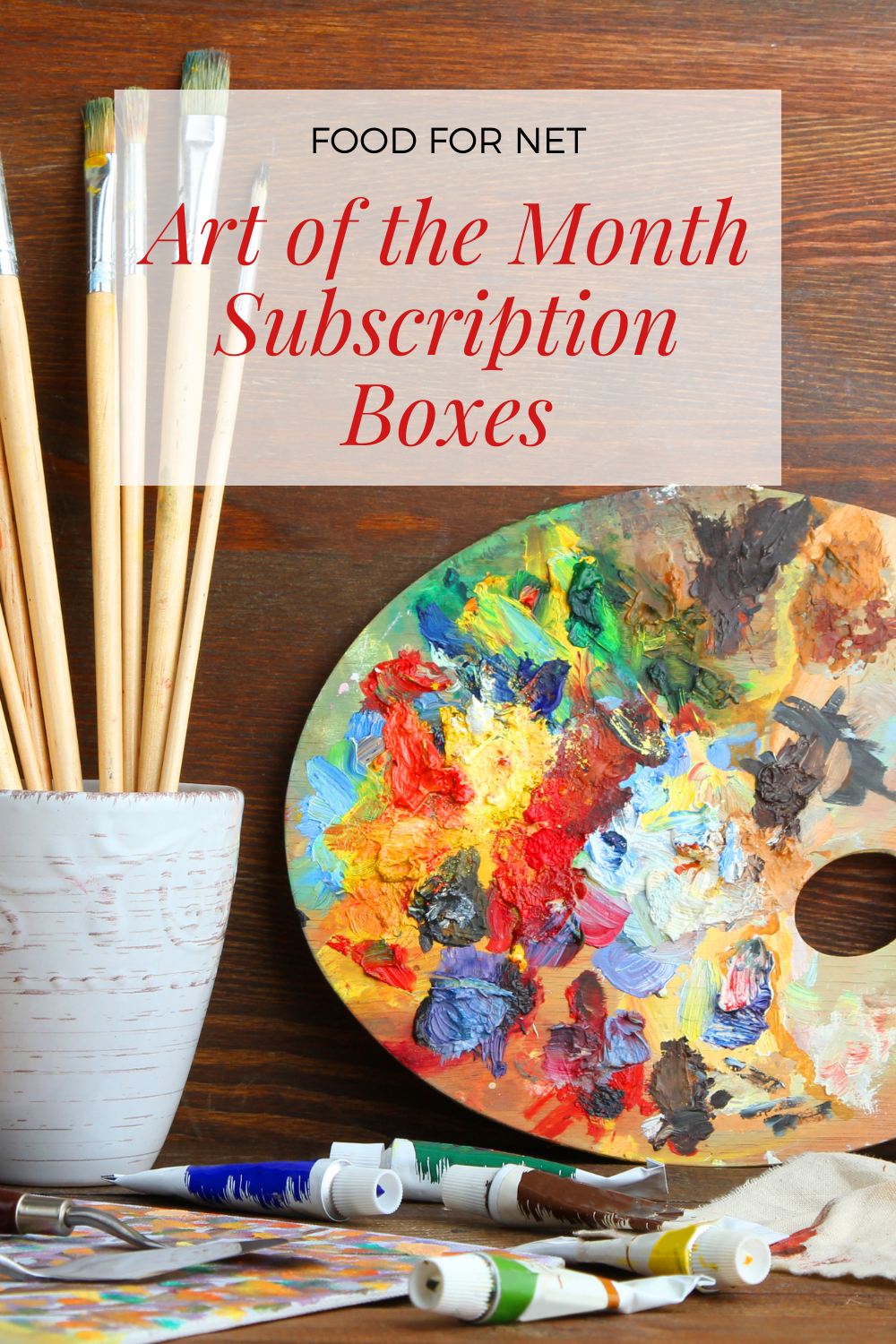 Art of the month clubs is perfect for any artist at any skill level. Art subscription boxes help artists learn about other media, styles, and techniques. Additionally, they allow artists to try new art supplies at an economical cost before investing in the materials.
Some of the art subscription boxes are geared toward newer artists and provide step by step easy to follow instructions with visual aids including videos. All of the subscription boxes offer information about the tools and supplies included in that month box so that the artist has a better idea of how best to use these new items.
Though many of the art of the month subscription boxes include all you need to create unique and original works of art, some boxes require you to add additional supplies such as paint brushes, pallets, or surfaces, which is why it is essential to read what's included in each box before ordering.
Most of the art subscription boxes alternate the different types of art projects each month. For example, one month, you may receive a box for charcoal drawings and the next for acrylic painting. However, if you are looking for a specific type of art style, such as watercolor painting or drawing, those art of the month clubs are available too.
Plus, there are art subscription boxes for all ages, from adults to children. Though some of the boxes are universal for all ages, some focus on helping children learn and grow their artistic abilities at a more basic level.
So, if you are looking to expand your art skills or you are looking for the perfect gift for the artist in your life, these art of the month clubs are the ideal place to start.
There are other creative clubs to think about too, such as craft of the month clubs for adults and similar ones for kids.

Art of the Month Clubs
Paletteful Packs

Paletteful Packs is an art supply subscription box company that features a variety of mediums. Their goal is to expand artists' knowledge of various mediums. Though Paletteful Packs does not sell individual art supplies, they do sell previous art boxes while supplies last.
Paletteful Packs is perfect for new and experienced artists as a way to grow their experience with various styles of art and expand their art supplies. They offer three different Paletteful Pack options:
Premier Paletteful Pack for $35.95 – $407.40
Paletteful Petite Pack for $24.95 – $275.40
Young Artist Paletteful Pack for $31.95 – $359.40
Paletteful Packs are available in monthly or quarterly subscriptions, and the monthly subscription term options include month-to-month, three-month prepaid, six-month prepaid, and 12-month prepaid. Prices vary depending upon the pack, the frequency, and the duration.
All of their subscription boxes are based upon a theme and the themes change each month. Some of the different themed boxes you may see in your subscription include:
Acrylic paint
Graphite and charcoal
Jacquard Lumiere paint
Walnut edition
Boxes include a variety of art supplies but are always enough to complete a full work of art. Each month a video for the Petite and the Premier boxes is featured on their website. The video discusses the various items within the box and how to best use them.
An example of one of their sketching boxes included:
Lyra pack of six assorted pencils including both oil-based and oil-free pencils
Two stabilizer pencils
Hexagon crayon holder
Graphite crayon
Pencil sharpener
Limited edition blackening pencil
Pack of three 8X10 pro-grade illustration boards
Shipping is free within the US and boxes are shipped via USPS, international shipping is available and prices range between $10 to $15 per month. Subscription boxes ship the last week of the month.
Art Snacks

Art Snacks, founded in 2013 by sister and brother duo Lee and Sarah Rubenstein, is an online art supply store specializing in art subscription boxes. The Art Snack mission is to "inspire you to create."
Art Snacks also offers a wide array of art supplies for drawing and painting, including pencils, acrylic and watercolor paints, artist crayons, brushes, storage containers, and various tools needed for these mediums.
Art Snacks' subscription boxes come in two different varieties a standard Art Snack box and the Art Snack Plus box. There are a few differences between the two options:
The standard Art Snack Box includes:

Four to five premium full-size art supplies
A snack
A card describing each item, best practices when using them, and new techniques to try
Free shipping

The Art Snacks Plus box has:

Five to six premium full-size art supplies
A snack
A card describing each item, best practices when using them, and new techniques to try

One full-size surface
Discount codes for art supplies
Free shipping for additional art supplies
Exclusive access to presale items and events
An example of what you may receive in an Art Snacks Plus Box includes:
Marabu Graphix Sketch Marker
Tombow Pastel MONO Graph Mechanical Pencil
Tombow Fudenosuke Neon Brush Pen
Two Caran d'Ache Luminance 6901 Colored Pencils
Three-pack of Crescent #300 Drawings Boards, 9″x12″
Marabu Graphix Sketch Markers, Alpha Robot Set of Six
And the same month's box for the Art Snack standard box included:
Marabu Graphix Sketch Marker
Tombow Pastel MONO Graph Mechanical Pencil
Tombow Fudenosuke Neon Brush Pen
Two Caran d'Ache Luminance 6901 Colored Pencils
Art Snacks also sells a kids collection box; though it is not a subscription box, it does include seven full-sized premium art supplies, two of which are limited edition items, and one is a full set. A kids art subscription could be maybe a coloring book subscription instead.
Additionally, there will be an instructional video taught by Dr. Erin Partridge, an artist and board-certified art therapist. These boxes are sold through Walmart's online store and are only available to customers in the US.
Smart Art

Smart Art is a monthly art subscription box company that also sells a variety of other one-time art boxes.
Smart Art offers six bundles, which are individual art boxes that include various art supplies that fall within each box's theme. Each box contains premium full-size products and detailed instructions to create an original art piece. The six Smart Art bundles are:
Handlettering
Magna drawing
Colored pencil
Mixed media
Watercolors
Soft pastels
In addition to their Smart Art bundles, they also carry Jazza boxes, which are part of their ultimate create collection, starting at $99.99. There are four different options available Super Sculpture, Calligraphy and Ink, Miniatures, and the Collection, which contains all three boxes. All of these boxes offer an extensive selection of supplies to create a variety of projects and pieces.
However, their subscription boxes are the primary focus of the Smart Art company. The smart art subscription box comes in three different term options month-to-month, three months prepaid, and six months prepaid. Prices for a month-to-month start at $49.95 per box. Prices decrease when you select longer term options.
Examples of the Smart Art subscription boxes include:
Illustrator Markers
Graphite and Body Art
Glass Painting
Gouache
Manga Drawing
Mixed Media Art
Smart Art boxes include a variety of premium full-sized art supplies. What is included varies depending on each month's theme. An example of what is found in the watercolor box is:
Talen's Art Creation Watercolor Set of Eight Tubes
Bruynzeel Aquarel Pencils 12 set
Zig Zag Watercolor Book 5.5″ x 5.5″
Keep N' Carry Standard brush case
Seven brushes
All art subscription boxes include a brochure that provides a history of the materials, a list of items included, a quick start guide, and skill challenge guide.
Let's Make Art

Let's Make Art is located in Hamilton, Missouri. It is an art supply company and a creative space where you can learn new art skills. Let's Make Art offers various classes, including art journaling, watercolor, lettering, kids projects, and holiday-inspired projects. The majority of their art supplies are based upon drawing, painting, and journaling.
In addition to their many art supplies, Let's Make Art also offers free online tutorials. Plus, they offer three different subscription boxes:
Watercolor – 4 Projects comes with enough supplies to create each project twice, supplies include:
Watercolor paints
Eight pages of watercolor paper
Step by step instructions
5 x 7 reference cards
Project outlines
Let's Make Art Matter postcard
Graphite paper
Watercolor pencils.
Kids Art – 4 Projects comes with enough supplies to create each project twice, supplies included:
Liquid Dandelion paint
12 Sheets of watercolor paper
Step by step instructions
5 x 7 reference card
Stars crayon set 12 colors
Three straws
Let's Make Art Matter postcard
Custom collectible Patch
Art Journaling – Supplies included are:
Mixed media art journal
Six art recipe cards
Two Sheets Interstellar Moods Collage Paper
Dandelion Paint Co. Watercolors
Zig Clean Color Dot Gold Pen
Sea Salt
Bleed Proof White
Graphite Paper
Yes! Paste
Please note when purchasing subscription boxes that include paints, paintbrushes and pallets are not included.
Each box is available as a single box for $45.00, or you can sign up for their subscription box, which is $35 per month. The subscriptions are on a month-to-month basis and can be canceled at any time. Boxes ship out on the first of the month unless it falls on a holiday or weekend, then it ships the next business day.
Smile Create Repeat

Smile Create Repeat is an art of the month subscription box company. Founded by married couple Tony and Kim, both artists, Smile Create Repeat is a family-owned and operated business with the mission to inspire others.
The Smile Create Repeat box is perfect for those five years and older, though the younger artists will need some supervision. In addition to their subscription boxes, the company offers a few different art supply boxes, including a Colored Pencil Art Box with bonus pearl burnish, Brush Pen Art Box, Making a Better Day Postcard Art Box, Handmade Mini Sketchbook, and Coronavirus Drawing a Day ebook.
Past subscription boxes are available; however, you cannot choose which previous box you want; instead, it is sent as a mystery art box. Additionally, their holiday box is available for a one time purchase, making it the ideal holiday gift.
Smile Create Repeat hopes to inspire other artists to continue to learn about new art supplies and media. All of their art boxes are based upon surface art, such as drawing and painting. Their art subscription boxes are available in three different term options:
Month-to-month for $25
6-month prepaid for $150
12-month prepaid for $276
Each subscription box includes:
Five or more art supplies
A link for a tool-specific demonstration video
Inspirational step by step tutorial
The occasional surprise bonus item
Surfaces appropriate for that month's theme are included in each box; previous boxes have had surface types such as charcoal paper, canvas, and watercolor paper. Some of the previous boxes have been based on art themes such as charcoal, scratchboard, colored pencils, oil paints, watercolor. All the supplies included are full-size professional quality.