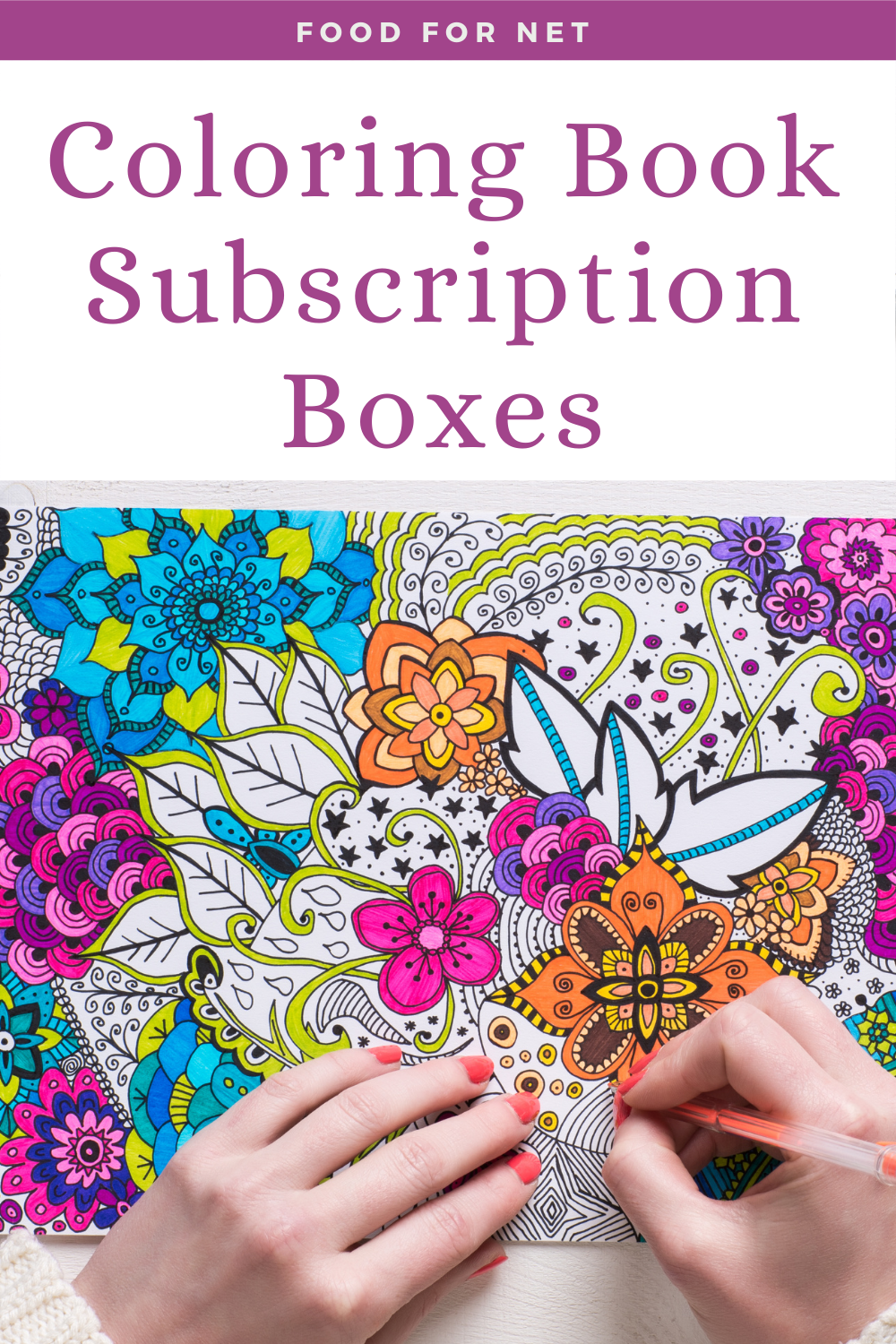 The first adult coloring book, Secret Garden, created by Johanna Basford in Scotland, was sold in 2013. Secret Garden sold 12 million copies, was translated into 45 different languages, and would be the beginning of a new worldwide trend. Three years later, adult coloring books became so popular that they caused a global pencil shortage. Nowadays, coloring subscription boxes take the trend to the next level.
Adult coloring books are touted as being able to help reduce stress, improve mood, and lower depression. Many art therapists agree that through positive psychology, coloring books can, in fact, help improve one's mood and overall emotional state. However, it should be noted that coloring does not replace therapy.
Multiple studies have been conducted using coloring books as a form of therapy to see how it affects anxiety. Three different studies were published stating that there was a substantial improvement in anxiety, especially in state anxiety, though trait anxiety improved as well. 
With the many proven benefits of adult coloring books, some designers have created coloring books with the intent of increasing one's mindfulness and aiding in mediation and relaxation. Additional advantages of adult coloring books include improving hand-eye coordination, focus, improved creativity, and motor function.
Due to the growing popularity of adult coloring books, several companies have started coloring book of the month clubs.
These subscriptions are an extremely convenient way to always have a variety of coloring books on hand. By signing up for a coloring book subscription you eliminate the need to go to the store or search online for the perfect coloring book.
Also, coloring book of the month clubs offer a variety of selections some of which specialize in art therapy. These subscription boxes are available in a variety of price ranges and in both digital and hardcopy form.
Coloring book monthly subscription boxes are a perfect gift for yourself or for a loved one in need of some stress-free time. You might also consider a book of the month club if you love reading or perhaps an art club or a craft club.

Coloring Book of the Month Clubs
Coloring and Classics

Coloring and Classics was inspired by an unexpected health condition brought on by daily stress and no downtime. This unfortunate incident opened the eyes of the founders that things needed to change.
First, the founders attempted meditation and other forms of relaxation to reduce daily stress. However, when they found out that meditation was not their thing, they turned to a more structured option, adult coloring. Because of their newfound success in reducing stress through coloring, they figured they were not alone and started Coloring and Classics.
Today Coloring and Classics' goal is to bring the big three, as they refer to it, imagination, problem-solving, and creativity into others' lives to help them find time for themselves to relax and live in the now. 
Coloring and Classics offers two different subscription options: 
The Coloring and Classic Box:
Month-to-month for $16.99 
3 months for $47.97 
6 months for $90.00  
12 months for $168 
The Coloring and Classics Premium Box has the same books as the Coloring and Classic Box but also includes a 12-ounce bag of hand-roasted premium coffee:
Month-to-month for $28.99 
3 months for $84 
6 months for $161.94 
12 months for $312.00 
Included in your subscription box are one adult coloring book, one adult puzzle book, and a hardcover novel. There are seven genres to choose from for your monthly novel: Acclaimed fiction, acclaimed nonfiction, mystery, thriller, horror, romance, and fantasy.
Genres can be changed from month-to-month.
When you first order your Coloring and Classics subscription box, it will ship out within 48 hours of your order. After that, all future subscription boxes ship out during the last week of the month and takes approximately three to seven days to arrive. When your subscription box ships out, Coloring and Classics will send you an email with the FedEx tracking number.
Life Escapes

Life Escapes is an online adult coloring bookstore. Unlike many other coloring bookstores, Life Escapes offers PDF downloads so that customers can get their images immediately. 
The images they provide are all grayscale design. And for those unfamiliar with how to color in grayscale, since it is different, they do offer a video tutorial on their website. 
Life Escapes has more than 100 different online coloring books to choose from. Though some of those coloring books are OK for children, most of the books are geared toward adults. Some of the coloring books they offer include:  
Evil clowns 
Fall into autumn 
Painted faces 
Pumpkin faces 
Funny fun 
Creepy Halloween 
Oldtimer 
Gorgeous women 
Handsome hunks 
You can purchase any of their 48-page PDF coloring books individually for $10, or you can buy a sampler that has 10 images for $5. Additionally, Life Escapes offers a 12-month subscription. 
Each month the recipient will receive a random selection of 30 top quality images from various coloring books.
When you purchase from Life Escapes, you agree that you will not copy to sell or copy to share these images with others. However, they encourage you to try different color and paper options, so you are welcome to create copies for yourself. Full disclosure of guidelines is provided at the time of purchase. 
When you decide to purchase any of their coloring images, it takes 24 business hours for them to process your payment and email you your pictures. 
Koloring Box

Koloring Box is a subscription-based company that focuses on selling coloring books for adults. They do not offer individual coloring books. However, they do have two different coloring book subscription box options. 
The Koloring Box coloring pages are unique. They send you a variety of image options, including postcards, frameable coloring pieces, and booklets. In addition to their unique coloring format selections, each box also contains extra fun coloring tool add-ons such as metallic pens or gel pens. 
After subscribing to their coloring box, you can join the Koloring Box Facebook community to both share and collaborate with others who enjoy coloring.
The Koloring Box month-to-month subcription is $7.99 and the three-month prepaid subscription box is $22.49. 
Pop Shop America

Pop Shop America is a crafting supply online store. Many of the items they sell are kits such as their soap kits, floral kits, embroidery kits, and jewelry kits. They also have online tutorials that offer ideas and instructions for different food, drinks, and DIY projects. Plus, if you were looking to take an online craft class, Pop Shop offers those too.
Pop Shop has two different subscription boxes the craft subscription box and the coloring box. Their coloring subscription box comes in three term options: month-to-month, six months, and 12 months.
If you purchase the six-month option, you will receive a free set of colored pencils, and if you order the 12-month subscription, you will get a free coloring book. 
After placing your order for your coloring book, subscription box Pop Shop will ship your first box within three to five business days. However, they will email you the digital images the same day you place your order.
Each subscription includes 12 color pages and 12 digital downloads. The 12 physical coloring items include various coloring crafts such as stickers, calendars, posters, and bookmarks to color.
Each month is carefully planned to match a theme; some of the themes they offer include Fall in Love with Fall, Country Doodle, Elephants, the Zodiac, Pet Parade, and Mandalas. Pop Shop subscription boxes start as low as $4.97 a month. 
Monthly Coloring Club

The Monthly Coloring Club is an adult coloring book online store that offers positive psychology therapy coloring books. The Monthly Coloring Club offers both digital and hard copy coloring book options. They sell their coloring books for individual sale or as part of a subscription.
Besides coloring books, The Monthly Coloring Club offers free online coloring classes to help bring your coloring to its next level. These help teach people how to do different types of shading, combine colors, select the right coloring materials, and how to choose the correct colors.
There are a variety of different color book themes, with several options within each theme, including: Holiday, season, animal, architecture, nature, and patterns.
Coloring books sold individually are primarily hard copies though some are available in digital form. Plus, if you would like, you can add colored pencils to your purchase. 
The Monthly Coloring Club's primary focus is the coloring book of the month subscription box. They offer four different coloring book subscription choices:
Calm Pack Digital for $6 per month 
Relax Pack Digital for $11 per month 
Calm Pack Cardstock for $14 a month  
Relax Pack Cardstock for $29 a month 
The Calm Packs include six drawings, while the card stock option are loose-leaf individual sheets. The Relaxed Pack includes twenty drawings, with the card stock pages top bound with comb binding.
The physical coloring pages are all on 110-pound cardstock, perfect for markers, watercolors, gel pens, coloring pencils, and crayons. Each coloring page includes an inspirational quote, a gratitude reminder, plus all of the illustrations are original hand-drawn designs. 
Every month is a different theme. Some of the themes you may see in your coloring book subscription include wild safari, weird and wonderful, complex mandalas, underwater adventure, and amazing Aztec. 
All subscription boxes are shipped on the 21st of each month and are sent in a rigid envelope, so the pages are not damaged. Shipping is free in the US and Canada. 
Related Content