We tend to cry when we're upset, often because our emotions are too strong to hold them in longer. While doing so has long been seen as a weakness, we're now recognizing that crying is an important part of being human. It isn't something to be ashamed of at all. So, how about it? Is crying good for you?
A link between crying and health isn't as strange as it might seem. After all, we already know that chronic stress can be very harmful. Too much stress could even increase the risk of disease, which is partly why stress busting foods and products like adult coloring books have become so popular.
Some behaviors can impact your health too, like exercising, napping, or even taking cold showers. Besides, most of us do feel much better after we've had a decent cry. It seems like something that makes you feel better so immediately should have some effect on your health. Right?
Clearly this is an area we need to look at closely.  
Is Crying Good For Your Health?
Why Do We Cry?
How Crying Can Be Helpful
When Crying Might Be A Bad Thing
Final Thoughts
Why Do We Cry?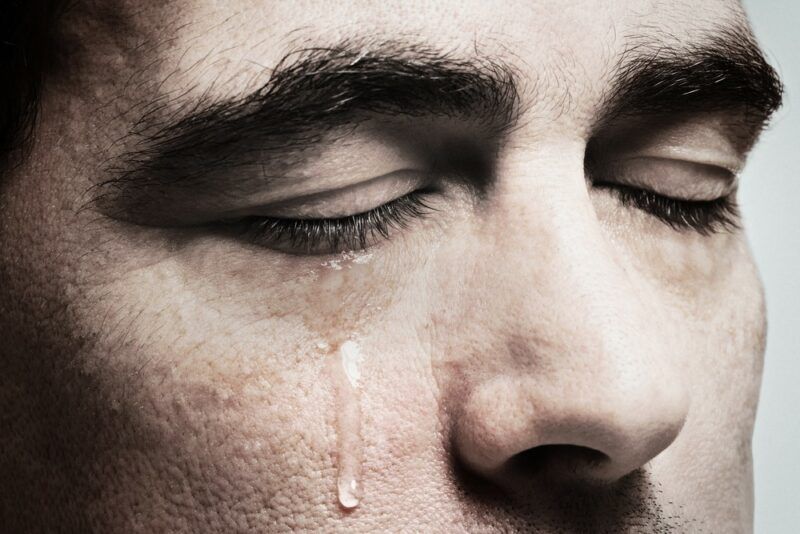 Trying is an incredibly human process It's a key part of our lives, even though some of us cry more than others.
Tears fall into a few different categories.
Basal tears are the simplest type. These keep your eyes lubricated and help protect them. Without basal tears, our eyes would get painful fast (which is also why having dry eyes can be so uncomfortable).
There are reflex tears too. These are generated by something external and they wash away anything that might cause irritation. Reflex tears are what you experience when there's dust or too much smoke around you.
The emotional tears though, these are the ones we're most interested in.
These arise from internal processes. Sometimes they're a response to joy or gratitude, giving you what's sometimes called 'tears of happiness'. Rage can be a trigger too, but most of the time, tears are linked to sorrow. The tears might be quiet and relatively discreet or they could present with full-blown uncontrollable sobs that are incredibly embarrassing in public.
But, why is crying such a big part of being human?
While there are still many gaps in our knowledge, we do have a few ideas about why crying is so common:
Crying may be a way to seek help or to show that the need for help is strong. After all, crying is seen as a signal of severe distress and crying people are often asked "what's wrong?" or "is there something I can do?".
Indeed, there's a social aspect to crying, which may be why crying helps to bond people together (and also why we're more likely to cry around people who we feel are safe).
Crying gets the emotions out and helps you to process them. This can be crucial, especially when everything you feel seems overwhelming.
Crying might have a pain decreasing pain too because our bodies release both oxytocin and endorphins when we cry.
The final thing is that crying has been normal for countless generations. This helps to condition the behavior into the human psyche. In a sense then, we may cry when we're sad partly because that's what we're supposed to do when we're sad.
How Crying Can Be Healthy (and even necessary)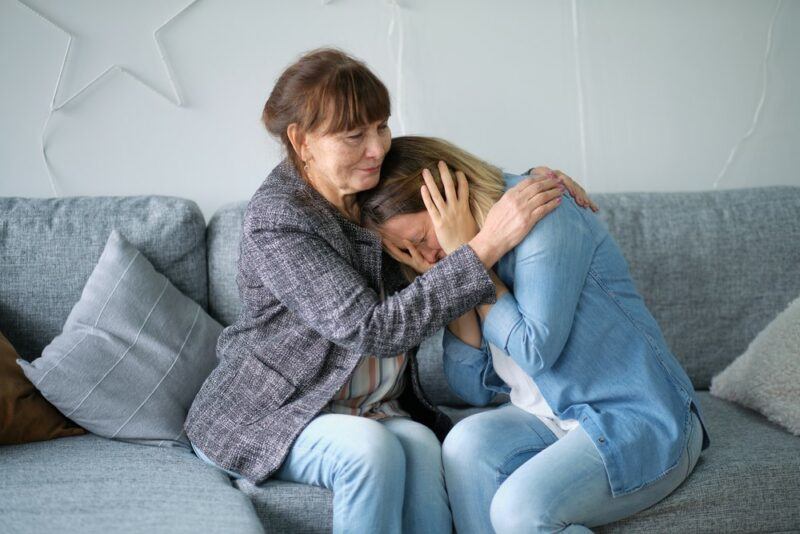 Crying Makes You Feel Better
As frustrating as crying can be, it's often one of the fastest ways to feel better. Have you ever noticed that? Having a good cry often shifts your emotions from being overwhelming to being manageable (or, at least, tolerable).
You might also find that when you fight tears, you end up staying sad and trapped in your emotions for hours, if not longer. But, if you cry, you feel much better in half an hour or even less.
This happens because tears release stress hormones, helping you to feel much less overwhelmed. Crying also activates your parasympathetic nervous system, which has a soothing and calming effect. That activation is one reason why crying is such a powerful way to self-soothe.  
Many people recognize the power of crying and going through your emotions, rather than avoiding them. You may have heard advice to this effect before, suggesting that it's much better to experience all that you feel, good and bad, rather than suppressing negative emotions.
Crying is perhaps the ultimate way to experience your emotions.
It Can Help You Sleep
You've heard the phrase 'crying yourself to sleep', right? This isn't just a saying. Instead, the soothing effect of crying really can help you to sleep, especially when you were emotionally distressed beforehand.
And honestly, if you've had an awful day, are dealing with grief, or just went through a breakup, crying might be the only thing that gets you to sleep. Otherwise, the emotions just tend to sit and can quickly get overwhelming.
Crying yourself to sleep isn't really a terrible thing anyway. You're getting all the benefits of crying, along with some much-needed rest. You're likely to wake up feeling refreshed and hopefully a little more optimistic.
You're Protecting Your Eyes
Tears protect your eyes too. Basal tears and reflex tears are the most important types of tears here, as protecting your eyes is literally what they do.
While emotional tears have a different function, they're produced from the same tear glands, so they still protect your eyes in the same way. In fact, having a long cry could be one of the most effective ways to completely lubricate your eyes and reduce the risk of eye infections.
You Are Self-Soothing
Crying is one of the most powerful ways to soothe and calm yourself, although the effects are strongest when you cry for at least a few minutes.
Self-soothing is way more important than we often assume. We all need to be able to make ourselves feel better, even amid overwhelming pain. Sometimes there won't be anyone else around to make us feel better, so techniques like crying it out help to keep us sane.
Crying for long enough even puts you in a type of numb state. That mightn't sound appealing, but the slight numbness helps to keep your emotions at bay for a while and can make you feel comforted.
It Helps You Heal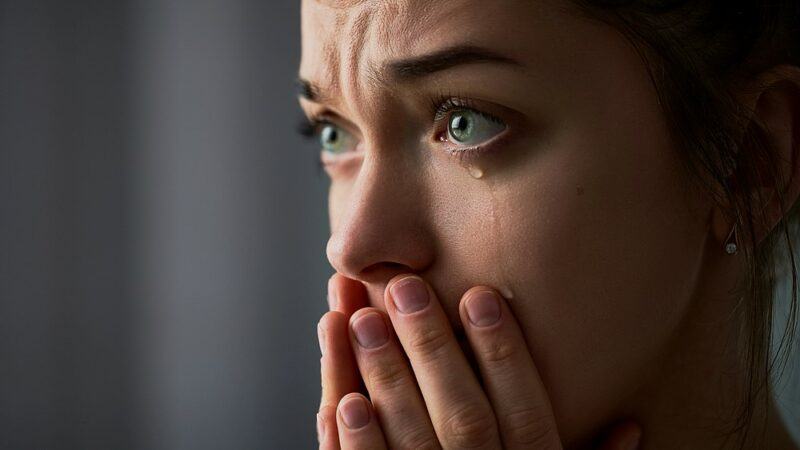 Sometimes crying is just something that you need to get through. When something significant has happened, you may just need to grief and process through it all. Crying is a powerful way to do this.
This effect may be partly because crying is such a natural form of release. It allows you to energetically let go of things or people that you have been holding close to you and to find space.
Because we sometimes cry when we're upset and sometimes when we're happy, crying also helps to rebalance our emotions and bring us back into stability. This means that, as strange as it may sound, crying because you're sad ends up helping you to be happy again. 
Crying Can Decrease Pain
Crying doesn't just influence emotional pain, it's also relevant for physical pain. The endorphins that are released end up decreasing your sense of pain, making it seem less intense.
Remember too that crying helps to soothe you. The combination of this and the pain reduction effect can make chronic pain feel more manageable, at least for a little while.
Tears May Have A Detoxing Effect
Emotional tears are a way for stress hormones to leave your body and they may carry toxins out as well. This could mean that tears help you detox.
However, this is one potential benefit to take with a grain of salt. There isn't much research linking tears to detoxing, so we can't be certain that the effect happens at all.
Crying Acts As A Signal
The final benefit is that crying can teach us when something is wrong. This is crucial because we sometimes suppress strong emotions without realizing we're doing so. At times, those emotions emerge in the form of tears.
So, if something unexpected makes you cry, take that moment as an opportunity to step back and look at what you're feeling and why. You may make some surprising discoveries by doing so, ones that help you to grow in the future.
Similarly, if you find that you're crying at the drop of a hat, it may signal an underlying problem to be addressed. That emotional issue would have been much harder to spot without the tears.
Crying isn't just a signal for us either. It also helps other people to see how much we're hurting, giving them the chance to step in and provide support.
This social side of crying shouldn't be underestimated. After all, human emotions are complex, so we often don't know what other people are feeling. But, it's pretty obvious when someone is crying and in distress, making tears a little like an SOS at times.
When Crying Might Be A Bad Thing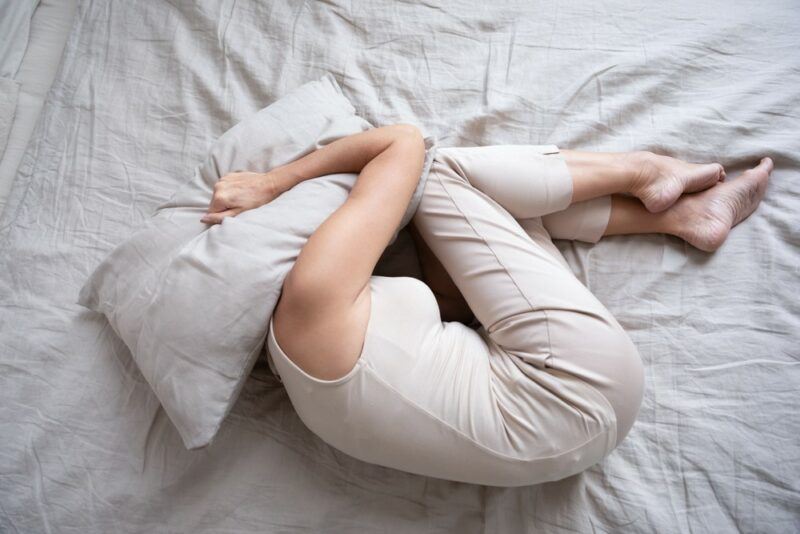 Crying has plenty of benefits, more so than is often assumed, but this doesn't mean that crying is always a good thing. Excessive crying, such as crying most days or even multiple times per day may suggest that something is wrong – and that it's time to seek help.
First thing, what does crying too much look like?
This is a tricky question, as the answer depends on who you are and the situation. Some of us do cry more often than others, sometimes simply because we're more sensitive. For example, some people cry at sad movies and at many events in their lives, while others rarely cry, even when tragedy strikes.
There are also situations in life that might make you cry more often than you'd expect for a while.
Grief is the obvious example here. If you've lost a loved one, you'll probably be doing a lot of crying. You might grieve for other things too. For example, women who are struggling to have children often end up crying a lot, as it is a challenging journey and you're faced with constant reminders that you're not a mother yet.
If it fits the situation, crying every day might not be a bad thing at all. Doing so could even be an essential part of processing your grief.
Problems happen when this pattern of crying frequently continues for years or when you're crying for trivial reasons (or no reason at all). If any of these things are happening, then the crying may be a signal that there's something you need to address.
For example, crying regularly might be a sign of depression. Other symptoms to watch out for include a lack of interest in your normal activities, mood swings, and a pervasive sense of sadness.
Crying could also be due to trauma reactions, such as how children who learned to internalize can end up being highly sensitive to rejection. There may be physiological reasons as well, such as low estrogen leading to mood swings.
If you are crying too much, then therapy may be a powerful tool. Rather than trying to decrease your crying, work on understanding what you're feeling and why you're crying instead. Doing so can help you grow as a person while addressing whatever stress or trauma is below the surface.    
Final Thoughts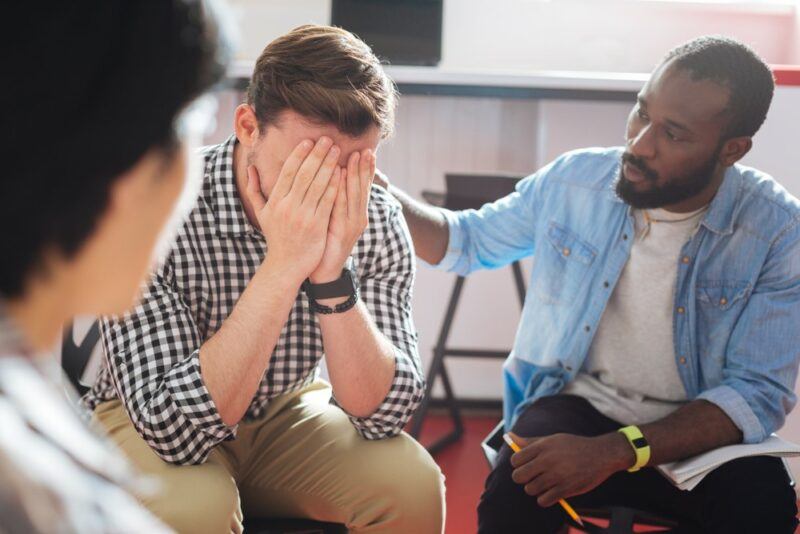 There's still some stigma surrounding crying, which is a shame, as there's nothing wrong with crying. It's an important part of being human and even has a variety of health benefits.
Even if you really are crying too much, the tears still serve a purpose, helping you to realize that there is an issue and giving you cues about what's going on. So, rather than pushing your tears back and away, why not embrace them?
Frequently Asked Questions
Why Do Your Eyes Burn When You Cry?
Crying means there's more fluid in your eye and the surrounding area. Any irritants in the area, even minor ones, can easily lead to pain. Similarly, crying can make any eye issues more painful, including dry eyes. 
If you only experience this type of burning every so often and it quickly goes away – it isn't something to worry about. However, if the pain is intense or happens every single time, it's essential that you talk to your doctor. 
Why Does Crying Make You Tired?
There are a few reasons for this. One is that crying releases feel-good hormones, like oxytocin, which help to calm us and can make us sleepy.
Plus, we tend to experience slower breathing and a higher heart rate when we're crying. This decreases the oxygen our brain receives, which creates a drowsy sensation. 
Finally, there's the emotional side of things. Many of us feel tiredness after emotional release and crying is often a symptom of such release. 
Why Does Crying Give You A Headache?
Headaches sometimes happen because crying makes you tense up, especially if the tears are associated with intense emotions. 
You might also experience a headache due to dehydration. This isn't common, but could happen if you haven't been drinking much water and have been crying a lot. 
Still, research doesn't have all the answers and there's still a lot to learn. In particular, emotions may influences the outcomes of crying, as emotional tears lead to headaches much more often than other types of tears. 
Can Crying Make You Sick?
Crying can cause some short-term issues, such as headaches, a runny nose, and sinus congestion. However, those are mild and short-lived issues. Crying isn't likely to cause illness.
In fact, the reverse is sometimes true, where regularly stifling emotional tears can lead to health problems. After all, crying doesn't make you stressed or emotional. It's a form of release instead, one that your body may need. 
Is It Normal To Cry For No Reason?
Crying with no apparent reason may be the sign of an underlying issue, such as depression, high levels of stress, PMS, or unprocessed grief. For many people, the cause is simply that they are much more overwhelmed than they realize, so it doesn't take much to make them cry. 
While crying without an obvious reason is fairly common, it isn't something to ignore. It's important to start considering what the underlying issue may be, as it may be something that needs addressing.