Before COVID-19, a Gallup Poll indicated that 55% of Americans felt daily stress at their jobs. A different survey showed that 80% felt stress at work every day, and nearly half thought they needed help to learn to manage that stress.
How much worse is it now? Political strife and a global pandemic have taken their toll on society. Luckily, there are some things that people can do to relax each day and learn to manage their stress. These options range from exercise to meditation, sleep, and nutrition.
Nutrition is an interesting angle to attack daily stress from, but it's important both because it's a form of self-care and because it addresses the biochemical side of stress, anxiety, and depression in a natural way. The 12 best stress-buster foods are packed with vitamins, minerals, and other compounds that can calm stress hormones, improve mood, and reduce overthinking.
12 Best Foods For Fighting Stress And Anxiety
Asparagus
Sweet Potatoes
Lean Pork Chops
Swiss Chard And Other Leafy Greens
Turkey
Broccoli And Other Cruciferous Foods
Dark Chocolate
Yogurt And Other Fermented Foods
Oatmeal
Turmeric
Mushrooms
Chia Seeds
Asparagus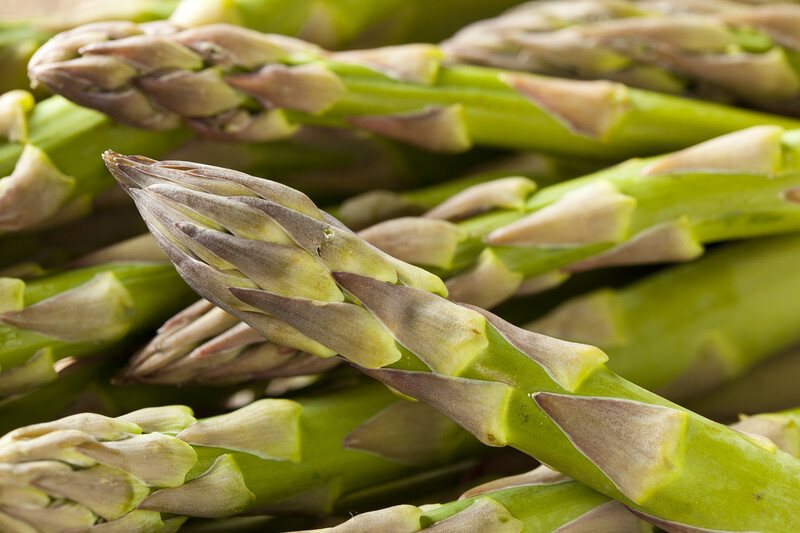 People who suffer from stress and anxiety might enjoy adding asparagus to their food plans. Besides being a delicious veggie treat, asparagus has been studied since the 1960s as a way to help people with anxiety and depression. The Chinese government has also studied how asparagus helps reduce anxiety.
There are several nutrients that work in conjunction with each other to make this happen. One is that asparagus is rich in folic acid, and people who suffer from stress, anxiety, and depression tend to be folate-deficient. Asparagus also contains high amounts of potassium. Low levels of potassium in the body are linked to anxiety and stress.
Beyond the folate and potassium, asparagus is high in vitamins C, K, E, and A, as well as the trace mineral chromium and thiamine (vitamin B1), which is sometimes called the 'anti-stress vitamin'. Asparagus packages all of these nutrients up, so adding asparagus to your diet is a convenient way to reduce stress and help prevent anxiety and depression.
Sweet Potatoes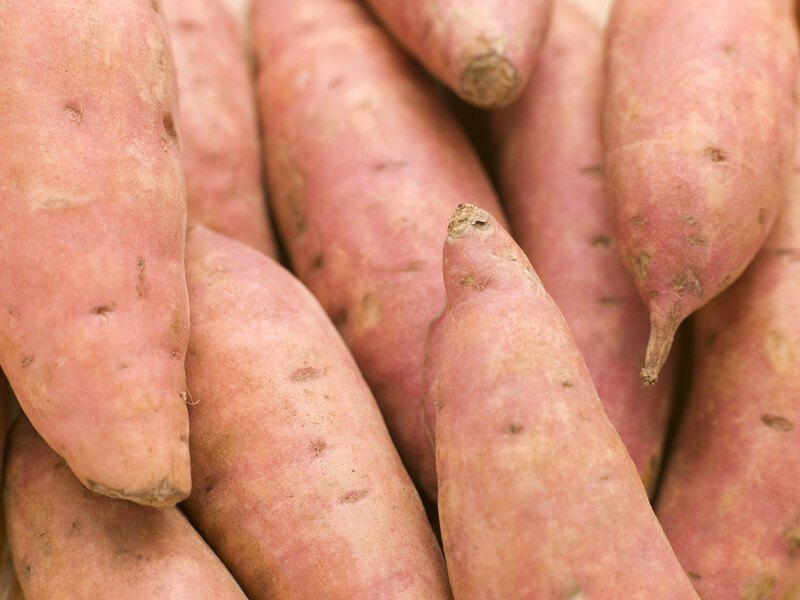 One interesting thing about sweet potatoes is that they could, as part of a whole-foods based approach to eating carbohydrates, lower the stress hormone cortisol. In a society trending away from carbohydrates, having a high-fiber, highly nutritious comfort food option could be a significant stress relief itself for people who are nervous about completely shifting the way they eat.
Nutritionally, sweet potatoes have a lot to offer. Sweet potatoes are rich in magnesium, which has been shown to promote relaxation and improve mood. They're also high in potassium, fiber, vitamin A, and vitamin B6, which is involved in the creation of the happiness-related neurotransmitters serotonin and dopamine. The high magnesium in sweet potatoes also helps the body absorb and use vitamin B6.
Lean Pork Chops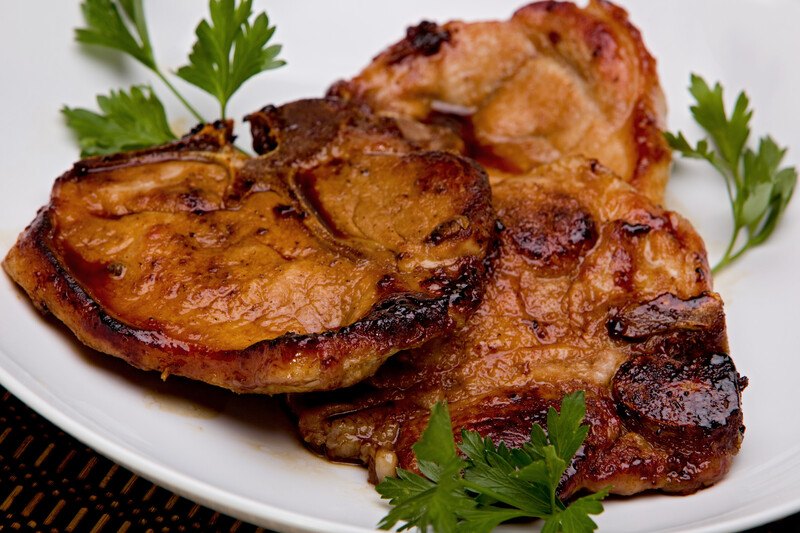 Lean pork chops are another great source of thiamin, the anti-stress vitamin. Thiamin acts in several ways to reduce stress, including combating oxidative stress and stress from chemicals in the environment. It counteracts the negative effects of stress in the brain, and it helps synthesize important neurotransmitters, including acetylcholine. Low amounts of thiamin have also been related to poor memory.
Besides thiamin, lean pork chops are a good source of high-quality protein and necessary elements such as zinc. Zinc plays an important role in the stress response. High levels of stress over time can deplete the body's zinc reserves.
Getting a healthy amount of zinc in the diet can inhibit cortisol secretions and stabilize cortisol levels over time. People who consume enough zinc-rich foods also tend to wake up less often during the night, and zinc has an antidepressant effect.
Swiss Chard And Other Leafy Greens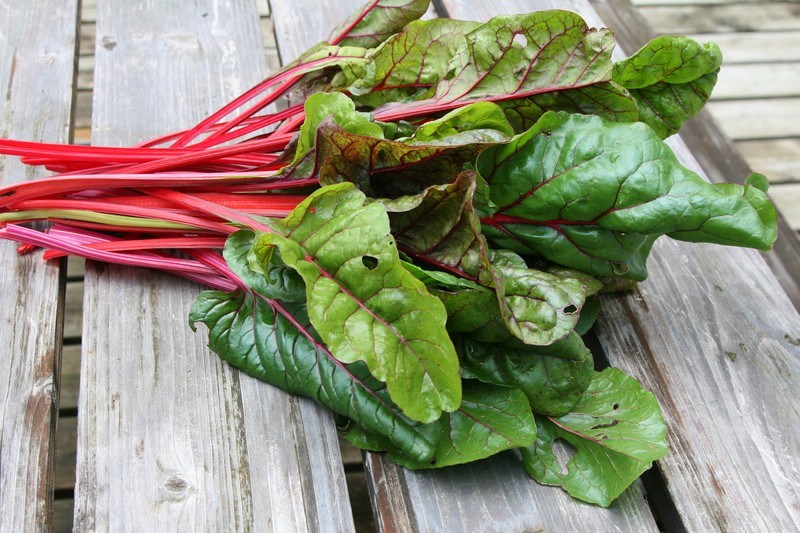 Swiss chard, spinach, kale, and other dark green leafy vegetables are high in magnesium, potassium, vitamin A, and other nutrients that can help people manage daily stress. The magnesium helps regulate cortisol and blood pressure, while the high levels of folate help synthesize the feel-good neurotransmitter dopamine.
Dark green leafy vegetables are also high in B vitamins (like thiamine, niacin, and pyridoxine), and antioxidants, which can help fight oxidative stress.
One nice thing about dark green leafy vegetables is that they can actually help reduce stress by making dinnertime easier. A bag of spring mix veggies, baby spinach, or kale leaves make a simple, easy side salad, and you can top it with just about any other fruit, veggie, or seed you want for added nutrition and flavor.
Turkey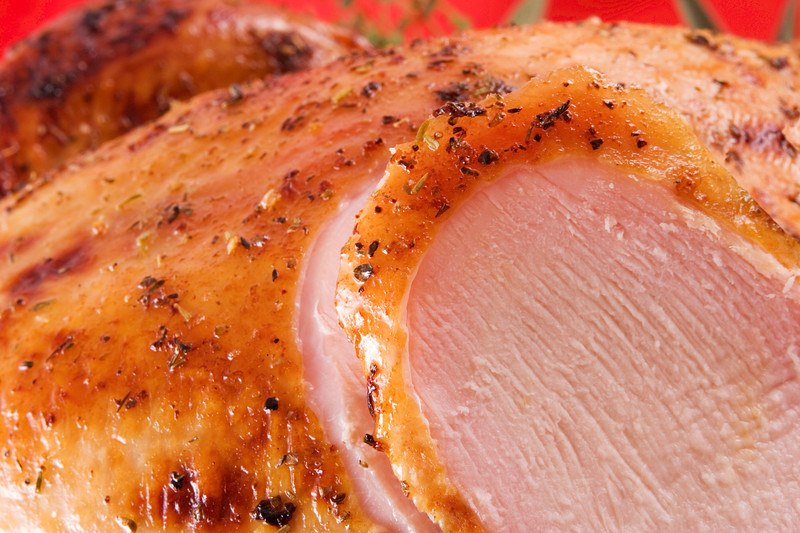 If you've ever felt tired after a Thanksgiving dinner, you might chalk the sleepiness up to the high level of tryptophan in turkey meat. Tryptophan is a precursor for the neurotransmitter serotonin, one of the body's natural happiness chemicals that helps alleviate stress. Tryptophan is also involved in memory, visual cognition, and learning, and it helps improve depression.
Other foods high in tryptophan include milk, chicken, oatmeal, nuts and seeds, cheese, tuna, chocolate, bananas, apples, and prunes.
Besides tryptophan, turkey is a great source of protein, and it also contains high levels of niacin and vitamin B6. One interesting thing about turkey is that it also contains a relatively high level of selenium. Besides having anti-cancer properties, selenium is required for thyroid hormone metabolism. Anxiety and depression are sometimes associated with hypothyroidism. Getting enough selenium through food can help alleviate hypothyroid symptoms.
Broccoli And Other Cruciferous Vegetables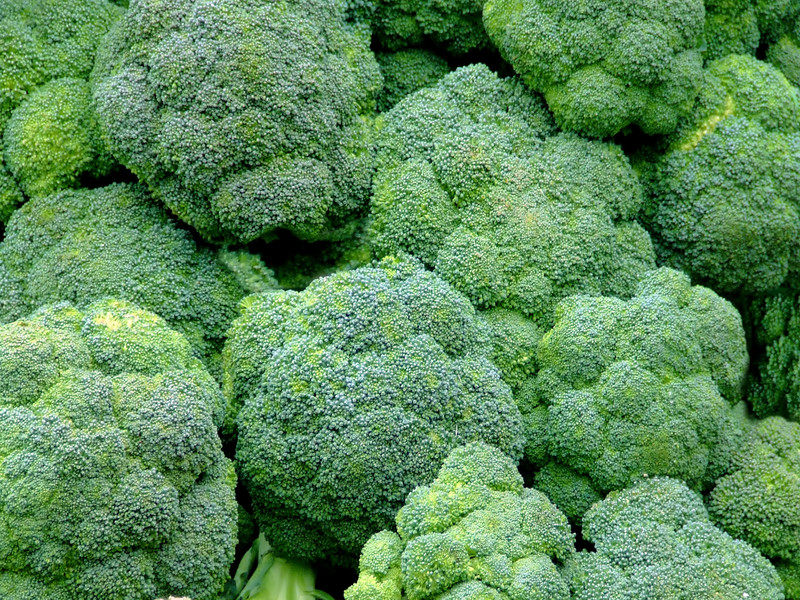 Cruciferous vegetables are known for their high levels of phytonutrients that lower inflammation and oxidative stress—in turn, reducing the risk of cancer. They also play a part in thyroid function and estrogen function, which can both impact mood.
Cruciferous vegetables are particularly high in a compound called sulforaphane. Sulforaphane, which gives cruciferous vegetables their slightly bitter flavor, is as effective as Prozac as an antidepressant. It's also associated with decreased stress levels and social anxiety, along with lowered inflammation, better brain functioning, and better overall health.
Cruciferous foods include broccoli, cabbage, kale, bok choy, brussels sprouts, cauliflower, and any other vegetable in the cabbage family. Besides being high in sulforaphane, cruciferous foods tend to have high concentrations of folate, several minerals, and vitamins C, K, and E. They're also high in fiber.
Dark Chocolate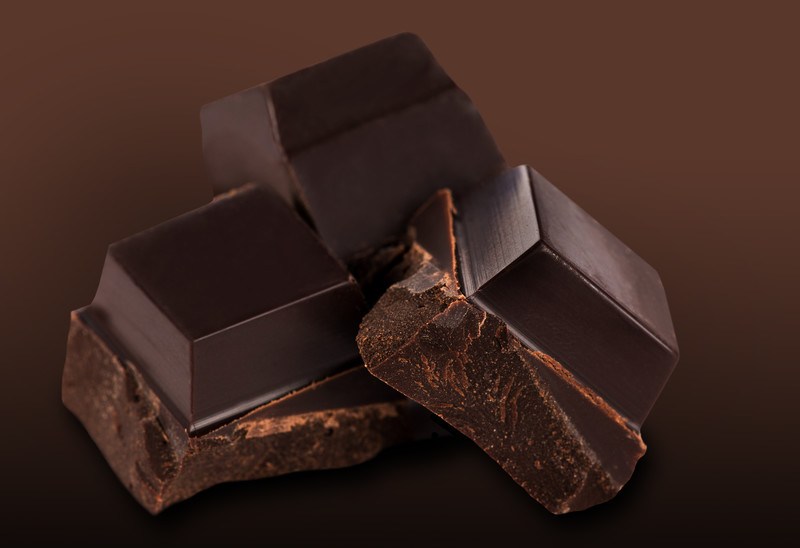 Chocolate is the go-to comfort food for many people struggling with chronic stress, and there could be some nutritional reasons behind this. Dark chocolate can help lower the stress hormone cortisol. It's also known to lower catecholamines, the 'fight or flight' hormones that are common in people experiencing chronic stress.
Dark chocolate is high in a group of antioxidants known as flavonoids, too, and it's associated with improved mood, improved memory, improved insulin sensitivity, and reduced blood sugar.
One thing to note about chocolate is while dark chocolate is generally healthy as a treat, milk chocolate contains too much milk and sugar, and it can offset the health benefits by spiking insulin. White chocolate, which is a mixture of sugar, milk, and cocoa butter, doesn't actually qualify as chocolate at all and doesn't offer the same health benefits that dark chocolate can. You can try chocolate subscription boxes to explore and diversify your taste for chocolates.
Yogurt And Other Fermented Foods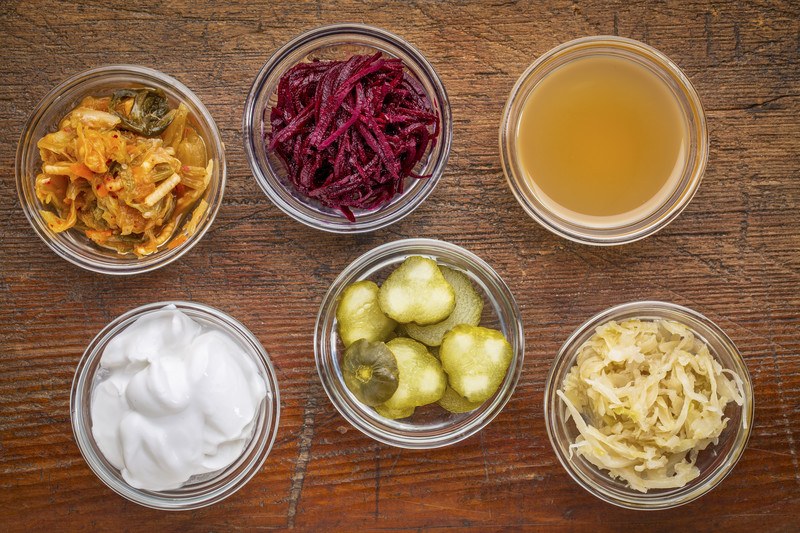 According to a study done in 2013, eating yogurt twice a day for a month helps regulate stress levels by reducing emotional activity in the brain. This could be attributed to the high levels of probiotics found in the yogurt.
Probiotics influence gut health, which in turn impacts how our brains work. They reduce stress and anxiety, and they can improve immune functioning, too. The probiotic Lactobacillus was indicated to help reverse depression in mice.
Lactobacillus is found in many fermented foods, including both yogurt and kimchi. Studies performed using kimchi showed that it could help relieve social anxiety disorder, and it fights oxidative stress, too. Kimchi could pack a powerful secondary punch because it's also made from the cruciferous vegetable cabbage. It also tastes wonderful and can be used in several ways. See here are a couple of delightful recipes that use kimchi.
Oatmeal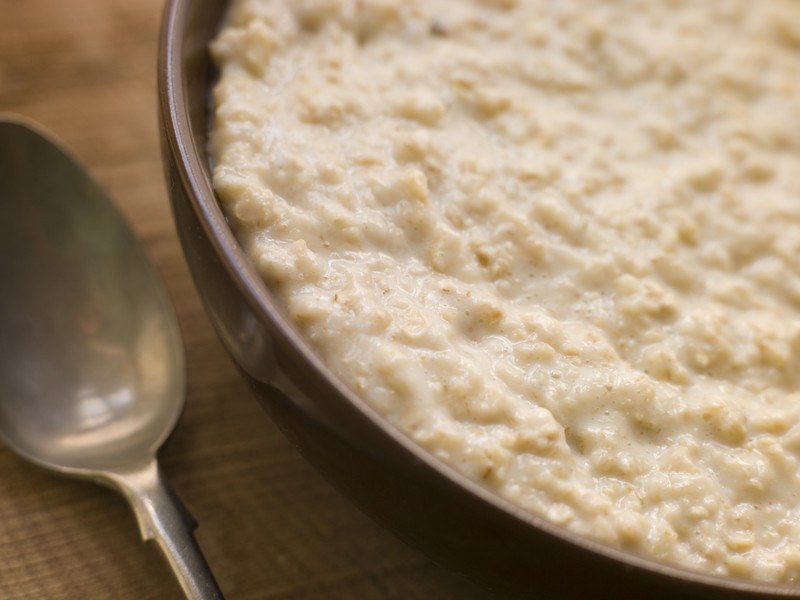 Like sweet potatoes, oatmeal is a whole-foods type of complex carbohydrate that could act as a comfort food and digests slowly. These types of carbohydrates are associated with increased serotonin levels and decreased cortisol levels—basically, happiness hormones go up, and stress hormones go down.
Oatmeal is also linked with improved gut health, which also has an impact on stress, anxiety, and depression.
One interesting thing about oatmeal is that it's high in melatonin, a chemical that helps people get to sleep at night and stay asleep. Since sleep is a great way to combat stress, a warm bowl of oatmeal, a handful of homemade granola cereal, or a gluten-free oatmeal cookie might make a nice evening treat.
Turmeric

Turmeric is a powerhouse root in the same family as ginger. It's best known for giving yellow curry its bright color, but it's also packed with nutrients that provide a wide variety of health benefits. 100 grams of turmeric contains 138% of the recommended daily allowance for vitamin B6, 32% for niacin, 43% for vitamin C, 21% for vitamin E, 54% for potassium, and 340% for manganese. Manganese plays a key role in fighting oxidative stress, as well as regulating stress responses.
Curcumin, one of the active compounds in turmeric, has been found to be as effective an antidepressant as prescribed medicines, but without the side effects. It naturally increases serotonin and dopamine levels.
Mushrooms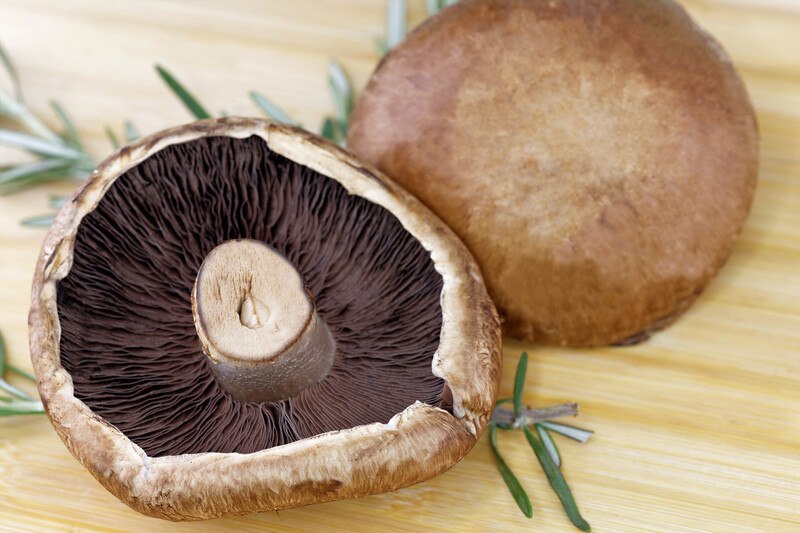 Mushrooms are a surprisingly healthy food choice. Besides boosting the immune system, mushrooms have antimicrobial and antiviral properties, and they help people adapt to stress.
There are a variety of mushrooms to choose from, and they all offer something a little bit different. Some, like Reishi mushrooms, must be processed to get the medicinal properties into a supplemental form, while others, such as Lion's Mane, are edible.
One nice thing to note about common mushrooms, such as button mushrooms and Portabello mushrooms available in grocery stores, is that they're high in B vitamins. Niacin, thiamin, pyridoxine, and riboflavin all fall into that category. As a group, B vitamins are associated with lower stress levels and happier moods.
Chia Seeds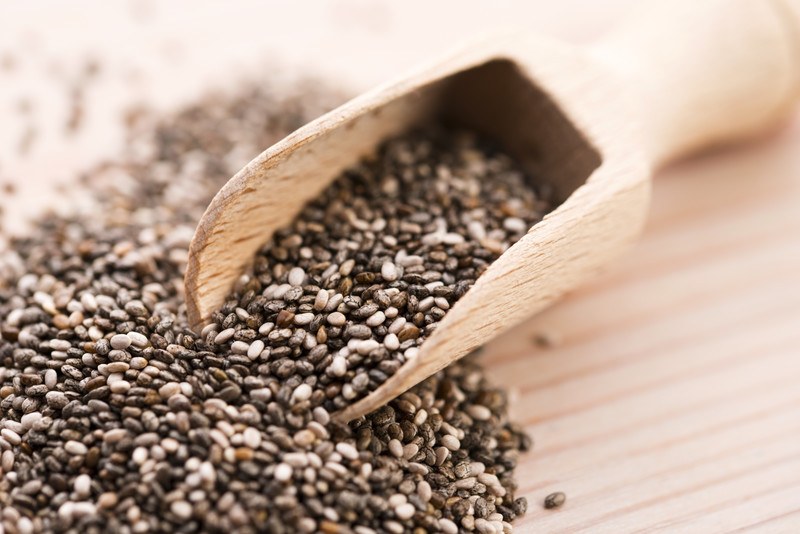 Like turkey, chia seeds and sunflower seeds are packed with protein and with the amino acid tryptophan, which produces serotonin and promotes a feeling of calmness.
Chia seeds are also high in magnesium, which helps manage stress and reduces depression, and they're rich in omega-3 fatty acids—the same essential fatty acids found in fish like salmon, mackerel, and sardines. These fatty acids help reduce cortisol and lower the adrenal response to stress.
Five Delicious Meals For Destressing And Deep Relaxation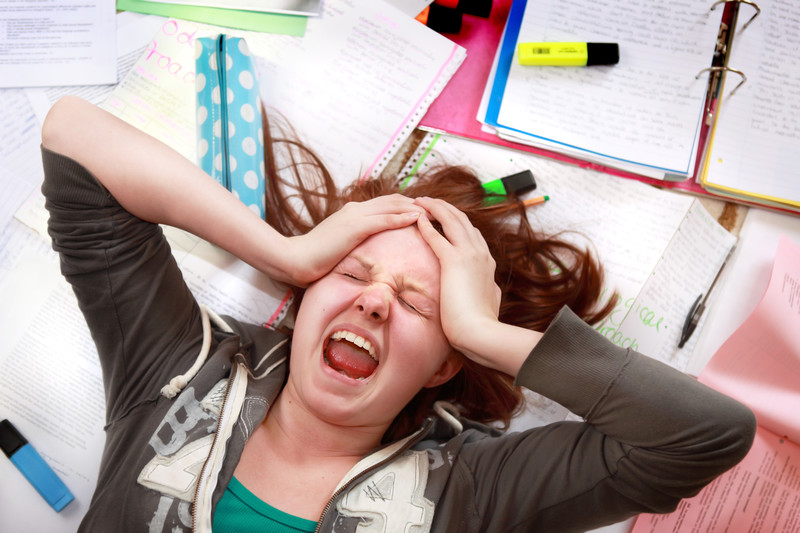 Now that you've read about the 12 best stress-buster foods, do you have any new ideas for implementing some of them into your eating plan? I've got some ideas that can help you relax into mealtimes, and I'm happy to share them with you here!
Turkey And Asparagus With Spinach Salad
Sliced turkey breast and steamed asparagus go great with a salad made from baby spinach. You can add extra toppings to the salad to increase the relaxation response even more. Pumpkin seeds, sunflower seeds, and a sprinkle of nutritional yeast can add flavor, too.
Pork Chops With Sweet Potatoes And Swiss Chard
Lean pork chops, baked sweet potatoes, and steamed swiss chard make an easy, nutritious meal that doesn't require a lot of cleanups. It does take some time for the sweet potatoes to bake, which can give you a little extra time to put your feet up or do a quick yoga meditation before dinner.
Kale Smoothies
Kale Smoothies make a quick on-the-go meal for people with busy lives, and the nutrition can help alleviate the stress of a busy lifestyle. To make this meal, blend frozen berries, half a banana, and 1-2 cups of chopped kale. Adding a tablespoon of chia seeds will boost the magnesium and omega-3 fatty acids, too.
Modified Yellow Curry
It can be easy to tweak your favorite curry recipe to include more of the stress-reducing foods from the list above. Substitute sweet potatoes for white potatoes, and use pork or chicken for the meat. Chopped Portabello mushrooms could make a nice addition, too.
Dark Chocolate Cinnamon Oatmeal
For an easy breakfast, cook rolled oats with cinnamon and melt in a small piece of dark chocolate. You can add yogurt for probiotics and banana slices for extra potassium and a tryptophan boost, too.