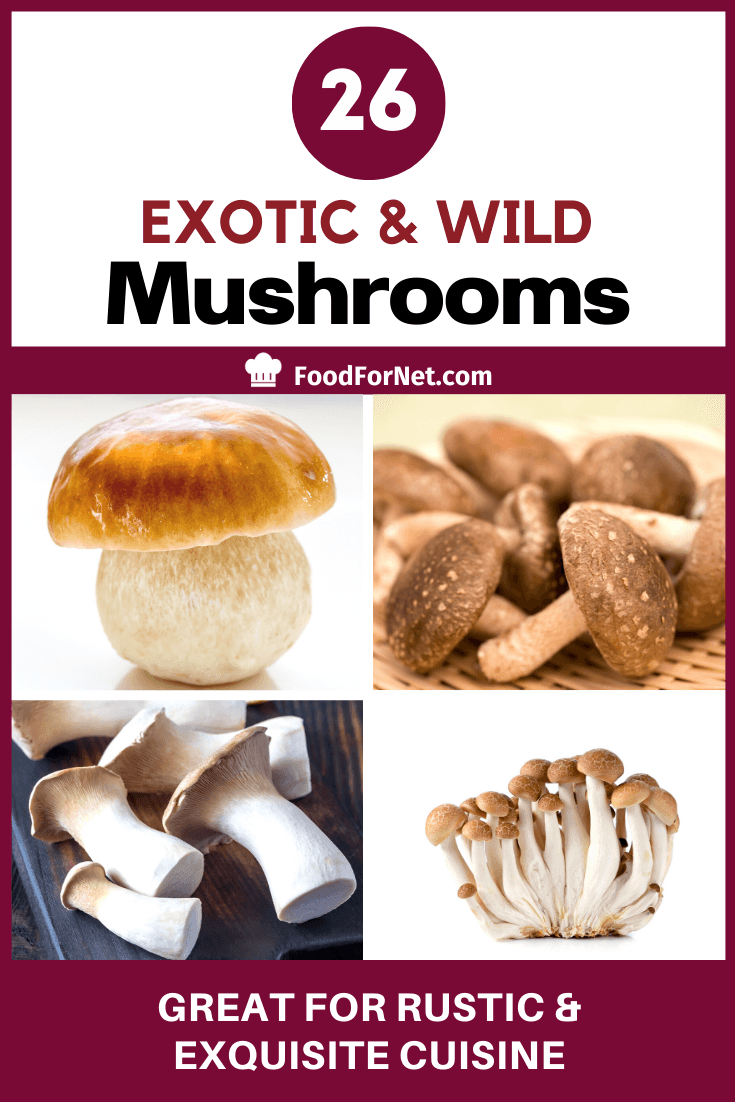 It's easy to get roped into a routine of buying whatever is easily available at your local chain grocery store, but sometimes it's nice to branch out and try something new. Mushrooms are not just one 'thing' – they come in a wide variety of shapes, sizes, flavors, textures, and methods of cooking.
What's super interesting is that even if you don't like one kind of mushroom, you might like the flavors and textures of these exotic and wild mushrooms on this list.
This low calorie, low fat, high protein food is also high in many of the vitamins and minerals that we need to feel good on a daily basis. Zinc, potassium, and fiber can bolster our immune system, boost metabolism, and keep us regular.
Check out some of the types of wild and exotic mushrooms to look for and add some variety to your routine! Where can you get them? If local stores don't carry them, check out a farmers market, or you can buy dried versions online. You can also buy fresh online, but it can get kind of pricey with shipping costs to deliver them in time to remain in good condition.
Oh, and before you get started, if you are looking for specific recipes, take a look at our slow cooker mushroom recipes. There's 10 to get you started, with a variety of dishes for every taste!
Exotic, Wild, & Rare Mushrooms
26. Black Trumpet AKA Black Chanterelle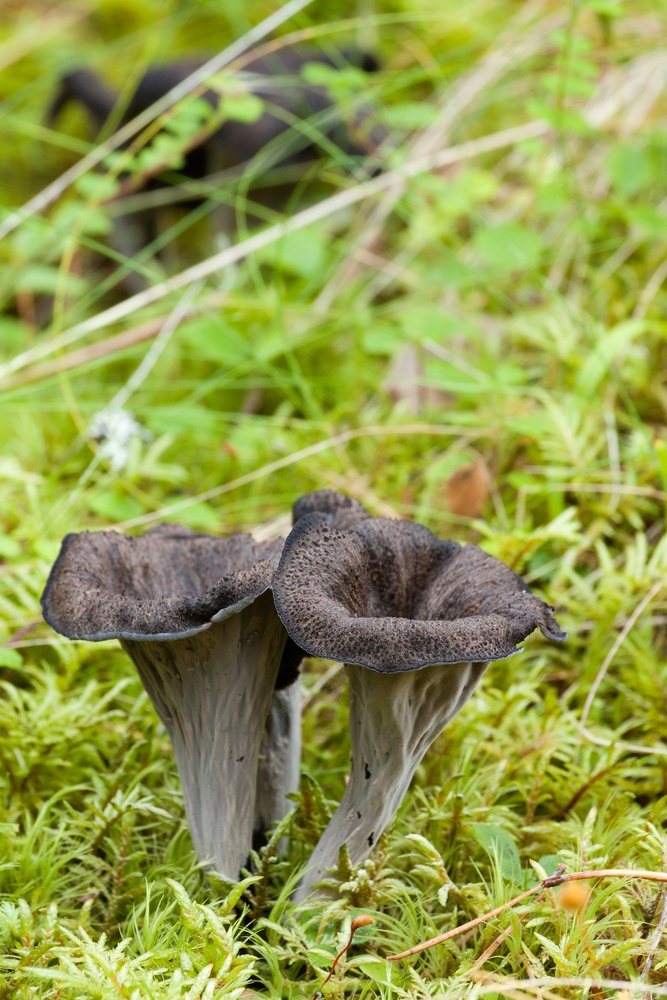 These mushrooms are considered delicacies, and for good reason. They are a particularly tasty type of mushroom that offers a smoky and rich flavor. They are also a good choice for foraging, as there are no poisonous mushrooms with a similar appearance. While they are easy to identify, finding black trumpet mushrooms can be a challenge and they are hard to spot when foraging. They are most common near mossy areas and near small streams, but even then they are easy to miss.
25. Yellowfoot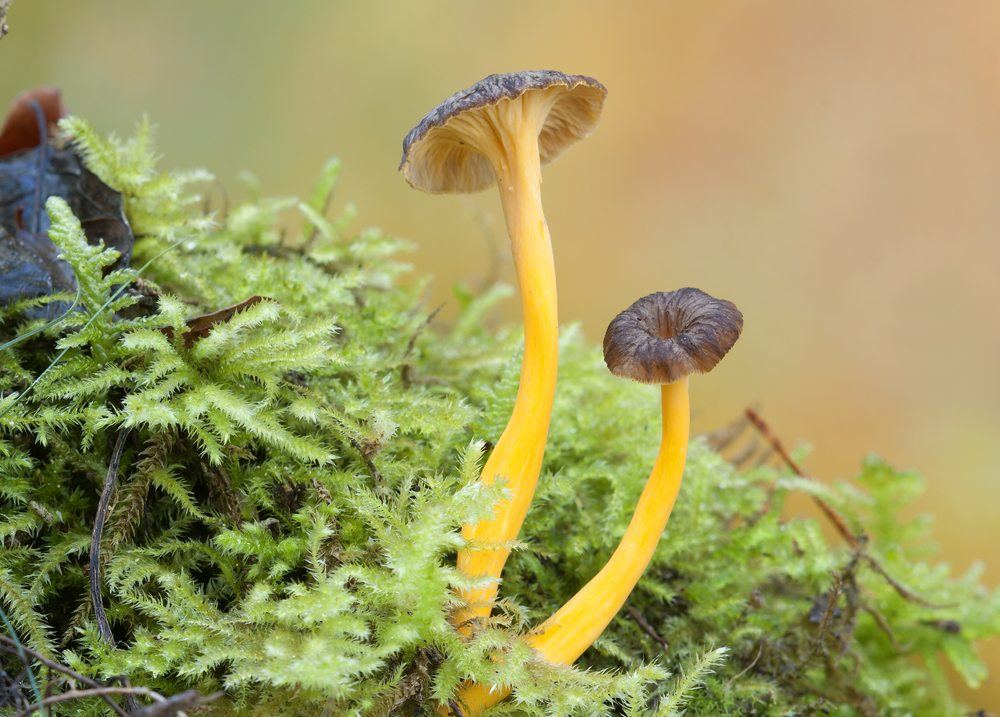 Yellowfoot mushrooms live up to their name quite well and their yellow coloring makes them stand out quite well on the forest floor. The mushrooms have a delicate and fruity flavor and work particularly well sautéed with rich foods like bacon, eggs and steak. The mushrooms are relatively small and don't grow more than around four inches in height.
24. Maitake AKA Hen of the Woods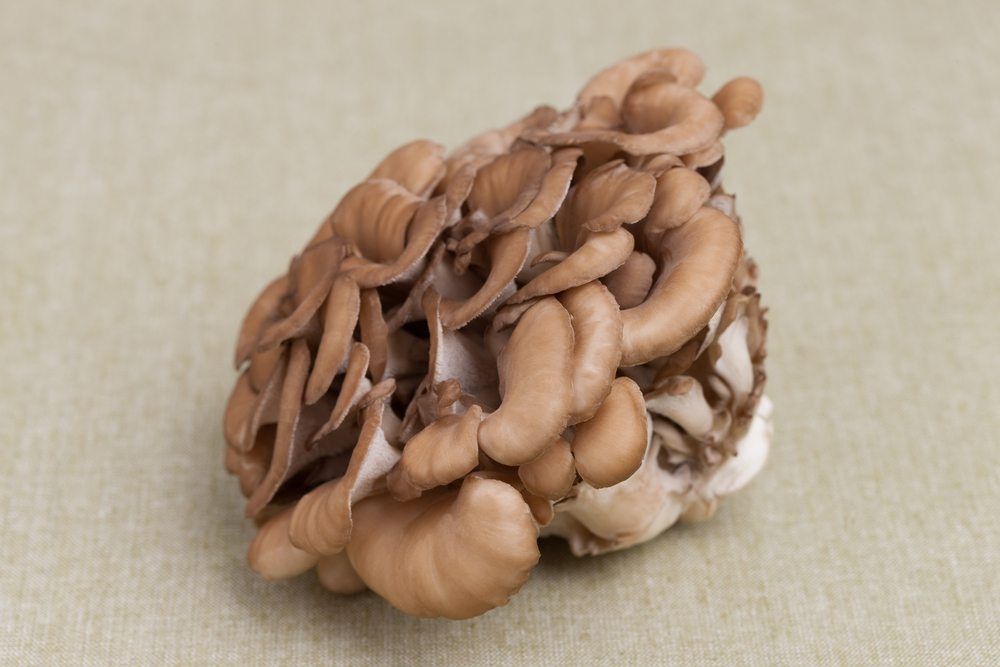 Maitake typically grows at the base of trees and is native to North American and to the northeast of Japan. While the mushroom is traditionally used in China and Japan, especially for its potential medicinal value, it is growing in popularity in other parts of the world. The mushroom has an intense smoky and woodsy taste, especially in cultivated strains of the mushroom.
23. Nameko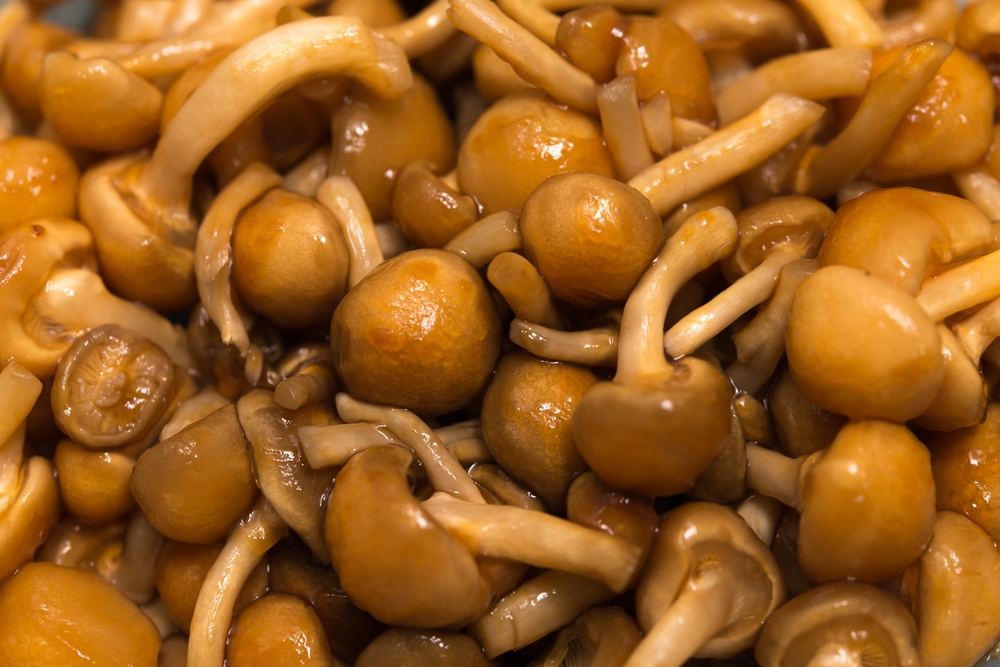 In addition to their orange caps, nameko mushrooms also have a mild flavor. They are also somewhat unusual because they have a jellylike texture when they are cooked, which is different than most other types of mushroom. While the texture does take a bit of getting used to, it does work quite well in stir-fries and some traditional Japanese dishes.
22. Lobster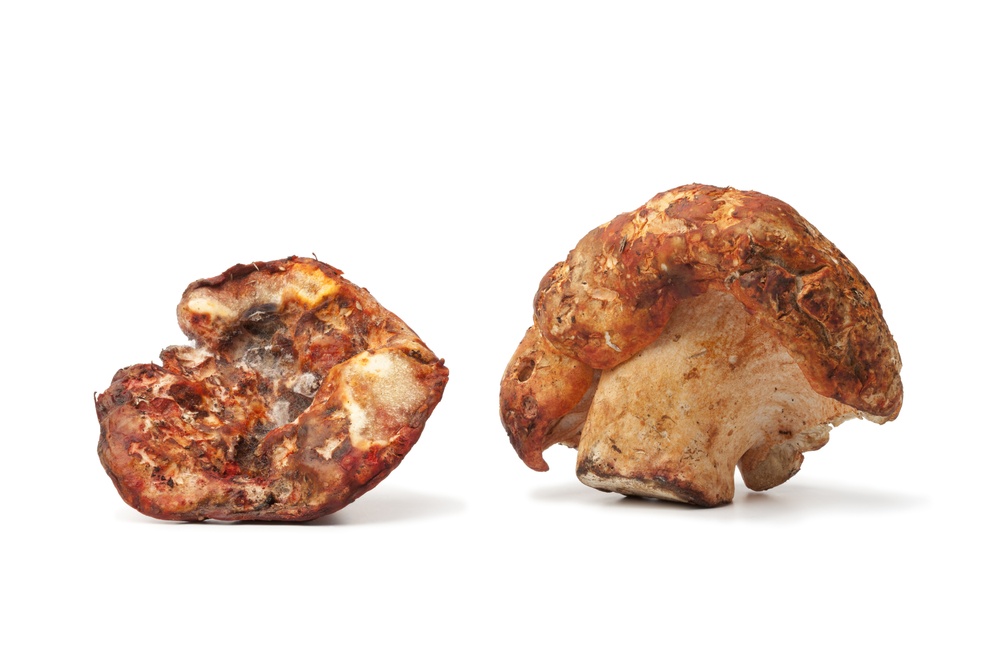 Lobster mushrooms are mainly found in the fall, although if you are lucky you can find them from mid-summer onwards. The mushroom is an unusual example of a fungus that is attacking another mushroom. That contributes to the unusual shape of the mushroom along with its coloring. When cooked lobster mushrooms maintain their texture, which makes them useful for things like soup or baked pasta. When thinly sliced they can also be sautéed with ease.
21. Beech AKA Shimeji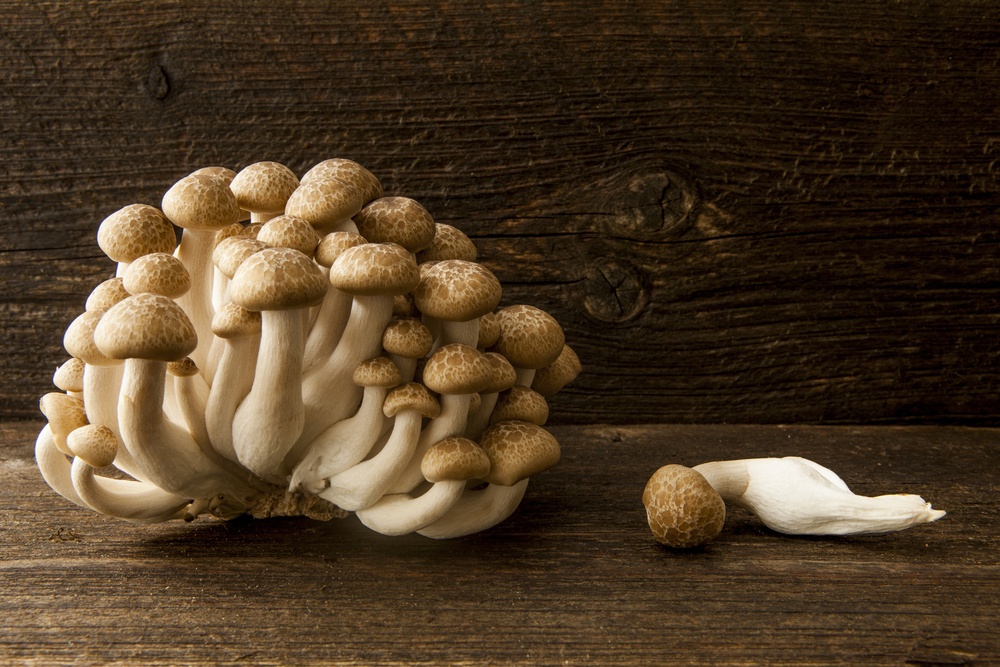 There are serval different species sold as shimeji mushrooms, but one example is the one pictured here, also known as the brown beech mushroom. The mushrooms are small and thin and are common in many parts of the world. When raw the mushrooms have a bitter taste, but once they are cooked they tend to be firm, slightly crunchy, while also having a nutty flavor.
20. Wood Ear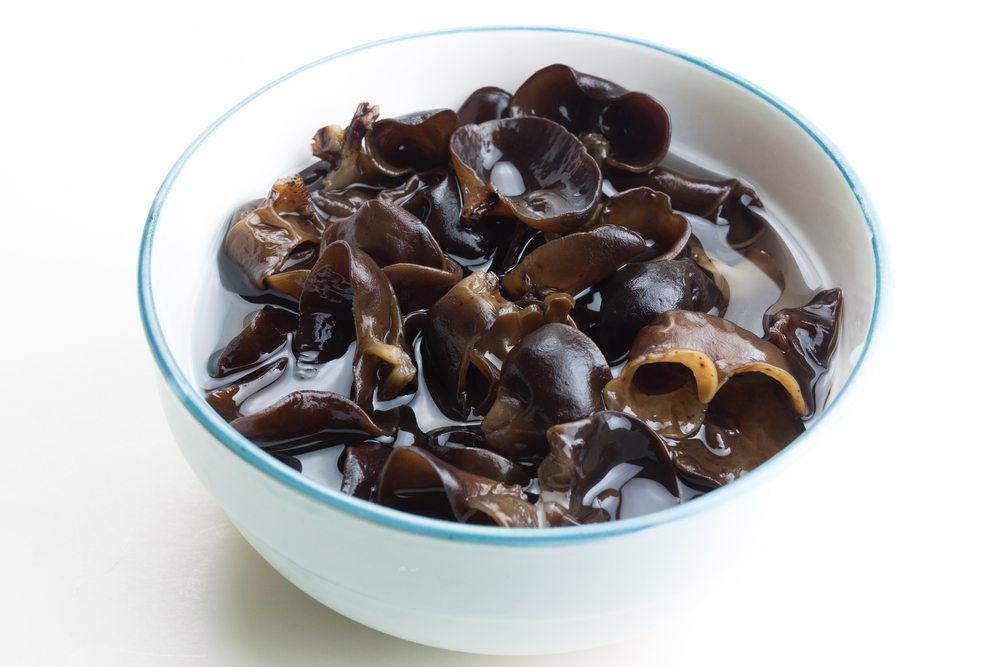 Wood ear mushrooms tend to be roughly shaped like an ear or a cup and have a rubbery texture. The mushrooms typically grow on rotting wood and are common both for cuisine and medicinal uses. The mushroom can also frequently be found dried online, which is a good alternative is you cannot find them locally. The dried versions of the mushrooms can be reconstituted and the mushrooms are very versatile, especially when sliced thinly.
19. Pioppini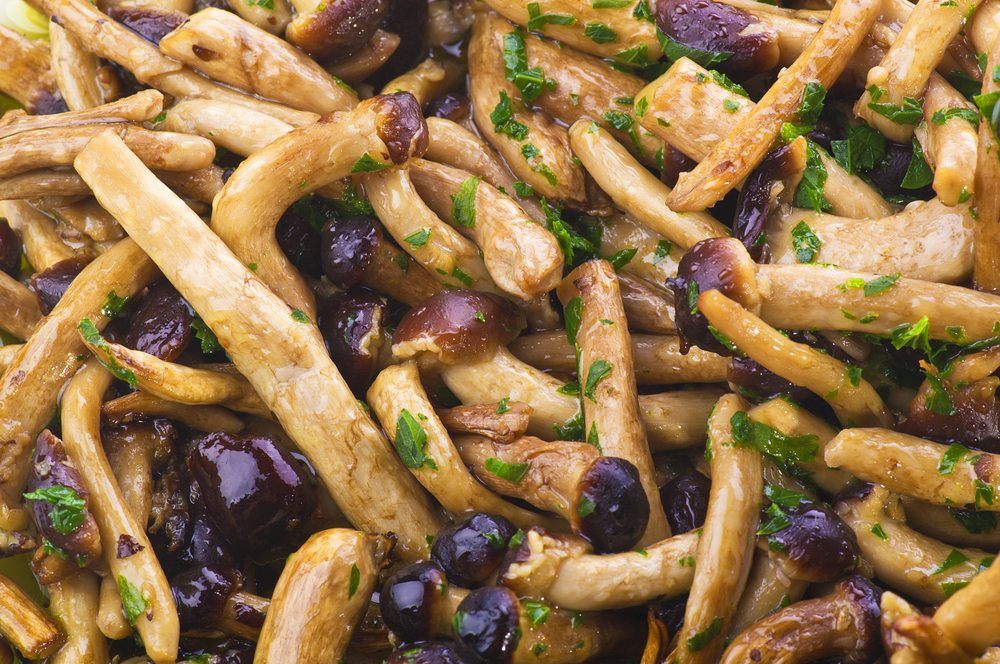 Pioppini mushrooms tend to be mostly stalk with relatively small heads. A few different varieties of these mushrooms exist, including alba and brown pioppini. The mushrooms are popular because of their slightly peppery taste, their price and the fact that they are available throughout the year. They are a good versatile option for someone who wants to try a new type of mushroom but doesn't know where to start.
18. King Trumpet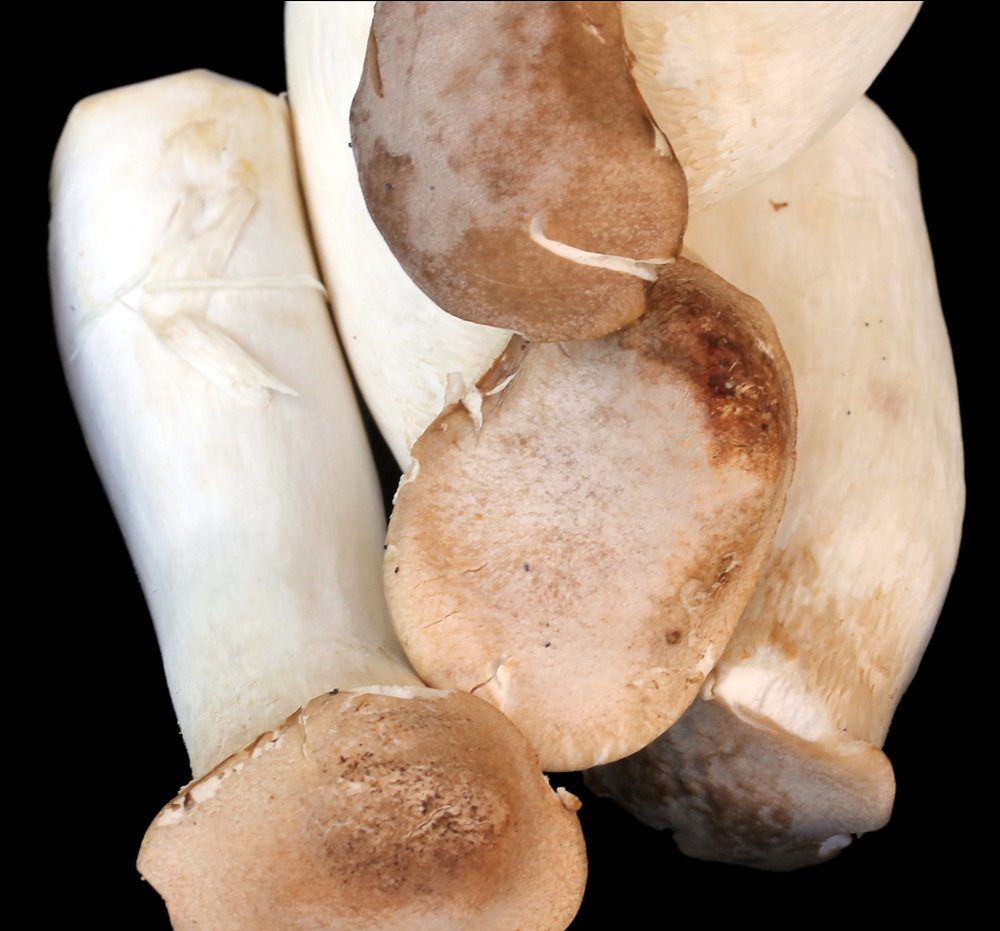 King trumpet is the one of the largest species of the oyster mushrooms. These mushrooms are relatively common and are sometimes sold in trays wrapped in cellophane. The mushrooms have a pretty long shelf life and they can stay fresh in the fridge for upwards of a week, which is much more than most other varieties. Unlike other types of oyster mushrooms the stems of king trumpets can be eaten without issue.
17. Lion's Mane AKA bears's Head Tooth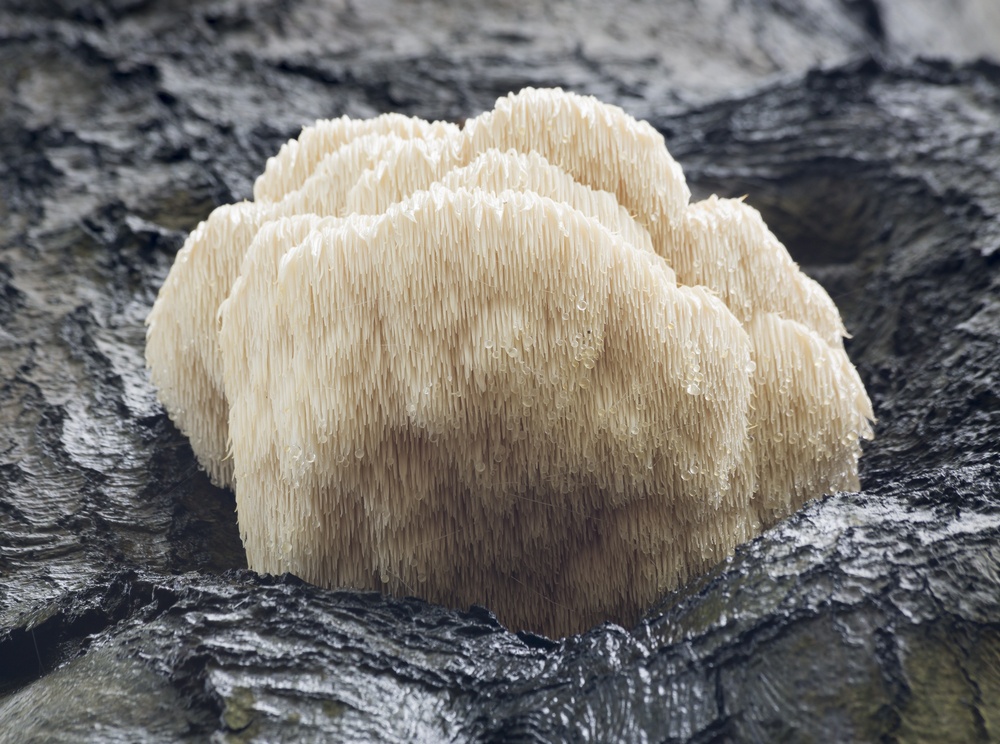 It's pretty easy to see where the lion's mane mushroom got its name from, and the mushroom certainly does stand out. Once it has been cooked the texture of the mushroom is similar to seafood. This makes it valuable as a substitute for meat in vegetarian dishes. The mushroom is cultivated commercially and can often be found in stores specializing in Asian grocery products. There has been growing interest in this mushroom for medicinal compounds, including the potential to improve memory.
16. Abalone AKA King Oyster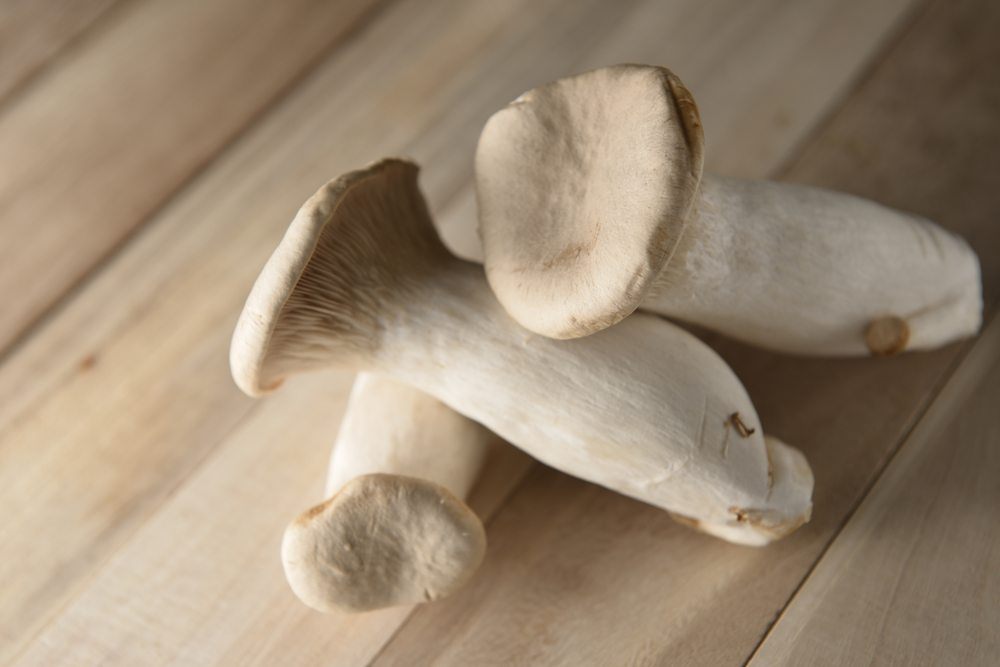 King oyster mushrooms have some similarities to the king trumpet mushrooms, especially in terms of how the mushroom types are cooked. In both cases first marinating the mushroom is one of the most effective ways to use the mushroom in cooking. However one difference is that in king oyster mushrooms the mushroom cap is tan colored and blends together with the edible stem, which makes up the bulk of the mushroom.
15. Oyster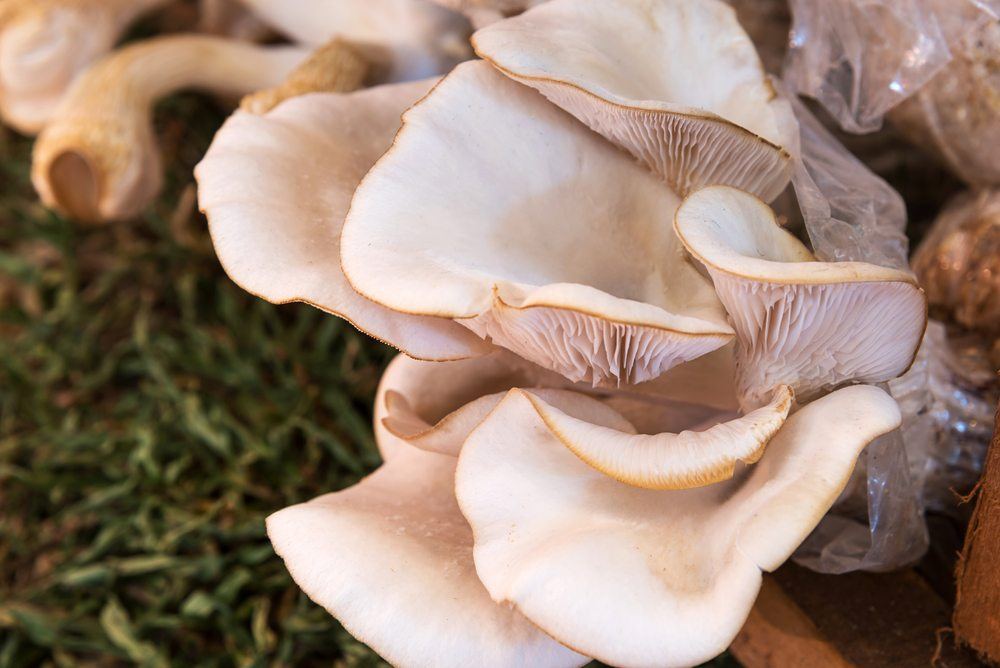 Oyster mushrooms are probably the most common type of mushrooms, and there are many different species of edible mushrooms that fall within this genus. Additionally, many of the cultivated species of mushrooms come from this genus. Typically, oyster mushrooms are thin and people frequently choose to tear them up as part of cooking rather than cutting them up. There are strong differences between the various types of oyster mushrooms, making it a particularly versatile type of mushroom.
14. Chanterelle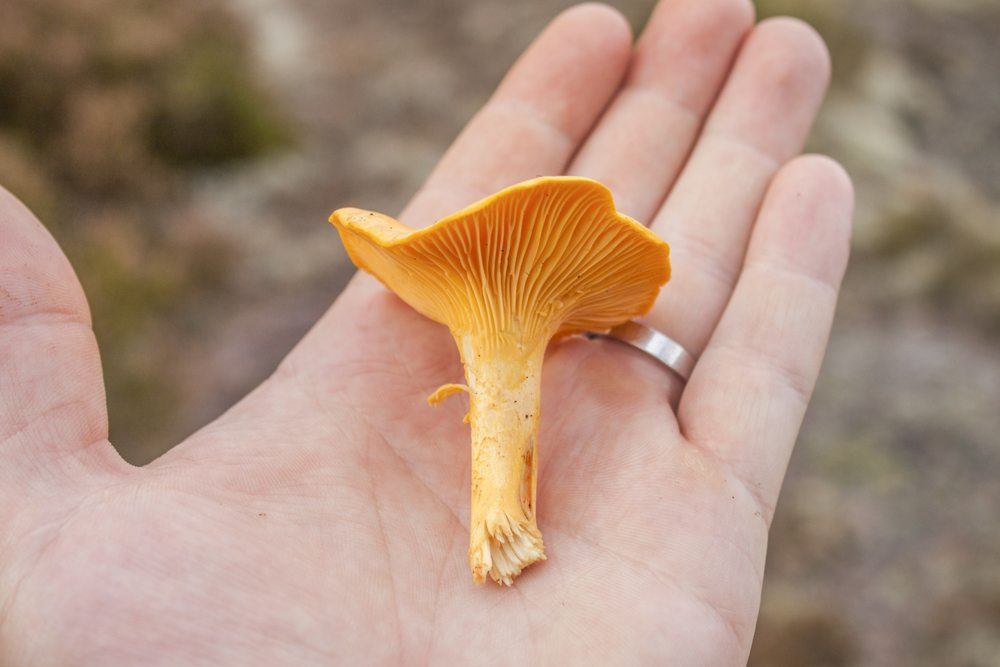 This wild mushroom is also known as the golden chanterelle and is especially popular for cuisine. The size varies dramatically from one area to the next, with mushrooms from the east of the United States being around the size of a fist, while the mushrooms are often more than a hand span in size in the west of the United States. The aroma of the mushroom is similar to a peach or an apricot and it has a mild peppery taste.
13. Morel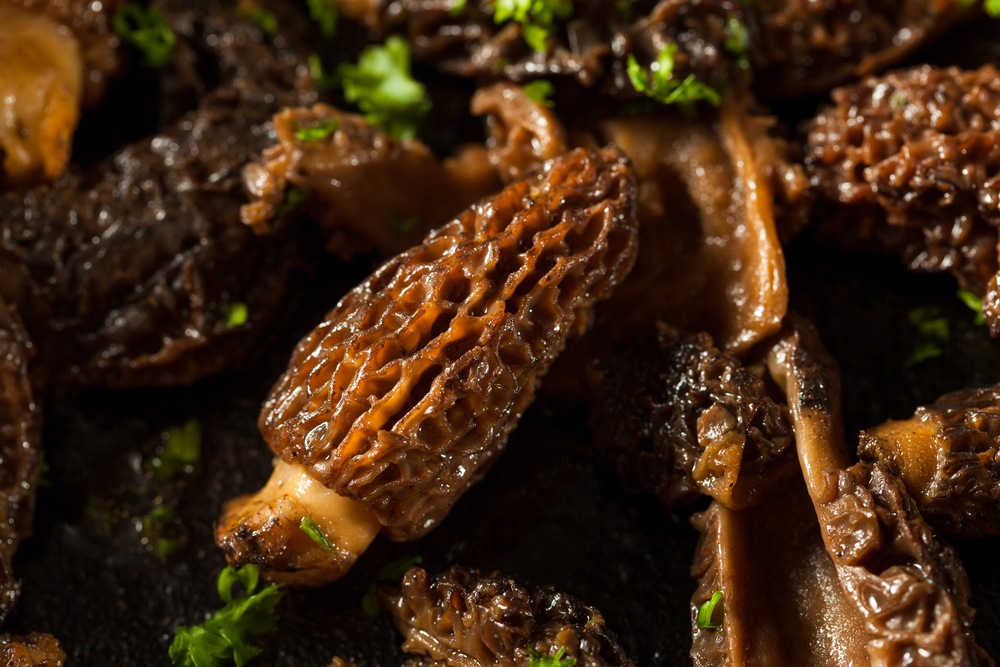 Morels are often called America's mushroom, simply because they are so widespread and are easy to find. At the same time, they are also taste particularly good. Grocery stores often sell these mushrooms, but if you can't find them that way, they are relatively easy to forage and have the advantage of looking very unique. One popular way of using them is to cook them in butter, which helps to bring out their unique flavor.
12. Blue Foot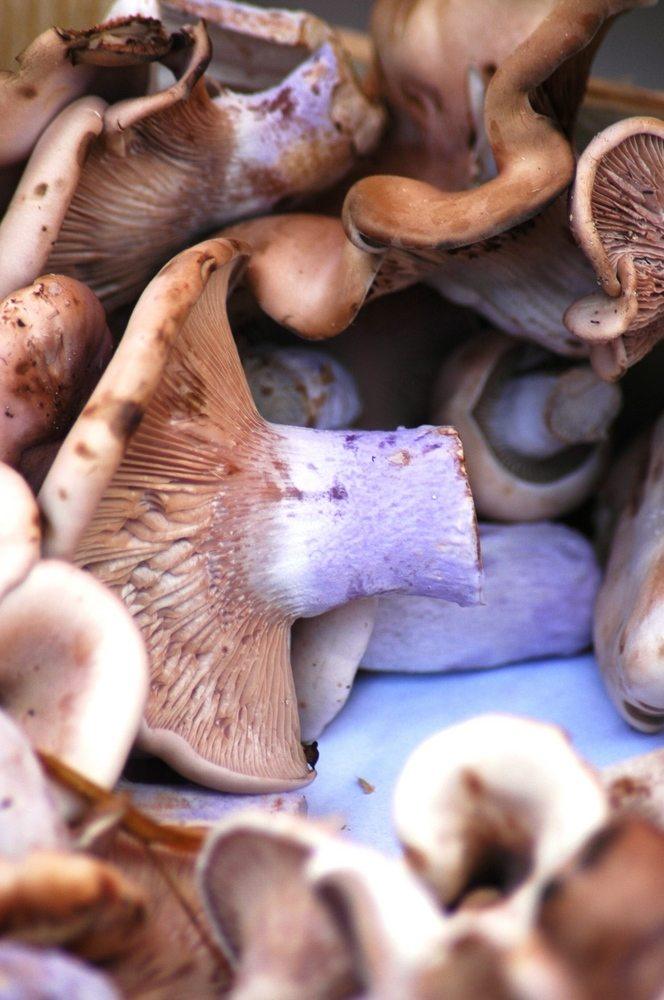 Blue foot mushrooms live up to their name, with a concentrated blue color in their stem. This color doesn't last long, and fades over time and when the mushroom is exposed to heat. These mushrooms are known for a delicate texture, along with an earthy flavor. The mushrooms tend to be hard to find and also picky about their environment, so care needs to be taken when storing them.
11. Cauliflower AKA Sparassis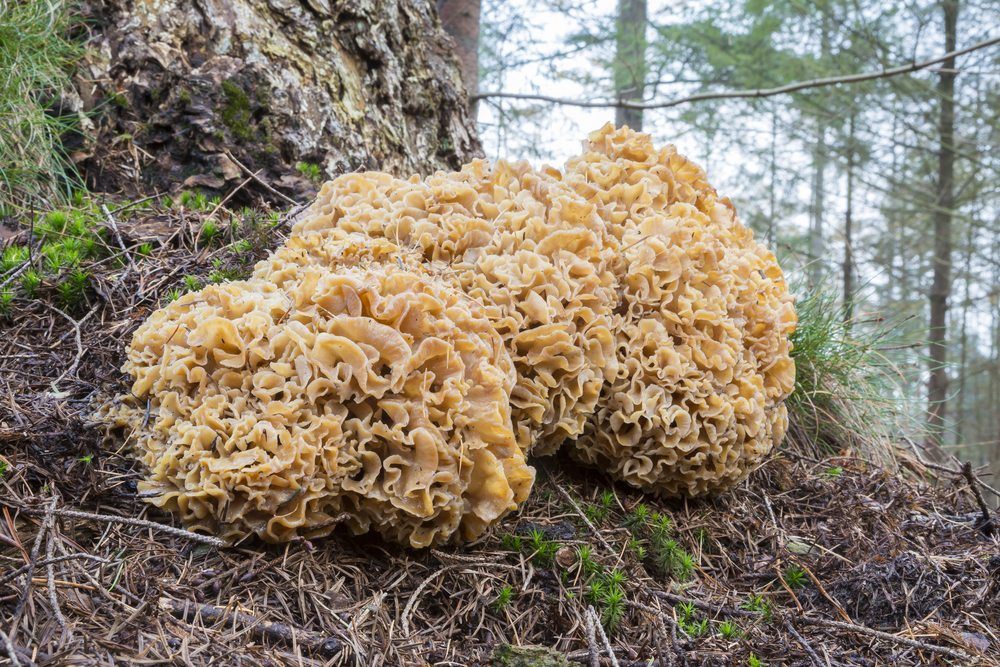 It's pretty easy to see where the nickname cauliflower mushroom came from, and at many people may not even realize that these are mushrooms at first glance. The mushrooms are large, very easy to identify and are known for having a particularly appealing taste. The catch is that they can be extremely hard to find. If you are foraging for them, they do have the advantage of turning up in the same place year after year. If you aren't, you'll have to do a lot of hunting to find anywhere that stocks these beauties.
10. Chicken of the Woods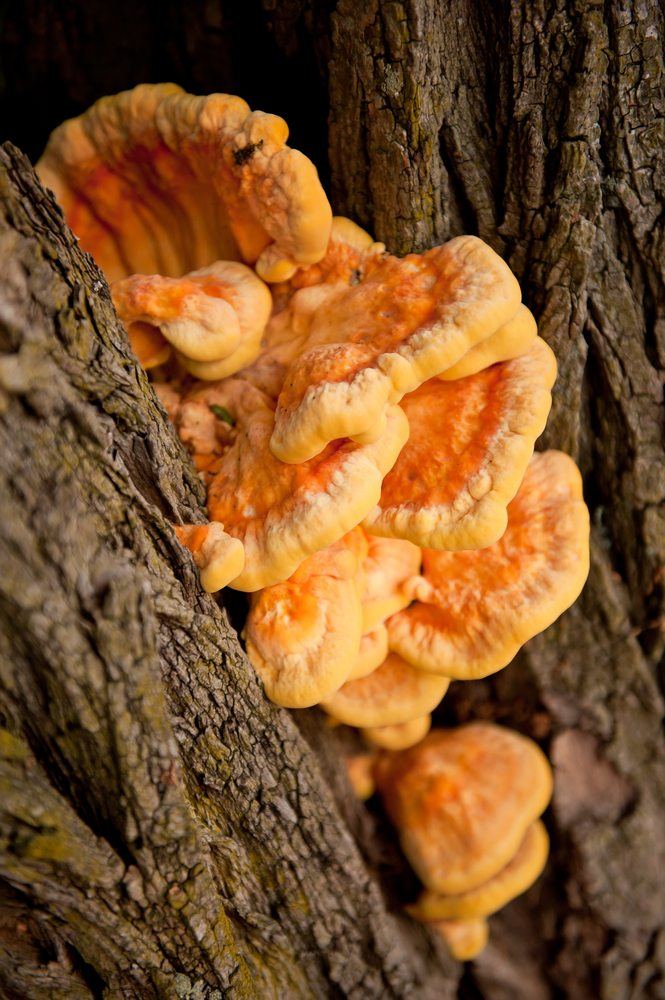 Calling a mushroom chicken of the woods sounds like a bit of a joke, but that really is the name for this particular type of mushroom. The mushroom is a parasitic species growing on living and dead hardwoods with a preference for oak. The species is easy to cook with and has a meaty taste that some people think tastes a little like chicken. This species is one example where people vary considerably in what they think it tastes like and the best way to find out is to give it a try for yourself.
9. Shiitake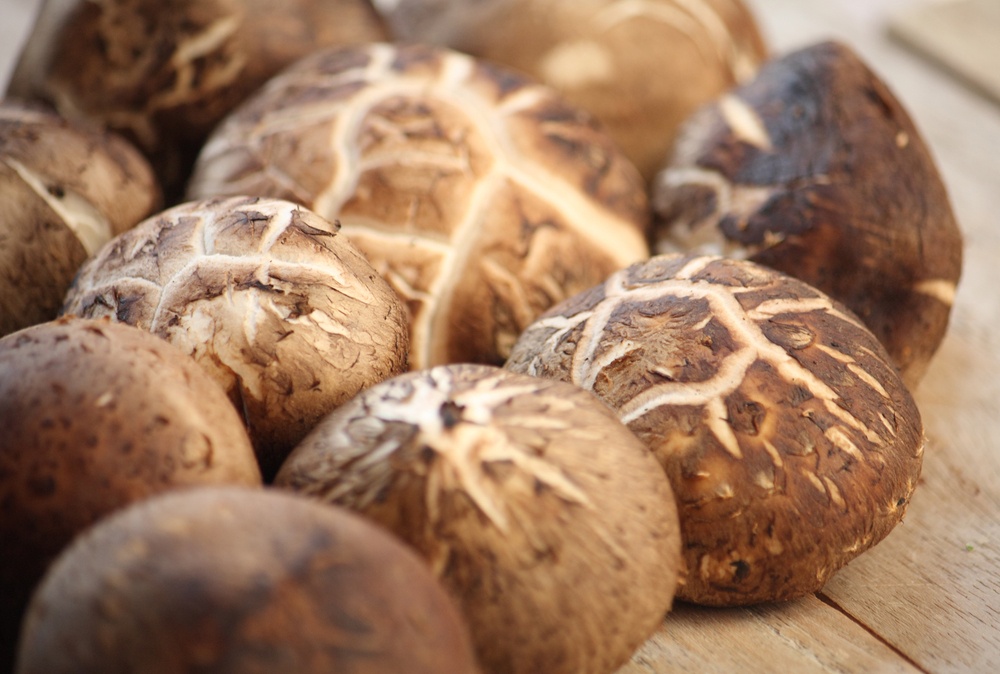 Shiitake mushrooms are native to East Asia, but has been becoming more popular globally. The mushrooms have a variety of uses in traditional cuisine and medicine, such as being served as part of a miso soup. Dried shiitake mushrooms are commonly available and these can be rehydrated simply by soaking them in water. The dried versions are easier to store and ship, and are often thought to be superior in taste as the process of sun drying the mushrooms can alter the flavor profile.
8. Porcino

Porcini mushrooms are particularly common in Italian foods, partly due to their nutty flavor. However, the mushrooms are particularly hard to cultivate, making them difficult (and expensive) to find fresh. This is very true in the United States, although you might sometimes find them in seasonal produce markets. Alternatively, dried porcini mushrooms are much more readily available and are easily used.
7. Enokitake (Golden Needle)

The thin white enokitake mushroom (sometimes called enoki) is a common ingredient in East Asian cooking. This is a cultivated form of the species, and the wild version looks considerably different. The popularity of enokitake means that it is easily found canned or fresh, even in the United States.
6. Cinnamon Cap

Cinnamon cap mushrooms grow in clusters and are particularly easy to use. The entire mushroom can be used and they are often used whole without slicing them up. The mushrooms tend to have a nutty flavor, which can be appealing in a number of different dishes. A particularly common approach is to sauté them along with butter and garlic.
5. Fairy Ring AKA Scotch bonnet

While fairy ring mushrooms do grow in fairy rings, this name can cause some confusion as a number of other species have this growth pattern (including at least one poisonous species). However, these mushrooms are edible and appealing, with a sweet taste that makes them work well in baking. Typically only the caps of the mushrooms are used, as the stems are fibrous.
4. Hawks Wing

The unique appearance of the hawks wing mushroom makes it a common mushroom for beginners to foraging, as there are no known poisonous mushrooms with similar appearance. The size of this mushroom can be anywhere from 2 to 12 inches and they grow on hardwoods. While the mushroom is typically foraged, there are some places that sell it if you look around. Unfortunately, the mushroom is often expensive and some people feel that it doesn't live up to its price.
3. Hedgehog AKA Sweet Tooth

The hedgehog mushroom is rather surprising in that it is a mushroom with teeth. These are small structures no more than 1/4 of an inch in length. They can be easily broken off and don't interfere with the edibility of the mushroom. The term actually applies to two closely related species of mushroom that are similar in appearance, preparation and even taste. They can be fried, dried or sautéed, making them useful in cooking, especially for unique or unusual dishes.
2. Pom Pom AKA Monkey Head

Pom pom mushrooms look a lot like the lion's mane mushrooms that I mentioned earlier, and there's a pretty good reason for that. According to some sites, the two mushrooms are just different names for the same species of mushrooms. That's one of the challenges with mushrooms – because there are simply so many different types of them out there and they often look very similar to one another. Internet 'science' doesn't exactly help matters either and you will find that some sites call these two species the same thing, while others will think they're different mushrooms entirely. Confusing, right?
1. Boletus Bicolor

The boletus bicolor is a two colored beauty, although it's hard to tell from this photo. From top-down, the mushroom is a bright red, while the underside of the mushroom is bright yellow. The mushroom is mild with a subtle taste. It is often dried to make storage easier. The mushroom is most common in the Great Lakes Region and in Canada. While the mushrooms can sometimes be purchased, finding them for sale is a relatively rare occurrence.