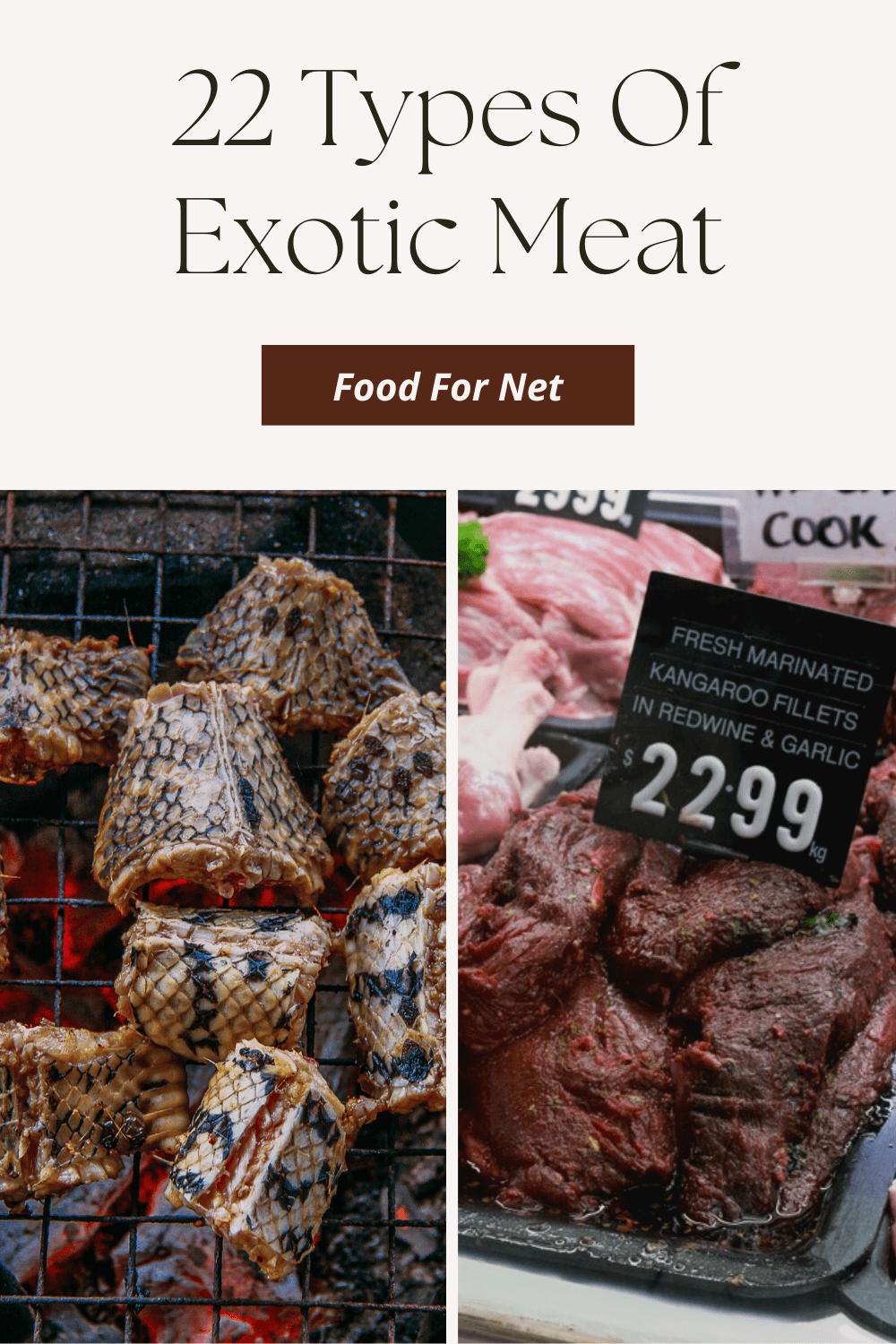 Pork, chicken, beef, and sometimes turkey are all delicious and easy sources of protein. But, they're hardly the only options. There are many types of exotic meat out there, each with their own distinct flavors. Such meats are a fantastic way to broaden your palate.
So, what are exotic meats anyway? The term exotic typically refers to products that you can't find locally. That's certainly the case for exotic fruit and exotic nuts.
Exotic meat is a little different. The term mostly refers to non-domesticated meat that isn't commonly eaten. For example, eels are consumed in many countries, but they're still considered exotic, as most of us don't eat eels regularly.
For this list., we're focusing on meats that are exotic within the United States. However, there's some variation even here, depending on where you live.
Which of these meats have you tried? Which ones would you like to?
Strange And Often Tasty Types Of Exotic Meat (With Pictures)
Alligator

If you can get past the idea of eating an alligator, then the meat itself is surprisingly good. It's also much more popular than you might expect, particularly in southern states.
There are also plenty of good things to say about alligator meat. For one thing, the flavor is mild. It's similar to chicken in strength, although there's something distinctive about the flavor that's hard to place. This distinctiveness isn't bad either and many people love the taste of alligator meat.
The meat is also high in protein and low in saturated fats, making it excellent for health. You can even use alligator meat as a healthy substitute for beef.
Crocodile

Not surprisingly, crocodile meat is pretty similar to alligator meat. Both options are high in protein and low in fat, with a fairly mild flavor.
Crocodile is much less common as a type of meat in the United States, largely because they're protected. In Australia, however, crocodiles are eaten much more often. There are even some places where crocodiles are farmed for their skins and meat.
Jellyfish

Here's an exotic choice you might never have heard about – jellyfish. Some species of jellyfish really are safe for humans to eat.
However, it's important to be cautious. Jellyfish generally need to be cleaned and processed quickly. Processing often involves dehydrating and brining the jellyfish. So, when jellyfish are used, they're often first rehydrated and soaked, which reduces the salt content.
Jellyfish can be served in many ways, including cooking the meat or leaving it raw. It has a subtle flavor and is also slimy and slightly chewy. For many people, the texture is the most appealing aspect, as the flavor really isn't that exciting. There are also some potential health benefits.
Wild Boar

Wild boars are a species of pig. They're similar to the pigs that we farm and eat regularly, but not quite the same. They also have a very different diet, as they're foraging out in the wild.
Such differences mean that wild boar also tastes very different than commercially raised pigs. The meat tends to be lower in fat and has a much more intense flavor. It's a little like a middle ground between conventional pork and venison.
Eating wild pigs is powerful for another reason too – there's a serious pig overpopulation problem in some states. These animals are wreaking havoc on crops and the environment, so hunting them for meat actually helps to protect the environment.
Turtle

Have you ever considered eating turtle? Turtles have historically been a staple source of meat throughout the Caribbean, partly because turtles often grow to a considerable size.
Turtle meat is also renowned for its flavor, which is often rich and delicious. The exact flavor profile varies depending on the type of turtle you choose.
Saltwater turtle is easily the best, with a taste that's reminiscent of both lobster and veal. Freshwater turtles have a muddier flavor, but the texture of the meat is still very appealing.
Even these days, chefs often prize turtle meat, seeing it as wonderful. However, turtle has gone from being a common type of meat to a rare one, largely because demand has increased, while supply has diminished. There's also an ethical debate about whether we should be eating turtle meat at all.
These issues mean that you may struggle to find anywhere that sells or serves turtle meat. But, if you do, then the meat is certainly worth trying once.
Buffalo

Views on buffalo meat vary dramatically. For some people, eating buffalo is logical and familiar. After all, buffalo meat was the initial red meat enjoyed in America. It's not so surprising that it's still eaten regularly today.
Others see buffalo meat as exotic, even in the United States. Beef, lamb, and chicken are much more common. Buffalo meat has seen a resurgence in popularity in the last few years, but that's still not enough to make it an everyday meat.
Regardless, buffalo meat is entirely edible. It's also delicious and nutritious. This is true for the bison found in the United States and also other types of buffalo, like water buffalo in other countries.
Some studies even suggest that buffalo meat is healthier than beef and chicken. This depends on how you define healthy, of course, but the meat is certainly packed with protein and nutrients.
Buffalo meat is prepared much the same as beef, but it's leaner and needs to be cooked carefully. Too much heat risks overcooking the meat and making it too tough.
However, buffalo is harder to find than beef and much more expensive. That's not surprising, as it's not commercially farmed in the same way.
Venison

Venison is one of the least exciting and unusual meats on this list. For many, it's not even exotic at all and is best considered game meat.
Still, whether you classify venison as exotic or not, it is a delicious type of meat. The flavor is similar to beef or lamb, but with distinct rich flavor tones and a somewhat gamey flavor.
The flavor is influenced by what the deer at throughout its life. As such, deer that is raised for eating and fed on corn tends to produce venison with a milder flavor, compared to deer that forage in the wild.
Also, most of the gamey flavor can be found in the fat. Removing this and any connective tissue while processing the venison helps to tone down the flavor, giving you milder meal.
Kangaroo

Kangaroos are strange animals. Even if you've never seen one in person, you probably know exactly what they look like.
But, you mightn't have imagined them as food. Kangaroos are eaten, though, frequently as an exotic meat and even served in high class restaurants.
There's a gaminess to the flavor, although many people still love kangaroo meat even more than beef. That said, the taste and toughness varies depending on how the meat is prepared. So, if you're trying it as a newbie, look for somewhere that's likely to do it well.
Camel

Not surprisingly, we don't eat camels often in the United States. It's a completely different story in North Africa and the Middle East.
However, camel meat still isn't normally an everyday food. It's more often reserved for special occasions, like a wedding feast.
Camels provide red meat that's a little like beef, except that it is typically leaner. The leanness is great for health, especially as the meat is also packed with plenty of nutrients.
However, quality varies. Some camel meat can have a gamey flavor and may also be tough. This is particularly true if the meat came from an old camel.
Goat

Goat meat is a much more familiar idea. After all, we already have goat milk cheese and even goat's milk. It's not too surprising that goat meat features as well.
You'll sometimes see the word chevon used rather than goat meat, which seems to make the idea more appealing to American consumers. However, in other places, including South Asia, mutton is often used to refer to both goat and lamb meat, which makes things a little confusing.
The meat itself is interesting. It has some gamey flavor, but this isn't dramatic. There's some sweetness too, which helps to make the meat versatile and perfect for many dishes.
Rattlesnake

Have you ever eaten a rattlesnake? Probably not, but some people do. The meat may even be good for you, as it's pretty low in fat, while offering plenty of protein and nutrients.
The meat itself is white, with a somewhat earthy flavor. It's a little like alligator meat and needs to be cooked carefully, as overcooking ruins the experience.
Rattlesnakes aren't your only option. Most types of snakes are edible if they're prepared safely. Preparation really is important though, as you need to make sure that you're not consuming any of the snake's venom.
Guinea Pig

In the United States, guinea pigs are most popular as pets for children. The situation is quite different in some other countries. Here, the guinea pig is regularly served as a delicacy and often known as cuy.
This isn't so surprising either, as guinea pig meat tends to be fatty and packed with flavor. Guinea pig is often prepared with the skin still on, which ends up just as tasty as pork crackling (if not more so).
There have been attempts to popularize guinea pig meat in the United States, but it's no easy feat to convince most of us that a beloved pet can also be a delicacy for the dinner table.
Elk

While elk and deer look similar, they're completely different animals. Elk are harder to hunt than deer, so their meat isn't as common as venison. Yet, elk meat is often more appealing, largely because it is much less gamey than deer.
Farm-raised elk meat is particularly appealing. Ranchers are able to carefully control the diet of their animals to make sure the meat tastes good. If this is done well, the meat can lose all of its gamey taste.
Elk meat is also a healthy choice, as it's low in fat and high in protein. How can you lose?
Pufferfish

Pufferfish, or fugu, is a strange delicacy. They're incredibly popular in Japan, even though the fish themselves are poisonous.
Japan has a whole system in place to ensure that fugu is only served in restaurants with a qualified fugu handler. These handlers can prepare fugu safely so there's no risk to customers.
The flesh itself is white, with a light and slightly sweet flavor. It's worth trying if you get the chance while in Japan. Just avoid pufferfish in any other country, as it might not be safe.
Eel

Eels are a surprisingly common exotic meat. They're mostly eaten in Japan, but can be found in other countries as well.
However, eels need to be cleaned and cooked well, as there are toxic compounds in their blood. Fileting and cooking the eels makes them safe, as most of the blood drains away and the toxic compounds get destroyed during cooking.
The meat is surprisingly tasty too, with a clean flavor. Many dishes make use of eel too, including simple and complex meals.
Dove

Doves aren't normally hunted, as they're too small and too difficult to catch. In most situations, they're simply not worth the effort.
Still, doves are sometimes eaten. The flavor is a little similar to quail or duck, making it heavier and greasier than the white meat of chicken.
It's important to prepare dove well, often by grilling or frying it. If you plan to try and hunt the birds, be sure to check local laws first. Dove hunting is illegal in some places. In other cases, hunting may only be legal during certain seasons.
Ostrich

Ostrich meat isn't incredibly exotic. These days ostriches are even farmed for their meat in the United States. Still, it's far outside the 'normal' meats we eat every day.
Ostrich is pretty exciting as a meat source, as the birds are so large. That's not all. The meat is also low in fat and calories, despite being a type of red meat. This makes it a much healthier choice than beef.
Companies that farm ostriches generally follow humane practices. This includes allowing them to roam free and using no antibiotics. This is much better than beef and chicken, which are often intensively farmed.
Squirrel

Again, squirrels don't seem like food, but they're often common, so why not eat them? Flavor-wise, squirrels taste somewhere between chicken and rabbit. There's also a distinct nuttiness that you don't find with many other meats.
The taste means that squirrel meat can be used in many of the same recipes as chicken. But, they are small animals, so if you're catching them yourself, you'll need to do a lot of prep work for not much meat.
Tarantula

Eating insects is a disturbing idea to most of us. Yet, insects can be tasty. They're also useful as a sustainable source of protein.
Tarantulas are just one example. They're served deep fried in a surprising number of places, including Cambodia.
Reports from diners suggest that the flavor isn't horrible, often similar to crab. But, the experience of eating them is another story entirely. Many people find it hard to get past the idea that they have a spider in their mouths.
Huhu Grubs

Huhu beetles are a large beetle from New Zealand. Their larvae are known as huhu grubs and are sometimes eaten. This often happens during exotic food festivals, where huhu grubs are just one of many items on the menu.
However, they're also a practical food source out in the wild, especially as they can theoretically be eaten raw. They're mostly cooked though and are an excellent source of protein and fat.
Yak

Yak meat isn't too exotic in the United States, although it's still much less common than beef and pork. The flavor is similar to beef, but the fat content is relatively low.
There isn't much gaminess to the meat either, making it more appealing than many other exotic meats. Some people even prefer yak meat to beef. The lower fat content may make yak meat healthier than beef as well.
Quail

Quails are also fairly familiar. Even if you've never tried one before, the idea of eating quail probably isn't that strange.
Like ducks, quail have dark breast meat. They taste similar to chicken, except they often have even more flavor. However, the exact flavor will vary depending on what the quail has been eating.