Mushrooms often feature on healthy foods lists. It's easy to see why too, as they're low in calories, provide plenty of nutrients, and even offer some fiber. Still, we have to ask, are mushrooms good for you?
After all, food is often much more complex than it first seems. Even the foods that seem the healthiest often come with unexpected risks, like the way that soy contains phytoestrogens or how liver can put you at risk for a vitamin A overdose.
This is why it's so important to understand what you're eating, including the benefits and any concerning features. Mushrooms come with a few extra complexities too, given that they're a type of fungi, rather than being a plant or an animal. Plus, some people forage for their mushrooms in the wild, a practice that comes with its own risks.
Are Mushrooms Good For You?
What Are Mushrooms Anyway?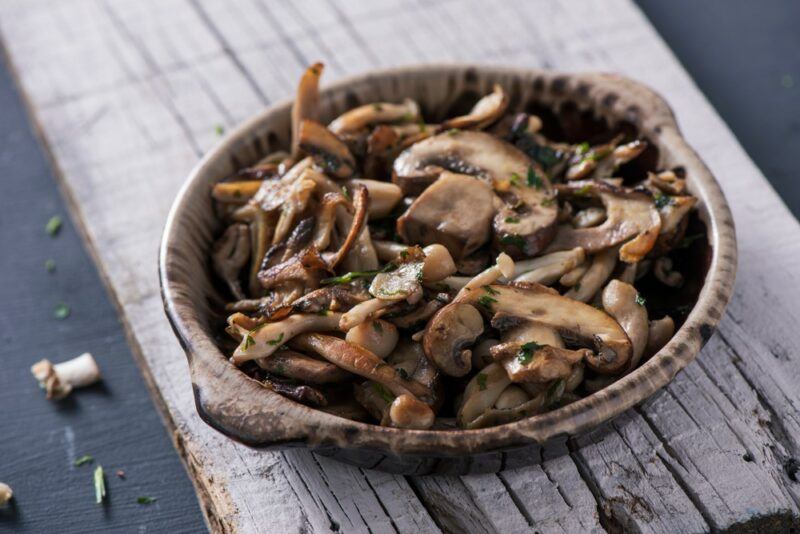 Mushrooms are interesting. It's easy to think of them as being plants, especially as they're often included on a vegan diet. Yet, they're not plants at all. In fact, despite their appearance, mushrooms are more closely related to animals than they are to plants.
Instead of being plants, mushrooms are a type of fungi. They're defined as such partly because they don't create their own food through photosynthesis. Mushrooms rely on enzymes to digest other substances instead.
We mostly treat mushrooms like vegetables, but the fact that they're not plants creates some interesting differences, including the amount of B vitamins present and even vitamin D.
Benefits Of Mushrooms
Low In Calories, High In Nutrients
While mushrooms vary in their nutritional profile, they're always low in calories and offer a decent amount of nutrients.
Some of these nutrients include copper, B vitamins, potassium, zinc, and more. Each nutrient has its own benefits, like how potassium may lower blood pressure, how zinc plays a role in the immune system, and how B vitamins are relevant for energy production.
Some of the B vitamins are particularly important, like niacin, as they're more common in meat than in plant-based foods.
They're A Powerful Ingredient
Mushrooms are also one of the easiest ways to boost the nutrient content of your meal. After all, they're low in calories and contain little fat or sodium. Despite this, they're often rich in flavor, so they can easily make a meal more interesting.
Many recipes even use mushrooms as an alternative to meat. Plus, with an incredible amount of types to choose from, you're never short on options.
Mushrooms are versatile in another way too – they can be used on most diets. They're paleo-friendly, are low enough in carbs to feature on keto, can be part of an AIP diet. Some types of mushrooms are also FODMAP friendly (although not all of them).
Let's not forget that mushrooms are also low in cholesterol, fat, sugar, and calories, making them fine if you have diabetes or are watching your heart health.
Provides Fiber As Well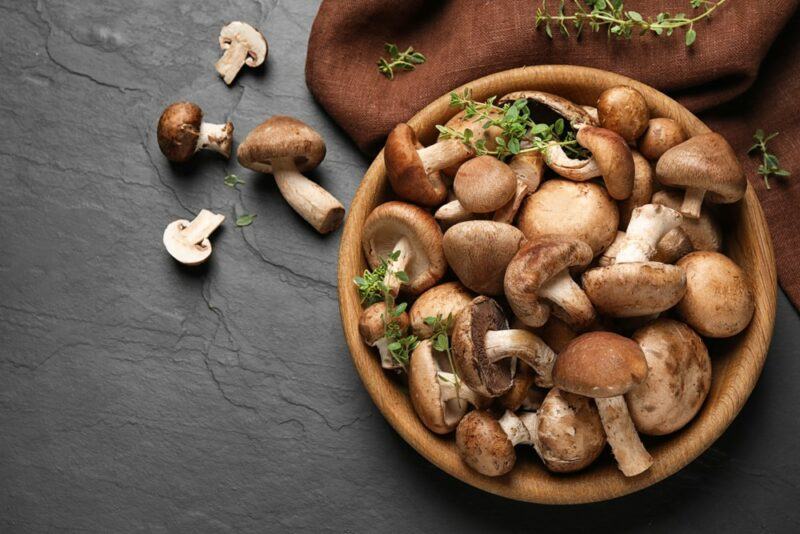 Despite being a fungus rather than a type of plant, mushrooms are still a source of fiber. The amount varies depending on the type, as can be seen below (for a 3-ounce serving of raw mushrooms):
White mushrooms: 0.8 grams
Cremini: 0.5 grams
Portobello: 1.1 grams
Shiitake: 1.8 grams
Oyster: 1.9 grams
Enoki: 2.3 grams
The fiber content per gram does increase when you cook mushrooms, simply because you're decreasing the water content.
We need around 25 to 38 grams of fiber each day to stay regular and healthy. Many of us aren't getting that, so any source of fiber can be helpful.
Now, in fairness, mushrooms aren't an amazing source of fiber. You'll get more from many types of vegetables and legumes. This doesn't mean that you should ignore mushrooms, not at all. Instead, they can easily be used in the same recipe as vegetables, to give you a fiber rich meal.
Mushrooms also contain an interesting type of fiber called beta glucan. This is the same type of fiber that you find in oats and helps with your blood cholesterol and blood sugar levels. These effects are partly why oats are thought to be so powerful for heart health. Mushrooms may share some of those benefits.
Rich In Antioxidants
Mushrooms are often white or brown, but this doesn't stop them from being useful sources of antioxidants. The importance of these compounds can't be understated, as antioxidants are often thought to decrease disease risk and even keep you living longer.
You get antioxidants from plenty of foods, including brightly colored fruits and vegetables. But, mushrooms are fungi, so there may be some different antioxidants present too.
Could Promote Weight Loss
Mushrooms can be important for weight loss too. That's not so surprising, as the calorie content is so low.
One useful trick is to replace some of your meat with mushrooms. This might involve using mushrooms once a week instead of meat or just subbing some beef out for mushrooms in a recipe like lasagna.
Doing this works well, as mushrooms have a similar umami flavor to meat, so your meal still tastes much the same. However, the mushrooms do decrease the amount of fat and calories that you're consuming.
May Contain Vitamin D
Mushrooms have another interesting feature – they're the only non-animal food that can act as a significant source of bioavailable dietary vitamin D. This allows them to act as a source of vitamin D for vegetarians and vegans in a way that few other foods can.
While all mushrooms contain at least some vitamin D, the levels can vary dramatically. The best choices for vitamin D are mushrooms that have been intentionally exposed to ultraviolet light. The light increases the vitamin D content of the mushrooms, without diminishing their growth.
There Could Be Other Benefits Too
You'll often see hype about the benefits of mushrooms, like how they might decrease cancer risk, significantly improve your immune function, help treat type 2 diabetes, and much more. Some of these benefits have been linked to eating fresh mushrooms, while others may come from mushroom powder or supplements.
While there's some evidence for all these benefits (and more!), there are also major gaps in our knowledge. We still don't know when mushrooms offer such benefits, what the ideal type is, or how much you should be consuming.
How Mushrooms Could Be Harmful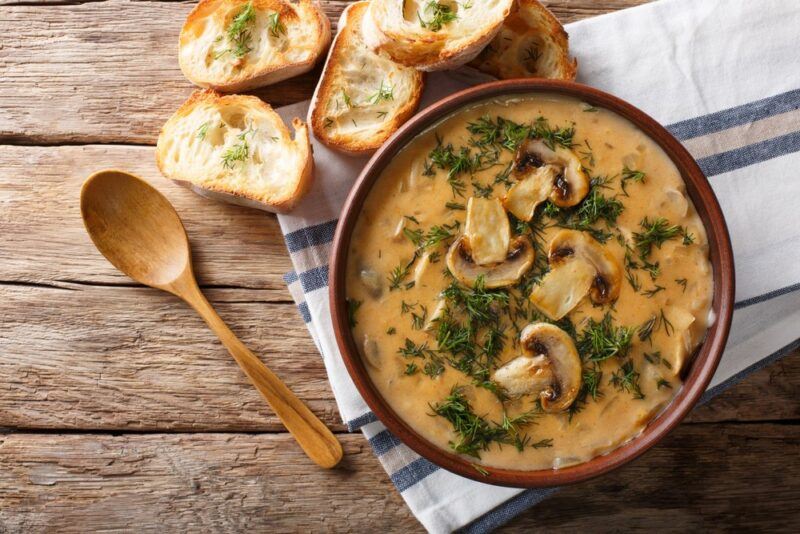 Mushrooms are a relatively safe ingredient, as long as you choose the type of mushroom well. Still, there are issues to think about.
Some Mushrooms Are Dangerous
The biggest issue comes from using wild mushrooms. While wild mushrooms can be delicious and offer plenty of nutrients, they're also riskier than commercially grown mushrooms.
For one thing, you need to make sure you're choosing the right mushrooms. Some types of mushrooms are safe. Others can make you sick or even kill you. And, unfortunately, safe and unsafe mushrooms sometimes look similar.
If you do plan to hunt out wild mushrooms, make sure you're completely confident about what species they are before you eat even a little.
Be cautious about buying mixed mushrooms too, particularly from farmers' markets. Some reports show that collections of mixed mushrooms and morel mushrooms are sometimes contaminated with toxic look-alike species.
As such, it's worth learning about some of the common look-alike species are, so that you can easily spot mushrooms that might be a problem.
Mushrooms Can Be Contaminated
Mushrooms grow in the soil, so there's always the chance of contamination. This could mean that your mushrooms contain toxins, even if the mushroom species is safe.
The risk of contamination may be higher with wild mushrooms, as the soil you're finding these in won't have been tested regularly.
To avoid contamination, focus on reliable mushroom growers, ones that are up-front about their quality control approaches. If you're picking wild mushrooms, try doing a little local research to make sure there's no known soil contamination in the area.
Be certain to clean and cook your mushrooms well too, as mushrooms can also be contaminated with bacteria. This is true for even commercially grown mushrooms.
Watch Out For Allergies
People with mold allergies are sometimes sensitive to spores from mushrooms or even to eating mushrooms themselves. This is something to watch out for.
If you're not certain whether you can eat mushrooms, start slowly and pay close attention to how your body responds. Doing so helps you to identify any problems early and prevent serious allergic reactions.
Types Of Mushrooms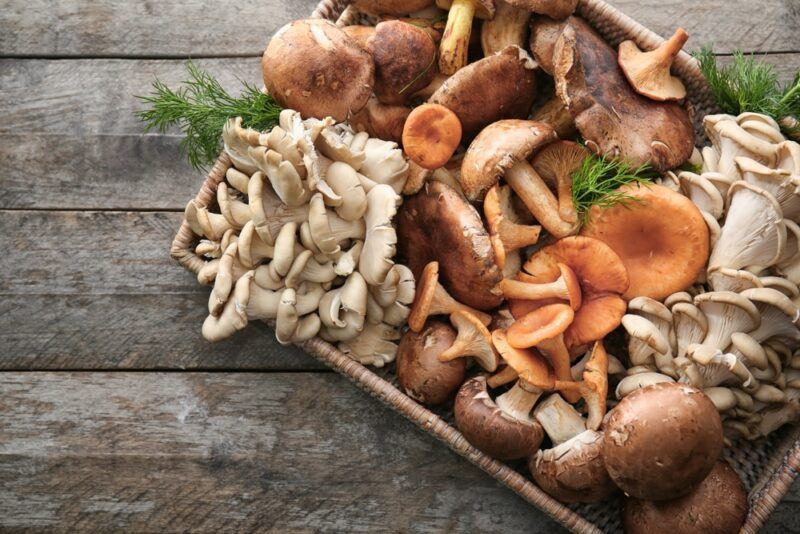 So far, we've been treating mushrooms as if they were all roughly the same. But, this isn't the case at all. There are plenty of different types of mushrooms out there, which vary in color, size, flavor, and plenty of other properties.
In fact, there are currently more than 10,000 types of mushrooms and those are just the ones that we know about. We can't hope to cover all types here, but we will highlight some of the main ones and how they're used. Here are some more exotic ones.
White Button Mushrooms
These common mushrooms are easy to find and are inexpensive. It's not surprising that they're also the most popular type, accounting for around 90% of the mushrooms that we eat.
White button mushrooms tend to have a mild flavor, so they work well in plenty of different dishes. In fact, their versatility is another reason that the mushrooms are so popular.
While white mushrooms aren't seen as being as amazing for health as some of the other types, they're still low in calories and contain a decent amount of nutrients. They're also higher in protein than many other types of mushrooms. That's a useful feature if you need something filling.
Portobello Mushrooms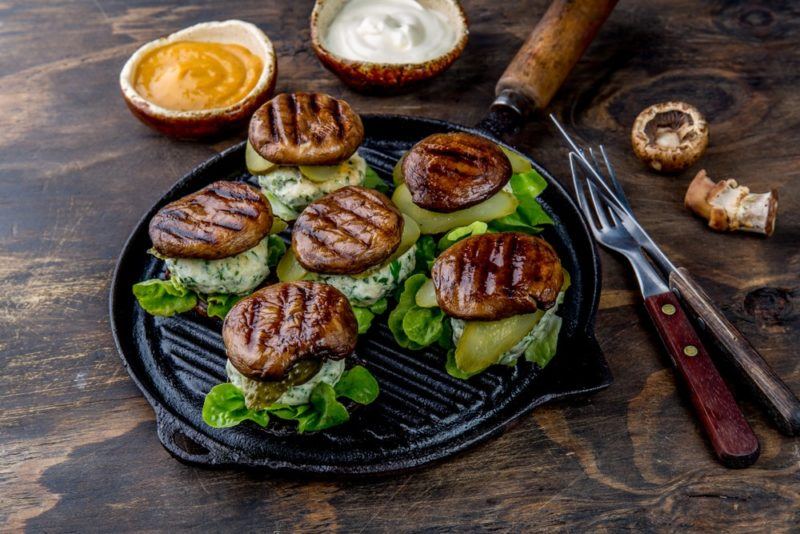 These mushrooms are a popular ingredient in Italian cooking and among vegetarians. Some of their popularity comes from their meaty texture. This, combined with the flavor of the mushroom, makes for a surprisingly good meat substitute.
It's even possible to use the flat cap of a portobello mushroom to make a low carb bun.
Portobello mushrooms are also resilient enough to be hollowed and stuffed. They grill well too, giving you countless ways to use them.
You'll also see crimino mushrooms, sometimes known as cremini or baby bellas. These brown mushrooms are younger versions of portobello mushrooms. They're an excellent replacement for white mushrooms for times when you want more flavor in your dish.
Portobello mushrooms can be helpful for health as well, as they're particularly rich in B vitamins.
Maitake Mushrooms
These mushrooms are often found in the wild and can be cultivated too. They're often sold as a cluster, where the heads of the individual mushrooms overlap one another.
Maitake mushrooms tend to have a gamy flavor, paired with an earthy aroma.
Shiitake Mushrooms
Shiitake mushrooms can be found fresh or dried. The fresh versions have a light flavor, while the dried ones tend to be much more intense. The intensity of dried shiitake mushrooms is a fantastic way to add a rich umami flavor to your meals.
They're often seen as one of the healthiest types of mushrooms, partly because they offer most of the same amino acids that you find in meat. They're also thought to help with your immune system, partly because of a compound called lentinan.
Oyster Mushrooms
These mushrooms can be found in the wild, but they're popular enough that they're also regularly cultivated. As such, oyster mushrooms sold at local stores have almost certainly been cultivated.
Japanese and Chinese cuisine often relies on these mushrooms, particularly in stir-fries and soups.
Oyster mushrooms may be particularly powerful for fighting inflammation and promoting heart health, as their beta-gluten content is relatively high.
Enoki Mushrooms
These interesting mushrooms have long stems and small white caps. They have a notable crunch when consumed raw, making them particularly useful in salads. You can cook them too. Sauteing the mushrooms with oil is a popular approach.
The mushrooms offer many of the nutrients that you'd expect and are a particularly good source of niacin and thiamine.
Reishi Mushroom
This mushroom also goes by the name Ganoderma lucidum. It's one of the few mushrooms that is more often used in supplements or powders than as a fresh mushroom.
Reishi mushrooms are thought to provide a host of benefits, like supporting the immune system, reducing cancer risk, promoting heart health, improving blood sugar control, and more. Of course, those same benefits may come from other mushrooms as well. There's also debate about whether reishi mushrooms are really that powerful or whether they've just been marketed well.
Regardless, it's important not to overdo it with reishi mushrooms or any other type, as high consumption does come with some side effects.
Are Mushroom Supplements Useful?
The popularity of mushrooms has also led to mushroom supplements. Some of these focus on a specific type of mushroom, like lion's mane mushroom or reishi mushroom, while others include multiple types in the same supplement.
You'll also see some products that use mushrooms as a way to provide extra benefits. The most famous example is mushroom coffee, which is often thought to promote weight loss and provide extra energy.
Much of the time, the idea is to provide the same compounds you get in mushrooms a form that's easier to consume. You might be getting a more concentrated dose of them as well.
The appeal is easy to see, but it's tough to know whether mushroom supplements actually work or not.
One problem is that the supplements often rely on extracts, so you don't get all of the compounds found in real mushrooms. This may reduce the benefits, as the compounds in your food often work synergistically with each other.
Besides, you don't know what you're getting with supplements.
Current regulations mean that companies don't need to prove effectiveness or safety before their products hit the shelves. This makes it easy for companies to cut corners and provide you with an inferior product. For example, some supplements might contain less of the active ingredients than they claim. Others might be contaminated.
Of course, there are good mushroom supplements out there too. The challenge is finding them, as the good ones will often look similar to the low-quality ones.
Honestly, supplements are rarely ever worth the effort. You normally get many more benefits from real food, partly because food contains a wider variety of nutrients. Plus, you know what you're getting with fresh food, while supplements are more of a gamble.
Final Thoughts
Mushrooms offer many benefits. That much is clear.
Finding the best type and amount, however, that's a more confusing prospect. The simplest approach is to focus on mushrooms as food, rather than a way to promote health.
This way, you can choose based on flavor and texture preferences, without getting stuck on trying to maximize your health benefits. Doing so is much more powerful, as you never really know how all the effects your food will have on your anyway.
Or, if you want to experiment, why not try a mushroom of the month club? These often give you plenty of different types of mushrooms, along with details about them.
Honestly, trying to get the most benefits at every turn is just a recipe for disaster. You'll end up stressing and worrying far too much, rather than enjoying your food.
Frequently Asked Questions
Are Mushrooms Keto Friendly?
Mushrooms are excellent choices for keto dieters, as the carb content is naturally low and you end up with plenty of nutrients. Just be cautious of mushroom products, including mushroom soup and canned mushrooms. These may have extra ingredients or additives that raise the carb content.
Do Mushrooms Go Bad?
Raw mushrooms only last around two weeks when stored in the fridge. Then they start to go bad and can end up making you extremely sick (particularly if these were harvested mushrooms, rather than those from a store).
Sliminess is the main indication that there's a problem with your mushrooms. It's best to toss them as soon as you notice any sliminess. This way, you're not putting yourself at risk.
Mushrooms may also start to dry out and develop wrinkles. A little drying out isn't a big deal, but it's best to get rid of your mushrooms once they start looking too shriveled.
Can You Eat Raw Mushrooms?
Some types of mushrooms can be eaten raw. Mushrooms from the grocery store are your best bet here, as they've been grown in carefully controlled conditions. For example, you might use slices of raw button mushrooms in a sandwich or on a salad.
There is some debate though, as raw mushrooms contain trace compounds that could be toxic or even cancer-causing. While the risk of issues from raw mushrooms is low, some people recommend always cooking them instead.
Are Mushrooms High In Protein?
Mushrooms are a decent source of protein for the calories they provide. For example, a whole cup of white button mushrooms contains 3 grams of protein, 1 gram of fiber, and some important nutrients for just 21 calories. That's fantastic.
On a calorie-for-calorie level then, mushrooms are excellent for protein.
But, you're still only getting 3 grams of protein in an entire cup of mushrooms. As such, mushrooms could only ever supplement your protein intake. You'll need to get the bulk of your protein elsewhere.
Are Mushrooms Good For Diabetics?
Mushrooms can be excellent for diabetics, as they're low in glycemic index (GI) and glycemic load (GL). As such, their blood sugar effect is minimal.
At the same time, mushrooms contain plenty of important nutrients, plus some fiber and protein. These features are extremely relevant for people with diabetes and can help you to stay healthy.