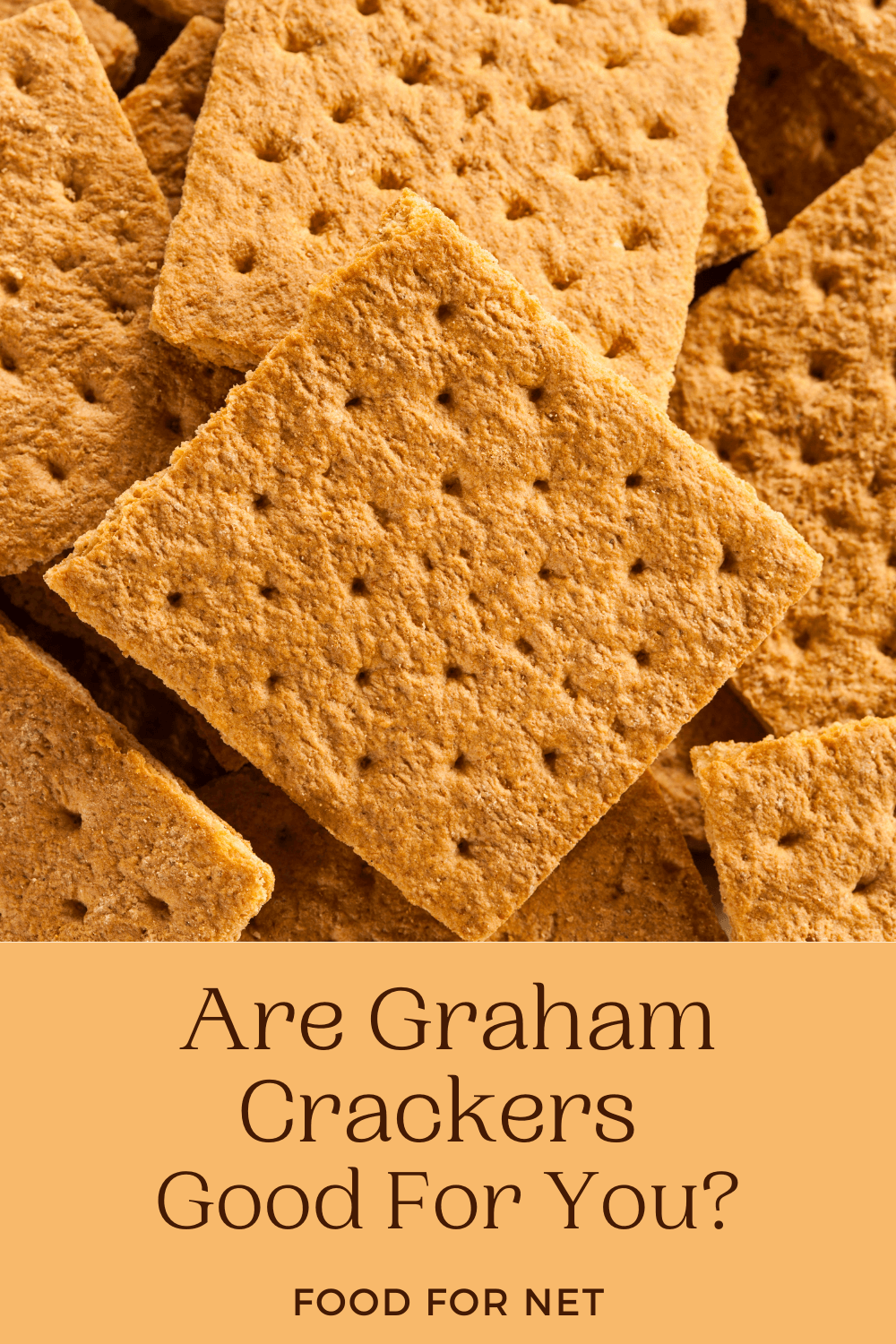 Graham crackers are popular both as a snack and an ingredient. They're perhaps most famous for making s'mores, but you'll also find them at the base of cheesecakes, pies, and plenty of other desserts. Such treats aren't great for health. That goes without saying though. What about the crackers themselves? Are graham crackers good for you?
The potential problems are easy to see, given that graham crackers are processed and contain a decent amount of carbs. Still, the crackers have their merits too. They're also not nearly as bad as some of the other processed foods out there.
Are Graham Crackers Good For You?
Graham Cracker Nutrition
The Good Features Of Graham Crackers
The Concerning Features Of Graham Crackers
Should You Eat Graham Crackers?
Can You Make Homemade Graham Crackers?
Final Thoughts
Graham Cracker Nutrition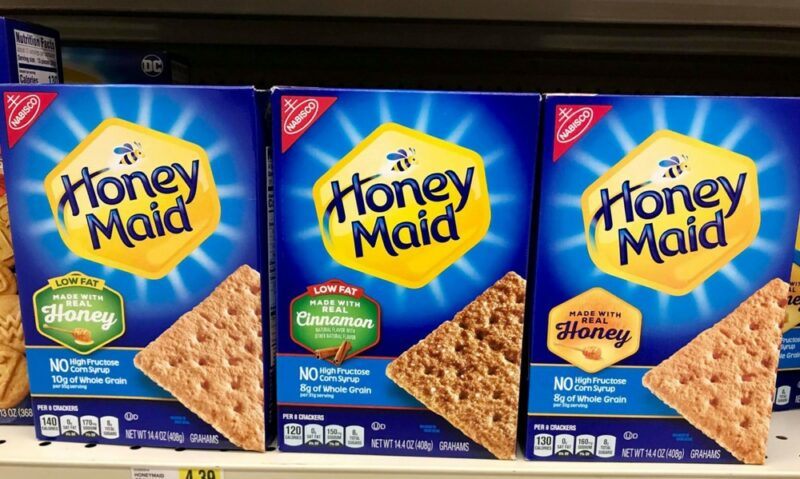 Graham crackers have a long history in the United States. They have been mass produced since around 1898 and continue to be popular even in modern times.
As the name suggests, graham flour is an important ingredient. This is a type of coarsely ground flour, one that's made from whole wheat. Graham flour is most famously used in graham crackers, although some cereals and breads rely on it too.
That said, many graham cracker products rely mostly on regular flour and use a relatively small amount of graham flour.
Honey Maid Graham Crackers are the most famous type. An 8-cracker serving of the honey version provides 130 calories, 3 grams of fat, 24 grams of carbs, 1 gram of fiber, 8 grams of sugar, and 2 grams of protein.
The cinnamon version is almost identical nutritionally. It even continues to use honey as an ingredient.
There's also a low fat version. This is actually slightly higher in calories and contains 2 grams of fat per serving, rather than 3 grams. The sugar, fiber, and protein content remain unchanged, but this time you get 28 grams of carbs per serving, rather than 24 grams.
The nutritional profile will vary depending on the product you choose. However, the patterns tend to be similar.
For example, Annie's Honey Graham Crackers are an organic version that's meant to be healthier. Yet, they still contain 130 calories, 3 grams of fat, 24 grams of carbs, and 8 grams of sugar per serving.
The Good Features Of Graham Crackers
They're Relatively Low In Calories
Graham crackers are pretty good for calories, giving you 130 calories per 8 crackers. Honestly, 8 crackers is a decent amount. You might have less than this at a time, which decreases your calorie content even further.
The low calorie content is useful if you're trying to lose weight, particularly if you're using the crackers to make a healthy snack, rather than a rich dessert.
Graham crackers are also low in fat and saturated fat. These are useful features, especially as many processed foods are high in fat.
The Ingredients Are Often Simple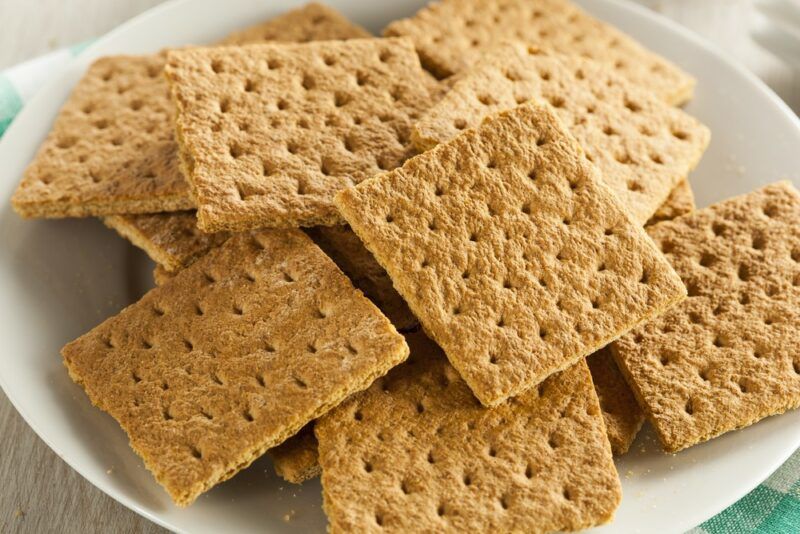 Graham crackers generally rely on familiar ingredients, including flour, salt, sugar, honey, and canola oil. Some companies, like Annie's, even focus on organic ingredients.
Processed foods often rely on long ingredients lists and plenty of additives, so it's always nice to see products that bring things back to basics.
A related feature is that many products also avoid high fructose corn syrup. Instead, they get their sweetness from sugar and honey, which is a more natural choice.
They're Versatile
The popularity of graham crackers comes from how we use them. Most of us aren't eating graham crackers on their own. Instead, we're using them to make s'mores, as the base of a dessert, or in some other recipe.
Graham crackers are incredibly versatile in this way. They're so useful that you can even buy graham cracker crumbs or a premade graham cracker pie crust.
Desserts aren't even your only option. You can also use graham crackers in healthier ways, such as by topping them with Greek yogurt and fresh fruit. Nut butter works well on them too, as the protein helps to balance out the carbs in the crackers.
It's even possible to use graham crackers to make a crumbed coating for fish or chicken. The crumb mixture is sweeter than normal, but the extra sweetness can work incredibly well with some seasoning combinations.
The Concerning Features Of Graham Crackers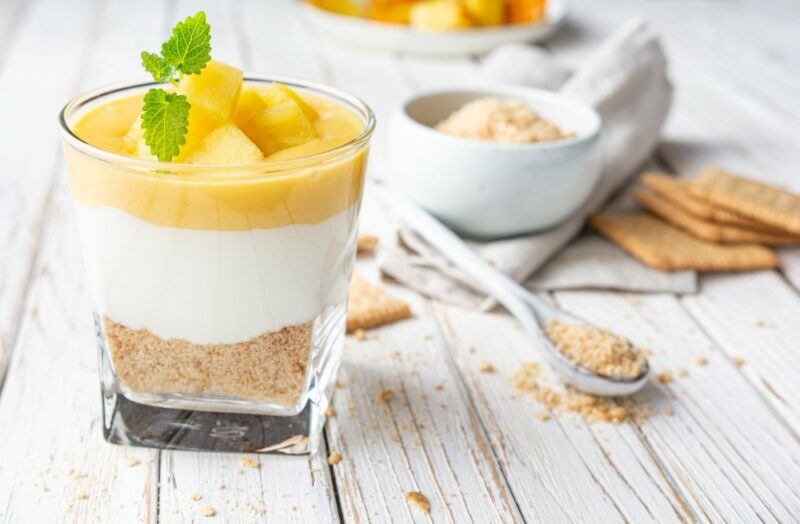 There May Still Be Additives
Earlier on we mentioned that graham crackers often rely on simple ingredients. This is true, but it doesn't mean that they're always additive free.
Honey Maid Graham Crackers are a classic example here, as they rely on artificial flavors. It's always a shame when companies do this, as foods can easily be flavored naturally instead.
As you can probably guess, artificial flavors are created in a lab. They're highly controversial, partly because they've been linked to many different side effects and potential health problems.
Food manufacturers and many researchers still see the flavors as safe, but there's plenty of room for doubt. After all, nutrition is complicated and the foods we eat can have subtle impacts on our health. Some of those effects are difficult to spot until it's too late.
The Crackers Are Highly Processed
Graham crackers are sometimes described as unrefined, as they rely on coarsely ground whole grain flour. However, there is still a decent number of processing steps, especially these days, as some graham crackers rely on sugar, honey, and even artificial flavors.
Processed foods have become an increasingly big part of modern diets, which is deeply concerning. Not only can these foods contain additives, but they also tend to be low in nutrients, high in sugar, and don't offer much that's good at all.
In fact, diets high in processed foods could lead to a higher risk of obesity, disease, and even cancer. This is a reminder that we need to look beyond the nutrient profile of our foods and consider how much they've been processed and what ingredients they actually rely on.
They're Very High In Carbs
Graham crackers are also over-the-top when it comes to carbs, giving you more than 20 grams of carbs per serving. And, despite the focus on whole wheat flour, very few of these carbs come from fiber.
You're mostly looking at digestible refined carbs instead, which is the last thing you want for your health.
Basically, carbs can be helpful when they come from whole and nutritious sources, like the carbs in legumes and in whole grains. But, when they're in highly refined foods, carbs tend to promote inflammation and cause your blood sugar levels to spike.
Going overboard with carbs can lead to many problems too, including side effects like fatigue, gas, sugar cravings, and difficulties thinking clearly.
While our bodies do need some carbs for energy, most of us are already getting more than enough of them. After all, carbs are everywhere – particularly in processed foods.
They Contain Added Sugar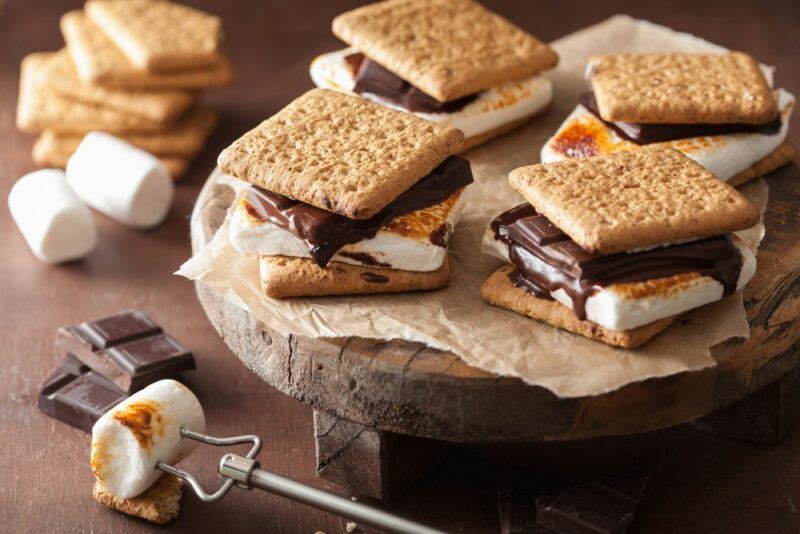 The original graham crackers weren't appealing at all. They relied entirely on unrefined flour and weren't sweetened at all. Modern versions tend to be semi sweet, due to the added sugar.
Most of the time, you're getting around 8 grams of added sugar per serving. This is a decent amount for a snack that's already rich in carbs.
Let's face it. Sugar is already far too prevalent in modern diets and many of us need to cut down our sugar intake – not have more of it. Too much sugar has also been linked to plenty of issues, like increased inflammation and a higher risk of diabetes.
Interestingly, the sugar content doesn't vary much, even across the different flavors of graham crackers. You'll need to pay close attention to the ingredients label to find versions that keep the sugar content low.
They Don't Have Much 'Good'
Another thing is that graham crackers simply don't have much in their favor. They're relatively low in calories, true, but there are plenty of lower calorie snacks, like celery or carrot sticks.
You're also not getting many vitamins, minerals, or antioxidants for these calories. You're not getting much of anything at all
Should You Eat Graham Crackers?
Graham crackers have plenty of issues and don't offer many benefits. But, this doesn't mean you need to avoid them entirely. You can still be healthy and have some less than ideal ingredients in your diet.
The most important thing is to keep your diet balanced. Make sure that you're mostly focusing on healthy foods, ones that are minimally processed and provide plenty of nutrients. These are powerful for promoting health.
Beyond this, there's some room for flexibility. You could still have graham crackers from time to time or you could even make dessert, like s'mores or rich cheesecake. The trick is to watch your portion sizes and not have treats too frequently.
You can also pair graham crackers with healthy ingredients. This helps to give you more nutrients and balances out the carbs.
Also remember that while graham crackers are fairly low in calories, they're never going to improve your health on their own. There are plenty of better foods out there, including vegetables, whole grains, and legumes.
Can You Make Homemade Graham Crackers?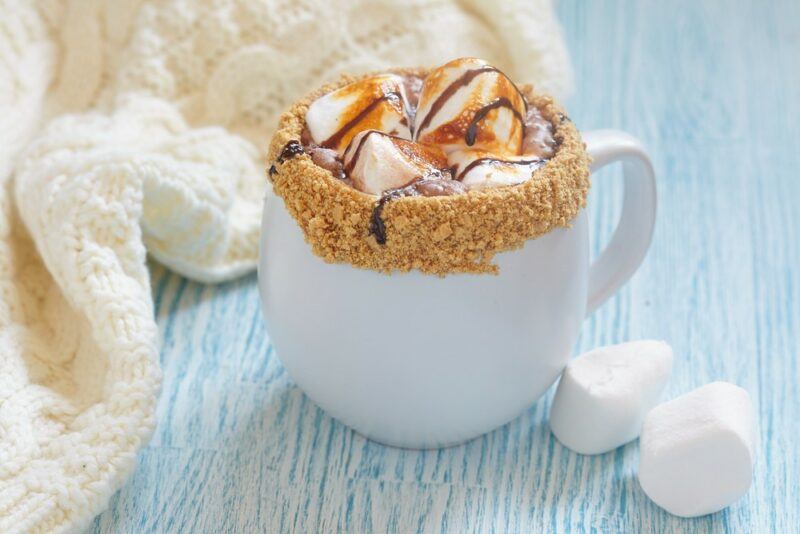 One way to avoid some of the issues with graham crackers is to make them yourself at home. This gives you the chance to cut down the additives and focus on quality. Some recipes are even tastier than the store-bought versions.
This recipe, for example, relies on all the ingredients you might expect, including wheat flour, brown sugar, whole milk, and butter. It's an easy recipe to follow and gives you roughly 24 crackers.
You can also make healthier versions, like vegan and gluten free graham crackers or even keto graham crackers.
The flavor and crispness will vary depending on the recipe you choose. So, you'll need some trial and error before you find one that you love. This isn't a bad thing, though, as experimenting with recipes can be quite fun.
Final Thoughts
Graham crackers aren't healthy. There's no way around that.
That said, the crackers aren't absolutely awful either. They're still relatively low in fat and calories, and don't go overboard with additives.
This suggests that graham crackers are best seen as a treat food. They're something you can enjoy occasionally, either on their own or as an ingredient in dessert. Just don't expect them to improve your health.
The main exception is if you use graham crackers as a vehicle for healthy ingredients, like nut butter and fresh fruit. This isn't enough to redeem the crackers though, as there are plenty of healthier options out there.
Frequently Asked Questions
Why Were Graham Crackers Invented?
Graham crackers have a very strange history. They were originally created back in the 1800s as an attempt to decrease sexual urges. Yes, really. Reverend Sylvester Graham thought that meat and fat contributed to these desires, while eating high fiber vegetarian foods would have the opposite effect.
Are Graham Crackers Gluten Free?
Traditional graham crackers certainly aren't gluten free, as they use wheat flour as one of their main ingredients. However, you can find gluten free versions of graham crackers or even make your own.
Do Graham Crackers Go Bad?
Graham crackers have a decent shelf life, lasting around 9 months if stored unopened in your pantry. You might still be able to use them after their expiration date if the packet is undamaged and there are no signs of mold.
Once opened, the crackers tend to last a month or two. You'll need to keep an eye on them though, as they can certainly go off, develop mold, and make you ill.
Are Graham Crackers Vegan?
The main ingredients in graham crackers are all dairy free and vegan friendly. However, you'll need to double check, as some brands add extra ingredients. Honey is the most common addition to watch out for, although there may be some non-vegan additives as well.
Are Graham Crackers Good For Diabetics?
Graham crackers aren't great for diabetics at all. You're often looking at more than 20 grams of carbs per serving, with minimal protein and fiber. This balance isn't ideal for diabetics at all and can easily spike your blood sugar levels.
If you want to enjoy graham crackers anyway, it's best to pair them with high fiber and high protein toppings. This will decrease the blood sugar impact and make graham crackers a healthier choice.