It's easy to get stressed about finding the best finger food for Xmas parties. In fact, finding food for any holiday event can feel like a bit much. There can simply be too many options at hand. Where do you even begin?
Then you have your guests to think about. You're probably dealing with various dietary restrictions, not to mention everyone's food preferences.
Still, there's no need to stress. Finding good finger foods doesn't need to be difficult. There are many delicious options out there, including the ones we're featuring on this list. These are all foods that you can make at home and serve to a crowd. Many are easy to prepare too, giving you plenty of energy for spending time with family.
You can also use these ideas as starting points. Play around with the ingredients until you find versions that are perfect for you.
Finger Food For Christmas Parties
Cucumber, Cheese, and Smoked Salmon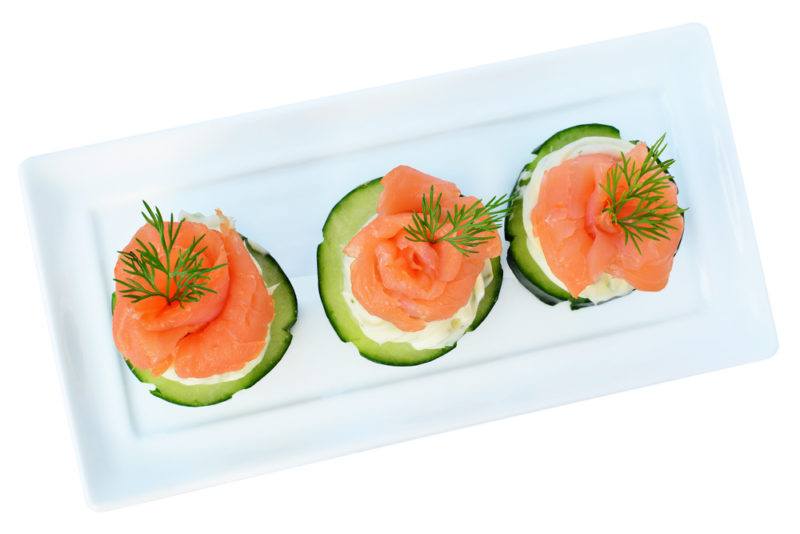 This simple appetizer always goes down a treat. You're using slices of cucumber as the base, then adding some cream cheese and smoked salmon.
You can make the snack a little more exciting by using a little lemon zest and fresh dill on each one. These additions give you a more complex flavor, without taking away from the other ingredients.
Pigs in a Blanket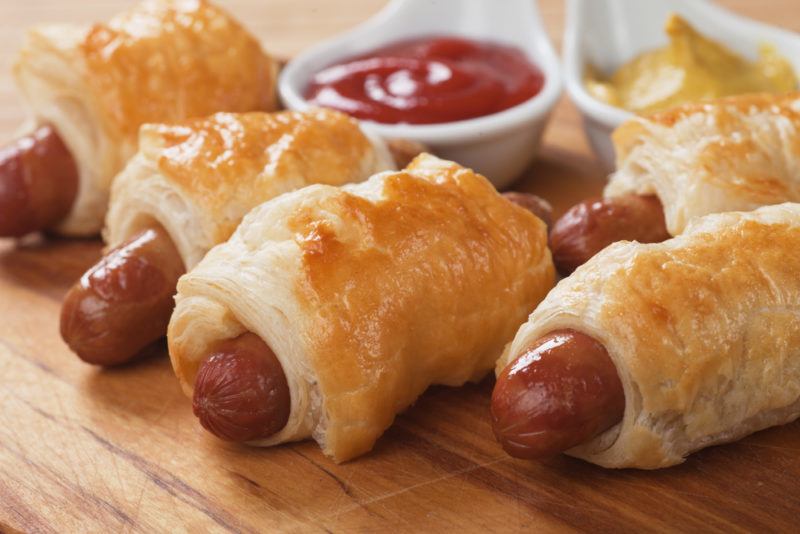 Pigs in a blanket remain a classic. You're simply wrapping hot dogs in dough and then baking them. Using biscuit dough and cocktail sausages is a perfect combination for a party, as you get a small snack that is easy to prepare.
On a side note, the term pigs in a blanket refers to a different finger food if you're in the UK. This time, we're talking about a sausage wrapped in bacon and cooked.
The sausages are often full sized, so they're a more substantial finger food than you might be wanting. But, you could make a smaller version by using cocktail sausages and half a strip of bacon.
Both types of pigs in a blanket are easy to dip. Serve them with a variety of sauces to give your guests plenty of options.
Chocolate Dipped Strawberries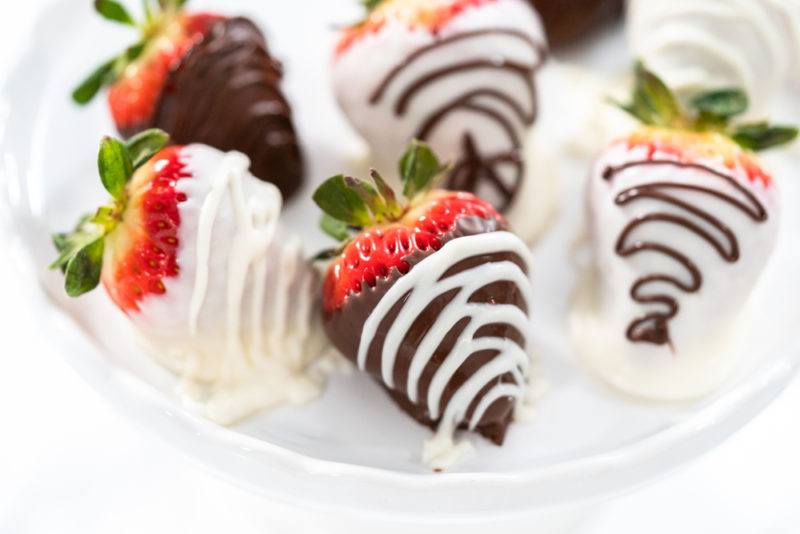 Dipping strawberries in chocolate is such a simple idea, yet the treat never seems to go out of style. You'll find the strawberries are quickly gobbled up whenever you serve them.
To make the finger food even more interesting, try varying up the chocolate that you use. Why not serve some strawberries dipped in milk chocolate and others in white chocolate? The color contrast would look fantastic on the plate.
You could even make milk chocolate strawberries and drizzle them with white chocolate or add some sprinkles – just to make them pop even more.
Mini Quiches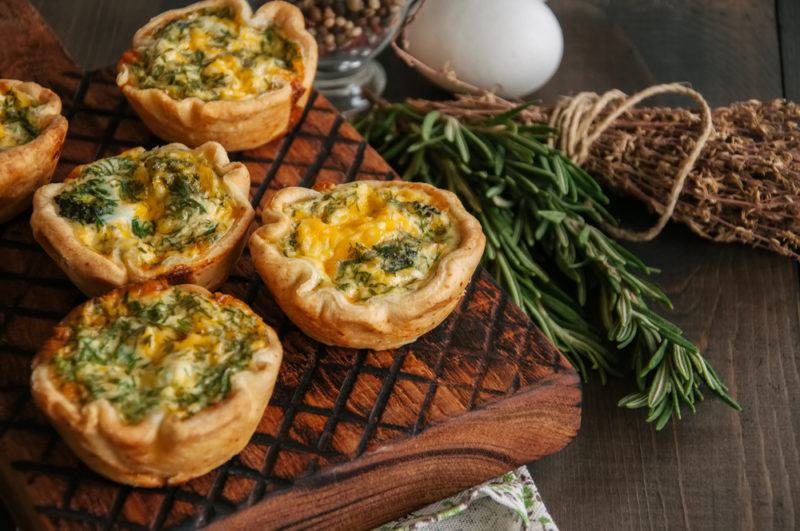 How can you go wrong with homemade mini quiches? These little delights are easy to make and can be tweaked in countless ways.
For starters, you can choose whether you make quiches with or without a crust. The crust-based versions tend to involve more work, but they're a little easier to pick up and eat.
You can also make things easy for yourself by buying the crusts already pre-made. Then you just need to fill the crusts and bake them.
As for fillings – the sky is the limit.
While ham and cheese is one of the classic options, you don't need to stop there. Other possible ingredients include bacon, chives, sundried tomatoes, mushrooms, spinach, and olives.
You could easily make multiple types of mini quiches and serve them at the same event. They're sure to be popular.
Bacon Wrapped Potato Bites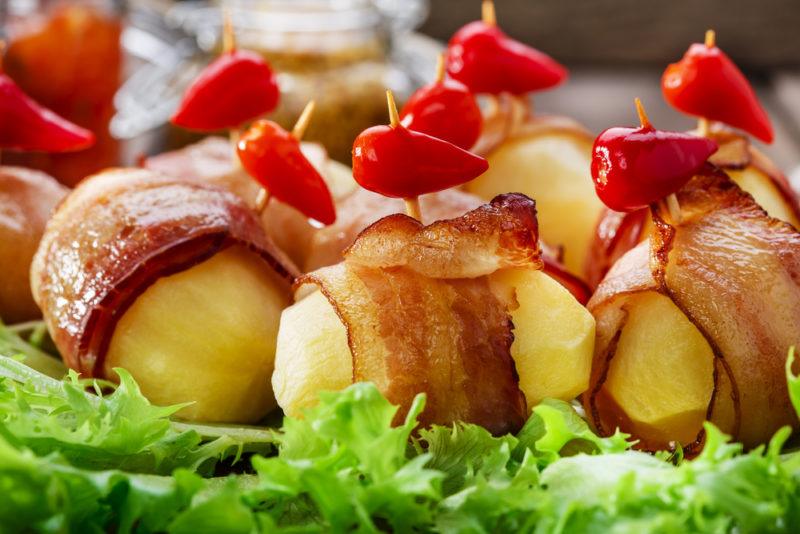 This simple appetizer is easy to prepare. And honestly, who doesn't love bacon? For this dish, you're just wrapping bacon around new potatoes that have been mostly cooked, then baking them.
You end up with crispy bacon and a fully cooked potato. The combination of flavors and textures is delicious, and is a little like game day food.
Don't worry if you don't have baby potatoes on hand. You can cut up regular potatoes instead and use these pieces. Either way, the trick is to make sure that all the potatoes or potato pieces are roughly the same size.
You could serve dipping sauce along with these to make them even more impressive.
Mini Pizzas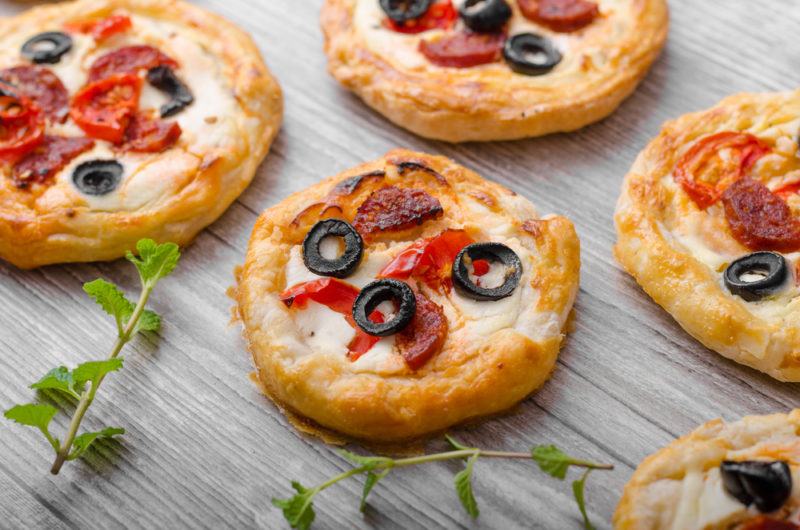 While pizza is incredibly popular, you probably won't be serving full pizzas at your Christmas party. You can, however, use the same flavors in your appetizers.
One approach is to make mini pizzas. You just need something small and round to use as a base, then add the toppings as you normally would. Even just cutting circles of bread using a cookie cutter could work well. Interestingly, these little pizzas pair surprisingly well with wine.
You could also use a traditional pizza base. Just remember that tiny pizzas are going to cook much faster than a full sized pizza.
Or, how about using a different type of base entirely? Zucchini rounds work surprisingly well, partly because these end up a little sweet once you have baked them.
Cake Pops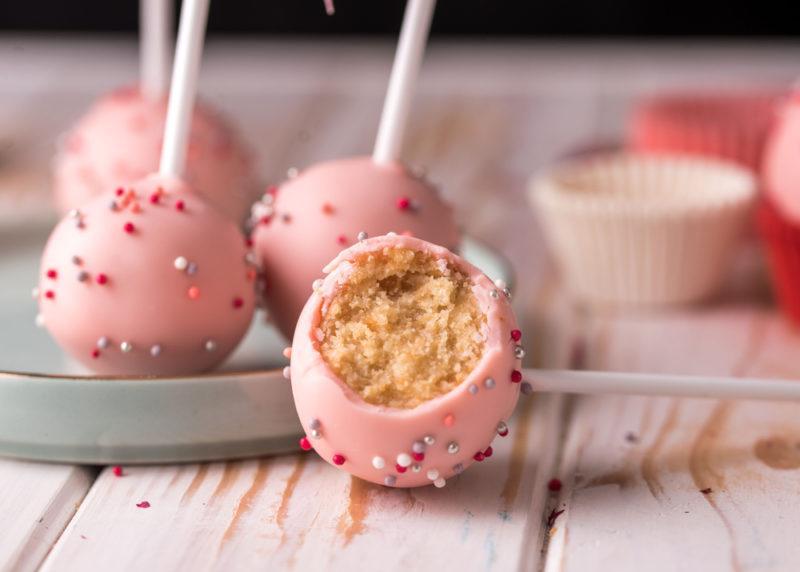 If you want something sweet, then it's hard to go past cake pops. These treats aren't as trendy as they once were, but they remain a popular party treat that guests love to eat.
The idea is that you're making small cakes in the shape of balls, dipping these in chocolate, and then decorating them in some way. While making these cake pops is a little bit of an art form, some products and tools are designed to help you along the way.
If you plan to make cake pops, be sure to have some practice runs first. It might take a few tries to get cake pops that look good enough to serve guests. Of course, the cake pops should taste delicious no matter what, so you can always eat any that don't look as nice as they should.
Mini Cheese Balls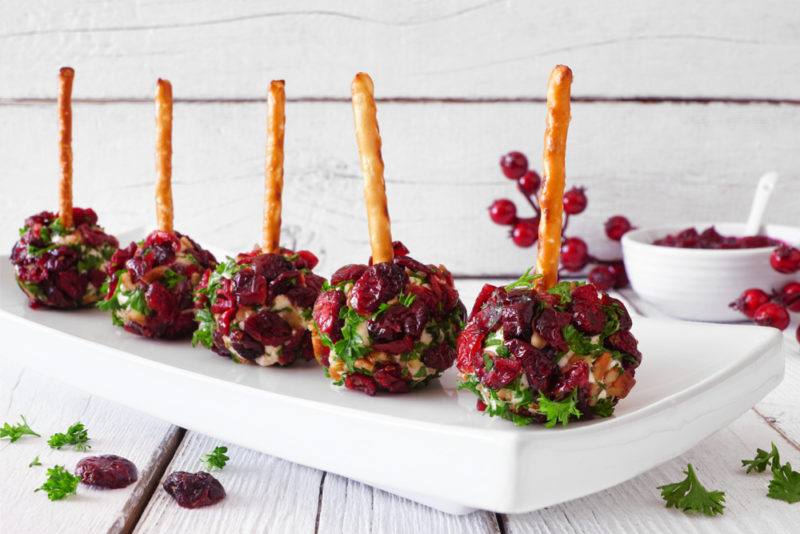 Small cheese balls are a savory option and they couldn't be easier to make. You just need to mix softened cream cheese and shredded sharp cheddar. The mixture can then be rolled into balls and left in the fridge to set.
To make the balls even more interesting, try rolling them in some type of topping before setting them. Toasted sesame seeds or smoked paprika are both excellent options. You can probably think of others too. Using some type of topping gives you extra flavor and texture.
You could also include other seasoning ingredients in the mixture itself, like a spice perhaps. Or, you could change to a different type of cheese. Look for a strongly flavored cheese, as you don't want the cheese balls to be too mild.
Why not play around with Christmas-themed cheese balls? Rolling them in cranberries and fresh parsley would be a delicious way to make the balls look good and taste even better.
While you can serve the balls as-is, you can also serve them with toothpicks to make them easy to pick up. Sticking a corn chip or a pretzel stick into the balls can work too.
Star Crackers With Cranberries and Brie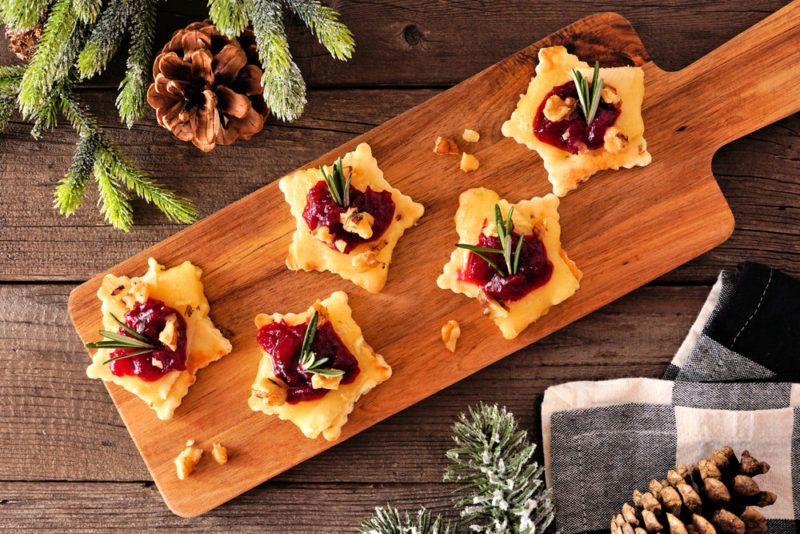 This is a very specific dish, although you could easily vary it. The idea is to make Christmas-star shaped crackers and then top them with cranberry, baked brie, walnuts, and a little rosemary.
These flavors all combine well with each other and the snacks end up being festive too.
Don't worry if you don't like all of those ingredients. You could easily remove some of them. You could even change all the ingredients and just keep the bases the same.
Caprese Salad Skewers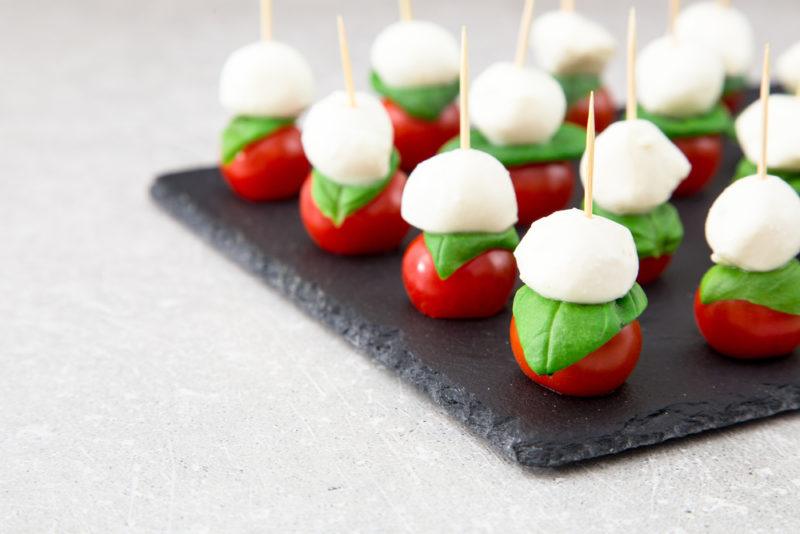 Caprese salad offers some fantastic flavors, but why stick to the salad format? You can make a delicious appetizer by threading the ingredients onto skewers instead.
If you stick to the basics, then you're looking at a mozzarella cheese ball, a basil leaf, and a cherry tomato. You could drizzle the skewer with balsamic vinegar or perhaps some olive oil to add a little extra flavor.
Of course, sticking to the basics isn't your only option. You could easily add complementary ingredients onto the same skewers. Chicken would be an easy choice here. I've even seen a small piece of pizza wedged on the end.
Bacon Guacamole Deviled Eggs

Deviled eggs might be an old party favorite, but the classic recipe is getting a bit boring by now. Why not spice it up and try your hand at these guacamole deviled eggs instead?
The idea is easy. You're just taking the traditional deviled egg recipe, then adding in avocado and bacon. This doesn't just give your deviled eggs an exciting color. The ingredients mean that your eggs taste much better too.
Holiday Crostini Appetizers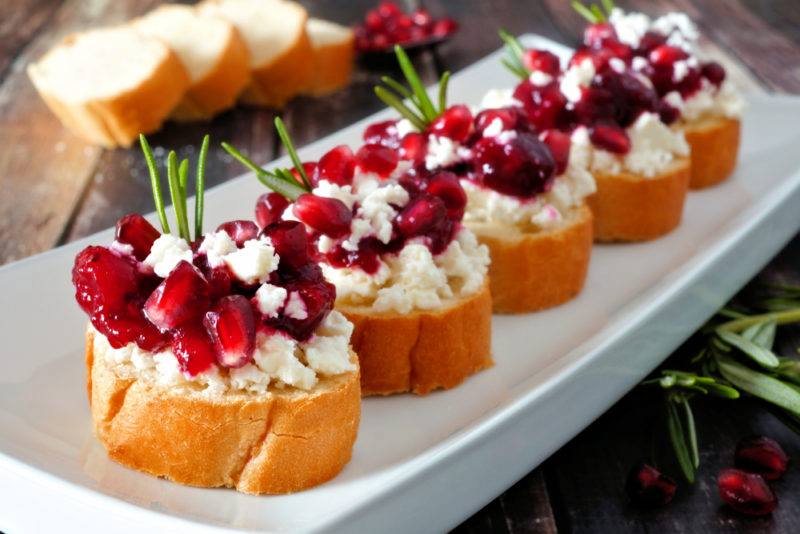 Crostini is a fantastic base for countless appetizers. You get the chance to play around with toppings and find a combination that you love.
However, if you want something seasonal, it's hard to go past these little treats. You're using chicken, cranberries, pomegranate arils, and feta cheese as the main ingredients. You could add a little spread on top of the crostini too, like cream cheese or perhaps cranberry jelly.
Other Crostini Appetizers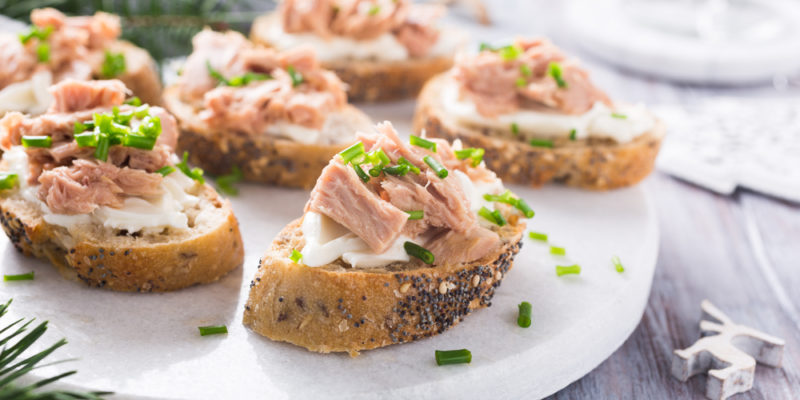 But, why stop with the previous combination of flavors? If you're using crostini, why not play around with a variety of toppings. You could easily make five or six different types and serve them all together.
This way you can make snacks that suit a range of palates. Try including some sweet and some savory ones in the mix.
Sushi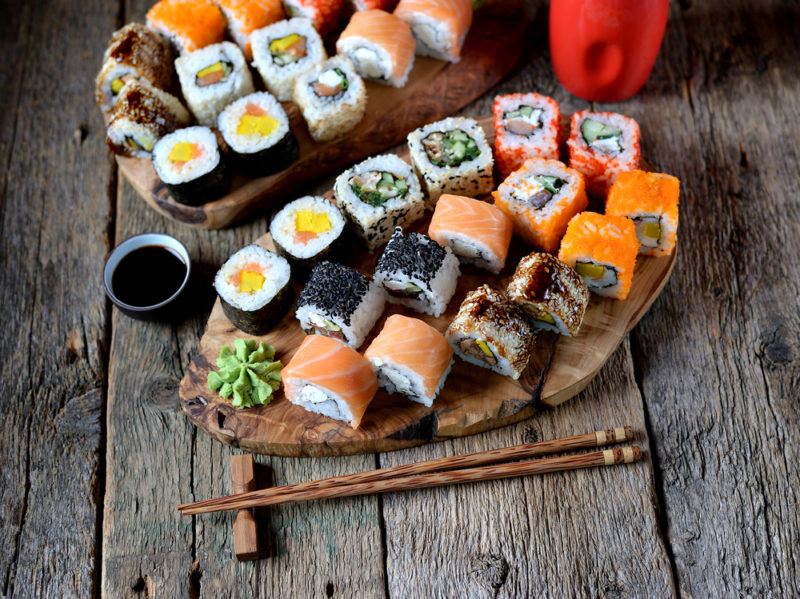 Sushi isn't a classic Christmas food, but that makes it more perfect for a Xmas party. After all, eating the same food at event after event gets boring fast.
You have the option of making sushi yourself or of ordering it from a local store.
Making the sushi gives you more control over the flavors and ingredients. This way you have no doubt that you're getting exactly what you are looking for. And honestly, homemade sushi isn't as difficult as you might expect. Just make sure you give yourself enough time to practice before the big event.
Sushi is also versatile. There are many styles to choose from, along with plenty of different ingredients. You could easily make a variety of types for your guests to choose from.
Mini Sandwiches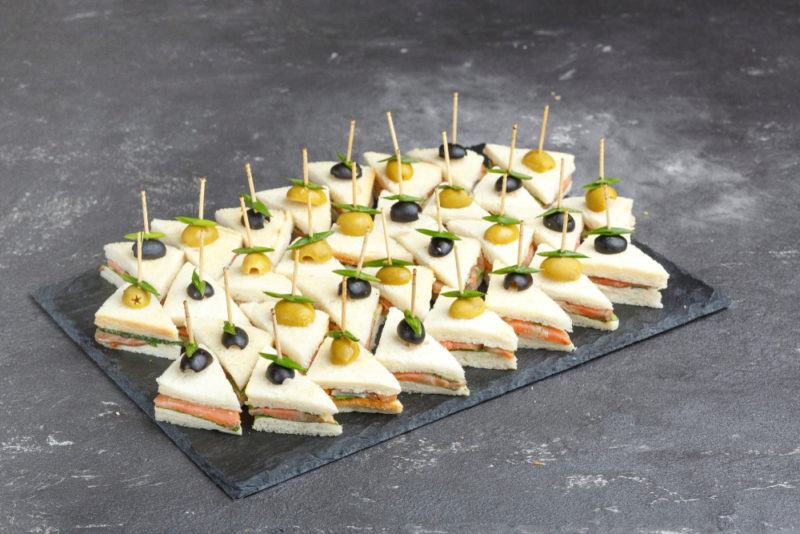 Mini sandwiches aren't just something you might serve at a children's party. They can be perfect at almost any event.
The trick is to think carefully about the fillings that you're using. Make sure you choose combinations that your audience will love.
Think about the presentation too. Sandwiches are a tad boring, so anything that makes them more attractive is well worth the effort. You might try adding a garnish or two, or perhaps cutting the sandwiches into shapes.
Or, why not take an entirely different approach? You could thread a couple of sandwiches onto skewers, serving them in the same way that you might a fruit kebab.
Cucumber Rolls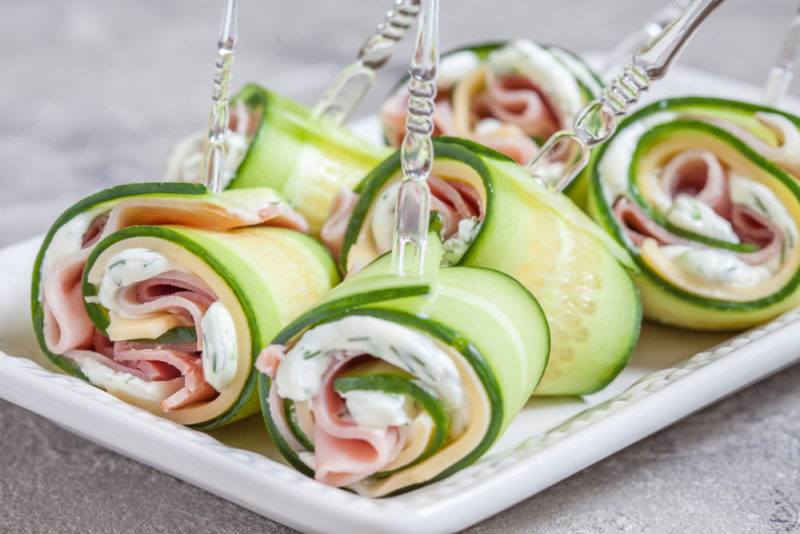 Why use bread when you can make rolls using cucumber instead? This finger food would be perfect for anyone who is gluten intolerant, along with those watching their carb intake.
Plus, there are only main ingredients to worry about – cream cheese, cucumber, and ham. Sliced cheese is an optional addition if you want your rolls to be a little heartier.
Meatballs and Sauce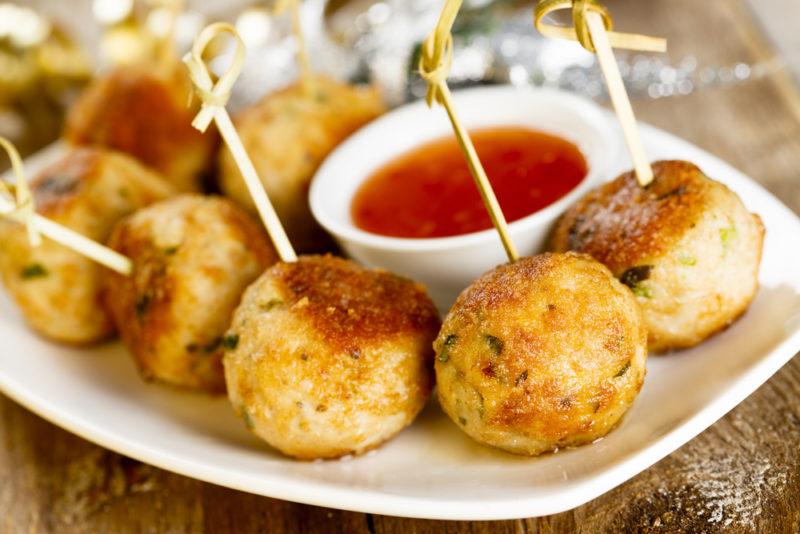 Meatballs are a fantastic way to make sure your guests don't get hungry. After all, they're rich in protein and are easy to eat.
However, you'll need to be selective with your recipe.
It's important to make meatballs that are moist and taste good. Far too many of them end up being dry and flavorless. Look for recipes that involve some type of glaze. This should help lock in moisture while providing extra flavor.
You can also serve the meatballs with dipping sauce. The sauce is a delightful way to contrast the flavor of your meatballs and means that any dryness might not be noticed.
Cucumber Christmas Tree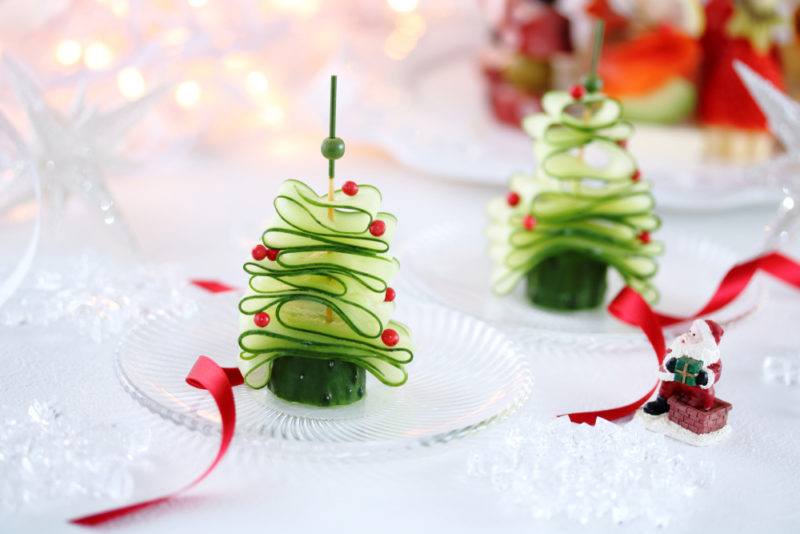 This finger food looks too good to eat and, if we're honest, you might make it as a decoration rather than something to serve at a party. Still, your guests could eat these impressive little Christmas trees.
The tree itself is just made from cucumber that has been very thinly sliced. The little red baubles on the tree are simply red peppercorns.
You would need a sharp tool and some practice to make cucumber trees that look as good as the ones in the image.
Mini Burgers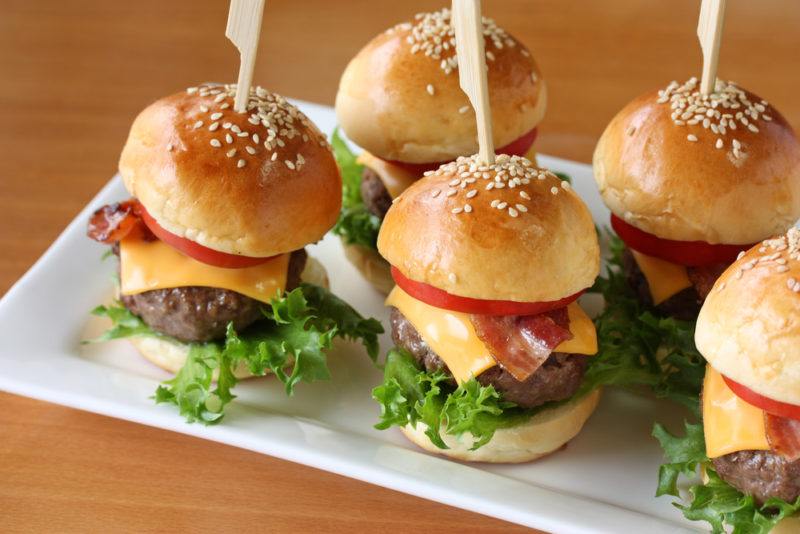 Tiny hamburgers always make a fantastic party treat. They offer the flavors that everyone loves and end up being small and cute.
They're straightforward enough to make. You simply do everything that you would for a normal burger, but in a miniature size. The biggest problem will be the buns. You'll need to find somewhere to buy tiny buns from or make your own.
Still, once you've got this figured out, the rest of the snack is simple.
You don't need to make conventional hamburgers either. You could easily make fish burgers, chicken burgers, bacon burgers, or something entirely different.
Cauliflower Buffalo Wings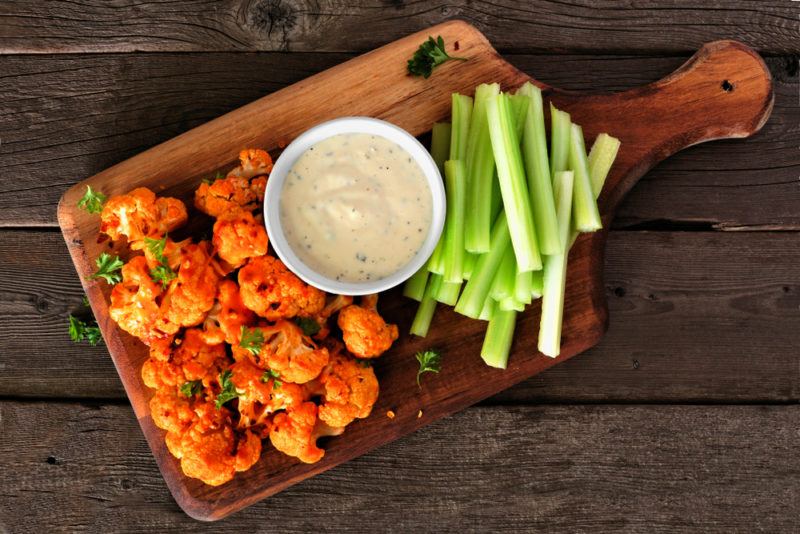 While regular buffalo wings will go down a treat at most parties, these cauliflower buffalo wings can be even better. The buffalo sauce gives them a similar flavor to chicken wings, but this vegetarian snack is is much healthier than fatty chicken wings.
No one will ever mistake cauliflower chicken wings for the real thing, of course, but that's not the point. These 'wings' will be quickly snapped up, especially if you serve them with a ranch dip.
Reindeer Christmas Pretzels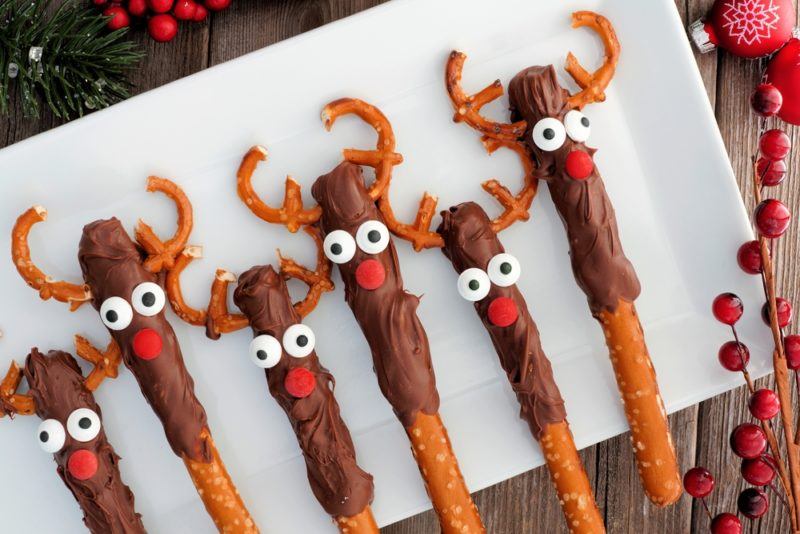 If you don't mind getting a little fiddly, then these pretzel rods are fun and perfect for Christmas. You'll need to stick the eyes, nose, and antlers on when the chocolate is still wet, so be sure to prepare them in small batches.
Or, if the reindeer seem too complicated, you could just dip the pretzel stick in chocolate and then in some sprinkles. The finished treat might not look quite as seasonal, but it will taste just as good.
Fruit Skewers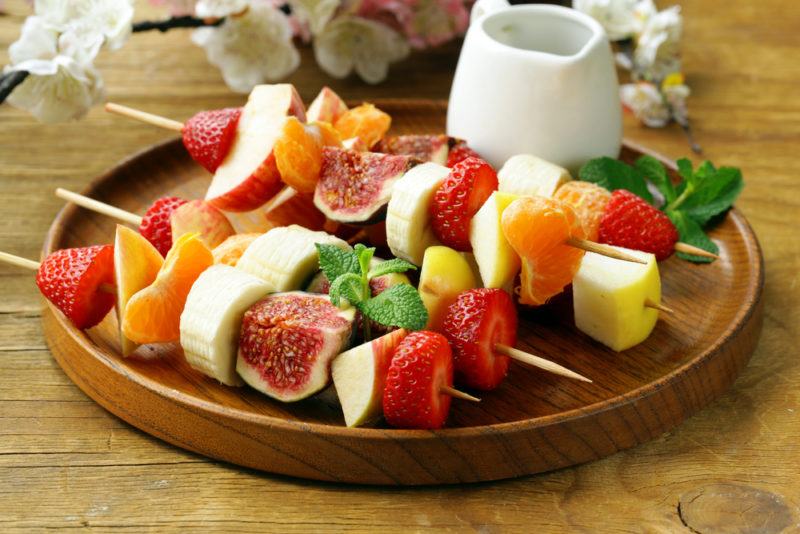 Sticks are one of the easiest ways to make food portable, so why not use a skewer and serve a decent amount of food at once? Fruit skewers are one of the most popular approaches.
While you can use almost any type of fruit on a skewer, some types will work better than others. Look for firm fruit that isn't too juicy (you don't want it sliding off the stick).
Try to alternate colors and shapes too. This way the skewers look much better.
You don't need to rely only on fruit. You can easily add other ingredients to the skewers too, like cheese, meat, vegetables, and even pickles. Cheese and meat are perfect. They're not just a good source of protein, but they're often quite dense and can stop the fruit and veggies from slipping off the sticks.
Cookies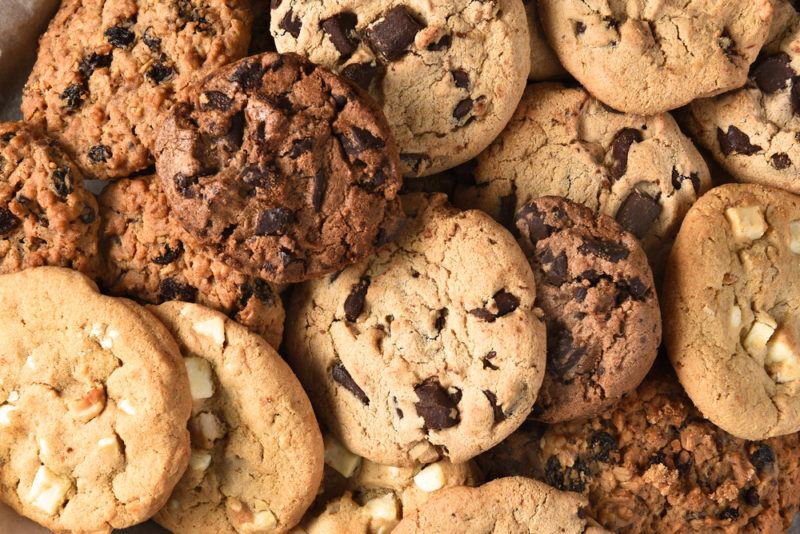 We can't leave cookies off the list. They're such a classic, and there are a million and one ways to make them.
You might try something simple, like sugar cookies, where it's easy to cut the cookies into different shapes and have some fun with icing them. This makes it easy to link your cookies to whatever colors or themes you have going for your party.
Or, if that doesn't sound appealing, you could focus on cookies that taste good. Chocolate chip, gingerbread, snickerdoodles, lemon, and shortbread are just a few options to consider. For something seasonal, why not try cranberry and white chocolate? That flavor combo is always a hit.
Cupcakes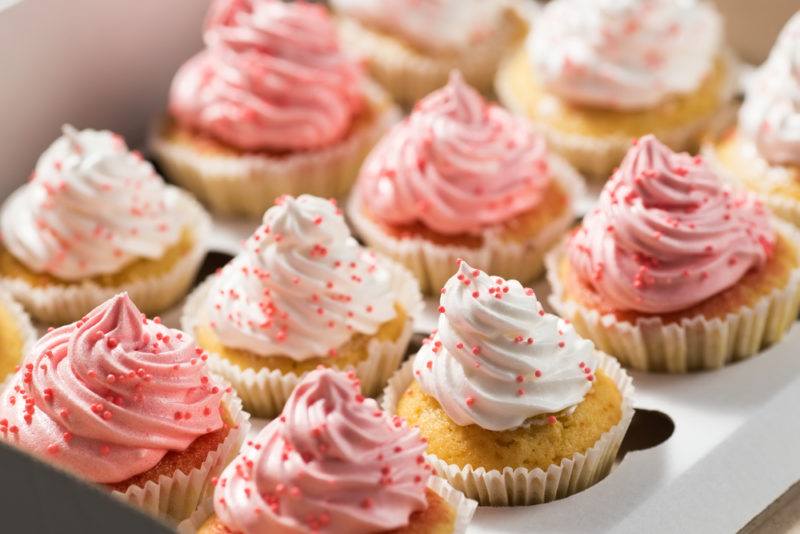 Cupcakes are another party classic, one that has been done to death. But, that doesn't mean you need to avoid cupcakes. After all, they're popular for a reason.
The trick is to make your cupcakes unusual in some way. This might involve choosing the flavors carefully or decorating them so that they stand out. Why not do both?
You might think about being diet and allergy friendly too. For example, you could make keto muffins using ingredients like almond flour and coconut oil. Those would be a fantastic way to make sure that all of your guests get some delicious treats.
Jalapeno Poppers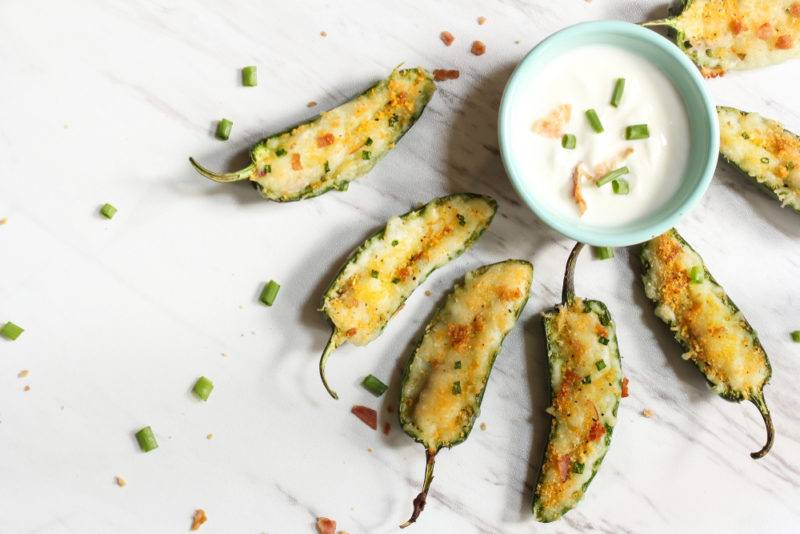 Jalapeno poppers can be made in a few different ways. You'll often see them baked in the oven, but some end up being deep fried instead. There are also differences in the ingredients that are used. Some people even wrap the jalapeno poppers in bacon before cooking them.
But, the general idea remains the same.
You're opening a jalapeno, removing the inside, and then stuffing it with a creamy filling. Cream cheese is the main ingredient and cheese is often included too.
This gives you a fantastic contrast between spicy and creamy. If the jalapeno poppers are fried, then you get an curious contrast of textures as well.
If you don't like spicy food, make sure to scrape all of the membrane and seeds out of the jalapenos before adding the filling. Doing so will dramatically tone down the spiciness of your dish.
Bacon Wrapped Avocado Wedges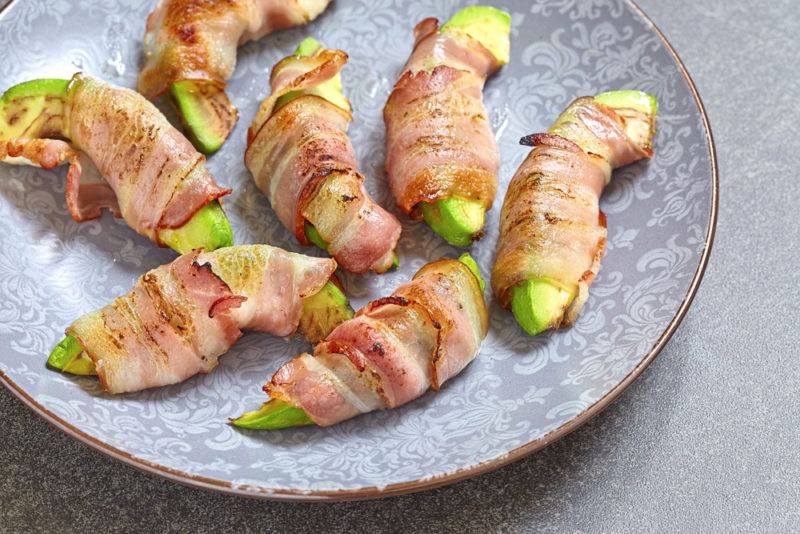 Bacon and avocado are both extremely popular, so why not combine the two? These bacon wrapped avocado wedges do precisely that.
The combination works exceptionally well, as you have crisp and salty bacon contrasting against the avocado's smooth creaminess.
The wedges are easy to make. You simply cut some avocado wedges, wrap them in bacon, and then bake them. While baking avocado might sound odd, the approach actually makes the avocado taste even better.
Cream Cheese Cranberry Pinwheels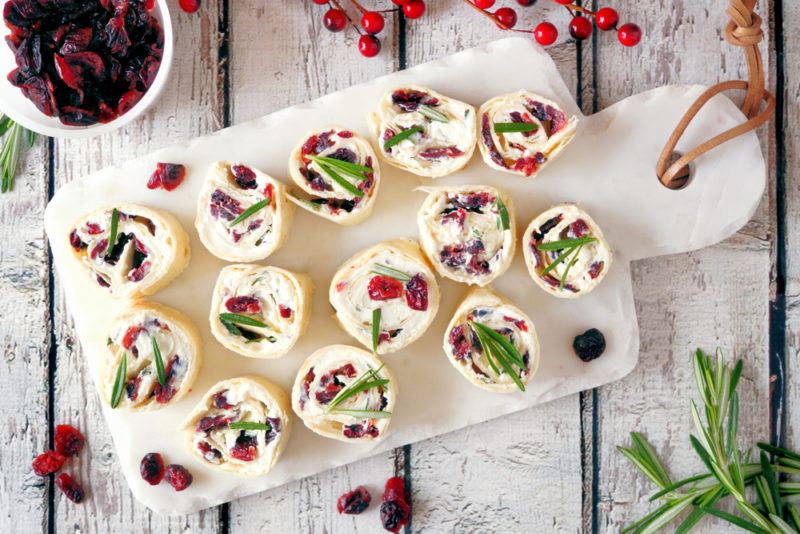 You shouldn't need a recipe to try these pinwheels out for yourself. They're made using a tortilla that has been smothered in cream cheese, sprinkled with cranberries, then rolled up and cut. Adding a rosemary leaf or two on top gives the finger food the dash of color that it needs.
This is also a fantastic choice if you want an easy-to-prepare snack. After all, you're rolling up the full tortilla then cutting it. You don't need to roll each of the pinwheels individually.
Charcuterie Board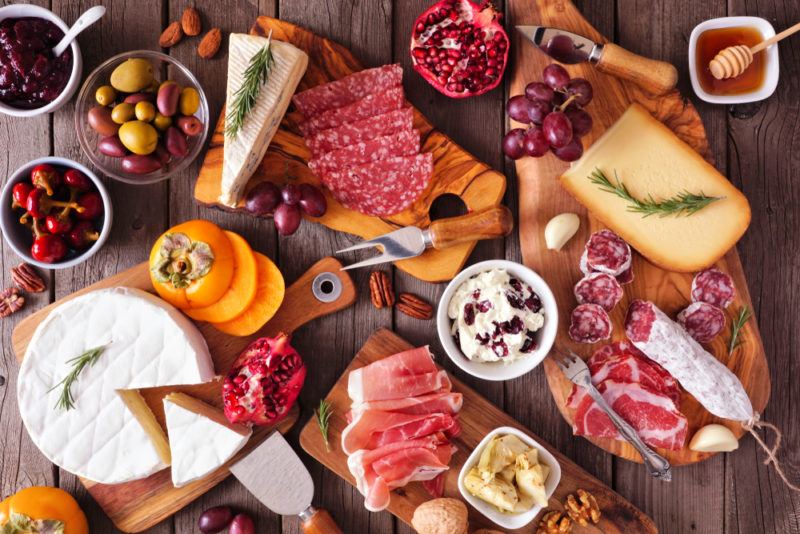 This type of board might be old hat, but the approach remains so common for a reason. After all, you're serving many delicious foods all at once, while giving people the chance to pick and choose the ones they want.
You'll normally be looking for at least a few types of cheese, some crackers, fruit, olives, and cured meat. The exact items will depend on your own preference and the kind of party you're hosting.
For example, suppose the gathering is somewhat small and formal. In that case, you might focus on aged cheeses, high-quality meat, and some exotic fruit. You could even look at doing some cheese and wine pairing.
For a more casual event, you might focus on more familiar cheeses and load the board up with plenty of fruit and some cold cut meat.
Layered Jello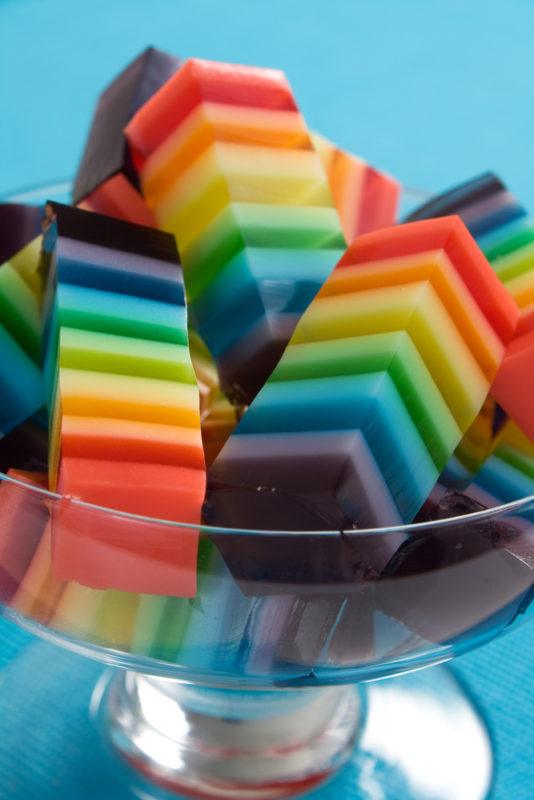 This dessert looks fantastic and should taste remarkable. It's also a completely different way to serve jello, so it's bound to get everyone's attention.
The main catch is that the dish does take a little time to prepare. After all, you need to wait for each layer to set before you pour the next one. Pour the new one too soon and you'll get the colors melting together.
The time factor can get frustrating if you're making jello with as many layers as the one in the image. Still, the actual process isn't difficult, so the dish can still be worth it.
There are two common approaches.
One is to make the jello like the image above, where you have some regular layers and some opaque ones. The opaque layers are made by combining the jello with condensed milk.
The other option is to alternate colored layers with opaque white layers instead. The white layers are made by using unflavored gelatin and condensed milk. These layers don't have much flavor, so they help the flavored jello stand out even more.
Chicken Wings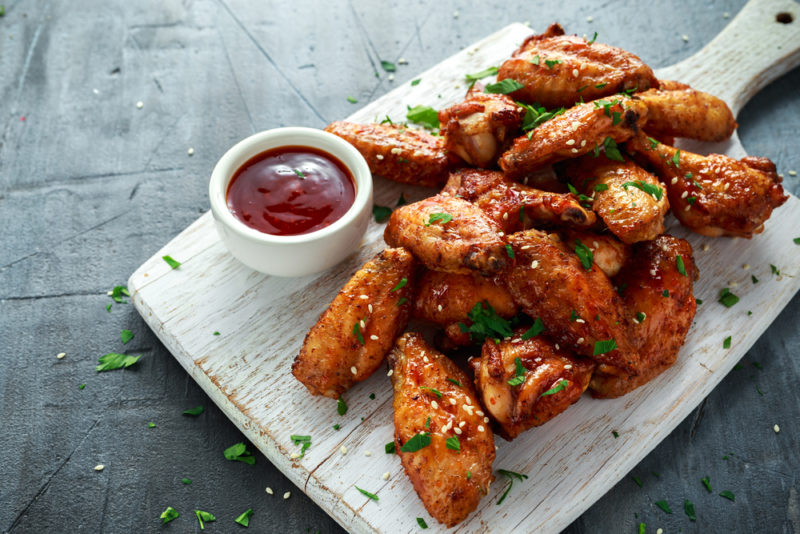 They might be messy, but seriously, who can go past chicken wings for a party? This snack seems to remain permanently popular. It doesn't matter how many wings you make; chances are they'll all get gobbled up long before the night is through.
Make sure to have plenty of napkins on hand. Otherwise, your guests might spread grease from the chicken wings throughout the party.
Shot Glass Fruit Salad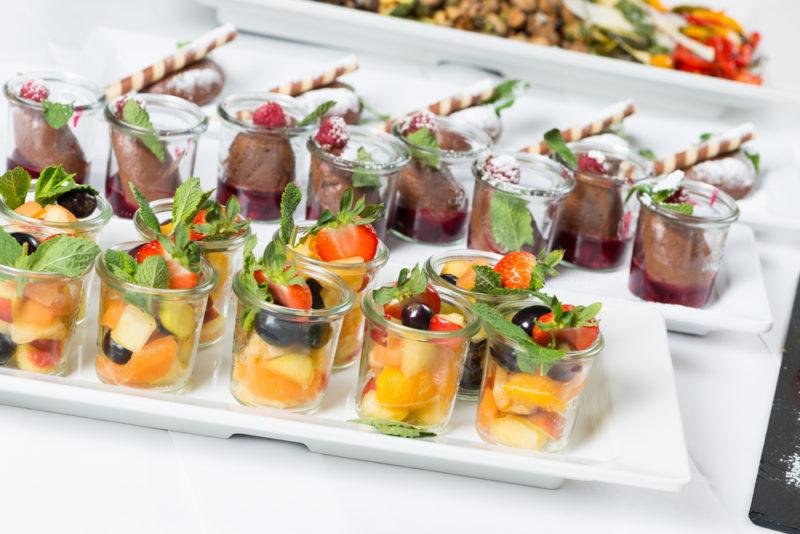 Finger food isn't limited to foods that people can pick up and eat as-is. You can also use small containers to serve your finger foods.
Shot glasses are perfect for this, as you're not giving people too much food at a time. The dish tends to look quite elegant if you use regular glasses rather than plastic ones. Of course, plastic glasses are less breakable, which could make them better for some events.
While you can serve countless finger foods this way, a small fruit salad is one of the best options. Your salad will look fantastic in the glass and guests can easily eat it with their fingers.
Cheese and Fruit Sticks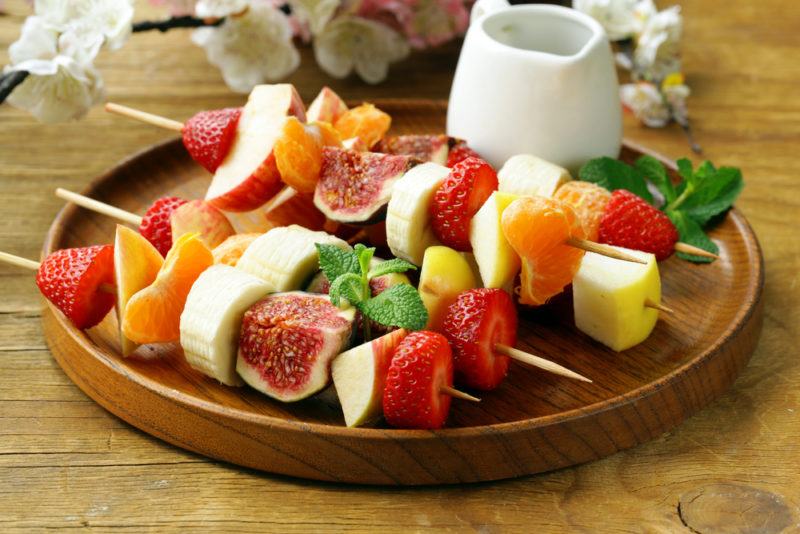 We talked about making whole skewers with fruit, meat, and perhaps cheese, but making large finger foods like that isn't your only option. You can create smaller treats as well, like these little sticks.
Here, you're often just using two ingredients, like a piece of fruit and some cheese. You might branch out and use three or even four ingredients, but the goal is to keep these appetizers small and uncomplicated.
Salmon and Cream Cheese Canapes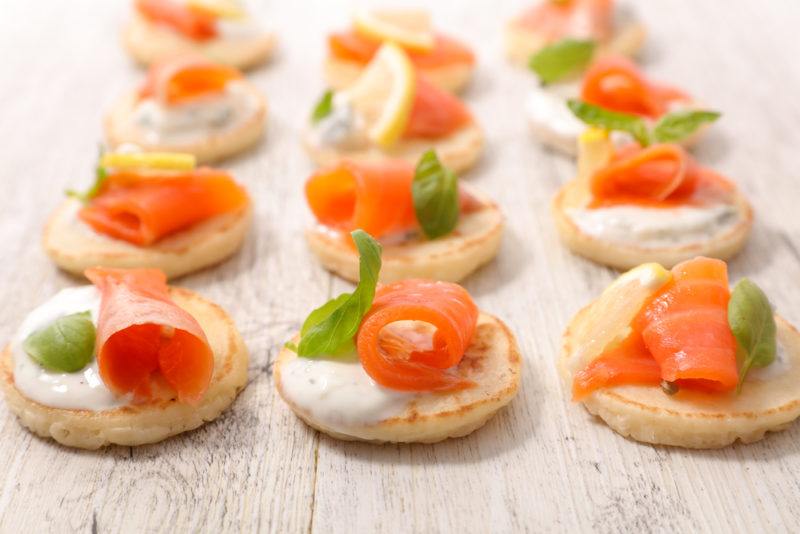 Salmon and cream cheese is a classic pairing. It's also one of the easiest options for an elegant canape, as smoked salmon can be found at most grocery stores. It can be used as-is, so there's no prep work to worry about.
Canapes themselves aren't that complicated. The idea is that you're stacking a few delicious ingredients on the same type of base. Pastry is often used. You can even buy pre-made pastry shells to reduce your prep work. Making canapes on crackers or small pikelets works exceptionally well too.
You can easily play around with flavors and ingredients to find combinations that you love. For example, we mentioned cranberry and brie earlier, which is ideal for this season. Cherry tomatoes are fantastic on canapes too. And honestly, if a flavor combination sounds delicious to you, your guests will probably love it as well.
Samosa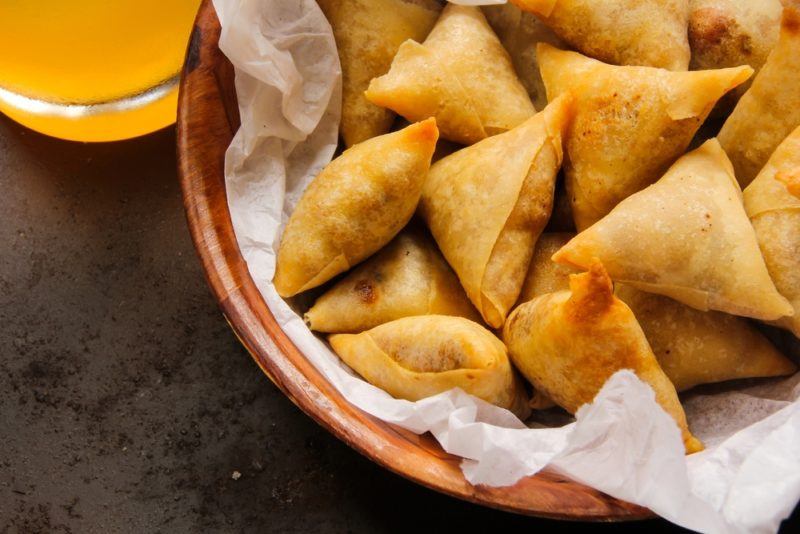 Samosas have become a favorite among partygoers and hosts, partly because you can buy them already prepared and heat them up in the oven. You end up with a delicious finger food that doesn't require any effort on your part.
It's always a good plan to have at least some easy foods at your fingertips. It's much easier to time everything if you know that some things will mostly take care of themselves.
Prawns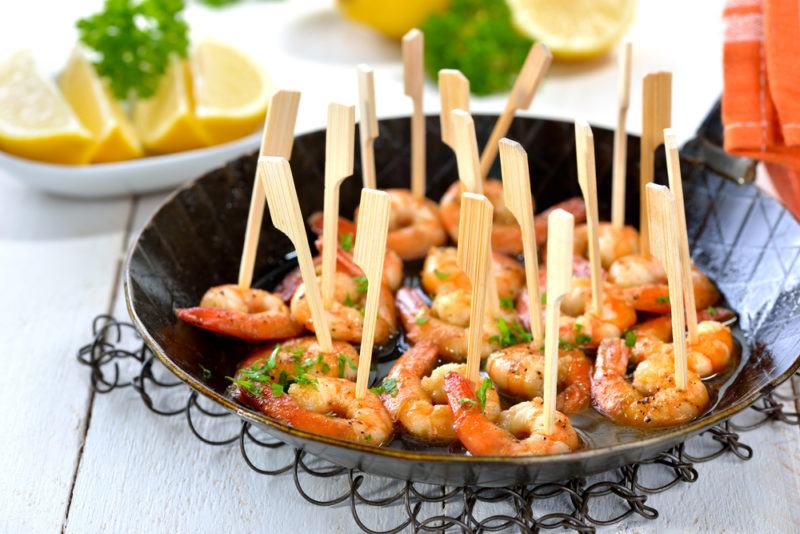 For seafood lovers, prawns are a delicious type of finger food. While it can take a little effort to get the seasoning, timing, and cooking right, the end result is always worth the effort.
Prawns are fun at parties, as you can easily put them on sticks and let guests eat them on the go. The classic approach is to thread multiple prawns on a skewer, but for a party, individual prawns on small sticks could be more effective. That way your guests try all of the finger foods, rather than getting stuck on the prawns.
Mini Fish Pies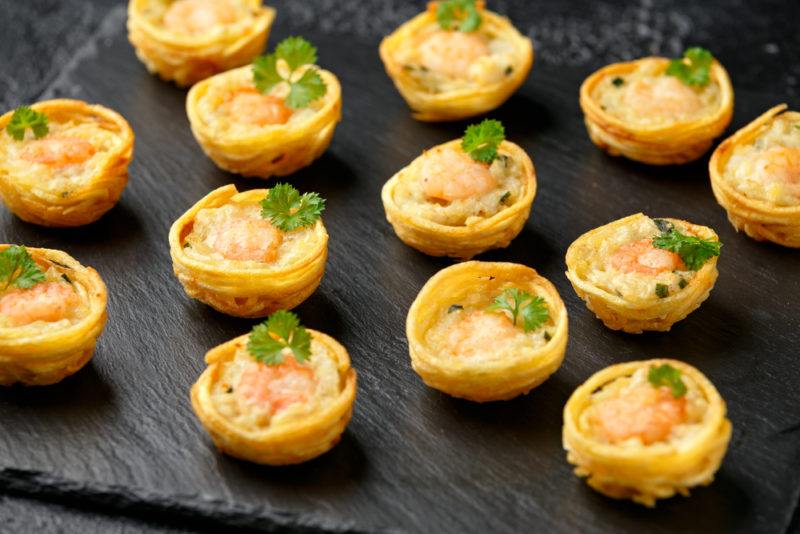 Making savory fish pies is a fun idea that isn't as difficult as you might expect. The ones in the image look like they use hash browns or something similar as the pie crust, but you could easily play around to find your own version of the dish.
You could even use pre-prepared pastry shells, as long as they were savory rather than sweet.
Related Content