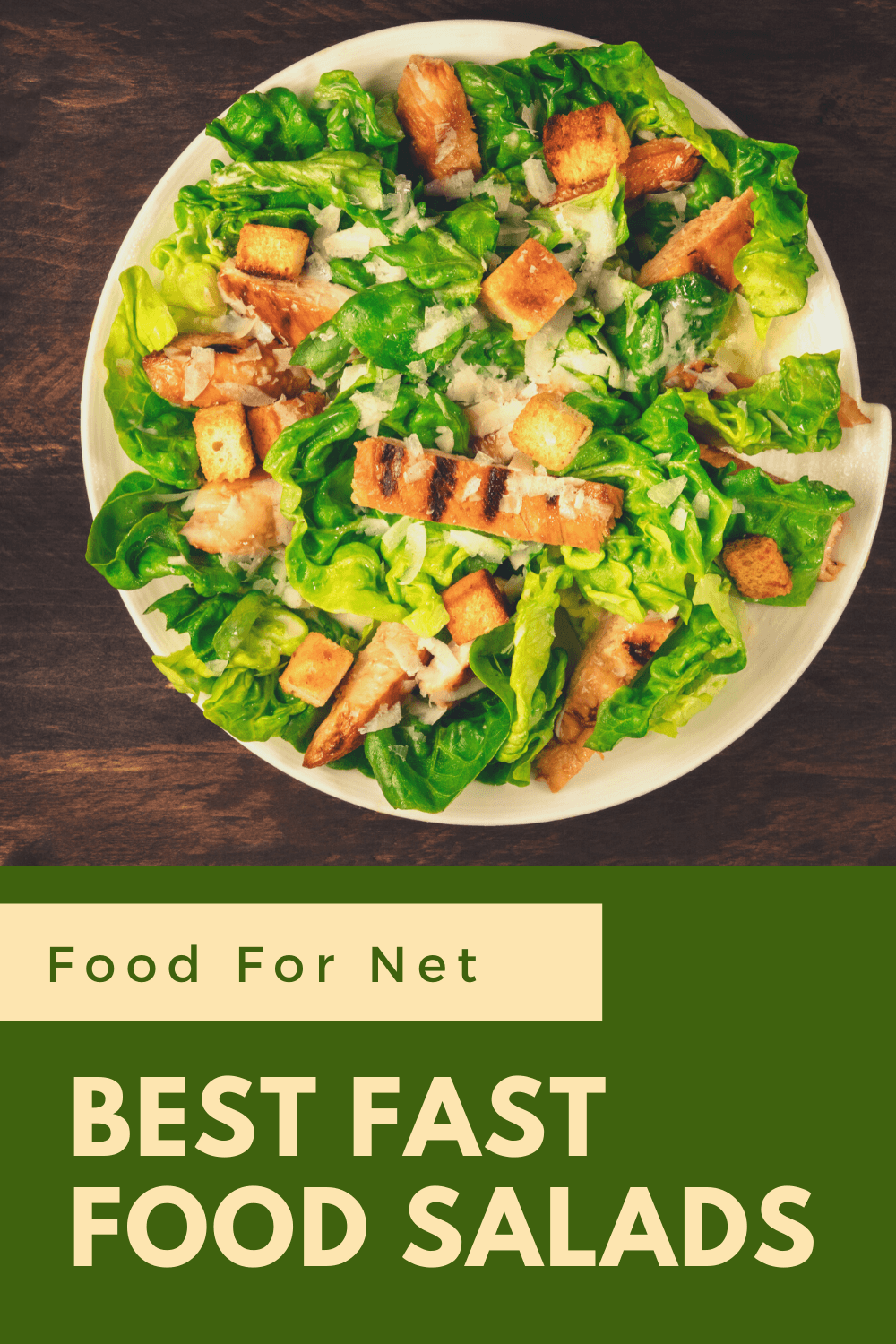 There was a time when salad and fast food were never used in the same sentence. Over time, though, many people have become a bit more health conscious and fast food restaurants realized that they need to keep up or they were going to lose customers. If a group of family or friends is looking for a place to eat and one is very health-conscious, the whole group may forego fast food to appease this one picky eater.
So, now salads are commonplace at most fast food joints and the competition for best fast food salad is just as fierce as burgers, fries, and the like. There is something for the vegetarian and the carnivore in every group.
While fast food is often considered your greasiest, highest-calorie, unhealthiest option, this is not so when it comes to salad. Of course, unhealthy salads do exist, but you really can't go wrong with some chicken, lettuce, and vegetables. Some salads even have fruit.
It's easy to get into the habit of grabbing a quick fast food lunch every day at work, especially if you work a busy, fast-paced job or you're facing a major deadline. Fast food salads are an excellent solution as they're just as fast and easy, but you're still getting some nutrition and you don't have to constantly feel guilty about your choice to eat out.
When it comes to salad, there is just one thing you should be aware of when looking at them as a healthier option, and that's the dressing. Choosing the wrong dressing and/or using too much can turn your healthy veggie medley into a fatty, caloric nightmare.
Ranch is not only a popular salad dressing but a common dip for raw veggies. Unfortunately, it's not very good for you. High in calories, fat, sodium, and often added sugar, you should try to keep your consumption of ranch to a minimum. If you must have it, use it lightly.
Thousand Island dressing is another deliciously popular choice but it's just as bad for you. For a healthier salad, go with something like a balsamic or lemon vinaigrette, avocado lime, honey mustard, or a Greek yogurt ranch.
Top Ten Best Fast Food Salads
Del Taco's Chicken Bacon Avocado Salad
Panera Bread's Greek Salad
Chick-Fil-A's Market Salad
Wendy's Parmesan Chicken Ceasar
Jack in the Box Grilled Chicken Salad
Arby's Roast Chicken Salad
Wendy's Apple Pecan Chicken Salad
Chick-Fil-A's Cobb Salad
Subway Chicken and Bacon
Subway Veggie Delite
1. Del Taco's Chicken Bacon Avocado Salad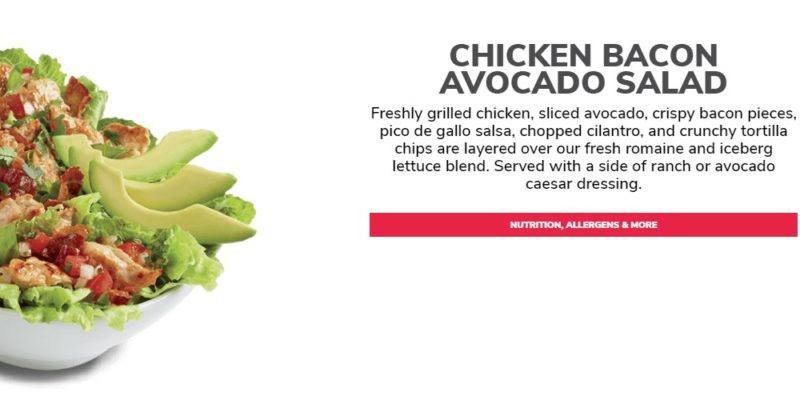 Del Taco has dutifully followed the avocado trend with its delicious and unique salad that combines the avocados with grilled chicken and crispy bacon. Chicken and bacon are known to be a great combo and the avocado only enhances it.
Added to this salad are chopped cilantro, crunchy tortilla chips, and pico de gallo salsa. The salad is tossed with a blend of romaine and iceberg lettuce and served with your choice of dressing – regular ranch or an avocado caesar. The dressing is served on the side so you can choose exactly how much you want to add to the salad.
2. Panera Bread's Greek Salad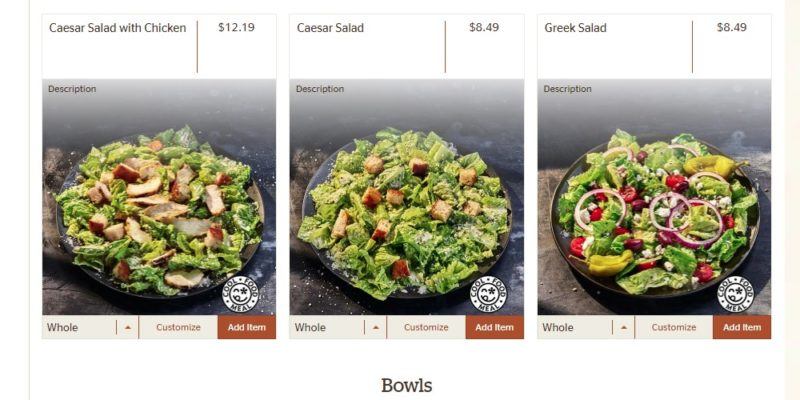 Panera Bread has been around for 35 years and they've been passionate about good food from the beginning. They strive to not only create good food but to serve it in a warm, welcoming place with a strong sense of community.
They have quite a few salads on the menu, with their classic Greek salad being a definite standout. The basic salad has all the typical ingredients of a Greek salad, but you can completely customize it before ordering if you want.
You can start by removing any ingredient you want, and then specifying whether you want a regular, light, or heavy amount of all the ingredients you do want. You also have the option to add several things, such as chicken, pecans, almonds, cucumber, and more. You can even change the dressing if you want something other than classic Greek.
3. Chick-Fil-A's Market Salad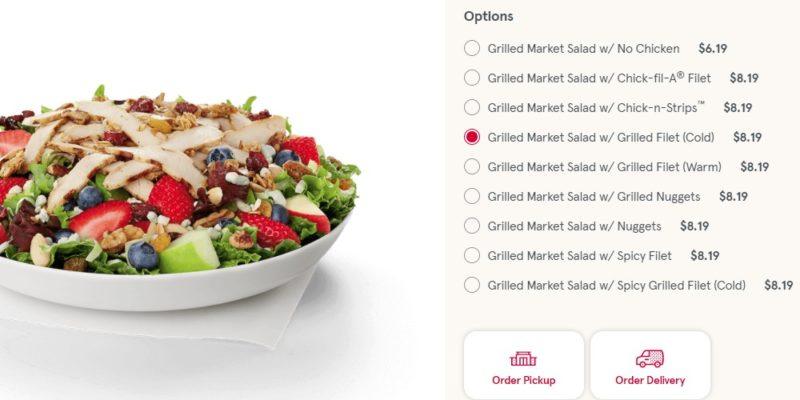 Chick-Fil-A's market salad is a unique and interesting combination of ingredients that is, surprisingly, a fan favorite. It begins with grilled chicken breast which is served on a bed of mixed greens and topped with crumbled blue cheese, green and red apple pieces, blueberries, strawberries, a harvest nut granola blend, and a roasted nut blend.
The default dressing is a light balsamic vinaigrette, though you can choose whichever dressing you want. You can also customize your chicken and get it either warm or cold, in filets or nuggets, and either spicy or not.
4. Wendy's Parmesan Chicken Caesar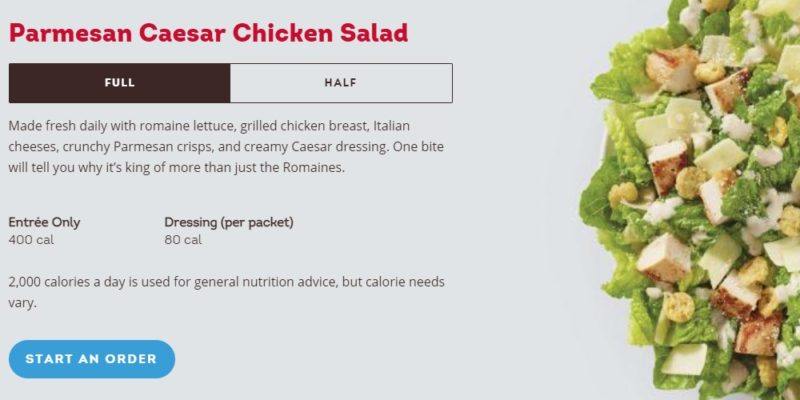 Wendy's take on the classic chicken caesar is an easy go-to for any health-conscious person who needs a quick lunch. Their salads are made daily with fresh, crisp romaine lettuce and delicious pieces of grilled chicken breast.
The salad is seasoned perfectly with creamy caesar dressing and topped off with crunchy parmesan crisps for an extra kick of flavor and texture. It's a simple salad but Wendy's does it right with fresh ingredients that are creamy and crispy in all the right places.
5. Jack in the Box Grilled Chicken Salad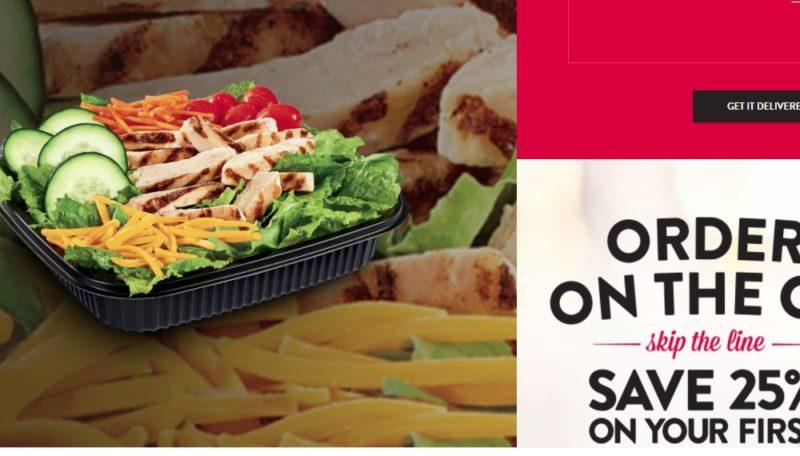 Jack in the Box puts as much time and attention into their salads as they do the rest of the menu. They don't want them to feel like an afterthought and they want you to thoroughly enjoy them. They have a few options but a common favorite is the grilled chicken salad.
Their version of this classic salad includes chicken that's been flame-grilled to perfection and combined with shredded cheddar cheese, grape tomatoes, carrots, cucumbers, and seasoned croutons all atop a bed of iceberg and romaine lettuce. The default dressing for the salad is a low-fat balsamic dressing.
6. Arby's Roast Chicken Salad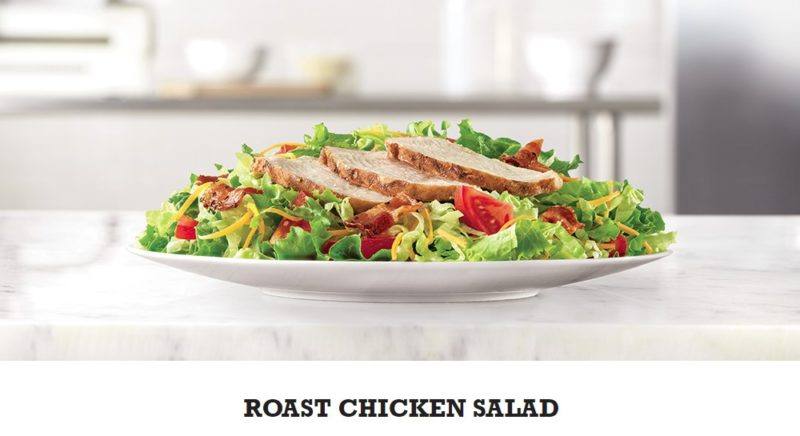 Arby's is another place that's done well with their take on the chicken salad. Their chicken is roasted and tossed together with shredded cheddar cheese, chopped tomatoes, pepper bacon, and a combination of iceberg and romaine lettuce.
Two things set this salad apart from other places. First, pepper bacon is a different choice and will offer a different flavor than other types of bacon. Second is the roasted chicken, as opposed to the typical grilled, or even crispy. These two elements make it a slightly unique version of a classic chicken salad.
7. Wendy's Apple Pecan Chicken Salad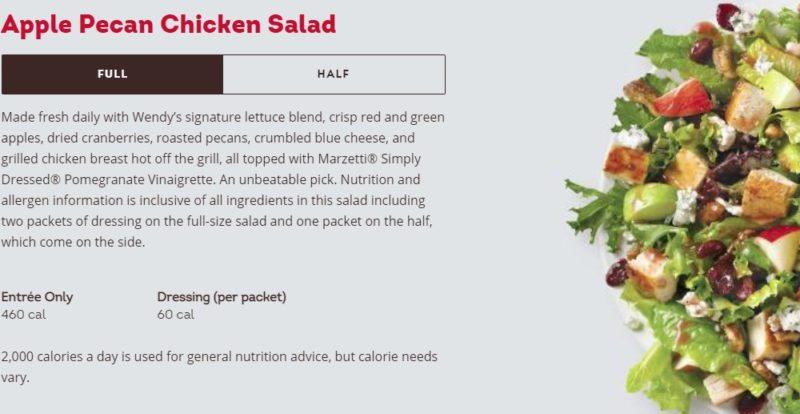 Putting fruit in a salad is always an interesting endeavor and there are so many flavor combinations to choose from. Wendy's has come up with a delightful selection with their apple pecan chicken salad.
Apples are a common salad fruit and they are well complemented by the pecans and expertly grilled chicken. Also in this salad are dried cranberries, crumbled blue cheese, and a sweet pomegranate vinaigrette. The dressing is served on the side so you can choose exactly how much you want to use.
8. Chick-Fil-A Cobb Salad

Another Chick-Fil-A favorite is their Cobb Salad. This is a different kind of chicken salad that features their freshly breaded chicken nuggets rather than the typical grilled chicken. This is the main feature of the salad but it also comes with sliced hard-boiled eggs, roasted corn kernels, shredded Monterey jack and cheddar cheeses, crumbled bacon, and grape tomatoes on a bed of mixed greens.
They recommend an avocado lime dressing, though you can choose whatever you want. They also do give you the option to customize a little when it comes to the chicken, you can choose to substitute with a filet, chicken strips, spicy filet, or a grilled filet either warm or cold.
9. Subway Chicken and Bacon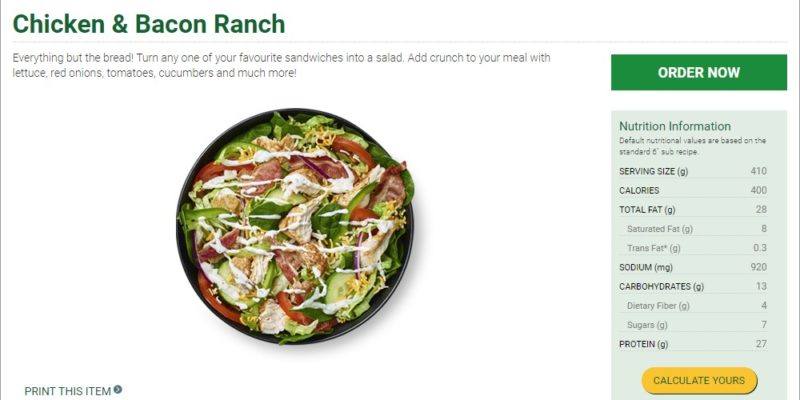 Chicken and bacon are known for going well together in a sandwich. Subway has turned this long-time favorite combination into a salad – perfect for those trying to cut down on carbs or who just love a good salad!
This salad has everything but the bread. You've got your expertly grilled chicken and crispy bacon on a bed of fresh, crispy lettuce and tossed in a creamy ranch sauce. Beyond that, you can add whatever you want to the salad. Many like to include tomatoes, red onions, and cucumbers in this particular salad, but the choice is yours.
10. Subway Veggie Delite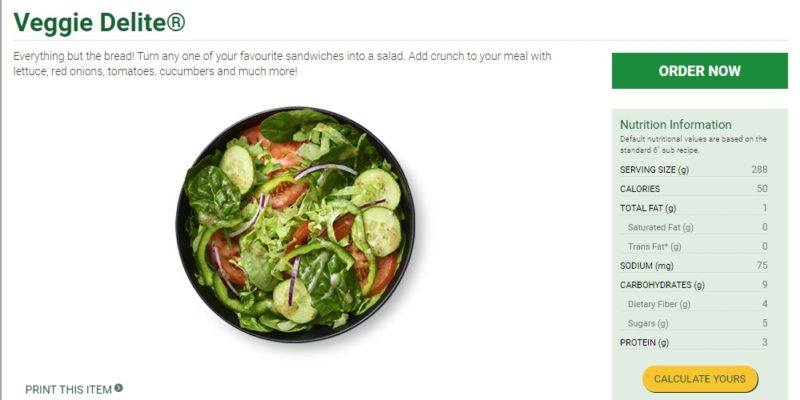 Another popular Subway selection is the Veggie Delite. As the name suggests, it's packed full of fresh, crunchy vegetables, making it a very healthy option for those who need something fast and easy.
You can start with any kind of lettuce as a base, be it some shredded iceberg lettuce, spinach, or a combination. Then, you can select your veggies from everything available. This includes tomatoes, cucumbers, onions, peppers, mushrooms, and so much more.
Once you've compiled the salad, you can choose any dressing from the ones they have available, making it a highly personalized veggie salad.