Many fast-food joints have introduced a breakfast menu in recent years, with many even moving to serve breakfast all day due to its popularity.  Coffee is a breakfast staple, but lots of people like it throughout the day and with other meals, too. While it is addictive and too much caffeine is harmful, good-quality coffee does come with some health benefits when consumed in moderation. 
Caffeine also helps most people to increase their energy levels and enhance their focus. It also offers some essential nutrients and works to prevent things like diabetes and heart disease. However, the operative word here is quality. With the many different types, roasts, and brewing methods, it's easy enough to make bad coffee. 
You can probably get a coffee at pretty much every fast food restaurant these days, but that doesn't automatically mean it's good. There are lots of coffee shops and cafes that specialize in artisan coffee, but that doesn't help you when you want to wash down your quick lunch with a little energy boost to get you through the afternoon. 
Some fast food stores offer a nice variety of options including plain black coffee and a selection of lattes, cappuccinos, espresso shots, and the like. Others keep it simple with one option for hot coffee and one for cold – be it plain iced coffee or a traditional cold-brew. Either way, the quality of the coffee itself is key. If you're looking for cold brew though (not iced coffee), you're probably best off brewing it at home.
The following fast-food places are proven to have some of the highest-quality and best-tasting coffee around. Many aren't exactly known for their coffee, but that doesn't mean they don't know their way around the coveted beans. You can even get some of them delivered.
Top Ten Best Fast-Food Coffee 
1. Chick-Fil-A Iced Coffee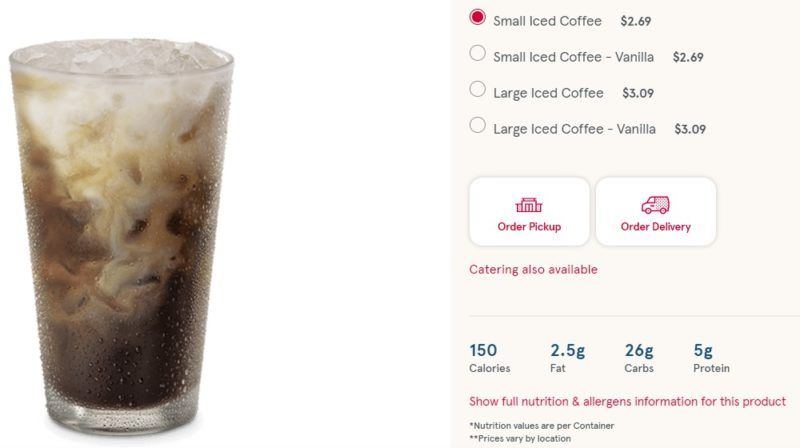 Chick-Fil-A is well-loved for its delicious selection of chicken-based meals and snacks. Many locations have amazing reputations for quality and compassionate customer service. It's no surprise, then, that they put just as much thought and effort into their coffee. 
Their iced coffee is handcrafted and made fresh every day, featuring a custom blend of cold-brewed coffee and milk. It's sweetened with pure cane sugar and topped with ice. They work with a farmer-direct coffee company called THRIVE which is where they get all their coffee beans from. 
2. McDonald's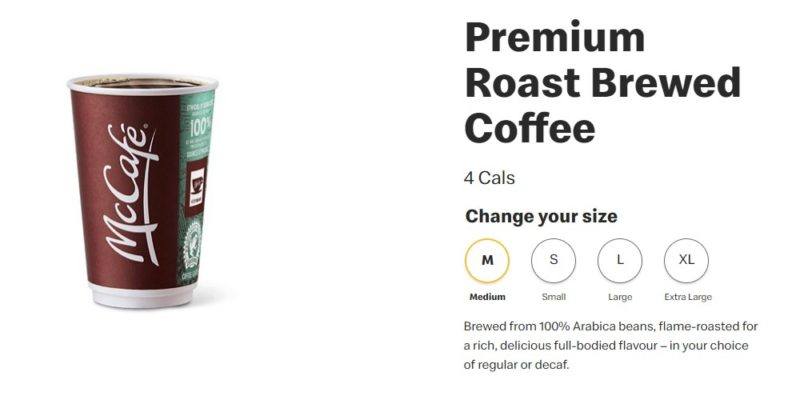 McDonald's has grown considerably from its original small selection of burgers and fries. The introduction of the "McCafe" menu saw a whole new category of items arrive at the fast food chain, meant to rival the breakfast efforts of those around them. 
For the most part, they've been successful, offering muffins, donuts, and a variety of coffee options. Their basic coffee is made from 100 percent Arabica beans that are flame-roasted, giving them a rich, full-bodied flavor. It's available as regular coffee or decaf. They also offer a fairly large selection of cappuccinos and lattes, with flavors like French vanilla, caramel, mocha, and more. 
Personally, I'm a huge fan of a breakfast burrito with a bit of hot sauce and hot coffee. Not sure if I'm the only one who does this, but you can't beat the double heat of hot sauce and coffee to wake you up.
3. Sonic Drive-in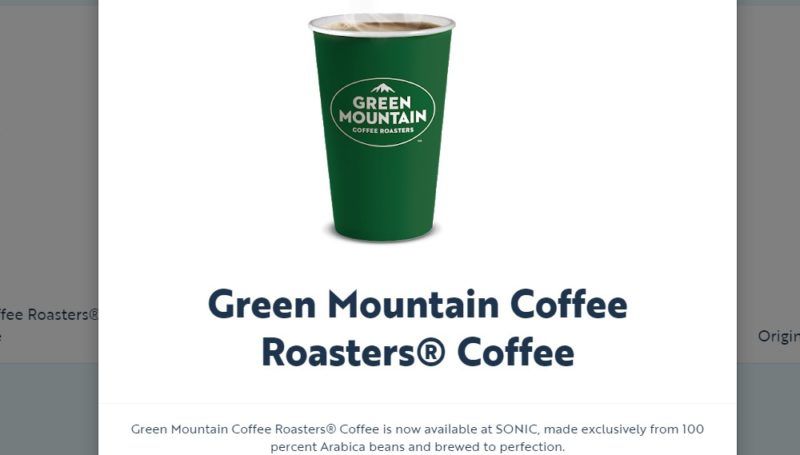 Sonic Drive-in uses Green Mountain Coffee Roasters for their coffee. They use 100 percent Arabica beans and they brew it to "perfection" though there is no choice between light, medium, or dark roast. 
What you can choose is to get an iced coffee instead, from which they have two options to choose from. Their iced coffee is a traditional cold brew, meaning it's brewed cold and without heat. They have an original, plain coffee flavor as well as French vanilla. The cold brewed coffee is poured over ice and served with a pinch of sweet cream for a wonderful taste and smooth finish. 
4. Wendy's 

Like many others, Wendy's coffee is made from 100 percent Arabica beans. The coffee contains a blend of beans from both Central and South America. The beans are medium-roasted by default. They offer it in small and large sizes, as well as regular and decaf. 
They also offer a cold brew coffee as well as special cappuccinos that they call "frosty-ccino's" because they're made with their legendary frost mix. The frosty mix is swirled with their smooth, cold-brew coffee and served over ice to create a delicious, creamy frozen treat with the kick of caffeine you expect from coffee. These are available in both chocolate and vanilla flavors. 
5. Dunkin Donuts 

While they offer a wide array of food and beverages, Dunkin' Donuts is widely known as America's favorite coffee shop. They have hundreds of locations and are generally easy to find almost everywhere. It's no surprise, then, that their coffee is held to high standards. 
Their coffee is made from 100 percent pure Arabica beans and is guaranteed fresh as they brew it constantly throughout the day. It comes in several sizes to suit your caffeine needs and they offer many different types of milk including oat, almond, whole, and skim. They also have several different flavor shots available such as toasted coconut, French vanilla, caramel, and more. Whether you want it plain black or full of flavor, Dunkin' has you covered. 
6. Carl's Jr. 

More of a burger place than anything, Carl's Jr. keeps it simple with their coffee offerings. But, that doesn't mean they're lazy about it. Their coffee is well-loved among regulars who like to pop in for some breakfast hash rounds or have a cup of coffee with their lunch. 
Their coffee is made from 100 percent Arabica beans and comes as a dark roast by default. They also offer decaf coffee and a cold brew which is available in both regular and vanilla flavors. The cold brew is craft brewed and steeped to perfection. The regular is served unflavored and unsweetened to not interfere with the coffee's natural taste. The vanilla version is flavored with vanilla flavoring and cream. 
7. Jack in the Box Iced Coffee 

Jack in the Box has created a premium iced coffee made from quality High Mountain Arabica beans and sweetened with just the right amount of cream. This sweet treat was meant to cater to those who want to kickstart their mornings and satisfy their sweet tooth at the same time. 
For those who want an extra kick in the morning, they offer some special boosted coffees. These are coffees with extra caffeine, equivalent to just over two cups of regular coffee. These are available in French vanilla, chocolate caramel, or plain black. It's the best way to start your day or keep you going through a tiring afternoon. 
8. Starbucks 

While it's not everyone's absolute favorite, Starbucks has made a name for themselves with their notoriously strong coffee and a wide variety of lattes, cappuccinos, and other flavorful specialty beverages. They do have a selection of food items available if you want a quick breakfast or lunch, but coffee is their specialty. 
Their selection of brewed coffees includes a blonde roast, dark roast, and a special Pike Place roast. The Pike Place Roast is a unique blend that contains notes of chocolate and toasted nuts. This roast is also available in decaf. From here, they have a long list of hot drinks containing just about every way you could imagine consuming coffee. 
9. Caribou Coffee 

While they're not the most widespread fast food joint, those who do live near one are lucky to enjoy their consistently amazing coffee regularly. They have several regular and seasonal coffees on rotation at all times, changing them out every day so customers can enjoy a variety. They guarantee freshness by brewing a new pot every hour, maximum. 
In addition to regular coffee, they offer plenty of other flavorful hot drinks like lattes, hot chocolate, mochas, cappuccinos, and more. They also offer different styles of regular coffee like Americano, hot press, espresso, and more. They even have a "lite" latte for anyone who wants to keep an eye on calories as this one comes in three flavors and contains 40% fewer calories than the traditional lattes. 
10. Panera Bread 

For a place that specializes in hot food and sandwiches, Panera bread has an impressive selection of coffee available. Their regular brew is available as a light or dark roast as well as a decaf. It's also available with a hazelnut flavor shot. 
They also make a great iced coffee as well as a cold brew. Their cold brew is available regular, or with one of two special flavors – Madagascar vanilla cream and Madagascar vanilla almond. If you're buying for a large group you can save money by buying a coffee "tote" which serves between 10-12 people and comes in a case to keep it hot. Other hot drinks include hot chocolate and hot tea. The hot chocolate comes with foamed milk on top and a caramel drizzle for an extra helping of sweetness.