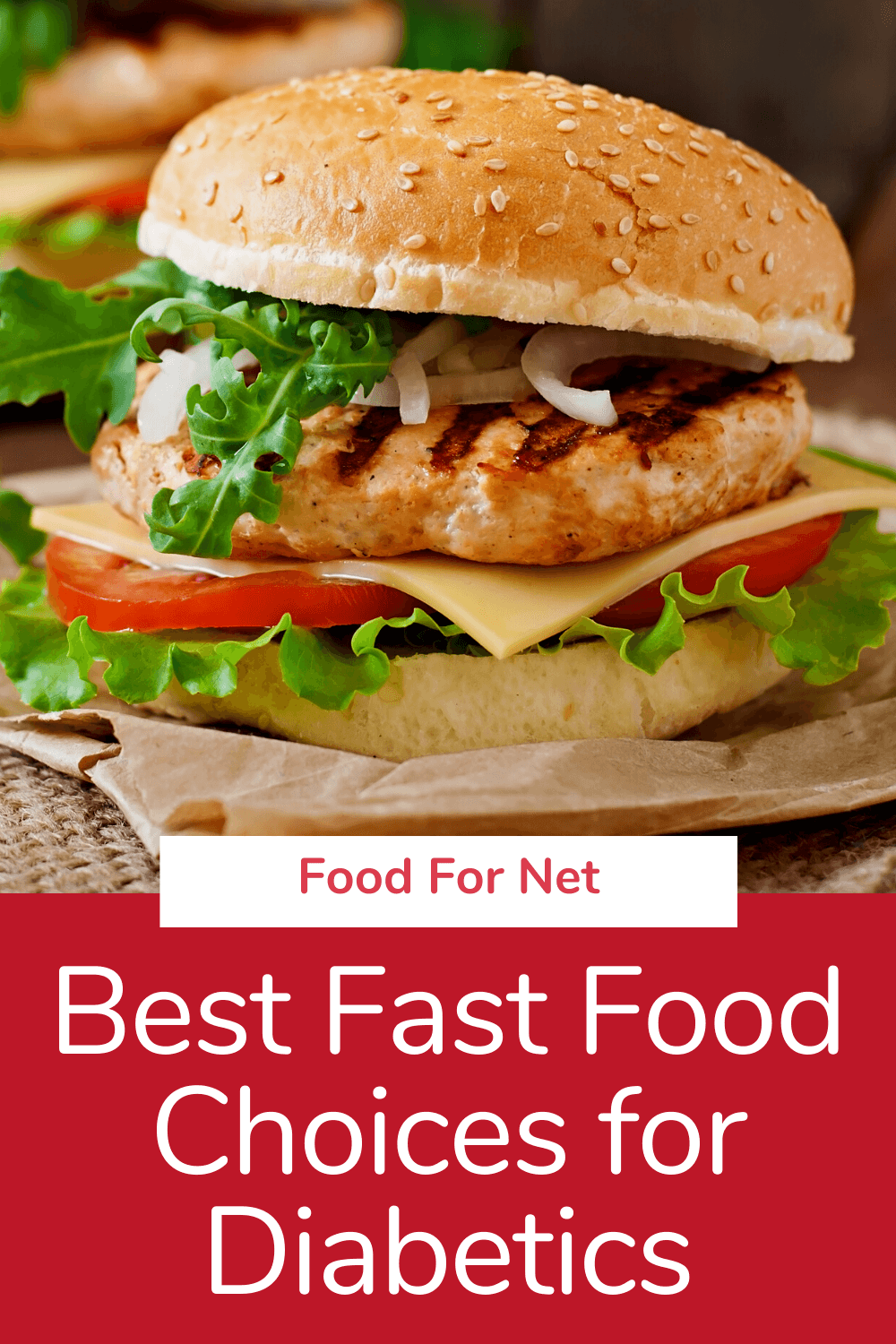 While diabetes is a serious disease that must be carefully monitored, having it doesn't mean you must give up all the good things in life. Monitoring sugar intake and ensuring you're getting the exact right balance is crucial which is what can make things like choosing what to eat difficult at times.
High blood sugar can result in symptoms like headaches, tiredness, increased thirst, etc on the milder side. More severe consequences can include nerve damage, eye damage, skin problems, and heart disease, to name a few. It is, therefore, of the utmost importance that you pay close attention to your diet. Having a few go-to fast food choices that are known to be safe will make life a little easier.
Many may feel like trying to eat fast food while maintaining a diabetes-friendly diet is too overwhelming, but with some practice and attention to detail, you can start figuring out more quickly what's appropriate to eat and what's not.
You won't always be able to get the "hot item" or the most popular or famous meal at every fast food place, but most have at least a few options that are suitable. Below are ten of the best options for safer fast food eating. While these are good potential meals, it's most important that you communicate with your doctor and always understand what's best for you, your body, and your patterns.
The Best Fast Food for Diabetes
1. Burger King's Whopper Jr.

Everyone knows Burger King as the home of the Whopper, a burger that's grown famous for its amazing flavor and a perfect combination of ingredients (and is one of many fast food burgers). As great as the Whopper is, it's a big burger and there are times where it may not be possible to finish it all. This is why they created the Whopper Jr.
Although the Whopper Jr. was made to be a smaller size of their famous signature burger, it has the added bonus of being a good, tasty option for diabetics due to its smaller size. By default, the Whopper Jr. comes with a flame-grilled beef patty, fresh tomatoes, crispy lettuce, pickles, and onions, served on a toasted sesame seed bun and topped with mayo and ketchup. If you need to further reduce sugar, you can reduce or even or omit the sauces.
2. Chipotle Veggie Bowl

Regardless of your dietary goals and/or restrictions, you can't usually go wrong with a bowl of veggies – especially when it's customizable. By default, the vegetarian bowl comes with cilantro-lime cauliflower rice, black beans, fresh salsa, guacamole, fajita veggies, and a super greens lettuce blend with a chipotle-honey vinaigrette dressing.
However, if this combination doesn't suit you, you can make changes. You can substitute the cauliflower rice for regular white or brown rice, change the black beans for pinto beans, choose any combination of different sauces and add cheese and/or chili-corn salsa instead of tomato.
Or, you can leave anything off the salad if you prefer not to have it at all, which would also make this a keto fast food choice.
3. Starbucks Tomato and Mozzarella Panini

Starbucks may be known for its vast variety of sugar-filled drinks but that doesn't mean they don't at least try to cater to everyone. Among their selection of sandwiches and paninis is the tomato and mozzarella panini. This little sandwich features roasted tomatoes, mozzarella cheese, spinach, and basil pesto on a focaccia bun, toasted to perfection.
The sandwich is served in two halves and offers a yummy, quick, light lunch. Starbucks has plenty of other snacks and sides you can pair with it, though keep in mind that many of their drinks are quite high in sugar. In addition to containing many healthy nutrients, the sandwich only comes in at 370 calories and it's got 18 grams of protein, making it a quick but health-conscious choice overall.
4. McDonald's Filet o Fish

While McDonald's may be far from your first thought when it comes to diabetic-friendly fast food, one thing you can order is the filet-o-fish. This iconic sandwich is a fan favorite and some people order it religiously.
The good news is that for as popular as this menu item is, it's a pretty simple and low-key sandwich. The fish filet is served on a lightly steamed bun with a slice of cheddar cheese and a layer of tangy tartar sauce. It's a simple combination but the three ingredients complement each other perfectly and the fish is just bursting with flavor, and it must be a good one for people to keep returning time and time again.
5. Subway Turkey Sub

As fast food goes, Subway is up there as one of your healthiest options. Even though their subs are heavy on the bread, they offer so many fresh veggies and protein options. You can load up a sub with just veggies if you want and you'll get lots of nutrients as a result.
It comes as no surprise, then, that they have options perfect for diabetics. One such sandwich is the turkey sub, featuring thinly sliced tender turkey breast and unlimited additional toppings. You can get any combination of fresh, crispy lettuce, cucumbers, tomatoes, pickles, cheese, onions, peppers, and more.
They've also got plenty of sauces available to add even more flavor. The turkey sub is also in their special category of sandwiches that are guaranteed to have only six grams of fat or less.
6. Burger King Grilled Chicken Sandwich

Burger King has another great option in their grilled chicken sandwich. Its simplicity is key, with a tasty chicken patty grilled to flavorful perfection, topped with a thick slice of tomato, creamy mayo, and crispy lettuce. You can reduce sugar by going easier on the mayo.
In addition to being a pretty safe choice for diabetics, grilled chicken is already much healthier than it's crispy/fried counterpart. It's perfect for a quick and convenient meal that tastes great. The chicken has lots of protein and it'll keep you full as you go about your day.
7. Starbucks Egg and Cheese Protein Box

If you're not feeling like a sandwich but still want to grab a quick lunch from Starbucks, their egg and cheese protein box is an excellent, super-healthy option. This little combo comes with two cage-free hardboiled eggs, a sliced apple, a bunch of grapes, some white cheddar cheese, and a multi-grain muesli bun. Also included is a honey-peanut butter spread for the bun.
This amazing combination has so many different pieces to enjoy, all of which have something nutritious to offer you. Between the eggs, cheese, and peanut butter, this box has a grand total of 23 grams of protein, making it a powerful, filling, healthy on-the-go lunch.
8. Wendy's Grilled Chicken Wrap

Another option healthy option is the grilled chicken wrap from Wendy's. Their chicken breast is made from 100 percent chicken breast and is marinated with a yummy combination of herbs. It's wrapped in a soft flour tortilla together with crispy lettuce, shredded cheese, and smoky honey mustard.
The ingredients are simple but they work together wonderfully to create a perfectly flavorful and healthy wrap. Get two and make it a full meal, or order one as a nice filling snack to help you get through the rest of the afternoon.
9. McDonald's Hamburger Happy Meal

This one may sound strange but think about it for a second. Happy Meals may be marketed to children and contain the right amount of food for one but that doesn't mean adults can't enjoy the contents, too!
The treat is essentially just a smaller version of their main meals and it even comes with some fruit on the side. You get a small hamburger with tomatoes, onions, ketchup, and mustard and a small box of their famous French fries – small enough to be nothing more than a quick snack. It also comes with a small drink which you can choose between a jug of low-fat milk, chocolate milk, a bottle of water, or orange juice. It may be slightly unconventional, but don't be afraid to order it if you'll enjoy it.
10. Pizza Hut Thin and Crispy Veggie Lovers

With all the options out there, you don't often find someone who doesn't have at least one kind of pizza they like. That said, sometimes you must be careful what you put on it. While not the healthiest food out there, pizza certainly isn't the worst, either. But, many are often surprised by how much sugar can sometimes be found in the tomato sauce. It's something to keep in mind if you're trying to limit sugar.
Pizza Hut is known for having particularly delicious and popular pizza and they, thankfully, have plenty of diverse options. Their veggie lover's pizza comes with green peppers, mushrooms, red onions, and tomatoes by default. If you want to make some changes, you can do that too by indicating more or less of any one topping as you place your order. You can also add things like aged cheddar, Jalapeno peppers, pineapple, and more if you fancy something a little extra.
Related Content