Whether you're eating fast food or not, chicken in general is a healthy choice and is popular for being one of the leanest meats. This makes it popular with bodybuilders and anyone who likes to workout and wants to build muscle quickly.
Therefore, chicken sandwiches are often a desirable substitute for a greasy hamburger for anyone trying to stick to a healthier diet. That being said, there are plenty of ways to prepare chicken that aren't as healthy but are absolutely delicious. Even with chicken's protein content, breaded chicken fingers aren't really meant to be healthy as much as they are meant to be a crispy, juicy, flavorful hot lunch and the fast food versions are made for convenience.
Fried chicken, chicken nuggets, and chicken tenders are well-loved for their satisfying crunch and endless combinations of seasonings and flavor. Whether you want to go all out and find the most delicious chicken you can with no reservations, or grab a quick meal while remaining health conscious, chicken is a great go-to.
Despite being a simple concept, there are many things that can go wrong when cooking chicken including too much breading, not enough breading, bad spice combinations, and so much more. Not all fast food places get it right, but some have it mastered. Whether you want a full meal with large chicken tenders or a quick snack with a few nuggets, the following are some of the best options for fast food chicken.
Top Ten Best Fast Food Chicken
Popeye's Chicken Tenders
Raising Cane's Chicken Fingers
Culver's Crispy Chicken Fingers
Chick-Fil-A Nuggets
Wendy's Spicy Chicken Nuggets
Burger King Chicken Fries
Jack in the Box Crispy Chicken Strips
KFC's Extra Crispy Chicken Tenders
Wingstop Classic Chicken Wings
Long John Silver's Chicken Meal
1. Popeye's Chicken Tenders

Known as one of the best places for chicken, Popeye's chicken tenders don't disappoint. All of their chicken tenders are handcrafted and marinated in a special, unique seasoning that is well-loved by Popeye's regulars.
You can order a set for a quick, crunchy snack or put a meal together. They have plenty of signature sides to choose from including French fries, coleslaw, and more. Combos also come with their signature buttery biscuits that are the perfect little treat to round out a delicious and convenient chicken tender meal.
2. Raising Cane's Chicken Fingers

Raising Cane offers delicious and high quality chicken fingers in a wide variety of combo options. Their strips are made from premium chicken breast tenderloins that are always fresh and never frozen. They marinate the chicken in a special marinade that tenderizes the chicken further and adds both flavor and moisture.
The strips are then hand-dipped and breaded, made fresh to order every day. You can't beat this level of freshness, and you can order them in whatever combo best suits your needs. They have everything from a kids combo with two strips, fries, and a small drink to a tailgate combo with anywhere from 25-100 chicken fingers.
There's also plenty of options in between with varying amounts of chicken fingers, different sized drinks, and other sides available. You can even get the strips in a sandwich if you want.
3. Culver's Crispy Chicken Fingers

Culver's makes your chicken fingers fresh and to order and always with the perfect amount of crisp and crunch. They are made from tender, whole white meat and are cooked to crispy, golden perfection. They are lightly breaded for a satisfying crunch with tender, juicy meat on the inside.
They are delicious on their own but also go well with one of the three available sauces: BBQ, honey mustard, or ranch. They are available as two-piece or four-piece combos and will pair well with any of their available sides. Or, you can just order a couple of pieces with your choice of sauce for a quick, crunchy snack.
4. Chick-Fil-A Nuggets

Another joint that's widely known for its chicken expertise, Chick-Fil-A delivers a fantastic, bite-sized chicken nugget that is so versatile. The nuggets are made from boneless chicken breast that is seasoned to perfection and freshly-breaded. They are cooked in 100% refined peanut oil and come with your choice of dipping sauce.
The chicken nuggets themselves are available in quantities from 4-30 meaning you can grab a few as a nice snack or get a bunch to share with the whole family. There are plenty of sauces to choose from, including BBQ, honey mustard, buffalo, ranch, Polynesian, honey roasted, BBQ, and their signature Chick-Fil-A sauce.
5. Wendy's Spicy Chicken Nuggets

If you're looking for a snack that bites back, the spicy chicken nuggets from Wendy's are your go-to. The nuggets are 100% white meat and are lightly breaded for a delicious and satisfying crunch. They are marinated to fiery perfection in Wendy's special combination of peppers and spices and they're served with your choice of dipping sauce.
Available sauces include buttermilk ranch, creamy sriracha, BBQ, sweet and sour, and honey mustard. The default order comes with six nuggets. This makes for a great snack but would also pair well with a side salad, French fries, and a fountain drink.
The nuggets are available in regular, non-spicy form but the spicy nuggets have become a favorite for their unique flavor and perfect level of heat.
6. Burger King Chicken Fries

Burger King has gone a slightly different route with their chicken fries. These aren't too far off from chicken nuggets but they're thinner and great for dipping. These ones are made from premium white meat and are coated in a light, crispy breading. They are seasoned with a unique, savory blend of herbs and spices. Each order comes with your choice of dipping sauce.
These chicken fries make for a great snack or you can pair them with actual French fries or onion rings and a classic fountain drink to make it a meal.
Chicken fries are less common than nuggets or tenders and they're a fun way to try something different, especially if you're a dipping sauce enthusiast.
7. Jack in the Box Crispy Chicken Strips

Jack in the Box has reinvented their original chicken strips to make them thicker, crispier, and juicier. They aim to please the chicken enthusiast who is always on the hunt for good, authentic, delicious chicken.
Their strips are made from 100% all-white meat and are served with their super secret but super delicious mystery dipping sauce. It comes with four strips by default, making for a great on-the-go snack or a quick, light lunch. Whether you eat them on their own or pair them with a side or two to make a meal, they're a must-try for chicken lovers everywhere.
8. KFC's Extra Crispy Chicken Tenders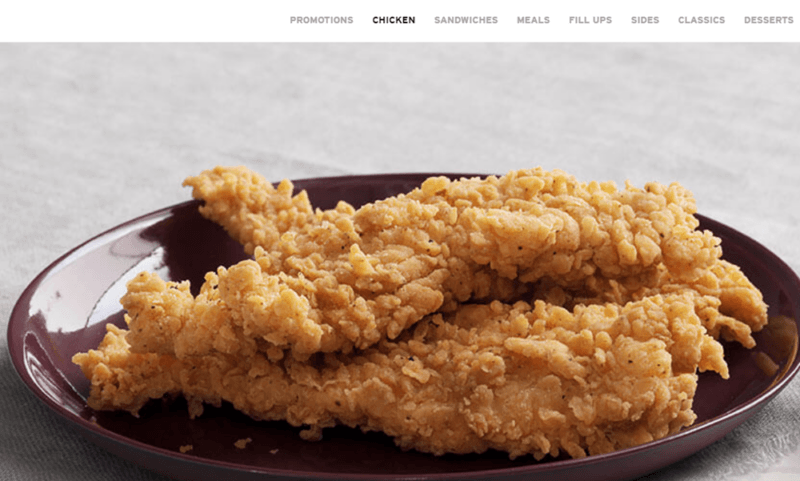 KFC caters well to the crispy chicken enthusiasts with their extra-crispy chicken tenders. These pieces go above and beyond your typical breading. These tenders are double-breaded with their classic breading for an extra-satisfying crunch. The extra breading doesn't mean you must sacrifice meat quality. The chicken is just as tender and juicy as the original recipe.
The extra-crispy chicken is available in three different sized bucket meals: eight, twelve, or sixteen pieces. These all come with a varying number of sides. You can also get them in a variety of personal combos that come with two, three, or four pieces with sides and drinks.
9. Wingstop Classic Chicken Wings

Another popular way to eat chicken is in the form of wings and no one does it better than Wingstop, where wings are their specialty. There are, of course, many options when it comes to wings, from different flavors and sauces to choosing boneless or bone-in.
If you just want a basic wing combo for lunch then their six-piece classic combo is the way to go. The meal comes with six classic, bone-in chicken wings by default as well as a serving of their delicious, uniquely seasoned French fries and a fountain drink. You can substitute the French fries for veggie sticks if you prefer. The meal also comes with your choice of dipping sauce.
10. Long John Silver's Chicken Meal

Just because Long John Silvers is known for their seafood doesn't mean they don't know chicken, too! Their chicken tenders, or "planks" as they call them, are slightly larger and flatter than your typical chicken finger and are made from 100% white meat.
They are hand-battered in their signature batter recipe and pair well with any of their available sides. Possible options include classic French fries, coleslaw, mac and cheese, hush puppies, corn, green beans, or their signature "crumbles" which are essentially just a collection of small pieces of fried batter that many enjoy for their tasty crunch. Combos come with a choice of two or three pieces of chicken and they are just as delicious as their signature fast food fish options.