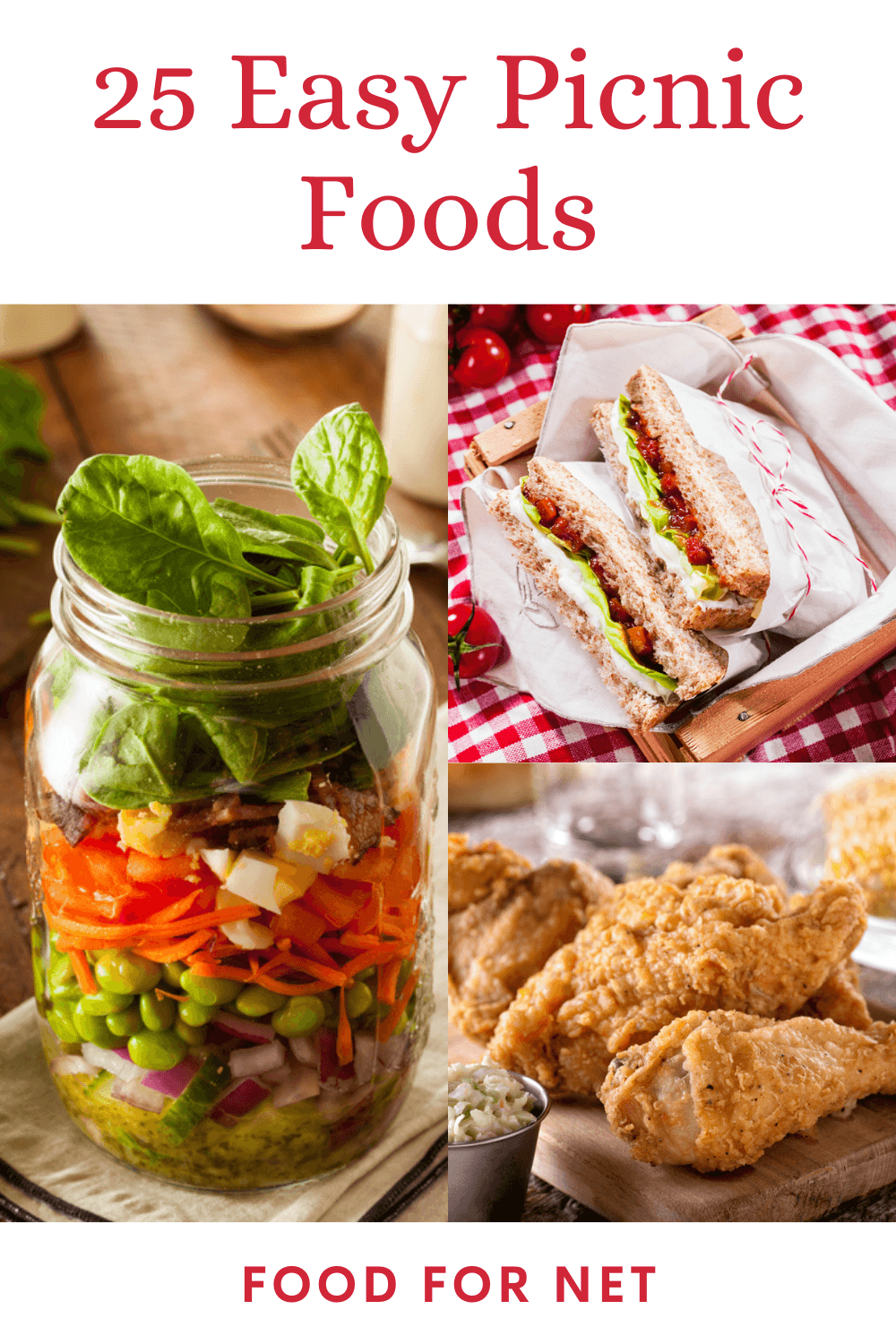 Picnics can be incredibly fun. You get the chance to be outdoors, surrounded by family and friends. The food you serve is only part of the experience, but that doesn't make the food unimportant. Choosing the right food will influence the entire experience. You don't just need delicious food either. It's also important to focus on easy picnic foods, so that no one is stressed out on the day.
The best picnic food should be easy to prepare and just as easy to eat. You don't want to be messing around with trying to serve things perfectly on a plate and deal with utensils too, especially if there are kids at the event. It's much better if picnickers can quickly grab the food they want and eat it with their fingers.
There are other things to consider too. You want food that delicious warm or even cold. Trying to keep cooked food hot until the picnic is all set up is far too much stress. Besides, hot food is much harder to eat with your fingers.
Don't worry if it isn't the right season for picnics. The events aren't limited to the great outdoors. You could even set up a picnic on the living room floor for a complete change of pace. Or, you could bundle up and have a winter picnic.
Easy Picnic Foods
Sandwiches
Mason Jar Salads
Pasta Salads
Potato Salad
Bean Salad
Picnic Bread
Fresh Fruit
Chicken Drumsticks
Quiche
Dips and Dippable Food
Sushi
Scotch Eggs
Chocolate Cupcakes
Cookies
Loaf Cakes
Trail Mix
Yogurt Parfait
Dessert Jars
A Savory Tart
Mac and Cheese Bites
Cheese
Cold Meat
Tacos
Pull Apart Bread
Fruit Skewers
Sandwiches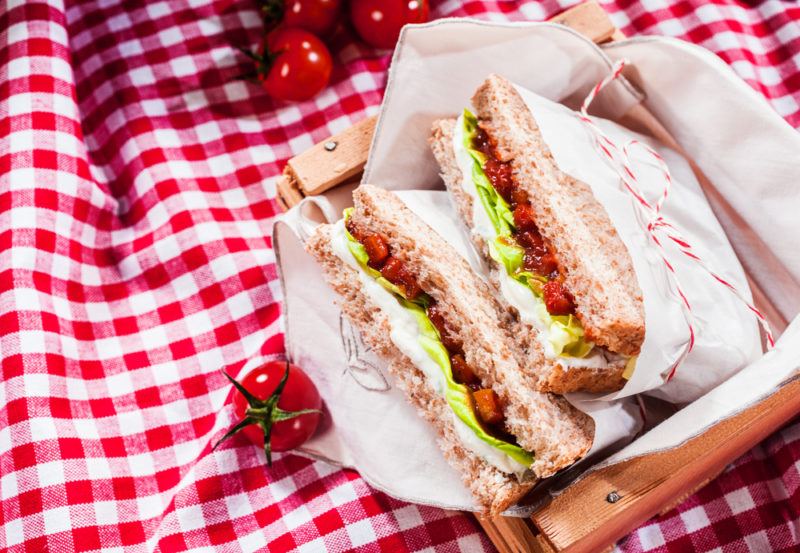 Sandwiches remain a picnic go-to. This is hardly surprising, as they're simple to make and are even easier to eat. No utensils required at all.
There are countless options for your sandwiches too. You can choose almost any type of fillings. Feel free to play around with the bread at the same time. Perhaps you want gluten-free bread or you're going to use a wrap rather than traditional slices of bread.
Don't be afraid to get creative. The best picnic sandwiches will be at least a little different than what you eat on a daily basis. Try taking inspiration from other cultures. A Middle Eastern style sandwich, for example, can be delicious.
However, you will need to pay attention to the ingredients that you use. Sandwiches can go soggy fast, especially if you're using wet ingredients like tomatoes or cucumber.
One way around the problem is to pack any moisture-laden ingredients separately. Picnickers can then add these to their sandwiches as they want.
Or, you could take a build-your-own sandwich approach. This works particularly well if you're using pita pockets or rolls, rather than slices of bread. The idea is that you're not building the sandwiches ahead of time. Instead, the ingredients go in containers, then each person uses these to create their own sandwiches during the picnic itself.
To do so, focus on ingredients be grabbed and added in by hand. Popular choices include tomatoes, cucumber, bell peppers, and lettuce. Instead of sandwich spreads, look for condiments that can easily be squeezed out of a bottle. This way there's no need to fight over knives.
Mason Jar Salads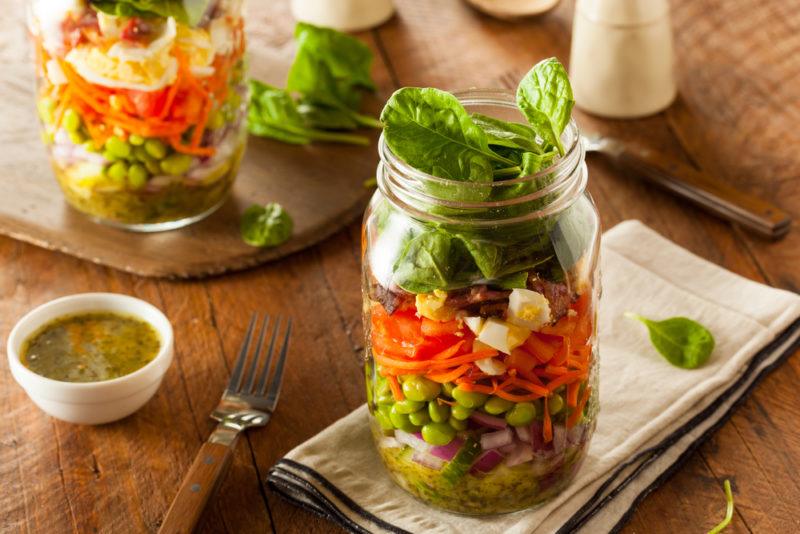 The biggest problem with salads at a picnic is that they get messy. You can get around this entirely by making mason jar salads instead. This approach gives you a salad that can be eaten straight out of the jar. Or, it can be dumped out into a bowl and eaten that way.
Making these salads isn't as simple as throwing ingredients randomly into a jar or just adding a mixed salad to a jar. There's a fantastic tutorial on the site Hurry the Food Up, along with plenty of recipes. But, the basic idea is that you need to layer your ingredients carefully.
Start off with the dressing at the bottom of the jar, then layer ingredients based on how they'll react to the dressing. So, the ingredients right at the bottom are those that can swim in the dressing without any problem, while those in the middle are ones that could handle being splashed by dressing. The top of the jar is reserved for ingredients like lettuce, which would go soggy easily.
This style means that you can prepare a salad a day or two in advance and it will still be fresh and delicious when it's time to eat the thing. Doing so is much better than serving a wilting salad at a picnic.
Pasta Salads

Pasta salads are ideal picnic fodder, as you can prepare them ahead of time. Most pasta salads will hold up well over time, even if they get knocked around a bit during transport.
To make the flavors pop even more, try keeping some fresh ingredients aside, perhaps in a plastic bag or small container. These can be easily mixed in right before everyone starts eating. Fresh herbs or cubed tomatoes are perfect here. Both options give your salad a fresh and vibrant flavor.
Potato Salad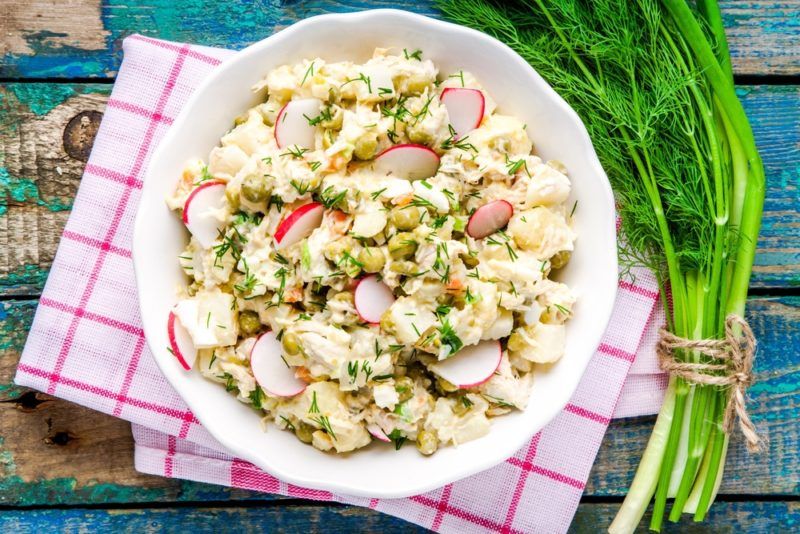 Who can forget the humble potato salad? It seems to be a picnic staple, partly because it transports so well. While you need to do some work to make the salad initially, this can all be done beforehand. And honestly, potato salads aren't that difficult.
Does potato salad seem like a boring addition? Don't worry. There are plenty of ways to make the recipe more interesting.
The simplest option is to make regular potato salad and add in a few extra ingredients, like chives or bacon. Spices can be powerful too. After all, a potato salad that uses curry powder, paprika, or chili powder will taste quite different than a conventional version.
Why not try one that uses sweet potatoes instead of regular potatoes?
You can dig around for other recipes too. A quick Google search should show you dozens of different potato salad recipes. Some may seem familiar, while others certainly won't be.
Bean Salad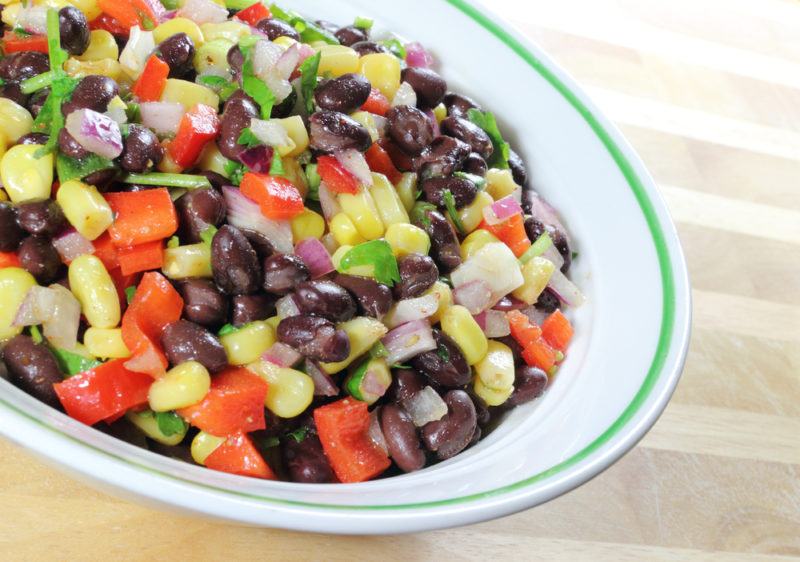 Bean salads have the same advantages as pasta and potato salads. All three types can be made beforehand and hold up well. They'll still be delicious when it's time to eat them, which isn't the case for salads with leafy greens, as the greens tend to wilt before it's time to eat the salad.
And, of course, bean salads can be made in many ways. You'll often be using multiple types of bean, along with fresh vegetables and some type of dressing.
Such salads tend to be easy to make and prepare too. You could even rely on canned beans to make the process even faster. Just be sure to rinse the beans before you use them. Doing this helps to decrease the amount of salt.
Picnic Bread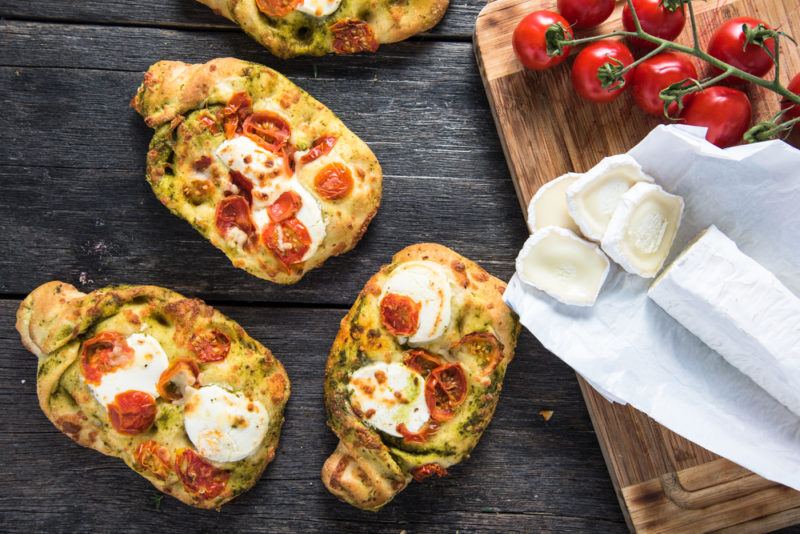 Why stick to regular slices of bread and bread rolls when you can make something even more exciting? Focaccia bread is a classic example. This bread's shape and texture make it perfect for picnics, as guests can cut or tear wedges of the bread and use these to make sandwiches.
Because focaccia is often denser than regular bread and doesn't rise as high, it tends to survive transport well.
You can play around with the toppings too. Herbs are often used for focaccia bread, but honestly, the sky is the limit. I've seen cheese and ham used on top of bread, or even an egg or two.
Fresh Fruit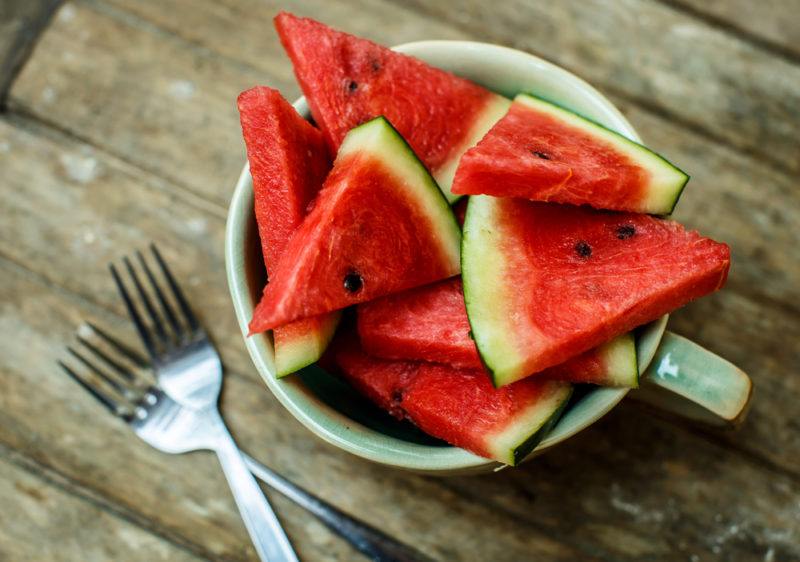 What would a picnic be without some fresh fruit? Fruit is a perfect way to refresh your palate after a heavy meal. It's also an easy finger food that is naturally portion sized.
Still, some types of fruit will be better than others.
You're looking for fruits that will travel well, ones that won't get too easily bruised or damaged along the way. This often means avoiding fruit with soft flesh and thin skins, like plums. If you do bring such fruits, you'll need to pack them carefully.
Watermelon is a popular picnic choice. You can cut the watermelon at the event or pack slices carefully into a container. Watermelon works well, as the rind gives people an easy way to hold the fruit. Plus, watermelon contains plenty of water, helping your guests to stay hydrated.
Fresh pineapple has similar advantages, although it can be more challenging to cut than watermelon.
If you can't find fresh fruit that works well, you could try a fruit salad instead. A fruit salad lets you combine the flavors of a variety of fruits.
However, a fruit salad does require utensils to eat and is best fresh. If you're taking this route, it's best to prepare the salad right before leaving for the picnic. This way it's as fresh and delicious as it can be.
Chicken Drumsticks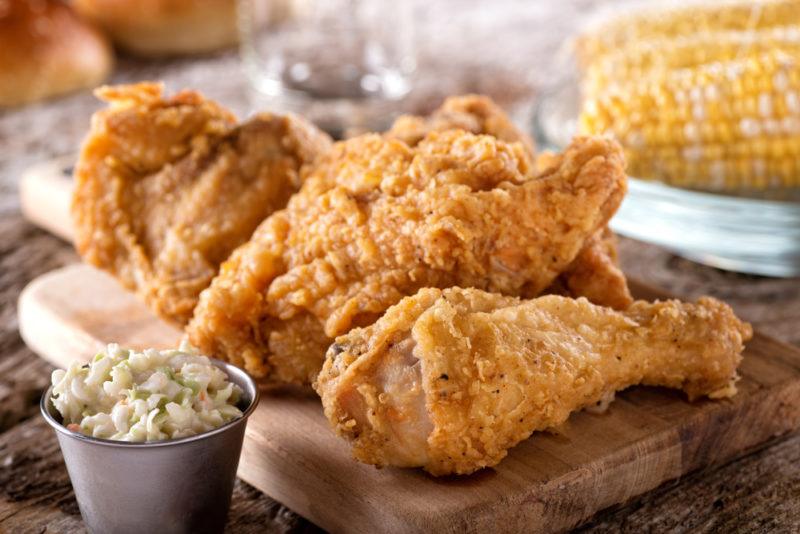 Whether they're fried or baked, chicken drumsticks are always a picnic hit. They're easy too, as you can cook them the night before and allow them to fully cool before the picnic. No need to reheat them either – cold chicken drumsticks taste just as good as hot ones.
One of the best things about drumsticks is they have a ready-made handle. This makes them easy to pick up and eat with your fingers. They're also a fantastic source of protein, so they should help you and your guests to fill up.
Quiche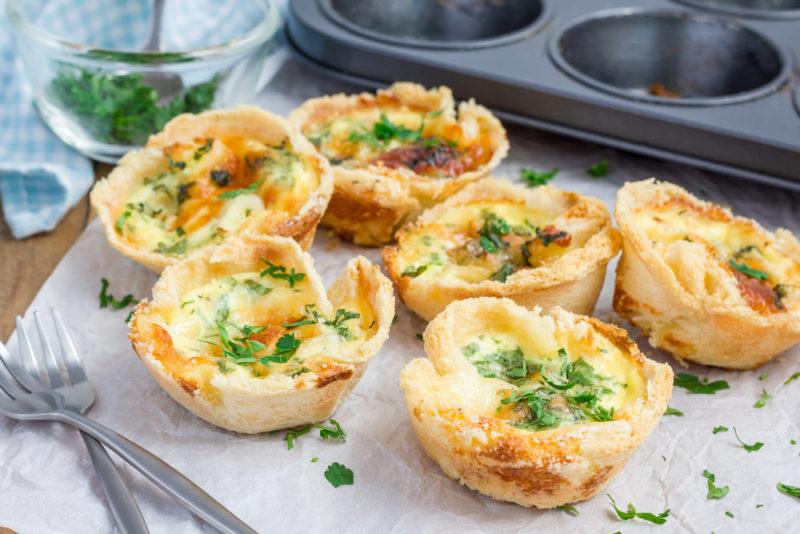 You could make a large quiche and cut it into smaller pieces for a picnic or make many small quiches. The first approach requires less work, but the quiche pieces could be a little tricky to eat. On the other hand, mini quiches take more effort to create and are much easier to eat at the picnic.
Regardless of the style that you choose, you have plenty of options for filling. You might keep the quiches simple and use the classic ham, egg, and cheese combination.
Or, get creative. Olives, sundried tomatoes, tomatoes, herbs, spices, aged cheese, bacon, and chives are all possible ingredients. That short list is just scratching the surface. There are countless other options out there. Just look online for quiche recipes and you'll see what I mean.
Dips and Dippable Food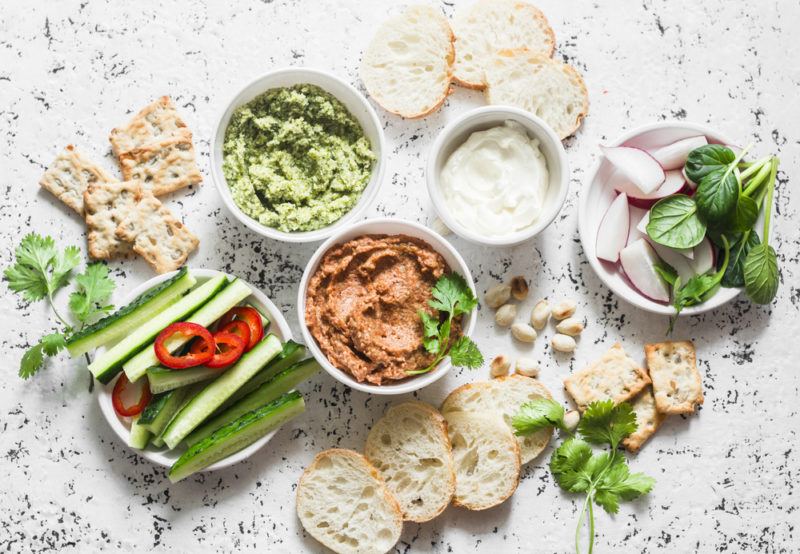 Dips are great ways to make food taste more interesting. They're easy on a picnic too, as you're grabbing food with your fingers, dipping it, and then eating the whole thing. There are no utensils to worry about. Plus, guests can easily choose the foods they enjoy and avoid the rest.
The trick here is to provide some options without going overboard. Having one or two types of dip will often be enough.
As for dippable food, try to have some fresh vegetables and some crisp snacks, like pretzel sticks or chips. Cucumber, red peppers, and carrot sticks are all ideal here especially as they can be prepped in advance and travel well.
For something a little different, try making homemade breadsticks. You can use herbs or cheese to make these taste fantastic.
If you don't want to spread out a selection of dips and dippable foods, you could try making dip jars instead. With these, you're basically putting the dip in the bottom of the jar, then sticking the fresh veggies in too. Keep the veggie sticks long enough that people can easily reach them, but short enough that you can still close the jar.
Sushi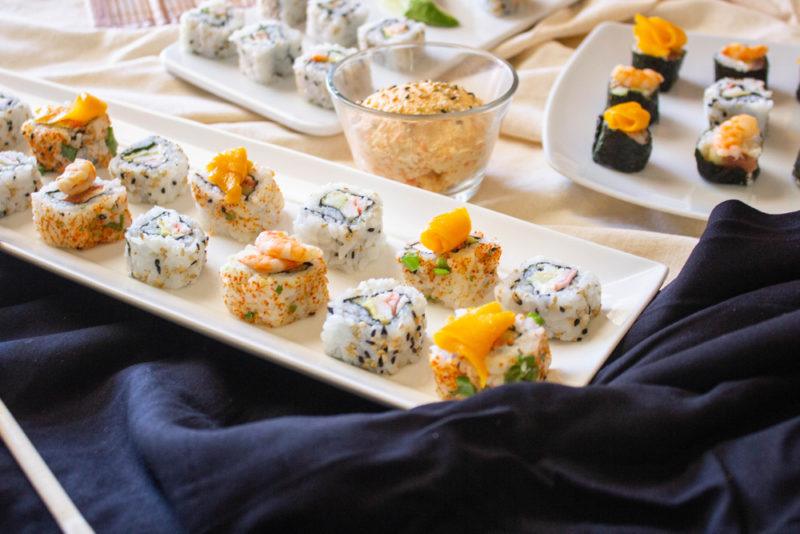 Sushi mightn't be a classic picnic food, but it can still be a fantastic choice. After all, sushi can easily be eaten with your fingers. You don't need to stick to raw fish as an ingredient either. There are other styles of sushi to try, including sushi that relies on teriyaki chicken, avocado, or even just vegetables.
You could even make mini rice balls, where you're enclosing a filling of your choice in sticky rice. These are easier to make than sushi and can be just as delicious.
And, of course, you don't need to make the sushi yourself. If you're hosting a small picnic, you could easily buy sushi instead. This could be perfect if you're having a picnic date, as the sushi will feel more decadent than most other picnic foods.
Scotch Eggs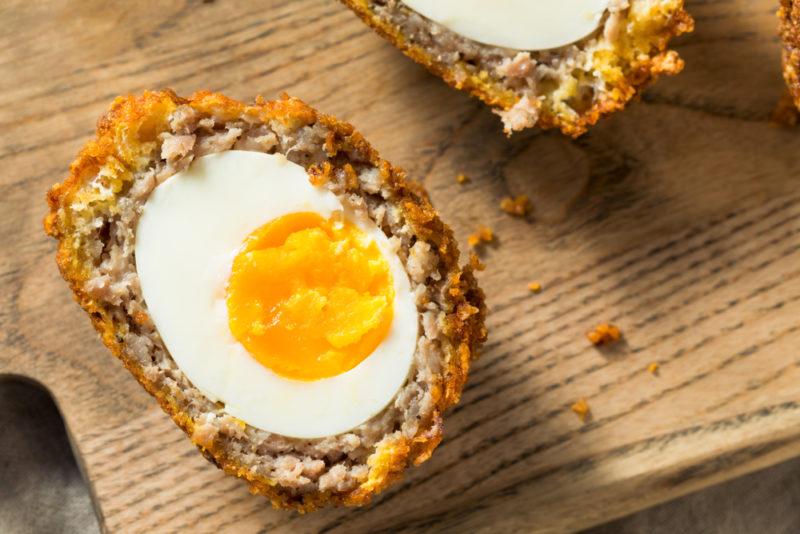 Scotch eggs are a British food that is often served at a picnic. They're a snack that isn't often adopted in the United States, even though Scotch eggs are delicious.
To make them, you're hard boiling an egg, letting it cool, wrapping it up in sausage meat, and deep frying it. You end up with protein-packed deliciousness that is difficult to beat. Some cooks bake the Scotch eggs instead, which gives you the same flavors in a healthier way.
Chocolate Cupcakes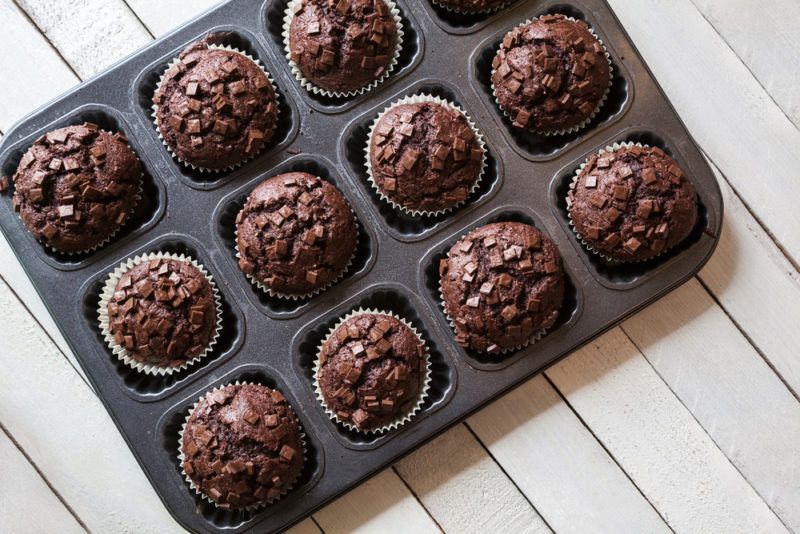 You're going to need some sweet treats too. It's hard to go past cupcakes, as they're already portion sized and are simple to make. For no-fail cupcakes, use a mix from a grocery store. If you don't mind a little more work, find a few recipes online and try them out before the big event. You're bound to find a few delicious options.
We suggest chocolate cupcakes because chocolate is such a popular flavor. But, of course, you could choose whatever flavor you feel want. Vanilla is another good option. Vanilla cupcakes might seem on the plain side, but the mild flavor can be appealing.
You'll need to think about icing too.
The best option is to find cupcakes that taste just as good iced or non-iced. And, if you do ice the cupcakes, it's best to take a minimalistic approach. Iced cupcakes don't tend to travel well, especially if you have multiple cupcakes in the same box. You're likely to end up with a gigantic mess by the time you come to serve them.
Cookies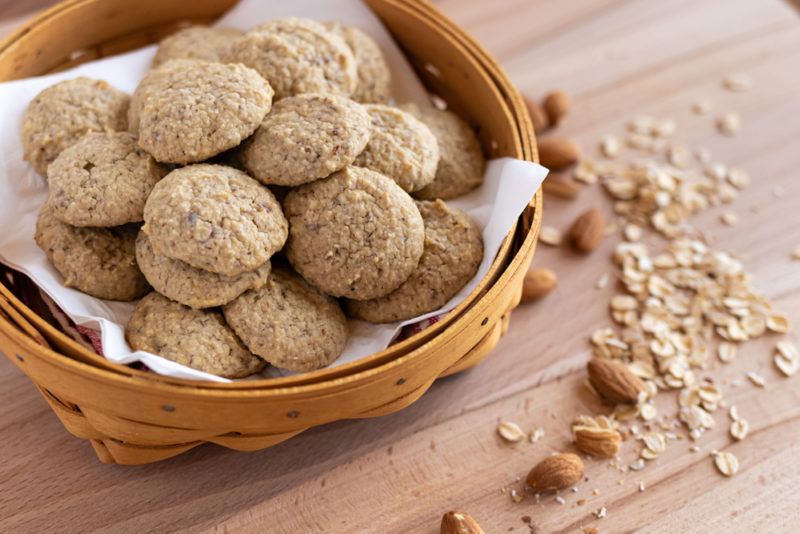 Cookies are one of the best picnic desserts because they're so resilient. There isn't any sticky icing to worry about and the cookies won't easily break apart. Cookie pieces taste just as good as full cookies anyway, so you'll get a delicious treat no matter what happens.
Besides, there are countless delicious cookies out there, including oatmeal cookies, snickerdoodles, chocolate chip, white chocolate macadamia, shortbread, and sugar cookies. There are also many recipes and variations for each type of cookie, so let your imagination go wild.
Loaf Cakes

While you can serve a regular cake at a picnic, cakes are often on the delicate side. It's easy to accidentally squash them or get icing everywhere. Loaf cakes are a good way around the problem.
This style of cake tends to be more resilient and often isn't iced at all. You can easily slice the cake before you leave home and then just pass out the slices when it's time for dessert.
Trail Mix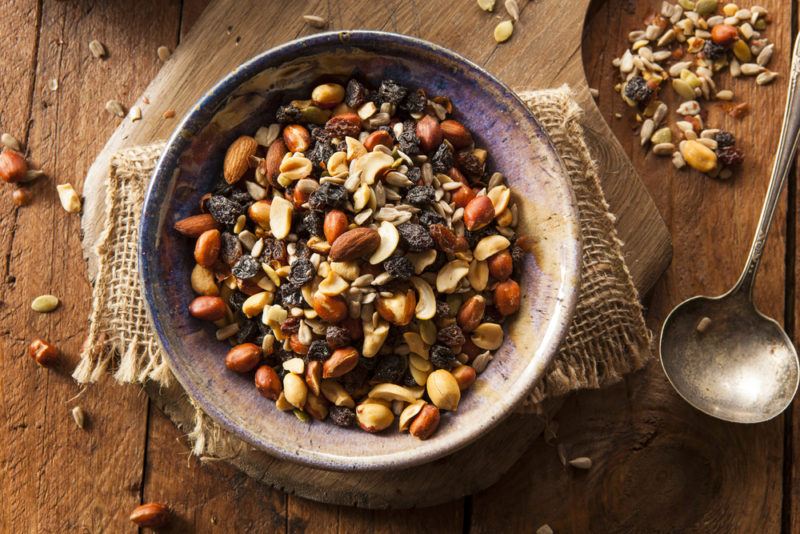 Trail mix is a simple way to bulk out your picnic. What's not to love? It's portable, packed with protein, and tastes delicious. Plus, you get to choose the combination of ingredients that you include.
The simplest type of trail mix uses nuts and dried fruits. You could also add in some chocolate or perhaps chocolate covered raisins. I've seen more complex examples too, like a trail mix that includes chocolate covered pretzels along with the traditional ingredients.
Or, if trail mix isn't your thing, how about a bowl of mixed nuts? Even just a few types of seasoned nuts can be a hit at a picnic (or any other event, for that matter).
Yogurt Parfait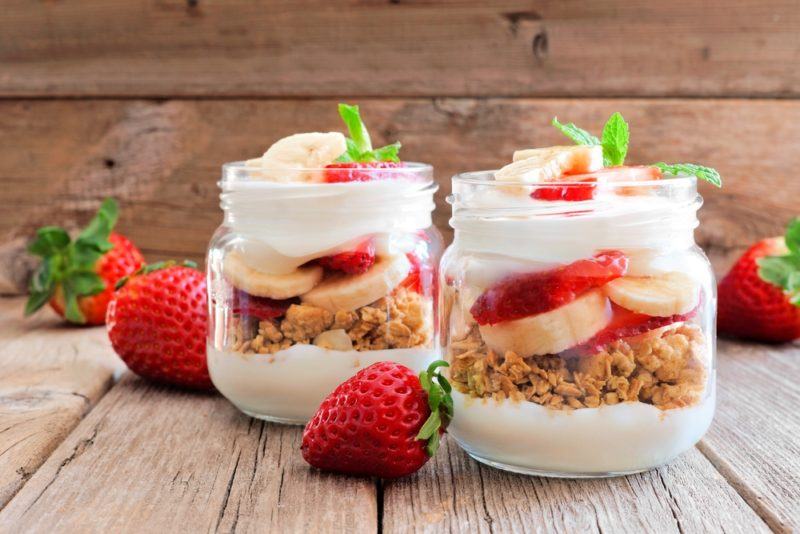 Did you know you can make yogurt parfaits for a picnic? They're not a common picnic food, but why not? Parfaits are easy to put together, especially if you just rely on fruit, granola, and yogurt.
The main trick is to build these in small jars with lids. This way the parfaits will survive transport without a problem. The ingredients might get mixed together a little, but that doesn't matter too much. Your parfait should still taste good regardless.
Dessert Jars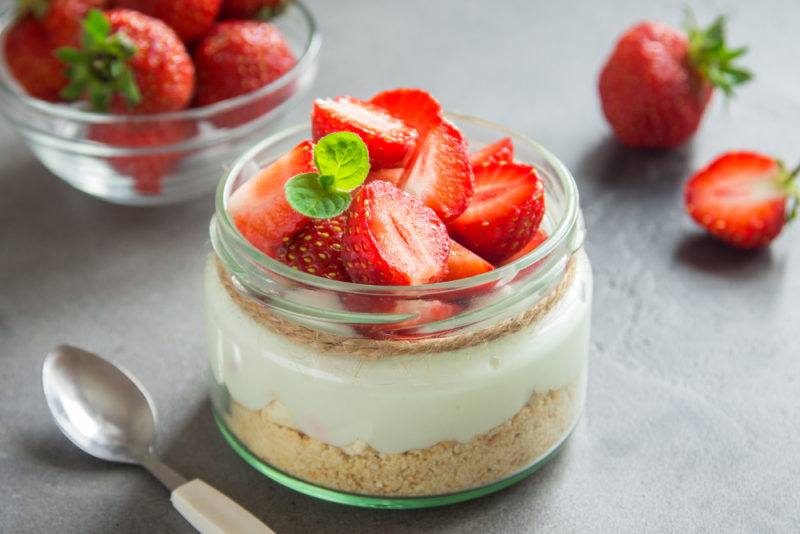 Most desserts aren't all that portable. They are too easily smooshed, make a mess, get sticky, or just generally don't behave. Even if you can make a full dessert and bring it to the picnic, serving it can turn into a messy affair.
An easy way around the problem is to make small desserts in jars instead. Look for jars that have lids here, as these can be easily sealed. That way there's no risk of anything leaking out. All guests need is a spoon and they can enjoy the dessert at their leisure.
Many types of dessert can be served in this way. Try an apple crumble or any type of fruit cobbler. You could serve fruit salad this way too. What about making a cake in a jar?
Try to focus on desserts that will tolerate warm weather, as it's often hard to keep your picnic food cold.
A Savory Tart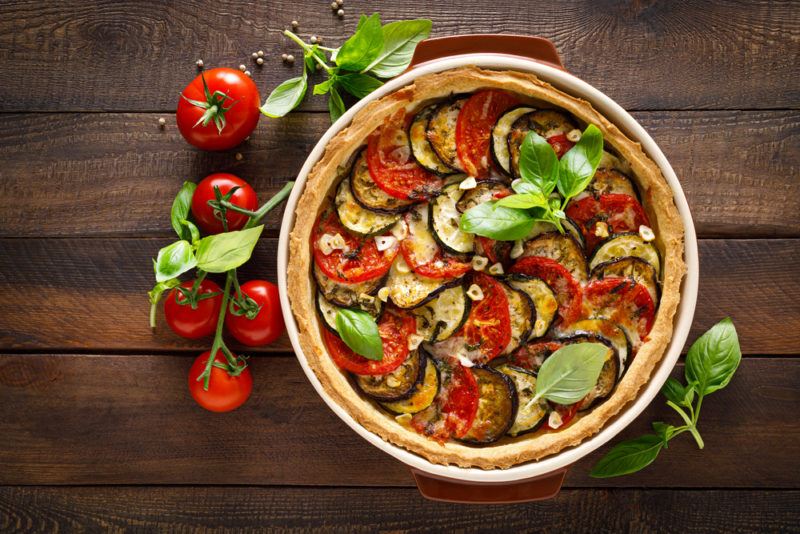 If you want to create a standout picnic, try making one large centerpiece meal. This should be something savory that is fairly filling and can easily be divided into small portions.
The quiches we mentioned earlier are a perfect example and savory tarts are another. These dishes are a little like pies, except that they often don't have a top crust and use savory fillings.
As you can probably guess, there are countless combinations of ingredients for you to try. Food Republic offers a list of 15 options – and that's just scratching the surface. Don't be afraid to experiment and make your own versions.
Of course, sweet tarts are an option too. These can be fantastic as desserts. The idea is similar, although sweet tarts tend to use thinner pastry that has a little extra sweetness.
Mac and Cheese Bites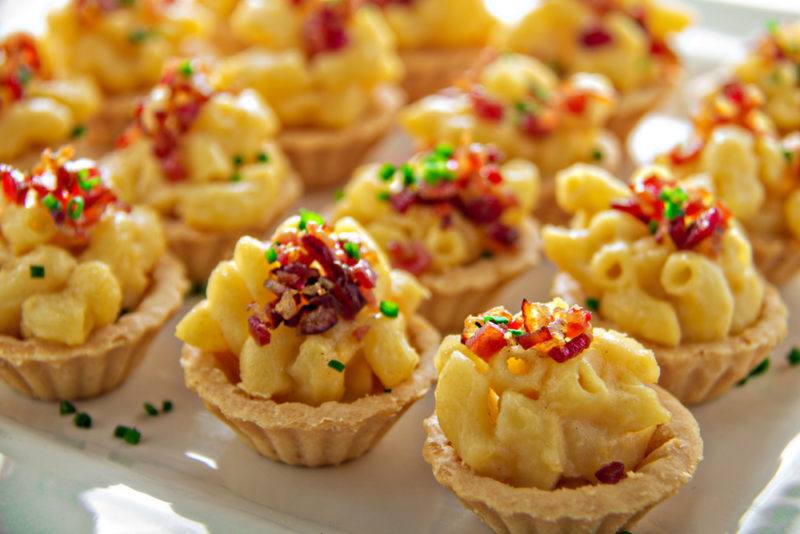 Mac and cheese bites are exactly what the name suggests. You're making classic macaroni and cheese, except that it is being served in the form of small bite-sized treats, rather than as an entire meal.
Doing this makes the macaroni and cheese much more portable, but still gives you all the same flavors.
There are some tricks to making this meal though. The first is to change the texture of your macaroni and cheese. The meal needs to be less gooey than normal to stay together as bites. The second trick is to have some type of base. This could be a savory pastry shell, a little flaky pastry, or something else.
An alternative approach is to roll the mac and cheese into balls, coat the balls, and deep fry them. Doing so gives you a crisp exterior and a snack that is easy to bite into.
In fact, many popular dinners can be converted into picnic-suitable versions. You can often take a similar approach, where you're making a mini version in some type of shell or crust. Alternatively, you can make a baked version that is firm enough to be sliced and served.
Cheese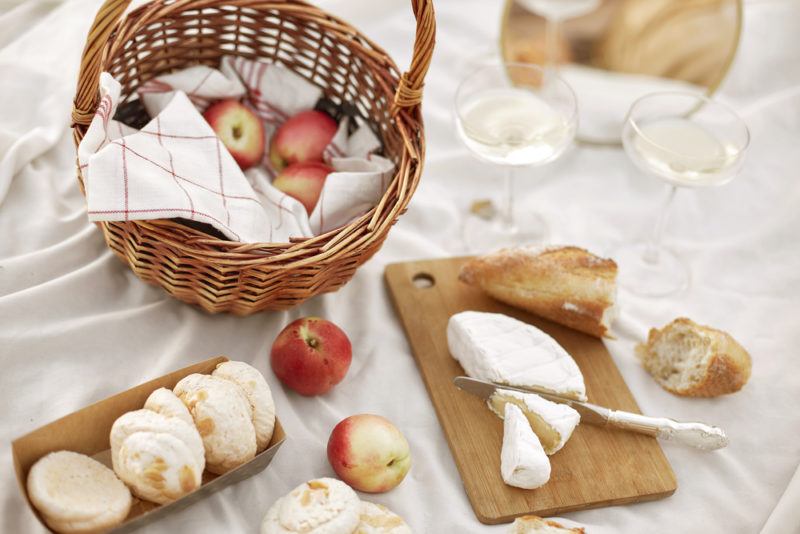 Picnic foods don't need to be complicated. Sometimes you just need to buy something, like cheese, and serve it. Soft cheese, like brie and camembert, can be fun at a picnic, as the cheese will often go melty in the heat, which seems to make it taste even better.
Slices of cheese or cheese chunks work well too. These can be picked up and eaten as-is or used to build sandwiches or something similar.
Cold Meat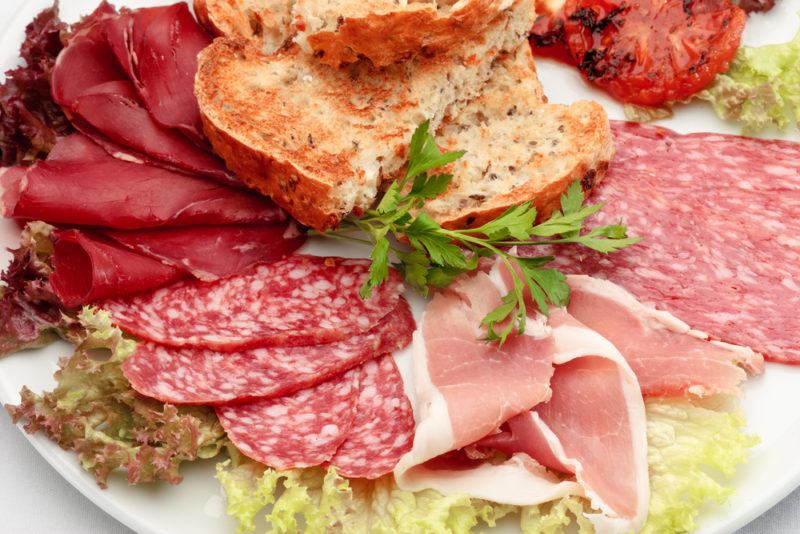 Cold meat, of any type, is an excellent picnic addition. This is exactly what you need if you're getting guests to build their own sandwiches.
It can also be fun to just grab various ingredients and eat them together as finger foods. Cheese, meat, veggies, bread, crackers, and even fruit all work well in this way. Dips are fun too.
In fact, one of the best things about picnic foods is that you can combine ingredients on the fly. This gives you plenty of amazing flavor combinations.
Tacos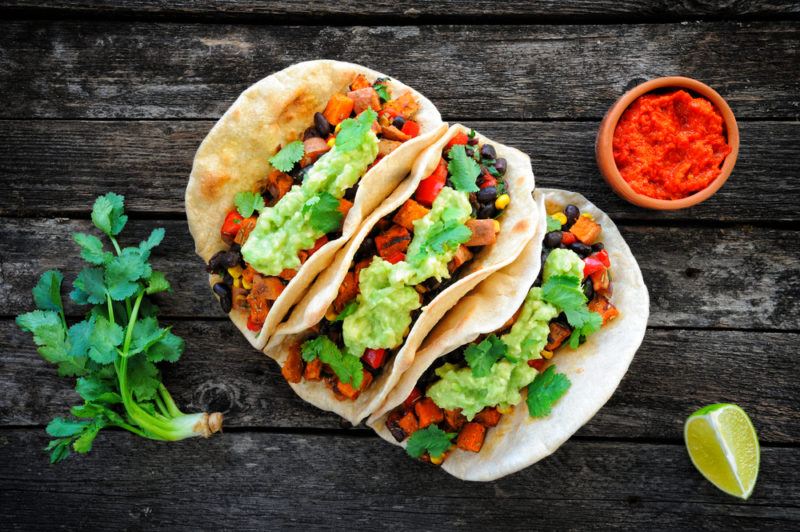 Sandwiches are a typical picnic food. Tacos? Much less so.
Tacos might even seem like a poor choice for a picnic, as it's hard to keep them together. There are two ways around that problem.
The first is to build the tacos beforehand and wrap them in foil so that they hold their shape. This makes them easy to eat too, as the foil can simply be unpeeled a little at a time.
The second option is to bring the ingredients for tacos to your picnic in individual containers. Marinated chicken or pulled pork often work well, along with vegetables, cheese, and some dressings. It will be easy enough for each person to build their own taco during the picnic.
Pull Apart Bread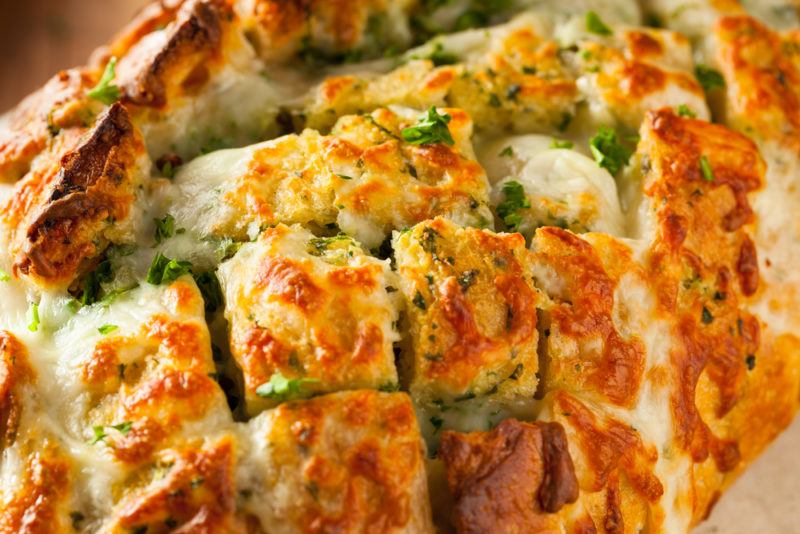 The best thing about pull apart bread is eating it. As the name suggests, you can simply pull pieces off the bread. What could be better?
This type of bread is easy to make at home. You could make the dough to do so yourself or use something premade from the store. Many recipes rely on garlic, herbs, and perhaps cheese, partly because that combination of flavors is simply delicious.
Of course, there are plenty of variations that you could try too. There are even recipes for pull apart cakes, muffins, and cinnamon rolls. These could all be just as fun on a picnic.
Fruit Skewers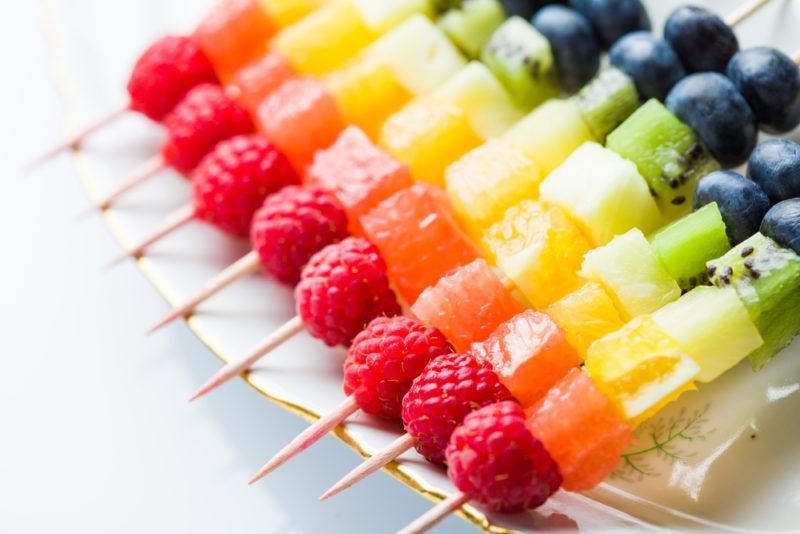 We've already mentioned fresh fruit, but these skewers are a way to take fruit to an entirely new level. Threading pieces of fruit onto a stick also gives you a snack that's very easy to eat.
You don't need to just stick to fruit either. Many people include cheese and meat on the skewers too. Why not get creative with your flavors and ingredients?