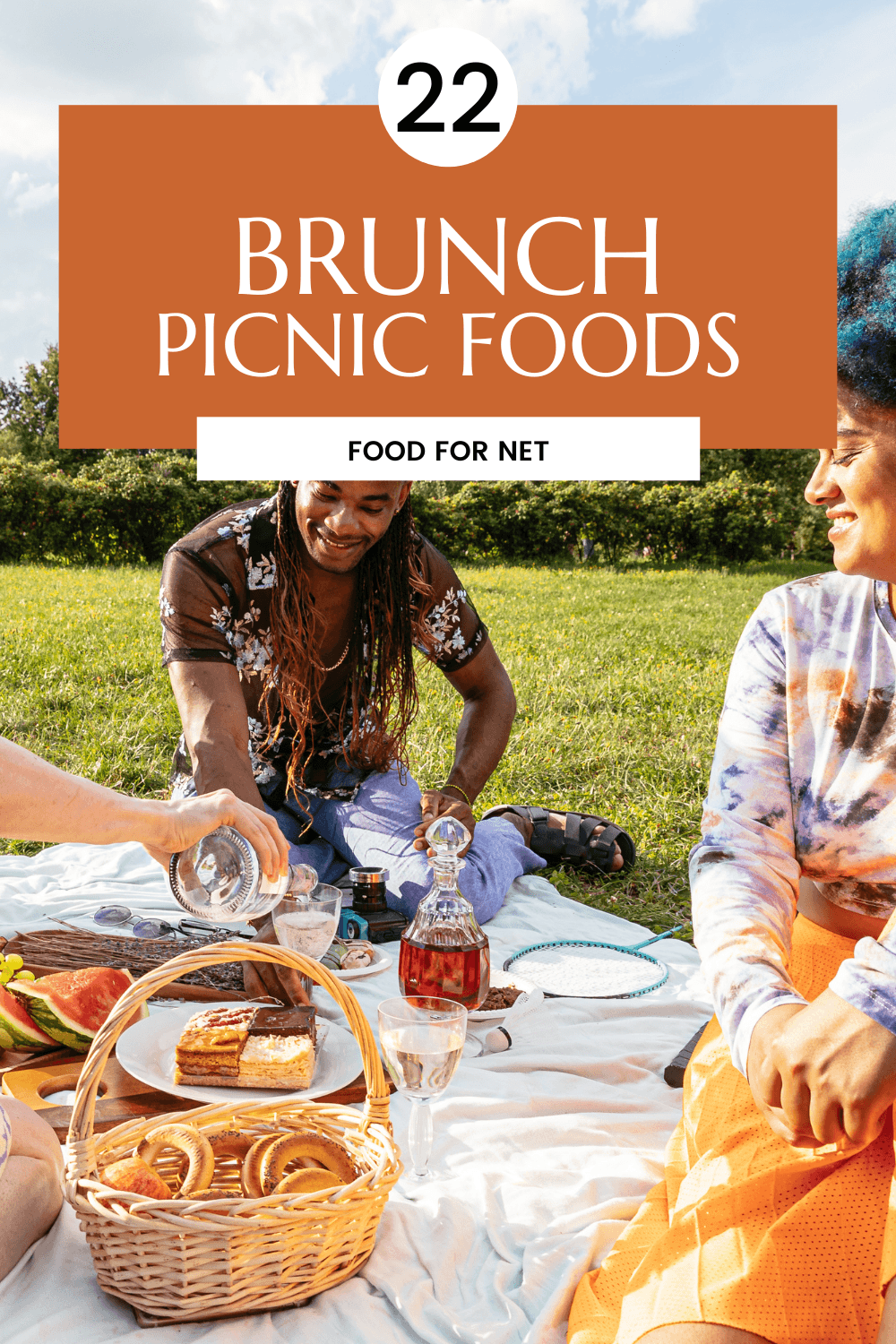 Picnics are so much fun and a fantastic chance to connect with family and friends. They can also be a bit tricky, especially when it comes to food. What do you serve? Sure, there are the traditional picnic foods, but those get boring fast. Brunch picnic foods are idea for the right time of day, to get a certain type of vibe. Yeah, you could do "anything", but brunch is the most fun meal.
Similarly, picnic foods for a date won't work well when there are kids running around and the foods you serve at a summer picnic aren't a great fit in the middle of winter. What about brunch picnic foods? These are different again.
In particular, you're going to need some filling foods. After all, if you're serving a brunch picnic, most of your guests won't have had breakfast. They're going to be hungry.
Thankfully, there are plenty of perfect foods to serve. Some of these will be familiar, while others may not be. They're all delicious though.
Best Picnic Foods For Brunch
Puff Pastry Tarts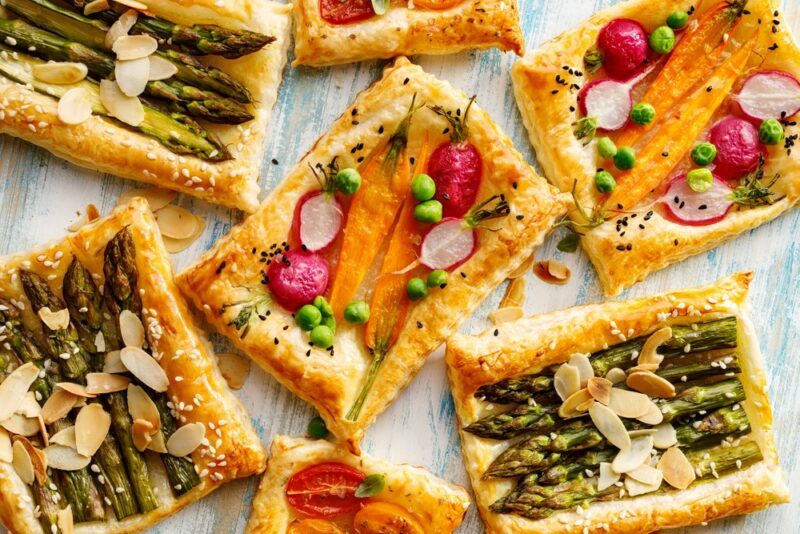 Puff pastry is as amazing as it looks. It's light and flaky, with a subtle buttery flavor.
The butter is enough to make the pastry delicious, but it won't overwhelm your other ingredients. This is why puff pastry works well with so many different toppings and fillings.
You can make delicious and complex puff pastry tarts, like the spinach and almond and carrot, radish, and pea versions that are pictured. Honestly, any flavor combination you love will taste even better with puff pastry.
You're not limited to savory tarts either. Plenty of people make sweet versions instead, like plum or chocolate and strawberry tarts. Why not let your imagination go wild?
Mini Quiches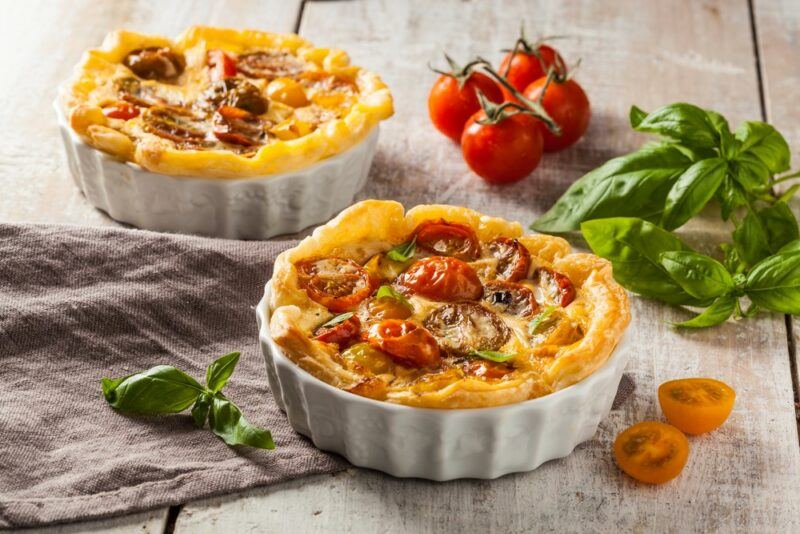 Quiches are pretty simple. They're just a pastry tart filled with a savory egg-based custard, along with extra ingredients like cheese, meat, and vegetables.
They're incredibly flexible too. You get to choose whatever ingredients you like. It's even possible to make vegan versions if you get creative with some of the ingredients.
Mini quiches are ideal for a brunch picnic, as they're small, easy to handle, and are also filling. You can easily make them in muffin tins. Some recipes even skip the crust, which makes the whole process simpler still.
Plus, mini quiches give you the chance to mix things up. It wouldn't take much extra effort to make multiple versions of your quiches, perhaps some for the kids in your group and some for the adults instead.
Charcuterie Board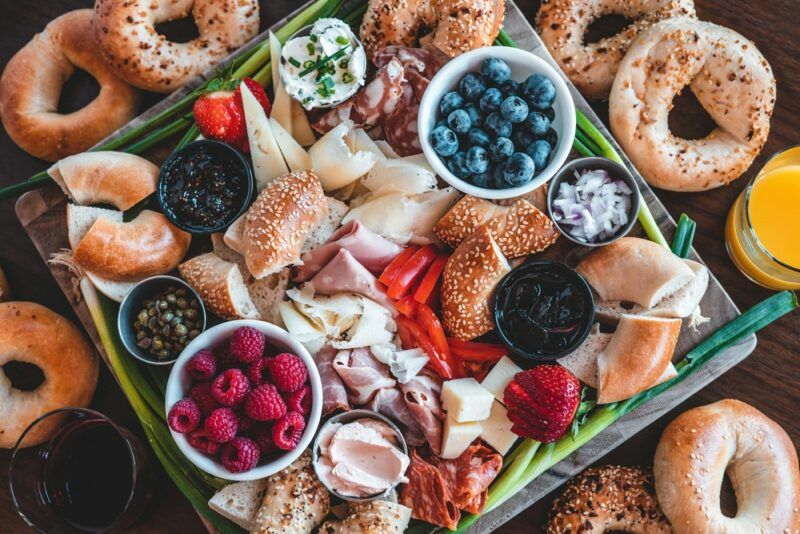 It's almost impossible to write about picnics without mentioning charcuterie boards at least once. These boards often become the centerpiece of your picnic, partly because they don't involve much work.
All you're doing is combining a variety of different ingredients on the same platter. Cold cut meat, cheese, fresh fruit, olives, crackers, and bread are popular additions. You could also experiment with lunch meat alternatives on the board.
You might also include some spreads and dips, like hummus, spiced chutney, and pesto. Those are just a few ideas. You can basically include anything you like on the board.
When you're putting the thing together, try to contrast different flavors and textures. This way the board doesn't look too monotonous. Using small bowls can help to break it all up too and make it look much more interesting. Don't forget to pair your board with some suitable wine.
Breakfast Burritos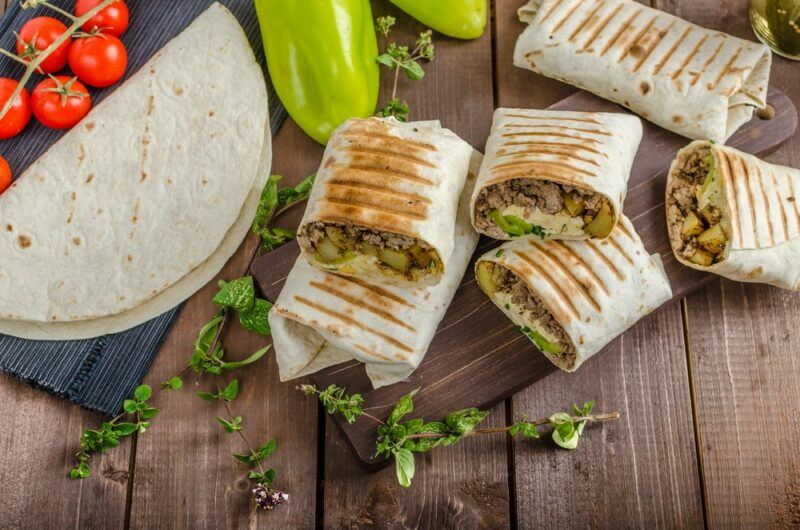 We're talking about brunch, so it only makes sense to get some breakfast foods in the mix. Breakfast burritos are a fantastic place to begin, as they have so much going for them.
For starters, you can make the burritos however you like. There's an almost endless selection of potential ingredients and ingredient combinations, so you can really make the burritos your own.
Most versions also offer a decent protein hit. This is crucial during a picnic, as you don't want everyone to be hungry. Plus, offering protein-rich foods stops people from snacking too heavily on high-calorie junk.
The burritos are also easy to eat. They can be prepared ahead of time too, so you just need to pull them out and everyone can dive in.
The biggest challenge is temperature. You'll either need to find a way to keep your burritos warm or you'll need to choose a recipe that tastes good cold.
Chia Seed Pudding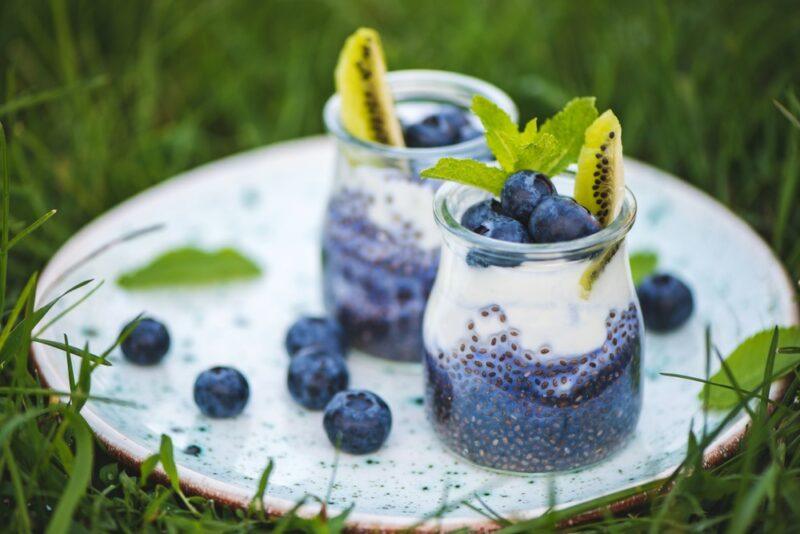 Have you tried chia puddings? They're a surprisingly healthy treat that relies on chia seeds, some source of liquid, and extra ingredients for flavor.
Chia seeds themselves are low in calories, but packed with fiber, protein, and nutrients – features that make them incredibly good for you.
You can also experiment with the puddings to make them more delicious. For example, some people create layered versions, where the chia mix is interspersed with fresh fruit or perhaps berry coulis.
For a picnic, you'll want to make small chia puddings in jars with lids. This way each person can have their own.
To make things even more interesting, you could just prepare a basic unflavored chia pudding in the jars, then let people mix in their own ingredients during the picnic. Fresh fruit, nuts, and seeds all work well as delicious additions. This way everyone can make their own version.
Pull Apart Bread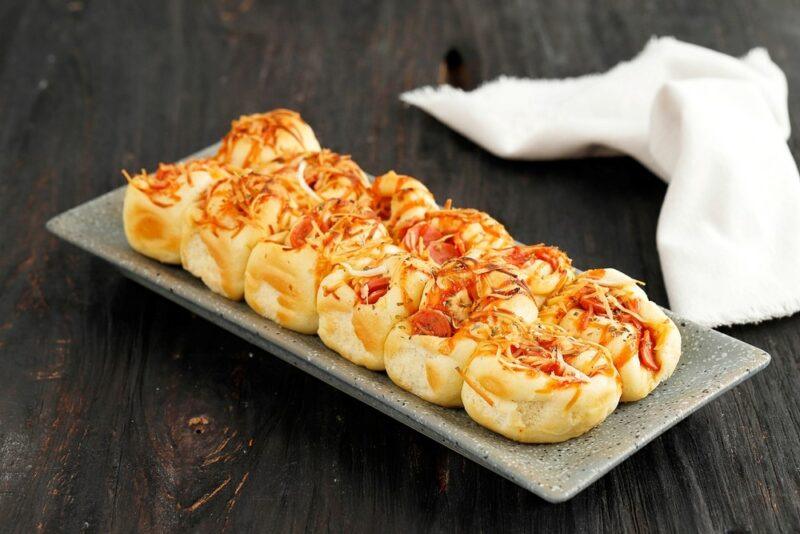 Pull apart bread is always fun. It's an even more perfect choice during a picnic, as no one really wants to try and cut bread neatly (you've probably forgotten the bread knife anyway).
With pull apart bread, guests can simply rip a piece off for themselves. The pictured version uses pizza ingredients, like tomato paste, ham, and cheese. This would give you a perfect treat for kids.
Of course, that's just one option. Spinach and feta is another popular combination and feels more 'adult' than pizza-focused bread.
You could even skip the savory entirely and look for a sweet pull apart bread instead. The classic monkey bread is one example, although there are plenty of other versions to experiment with.
Oatmeal Cookies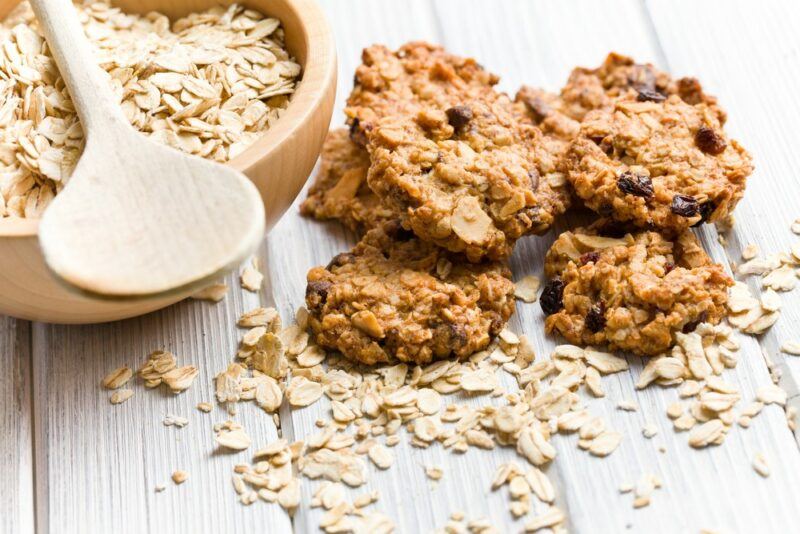 Oatmeal cookies are one of the best ways to combine breakfast and dessert. You get some of the benefits of oats, in a delicious form.
Rather than sticking with plain oatmeal cookies, why not vary things up a little? You could make a version with raisins or perhaps with chocolate chips. There are even loaded oatmeal cookies that rely on mix ins like peanut butter M&Ms. These are also great as a picnic food that doesn't need to be refrigerated.
After all, a picnic is a special occasion. Why not have a little fun with the food?
Savory Muffins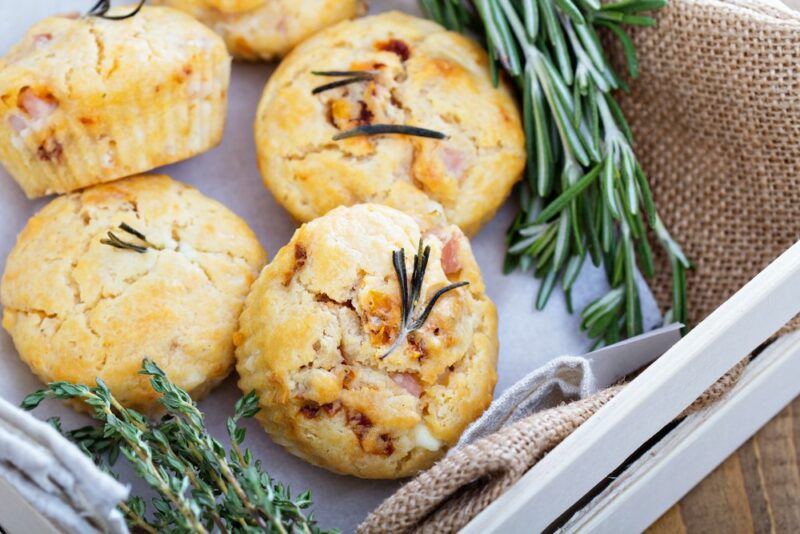 Sweet muffins are delicious, but why not make savory ones instead? These are often better at picnics, as you probably have plenty of sweet foods already. Savory muffins are often more filling too, especially as they rely on ingredients like ham, cheese, and sometimes even nuts.
Some versions of the muffins are simple, like ham and cheese savory muffins or cheese and garlic ones. Others are more complex and loaded with extra ingredients, like feta, pine nuts, spinach, and zucchini.
Savory muffin recipes are very flexible, so you can easily experiment with ingredients until you find a combination that you love.
Bacon And Egg Burgers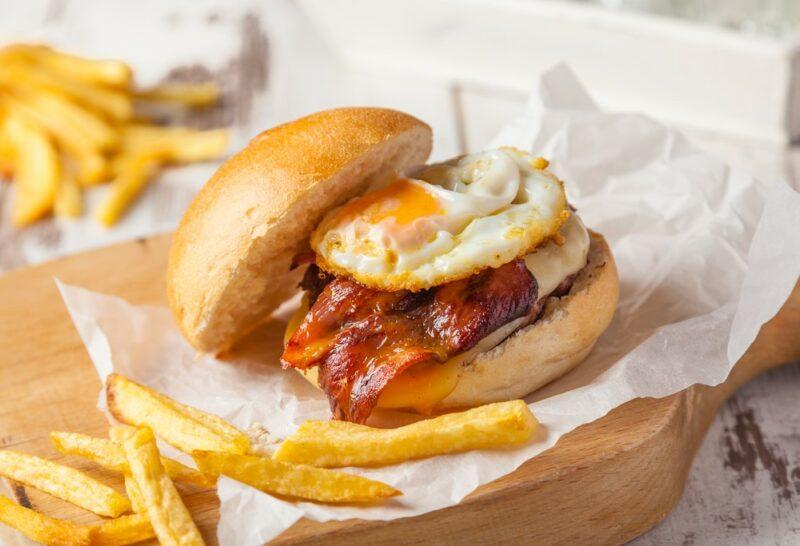 These burgers are one of the most delicious ways to combine breakfast and lunch. The combination of bacon and eggs means that you're getting plenty of flavor and protein, while the bun makes the burgers easy to eat at a picnic.
If you're not traveling far, you could prepare the burgers before you leave, then wrap them in foil. This might be enough to keep them warm.
The alternative is to prepare the burgers well in advance and allow them to fully cool. Keeping them cool should be easy and the burgers don't need to be warm to taste amazing.
Bacon Wrapped Sausage Bites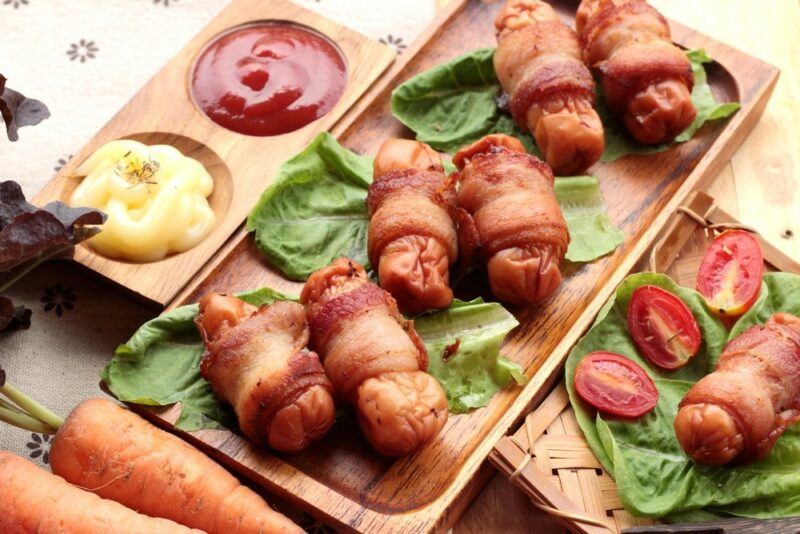 These simple snacks are easily prepared before your picnic, then served either warm or cold. The combination of bacon and sausages always goes down well.
You're getting plenty of protein too, so this snack ends up being as satisfying as it is delicious.
Spiced Apple Pull Apart Bread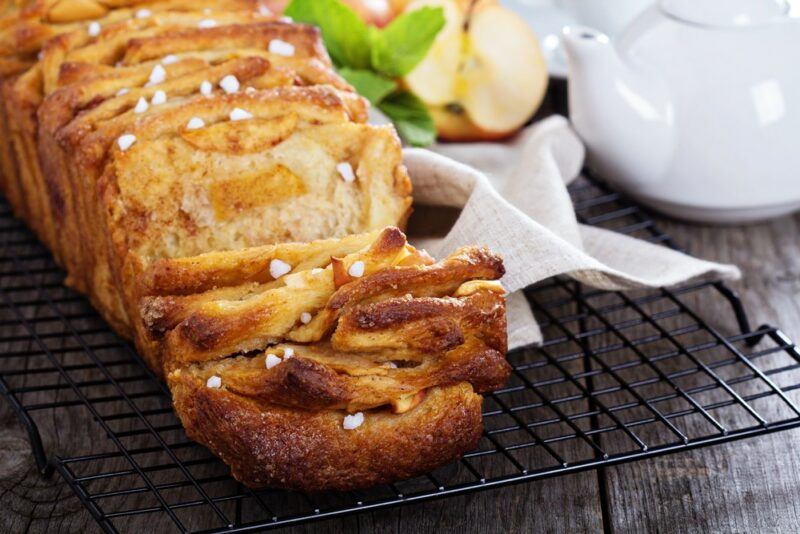 We already talked about pull apart bread, but this one is so amazing that it deserves a special mention. It's a fall recipe, one that focuses on cinnamon and apples to give you something truly delightful.
Plus, this type of pull apart bread is sweet. That makes it the perfect choice as a dessert at the end of your picnic.
Or, you could be contrary and eat your dessert first. Why not? This pull apart bread is certainly delicious enough for that.
Also, if you're interested in bread or sweet treats, why not try a baking subscription instead?
Egg And Bacon Breakfast Cups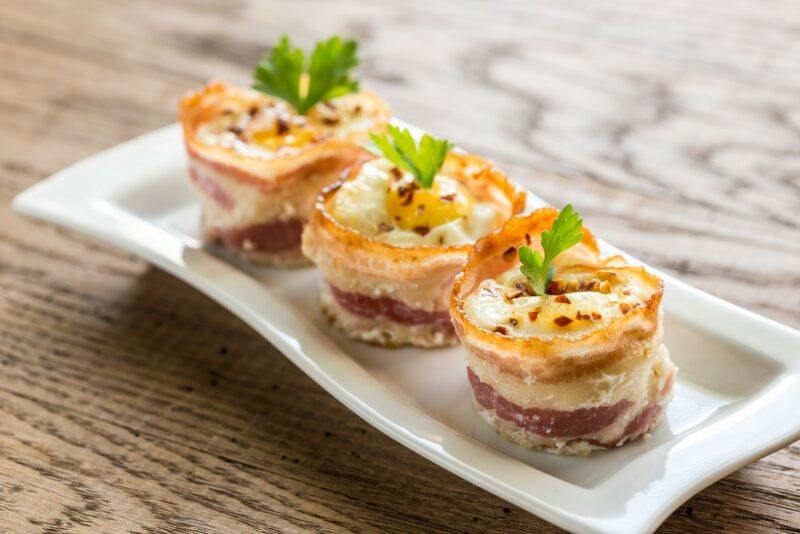 Here's another option that follows the breakfast theme. Bacon and eggs are the main ingredients this time, although you can add some others in if you want (chives work particularly well).
These little cups are easy to prepare too. You can simply use a muffin tin to make them. This also makes it easy to vary the ingredients. You could even serve multiple versions of the cups at the same picnic.
Protein Bars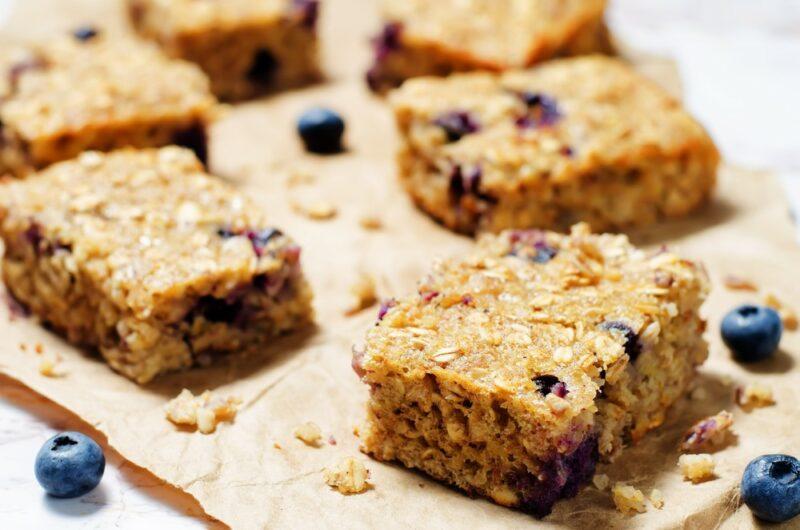 Protein bars are often used as a way to keep you satisfied. They're often a good source of nutrients too and can be simply delicious.
The best bars are minimally processed and rely on natural ingredients. Pay attention to the sugar too, as some protein bars can have 15 grams of sugar or even more per serving.
You can avoid most issues by making the bars yourself. This way you get to choose a healthy balance of ingredients and focus on the flavors you enjoy. Be sure to check the recipe though, as making food yourself doesn't automatically make it healthy.
Bacon And Egg Pockets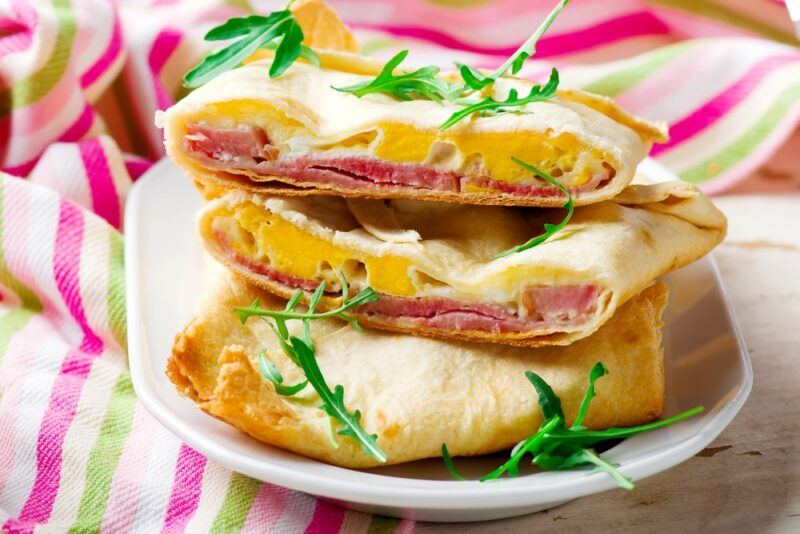 We've been on a bit of a bacon and eggs theme. Can you blame us, though? Bacon and eggs are the quintessential brunch food, giving you the flavor of breakfast while also keeping you satisfied.
These simple pockets are a perfect option for your picnic, as they can be picked up and eaten without any mess. They'd also be just as delicious cold, warm, or hot.
You could easily use ham in the pockets instead of bacon or swap out for an entirely different type of meat. A little relish would make the pockets even more exciting.
Overnight Oats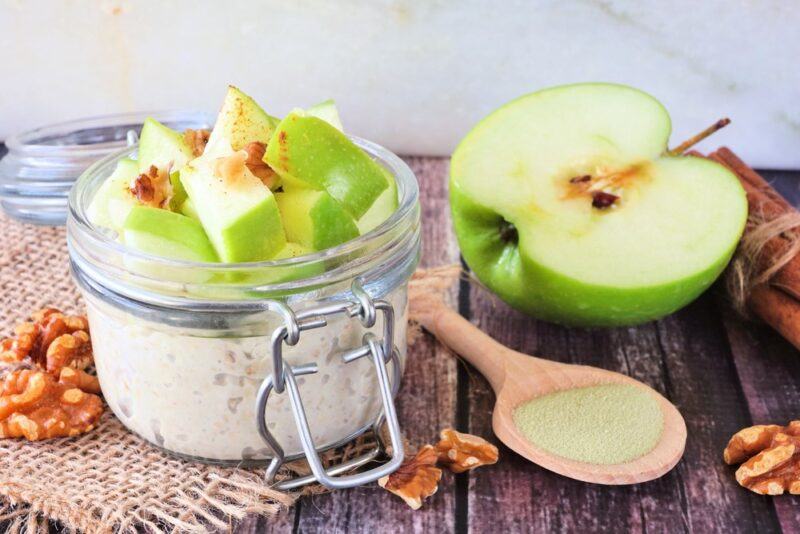 Overnight oats are a popular breakfast option, as you can prepare them the night before, then have a ready-to-eat breakfast in the morning. But, why not take them on a picnic instead?
The oats are actually excellent on a picnic, as you can eat them cold or at room temperature. You have endless options for flavors as well, so it's easy to make a truly delicious treat from the oats.
Rosemary Focaccia Bread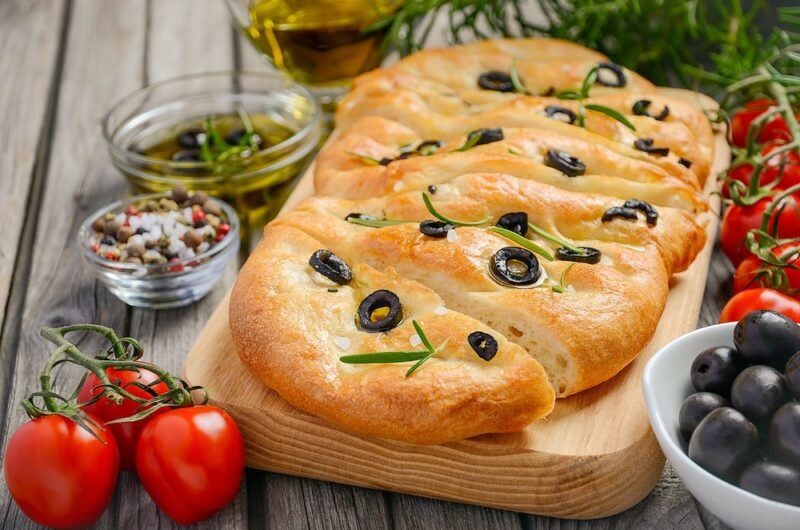 Focaccia bread is incredibly versatile. You can add almost anything on top of it. The version pictured here uses olives and rosemary, but that's just one of many variations. You could even build an entire pizza on top of the bread if you wanted.
There are plenty of ways to use the bread too. Some people cut it into pieces and eat it on its own or with a dip. Other times, you might make sandwiches using your focaccia bread.
Focaccia bread is also flatter than most other types of bread. This is a useful feature, as it makes the bread easy to transport and you don't need to worry so much about squashing it.
Whipped Feta Dip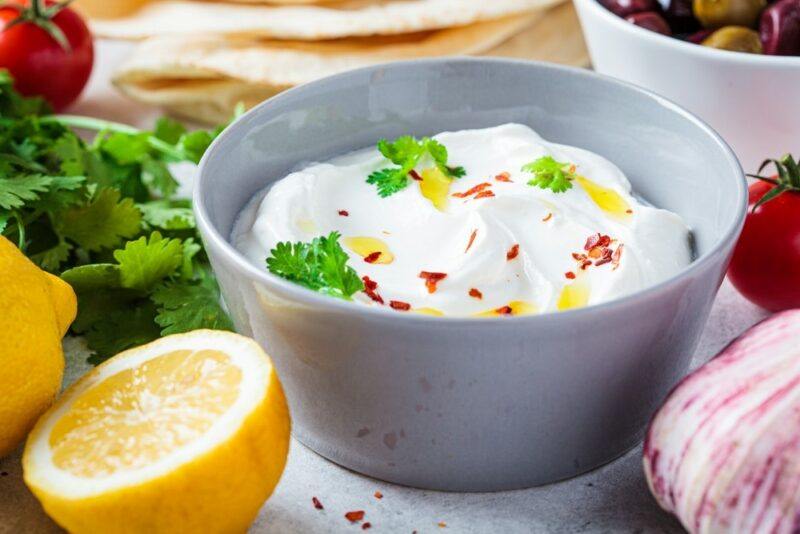 While feta is delicious, it can also be pretty intense. This dip is an excellent way to tone down the sharpness of feta and give you a delicious treat.
The simplest version of the dip involves mixing feta with a creamy dairy ingredient. Greek yogurt is a popular choice, although you can easily use sour cream or cream cheese instead.
Adding a few extra ingredients makes the dip even more exciting. You might use pine nuts and chopped basil to create a Mediterranean flavor balance. Or, why not try some olives and a little olive oil?
Scotch Eggs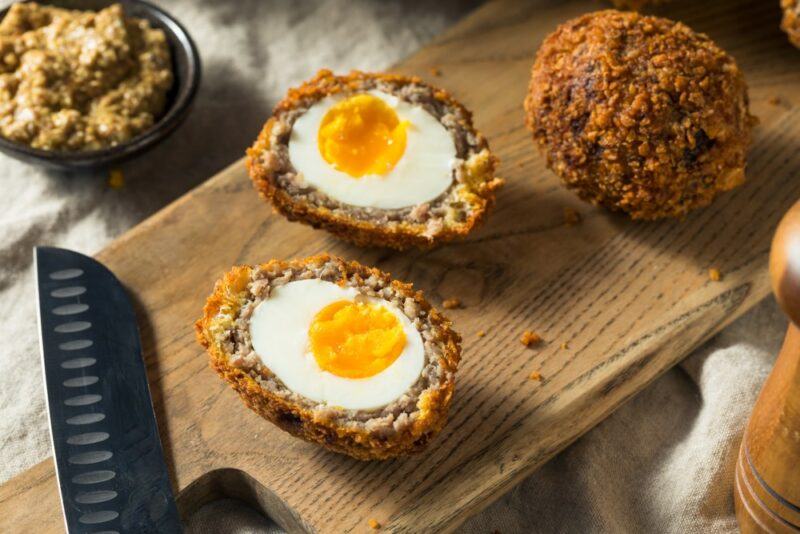 Scotch eggs aren't that well-known in the United States, but they're becoming more popular. The traditional version involves a hard boiled egg encased in sausage meat, which is then cooked.
While some versions are deep fried, you can bake them instead, which makes the Scotch eggs much healthier. You can also choose whether to dip them in breadcrumbs or leave them without.
It's easy to see why these work so well for picnics. You're getting a decent hit of protein in a snack that's easy to pick up and eat. You can also vary the recipe, like by finding other ingredients to mix in with the sausage meat.
Apple And Cinnamon Muffins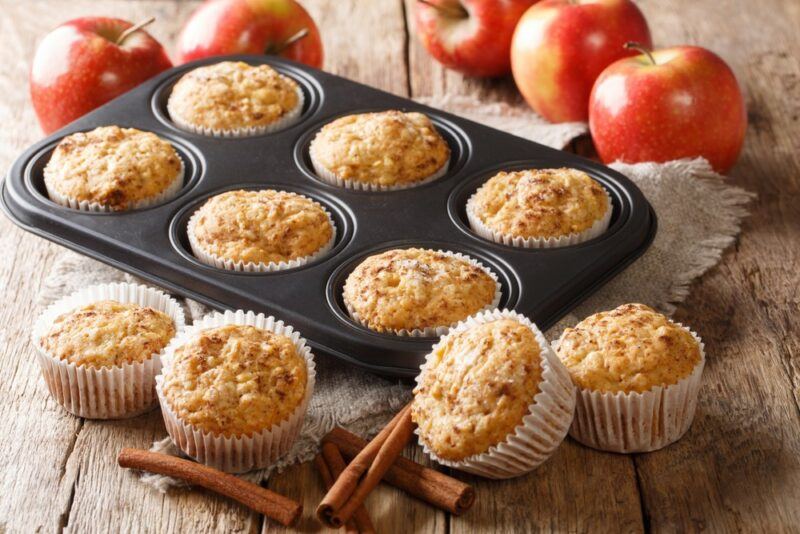 If you love sweet muffins, why not try an apple and cinnamon version? These are particularly good if you're looking for seasonal flavors in the fall.
You could also pair these muffins with some apple cider to create an even more fall focused experience.
Homemade Granola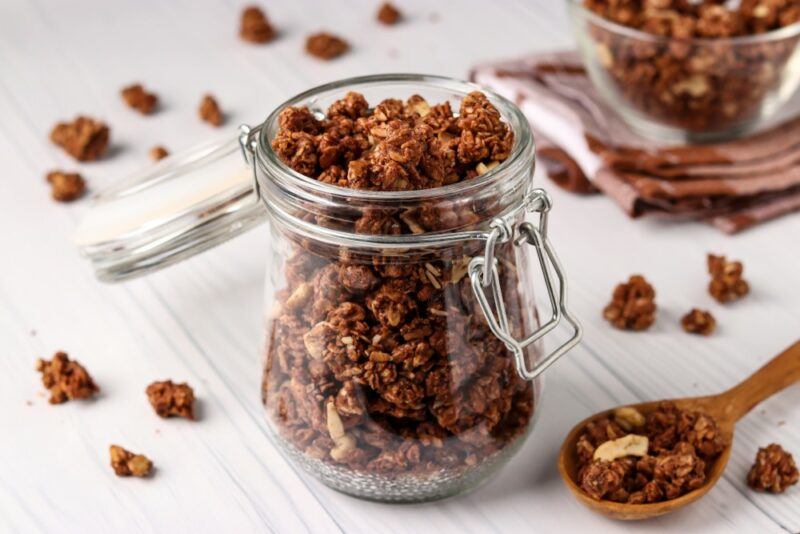 A bowl of granola with milk isn't going to work well at a picnic. However, granola itself can be excellent as a snack – one that you eat by the handful, just like trail mix.
You could do this with almost any granola from the local store, but a homemade version is always going to taste better. Some people have even developed granola cluster recipes, as guests can simply pick up a cluster and eat it.
Such recipes can be varied in countless ways. So, you can add in your favorite ingredients and leave out any that you don't enjoy (like raisins).
If you don't like the cluster style, you could always serve regular granola in small jars or bags. Doing so helps to contain the mess and gives people a container to eat out of.
Olive Tapenade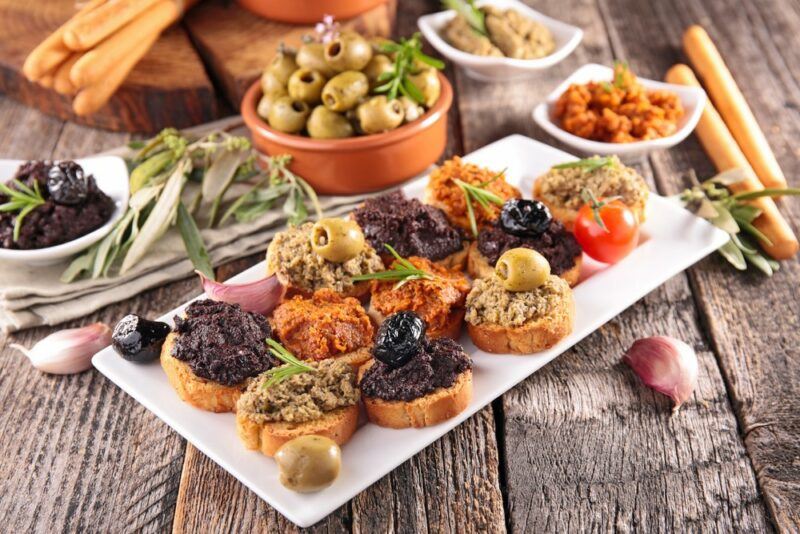 Tapenade is a delicious spread, made using olives, capers, and plenty of olive oils. It ends up being incredibly healthy, especially as spices often feature in the recipe too.
Serving olive tapenade on small pieces of crusty bread can help to elevate your picnic and make it feel like a very special occasion. Why not serve some related ingredients on the side too, like sundried tomatoes and olives?
Asparagus And Ricotta Tart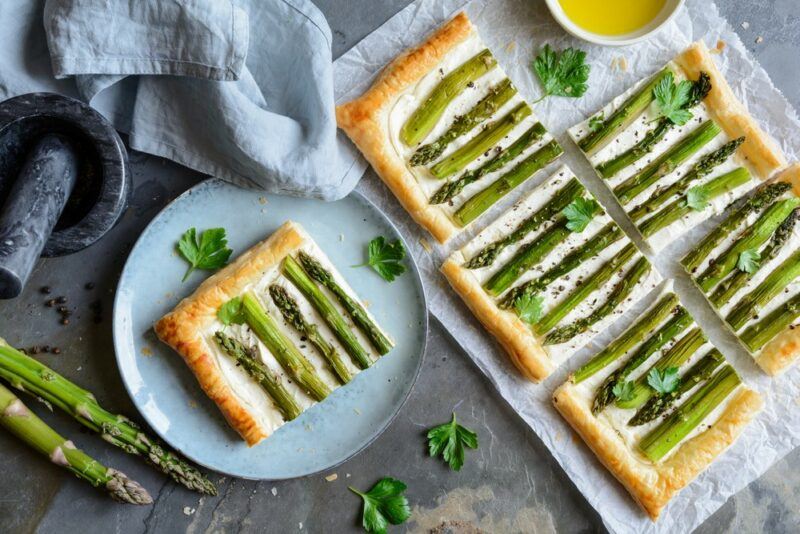 We talked about savory tarts earlier, but this one deserves a special mention. Just look at it. The combination of ricotta cheese and asparagus creates a treat that is visually stunning and should taste even better than it looks.
Puff pastry would work particularly well here, but it's not the only option. You could use a different type of pastry instead.
Or, if you want even less work, why not ditch the pastry entirely? The combination of asparagus and ricotta works well in other situations too, like on crusty bread or even as part of a salad.