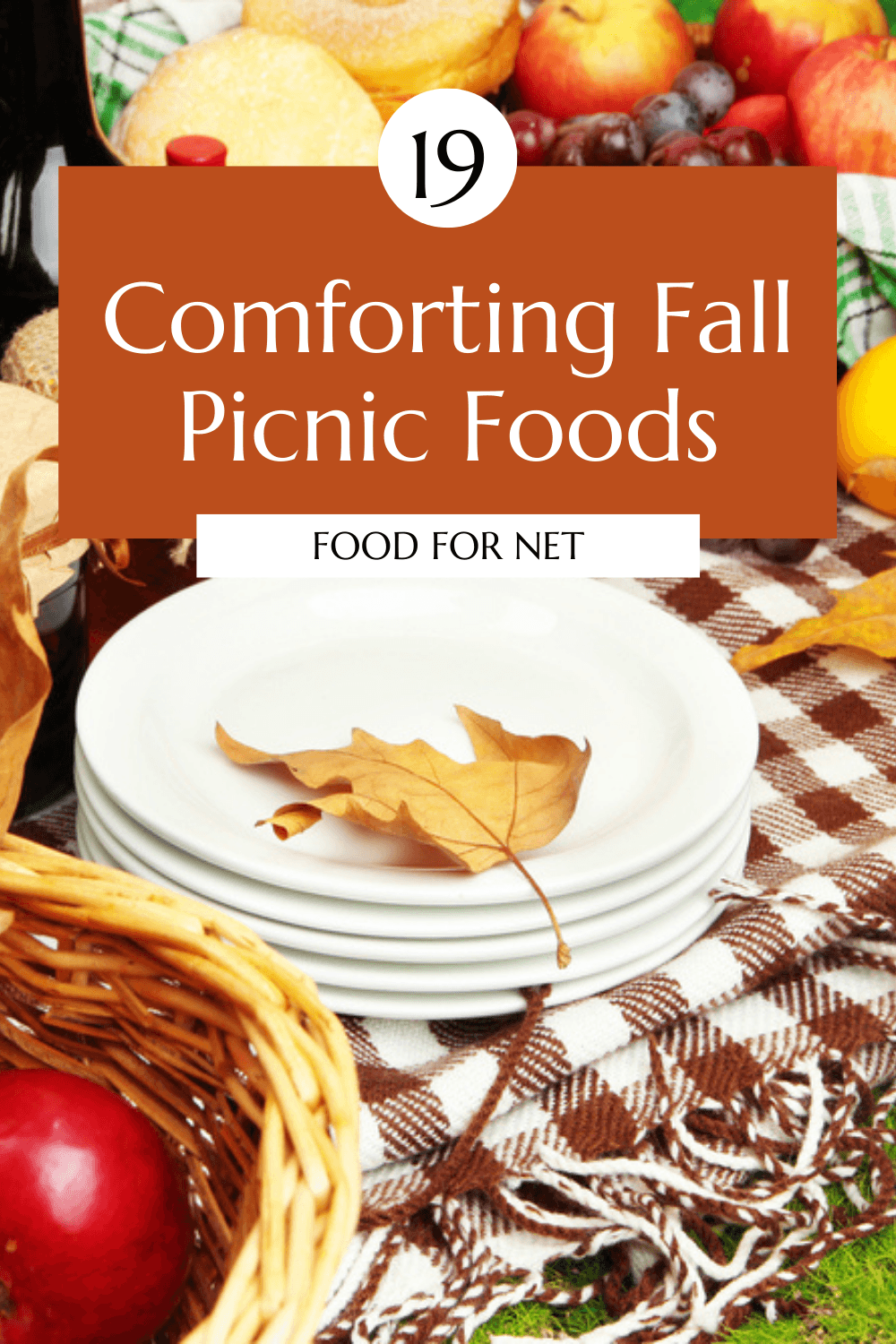 Picnics are famous as a summertime activity. Why limit them to summer though? Having a picnic in the fall can be even better, but you need the right fall picnic foods to match the weather and the vibe of autumn.
You have the beautiful fall colors to admire and the temperature isn't so overwhelmingly hot, which opens up more opportunities for fun foods because the temperature is lower. You don't need to be as worried about your food getting warm and making people sick. There's one crucial secret to a good fall picnic – the right fall picnic foods.
Some of these foods are comforting, while others highlight fall flavors, like pumpkin spice and apples. There are some traditional picnic foods in the mix too. After all, there's no need to throw out the classics entirely.
While you're going through this list, think about who you're preparing the food for. For example, the foods you serve during a date will be very different from kid-friendly snacks or a meal for your entire family. Tailor your food to your audience and you're certain to have a great time.
The time of the day matters too. So, if you're eating early in the day, you might include fall breakfast foods as part of your picnic.
Best Fall Picnic Foods
Puff Pastry Pinwheels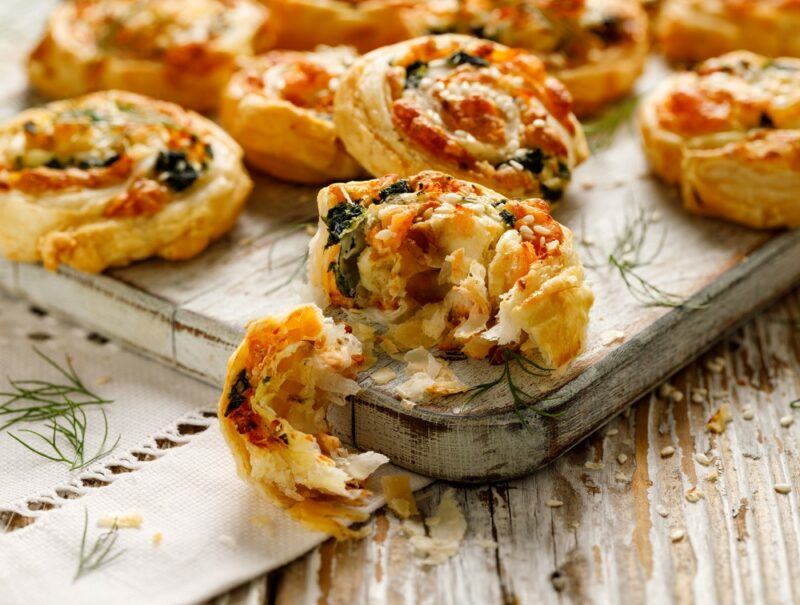 Puff pastry is delicious. It's light and flaky, with just enough buttery flavor to make it delectable. Yet, the taste is still mild, which is why you can use puff pastry to make both sweet and savory snacks.
Puff pastry pinwheels work particularly well, as you have layers of pastry that are stuffed with amazing fillings.
If you're feeding kids, you might go for pizza-related fillings, like ham, cheese, and pizza sauce. For adults, you might turn to ingredients like basil pesto, sundried tomatoes, spinach, or feta.
Fondue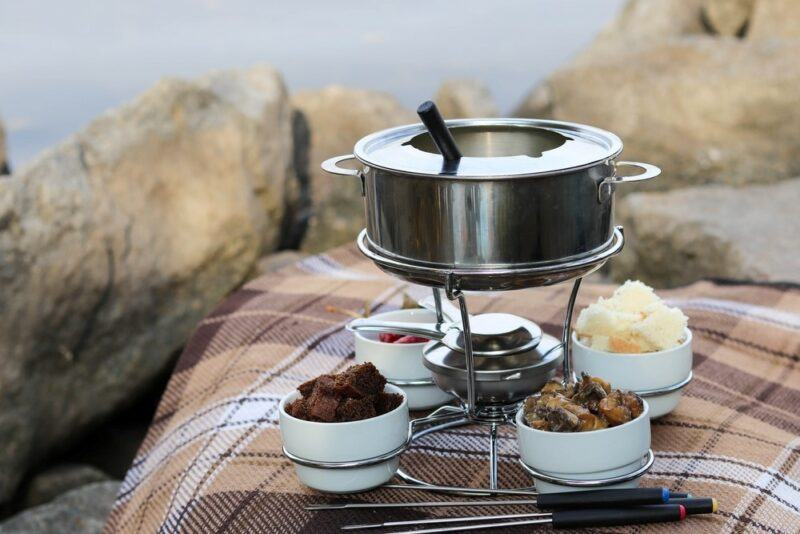 Fondue is most often served at parties, but why not serve it during a picnic too?
You simply need a fondue set that can be used outdoors. Plenty are designed this way, including sets that can run off a camping stove or ones that use a candle as the source of heat.
Planning is important here, as you need to bring along a collection of foods to dip in the fondue, as well as a suitable fondue mix. Be sure to test everything out at home too, as you don't want to run into problems on the day of the picnic.
Either chocolate fondue or cheese fondue will work well for a picnic. But, in the fall, cheese fondue is probably the best bet. The rich creaminess of the cheese pairs perfectly with other fall foods and tastes like heaven as the weather is cooling down.
Charcuterie Boards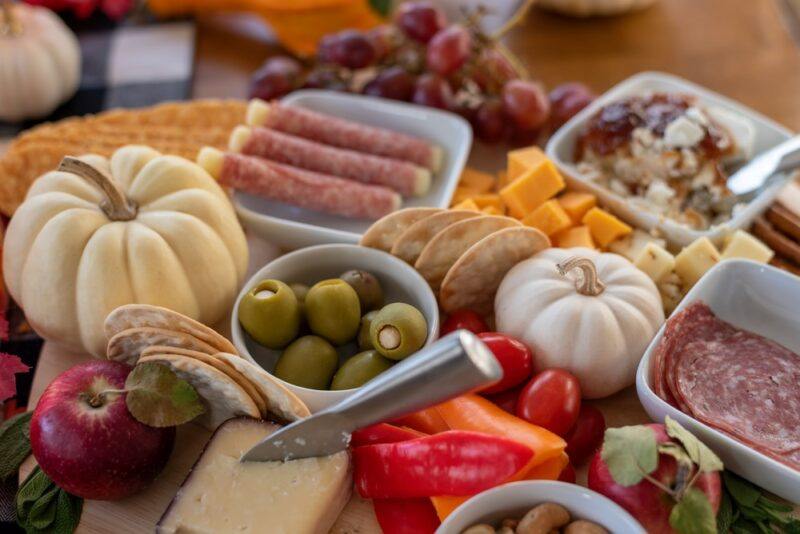 Charcuterie boards might seem boring, as they feature on almost every list of picnic foods known to man. Still, they're too important to go past.
The boards themselves are simple – just a combination of meat, cheese, fruit, spreads, and perhaps some bread or crackers. You can make them as straightforward or as complicated as you like.
For a picnic, it's best to keep things relatively simple. You could even cut up the various ingredients before you get out there and store them in the compartments of bento box (even a muffin tin will do!). This makes it easy to put the board together on the day.
A fall board can include all the same items as a summer one, but you could also make it a little more seasonally themed. For example, you could include candy corn, dried cranberries or cranberry jelly, caramel dip, and pumpkin seeds.
Some people even use miniature pumpkins as a garnish for the board. Why not? After all, your charcuterie board is often the centerpiece for the entire picnic. It makes sense to make the board a little special.
Tofu Balls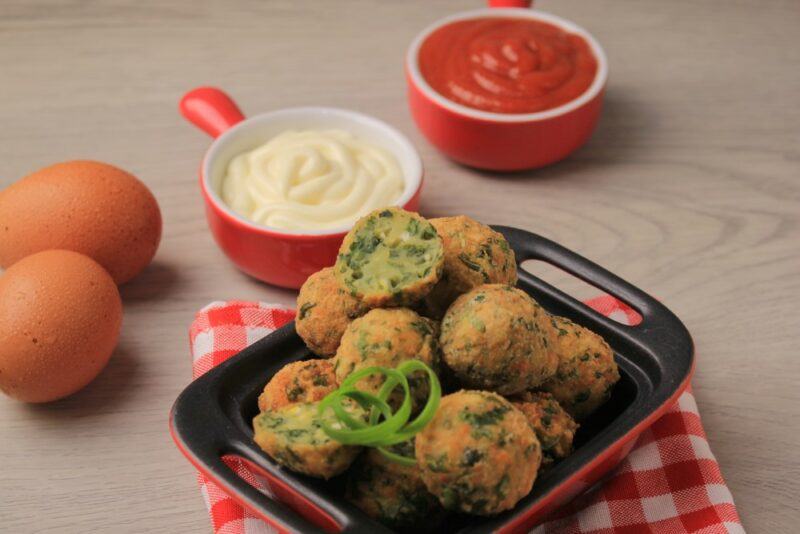 Tofu is a powerful source of vegan protein. Tofu balls are an easy way to serve it at a picnic, as you can dip the balls in sauce to make them even more delicious.
Making them in an air fryer works particularly well, giving you a treat that's both delicious and surprisingly healthy.
Croquettes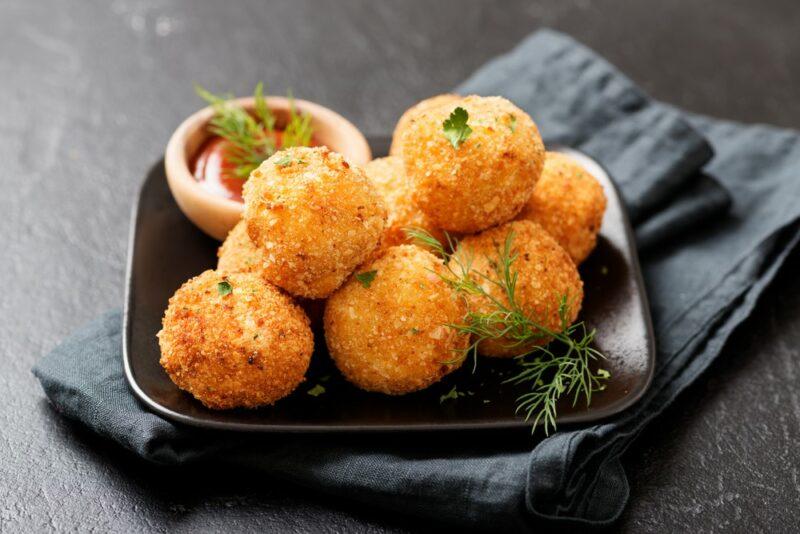 Croquettes are almost the definition of finger food. They're often deep fried too. That's not amazing for health, but does make them exceptionally delicious.
Potato is a common ingredient, but that's far from your only option. Some versions use sweet potato and chorizo instead. Corn and feta can also feature.
It's even possible to make mac and cheese croquettes. These are perfect for kids. However, you do need to tweak your mac and cheese recipe a little to create a version with the right consistency.
Cinnamon Twisted Loaf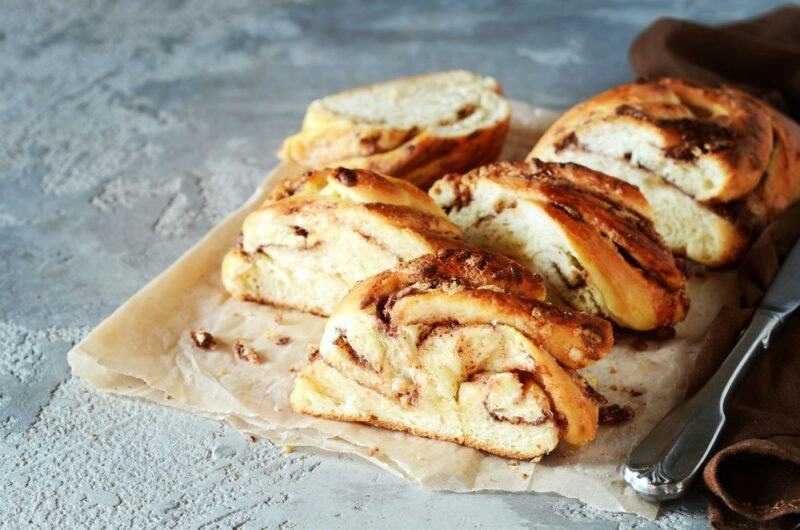 Doesn't this bread look amazing? It's a cinnamon twisted loaf – often known as babka.
It's a sweet bread, so it would be excellent served as dessert. The cinnamon is also a great way to reinforce the fall theme of your picnic.
You could even take things a step further and use a chocolate filling for your bread. That version is certain to be a hit with the kids. Just make sure that everyone has finished their main course first.
Hearty Sandwiches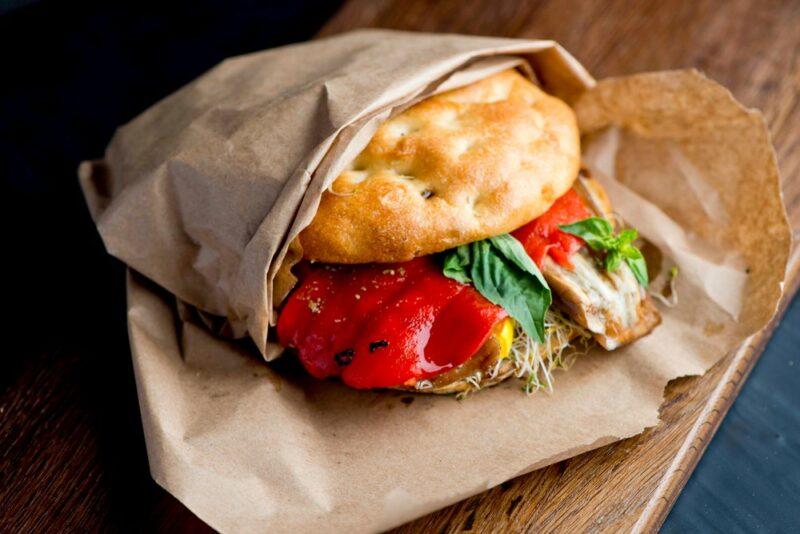 Sandwiches never go out of style. It doesn't matter what the event is, sandwiches will work. That's all there is to it.
However, the best type of sandwich is going to depend on the situation. For a fall picnic, you're looking at hearty sandwiches, ideally ones that are both warming and filling.
For example, you might start with grilled chicken on focaccia bread, then add some grilled vegetables and spinach. Cheese is a great addition too, giving your sandwich some creaminess.
You might need to keep your sandwiches cold, but the temperature is already dropping in fall, so you don't have much to worry about.
However, the way you build your sandwiches is important. You want to layer them carefully so that any moist ingredients are far away from the bread.
Alternatively, you could have all the ingredients separately (in a bento box, perhaps, or individual bags), then build the sandwiches at your picnic. Doing so is a pain, but does prevent your bread from getting soggy.
Baked Chicken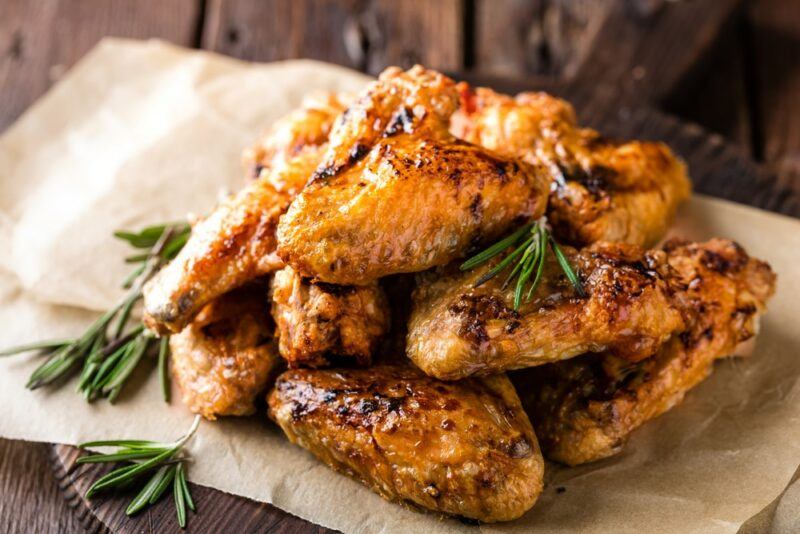 For easy protein during your picnic, how about chicken? Baked chicken drumsticks are an easy choice, especially as they have their own inbuilt handle.
They're also much healthier than the deep fried chicken that features in many picnics. You could go with another cut of chicken too, like baked chicken breasts or even baked chicken wings.
Quinoa Salads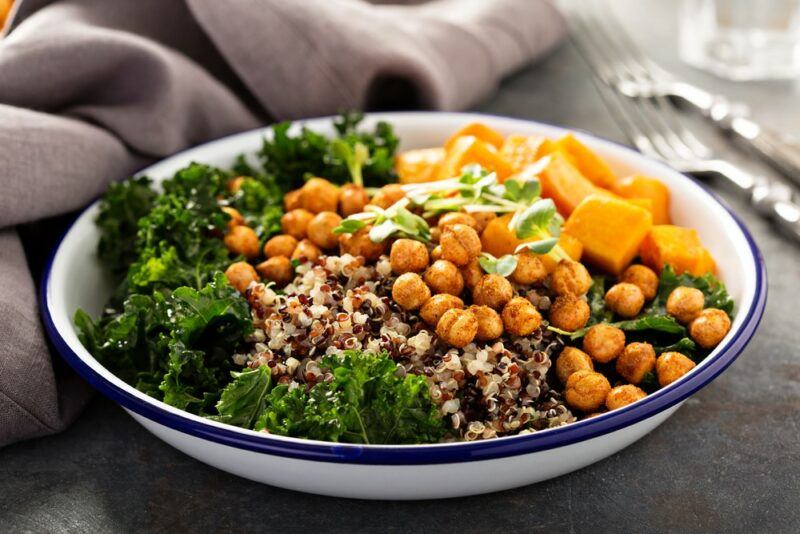 While greens-based salads are delicious enough, they're not always the right choice. Sometimes you want something a little heartier.
A quinoa salad is fantastic, as quinoa contains a decent amount of protein, along with plenty of fiber and nutrients. You could even make a fall salad by using butternut squash, cranberries, and quinoa as the main ingredients.
That's just one option. Apples and cranberries pair well too. You could even throw some pumpkin seeds in the mix.
Potato Salad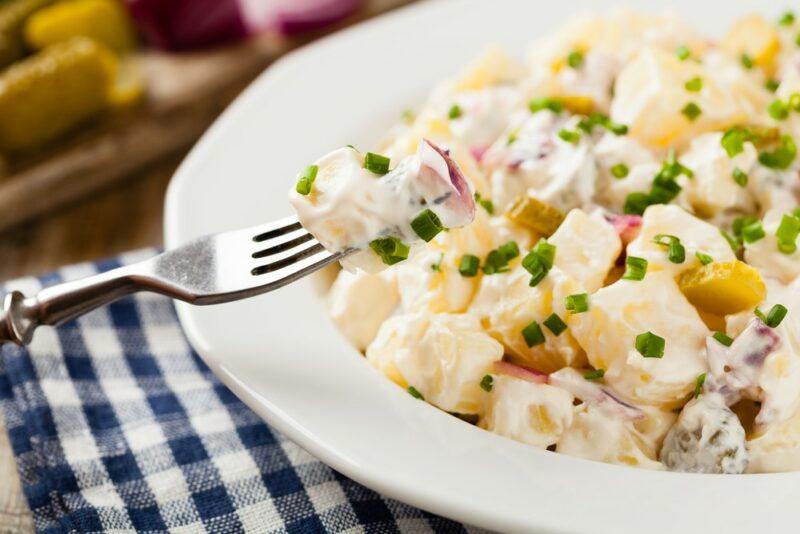 Potato salad remains one of the most popular summer picnic foods. It's also a problem, as it gets warm quickly and often causes food poisoning.
As the temperature is now decreasing, fall picnics are the perfect time to eat potato salad. To mix things up a bit, why not try an herbed potato salad or perhaps one with bacon?
Remember too that potato salad doesn't need to be served cold. Some recipes are designed to be warm instead. If you can keep them at the right temperature, these would be a great way to warm everyone up.
Hearty Dips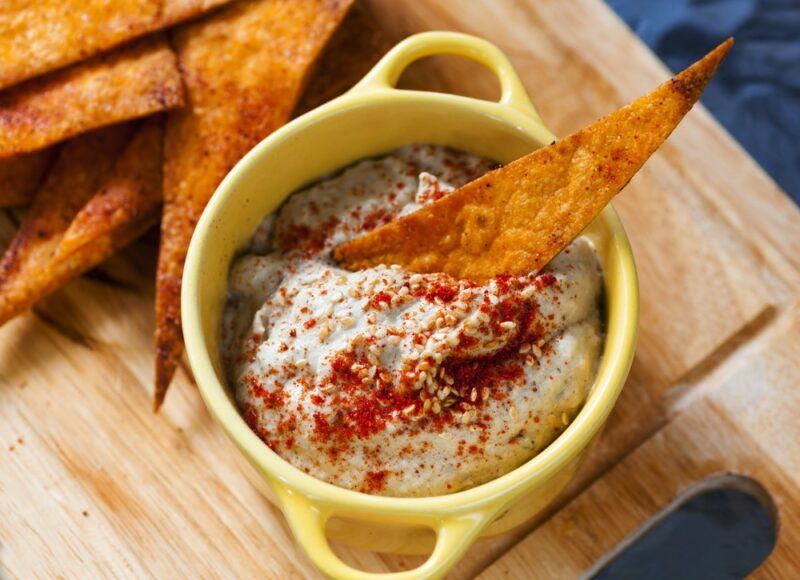 You can serve any type of dip at a picnic. But, in the fall, the best dips have a little oomph too them.
Bean dips are a fantastic example. These give you plenty of protein and a decent amount of fiber too. Don't forget about the classic spinach and artichoke dip either, this is always a delicious choice.
There are less well-known options, like a warm Mexican chicken dip. The trick is to find a dip that will work with your situation. So, a warm dip is only helpful if you have a way to keep it warm. Otherwise you'll need one that's delicious cold, like hummus.
Mushroom And Pumpkin Tart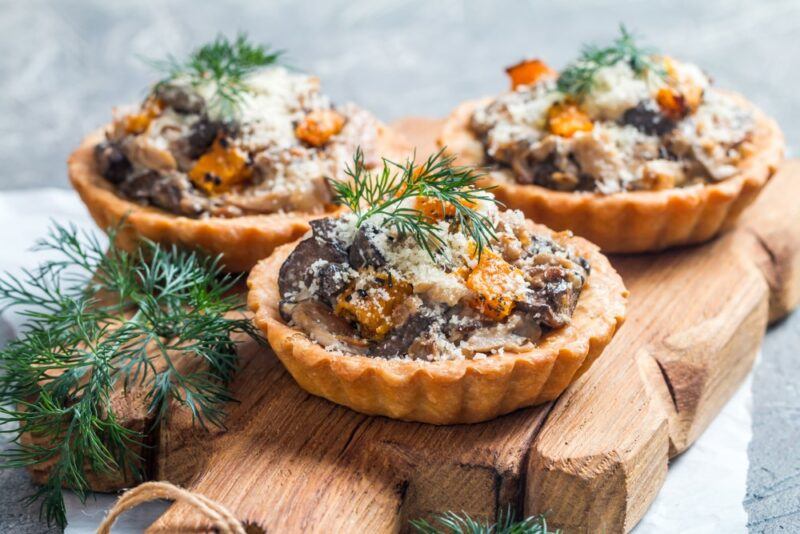 Don't these tarts look amazing? They rely on roasted pumpkin and mushrooms, with parmesan cheese on top. They'd be perfect warm and probably quite nice cold as well.
You could easily experiment with the ingredients. What's your favorite combination of flavors?
Rich Bread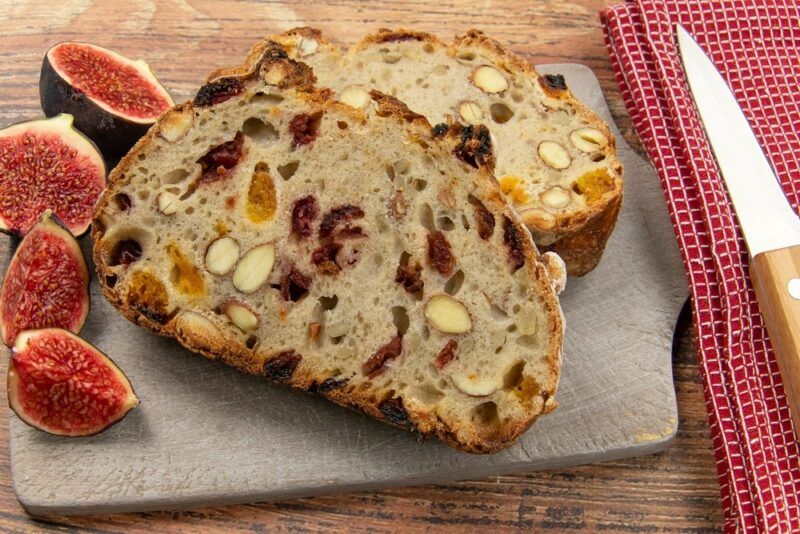 Okay, so, any type of bread will be excellent for a picnic. But, when the weather is cool, it's fantastic to have something that's a little heartier.
The pictured bread is a great example. It contains nuts and a selection of dried fruit. It would be fantastic with plenty of different spreads – even just cream cheese.
Fig And Goat Cheese Sandwiches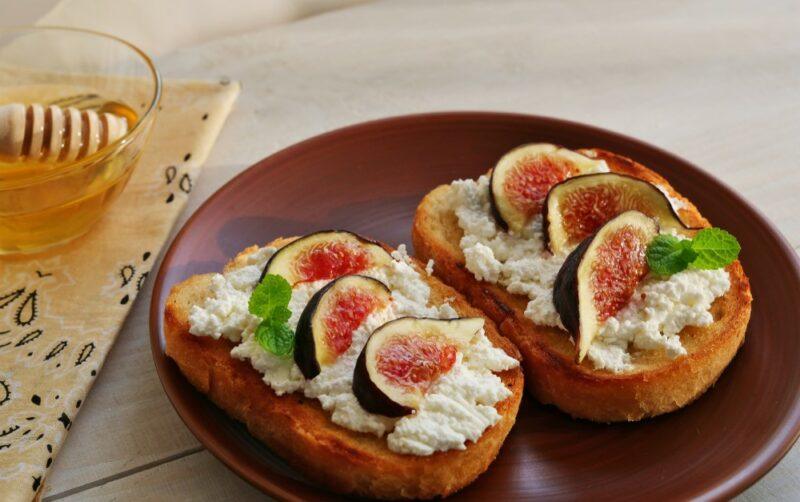 Here's a delicious combination – figs and goat cheese. The saltiness of the cheese is a perfect contrast to the sweetness of the figs.
There's also a touch of decadence to the dish, which always goes down well. The pictured version is an open-faced sandwich on toasted bread. That's just one approach though. You can even just serve figs and goats cheese with nothing else.
Flatbread Pizza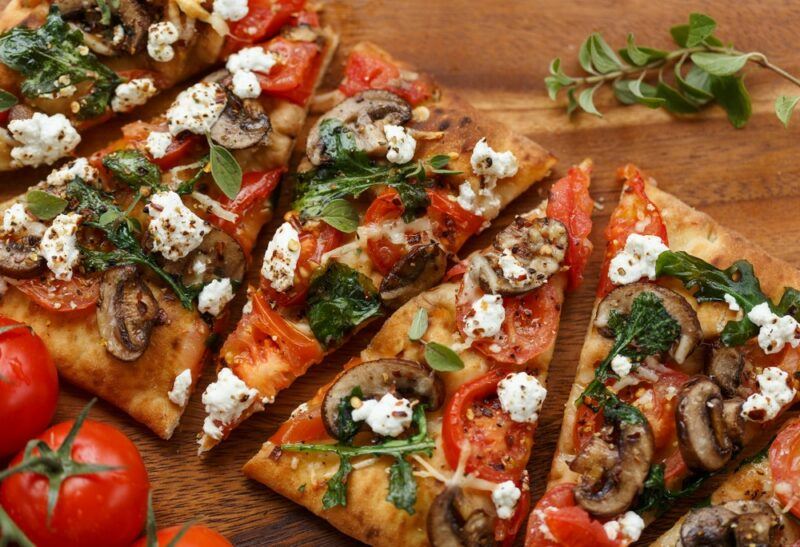 Who doesn't love pizza? It's delicious and a joy to eat.
Flatbread pizza can be even better, as you don't need to worry about cooking a pizza base. You just need to think about the toppings. That's it.
Serving the pizza warm would be ideal, but doing so isn't essential. Seriously. Pizza tastes just as good when it's cold as when it's hot.
Apple Pie Pockets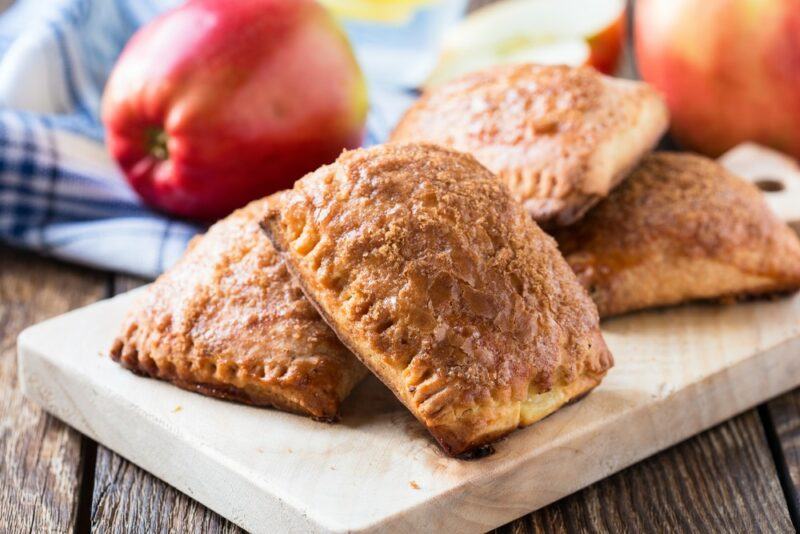 What could be more American than apple pie? A full sized apple pie works well enough at a picnic, but can get messy fast.
So, why not make apple pie pockets instead? These keep all the apple pie filling on the inside, making them much less messy to eat.
Fruit Salad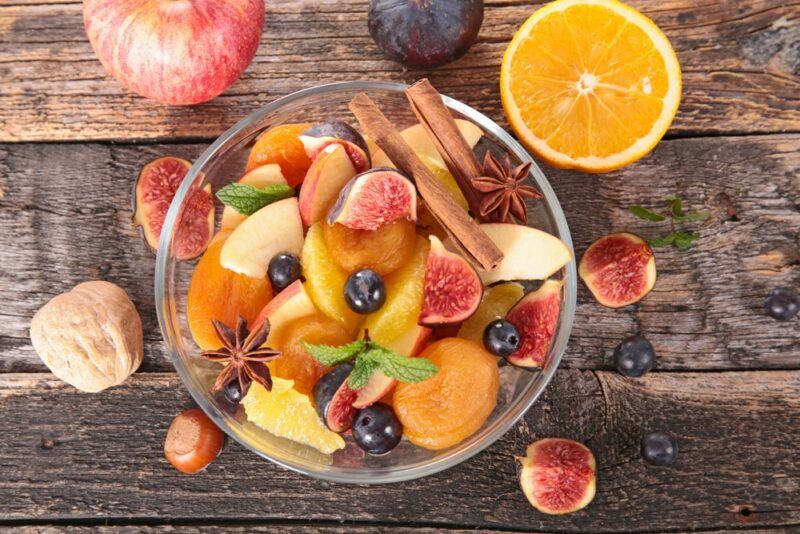 Fresh fruit isn't just a summer thing. You can easily serve it in the fall too. You simply need to switch some of the fruits to match what's in season.
For example, one version relies on blackberries, grapes, and apples, with pecans as an extra touch. Or, this winter version uses clementines, pears, apples, kiwis, and pomegranate arils.
Pasta Salad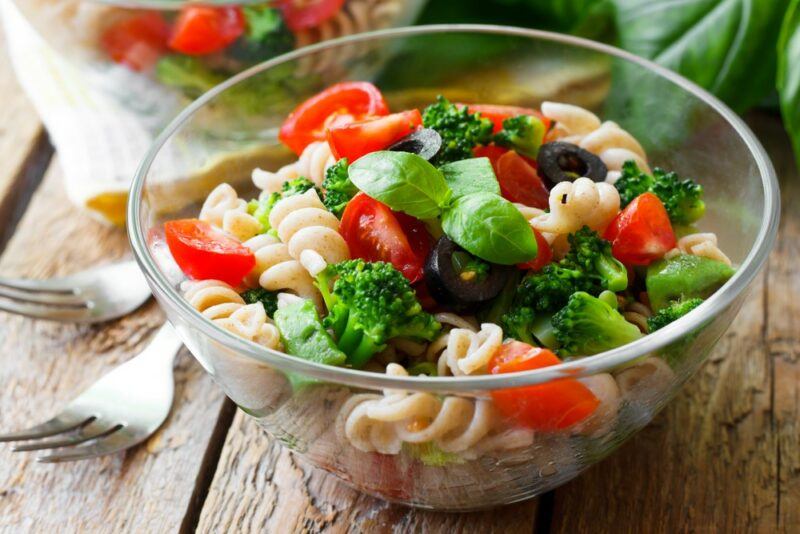 How could we skip over pasta salad? It's a fantastic choice in the fall, as the colder weather should naturally help to keep it cold.
If you're getting bored with traditional pasta salad, why not play with some variations? This fall pasta salad uses broccoli and cranberries as some of the main ingredients, a combination that works much better than you might expect.
Or, how about this one? It adds sweet potato into the mix to make things even more interesting.
Something For Dessert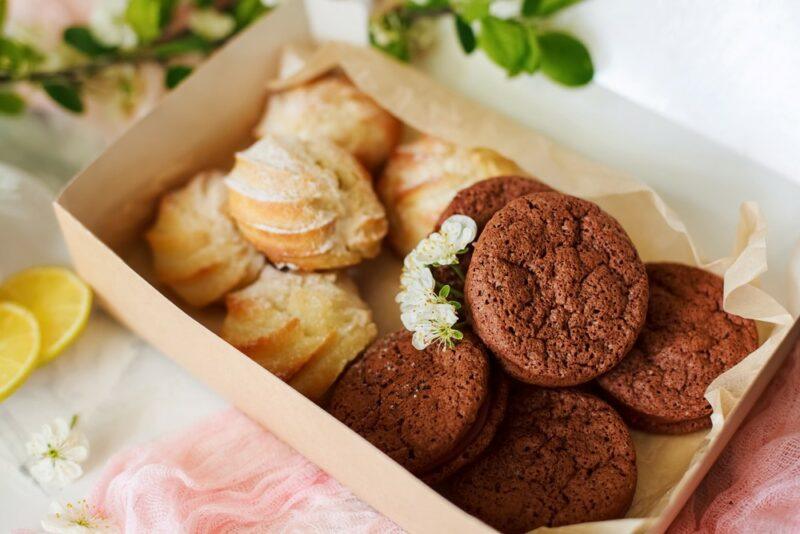 Finally, what about something sweet to finish the event off?
Desserts don't need to be complicated. Bars, cookies, and brownies are all excellent choices, as they're easy to make and are portable.
You can easily make a seasonal version, such as pumpkin brownies or apple cinnamon oatmeal bars. There's an endless array of such recipes to choose from.
For a more unusual treat, you could try making desserts in jars. The jars make it possible to have less resilient desserts on a picnic, such as cake, cheesecake, and chocolate mousse.
Bonus: Drinks To Bring Along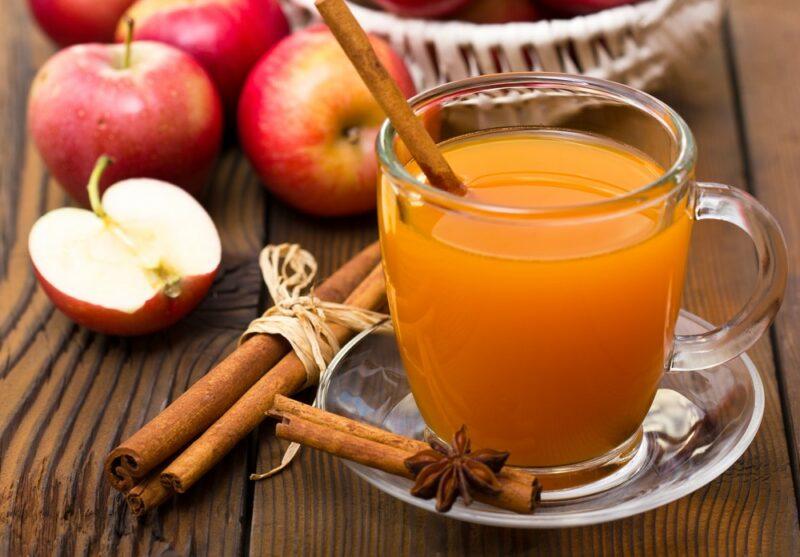 Food isn't the only thing that makes your picnic special. The right drink can make a huge difference. There are plenty to choose from, so here are a few of our favorite fall drinks.
Mulled Wine
Mulled wine is the perfect treat when the weather turns cold. You can easily make it ahead of time and then bring it with you in a thermos.
Even if mulled wine is the only warm food or drink you serve at the picnic, it should be enough to warm everyone up.
You could bring regular wine as well and perhaps even pair it with some finger foods. After all, wine doesn't need to be warm to be enjoyable.
Hot Apple Cider
Hot apple cider is delightful too. It's also an easy drink that works well for adults and kids. You could also bring along a hip flask of spiced rum or some other spirit for the adults to splash into their drinks.
Hot Cocoa
What about hot cocoa? It's creamy, delicious, and comforting. There are some fun variations to experiment with too, including white hot chocolate and chili hot chocolate.
Chai Tea
Chai tea combines black tea with a variety of spices, making it a drink that's not only delicious, but is also healthy. If you don't want to make chai tea from scratch, you could look for tea bags or chai tea concentrate.