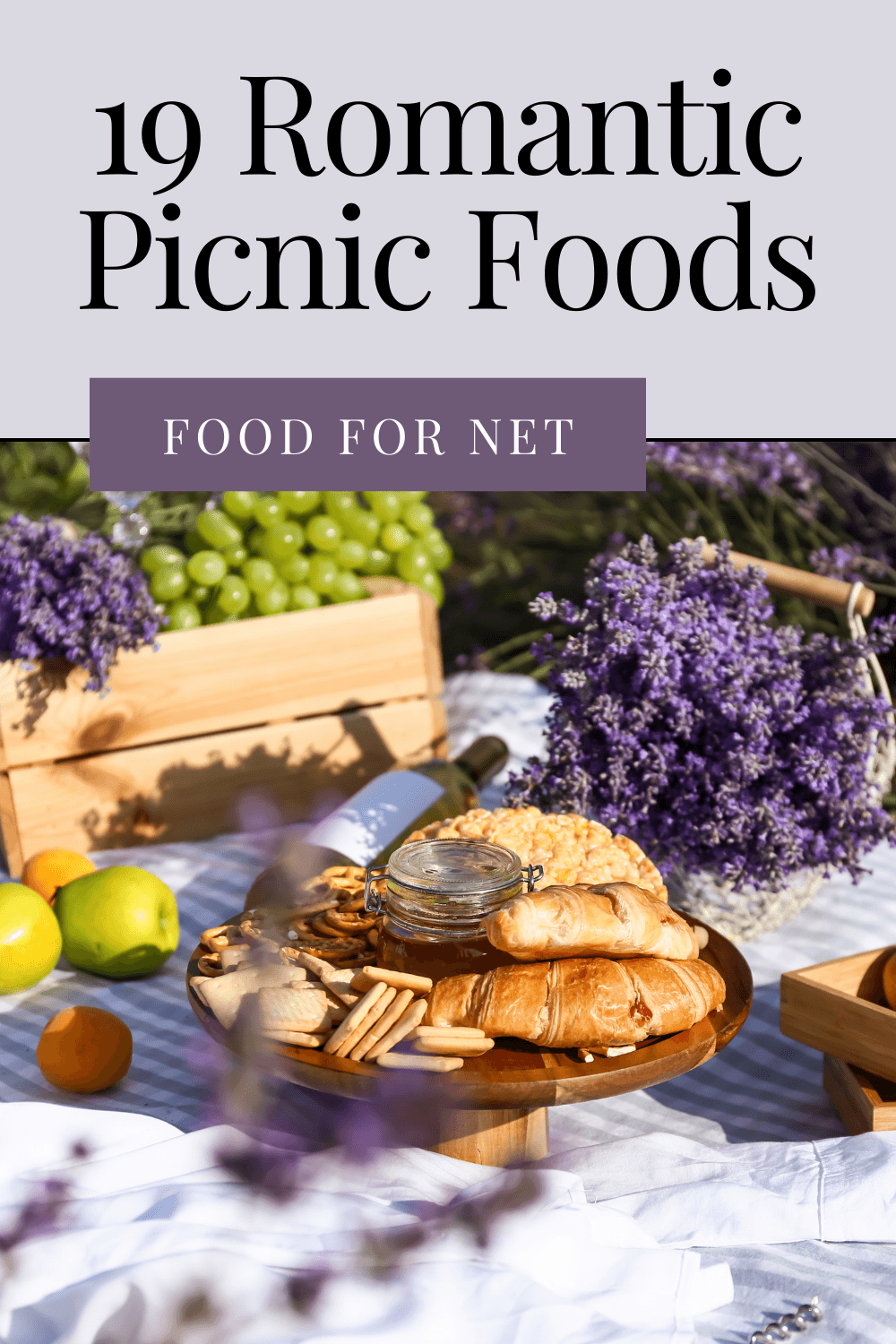 Picnics come in many forms. Sometimes they're family affairs, where you're trying to cater for multiple generations at once. Other times, the focus is on kids, which involves finding kid friendly snacks and activities to keep them amused. If you're planning a first date, then the food is going to be different again. The romantic picnic foods we've laid out below will go over a lot better than peanut butter and jelly sandwiches.
So then, let's talk about romance. You can bring some regular foods along, but if you want to make the day special, you're going to need some romantic picnic foods as well. Even a few of these foods can take a regular picnic and turn it into something exceptional.
You can also afford to focus on some unusual dishes, ones that take a little more work than normal. After all, you only need enough food for two people. This is much easier than getting a meal together for your entire family.
You could also experiment with a baking subscription box. These give you the chance to make special treats and try your hand at completely new recipes.
Romantic Picnic Foods (With Pictures!)
Chocolate Dipped Strawberries

Chocolate dipped strawberries are one of the classic romantic treats. You can often find them at stores, but they're also easy to make at home. Either way, you get something that's delicious and immediately familiar.
If the idea feels like it's been done to death, why not change it up a little? For example, you can dip strawberries in white chocolate rather than milk chocolate. Dark chocolate is delicious too.
Or, you could skip strawberries entirely. Try dipping another type of fruit instead.
Fondue!

Speaking of dipping things, have you ever tried fondue on a picnic? You can do this with cheese fondue or chocolate fondue.
To do so, you need a fondue set that will work outside. Some are designed work with camping stoves, while others rely on candles instead.
If you choose a chocolate fondue, you can bring along plenty of fresh fruit for dipping. Pretzel sticks, candied ginger, crackers, and marshmallows work well too. For cheese fondue, you're focusing more on savory ingredients, like bread, meatballs, bell peppers, and cherry tomatoes.
Fondue isn't a typical addition to a picnic, so it's the perfect way to make things much more special. Just be sure to try your fondue set out a couple of times at home first, just to make sure everything works like you expect.
Cured Meat And Cheese

Cured meat, like salami, is always perfect for picnicking. It's more resilient to heat than non-cured alternatives like deli ham and often tastes better too.
Then there's the cheese. Almost any type of cheese will work on a picnic, so the trick is to pick a few of your date's favorites. If you're not sure what they are, you could experiment with some of the classics, like bringing an aged cheese, some brie, some blue cheese, and perhaps a spreadable cheese as well.
To expand the spread still further, why not add some fruit, fresh bread, or crackers? Choosing unusual fruit is another way to make the picnic more interesting. Red currants, for example, are vibrant and look amazing.
Fresh Figs And Blue Cheese

Cheese and fruit always pair well, as you get sweetness from the fruit, coupled with the creaminess of the cheese. Figs and blue cheese is a classic version of this.
The combination doesn't just taste good. It's also decadent, which is exactly what you want when you're trying to impress your date.
You could serve the two ingredients on their own. They also work well on top of bread or as part of a tart.
Just make sure your date actually likes blue cheese first. Not everyone is a fan of the flavor and serving something your date hates isn't going to win you any brownie points.
Puff Pastry Tart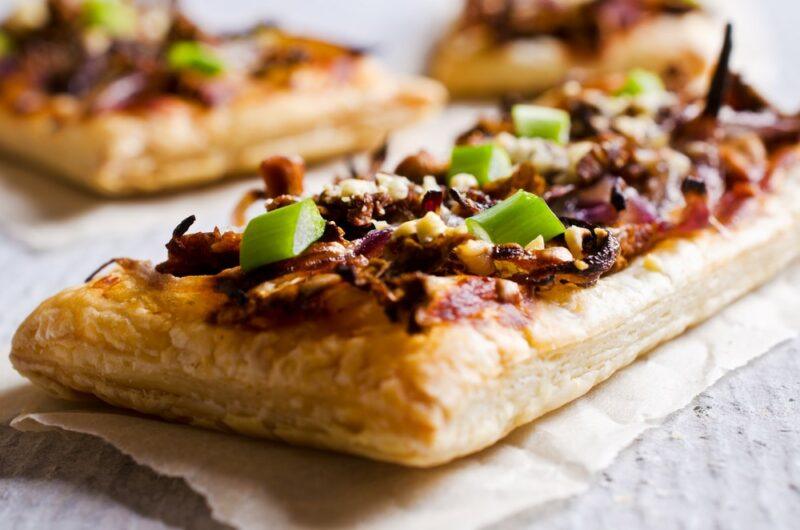 Puff pastry is light and airy, offering a buttery neutral flavor that works well with both sweet and savory recipes. It's an excellent choice for romantic picnics, as you don't want your food to be too heavy.
Whether you want sweet or savory, there are countless recipes to experiment with, like mushroom and goat's cheese, brie apple and onion, peach and almonds, or asparagus and parmesan. In fact, any favorite flavor combination should be excellent.
Cooked Shrimp

Why not serve shrimp or prawns at a picnic? They're delicious, popular, and are a cut above normal picnic fare.
Besides, prawns aren't particularly difficult to cook. You can easily prepare yourself at home, using whatever combination of flavors you like. Boiling, frying, and grilling them are all options.
Threading the cooked prawns on skewers is an easy way to serve them and helps to keep everyone's hands clean.
Puff Pastry Pinwheels

Using pinwheels to make puff pastry is an inspired move. You end up with a delicious decadent treat that isn't nearly as heavy as pinwheels made using regular dough.
Pizza pinwheels are a popular style, but they mightn't be the best choice for a date. Why not try spinach and feta pinwheels instead?
Mediterranean Pasta Salad

Pasta salads are a dime a dozen. Why not mix things up with a Mediterranean pasta salad instead?
Cherry tomatoes, cucumber, olives, and feta cheese feature heavily in such recipes, although there's plenty of room for variation.
Remember, there are only two of you and you'll have other food as well, so you don't need to make a giant serving. A small container should be more than enough.
Red Velvet Cupcakes

The color of red velvet cupcakes makes them an ideal romantic choice, particularly if you decorate them with hearts or perhaps some strawberries.
They'll look even more amazing if you ice them well. But, this may depend on the temperature and travel time, as icing doesn't do well in the heat.
Don't worry if you're not much of a baker. You only need a couple of cupcakes, so you can easily buy them from a local store.
Tzatziki Pita Wraps

These wraps are perfect if you want something filling that isn't a sandwich. The version in the image uses falafel for protein, but you could easily turn to beef or lamb instead.
The tzatziki is what makes the wraps particularly good, as it provides a burst of flavor that makes them taste amazing.
While tzatziki works well with chicken too, you'll need to be cautious about bringing chicken to a picnic. It can easily get too warm, which can then lead to food poisoning. Best to play it safe and choose a different type of meat.
Smoked Salmon Rolls

Smoked salmon rolls like these would be perfect as party finger foods, which also makes them ideal for impressing your date.
Not only do the rolls taste good, but they look the part too and are easy to make. How can you lose?
Sushi

As long as you can keep it chilled, sushi is a fantastic picnic addition. After all, it's delicious, easy to eat, and feels like a treat.
No one expects you to make it yourself either. Even just buying an eight pack of sushi from your local store should be more than enough to impress.
Plus, if you're sticking to a small amount of sushi, it should be easy to keep cool. Keeping it in a chiller bag with an ice pack should do the trick nicely.
Melon And Prosciutto Snacks

Here's a simple yet impressive treat – melon and prosciutto. The saltiness of the prosciutto is an ideal contrast to the melon's sweetness.
Drizzling the snack with balsamic vinegar makes it even more amazing. But, this step is best done during the picnic. Otherwise you'll just make a mess.
Caprese Sandwich

Caprese salad is simple and delicious. It just relies on mozzarella cheese, basil, and tomatoes. Olive oil or balsamic vinegar is often used to top it all off.
Rather than serving the salad itself at a picnic, why not make caprese sandwiches instead? Fresh bread brings the whole dish together – making it easier to eat as well.
Alternatively, you can thread the ingredients on skewers. Doing so makes them easy to eat. Plus, the skewers look fantastic on a plate.
Cocktail Stick Kebabs

What's more traditional than serving picnic food on a stick? To make things more intimate for your date, try switching to small sticks, like cocktail sticks.
You can only fit a few items on each stick, but this shouldn't be a problem at all. You might even find that the sticks make much more fun than large ones.
Chocolate

Chocolate and romance. That's a classic pairing, right?
There are countless options here, including a block of chocolate, chocolate truffles, a thermos of hot chocolate, or perhaps chocolate brownies. The best approach is going to depend on your date and their preferences.
If you're stuck, it's hard to go wrong with the traditional box of chocolates. Most boxes contain at least a few different flavors. Besides, there is something incredibly romantic about a box of chocolate.
Zephyr Marshmallows

Zephyr marshmallows bring marshmallows up to an entirely new playing field. I mean, just look at them! They're amazing.
The marshmallows are also unusual, so your date might not have ever seen them before. That's perfect if you're aiming to impress, right?
Thankfully, the marshmallows aren't too difficult to make at home. Precision is required, so it's best to practice making them a few times before the big day.
Watermelon Hearts

For a simple option, why not make hearts out of watermelon pieces? This gives you a treat that's both romantic and refreshing.
The easiest way to make these is to cut your watermelon into slices, then use a heart-shaped cookie cutter. This will give you the perfect shape with no fuss.
Dessert Jars

Rather than going with the traditional sweet treats of chocolates, cookies, or brownies, why not get creative? Dessert jars are exactly what the name suggests – small desserts that have been made in jars.
You can make almost any type of dessert this way, including crème brûlée, cheesecake, chocolate mousse, and regular cake.
Bonus: Romantic Picnic Drinks

Why stop with food? The drinks you serve during your picnic can be romantic too. Here are a few options to get you started.
Lavender Lemonade
Lavender lemonade is exactly what the name suggests – lemonade with lavender. You can do this by making simple syrup with dried lavender flowers, which gives the syrup a slight lavender flavor.
Adding a tiny bit of red and blue food coloring to the mix can help as well. This makes the color of the drink match the flavor. Plus, the light purple looks amazing in cocktail glasses.
Mimosas
Mimosas are acceptable at any time of the day, making them an easy picnic choice. You only need two ingredients to make them – orange juice and sparkling wine.
Stick with fresh orange juice if you possibly can, as the processed stuff doesn't taste nearly as good.
You can also experiment with the ratio of wine to orange juice. A juice-heavy cocktail is excellent early in the day, while a wine-heavy one is nice as you get towards the evening.
Cocktails
Cocktails are the perfect way to step things up a notch or three. They can be much more interesting than a simple mimosa and show that you've put time and effort into the date.
Most cocktails can easily be prepared ahead of time. Just be sure to skip any bubbly ingredients, like tonic water. You'll need to add that at the event itself.
Cocktail clubs can be helpful for giving you the ingredients you need. There are also prepared versions of many popular cocktails, including espresso martinis and cosmopolitans.
Bring Some Bubbly
Sparkling wine is an obvious and easy romantic choice (it also pairs well with many finger foods). You don't need to go all out either. Even an inexpensive bottle of bubbly in pretty glasses will elevate the day.
You could also try non-alcoholic champagne or even just sparkling water. Any type of bubbly drink is going to make the day extra special.
How To Make Your Picnic Truly Romantic

Food and drink help, but it's the small touches on your picnic that make it truly romantic. This includes paying close attention to how things look.
For example, you might go with a wicker basket, an old fashioned picnic rug, and a rustic wooden board to serve all the ingredients on. Or, you might focus on extras, like bringing some flowers, cushions, nice wine glasses, and even a book or two.
You could also vary the location or the time of day. Picnics at sunrise or sunset are particularly romantic. They're perfect in the summer, when it's too hot in the middle of the day anyway. For an interesting location, try having a picnic on a beach, a forest, a vineyard, or by a lake.
Finally – keep it simple. There's no need to choose dozens of different types of food and drink. Some of the most romantic picnics are simple and thoughtful, like some fresh bread, meat, cheese, and fruit, some chocolates, and some champagne.
After all, the romance comes more from the two of you than from the picnic itself.