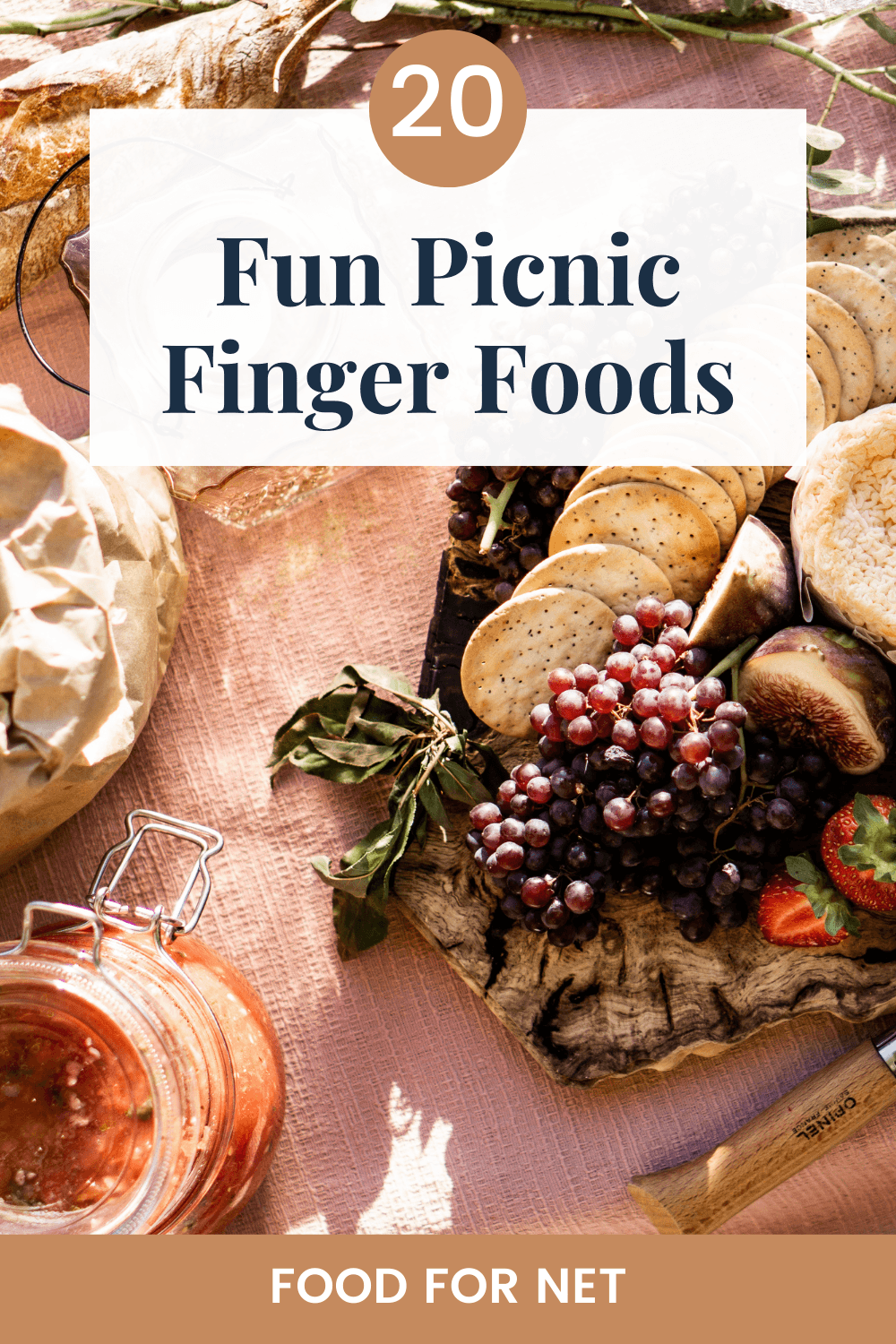 When you're having a picnic, the last thing you want is complicated messy foods, ones that you need to eat with a knife and fork or that need a bowl. Such foods can get frustrating fast, especially if you're feeding kids as well as adults. Finger foods for a picnic combine the best of all worlds: fun, tasty, and most importantly, easy to pack and eat.
What you need, then, are easy picnic foods. Not just ones that are easy to make either, but ones that are easy to eat. This is why we're looking at the best finger foods for a picnic.
These foods can all be eaten with your hands. Most are also small enough to be eaten in a single bite or perhaps two. There's plenty of variety, so you could serve these treats at any type of picnic you can imagine, even if you're on a date or eating on the beach. You could even pair some of these finger foods with wine.
Best Picnic Finger Foods (With Pictures!)
Avocado Deviled Eggs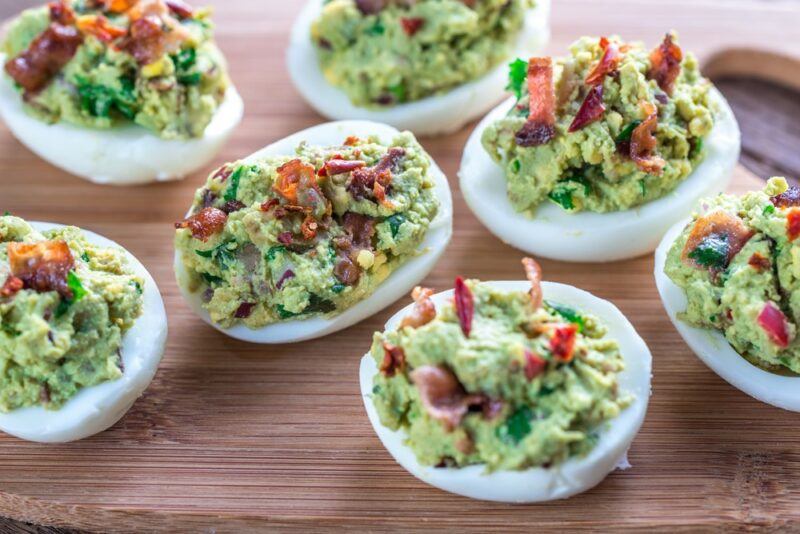 Deviled eggs are a classic choice, giving you a tasty hit of protein in a single bite. Delicious as they are, though, they can get a bit boring.
Why not vary things up by making avocado deviled eggs instead? The avocado changes the texture and the flavor of your deviled eggs mixture, making it even more delicious.
Add a little bacon and you've got a snack that will disappear almost immediately.
Charcuterie Board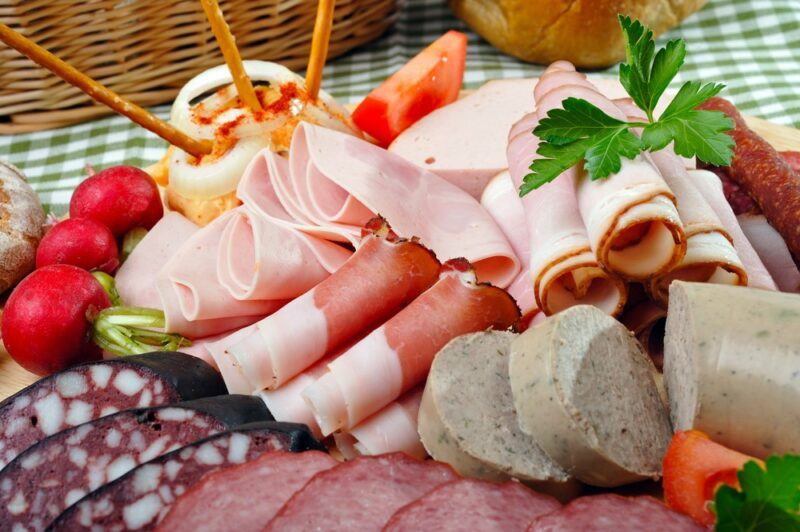 Charcuterie boards sound complicated, but they don't need to be. We're simply talking about a collection of ingredients, often including cold cut meat, cheese, fruit, olives, bread or crackers, and perhaps some spreads. You can even pair them with delicious wine.
Almost every ingredient can be eaten with your hands, making charcuterie boards the ultimate in picnic finger food.
Plus, there's infinite space for variation. You can choose whichever meats and cheeses you like, or even leave some ingredients out entirely.
Similarly, you might create a complex board with dozens of different ingredients, all carefully arranged – or you might just include a handful. There's no right or wrong way to do it.
Fresh Fruit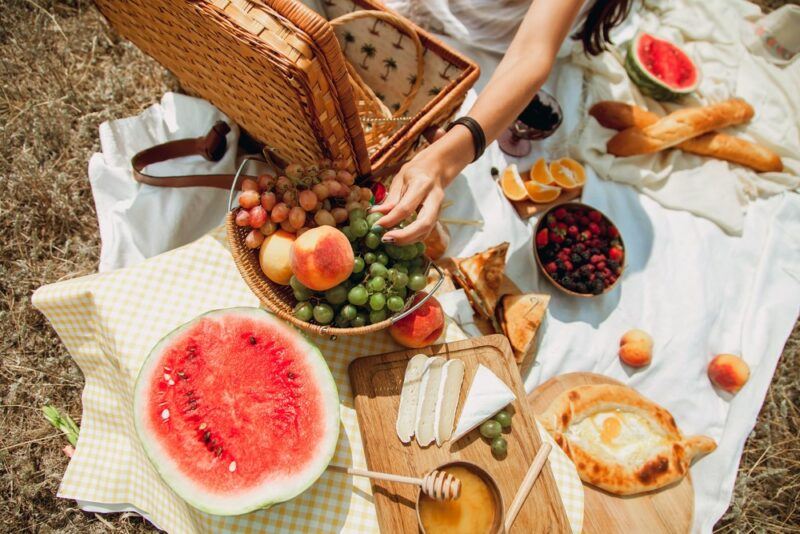 How can you go wrong with fruit? It's fresh and vibrant, making it the perfect choice for picnics.
Cutting fruit into small pieces makes it even better as finger food. Don't forget about fruit kebabs either. Simply threading fruit onto a stick makes the fruit even easier to handle.
Rice Paper Vegetable Rolls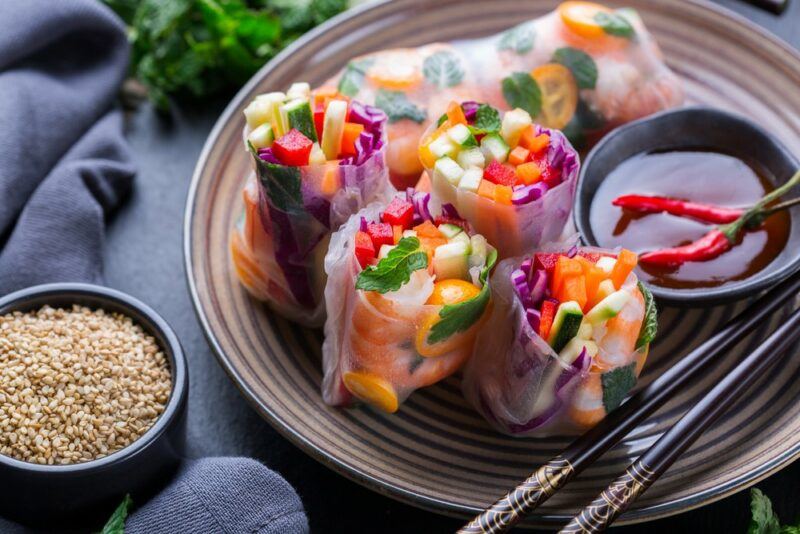 Vegetables are fantastic during a picnic, as it's too easy to end up with a ton of sweet and fatty snacks, and not enough healthy things.
Rice paper vegetable rolls are a fantastic choice, as you're getting plenty of veggies in an unusual form. You can easily include a few dips to make things even more interesting.
Cucumber Bite Sandwiches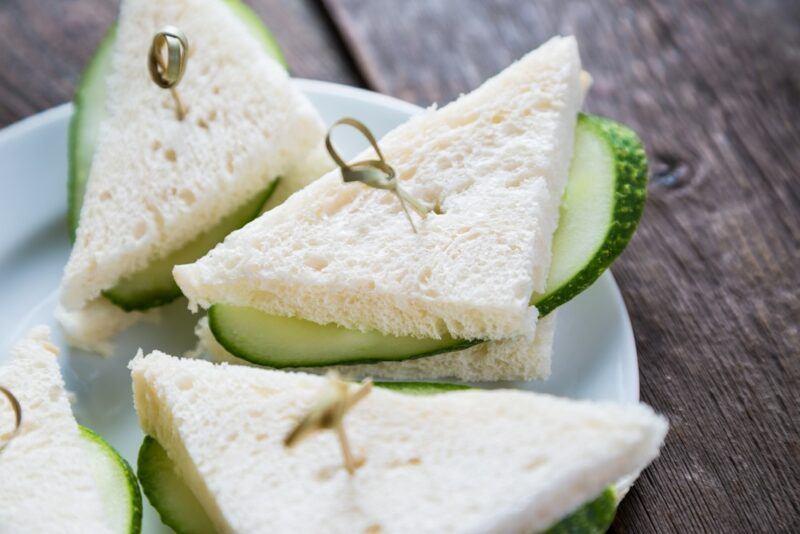 Cucumber is delicious and refreshing, making it a great choice. Rather than full sandwiches, why not try cutting them in thirds or quarters?
Doing so gives you an easy to eat snack that's certain to be a hit.
Sausage Rolls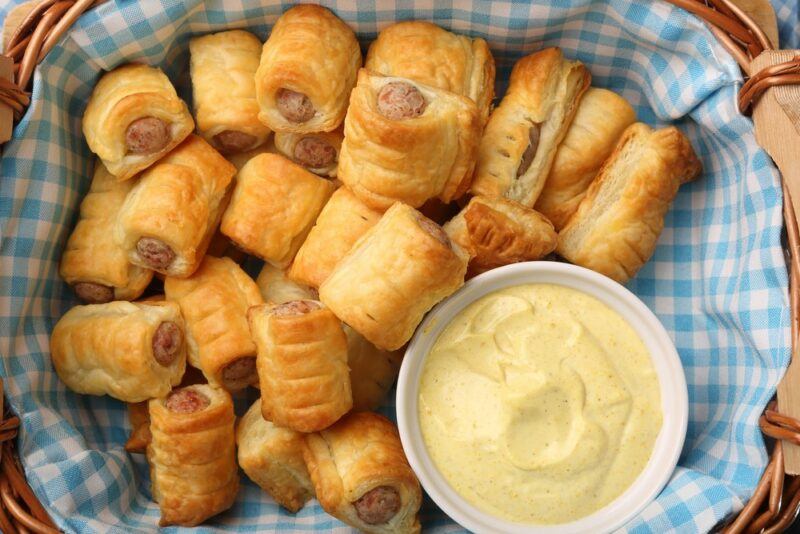 Some hearty food is in order for a picnic, otherwise everyone is going to be hungry. Sausage rolls are perfect for this. They're always popular, especially when they're piping hot.
You might want to bring some sauce to go with the sausage rolls. This always makes them better.
Chicken Tortilla Pinwheels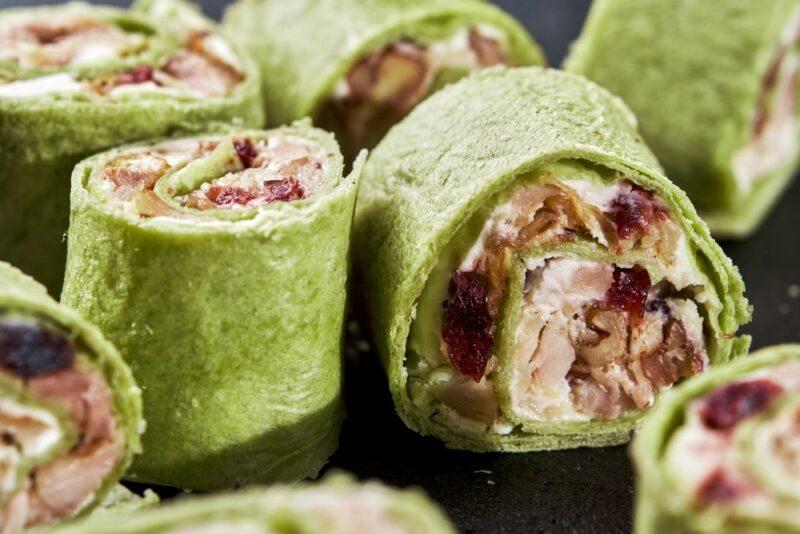 Tortillas are an easy tool to use to make pinwheels. This version is particularly delicious, as you're using cranberries, cream cheese, and chicken.
The combination of flavors would make the pinwheels perfect during winter or autumn. They could be delicious in the height of summer too, as long as you make sure to keep them cool.
Fat Bombs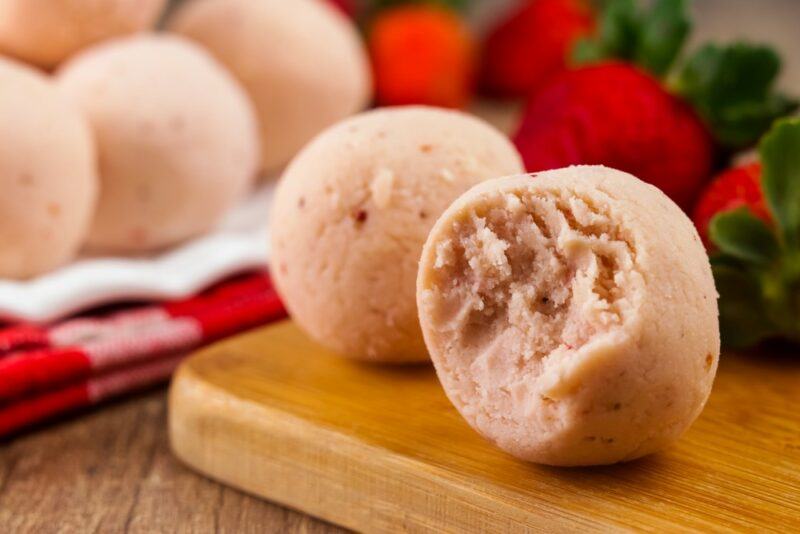 Fat bombs are what the name suggests – a snack ball that's high in fat. Some versions have a decent amount of protein, while others keep the protein content low.
Fat bombs are most popular among keto dieters. But, they're not exclusive to keto. You can have them as a treat even if you've never even considered keto before.
Plus, there are so many types to choose from, including cinnamon fat bombs, matcha fat bombs, lemon fat bombs, and an endless array of others. Once you've made a few, you can even start to tweak the recipes to find your own flavor combinations.
Sushi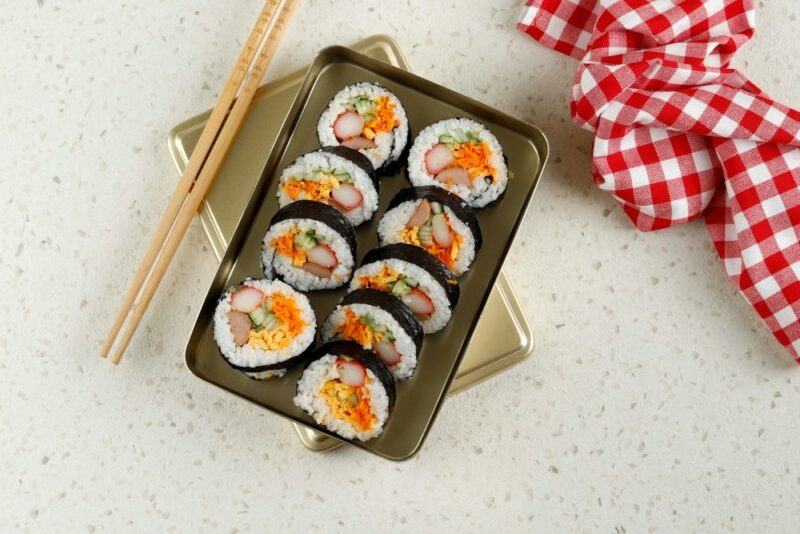 Sushi is one of the easiest picnic finger foods, as you don't need to make it yourself. You can simply pick some up from the local sushi store.
If you're not keen on traditional sushi with raw fish, you can try chicken sushi or vegetable sushi instead. You could even make your own using quinoa instead of rice, just for something different.
Whatever type you choose, you'll need to keep sushi chilled. Even the rice and quinoa need to be chilled within an hour or two.
Tiny Sandwiches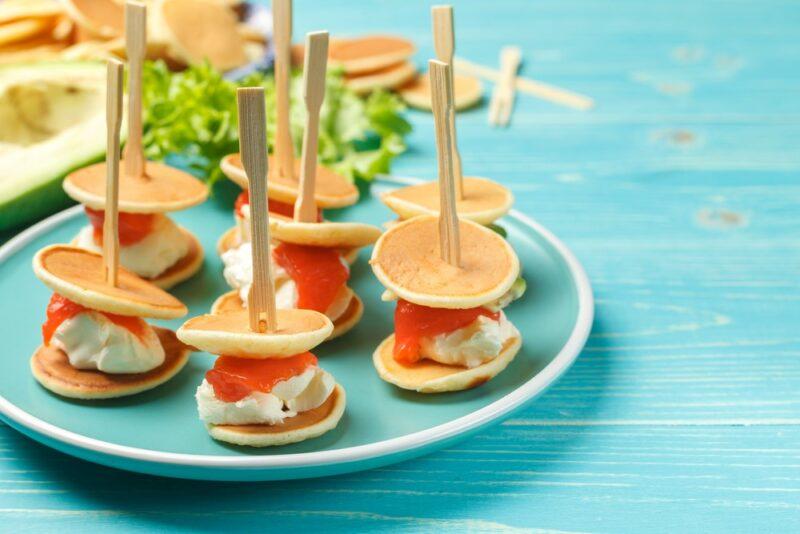 We mentioned tiny cucumber sandwiches earlier. Honestly though, you can make a small version of any type of sandwich that you can imagine.
Smaller sandwiches are easy to eat. Plus, if you make a few types, people can pick and choose their favorites.
You can get pretty creative with this approach too – like the pictured sandwiches. Those are made using salmon, cream cheese, and miniature pancakes.
Or, what about mini burgers? These are often served at parties and can be just as impressive during a picnic.
Brownie Bites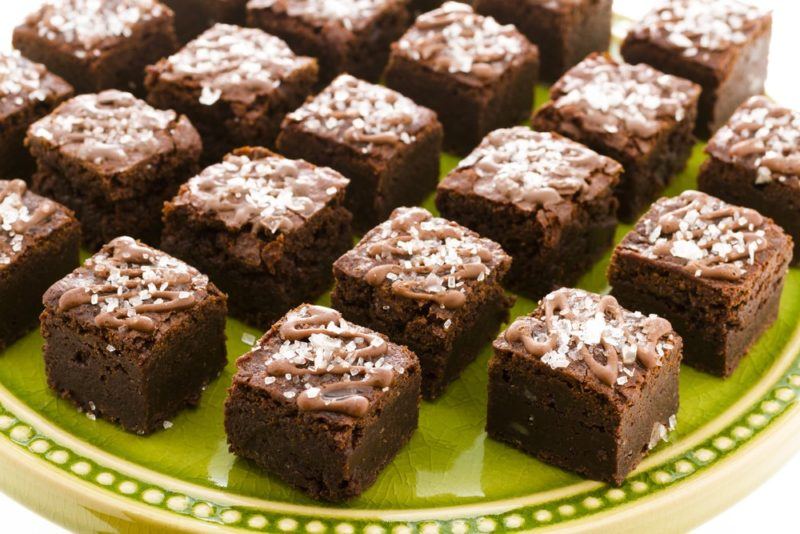 Some sweet treats are always needed during a picnic. Mini brownies are a great option, as they give you a hit of sweetness without being overwhelming.
You're not limited to traditional brownies either. There's plenty of room for variation, like peanut butter brownies, blondies, chocolate mint brownies, and many many others.
Honestly, if you can imagine a flavor combination, there's probably a recipe for it somewhere.
Mini Quiches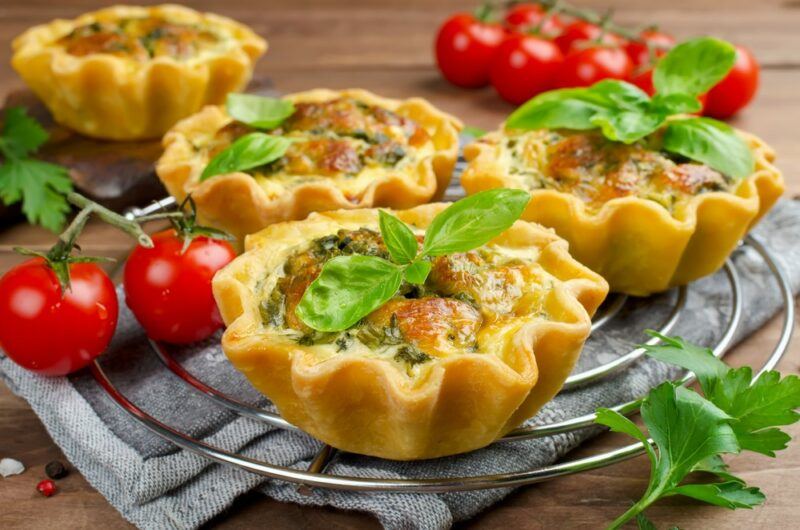 Quiches are another fantastic option. The egg makes them filling and they always go down a treat.
Again, you can play around with the recipe. Plenty of ingredients work well in a quiche, including sundried tomatoes, olives, ham, onions, and cheese.
Mini versions are particularly good, as they have solid edges. You can make versions with a crust or without one. While crustless versions often don't taste quite as good, they're much easier to make.
Fruit, Meat, And Cheese Kebabs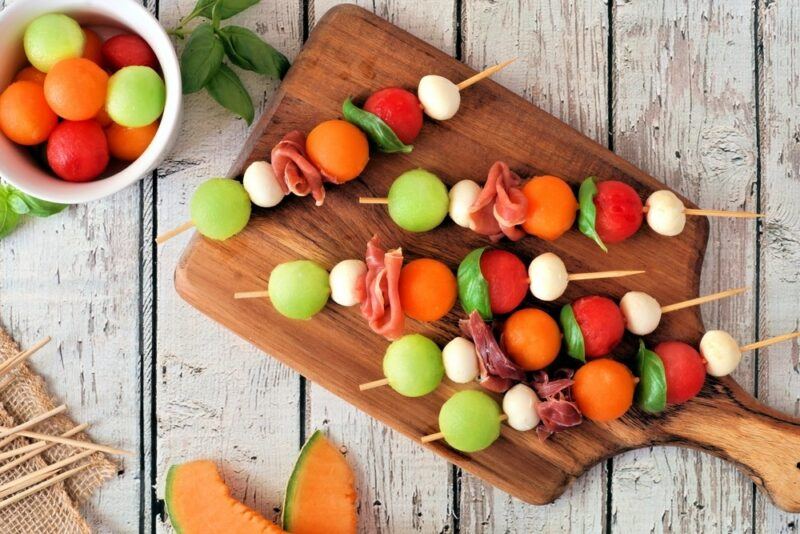 We talked about threading fruit onto kebabs earlier, but that's not your only option. You can add other ingredients too, like meat and cheese, or even marshmallows.
The extra ingredients give you a greater variety of textures and flavors, which always goes down well. Plus, you have a delightful contrast between the sweetness of the fruit, the saltiness of the meat, and the creaminess of the cheese.
Full sized kebab sticks are the default, but they're not your only option. You can also use small cocktail sticks to make kebabs.
Pull Apart Bread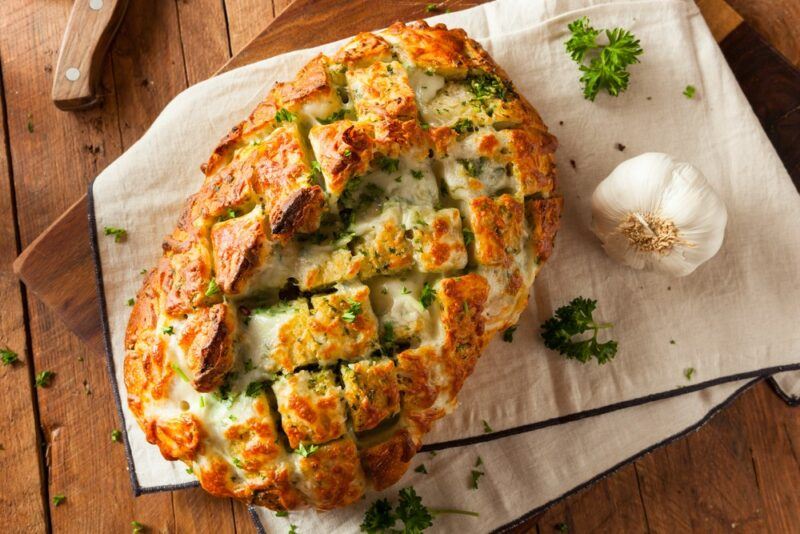 Fresh bread is always popular. Why not take it one step further and make pull apart bread instead?
Savory versions often involve garlic, cheese, and herbs like rosemary. They're delicious when served warm, but they can easily be served cold as well.
Then there are the sweet versions, like monkey bread. Such dishes make for a fantastic dessert and are a crowd pleaser.
Veggies And Dip

Here's a simple one – veggie sticks and dip. The veggie sticks tend to be popular though, partly because everyone needs a break from all the heavy food.
You can also vary the approach by serving dip in the bottom of cups, with the veggies in the same cup. This gives people something to carry around with them. It also means that dip isn't being shared, which reduces the risk of germs spreading.
Chicken Wings Or Drumsticks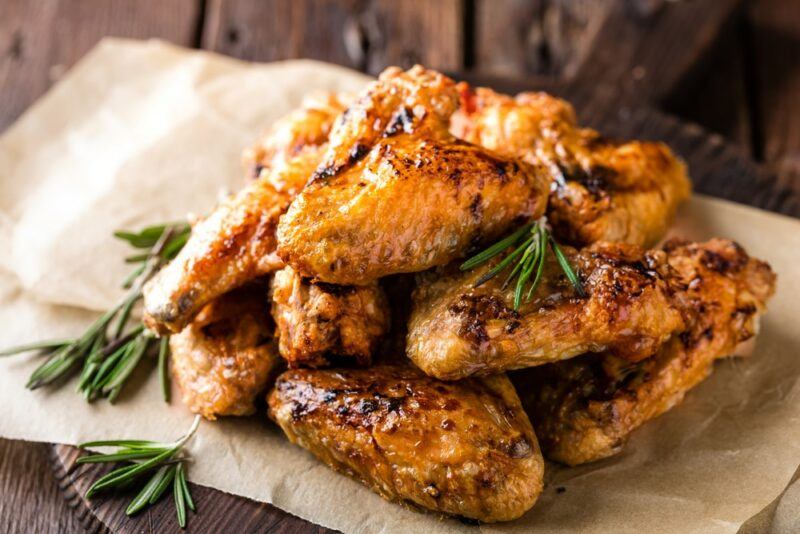 Chicken drumsticks are a picnic staple. How could they not be? After all, they pack a powerful protein hit and they're very easy to eat.
While chicken wings are a little trickier (and messier!), they're delicious as well. There are plenty of options for how you flavor your chicken, along with whether you deep fry it or bake it.
There are a couple of things to remember though. First, chicken drumsticks and wings are always messy. You're going to need some wet wipes to keep everyone's hands clean.
Then there's food poisoning. Chicken quickly becomes unsafe in the heat. You need to be especially careful in the height of summer and make sure to keep the chicken well cooled. This isn't such an issue if you're picnicking in winter or autumn instead.
Superfood Protein Bars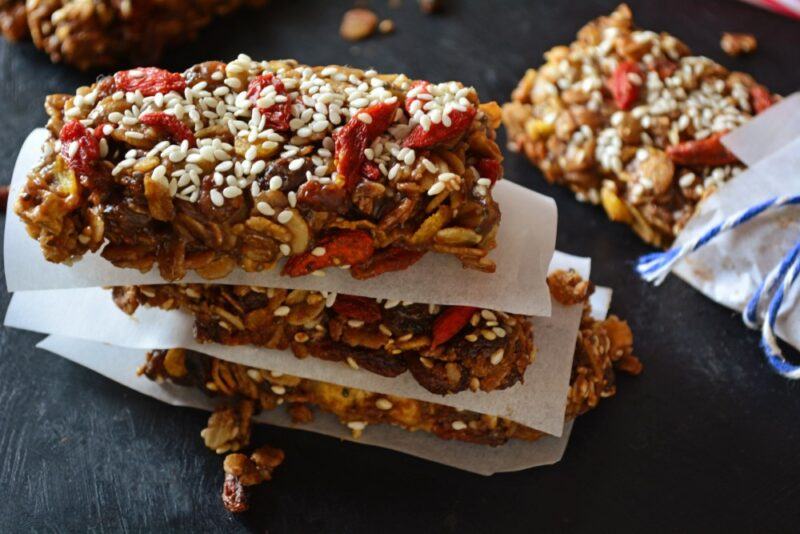 Protein bars have their roles in weight loss and muscle development. They're useful for picnics too, helping to keep guests satisfied.
Many protein bars also taste amazing, especially if you make them yourself. Superfoods like cacao powder and goji berries make the bar even better flavor-wise, while offering plenty of health benefits as well.
Tortilla Chips With Salsa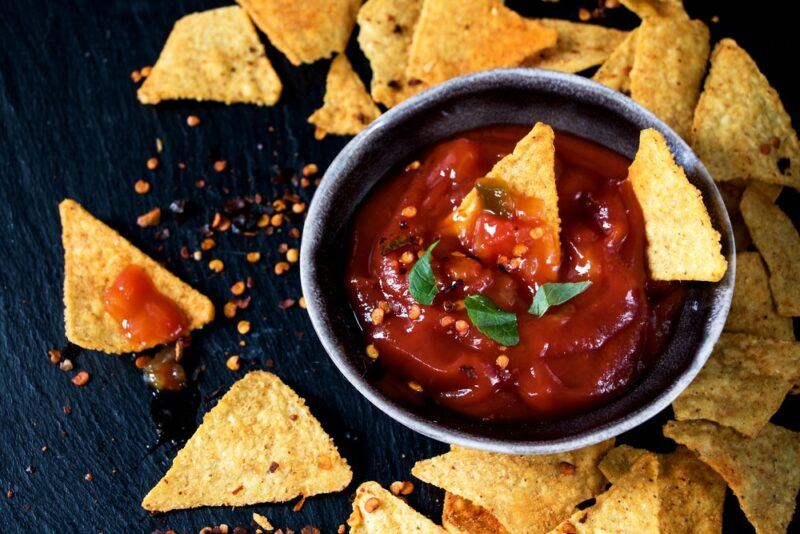 What could be simpler than tortilla chips with salsa? You could make the salsa yourself or buy it from the local store. Either approach is delicious.
Of course, that's just one option for chips and dip. Any other combination will work well too and is certain to be a hit.
Edamame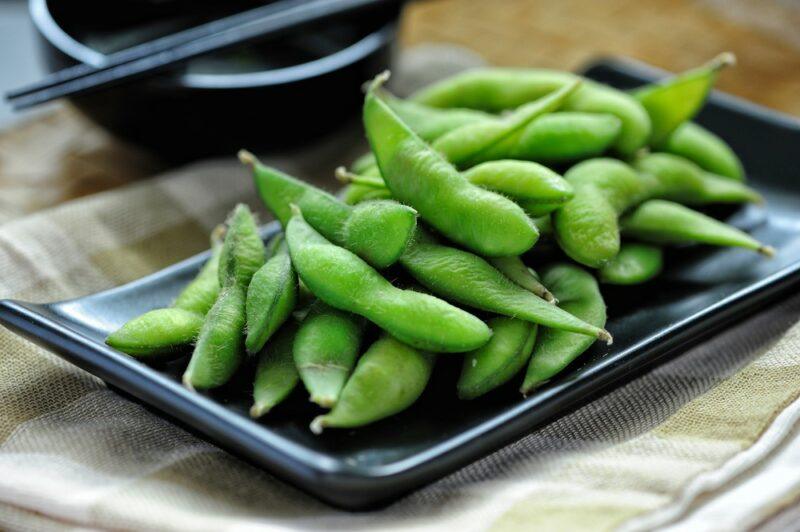 Edamame is a simple and delicious snack. We're simply talking about immature soybeans. They can be purchased shelled or in the pod and cooked in a variety of ways.
The treat often features in bento boxes. It's equally good during a picnic as well and makes a nice change to vegetable sticks.
Caprese Salad Bites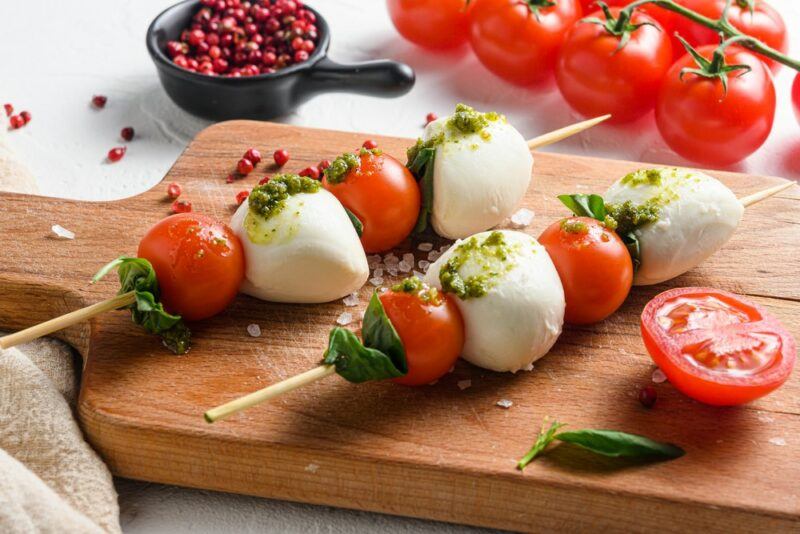 Caprese salad is both simple and delicious. It relies on mozzarella cheese, basil, and tomatoes. Balsamic vinegar is sometimes drizzled on top – and that's about it.
Rather than serving the full salad during a picnic, why not make a kebab version instead? The sticks make this a very easy treat to eat, one that's more enjoyable than yet another salad.