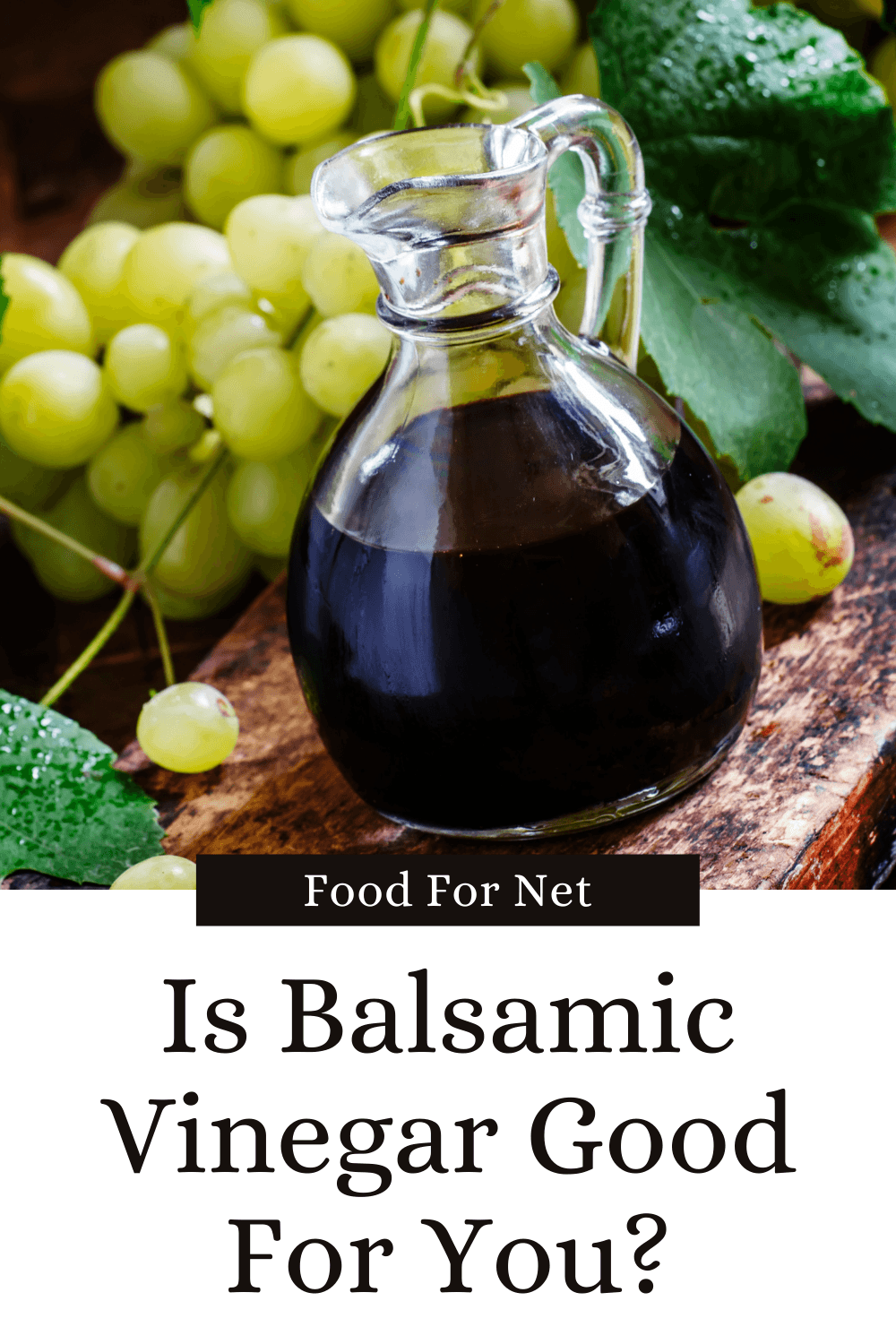 Balsamic vinegar is a fascinating ingredient, one that adds a rich and complex flavor to meals. Indeed, traditional balsamic vinegar offers deep woodiness and even a touch of smokiness, rather than the strong acidity that you find with other types of vinegar. Is balsamic vinegar good for you?
Balsamic vinegar is very different than other kinds of vinegar. You mightn't even call it true vinegar at all. Most vinegars, including apple cider vinegar, go through two fermentation steps. One of these creates alcohol, while the next turns this into acetic acid.
In contrast, traditional balsamic vinegar is made using whole pressed grapes that are cooked and concentrated, then aged using a series of aging barrels. This approach creates a complex flavor profile.
It's no wonder, then, that balsamic vinegar is often incredibly expensive. What about health then? Is balsamic vinegar good for you?
Is Balsamic Vinegar Good For You?
Traditional Balsamic Vinegar Versus Modern Products
Benefits Of Balsamic Vinegar
How Balsamic Vinegar Could Be Harmful
How To Use Balsamic Vinegar
How Much Balsamic Vinegar Is Healthy?
Is Balsamic Vinegar A Probiotic?
Final Thoughts
Traditional Balsamic Vinegar Versus Modern Products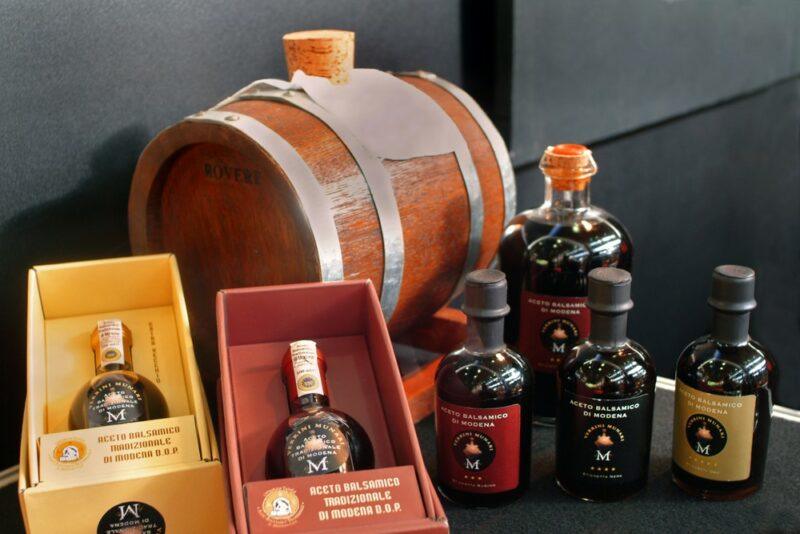 Traditional balsamic vinegar goes through a long process from production to finished product, often with 12 years or more of aging. Many bottles of the vinegar end up with hefty price tags.
Yet, you can also find cheap balsamic on the grocery store shelf. This happens because there are different grades of balsamic vinegar and various varieties in each grade:
Traditional balsamic vinegar ("Aceto Balsamico Tradizionale di Reggio Emilia" or "Aceto Balsamico Tradizionale di Modena"). These versions come from either Reggio Emilia or Modena in Italy and have been aged for 12 to 18 years.
Commercial grade. These products aren't aged much, if at all. Most rely on regular wine vinegar, then use coloring, thickening, and flavoring agents to make the vinegar taste like the real deal
Condiment grade. This version of vinegar falls somewhere between the other two. It is more traditional and authentic than the commercial version but doesn't meet the requirements for traditional balsamic vinegar. For some condiment grade balsamic vinegars, the difference is simply that they're not produced in the Reggio Emilia or Moderna regions of Italy.
Benefits Of Balsamic Vinegar
Improves Heart Health
Vinegar is often associated with improved heart health and balsamic vinegar has many of these same effects.
The first, and most well-known, is the ability to decrease cholesterol levels. This effect is partly linked to the antioxidants in the vinegar. These same antioxidants also decrease oxidation of LDL cholesterol, which is important for your heart health as well.
Balsamic vinegar might help your heart in other ways too, such as by improving blood circulation and decreasing your blood pressure.
These effects are all important, as heart disease kills more than 600,000 people in the United States every year. That's an incredible number of deaths, many of which could be prevented by better diets and lifestyles.
Helps With Blood Sugar Levels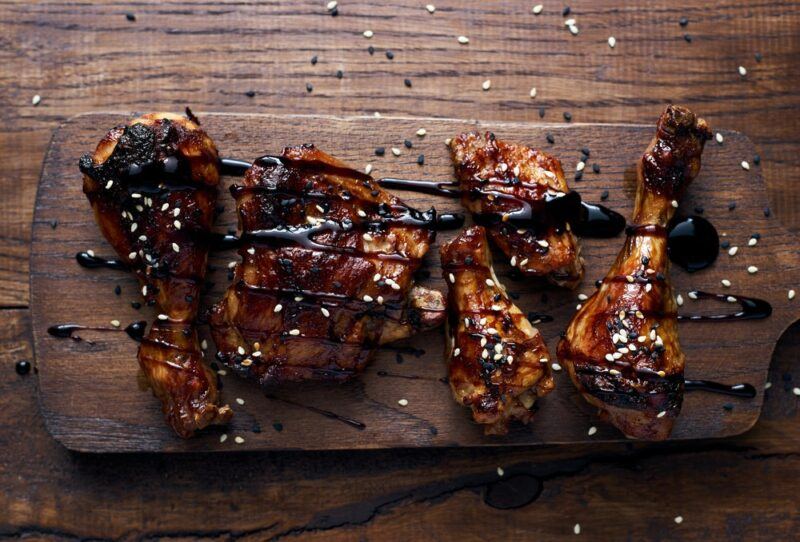 Balsamic vinegar can help with diabetes management too, by limiting blood sugar spikes and making it easier to keep your blood sugar levels in check. Taking some vinegar before you eat may be the most powerful way to do so.
If you're using apple cider vinegar or white vinegar, you might choose to mix the vinegar with some water and then drink it. That approach isn't so appealing for balsamic vinegar. It's much easier to drizzle the vinegar on top of your meal instead.
Besides, if you're using traditional balsamic vinegar, mixing it with water is just a waste.
A Healthy Way To Add Flavor
Perhaps the most fantastic thing about balsamic vinegar is the flavor. Good balsamic vinegar tends to have a strong nuanced flavor that works well with many dishes.
Importantly, balsamic vinegar is also naturally low in calories and sodium. This makes it perfect for anyone on a low sodium diet, making it easy to create great-tasting meals.
Might Reduce Acid Reflux
Here's an interesting effect. The acidity of balsamic vinegar sounds like it should make your acid reflux symptoms worse (indeed, the vinegar can do exactly that, so it's important to be cautious). However, some people find that balsamic vinegar actually helps with their symptoms instead. This could be a reason to try balsamic vinegar for yourself.
A Source Of Antioxidants
Balsamic vinegar is made from aged grape juice, so it's not too surprising that the vinegar is a rich source of antioxidants.
Antioxidants are often talked about these days as an amazing way to improve your health. Their effect is simple – they help to decrease levels of oxidation throughout your body, lowering disease risk in the process. Some can even decrease oxidation of LDL cholesterol, which makes heart disease even less likely.
Still… there's little need to load up on antioxidants. Like most compounds, they're only helpful if you need them. You should be getting more than enough if you eat a varied diet that's rich in fruits, vegetables, and ingredients like balsamic vinegar.
Can Help With Congestion
Did you know that balsamic vinegar might help clear your airways when you have a cold? The trick here is to put a few drops of the oil into hot water. You'll then be able to breathe in the steam, which should do wonders for your congestion.
How Balsamic Vinegar Could Be Harmful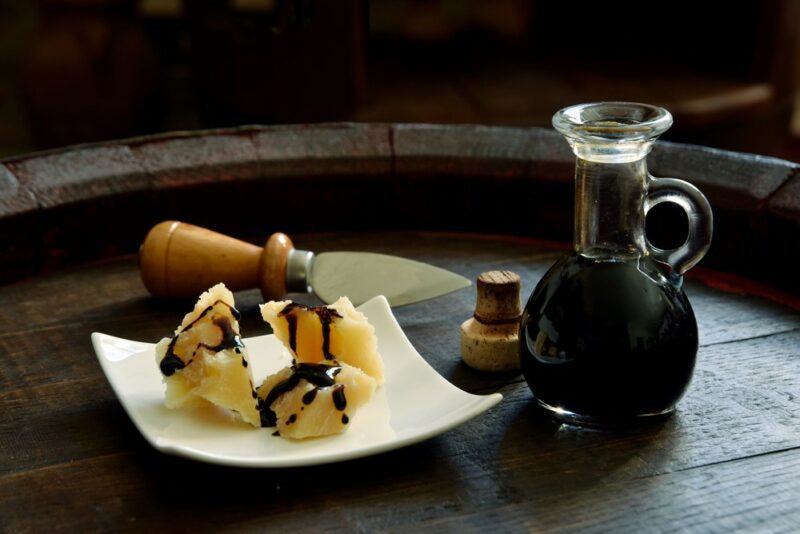 The Additives
If you're choosing commercial grade balsamic vinegar, then you have a variety of additives to contend with, including thickeners and flavoring agents. Such additives are all considered to be safe, but they certainly don't provide any health benefits. It's often better to avoid them entirely.
Paying close attention to the ingredients label can help you work out which balsamic vinegar products are worth your time and which ones aren't.
Watch out for extra sugar in commercial grade balsamic vinegar too. This is often used to mimic the flavor of the real thing. Let's face it though, sugar offers no health benefits and many of us consume much more sugar than we need to already.
Traditional balsamic vinegar shouldn't have any additives at all, as there are strict standards for quality here. Of course, you'll pay much more for this type of balsamic vinegar than the commercial grade version, which is something to consider.
It's Highly Acidic
As a type of vinegar, balsamic vinegar is highly acidic. This can be a serious problem, as the acidity can damage the enamel on your teeth and even cause cavities.
If you drink the vinegar as is, there's also the chance that it burns your esophagus.
Thankfully, the solution here is simple – don't drink balsamic vinegar on its own. If you absolutely must, then be very careful and be sure to rinse your mouth out with water shortly after.
There's also the chance that balsamic vinegar contributes to heartburn and related issues. If you're worried about this, pay close attention to any side effects you experience. It should be easy to see whether balsamic vinegar is helping matters or making them worse.
How To Use Balsamic Vinegar
Balsamic vinegar's intense flavor means you often won't use much of it at a time. One of the best approaches is to simply drizzle the vinegar on top of food, much like you might use high-quality olive oil.
You can also use balsamic vinegar in a salad dressing or add a little to your sauce right before serving your meal. However, those approaches are best for commercial grade balsamic vinegar. Using traditional balsamic vinegar in this way is just a waste.
Some people even consume balsamic vinegar straight, often on a spoon, like a health tonic. Doing so with traditional balsamic vinegar gives you the chance to enjoy the nuances of the vinegar as well. Be cautious with this approach though, as the acidity of the vinegar can easily hurt your teeth.
How Much Balsamic Vinegar Is Healthy?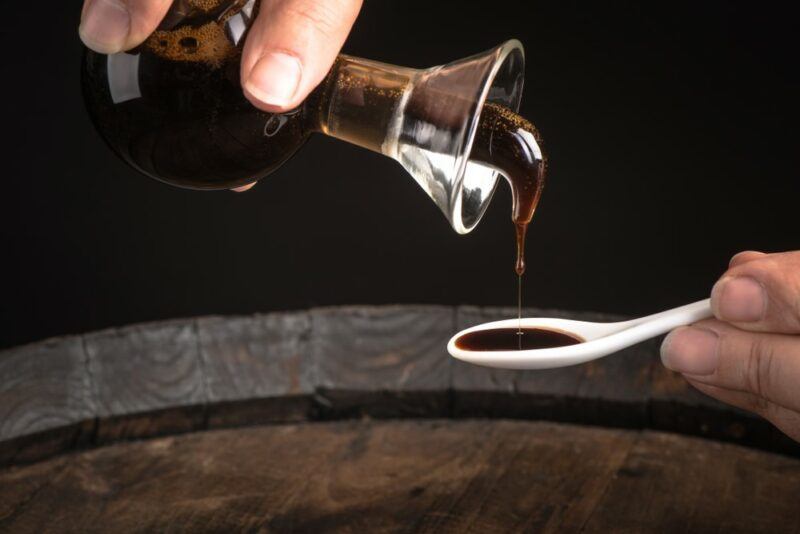 While balsamic vinegar can be good for you, the quantity you use makes a huge difference. Too much balsamic vinegar could easily cause problems, especially if you're consuming it most days.
A good rule of thumb is to have roughly one to two tablespoons of balsamic vinegar per day. This might not sound like a lot, but with how intense balsamic vinegar is, you don't need much of it to fully experience the flavor.
Is Balsamic Vinegar A Probiotic?
Some articles talk about how vinegar can help with digestion, largely because the acetic acid acts as a probiotic. Except… it doesn't.
That's the interesting thing about vinegar. Despite generally being a fermented product, vinegar doesn't contain live probiotics that can improve your gut health (with the possible exception of apple cider vinegar, as some products contain a mass of enzymes known as the mother).
Balsamic vinegar is much less likely to offer probiotic benefits anyway, as it is aged, rather than being fermented.
Final Thoughts
Balsamic vinegar is an interesting ingredient. While the traditional version is aged rather than fermented, it still offers most of the same benefits as regular vinegar. This includes the chance to improve heart disease risk factors and to decrease blood sugar levels. Balsamic vinegar is even a source of antioxidants.
The challenge, of course, is that the vinegar is highly acidic. It can easily damage your teeth or increase acid reflux symptoms. This is why you need to pay close attention to the amount you consume.
Thankfully, balsamic vinegar has been used with food for a long time, so using it this way should be safe and healthy. If you're taking the vinegar straight or using it in a tonic instead, please pay close attention to make sure you don't get significant side effects.
Frequently Asked Questions
Does Balsamic Vinegar Go Bad?
Using old balsamic vinegar isn't likely to cause harm, especially if you choose a product that's designed to be aged. Even inexpensive brands should last between 3 and 5 years after bottling. However, while old balsamic vinegar shouldn't make you sick, the quality does tend to decrease over time.
Balsamic vinegar can also get contaminated by microbes, particularly if it wasn't stored well. If this happens it may be unsafe. Keep an eye out for any mold or strong unexpected smells. These are clear signs that something is wrong with the vinegar.
Is Balsamic Vinegar Keto?
Balsamic vinegar is typically keto friendly, sometimes containing just 1 or 2 net grams of carbs per tablespoon. This is exceptional when you're making a vinaigrette for your salad. However, it's important to check the ingredients label for any product, as some balsamic vinegars contain added sugar and may be much higher in carbs.
Does Balsamic Vinegar Need To Be Refrigerated?
Balsamic vinegar is best stored in a cool dark place, but this doesn't mean it needs to be in the fridge. Keeping it in the back of your cupboard is often just as good.
That said, if you use balsamic vinegar mostly for salad dressing and like your salads as cold as possible, you might want to keep the vinegar in the fridge. Doing so won't harm the vinegar and keeps at just the right temperature.
Is Balsamic Vinegar Gluten Free?
Balsamic vinegar is generally gluten free, as it is made from grapes. There is a minute chance of gluten contamination due to a paste that may be used to seal the casks used for aging the vinegar. Thankfully, this contamination doesn't happen often and even when it does, the levels of gluten are so low that most people won't experience any reactions.
Does Balsamic Vinegar Have Sugar?
Authentic balsamic vinegar contains some natural sugar from the grapes used to make it. There will always be some sugar present, as this is a key part of the vinegar.
However, inauthentic or low quality products often add sugar as well. This increases the carb content of the vinegar and makes it much less healthy.