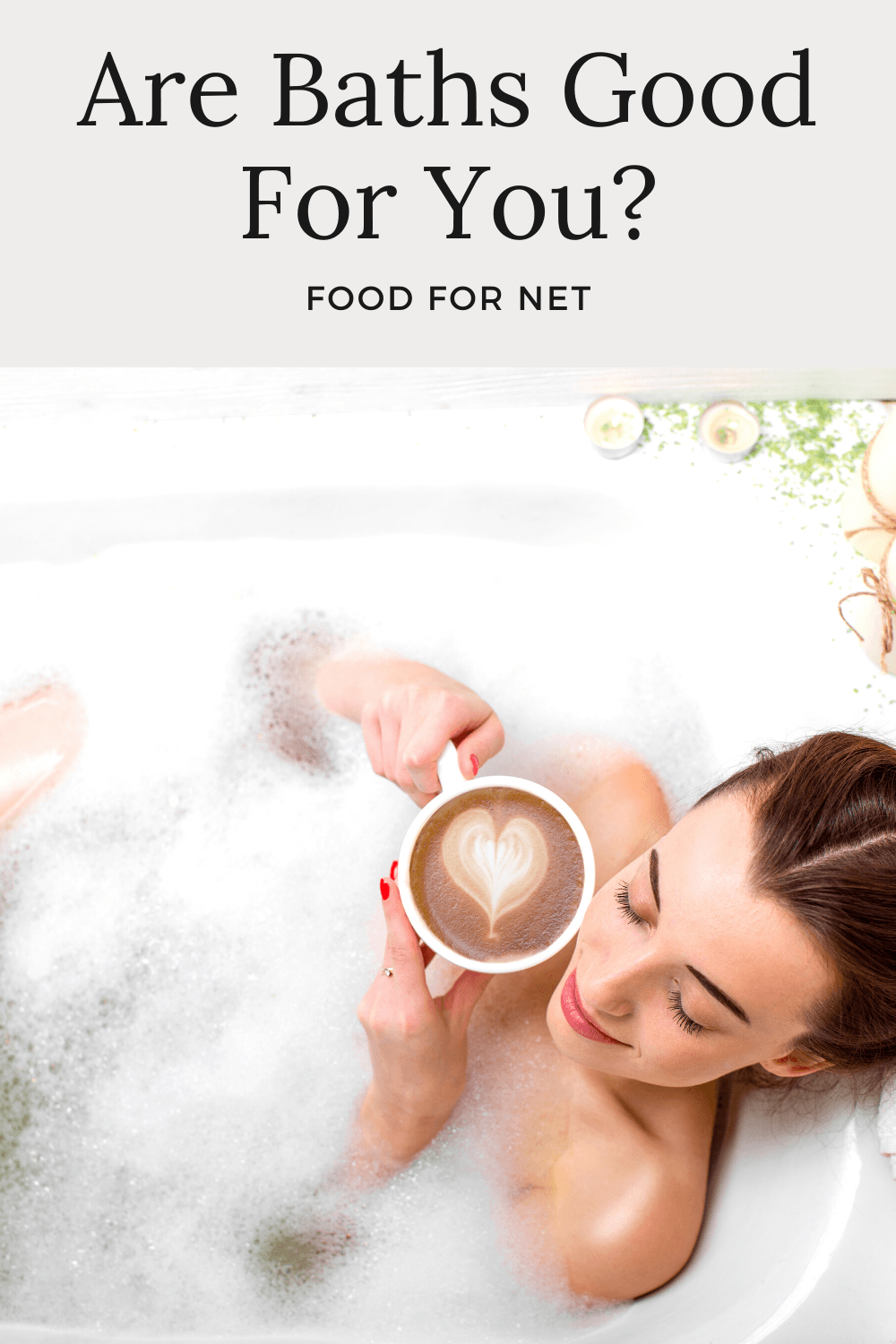 Baths can feel like an incredible treat. They're a way to unwind and tune the world out, sometimes for 10 minutes and sometimes for an hour or more. It's hardly surprising that they feature heavily on lists of self-care techniques. There's no denying that baths feel nice, but are baths good for you as well?
Is it really such a wise idea to spend time sitting in warm water that contains all the dirt and detritus that was on your body? This pattern concerns some people enough that they call baths disgusting and avoid them at all costs.
To answer those questions, we're taking a close look at what baths have to offer, just like we've done for other health and wellness topics, including running, fasting, and yoga.
Are Baths Good For You?
Benefits Of Having A Bath
How Baths Could Be Harmful
How Do You Get The Most Out Of Your Bath?
Do Baths Get You Clean?
Final Thoughts
Benefits Of Having A Bath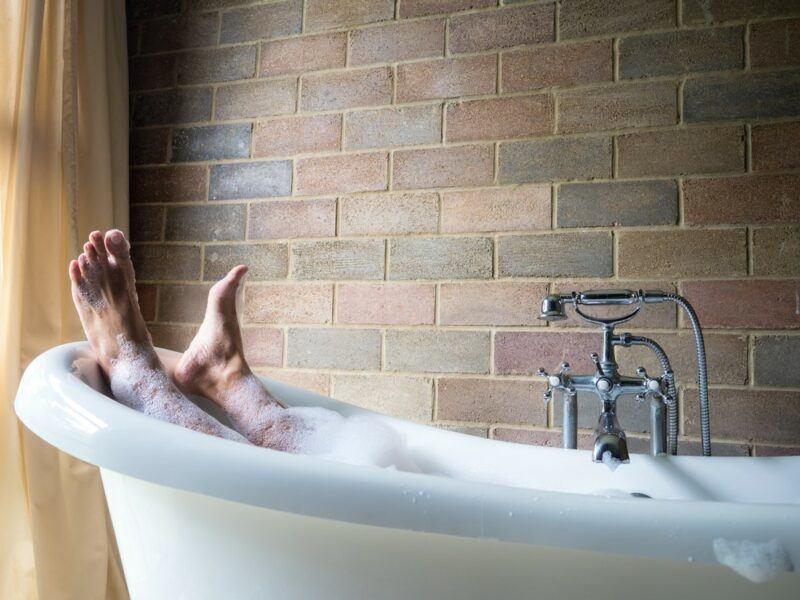 Can Improve Your Mood
This first effect is an obvious one. Baths make you feel better. They're a fantastic mood booster, particularly when you're physically or emotionally exhausted.
Part of that effect comes from the heat. Being surrounded by warmth can be incredibly comforting, making you feel safe and relaxed. You might be getting some nice smells at the same time if you're using bath salts or essential oils.
It's not just the bath itself though. Some of the mood boost comes from the fact that you're getting time and space to yourself. This is incredibly valuable, especially if your life is incredibly busy.
The time to yourself aspect doesn't apply if you're sharing the bath, of course. Still, if you're having a romantic bath with your partner, you're just going to get a different set of mood-boosting benefits.
Helps To Destress You
Baths help with stress in a similar way, giving you time and space to relax.
Plus, you're in a safe and warm environment. This helps to calm your nervous system down, lowering your overall levels of anxiety and stress. The warmth may even decrease the rate of stress hormone production. Impressive, right?
The effects don't just hold while you're actually in the bath either, as you'll often feel calm for hours afterward.
Help You To Sleep
There's something incredibly soothing about being in a bath. The warmth, the stillness, the calmness… all of these factors make it easy to sleep soundly straight after having a bath.
There's another reason too. We don't stay warm after having a bath. Instead, our body temperature will drop back down again. This temperature change is a good thing, as it helps to promote sleep.
A bath doesn't just influence the time it takes you to fall asleep either. It may be directly relevant to the quality of your sleep as well. In fact, if you struggle with sleep, having a bath at the end of the day could be a powerful way to make things better.
Decreases Muscle And Joint Pain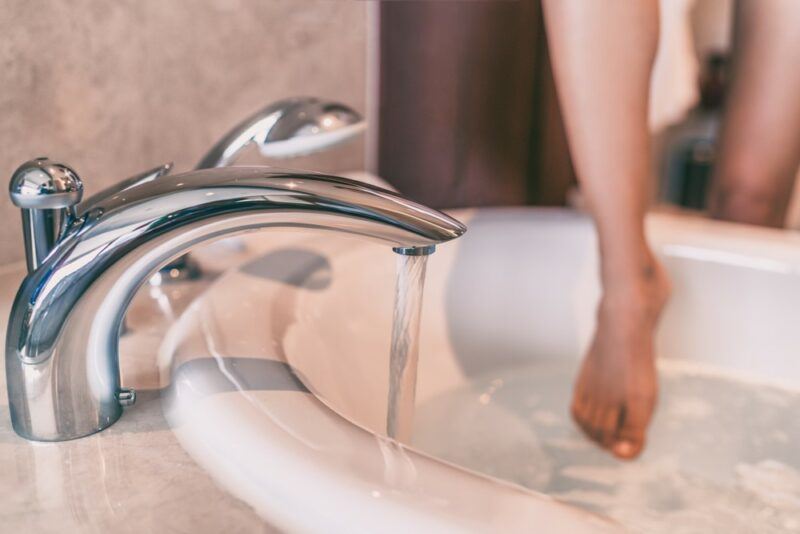 Baths are also well-known for their ability to help with pain, including pain in your muscles, your joints, and even in your bones. Part of the effect comes from the warmth of the water, especially as warm water helps to improve blood flow.
Warm temperatures also help to decrease inflammation, which is another reason that they're so relevant for pain. After all, some of the painkillers that we rely on work because they decrease inflammation.
Being in a bath also takes all the pressure off your joints and gives you the chance to gently stretch out your muscles. Such effects are an excellent way to soothe your body. Listen to some nice music and add some scented bath salts to your bath and you're likely to forget all about your pain for a while.
In fact, whether you use scented or plain ones, bath salts can strengthen the pain reduction properties of your bath.
Could Help With Your Heart Health
Surprisingly, baths may also be relevant for decreasing your risk of heart disease and stroke. More research is needed before we know exactly why this happens. However, the way that baths decrease stress and blood pressure could be part of the answer.
For that matter, any activity that helps with your stress levels is likely to have positive effects on your physical and mental health. So, if baths help you in this way at all, then they're an excellent practice.
Good For Your Breathing
The combination of warmth and weight from the water is relevant for your breathing as well. In particular, the heat increases the rate that your heart is beating at and raises your oxygen intake as well.
Baths are even more powerful if you have a cold, as the steam helps to clear your sinuses as well, making it easier to breathe. Besides, if you're feeling out of sorts from being ill, anything comforting like a bath is always fantastic.
You Even Burn Some Calories
This benefit is often overlooked, but did you know that baths can actually increase the number of calories you're burning? One study even found that an hour long hot bath burned a similar amount of calories as a 30 minute walk.
That's a pretty impressive effect.
Still, a bath will never give you all the benefits of exercise. Plus, that particular study focused on 100 degree water for an hour. Most recommendations suggest that you should be having shorter baths than this – and perhaps cooler ones too.
How Baths Could Be Harmful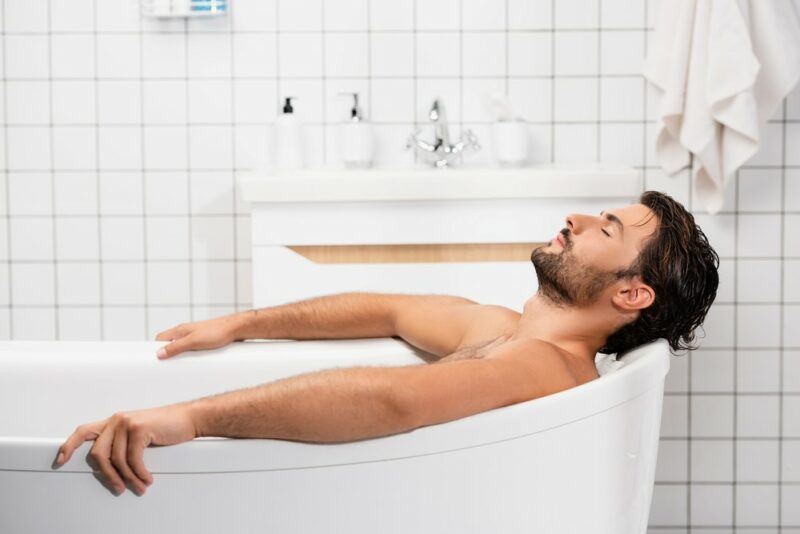 Daily Baths Might Dry Out Your Skin
While baths can feel amazing, they can easily dry out your skin. This becomes a problem if you're having a bath every day.
Most people benefit more by having showers daily or every other day, then having a bath occasionally. Showers can still dry out the skin, especially when they're very hot, but the water isn't in contact with your skin for as long as when you're taking a bath, so the drying out effect isn't as strong either.
Long Or Hot Baths Damage Your Skin Too
Long baths and hot baths aren't great for your skin either. They can even cause damage, especially if you're having them regularly.
In particular, if you're in a bath for an hour or more, you're going to damage your skin. The same is true if the bath is so hot that you can barely sit in it and are sweating heavily.
Having a short warm bath is much more powerful. Even just 10 or 15 minutes is enough to provide plenty of health benefits, without causing serious problems for your skin.
Not Everyone Can Use A Bath Safely
It's important to think about safety as well. People with limited mobility, for example, often struggle to get into and out of a bath. They may be at increased risk for falls as well – and falls in the bathroom can be dangerous indeed.
Anyone with low blood pressure may be at risk as well, as the bath could decrease blood pressure still further, leaving them lightheaded and increasing the risk of a fall
How Do You Get The Most Out Of Your Bath?
Baths offer many more benefits than problems. Even so, some approaches to bathing are more powerful than others. Here are a few tips for getting the most out of your experience.
Think About The Time
While many of us love a long soak, doing so mightn't be the healthiest approach. Instead, somewhere between 15 minutes and 30 minutes may be the optimal time. This is enough time to relax and de-stress, without drying out your skin in the process.
Long baths, particularly those that last longer than an hour, can actually harm your skin, making it dry out too much.
Add Some Oatmeal
This one might sound strange, but adding oatmeal to your bath offers a surprising array of benefits. In particular, such baths can help to soothe your skin, making you feel better and much more relaxed.
Moisturize Afterward
Your skin will still dry out somewhat, even following a short bath. As such, it's always important to moisturize.
Doing so straight after your bath is best, as your skin will still be slightly damp, which helps to keep the moisture where you want it. The importance of moisturizing after a bath isn't well known, but don't skip the step, as it can make a huge difference to your skin.
Do Baths Get You Clean?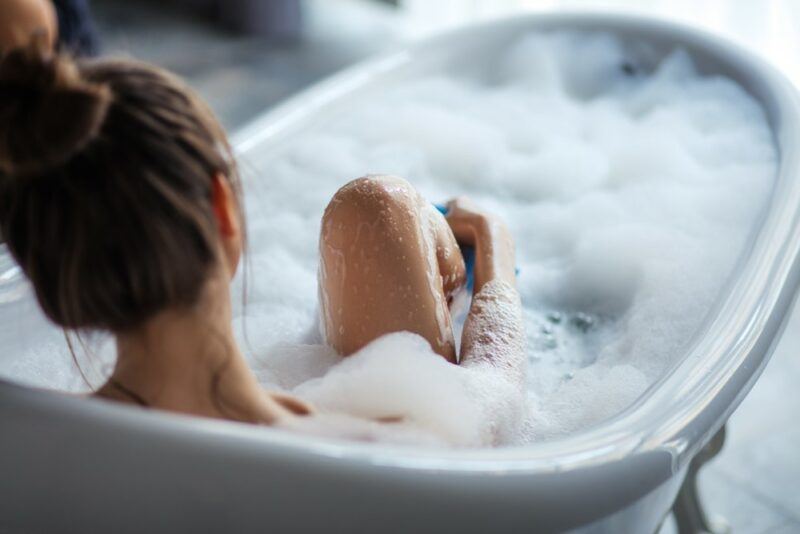 Baths aren't all about feeling good and relaxing, many of us use them as a way to get clean as well. Yet, there's plenty of debate about whether baths actually help or not.
After all, whatever comes off your body is simply sitting in the water around you for quite some time. This seems counterproductive, especially if you're very dirty to begin with.
Thankfully, any type of soap makes a big difference, as this helps to keep any particles suspended in the water. You do end up clean, particularly if you have a quick shower afterward to rinse off.
Not surprisingly, showers are much more effective at getting grime off you. Dirt, dead skin, sweat, and anything else is washed away quickly. In fact, if you're very dirty, it's best to have a shower before your bath, that way you're not sitting in dirty water.
If combining a shower and a bath like this seems silly, try having a bath when you want to relax and a shower when you need to get clean.
Final Thoughts
Baths can be a fantastic way to calm down, unwind, and feel better. They often help with joint and muscle pain too, while making it easier to fall asleep at the end of the night.
There are only two main drawbacks to think about.
First, the water you're sitting in contains the dirt that comes off your body. This isn't a big issue if you're relatively clean before you get in the bath. But, if you're sweaty or have been working outdoors all day, it's worth rinsing off in a shower before you get in the tub.
Second, baths can harm your skin. This is true if they're too long, too hot, or if you're using essential oils in the bathwater. Baths that last 15 to 30 minutes tend to be the best for your skin. Even 10 minutes could be enough to give you the benefits we've been talking about.
Are longer soaks out of the question then?
Honestly, no. Having an hour long soak every day or even every week isn't a great idea for your skin. However, doing so every so often could still be helpful, especially if you're highly stressed and have a hectic life. In such situations, the emotional and mental benefits of a long soak could easily outweigh the impacts on your skin.
Frequently Asked Questions
Can You Take A Bath While Pregnant?
Having a bath of up to 104°F for no more than 20 minutes is generally safe during pregnancy, as doing so doesn't raise your body temperature too much. However, it's important to pay close attention to both the temperature and duration, as bathing for too long or at too high of a temperature can be risky.
You might even choose to stick to 10 minute baths at a lower temperature. Also remember that pregnancies are highly individual, so what's right for one woman mightn't be for another. In particular, anyone with a high risk pregnancy may need to be more cautious with baths.
Can You Take A Bath On Your Period?
Taking a bath while on your period is safe and can even be helpful, as the warm water can decrease symptoms like cramps. However, the bath isn't going to completely stop your bleeding (it can even increase it in some cases).
Bathing with menstrual blood in the water isn't actually harmful, but if you find that this creeps you out, try wearing a tampon instead. Cleaning thoroughly before you bathe is helpful as well.
What Uses More Water A Shower Or A Bath?
Most of the time, baths use more water than showers. However, this is influenced by the size of your bath and the length of your shower. If you're showering for 15 or even 20 minutes, then a bath may actually use less water.
Does A Hot Bath Help Sore Muscles?
Yes. Being surrounded by warm water helps to increase blood flow and relaxes your muscles, which decreases muscle pain. A 15 to 20 minute bath should be enough to give you this effect. The bath doesn't need to be extremely hot either. Even a warm bath should be enough to reduce pain.
Do Baths Cause UTIs?
Baths can indeed increase the risk of UTIs, as it's easy for bacteria to enter your urinary tract. Baths can also cause irritation, particularly if you already have a UTI or are highly sensitive. To avoid irritation, it's best to skip the bubble bath and avoid using harsh chemicals when cleaning the bath.
Thankfully, this doesn't mean that a bath will give you a UTI. Many people have baths regularly without any problems at all.