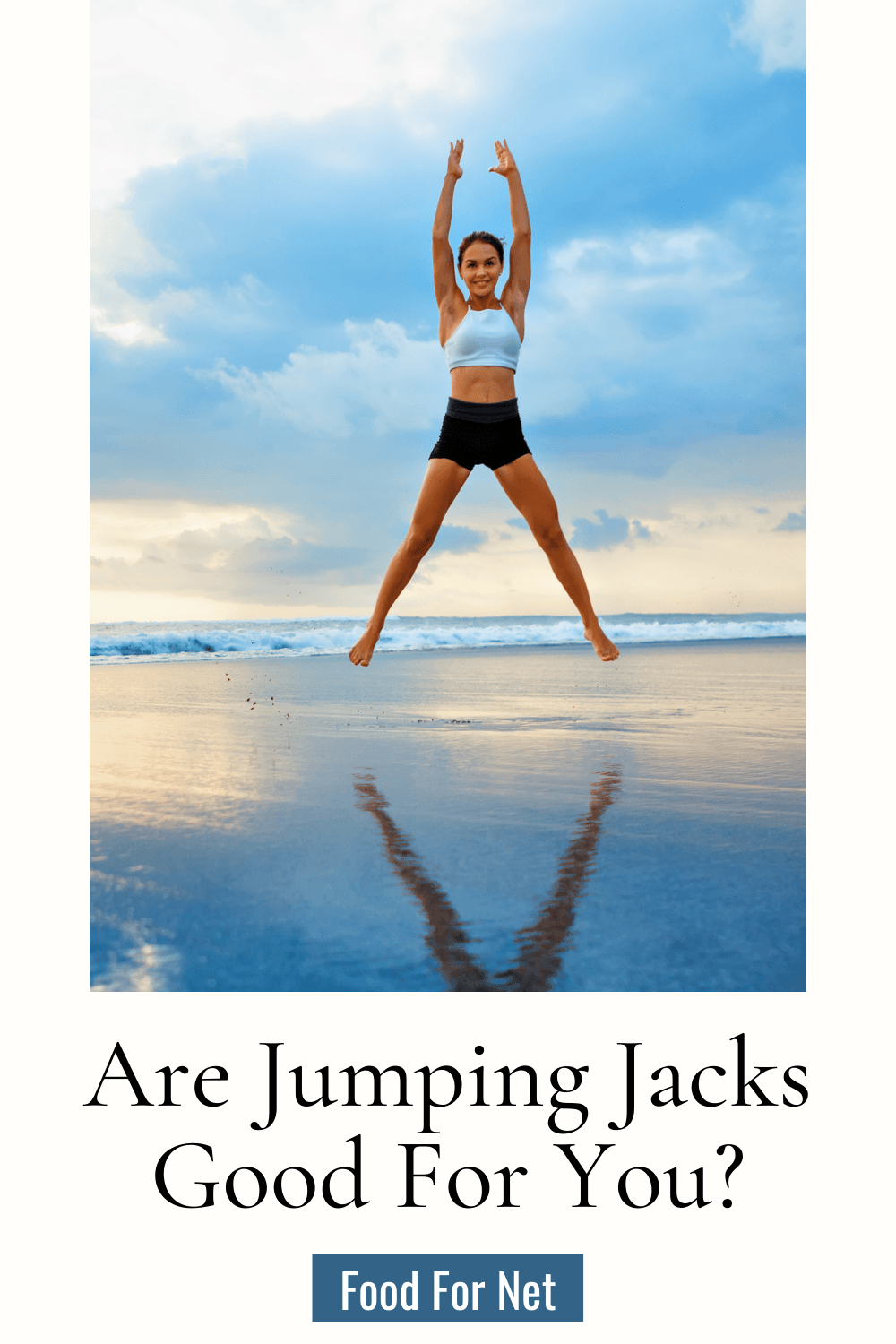 Jumping jacks aren't just an activity for kids. They can actually be an effective form of exercise for adults as well, one that helps you to burn a surprising amount of calories and work out your whole body.That's pretty exciting, but are jumping jacks good for you?
After all, they're a pretty intense exercise, one that can be jarring if you're performing them on a hard surface. Plus, who really does jumping jacks after finishing high school? There's got to be a reason they aren't on most adults exercise regemine.
They're also just one of many types of exercise. Are they beneficial enough to earn a place in your exercise kit bag? Or, should you be focusing on other forms of exercise instead, like yoga, walking, or running?
Are Jumping Jacks Good For You?
Benefits Of Jumping Jacks
Problems With Jumping Jacks
How To Do Jumping Jacks Right
Ways To Modify Jumping Jacks
Final Thoughts
Benefits Of Jumping Jacks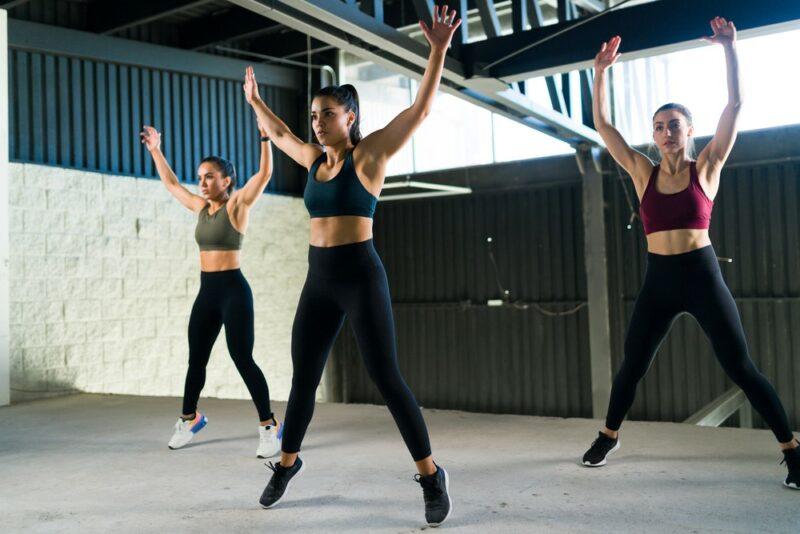 They Get You Moving
This first benefit is the most obvious – as a form of exercise, jumping jacks get you moving.
There's no denying the importance of this effect. After all, modern lives are often sedentary. We spend much of our day sitting at desks, just to come home and sit around in front of a screen.
Even people who are on their feet for work or use standing desks often don't get enough varied movement in their day. There are plenty of exceptions, of course, but many of us simply need to move more. That's all there is to it.
No Equipment Needed
Jumping jacks are fantastic because you don't need anything. There's no gym equipment to worry about. You don't even need an exercise video to follow or a yoga mat.
All you need is enough space to jump, which isn't hard to find at all. It's certainly easier than finding an entire route for your run or trying to set up an exercise bike at home.
The lack of equipment and low space requirement means that you can practice jumping jacks pretty much anywhere. You could even do them while camping, in a hotel room, on the beach, or while walking around town (if you don't mind a few stares).
This feature is easily overlooked, but it's incredibly important. Many other types of exercise need equipment or a lot of space. This can be enough to stop you doing them, especially if you can't afford a gym membership.
They're A Type Of Plyometric Exercise
Jumping jacks fall into the category of plyometrics (jump training, in other words). Plyometric exercises are interesting, as they have components of resistance exercise and cardio exercise.
This combination is powerful, as cardio on its own doesn't help with your muscles much, while resistance exercise doesn't always raise your heart rate. Getting the best of both worlds is powerful.
They Fit Well In Exercise Routines
Because jumping jacks are so simple, you can easily include them as part of a superset or a circuit. You can even create your own circuit training routine at home and incorporate jumping jacks into it.
You Can Simply Do A Few At A Time
Many people struggle with the time aspect of exercise. We know that we need to move more often, but it's hard to do this when there's so much going on.
Sometimes finding an hour, half an hour, or even just 20 minutes to exercise feels all but impossible. Jumping jacks are fantastic because you can do just a few of them at a time.
Perhaps you do a dozen or more one-minute sets throughout the day. The benefits of doing so would quickly add up. You might even find that you lengthen the sets as you go.
Tiny bits of exercise like this mightn't seem like much, but they're enough to get you energized and excited about exercise. It mightn't be long before you start to crave more movement and exercise becomes a joy, not a chore.
They Help You To Feel Good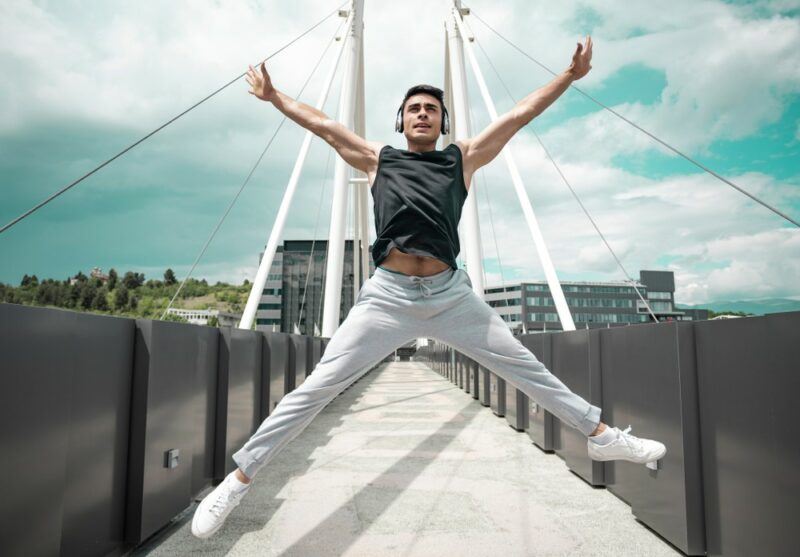 Exercise is a consistent mood booster, helping people to feel good and engaged with life.
Intense exercise is the most powerful way to get this mood boost, as it leaves you a type of high that's hard to beat. You mightn't get this from a minute or so of jumping jacks, but you may still experience a small mood improvement. On the other hand, a few minutes of jumping jacks could easily give you a boost.
One reason is that exercise gets you out of your head and emotions. It puts you squarely back in your body instead, which is often exactly where you need to be.
Exercise isn't just about the immediate effects anyway. Even small amounts of exercise add up, helping you to consistently feel better.
May Help With Depression
Exercise is often promoted as a tool for decreasing depressive symptoms and helping people to recover. It isn't a cure on its own, nor is extra exercise guaranteed to help everyone.
Still, exercise doesn't come with the same side effects as antidepressant medications, so it's certainly worth trying.
Jumping jacks are surprisingly useful here. Not because they're better than other types of exercise, but because they're something that can be done with no equipment or prep work.
People can also do them in the comfort of their home, starting with just a few at a time. This is fantastic for people with depression, as the idea of going to the gym or even going for a 20-minute walk could seem all but impossible.
A few jumping jacks, on the other hand? That's much easier.
May Help With Your Bones
Some research suggests that vertical jumping can improve bone mineral density. This effect appears to be related to the strain that jumping places on your body when you land.
Interestingly, the study focused on just 10 jumps per day, three times per week. This is enough for anyone to do and is certainly worth trying for yourself.
Could Help You To Lose Weight
Like any form of exercise, jumping jacks could easily help with your weight loss journey, as they increase your calorie burning.
Jumping jacks may be particularly effective for people who haven't exercised in a while because they're easy to do and are fun. They can even give you an emotional boost, helping you to feel good about yourself.
Problems With Jumping Jacks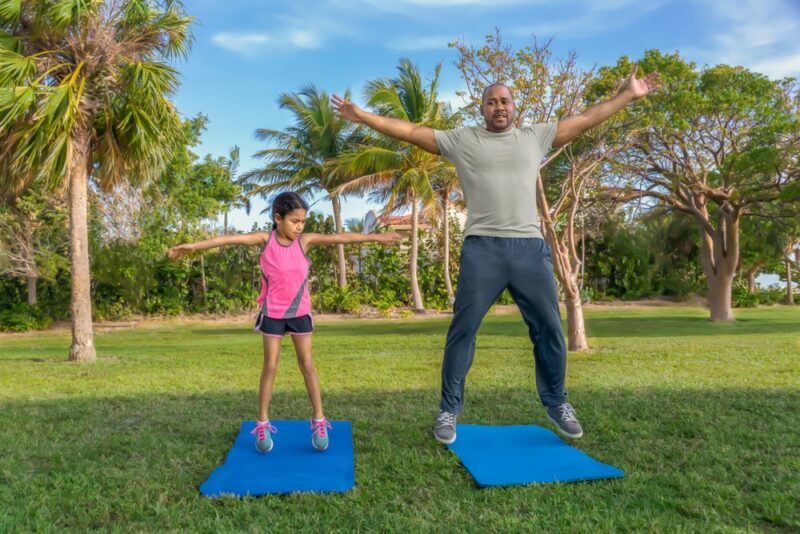 It's Easy To Ignore Technique
Many of us have been doing jumping jacks since we were kids. We're also talking about an incredibly simple type of exercise, so it's easy to just do jumping jacks, without putting any thought into technique.
But, technique matters, even for jumping jacks. Ignoring technique increases the risk of harm from your exercise and decreases the benefits.
They Can Cause Injuries
Jumping jacks are a relatively high impact exercise and can sometimes lead to injury. The joints in your lower body are particularly at risk, like your ankles and knees. You might end up twisting an ankle or jarring your joints.
The chance of injury is higher if you're relatively unfit or if you start off with a large number of reps right from the beginning. To avoid this, try starting slowly and make sure you're wearing supportive shoes.
If you have an injury, a serious health condition, or a problem with your joints or muscles it's important to talk to your doctor before doing jumping jacks regularly. They'll be able to tell you whether jumping jacks are likely to help you or cause harm.
In some cases, a doctor might suggest a lower impact exercise or modification to decrease the risk of injury.
May Be Unsafe During Pregnancy
Pregnancy is another area where you'll need to talk to an expert.
Most recommendations suggest that pregnant women still need to stay active, but that low impact activities are safer than high impact ones. However, some women do continue with high impact exercises throughout pregnancy, particularly if there is a low risk of complications.
Exactly what you can do is likely to vary depending on which trimester you're in and how your body responds. If you are advised to stay away from high impact exercise, then you might need to skip jumping jacks.
How To Do Jumping Jacks Right
Jumping jacks aren't complicated. There are only a few steps to remember.
To begin, stand tall with your arms at your side and legs together. Then, bend your knees and jump. As you're in the air, raise your arms over your head and spread your feet out, until they're roughly shoulder-width apart. Once you've landed, jump again to come back to starting position.
That's all there is to it.
One of the most common mistakes is to bend your elbows while you jump. Doing so decreases the range of motion and may mean you see fewer benefits.
It's also important to make sure you have enough support for your feet. This includes wearing comfortable shoes and perhaps even using a surface that absorbs some shock, like a yoga mat or carpet.
In contrast, trying jumping jacks in bare feet on a solid surface like concrete is much more jarring than it needs to be and dramatically increases the risk of injury.
Also, remember to breathe. While this sounds obvious, it's easy to hold your breath as you're exerting yourself. With jumping jacks, this might mean only breathing when you land. Doing so isn't ideal, as your body needs adequate oxygen to get the most out of your exercise.
If jumping jacks are too high impact for you, then it's important to modify them to suit your needs. The video below highlights the correct technique for jumping jacks and also shows a modification that you can try to reduce the impact.
Ways To Modify Jumping Jacks
Reducing impact isn't the only reason for modifying an exercise. You can also make tweaks to increase the intensity of your workout.
Here are a few ways that you can do this with jumping jacks. They're just scratching the surface though, as there are plenty of other possible variations out there.
Squat jacks. This version involves starting in a half squat position, where your legs are hip-width apart. You jump from here and come back to the half squat position. This variation is fantastic for your leg muscles.
Arm resistance band squats. Another approach is to use a resistance band on your wrists. This time you'll need to bring your arms out in a straight line at chest height, rather than making the traditional star shape.
Leg resistance band squats. Alternatively, why not use a resistance band on your legs to help with your leg muscles? Placing the band above your knees works the best here. With both this and the previous approach, you'll need to experiment to find the best placement for the band and how tight you want it.
Star jumps. You've probably played with this version of the jumping jack before. The difference is that you jump all the way up at the end of your jump, briefly forming an X with your arms and legs.
Press jacks. This variation involves holding either dumbbells or a medicine ball. You bring the piece of equipment up above your head for each rep, rather than raising your arms on their own. Doing so intensifies the muscle development aspect of jumping jacks and makes the exercise even more powerful.
Final Thoughts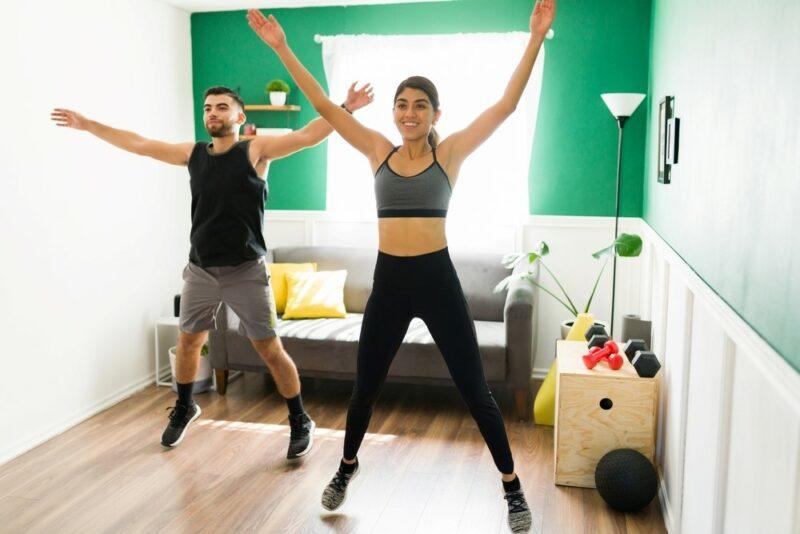 Jumping jacks combine cardio and resistance exercise, making them surprisingly powerful. Plus, they're an exercise you can complete at home without any equipment.
The main problem is the risk of injury. This is particularly concerning for anyone with previous joint or muscle problems. As such, it's important to carefully choose the surface you use and always pay attention to your body. If jumping jacks start to cause you pain, you may need to stop them entirely and talk to a doctor or a personal trainer about the best way forward.
Frequently Asked Questions
How Many Calories Do Jumping Jacks Burn?
You'll typically burn between 8 and 10 calories per minute by doing jumping jacks. The exact number of calories is influenced by a variety of factors, including the intensity of your exercise, how fit you are, and your current weight.
What Muscles Do Jumping Jacks Work?
Jumping jacks are surprisingly comprehensive, working most areas in your body, including the glutes, core, shoulders, and quads. You could also practice some of the more involved versions of jumping jacks discussed in this article to increase the power of your workout.
Are Jumping Jacks Good For Weight Loss?
Any form of exercise can help you to lose weight, especially if you're eating healthy at the same time. Jumping jacks aren't necessarily more effective than other types of exercise for this effect, but they aren't worse either.
Jumping jacks have one major benefit as well – they can be easily done anywhere. You can even do half a dozen every so often, multiple times a day. Few other types of exercise are so easy to pick up and put down.
Are Jumping Jacks Cardio?
Yes. Jumping jacks raise your heart rate, which makes them an effective cardiovascular exercise. Plus, no equipment is needed – just yourself.
Do Jumping Jacks Increase Your Height?
Well… yes and no. Jumping jacks do lead to a slight temporary height increase, as they reduce vertebrae decompression and promote muscle development. However, you're very unlikely to see a permanent height gain from jumping jacks.