Energy drinks and the keto diet don't sound like they should go together. After all, energy drinks are often packed with sugar. Even when they're not, they tend to rely on artificial ingredients and can be quite concerning. Thankfully, there are some decent keto friendly energy drinks out there.
Some of these drinks take the natural approach, where they avoid additives and synthetic ingredients as much as they can. Others simply cut the carbs down and don't worry about the rest.
These energy drinks can be useful from time to time. They're particularly good for an energy boost when you're exhausted or have an important project due. Just be sure not to rely on them too much. Despite being keto friendly, none of these drinks are great in high doses.
Plus, if your energy is so low that you're guzzling energy drinks, there's a problem to fix with your diet, lifestyle, or health. Catching up on sleep and eating nutritious keto foods should help to get you back on track. You could even switch to caffeine free energy drinks for a while. If you're still feeling low in energy, it may be time to see a doctor.
Energy Drinks For Keto Dieters
Celsius Live Fit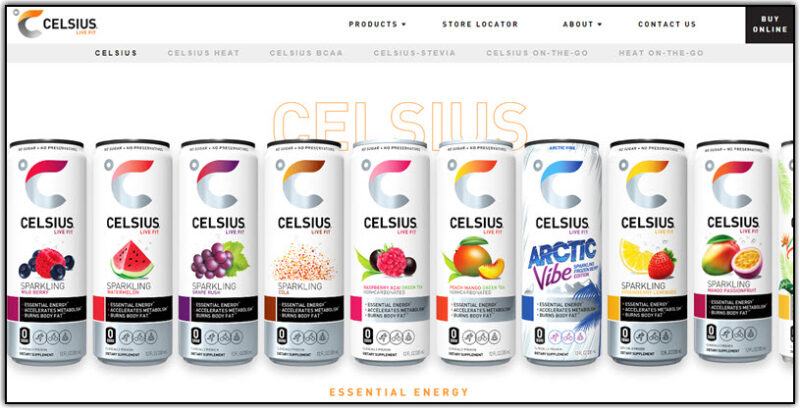 Celsius Live Fit is a fantastic brand for variety. There are 15 flavors of their original drink, plus additional product lines like Celsius Heat, Celsius BCAA, Celsius Stevia, Celsius On-The-Go, and Heat On-The-Go.
You can choose whichever version you like on keto, as they're all sugar free.
That said, Celsius Stevia is easily the best choice, as this relies on stevia for sweetness and natural sources of caffeine. The other versions rely on sucralose instead, which isn't nearly as appealing.
Zevia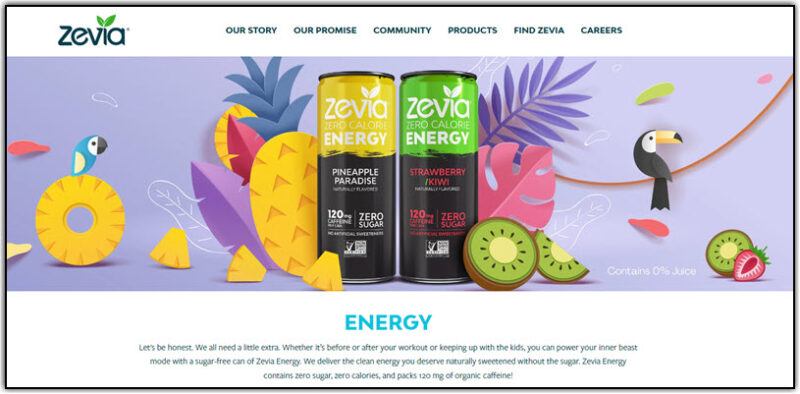 Not surprisingly, Zevia is a natural energy drink that's sweetened with stevia. It's also one of the simplest energy drinks, with just a handful of ingredients, including carbonated water, citric acid, caffeine, stevia leaf extract, and natural flavors.
Even the caffeine is natural, as this comes from tea leaves.
Guayaki Yerba Mate Sparkling Blackberry Mint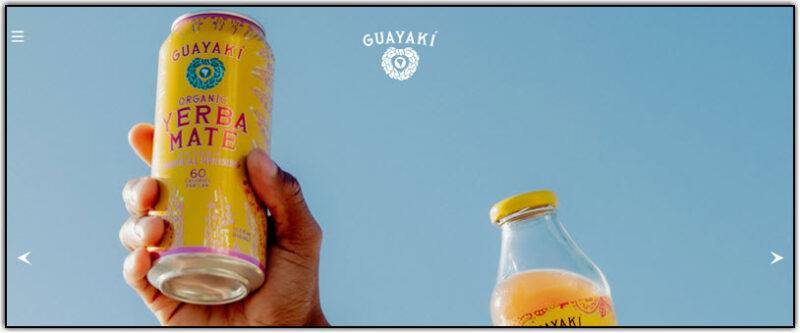 Guayaki offers a selection of sparkling and still yerba mate energy drinks, but most of these aren't keto friendly at all. The main exception is their sparkling blackberry mint.
This provides 80 mg of caffeine per can and contains just one gram of sugar. It's an easy keto drink, plus it focuses on natural and organic ingredients.
The drink also relies on stevia leaf extract (it would be too tart without some type of sweetner). This is a nice approach – much better than using an ingredient like sucralose.
Clean Cause Zero Calorie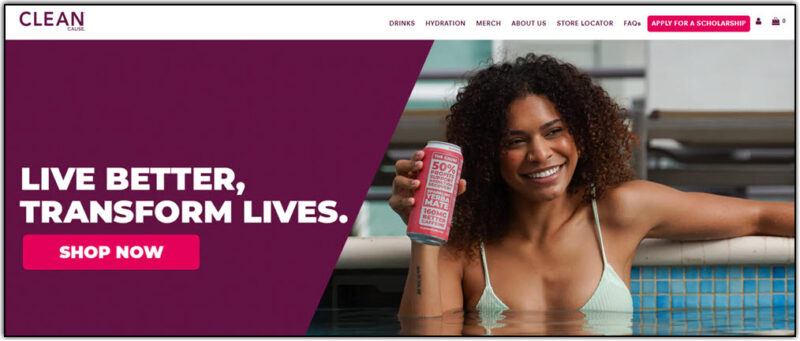 Clean Cause offers plenty of natural and healthy energy drinks. Some follow the traditional style, while others focus on yerba mate instead.
Most of them aren't great for keto dieters, as they rely on a combination of sugar and natural sweeteners. However, Clean Cause does have a few zero calorie versions, including cherry lime, watermelon, and orange ginger.
These versions are perfect for keto, as they rely on stevia and erythritol for sweetness. There isn't any sugar at all. Clean Cause also avoids artificial sweeteners, making the drinks even more powerful.
Yerbaé Energy Seltzer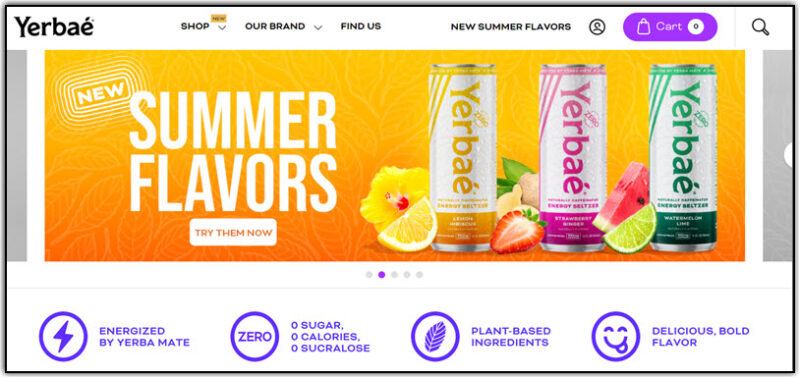 All the products from Yerbaé will work on a keto diet, as they avoid sugar and are basically carb free. However, the Yerbaé energy seltzers are easily the most exciting.
These drinks are unusual because they avoid sweeteners entirely. Instead, they're basically seltzer water with a little flavoring and plenty of caffeine.
This is a great approach, as keto dieters can easily end up over-relying on sweeteners. Why not cut back and choose more unsweetened options? Your tastebuds will adapt to the approach surprisingly fast.
Tru Energy Drinks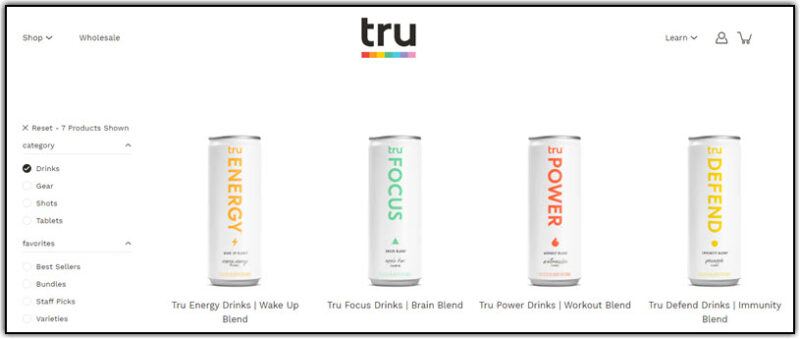 Tru offers a few different drinks, including Tru Focus, Tru Energy, and Tru Defend. Each is tailored towards a specific need, like helping your immune system and providing an energy boost.
As such, some contain caffeine, while others don't. Tru Energy, Tru Focus, and Tru Power are the go-to options for energy.
So, let's talk about Tru Energy. This product only contains two grams of sugar, putting it well within your keto limits. The caffeine comes from natural sources and there are plenty of B vitamins that could help with your energy too.
Only natural sweeteners are used, including stevia, erythritol, and monk fruit extract. As such, this is a fantastic brand for anyone trying to stay healthy. 
Rowdy Energy Zero Sugar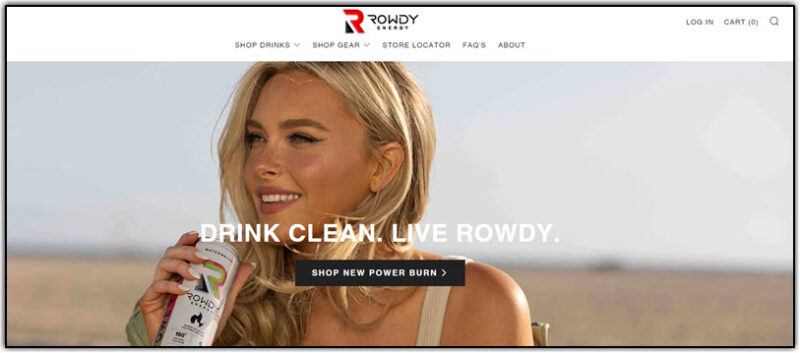 Rowdy Energy has a decent product line to choose from, including their Power Burn products and original Rowdy Energy drinks. The zero sugar versions of Rowdy are an excellent choice, as these completely avoid sugar.
The drinks are also pretty healthy, as Rowdy sticks to natural ingredients as much as possible. There are also electrolytes present, which should help you to stay hydrated.
The most interesting thing is the sweetener balance. Most drinks use one or perhaps two types of sweetener. Rowdy Energy uses four different sweeteners instead (including a whopping 12 grams of erythritol per can).
Combining sweeteners like this helps to offset any negative flavors and aftertastes from individual sweeteners. However, the approach is only helpful if you're not sensitive to any of the sweeteners they use. 
Toro Matcha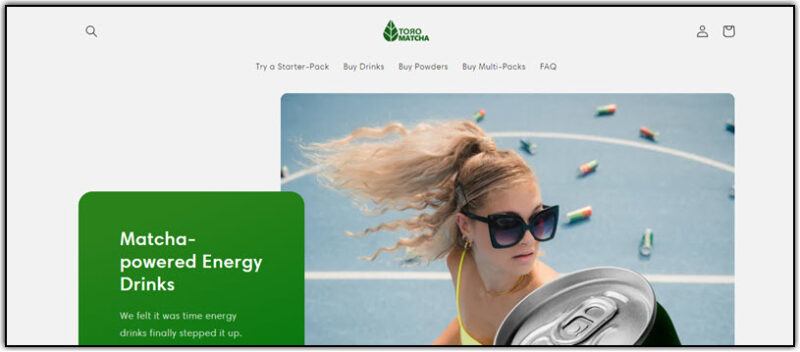 Toro Matcha is unusual in a few ways. First, it is both sugar free and unsweetened. The drinks rely on organic natural flavors and uji matcha for flavor – and very few other ingredients are added.
Avoiding sugar makes the energy drink very low in carbs indeed. You also don't need to worry about side effects from sweeteners.
All the caffeine in the drink comes from the matcha tea itself. As a result, there's only 60 mg of caffeine per can. The low caffeine content will work well for many people, helping to decrease jitters and any caffeine-related side effects.
Besides, let's be honest, many energy drinks go overboard with caffeine. It's nice to find one that drops things down a bit. 
Hiball Energy Seltzer Water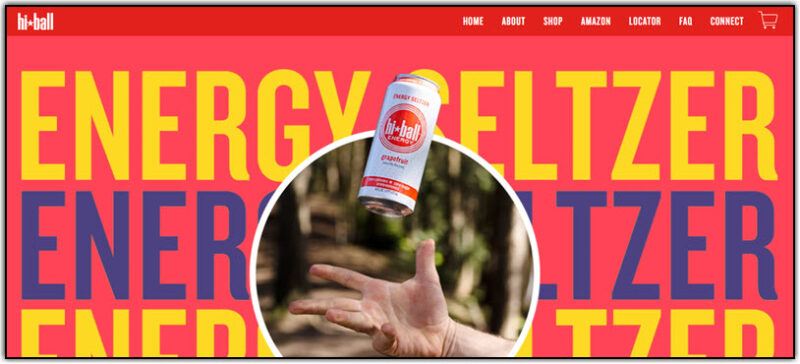 Hiball is an easy choice for keto, as the products don't just avoid sugar, they also avoid any sweeteners. We're basically talking about caffeinated sparkling water, with a little flavor.
The fruit flavor isn't dramatic at all. It's certainly not like what you find in conventional energy drinks. Instead, you're just getting a hint of flavor – enough to make your water a little more interesting.
The energy drinks also pack a punch. A 16 ounce can gives you an impressive 160 mg of caffeine. It also contains B vitamins, guarana, and ginseng, a combination that should be powerful for energy.
ZOA

ZOA is unusual, as their energy drinks aren't just designed to boost energy. They're also meant to help with your immune system by providing turmeric, camu camu, electrolytes, and various vitamins.
The drinks have a lot going for them too, including being sugar free and avoiding most artificial ingredients. The big limitation is that they use sucralose for sweetness, rather than a natural sweetener. The sucralose makes the drinks less appealing, as this sweetener is still mired in controversy.
MATI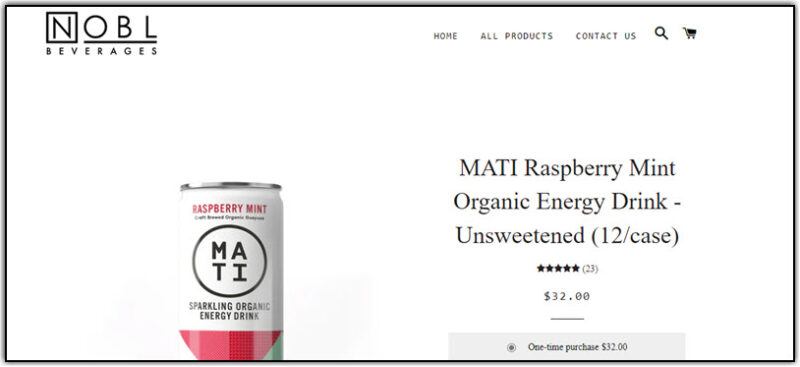 The zero calorie versions of MATI are also useful on a keto diet. These follow the energy seltzer style, so they are mostly water with a few extra ingredients for flavor and caffeine.
The ingredients list here is incredibly short. MATI doesn't bother with any unnecessary additives. They just give you what you need, then leave it at that.
In fact, zero calorie MATI cans don't even use any sweetener at all. This is perfect if you're worried about using sweeteners too often. Besides, the sweetness of regular energy drinks can get a bit much sometimes.
Red Bull Zero and Sugarfree

It's not just natural companies that create keto friendly drinks. Many of the big energy drink players have at least one low carb product as well.
Red Bull has two products in this field, Red Bull Zero and Red Bull Sugarfree. They're very similar drinks, with caffeine, B vitamins, and taurine. The big difference is the sweeteners, as Sugarfree relies on acesulfame K and aspartame, while Zero focuses on acesulfame K and sucralose instead.
There is a difference in flavor too. Some of this may be due to the sweeteners, but other ingredients could play a role too.
While both versions are entirely keto friendly, they do rely on artificial flavors and sweeteners. Some keto dieters are fine with such ingredients, while others avoid them. What's right for you?
Rockstar

Rockstar actually has a designated low carb product – called Rockstar Zero Carb. The 16 ounce can gives you 240 mg of caffeine, plus CoQ10, some B vitamins, and BCAAs.
The lack of added sugars makes this fantastic for keto, but the drink does contain maltodextrin, acesulfame potassium, sucralose, and artificial colors, so it's certainly not ideal.
Reviews on the taste vary dramatically. Some say that it has pomegranate-like flavors, while others suggest blueberry instead. Most people seem to enjoy the flavor, although Rockstar sometimes changes the formula, so the taste may change over time (of course, that's true for all the drinks on this list). 
There are some other flavors as well, including silver ice, fruit punch, and mandarin orange.
Rockstar also has a sugar free product, with a similar flavor to its original recipe. This isn't promoted as zero carb, but it still avoids sugar, so it will be keto friendly.
You could also try the Rockstar Recovery range. These are unusual energy drinks, as they contain electrolytes and are still rather than sparkling.
While these drinks aren't entirely sugar free, the sugar content is very low, so they'll still work on a keto diet.
Monster Zero Ultra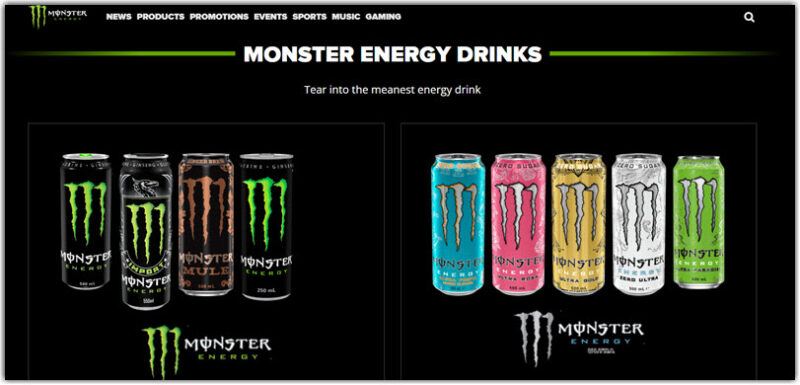 Here we go again with sugar free versions of traditional drinks. This time we're talking about Monster Energy, particularly their Ultra line.
Once again, there are no added sugars. Erythritol is one of the main sweeteners, but unfortunately the recipe still relies on sucralose as well.
The biggest advantage is that there are plenty of flavors to choose from. This is perfect if you love variety or are very particular about how your energy drink tastes. 
Bang Energy

Bang is different than most the other major energy drink brands, as the products are always sugar free. This gives you a wide selection of flavors. Fantastic, right?
Bang is also a very high caffeine choice. The 16 ounce cans contain a whopping 300 mg of caffeine each. They also have their 8 ounce Redline range, where the drinks contain 250 mg of caffeine each. That's a ton of caffeine for a tiny can.
The products contain plenty of other ingredients too, such as CoQ10, creatine, and EAAs. These ingredients could provide energy or help with your workouts in other ways.
C4 Energy Drinks

Let's close off the list with one more interesting brand – C4 Energy. This company doesn't just focus on energy. Instead, the drinks are meant to help with exercise performance as well.
Because of this target, the drinks often include unusual ingredients, like betaine and citrulline. There are plenty of styles on offer. Some are carbonated, while others are still instead.
However, you'll need to check the ingredients label carefully, as some products will be better for keto than others. Look for the ones that avoid sugar and have few carbs per serving.
Should You Drink Energy Drinks On Keto?
While some keto dieters rely on energy drinks regularly, the topic is still controversial. Many experts worry that relying heavily on alternative sweeteners (particularly artificial ones) messes with your body's reward system.
When this happens, sugar free energy drinks might simply lead to sugar cravings. Such cravings can be difficult to resist, making the keto diet even harder to stick with.
Thankfully, many people can enjoy energy drinks and still follow a keto diet. Your willpower plays a role here, along with how your body responds.
The best approach is to start slowly and experiment. If you pay attention to your body, it should be easy to tell when energy drinks are helping you and when they're causing a problem. 
Which Energy Drinks Are Best?
As you might have noticed, energy drinks are quite different from each other. Some focus on natural ingredients – keeping additives and artificial ingredients to a minimum.
Others take a different approach. They're often high in caffeine and use plenty of additives. Many of them also rely on artificial sweeteners, like sucralose. This is a particular problem, as these sweeteners may not be as safe as we often assume.
To protect yourself and see the most benefits, it's best to focus on healthy energy drinks. These will typically use natural sweeteners and natural sources of caffeine. Many will skip taurine as well (which is helpful, as taurine is generally synthesized).
Finally, try not to go overboard with caffeine.
I know. It's tempting to look for the biggest energy kick possible, but too much caffeine isn't good for your health. Going overboard probably won't help your energy levels either, as your tolerance simply increases along the way.