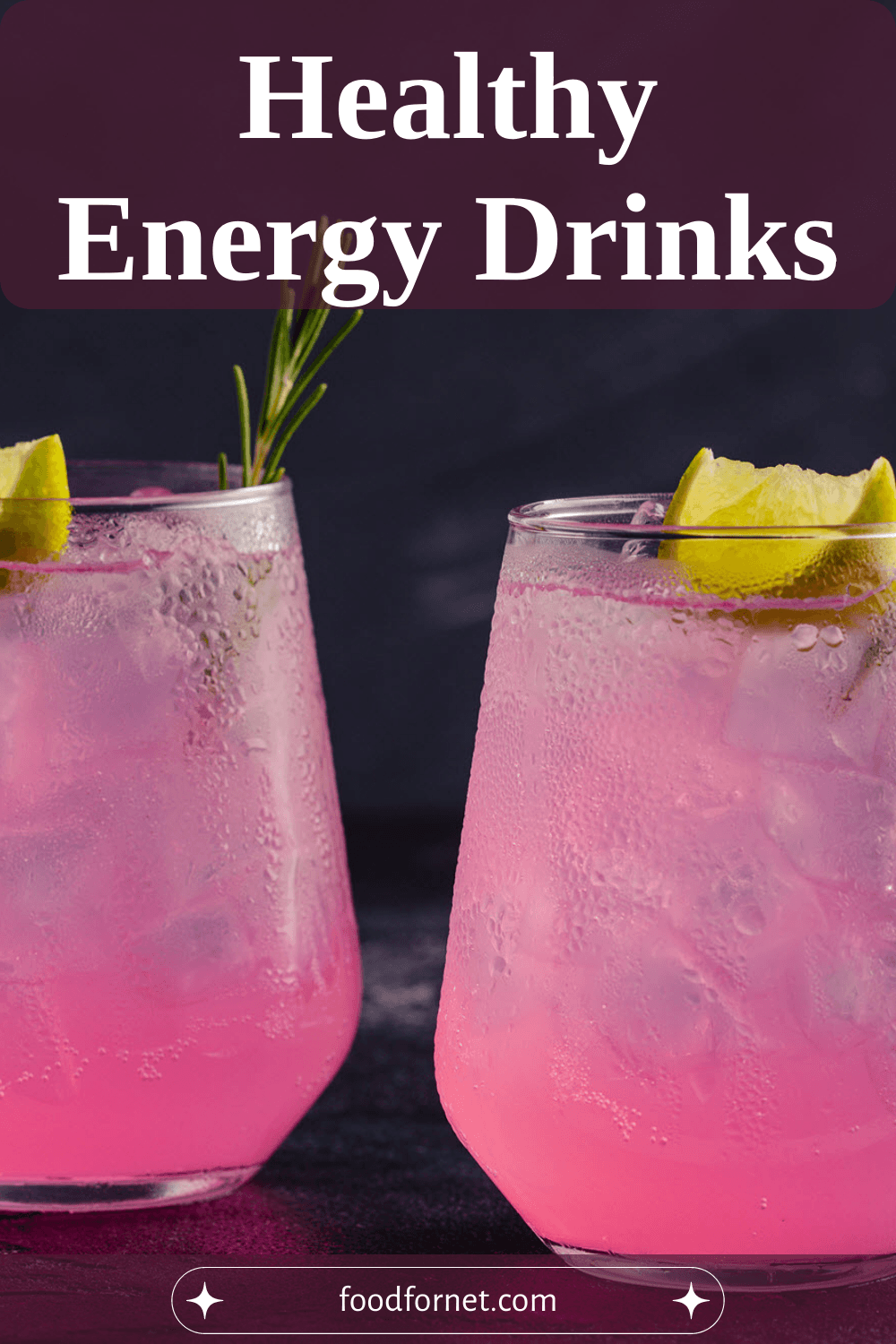 Energy drinks are notoriously bad for you. They're usually high in sugar and packed with all kinds of artificial colors, flavors, and other concerning ingredients. This is particularly true for very strong energy drinks. Sugar free can be healthier, but often aren't, as most rely on artificial sweeteners to make them taste good.
Thankfully, there are healthy energy drinks on the market too. Most of these come from companies that really care about their consumers and their legacy. They do all they can to create high-quality products that also taste good.
The drinks in this list are the best of the best. We've featured a variety of styles, to help you find the drinks that best match your needs. There are even some vegan and keto friendly options. Bear in mind though, these energy drinks still rely on caffeine. While caffeine offers some benefits, overdoing it on caffeine is never wise.
Energy Drinks That Are Actually Healthy
Guayaki Organic Yerba Mate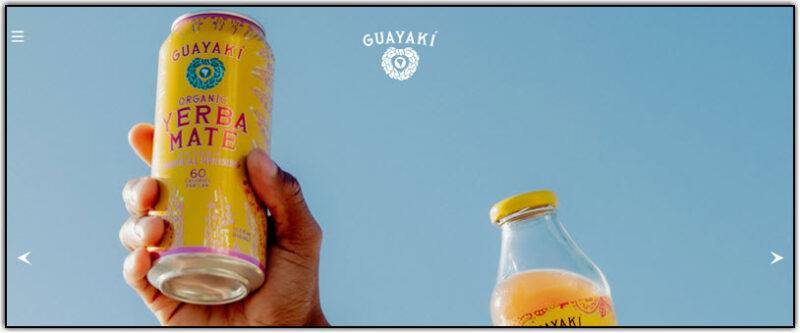 Guayaki is a powerful brand. The company focuses on fair trade and USDA organic ingredients as much as possible.
They also avoid additives, choosing instead to focus on natural ingredients like yerba mate extract, water, sugar, yumberry juice concentrate, and organic caffeine.
Sugar is often used, with their Revel Berry version containing 27 grams of sugar in a 15.5 ounce serving. But, drinks like Rockstar often contain more than 60 grams of sugar for a similar serving size, so Guayaki's version isn't bad at all.
The company does have a couple of lower sugar versions, including sparkling Blackberry Mint with just one gram of sugar per serving and non carbonated Tropical Uprising with 11 grams of sugar per serving.
Clean Cause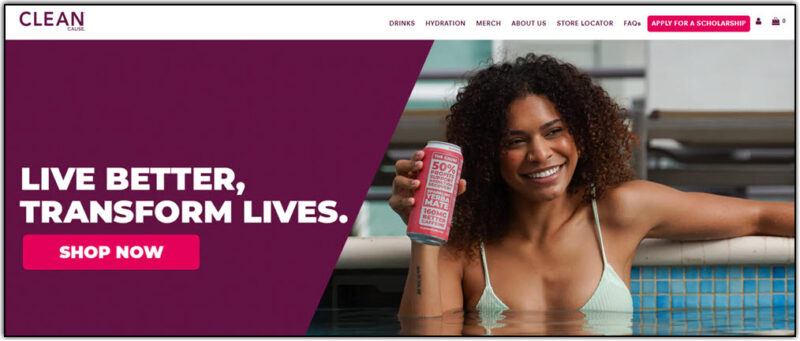 Clean Cause gets its name from the fact that half of the company's net profits go towards addiction recovery. Their energy drinks are also impressive, with the regular version containing 120 mg of caffeine, three grams of collagen, and plenty of probiotics.
The sugar content is low too, with just four grams of sugar per 12 ounce can. Some erythritol and stevia are used in the mix as well. These help to keep the drink sweet, as four grams of sugar wouldn't be enough on its own.
They also have a sparkling yerba mate product. This gives you 160 mg of caffeine per can and is sweetened with both sugar and stevia. Most versions contain around 15 grams of sugar, which isn't too bad.
The company has an answer if you want to avoid sugar too, with a zero calorie version. This one skips the sugar, relying entirely on stevia and erythritol for sweetness.
FITAID Energy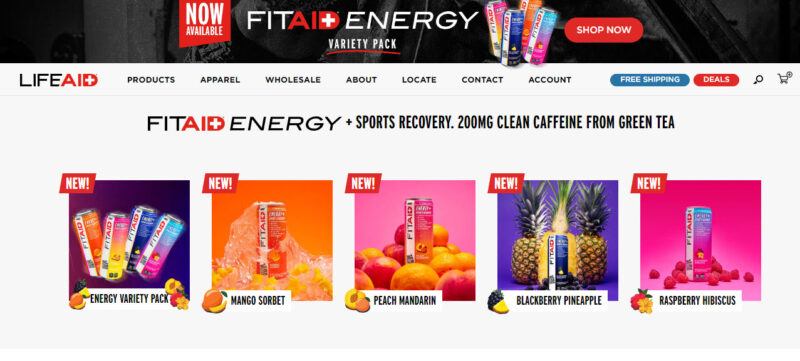 FITAID Energy is designed as a sports recovery drink, a decision reflected in the fact that it includes BCAAs, turmeric, electrolytes, CoQ10, and glucosamines.
Despite all these extras, the drinks have a surprisingly clean formula. Artificial sweeteners like sucralose and aspartame are avoided entirely. The company relies on erythritol, stevia, and a little agave nectar instead.
Don't be too concerned about the agave nectar, though, as a full can of the drink only contains three grams of sugar. Having some sugar in the mix is actually important, as athletes often need to top their glucose levels back up.
Celsius Live Fit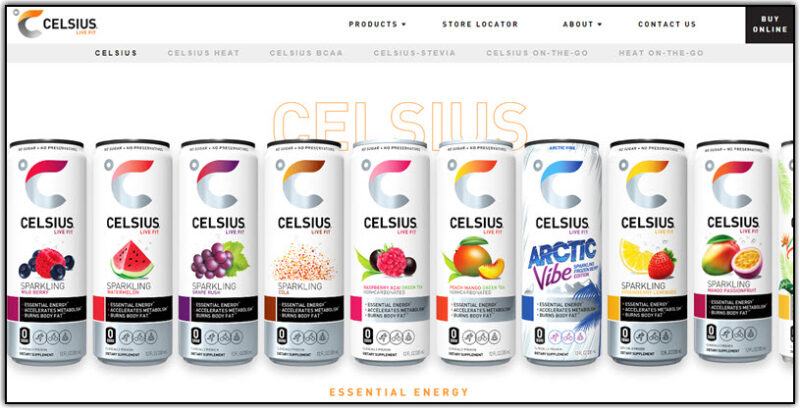 Celsius might not be as well known as Red Bull and similar brands, but their energy drinks are still making waves.
Their main Essential Energy line offers 15 different flavors, with no added sugars and a proprietary energy brand. The drinks avoid preservatives, artificial colors and flavors, and aspartame.
There are other product lines too. Celsius Heat is one of these and includes 300 mg of caffeine and 2,000 mg of L-citrulline per serving. Another is Celsius BCAA, which adds BCAAs to the mix.
However, the caffeine still seems to be synthesized and the drinks use sucralose. You can avoid those issues by turning to Celsius Stevia instead. This version uses natural sources of caffeine and relies on stevia as the sweetener.
Zevia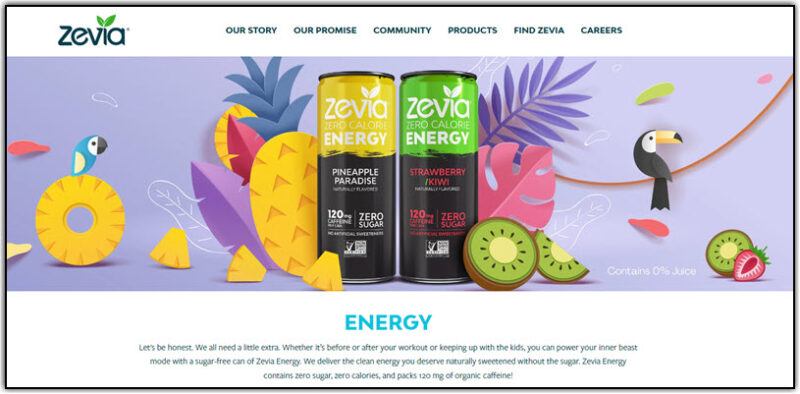 Zevia energy drinks are pretty simple. They get their caffeine from tea leaves and use natural flavors to make the drink taste good. There are only a few other ingredients in the mix, including stevia, carbonated water, and citric acid.
The biggest problem is the use of natural flavors. While these are arguably better than artificial flavors, they're not as natural as the name suggests. In fact, the term acts as a kind of 'catch all' term, where it's not clear exactly what you're consuming.
Tru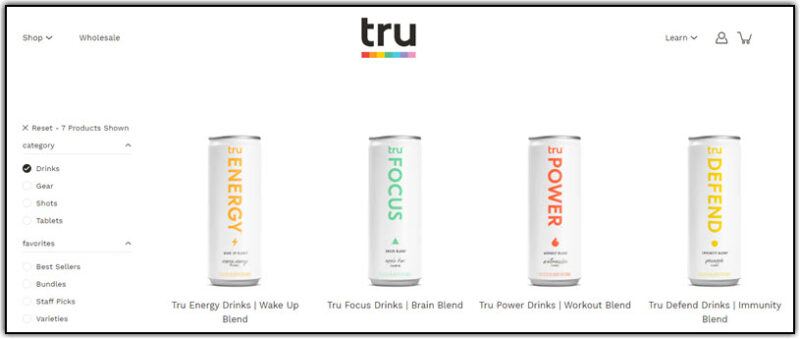 Tru does rely on natural flavors as well. Still, the drinks are too amazing to ignore.
For one thing, they're basically flavored caffeinated sparkling water – similar to the energy seltzers that we mentioned earlier. This style helps to keep sugar and additives to a minimum. A little juice is used to provide flavor, but the amounts are so low there is generally just one or two grams of sugar in the entire can.
However, each of the Tru drinks is focused on a specific need, like focus, workout, sleep, and immunity. To achieve these goals, each one has a different balance of ingredients. Tru Energy is the most powerful option for giving you a boost, as it contains B vitamins, caffeine, and green tea extract.
You could also turn to Tru Power and Tru Focus. Both of these use caffeine as well.
Yerbaé Energy Seltzer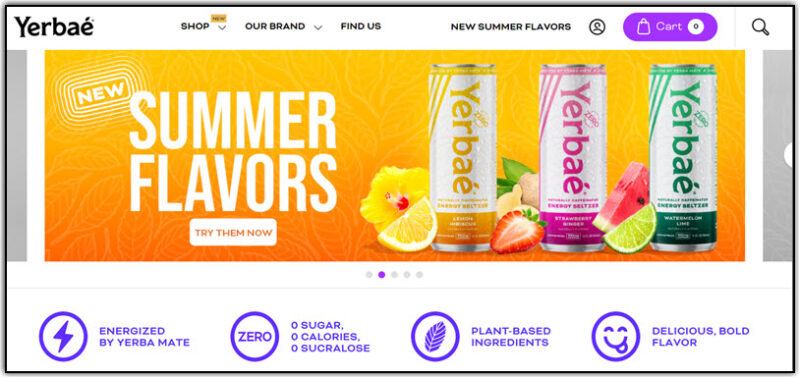 Yerbaé does offer traditional energy drinks, but their seltzers are certainly the healthiest and most exciting. These are mostly just seltzer water with a caffeine blend and a little flavoring.
All the ingredients are naturally sourced, including the caffeine, which comes from yerba mate.
These drinks are unusual because they're not sweetened at all. Because of this, they can take a while to get used to. Still, most reviewers seem to come around to the flavor before too long.
Proper Wild Energy Shots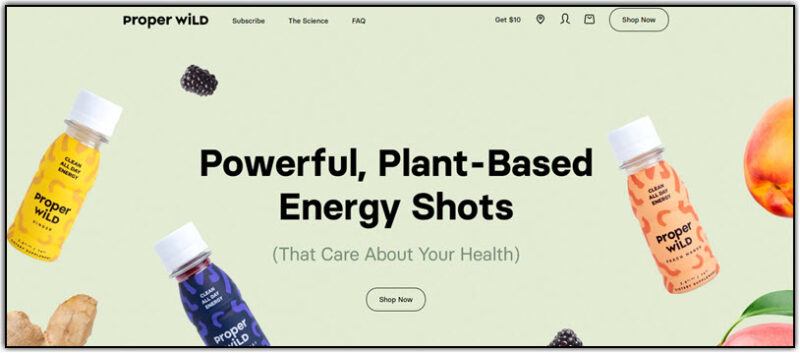 Proper Wild focuses on small energy shots, rather than full energy drinks, but don't let this put you off. Their 2.5 ounce shots still contain twice as much caffeine as an espresso shot, plus plenty of l-theanine. The l-theanine should provide health benefits, while also reducing jitteriness.
The company has an incredibly strong focus on health. This is obvious from the ingredients label, as they skip everything artificial and instead use fruit juice concentrates and purified water.
This approach does mean that the shots contain sugar – 9 grams of it in the tiny 2.5 ounce serving. Still, other energy drinks contain much more than this. The sugar also comes naturally from the ingredients. There is no added sugar at all.
RIOT Energy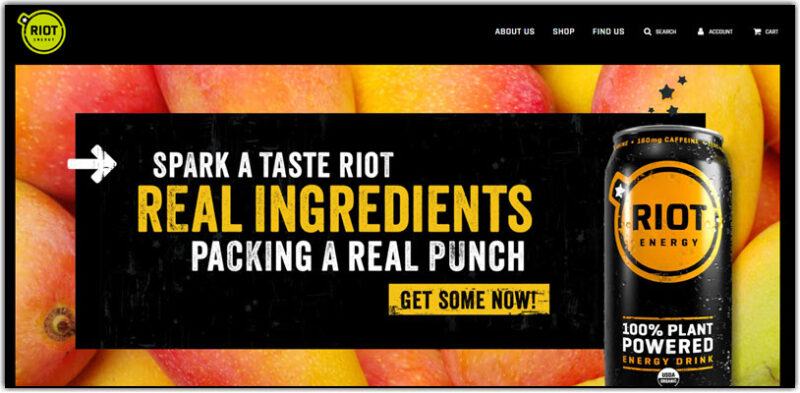 RIOT Energy prides themselves on being completely plant-powered. They currently offer five energy drink flavors: mango, cherry watermelon, berry, citrus lime, and strawberry lemonade.
The drinks come in 16 ounce cans that contain 160 mg of caffeine, 100 mg of l-theanine, plus some vitamin B12. The caffeine is naturally sourced from green tea and most of the ingredients are organic.
Most of the flavor comes from the use of juice and fruit puree. This approach adds a little sugar to the drink, but you're still just getting around 6 grams of sugar per can. That's exceptional when compared to many other energy drinks. 
Toro Matcha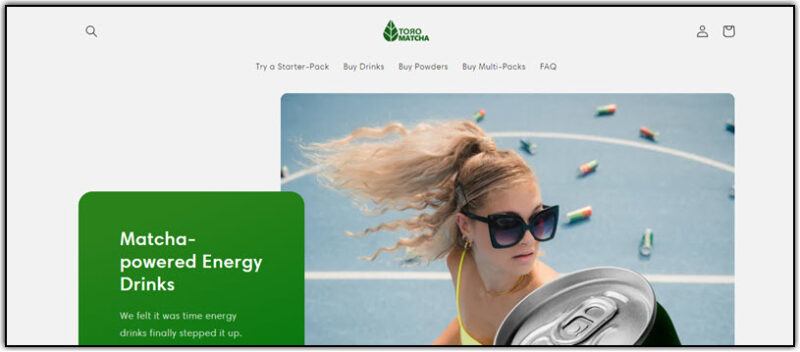 Not surprisingly, Toro Matcha relies on matcha as a key ingredient. This isn't just a source of caffeine either. Instead, matcha tea forms the base of the drink itself.
There are surprisingly few other ingredients – just sparkling water, natural flavors, chlorophyll, and citric acid. The natural flavors are interesting here. Toro Matcha states that these are organic natural flavors. That's unusual phrasing and suggests that the natural flavors are actually natural and minimally processed (which isn't normally guaranteed).
Each can contains 60 mg of caffeine, which is less than most other energy drinks. The lower caffeine amount mightn't be a bad thing though, as the high caffeine content in most energy drinks really isn't necessary.
Hiball Energy Seltzer Water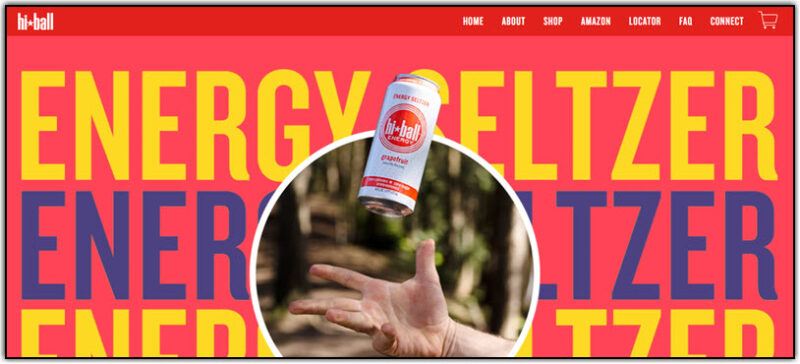 Hiball is an energy seltzer, so it keeps the flavor light, while still giving you plenty of caffeine. Indeed, a regular 16 ounce can gives you 160 mg of caffeine. This is organic caffeine, meaning that it's sourced from nature, rather than being synthesized.
Other ingredients are included for energy too, including ginseng, B vitamins, and guarana.
One of the most interesting features is that the drink doesn't just avoid sugar. It avoids sweeteners as well. This makes a lot of sense, as seltzer water doesn't need to be sweet.
Besides, while natural sweeteners may be healthier than artificial ones, there's still debate about what they mean for health. If you have the chance, why not skip them entirely? Isn't that a better plan?
MATI Sparkling Organic Energy Drink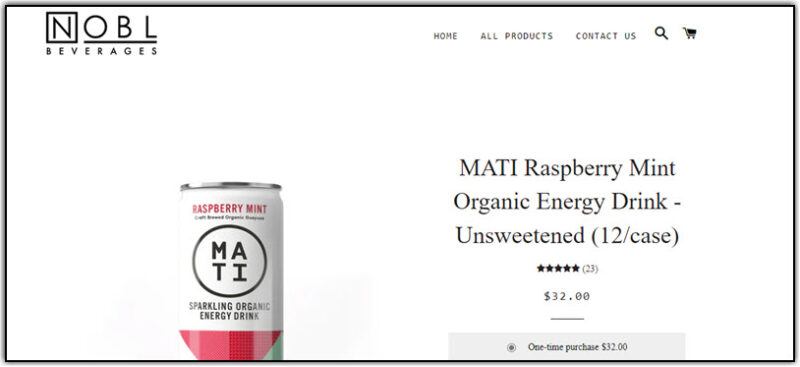 MATI is an easy to find choice. You might even spot it at local Walmart stores and similar locations. There are two versions of the drink.
The first follows the seltzer style, like Hiball, so you're only getting a little flavor and no sweeteners at all. It's also surprisingly powerful, as you're getting 115 mg of caffeine from a small 12 ounce can.
The other version also includes fruit juice, which provides some extra flavor and sweetness. The sugar content means that this version isn't as healthy. However, we're talking about natural sugar and not a huge amount of it.
So, even if you pick the sweetened version, you're still getting a pretty wholesome energy drink.
Sambazon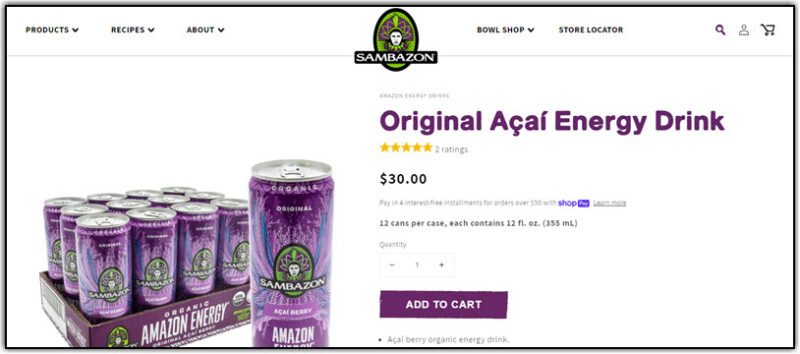 Sambazon is an açaí berry focused company with a variety of products, including superfruit packs, ready to eat açaí bowls, desserts, and energy drinks. There are three energy drink flavors – original açaí, jungle love Amazon açaí, and blood orange acerola. There's also a low calorie version of the original açaí drink.
The main flavors are perfect if you want natural ingredients. The chosen ingredients include sparkling water, açaí juice, acerola juice, green tea extract, and yerba mate extract. Some of the sweetness comes from the juices, while cane syrup provides the rest.
The big limitation is the sugar, which comes in at 25 grams per small 12-ounce can. Still, the sugar content isn't as bad as some other products – and the energy drink is much more natural than what Red Bull and Monster offer.
There's also a low calorie version. This only contains 6 grams of sugar per serving, which is much better. Natural sweeteners are used too, including stevia and erythritol.
Rowdy Energy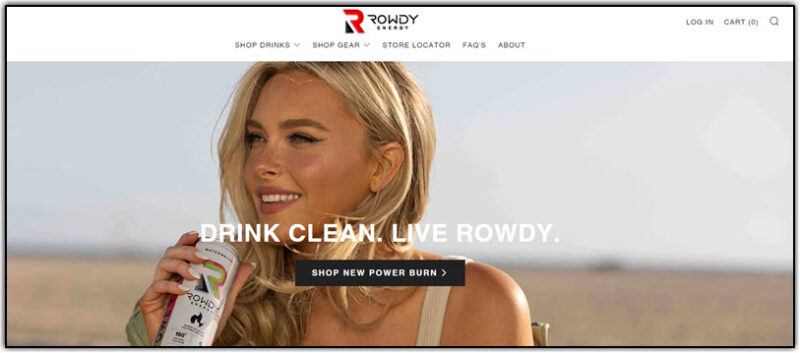 Rowdy Energy aims to be much more than just an energy drink. Their products are designed to also boost alertness and help with hydration. To this end, the drinks provide a large amount of potassium, to help with electrolyte balance.
There are a lot of good things going on with the drinks, including how they rely on natural caffeine, the addition of l-theanine, and how the company avoids artificial colors, sweeteners, and the like.
All of their energy drinks offer 160 mg of caffeine per can, so they'll certainly keep you going. Some of the products contain 18 grams of sugar, plus a collection of sweeteners. They have sugar free versions too. These drop out the sugar, giving you a keto friendly drink with no sugar crash.
Finally, there is a small range of Power Burn drinks. These are similar, except that they add in a few thermogenic ingredients that are meant to help with weight loss. These could be helpful, but it's important to start slowly with them.
While the drinks are healthier than most others on the market, there is one curious thing – they use allulose, monk fruit extract, stevia, and erythritol. It's rare to see a drink use four different sweeteners.
Rowdy Energy does so to help balance out the taste profiles of the sweeteners. Doing this should make the drink taste better, but is only helpful for people who aren't sensitive to any of them.
Synapse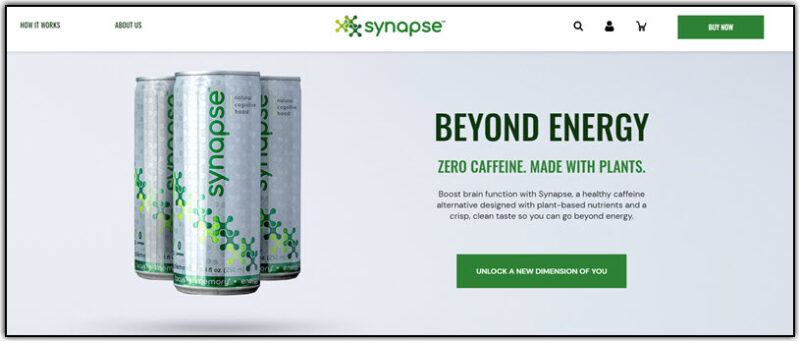 Synapse is an unusual addition, as these energy drinks don't contain caffeine or any other stimulants. The drinks focus on nootropics instead. These are ingredients that are meant to help boost your cognition.
While nootropics don't give you all the same energy buzz that you get from caffeine, they are thought to help with focus and alertness. Avoiding caffeine sometimes is helpful anyway, as it's easy to go overboard with energy drinks and end up with a high caffeine tolerance.
What's Best In An Energy Drink?
There's an ever-expanding market of energy drinks – in plenty of styles. So, how do you tell which ones are healthy?
There are a few factors to think about.
The Caffeine
First, the source of the caffeine. Many products use synthetically produced caffeine to save them money and create a consistent result. Healthy energy drinks focus on naturally sourced caffeine instead, often from green coffee beans, matcha tea, or yerba mate.
There's also the amount of caffeine.
Rather than looking for the strongest energy drinks, why not focus on moderate caffeine levels? Excessive caffeine consumption doesn't work well. Your body just builds up a tolerance and the effect of the caffeine decreases over time.
The Sugar Content
Energy drinks are often insane when it comes to sugar. For example, the tiny 8.4 ounce can of Red Bull contains 27 grams of sugar. Who needs that? Most of us are already getting more sugar than is good for us.
The healthiest energy drinks cut their sugar content way down.
Some do this by focusing on alternative sweeteners, often artificial ones, but sometimes natural sweeteners instead. Others still use sugar, but much less of it. Sometimes this comes from adding fruit juice, rather than using sugar directly.
The Ingredients
It's important to think about the other ingredients too.
For this post, we've focused on energy drinks that are as natural as possible. Most get their caffeine from natural sources and refuse to use any synthetic ingredients.
This is a powerful approach, as there's still a lot we don't know about artificial ingredients. Besides, why rely on them when there are so many natural alternatives out there.
Finally, most of the drinks we've featured avoid the term 'natural flavors' on their ingredients label too. This is important, as 'natural flavors' is a broad term and you don't really know what you're getting. In fact, the flavors are still highly processed and can even include artificial additives.
Kind of defeats the point, doesn't it?
Natural flavors are certainly less concerning than artificial sweeteners and highly processed additives. Still, it's always better to find companies that can tell you exactly what is flavoring their drink.