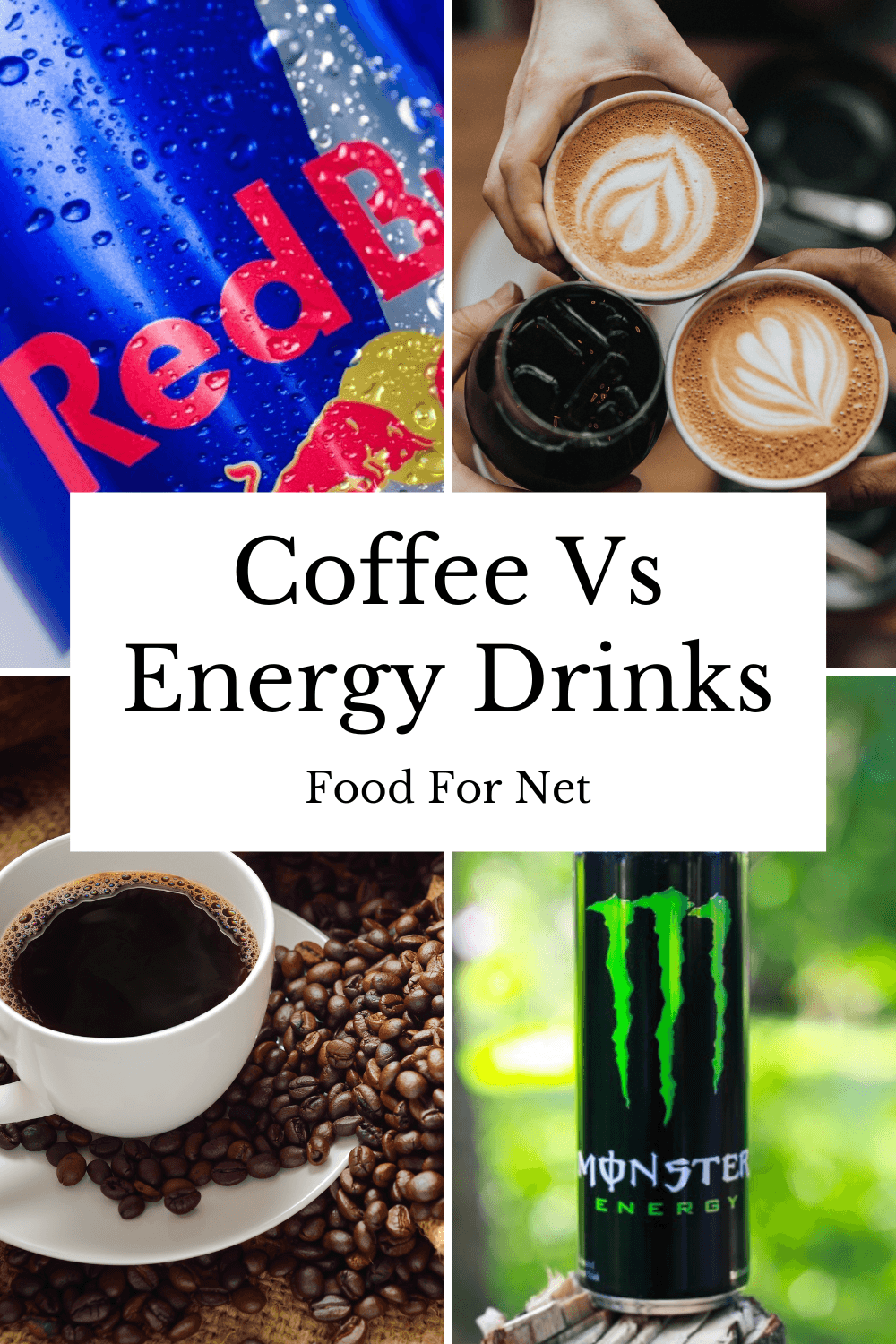 So, you're looking for a kick of energy, something to get you through the day? Most of us turn to something with caffeine, with coffee and energy drinks being the chief contenders. But how do coffee vs energy drinks compare?
Both types of drinks are powerful, but they have clear differences too. So, when it comes to coffee vs energy drinks, which is the winner? Do energy drinks give you a bigger kick and keep you going for longer?
What about the health impacts? Energy drinks are certainly controversial in this area and have often been linked to serious problems. However, most of the issues come from over consuming energy drinks. A reasonable intake of relatively healthy energy drinks mightn't be a big deal for most adults.
So, let's dive into the comparison and see how the two types compare. Also remember that caffeine isn't the only way to get a boost. There are plenty of useful energy foods as well – and sometimes your body may simply need more rest, rather than a hit of caffeine.
How Do Coffee And Energy Drinks Compare?
What To Expect With Coffee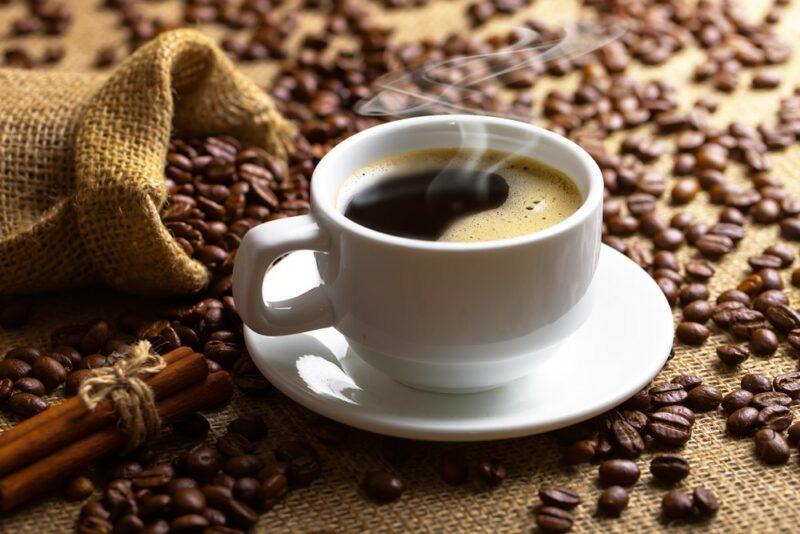 Coffee is a simple brewed drink, made from the roasted beans of coffee plants. The color and flavor can vary dramatically, based on the specific type of coffee, where it is grown, the level of roasting, how it is brewed, and other factors. That said, coffee has a distinctive flavor that's easy to recognize.
You're generally looking at hot (or sometimes cold) drink made using roasted and ground coffee beans. Extra ingredients might be added for flavor, like sugar, milk, creamer, or honey.
There are more extravagant versions too, like some of the products from Starbucks that contain more extra ingredients than actual coffee. However, for this discussion, we're largely focusing on coffee itself.
Possible Health Benefits
There's a common idea that coffee is a guilty pleasure, something that we love, but probably shouldn't be drinking. Yet, plenty of evidence suggests that coffee provides a surprising variety of health benefits.
Some of these benefits come from the antioxidants. These are famous for their ability to reduce oxidation and promote health.
While there are richer sources of antioxidants, many of us get more antioxidants from coffee than from most other foods – simply because we drink coffee so regularly.
May Reduce Disease Risk
Plenty of research points to health benefits from coffee, including decreased risk of cancer, type 2 diabetes, improved heart health, and more. Coffee could also lower the risk of some neurodegenerative diseases.
Of course, this doesn't mean that coffee will instantly make you healthy.
Research is also still ongoing and there's mixed evidence for many topics. This means that none of the benefits of coffee are certain at this stage and may not apply to everyone equally. Still, the potential is there – and coffee is starting to look pretty exciting.
Linked To Longevity
Some studies also find that people who drink coffee regularly have a lower risk of death than those who don't. So, drinking coffee might actually help you to live longer.
The ideal amount of coffee varies depending on the study you look at. Some suggest that even having as much as eight cups of coffee per day could help to protect you, while others point to lower amounts, like three to five cups.
Honestly, there's no way to know what the ideal amount is, given that people have different tolerances for caffeine and the caffeine content of coffee varies so much. It may be best to experiment and see what amount of coffee feels right to you.
Some studies show that this longevity benefit even happens with decaffeinated coffee, suggesting that the power is in coffee itself, rather than the caffeine.
Good For Your Brain
Not surprisingly, coffee has been linked to mental benefits too. It helps to keep you alert, makes it easier to think clearly, and can improve concentration.
These benefits are mostly associated with caffeine, so they should apply to energy drinks too.
A Low Calorie Drink
If you're cautious with the extra ingredients, then coffee ends up being very low in calories. This is fantastic, as so many other drinks are calorie dense.
The low calorie content is particularly relevant for weight loss. Coffee even has an appetite suppressant effect, which is also helpful when you're trying to lose some pounds.
The Risks Of Coffee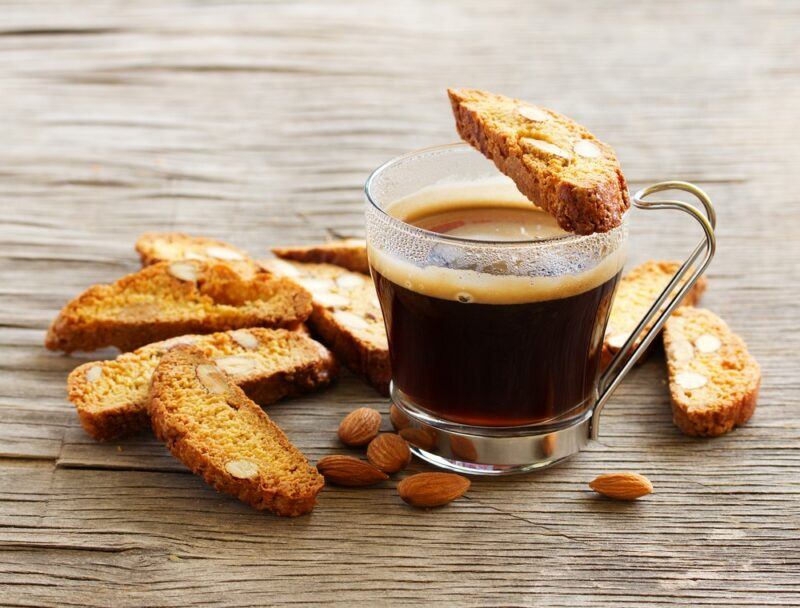 Coffee does come with some risks. Most are related to the caffeine content.
In particular, too much caffeine can lead to insomnia, restlessness, increased anxiety, and a raised heart rate. These side effects become even more pronounced if you're sensitive to caffeine.
You can quickly develop a tolerance to caffeine too, where you need increasing amounts of caffeine to get the same energy boost. This, combined with the withdrawal effects of skipping coffee, is why some people say that caffeine is addictive.
You can keep the risk low by paying attention to your body's responses. If you're starting to get side effects from the coffee, then it's time to cut down your intake or switch to decaffeinated coffee instead.
People who are very sensitive to caffeine may even find that one cup of coffee per day is too much.
The Extra Ingredients
While straight coffee is almost completely calorie free, most of us don't drink coffee on its own. We add things to it to make the drink more palatable. Sometimes our coffees are even very complex, with multiple flavors and plenty of sugar.
Adding a little low fat milk or almond milk and perhaps a tiny bit of sugar isn't a big deal, even if you're having multiple cups of coffee per day. But, when you're using coffee creamers, full fat milk, or large amounts of sugar, the calories in your coffee add up quickly.
That's not even counting all of the coffee drinks that you get from places like Starbucks. These are often loaded with sugar, fat, and calories. You're sometimes looking at more than 500 calories for a single drink.
Extra ingredients in your coffee aren't a huge issue if you're only having a cup of coffee every few days or so. But, if you're drinking multiple cups of coffee per day, those calories start to add up.
What To Expect With Energy Drinks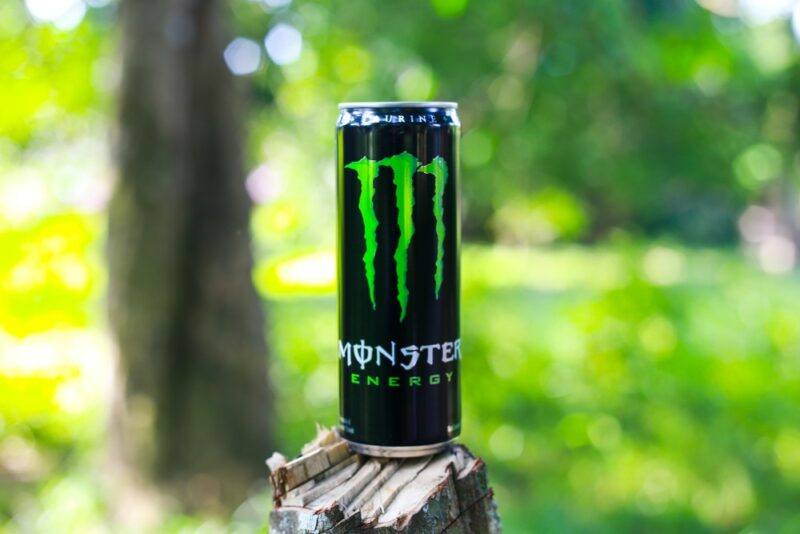 The Ingredients
Unlike coffee, energy drinks tend to have a long ingredients list. You're often looking at a decent amount of sugar and caffeine, along with ingredients like ginseng, taurine, B vitamins, and green tea extract.
Many products are high in sugar – and those that aren't tend to rely on artificial sweeteners instead. Neither approach is appealing, as sugar promotes inflammation and comes with a whole host of risks, while artificial sweeteners are concerning too.
There are some better options out there, including energy drinks that use stevia for sweetness, avoid artificial ingredients, and focus on natural sources of caffeine. However, these healthier versions are less common. They're also often more expensive than regular energy drinks.
Possible Health Benefits
Some of the benefits we highlighted for coffee come from caffeine. This suggests that you should be able to get them from energy drinks as well.
Indeed, research even shows that energy drinks can improve brain function and reaction time. This effect may come from the caffeine itself or the combination of caffeine and sugar.
Energy drinks do also help to keep people awake and alert. This can be powerful when you're in danger of nodding off.
Still, there's much more evidence for coffee's benefits than there is for energy drinks. This isn't surprising either, as coffee contains plant-based compounds and caffeine, while energy drinks rely more heavily on artificial ingredients and plenty of processing.
The Risks Of Energy Drinks
Energy drinks contain caffeine, so they have the same caffeine-related risks that we talked about earlier. However, there are some additional issues as well.
You Might Drink Too Much
The first problem is that it's really easy to overdo it with energy drinks. They often taste delicious, are high in caffeine, and can come in pretty large servings.
If your energy drinks are high in sugar, you'll be consuming a decent number of calories. The sugar can harm your health in many ways as well. Sugar free versions aren't necessarily any better, as many use artificial sweeteners.
For example, Monster has a 24 fl. oz can, which contains a shocking 81 grams of sugar and 240 mg of caffeine per can. A can contains two servings, so you're not meant to drink the entire thing at once. Plenty of people do, though.
Let's be realistic. We're talking about sweet drinks that give you an energy boost. Is it that surprising that some people drink large amounts?
You Might Start Relying On Them
It's also easy to start turning to energy drinks every time you need extra energy. Their impacts decline over time, so you might end up drinking more and more as you go.
Most of the health problems with energy drinks come from this issue – the way that people end up consuming too much. There are plenty of stories of kids drinking multiple energy drinks every week – or even every day. This is seriously scary and could easily lead to a caffeine overdose.
More Ingredients Means More Risks
Energy drinks often have a variety of energy promoting ingredients, including caffeine, taurine, ginseng, and guarana. Some contain other apparently healthy ingredients, including herbs and green tea extract.
These ingredients aren't as appealing as they sound.
For starters, most of the benefits haven't been proven. This is particularly true for herbal extracts, as the research is always limited and rarely considers how these extracts behave in the context of an energy drink.
More concerningly, each of the additional ingredients comes with side effects and potential interactions. This makes energy drinks much risker than coffee, especially if you have a large serving or have an underlying health condition.
How Do They Compare?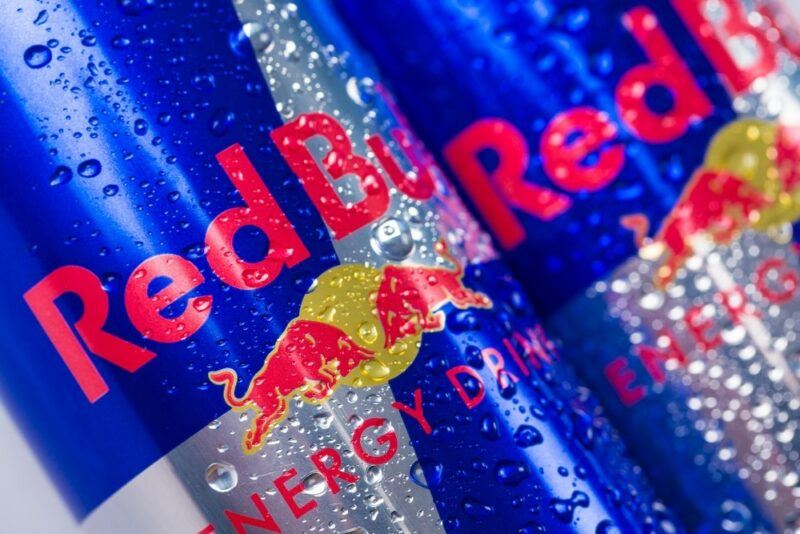 The Health Impacts
There's no doubt about it – a cup of coffee is a much healthier option than an energy drink.
It has no calories. Energy drinks often contain a decent amount of sugar, which makes them packed with calories too. In contrast, coffee is mostly water. Any calories are those you add from sugar and creamer.
It is free from additives. Energy drinks often rely on additives, including artificial flavors and colors. Low sugar and sugar free products often rely on artificial sweeteners too. Such additives don't improve your health at all and could easily cause harm.
You're just getting caffeine. The main energy boost with coffee comes from caffeine (and perhaps a little sugar). Energy drinks often contain other ingredients, like guarana and taurine. Such ingredients may boost your energy further, but there's a lot we don't know about them. This difference makes energy drinks a riskier choice.
It's been linked to health benefits. Studies continue to show that drinking coffee regularly can actually improve your health and perhaps even help you to live longer.
There's a focus on quality. Many coffee brands try to produce the best beans they can. Some also focus on being kind to the environment and to workers. You don't get this same emphasis with energy drinks. Plus, while coffee companies will sometimes tell you exactly where the beans were grown, much less information is provided for energy drinks. You certainly don't know where the ingredients came from. Sometimes you mightn't even fully know exactly what you're drinking.
Energy drinks may contain potentially healthy ingredients, including vitamins and herbs, but these don't really offset all the concerning aspects.
What About Energy?
The caffeine content of coffee and energy drinks varies wildly. For an 8-ounce cup of coffee, you're often looking at somewhere from 95 to 200 mg of caffeine. An energy drink of the same size may give you around 70 to 100 mg of caffeine.
That said, energy drinks aren't always lower in caffeine. Some brands pack an exceptional amount of caffeine into each drink.
The serving sizes differ too. In fact, many energy drinks come in 16-ounce cans, some of which offer around 300 mg of caffeine per serving.
The increased caffeine content, combined with large serving sizes, extra ingredients like guarana and taurine, and perhaps sugar mean that energy drinks do often give you a bigger energy kick than coffee. Energy drinks are often more convenient than coffee too, as they're ready to go whenever you need them.
So, when you're desperate for a boost, an energy drink may be more effective.
The effect is specific to the individual though. Some people find that coffee works better for them than energy drinks. Others find that the boost from energy drinks dissipates too quickly, while the one from coffee tends to stick around.
Which Should You Choose?
Health experts would say that it's best to stick to coffee. Doing so gives you many more health benefits and keeps your risk low.
But, let's be honest, who drinks coffee for the health benefits? Most of us are focused on the flavor or the energy boost instead.
Perhaps the best approach is to be selective. You might focus on coffee most of the time, as this is clearly the healthier drink and the energy release tends to be more stable (you might even turn to yerba mate every so often).
Then, you could switch to energy drinks in those moments when you need a particularly strong energy boost.
Swapping drinks like this helps you avoid the risks of having energy drinks regularly. Plus, you won't build up a tolerance to energy drinks, which should mean they give you a bigger kick of energy – right when you need it the most.
It's still crucial to pay close attention to yourself. Watch the way your body responds to specific types of coffee and energy drinks. Which ones make you feel good? Which ones give you sustainable energy, rather than a fast rise and then a crash?
We're all different, so it might take time to find the best products for you. This doesn't need to be a problem.
How Much Caffeine Should You Consume?
The best amount of caffeine will depend on your sensitivity and any health conditions. However, 400 mg of caffeine per day is frequently quoted as being a safe level.
This may be around four cups of brewed coffee per day. You'll still need to watch your intake though, as caffeine isn't just found in coffee and energy drinks. It can also be present in chocolate, protein bars, ice cream, tea, and even some types of breakfast cereal.
You might need to drop your caffeine intake lower than this if you get side effects from it. Pregnant and breastfeeding women generally need to keep caffeine intake lower than normal – and children should avoid it entirely.
More than 400 mg of caffeine may be safe every so often, but it's important not to regularly go over this level.
Final Thoughts
Energy drinks are sometimes seen as incredibly unhealthy and something to be entirely avoided. They do have some serious downsides too, especially if you're focusing on versions that are packed with sugar and artificial ingredients.
However, a high-quality energy drink from a reliable company can give you a stronger boost of energy than you'll get from a cup of coffee. This energy boost can sometimes be incredibly important.
The trick is to be cautious about how much energy drink you consume and how regularly. It's very easy to overdo it, especially if you're buying large cans of energy drink (or energy drink shots!).
Also, regardless of the drinks you choose, remember that caffeine isn't the answer to everything. You still need to eat well, exercise, and get enough sleep. It's not healthy to rely on coffee or energy drinks rather than taking care of yourself.