If you're reading this, there's a good chance you're a coffee addict (It's OK, I am too!). Whether it's the pick me up you need in the morning to get you through the day or a treat to sit back and unwind with in the evening, these 45 coffee subscription boxes are not only the cure for your coffee craving, but they will help mix up the monotony of the everyday 'cup of joe' into something more exciting.
The quote "life's too short for bad coffee" has adorned the walls of coffee shops for years, and the sentiment rings true. Wouldn't it be great if there was a way of getting great coffee delivered straight to your door every month, saving you both the effort of going out and finding it and the trouble of researching to find out what's good?
If you answered "yes" to that, then you're in luck, because there is a way to get this super service – coffee subscription boxes.
A subscription box is a recurring delivery of a product of your fancy – in this case, coffee. It's become very popular in recent years, and understandably so – delivered directly to your door and it's something that you are fond of – what's not to like?
The list below features the current coffee subscription boxes on the market. There are plenty of them to choose from, each with a unique offering. Have a look through and see if there any that stand out to you.
Coffee Subscriptions Boxes By Category
Basic Coffee Subscriptions
Great Clubs Coffee Of The Month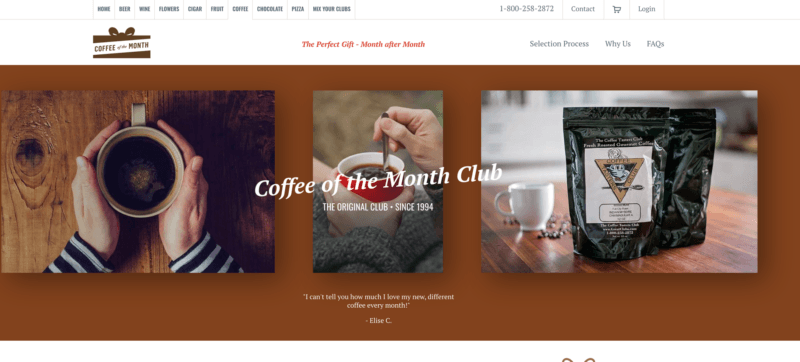 Great Clubs has a number of awesome clubs you can join, including a beer of the month club. They've been delivery monthly coffee subscriptions for more than 24 years, so they're the true hipster of coffee clubs (they did it before it was cool).
With Great Clubs Coffee of the Month, you'll get two bags (1.5 lbs) of exotic coffee from around the globe, from places off the beaten track like Zimbabwe, Guatemala, and India. Actually – I don't think I've ever tried coffee from India, and I'm a committed coffee drinker!
You can choose 2, 3, 4, 6, or 12 month subscriptions. It's $27.95 per month for all of the plans, except for the 12-month plan, where you can save $50! You can also choose whole bean or ground as well.
Coffee Esperanto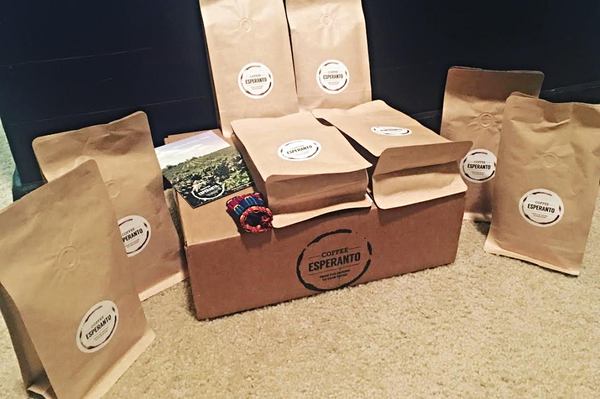 For the coffee connoisseur who takes their coffee seriously, Coffee Esperanto could be the subscription box for you!
The box offers single origin coffee from across the world, delivered straight to your door each month. If you want to know exactly where tour coffee is coming from, this box is for you.
The coffee is carefully selected and curated from small batch farms, and provided with the box is a roast profile description and recommendations for brewing. In addition to that, there is a postcard from the exact farm where the coffee was grown, as well as a certificate which confirms direct trade.
There are 4 options available in the forms of sizes – there's the 16oz option, which costs $30.00, there's the 32oz option which costs $38.00, there's the 48oz option which costs $46.00 and finally there's the 64oz option which costs $57.00.
The box ships on the first business day of each month, so if you're reading this as the month is coming to a close and are interested, get on this fast to ensure you qualify for the upcoming month!
Moustache Coffee Club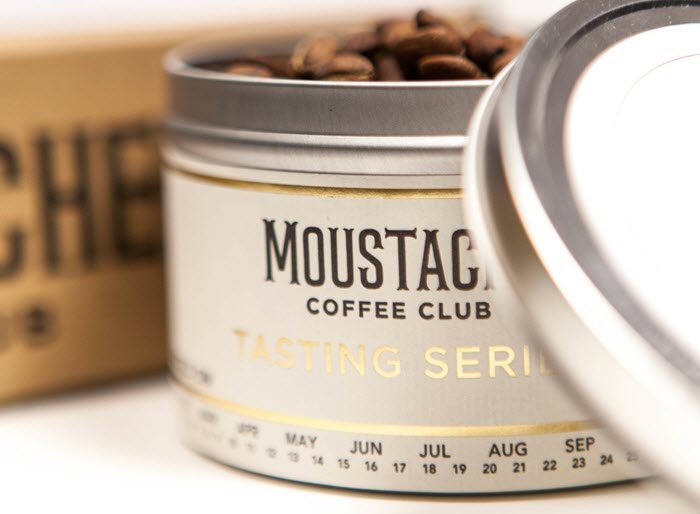 Moustache Coffee Club considers itself to be 'The World's Best Coffee Subscription'. The claim is impossible to prove, but the coffee club is appealing. It focuses on single origin coffees that are grown throughout the world. The beans are roasted on the day of delivery, giving you the freshest coffee possible.
The monthly box also provides details about where the bean was grown, the flavor profile and any other useful information. This means that you're getting an education in coffee, rather than just a drink to start the day off.
You can subscribe for 6 ounces or 12 ounces of coffee and have it delivered every week, 2 weeks or every month. Plans start at $13 per shipment. There is also a free trial if you want to try out their coffee first. Just be aware that the trial does automatically turn into a subscription. You'll need to cancel that if you don't plan to buy any coffee.
Coffee Of The Month Club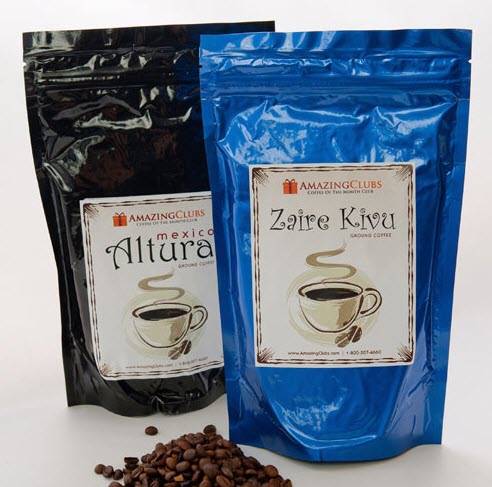 This Coffee of the Month Club comes from Amazing Clubs. The site is well-known for having a wide range of different clubs. This isn't a bad thing. The approach means that Amazing Clubs has a larger support structure than most other companies. They're also familiar with the complexities of shipping and getting the coffee where it needs to go.
The club itself offers 2 different coffee varieties each month. These are always in 12-ounce bags and come from different roasters throughout the world. The site lists previous selections, so you can easily see whether the club will offer what you want.
The Wright Cup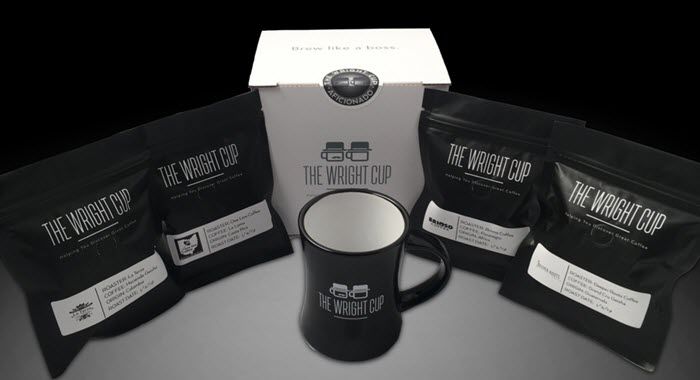 The Wright Cup offers a subscription called Tour of Ohio, which provides members with coffee from around Ohio. The membership involves 5 location-specific boxes. These are associated with different cities, like Cincinnati, Columbus and Youngstown.
There are also themed boxes. Some have a blind taste test focus, while others contain single origin coffees.
The subscription starts at $24 per month and provides you with 4 different 2.75-ounce bags of coffee each month. You also get a free coffee mug if you subscribe for 6 months or more.
Camber Coffee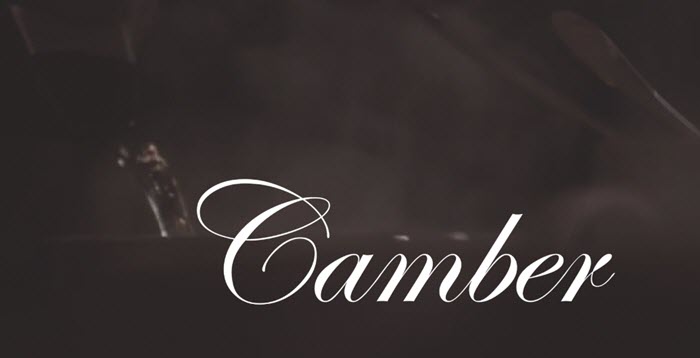 Camber Coffee is a fantastic choice for freshness. They roast all of their coffee to order, so your coffee is never sitting around and going stale. The company offers various single origin coffees that you can buy individually or you can join their Rotating Coffee Subscription.
The subscription allows you to choose either a 12-ounce bag of coffee (for $17) or a 5-pound bag (for $85). You can also select between a weekly, bi-weekly and monthly subscription.
Unlike some other options, all of the coffee you receive comes from Camber Coffee itself. The company has a relatively small selection of coffee types, but that doesn't stop the coffee from being amazing.
Stumptown Coffee Roasters


Stumptown Coffee Roasters gives you the chance to choose between 6 different subscription types. Most of these focus on a specific coffee variety and start out at $16 per shipment. An example is Hair Blender, which is a sweet and savory coffee blend that Stumptown Coffee Roasters is famous for.
The other subscription type is Roaster's Pick, where the coffee isn't always the same. This starts out at $20 a shipment and you need to order for at least 3 months. There are multiple size options, including an 8-ounce bag or a 12-ounce bag (1, 2 or 3 bags per shipment).
JavaPresse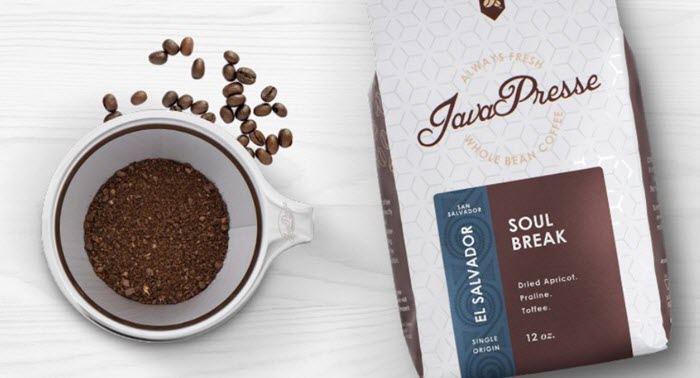 While many of the companies on this list provide fresh coffee, JavaPresse is the only option that ships your coffee within 2 hours of it being roasted. That's a seriously impressive feat. This style means that your coffee will always be fresh and will taste better.
All of the coffee is additive free and organic, relying on small-batch farmers for the production. That simply adds to the quality.
The subscription provides you with a single 12-ounce bag of coffee every 1, 2, 3 or 4 weeks, depending on your preference. You don't have any control over the coffee and simply get the curated roast for that month. This isn't necessarily bad, as JavaPress goes to great lengths to find amazing coffee.
Collected Coffee

Collected Coffee provides fewer subscription options than most. You simply receive 1 bag (250 grams) of coffee each month. The subscription costs $25 per month. The price can be decreased to $23 per month if you pay in advance.
The company goes to lengths to choose interesting coffee. This includes blind taste testing and a focus on coffee that is intriguing in some way. That style is appealing, but it means that you get no control over the coffee you receive. You're not even able to specify the roast type that you'd like.
Heart Roasters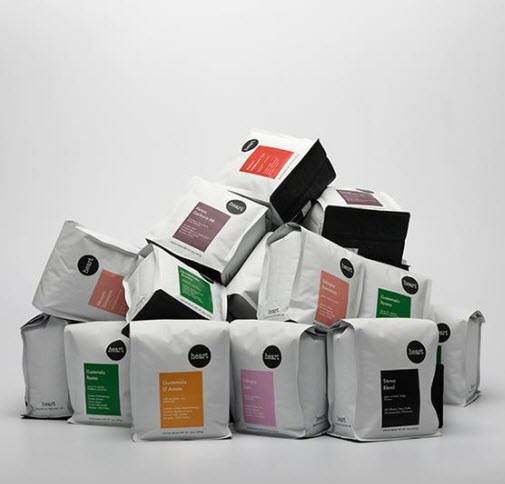 Heart Roasters offers weekly, every other week and monthly subscriptions. The subscriptions are simple, just providing you with a 16-ounce back of roasted whole bean coffee. The coffee is chosen from the company's products, but their special releases are not included in the mix.
Each of the subscriptions needs to be paid ahead of time, rather than month-to-month. This means that the weekly coffee option has a minimum price of $265 (for 12 shipments), while the other subscriptions have a minimum price of $140.50 (for 6 shipments).
Just Coffee Co-Op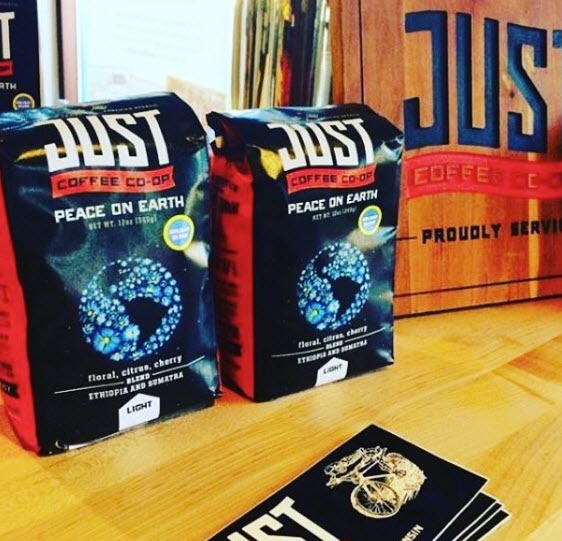 The Just Coffee Co-Op has a strong focus on ethical treatment. The coffee beans used are all fair trade, sustainable and organic – a pattern that few brands follow. You are able to join a 3, 6 or 12 month club to get the coffee delivered to you regularly.
In each case, the coffee subscription will send you 2 coffees every month. You don't get to choose the type of coffee, but you can select whether you want the coffee ground or as beans. You can choose the type of grind too (course, medium or fine).
44 North Coffee Club Subscription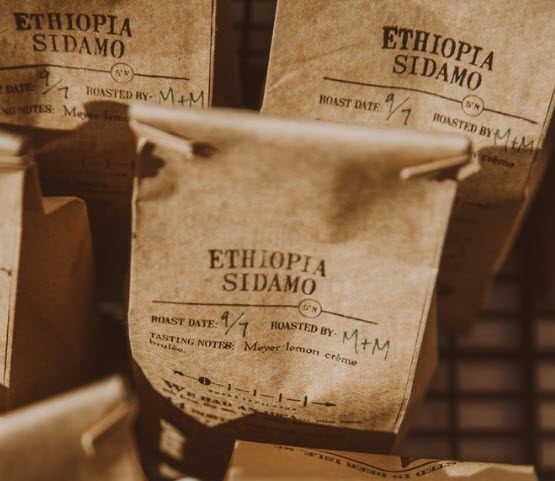 44 North Coffee is a small coffee roasting company located in Deer Isle, Maine. They sell various types of coffee and related products, along with a coffee subscription program. You can sign up for a 3, 6 or 12 month subscription and the coffee is shipped out at the beginning of each month.
With this club, you get 2 bags of coffee each month (12 ounces each). You can use the special notes section to state whether you want regular or decaf and whether you want the coffee ground or as whole beans. While you don't get to choose the types of coffee, the company does try to send out a variety, avoiding repetition.
Kings Arms Coffee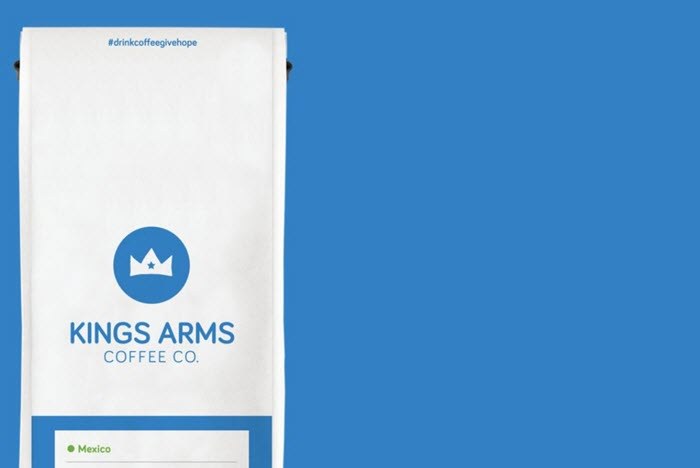 The subscription from Kings Arms Coffee isn't complex, but why should it be? If you want good coffee, simplicity is sometimes best. There are 3 versions of the club to choose from. The first is The Student, which offers a 12-ounce bag of coffee for $18 per shipment. The next is The Double Bag. This one has twice as much coffee for $36 per shipment. Finally, there is The Triple Bag. This one has 36 ounces of coffee for $43.
Regardless of the plan, Kings Arms Coffee will choose which coffees you receive each month. The coffees are simply the various options from the company on a rotation.
Caravan Coffee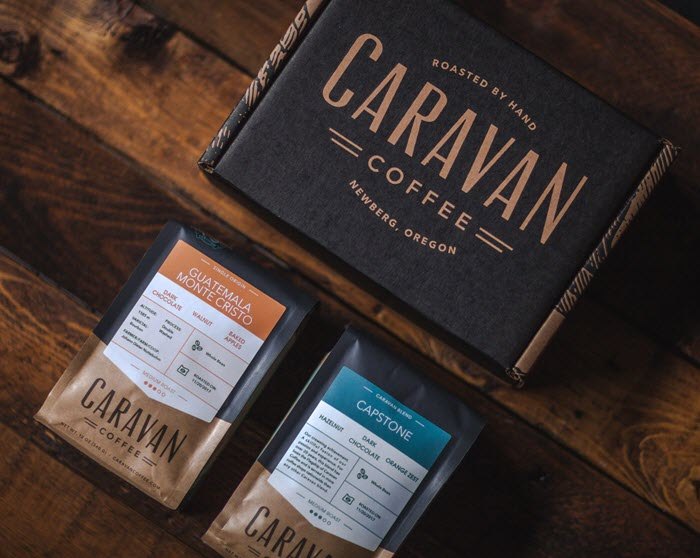 The Caravan Coffee Club provides you with a selection of single origin coffee and coffee blends every month. You're able to choose 2 or 4 bags per month, along with the type of grinding. The club is monthly only, with coffee being shipped out on the first Friday of each month. The price starts at $25 per month.
While the club isn't too exciting, Caravan Coffee does use some of your money to support humanitarian efforts. They also allow for local pickups, if you live near their Tasting Room, which is in Newberg, Oregon.
Nomad Coffee Club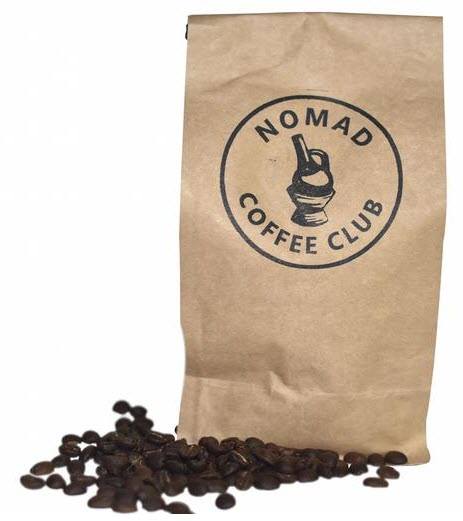 Nomad Coffee Club is a basic choice, where you are getting freshly roasted coffee every month. The type of coffee is chosen by the company, so it will always be a surprise. The coffee itself comes from sustainable fair trade farms and is shipped within 48 hours of roasting.
While the club doesn't provide any customization options, the site does mention that you can manage your subscription online. This may provide the chance to control some aspects, like the grind of the coffee and how often you receive it.
iGourmet Coffee Of The Month Club


The iGourmet Coffee of the Month Club is a little different than others, as the company doesn't have any focus on coffee. With this club, you're receiving a 12-ounce to 16-ounce bag of whole bean coffee each month. You're also given an information sheet about the coffee chosen.
The club features single origin coffee from across the world, along with some regional blends. There are some fair trade and organic coffees included in the subscription, but this doesn't apply to all of the coffees.
Single-Origin Subscription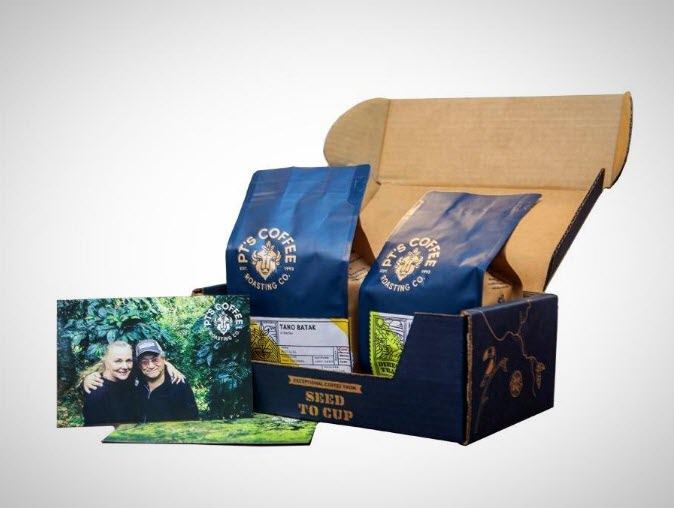 This Single-Origin Subscription comes from PT'sCoffee Roasting Co. and it is a surprisingly good choice. The subscription box comes with 2 bags of single origin coffee (12 ounces each), which have been selected by the company's roasting team.
There is a strong focus on new coffees. You'll often be getting coffees that aren't currently available to online shoppers, along with some limited-time coffees. The boxes contain additional details too, including brew notes and images.
The box costs $38 per shipment if you pay month-to-month. You save 10% if you prepay for the subscription instead.
Services With Customization Options
Atlas Coffee Club


Atlas Coffee has a wonderful coffee of the month club that will leave you refreshed, energized and relaxed thanks to its great coffee.
Each month, the contents of the box – micro-lot coffees from all over the world – will be delivered straight to you. The box contains 12oz of freshly roasted coffee, some flavor notes, a postcard and some brewing tips to help you get the most out of it.
Atlas want to be a coffee tour guide for you, helping you experience coffees from parts of the world you may be unable to otherwise.
There are plenty of options when it comes to deciding what you get. You can choose between 3 sizes – half bag, which is 6oz and costs $9; single bag, which is12oz and costs $14; and double bag, which is 24oz and costs $28.
You will receive your coffee every 2 weeks or every 4 weeks, based on your selection. You can also choose a preferred roast – would you like light to medium, medium to dark or a selection of both? Let Atlas know and they'll arrange it. Finally, you can choose whether you would prefer whole bean coffees or ground. Lots to choose from to make your order your own!
Blue Coffee Box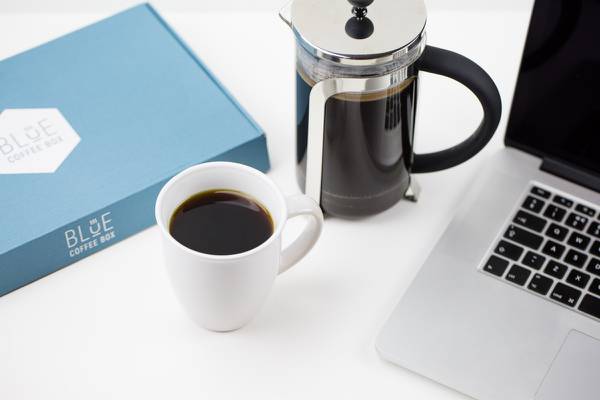 Blue Coffee Box subscription boxes are made in the United Kingdom, but they ship worldwide. This is good news because the contents of the affordable box are great!
Handpicked from the top 2% of coffees around the world, and with room for you to select your taste preference – these letter-box friendly boxes are sourced directly from farmers and roasted by the UK's best roasters.
This is a bi-monthly service, meaning you get a delivery every two months. It's very affordable at just £7.99, so have a look and maybe give your taste buds a treat!
Victory Coffee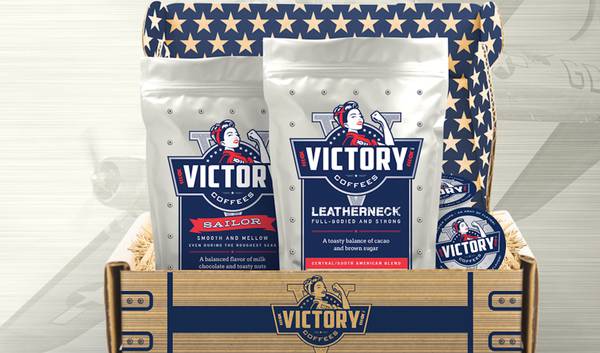 This subscription box from Victory Coffee allows you to select all of the options that suit you best, and then they'll work it from there.
Do you prefer dark, medium, light, espresso or decaf roasts? How many cups do you drink per day? Do you like your coffee whole bean, ground or in a K-Cup? Answer these questions, and Victory Coffee will ship your box to you the next day, with no commitment required and the option to cancel anytime.
Victory Coffee is organic and fair traded, and offers 5 international blends to choose from. It is a veteran owned and operated business and it ships from within the United States.
A box costs $30.00 per month and once you order, it should be shipped within 3 days, meaning that you'll have your order quickly!
Stay Roasted Coffee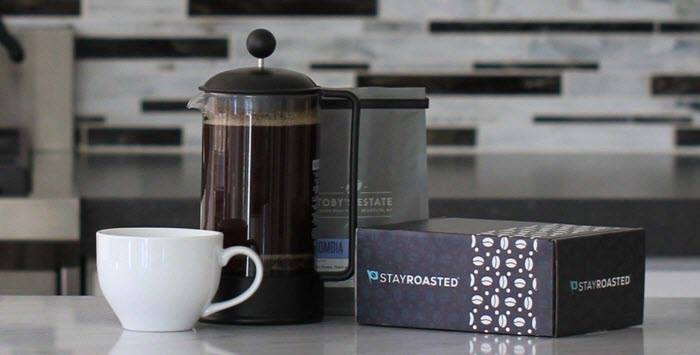 With Stay Roasted Coffee, you're getting beans from a selection of more than 45 different independent roasters. Stay Roasted continues to add new roasters to the mix, ensuring that there is plenty of variety to go around.
The subscription follows an unusual style, where the individual coffee roasters take turns to choose the coffee that you will find in your box. This process means you'll never get bored. You might even discover some new roasters that you are passionate about.
Your coffee is also tailored toward you. To begin with, you create a coffee profile. The profile includes areas like your flavor preferences and brewing habits. This is then used to make recommendations. The coffee costs between $13.99 and $15.99 per bag, depending how many you are getting at a time. You do also need to sign up for a membership, which costs $79.95 per year.
Bean Box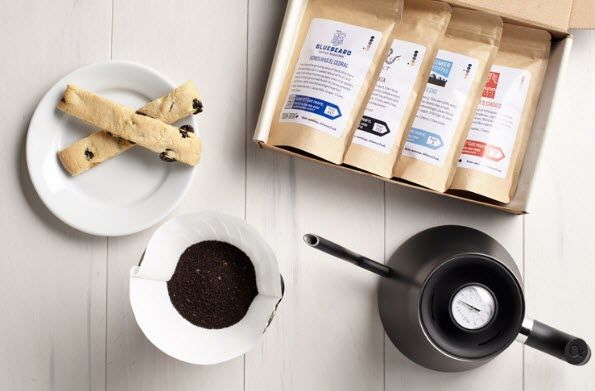 The coffee subscription from Bean Box manages to balance choice and surprise well. This is done in multiple ways. First, you can choose between 2 subscription styles. The Bean Box Sampler provides you with 4 bags of whole bean coffee (1.8 ounces each), while the Coffee of the Month provides a single 12-ounce bag of coffee.
You can select your roast preference with either of the styles. With the Coffee of the Month plan, you can also choose to receive the coffee weekly or every other week. Additionally, there is a ground version of the Bean Box Sampler.
All of the coffees included are handpicked. The company relies on gourmet coffee roasters in Portland and Seattle. This includes small-batch roasters who rely on high-quality beans. This helps ensure that the coffee tastes amazing every time.
Blue Bottle Coffee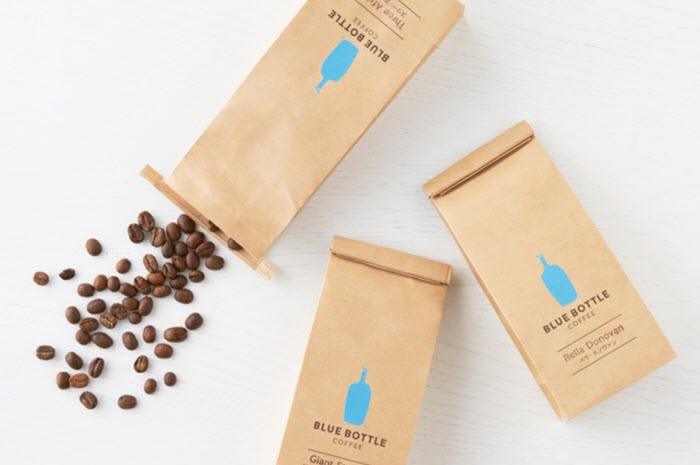 Some coffee subscriptions focus on surprise. Others, like Blue Bottle Coffee (free $10 promotion), are more interested in providing you with control. To do this, the company provides 11 different types of subscription to choose from. This includes options like their Single Origin Assortment, Beta Blend, Three Africas and Night Light Decaf. There is also a coffee matching quiz to help you discover the best coffees for you.
Most subscriptions start at around $8, which provides you with a 6-ounce bag of coffee. You can choose a 12-ounce bag instead, for just under twice the price. You're then able to select whether you get the coffee every 2 weeks or eachmonth.
Even with this amount of control, there are some surprises to be had. In particular, the most popular subscriptions are assortment-based, like a Blend Assortment and an Espresso Assortment. These assortments will provide you with different coffees each time.
Mistobox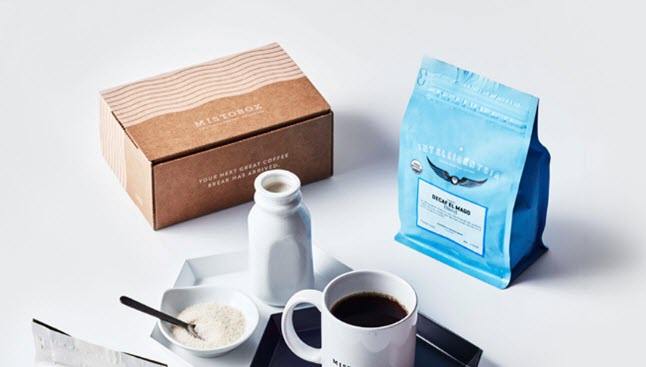 Mistobox is an incredibly popular coffee subscription program and strongly focuses on coffee quality. You can be certain that all the coffee you receive will be fresh and full of flavor. The brand is associated with more than 30 different artisan roasters who roast the coffee after you order, not beforehand.
The subscription is versatile, providing you with plenty of control. You're able to select the grind you want (whole bean or ground), your favorite roast level and the types of coffee you like (e.g. single origin and blends). You then get to choose how often you receive a 12-ounce bag of coffee, your budget and your overall plan.
The sheer amount of flexibility is impressive. Mistobox also makes the whole process intuitive, so you won't be overwhelmed. The club truly is worth trying out. After all, there has to be a reason that it gets so many amazing reviews.
Driftaway Coffee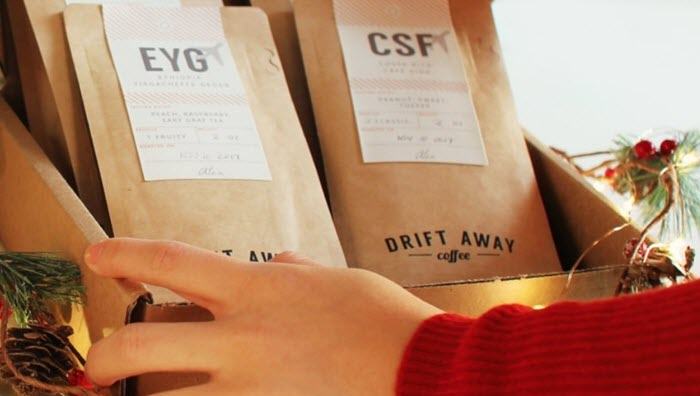 Driftaway Coffee subscription is unusual, as the first product that they send you is a sample box with 4 different 2-ounce bags of coffee. These are all single origin and contain whole coffee beans. You then pick your favorites from the selection. That information is used to tailor the coffee you receive in the future.
You can adjust how much coffee you receive per shipment, ranging from 7 ounces to 32 ounces. You can also choose the frequency of shipping and whether you want to pay month-to-month or every 6months.
The coffee is also incredibly fresh. It is shipped within 6 hours of roasting, which is very unusual. That being said, the subscription is more expensive than many other plans. You're also forced into getting the tasting kit first, regardless of whether you want it or not.
Angels' Cup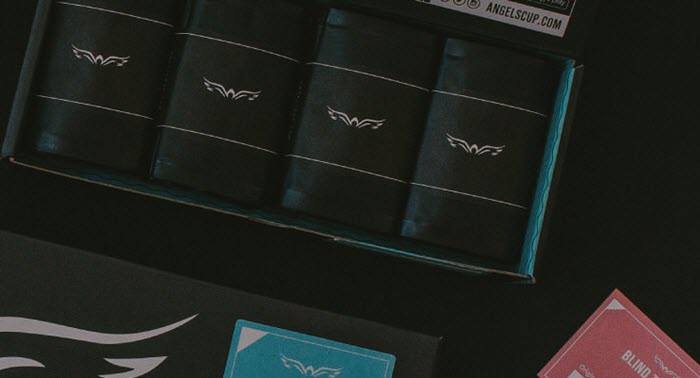 Angels' Cup promotes itself as 'a coffee subscription for the curious'. There are 3 different subscription types to choose from. The Black Box contains 4 larger samples and costs $22.99/month, their Cupping Flight has 4 smaller samples for $10.99/month and the All Stars subscription has a single bag of coffee for $19.99/month.
Regardless of the subscription, Angels' Cup uses an unusual style. You don't get to know the brands of coffee that you're drinking, nor do you get any control over the coffee that you experience (thankfully, you can choose the roast preference).
With Angels' Cup, you'll never receive the same coffee twice. They don't keep stock sitting around either, so there'sno way to order anything you particularly love. The idea can be a little frustrating, but it's a great way to expand your palate.
Crema


If you already know the types of coffee that you want, Crema is one of the best coffee clubs out there. To do this, the company uses a Coffee Playlist approach. You're able to add coffees to your Coffee Playlist. The coffee that you receive each month is based on that list.
The list functions much like a wish list. You can search based on various aspects, like the roaster and the region that the coffee comes from. Even if you don't know what you want, the Crema site provides plenty of details.
While the style is effective, you're not going to be surprised by the coffee you receive. The price and freshness also vary depending on the roaster.
Craft Coffee


Craft Coffee is simply a way to get coffee delivered to you regularly. You're not going to get any surprises or curated boxes. Instead, you select the coffee yourself, along with the delivery schedule and grind. The price of your subscription is simply based on the coffee you choose and whether you pay up front.
There is also an interesting recommendation aspect. Craft Coffee has a survey that asks you about the coffee that you currently enjoy. The site then makes a recommendation based on the information that you provide. Their recommendation comes with a 100% Satisfaction Guarantee and Craft Coffee promises to help you find the right coffee for your tastes.
Intelligentsia


Intelligentsia's decision to include various ways to select coffee means that their coffee subscriptions should be suitable for everyone. The first approach is Intelligentsia's choice. This works in a similar way to other coffee clubs, where the company chooses what coffee they send out.
There is also a difference. Intelligentsia may send out the same coffee for multiple weeks in a row or may change it after a week. This decision is based on what is available and what Intelligentsia is passionate about.
Another option is to choose by taste. The site gives you a selection of flavor profiles, like milk chocolate, sweet nuts, molasses and apple. Once you have selected a flavor, you're shown appropriate coffees. You can also just select your favorite directly if you know what you like.
Three Thousand Thieves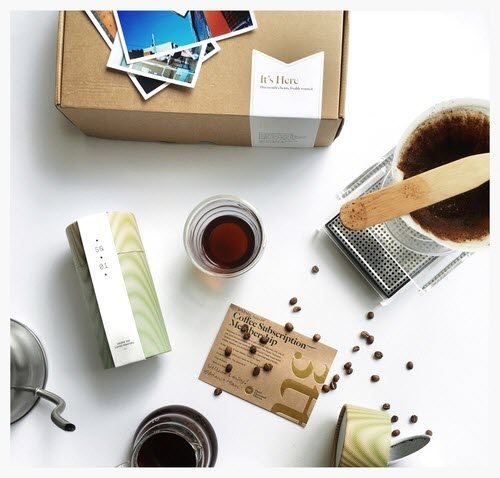 Most of the companies featured on this list target an American audience. Three Thousand Thieves doesn't do that, as the company is located in Australia. They do ship all over the world, so you don't have to miss out.
The coffee club focuses on beans from artisan roasters. The subscription also provides you with a visual flavor profile and a story booklet. These little additions make the subscription feel special. While there isn't much customization, you can choose the roast type and whether you receive whole beans or ground coffee.
Creature Coffee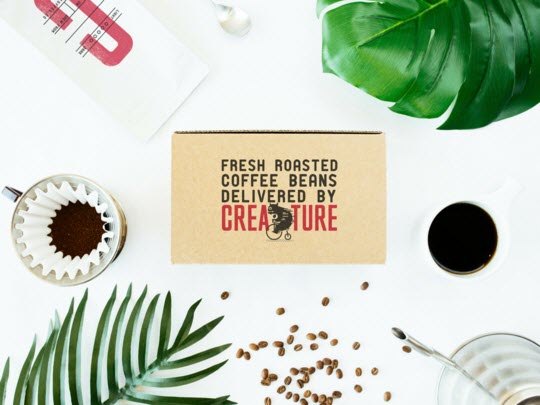 The subscription from Creature Coffee offers 3 versions to choose from. These are a little different than you'll find with other companies. The first one is The Regular, for $15.99 per shipment. It contains a mixture of single origin and blended coffee. The selection is similar to what you would find in a grocery store.
The next step up is the Barista's Choice subscription. This costs $19.99 per shipment. The coffee focuses on single origin beans and is the type you might find in good coffee shops. Finally, there is the Roasters Select. This is the most expensive choice, costing $23.99 per shipment. Still, the club is worth the price, as it focuses on limited edition single origin coffees.
You are also able to make the typical selections, such as the roast, the number of bags, whether you want whole beans or ground coffee and how often deliveries should occur.
White Tale Coffee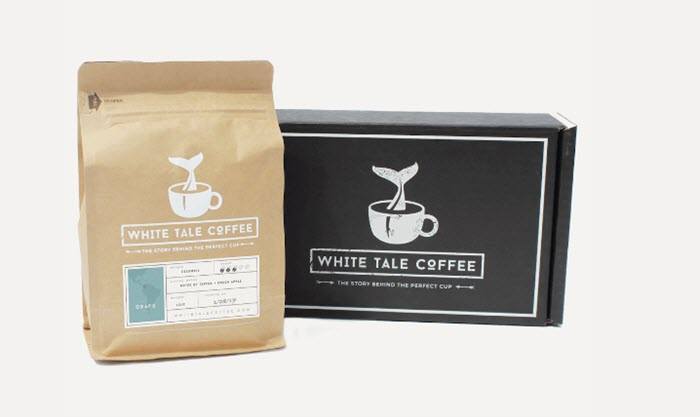 While White Tale Coffee looks just like any other coffee company, they have managed their subscription process well. Anyone who signs up is taken to a page where they can build their own subscription. This includes providing details about the roast type, favorite flavors, type of grind, delivery frequency and payment frequency. The design makes the page easy to use and the company even summarizes the key features of your subscription.
You can also subscribe to get a sampler pack from the company. This contains 2, 3 or 4 samples (2 ounces each) of coffee from the company. The samplers can be a fun way to experience more of the coffees that White Tale Coffee has to offer.
Trade Coffee Co.

Trade's subscription service starts with a short survey to help assess your coffee preferences. From complete coffee novices to seasoned connoisseurs, they have recommendations for everyone. To date, they've helped match millions of people with the perfect coffee for them.
While they do their best to provide you with the best coffee for your tastes, they also offer a great level of control. Simply take the survey, select your preferences, and they'll give you a recommendation. If you for some reason don't like their suggestion, they also have an extensive catalog of hundreds of coffees from over 50 craft roasters which you can subscribe to receive as often as you'd like.
You are also able to select whether you'd like to receive whole or ground beans. Their prices vary depending on the roast, but start at just $12.50.
Unusual Coffee Clubs
Single Cup Club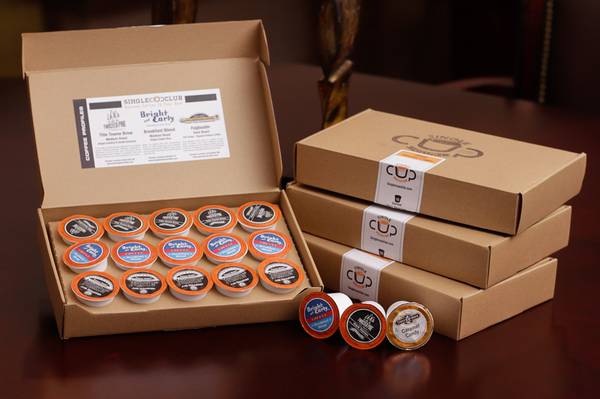 When it comes to exploring the world of small-batch coffee, the Single Cup Club is a good way to go. It's affordable, convenient and can open your eyes to new coffees that you may not experience otherwise.
The Single Cup Club subscription box is comprised of 15 artisan, hand-picked K-cups of coffee, delivered straight to your door. Of the 15, there are 3 unique blends, meaning 5 K-Cups of each. Of these blends, there will be a variety of light, medium and dark roasts, meaning there will be room for experimentation.
The Single Cup Club boxes ship on the 1st of every month, and are one of the cheapest options on this list at just $12.99 per box.
Sudden Coffee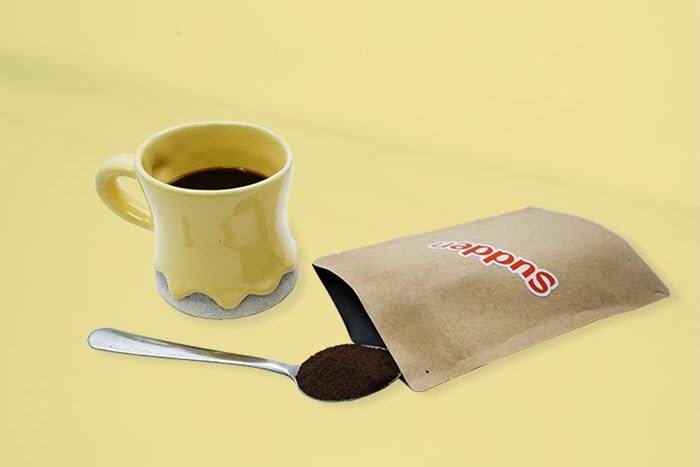 Unlike most of the other coffee clubs, Sudden Coffee doesn't provide you with coffee beans or even with ground coffee. The brand is basically a type of instant coffee, but the company has a strong focus on quality and on producing the best possible products.
As a result, the coffee beans come from small farms, are roasted in small batches, are gently brewed and then crystallized. The end result is some of the best instant coffee that you'll ever taste.
You can subscribe and save with an 8-cup pack or a 48-cup box from Sudden Coffee, but the main club is their 24-cup plan. This provides you with a pouch that is similar to other instant coffee brands. You can choose the roast level and the number of cups you want every month.
Angelino's Coffee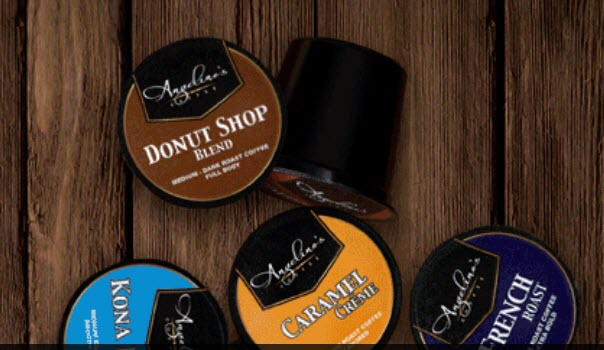 Angelino's Coffee could be a good choice for anyone who uses a K-cup brewer. The coffee beans used are roasted in small batches and are carefully ground, making the finished product reliable and high-quality. There are plenty of options to choose from too, including regular coffee, decaf options and flavored coffees.
The subscription club simply provides the ability to order coffee regularly. You can choose between 48 cups,96 cups and 192 cups. These can be shipped out every 1, 2 or 3 months.
Once you've decided on a plan, you select the appropriate boxes. Boxes contain 24 cups each. There are some variety packs to choose from, along with individual packs for each of the flavors.
MixCups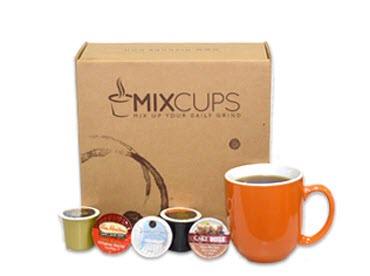 Here's a K-cup box that will surprise you.
Why buy full boxes of K-cups when you're not sure which coffees you are going to like? MixCups proposes a solution by offering boxes that contain a mixture of different cups. There are 3 sizes to choose from: Mini Mix (15 coffees, from$15.95/month), Medium Mix (45 coffees, from $39.95/month) and Mega Mix (90 coffees, from $69.95/month).
You can also choose the balance of flavored and non-flavored coffee. The style would be a good way to add variety to the coffee you have at home. You might even enjoy the subscription so much that you choose not to buy any other coffee.
Idecaf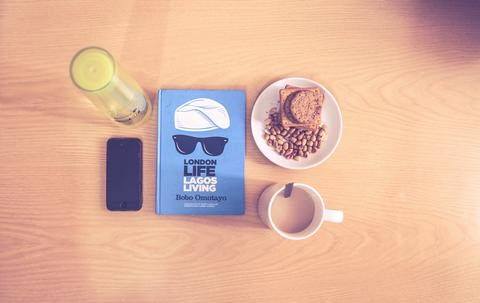 Idecaf is one of the few companies that offers sustainably sourced decaf coffee, along with caffeinated versions of the same products. Their subscription allows you to get coffee every 1, 2, 3 or 4 weeks. You get to choose which flavor you receive. This selection can be changed at any point.
Clubs like these don't have any exciting gimmicks, but they are reliable and offer cheaper coffee than you'd normally find.
Barista Hustle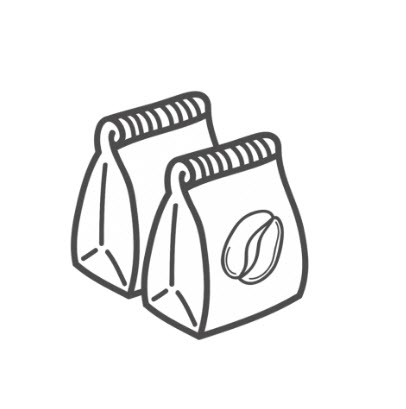 Barista Hustle is an interesting company, with a strong focus on professional tools and online education for baristas. Their coffee subscription program is impressive too. Barista Hustle even estimates that they send more than 800 bags of coffee out every month.
This subscription program is known as Superlatives. It provides coffees that are special in some way. This includes coffee that has unique flavors or a choice that is particularly significant for the region.
You're not getting a large amount of coffee – typically 60 grams to 100 grams per shipment. This is enough to enjoy the coffee and get a full experience. It also means that the packages are small and light, making them easy to ship. It costs $22 per month if you're getting 1 bag of coffee or $32 per month for 2 bags.
More Than Just Coffee
Coffee And A Classic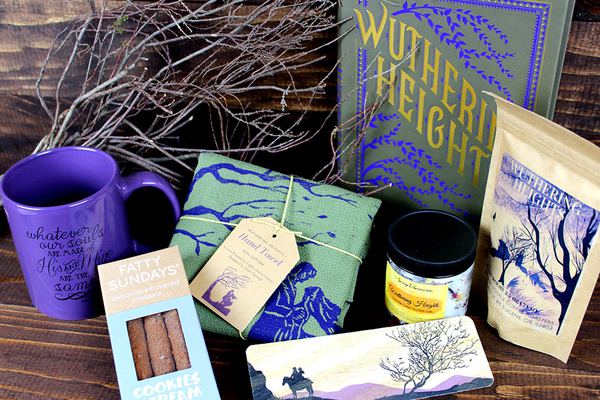 This is a really idyllic coffee subscription box – with Coffee and a Classic, you get just that: coffee and a classic!
The box contains a classic novel, some coffee to sip on while you make your way through it, some book related items and a bookmark so you know where you've left off.
The box typically makes its way to you on the 4th Monday of every month, so if you want to guarantee your coffee and reading pleasure for that time, get in and subscribe before then!

The box itself costs $28.00, and choose whether you want to read classic literature, children's classic or classic non-fiction. You can also choose a beverage preference of coffee, tea or hot chocolate.
Before or after you subscribe, be sure to check the "sneak peek" option on the website, which will give an insight as to what the next book might be!
Your Morning Grind

Your Morning Grind is the perfect way to begin your morning grind. It's also a fantastic way of testing out new coffee roasting flavors and discovering which one you like the best.
The box is big on variety – both in terms of the roasts and the regions they originate from. In addition to the coffee, of which you will receive from 4 different roasters each month, there is also a carefully selected gourmet snack for you to enjoy.
Your Morning Grind boxes cost $22.00 a month and generally ship in the middle of the month between the 14th and the 17th. Unfortunately for those outside of the United States, the box only ships to people in the United States.
Coffee Crate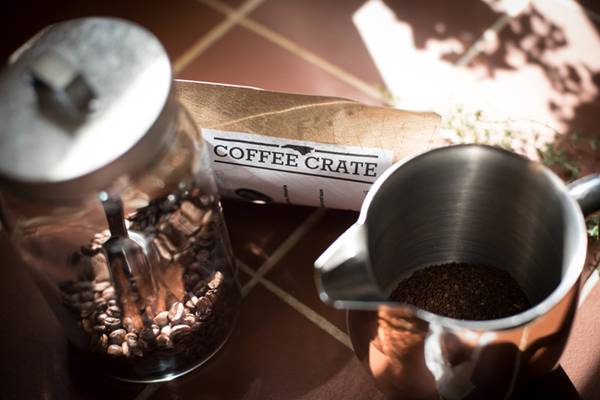 If you're in the market for monthly deliveries of small batch, carefully curated coffee beans to make delicious coffee with, then Coffee Crate could be the subscription box service for you!
The team at Coffee Crate choose a new selection of their favorite local beans each month and then get it delivered straight to your door. Every crate has three 4-oz. bags of whole bean coffee, with the contents coming from 3 different North Carolina based roasters.
Also included is a note from the roaster about best brewing practices and an artisan crafted sweet for you to indulge on.
The box costs $29.00 per month and ships on the 15th of each month.
Hawaii Coffee Box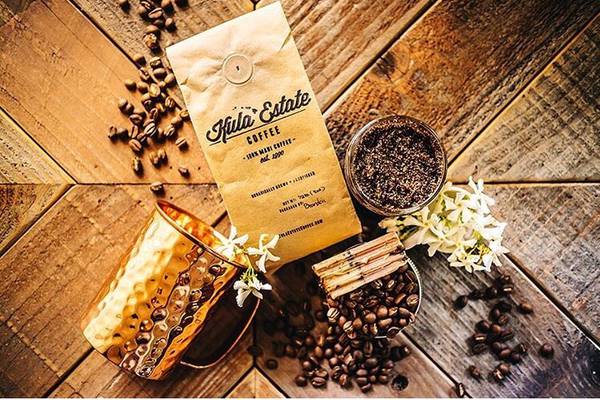 "A Hawaiian Coffee Tour in a Box" is the way that Hawaii Coffee Box pitches itself, and it lives up to that claim!
The box contains 1 or 2 roasts that are sourced from a new Hawaiian coffee farm each month. The box is themed based on where the coffee from and will feature products – often in addition to coffee – from the islands of Hawaii, Maui, Oahu and Kauai.
If you have a love or interest for these islands, or indeed just a love of well-crafted coffee, then this could be the box for you. It costs $34.99 per month.
The last day to order for the current month is the 14th, after which time, the box ships out, so if you want to be tasting delicious Hawaiian-made coffees, get onto it before then!
Match Made Coffee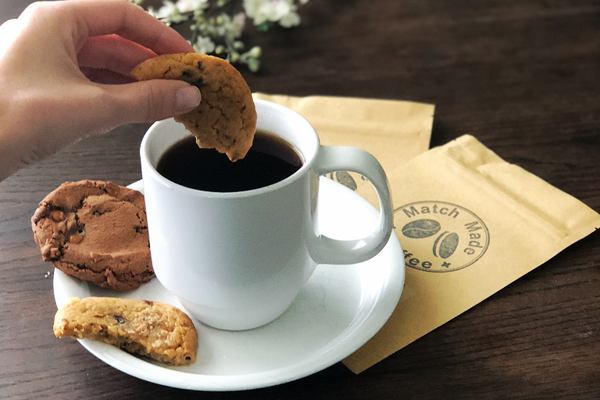 One of the only things that can elevate a really good cup of coffee to the next level is areally great snack to pair it with – and that's why this subscription box from Match Made Coffee works so well.
Each month, subscribers receive a carefully curated box of freshly roasted international craft coffees along with flavor-packed gourmet cookies.
The snacks are picked so that they pair perfectly with the coffee, enhancing the experience of both the drinking and the eating. There's a pairing guide included with the box, and shipping is free!
If you'd be interested, you can subscribe to Match Made Coffee's offering for the price of $19.95 per month, and it generally ships sometime during the 3rd week of the month.
Apostrophe Box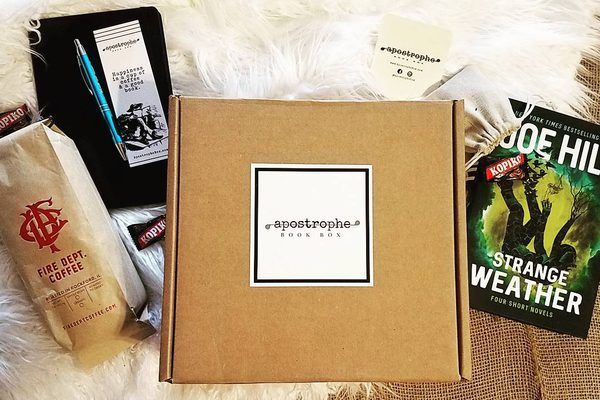 This box is absolutely perfect for book and coffee lovers alike. The Apostrophe Box comes with one new hardcover book, one full-sized bag of coffee, one usable item(like a mug or a pair of socks or some stationary), a snack to enjoy while you read and a swag bag from Apostrophe.
The coffee itself is sourced from smaller US-based roasters. The books that come with the box vary in genre from month to month.
There are 2 box options available – there's the LITE version, which contains just the book and the coffee, and that costs $28.99 per month. If you want the traditional Apostrophe Box with all of the contents, you can get that for $38.99 per month.
The box itself ships on the 22nd of each month, so get your orders in before the 20th if you want to be enjoying your book and coffee for the next shipment.
Cocka Doodle Brew Co.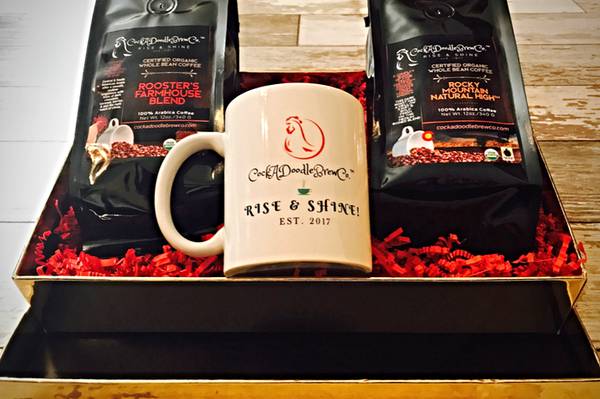 The Cock A Doodle Brew Co. organic gourmet coffee box promises to serve up "bliss one cup at a time".
This is a coffee box that is dedicated to those who love fresh roasted artisanal coffee – each box contains a coffee of the month sample and a handwritten thank you note. There's also a different bonus item each month, to keep things interesting.
There are customization options available when it comes to bean and roast profile, so you'll be able to get just what you are looking for with this box.
If you are interested, the box ships at $21.99 per month. It ships on the 11th of any given month and, once shipped, usually takes 1-3 business days to land down right outside your door!
Hopefully, this list has opened your eyes to the wonderful potential and convenience of subscription boxes. If you like your caffeine and you like to mix it up, then one of the above boxes could make for a great addition to your month.
Whether it's finding a new favorite type of coffee or getting the coffee you love delivered straight to your door from the comfort of your home, you'll be set with a coffee subscription box!
Related Content