Everyone loves a delicious and healthy home-cooked meal, but does anyone even have time for that anymore? So many people lead such busy lives in our fast-paced world, and cooking often falls to the wayside.
This is why so many meal prep delivery services have stepped in with a solution – they'll do the work for you! There are a few different kinds out there – some prep the ingredients and send them to you, others go a step further and cook it, too.
This means that you'll be able to find meal prep services to fit your lifestyle. Whether you've got a family to feed or you live alone but still want to eat a balanced and delicious diet, you don't have to let time constraints get in your way anymore.
You can even find complimentary delivery services, like water delivery or fruit delivery if you want something healthier. Or, how about ice cream for dessert?

Meal Prep Delivery Services
Sunbasket
Factor 75
Veestro
Snap Kitchen
Freshly
Sakara
Yumble
Top Chef Meals
Icon Meals
Ipsa
1. Sunbasket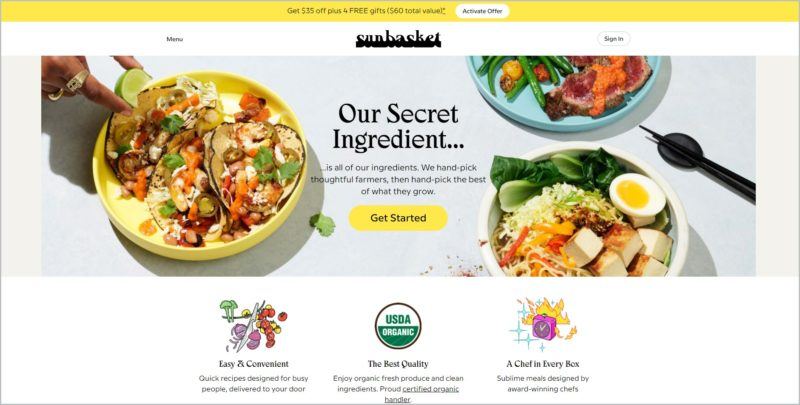 Sunbasket has a simple motto: eat clean, feel great. They focus on providing clean and healthy meals to those who want to maintain good nutrition but can't necessarily spend hours cooking all the time. Their delicious dinners can be ready in as little as six minutes.
They also offer special meal programs for those following specific diets such as paleo, vegetarian, gluten-free, etc. They also have two different types of plans. First, you can opt to simply be delivered the ingredients, and you do the cooking. Prep time is estimated between 15-40 minutes. Or, you can choose oven-ready meals that only need to be heated up for a few minutes.
Deliveries are sent weekly, but you're always free to skip a week if you need to.
2. Factor 75

Factor 75 offers fresh, healthy, pre-prepared meals on a weekly basis. Their chefs do all the prep work and cooking, leaving you to simply heat them up and enjoy in less than five minutes. You can choose between six, eight, or twelve meals each week depending on your schedule and lifestyle.
In addition to convenience, they pride themselves on offering a good variety of well-rounded and health-conscious options. This includes things like fish, steak and potatoes, grass-fed burgers, etc. For vegans and vegetarians, they do have an entirely plant-based menu.
3. Veestro

Veestro offers a variety of plans, all of which get you a series of fully prepared, pre-cooked meals every week. You can choose between 10, 20, or 30 meals each week depending on how often you need to eat quickly.
All of their meals are plant-based, organic, and free of preservatives so they're perfect for anyone wanting to eat healthily without sacrificing convenience. They offer three different plans – a la carte, chef's choice, and weight loss. At only $9 per meal on average, you're getting restaurant quality at a fraction of the price.
4. Snap Kitchen

Snap Kitchen offers fully prepared and pre-cooked meals to cater to almost any special diet or lifestyle. This includes low carb gluten-free, high-protein, paleo, vegetarian, and keto. You can select your diet and then add your favorite dishes to your cart.
Choose how many of each you want every week, and that's it. They prep it and do all the cooking so you only have to heat it up whenever you're ready to eat.
5. Freshly

Freshly is one of the best choices for the fastest meals. They have a menu with more than 30 fully prepared entire meals. They are made with healthy and all-natural ingredients, and they do all the prep work and cooking for you.
Once it's delivered, all you need to do is heat it up. This usually only takes about three minutes. It's the perfect meal prep service for an individual with a busy schedule, or even a family with lots of mouths to feed. They deliver weekly but you can skip a week at any time. Each meal is perfectly prepared for one person to eat in one sitting.
6. Sakara

Sakara is a meal delivery service for vegans. Their recipes are entirely plant-based and they create meals with a purpose. They want everyone to experience the power of food for healing and medicine.
They have meals designed to help you deal with certain issues such as reducing bloat, losing weight, improving digestion, improving your skin, boosting your energy, and more. Whichever concern you select, they'll curate recipes with foods to help you address it.
The meals are delivered to your door prepped and cooked, so all you have to do is heat them up. They offer weekly delivery but you can skip weeks and customize your schedule as desired.
7. Yumble

Yumble is absolutely perfect for the meal prepping parent. Whether you're looking to lose weight or simply want to organize your busy life, cooking can be such a hassle when you've also got kids to feet. If meal prepping works for you, why not include the kids?
Yumble preps and cooks meals that the kids will love, all you have to do is heat it up for them. They even have some selections that they think even the pickiest of eaters will love. While convenient, the meals are still healthy with lots of meat and vegetables included.
8. Top Chef Meals

Top Chef Meals offers a completely customizable meal prep delivery service that lets you choose absolutely everything. You can choose from the "seasonal specials" which are complete meals, but you can also customize. Everything comes cooked and frozen ready for you to heat up.
Each entree comes with two sides that you get to choose. You can also filter the options for low sodium, diabetes-friendly, low fat, dairy-free, and gluten-free. They also have plans to match diets like keto and paleo for those that follow these lifestyles. For busy families, they have some kid's meals as well.
9. Icon Meals

Icon Meals delivers healthy and fully prepared meals with options. This is the perfect service for busy athletes and/or bodybuilders who need the nutrients but don't always have time to cook. You can create custom meals for yourself or choose from one of their pre-determined plans like the keto box or lean box.
Their boxes include 12 meals a week and are perfect for planning ahead while still chasing your goals. They also offer "protein by the pound" for anyone who wants to add more protein to their meals.
10. Ipsa

Ipsa offers what they call "fine frozen food." Their meals are prepped and pre-cooked for you from thoughtfully sourced, healthy ingredients to create unique, artisanal dishes. They only use pasture-raised meats and organic produce to ensure everything is as healthy as possible.
It's the perfect solution for those who are busy and like to plan ahead but don't want to miss out on a nice hot, home-cooked meal. It's also great for the gym-goers trying to stay healthy and build muscle without having to spend hours in the kitchen every day.
Things to Consider When Getting Meal Prep Services Delivered

Meal prep delivery services offer an incredible amount of convenience, but with so many choices, it can be hard to know which one is best for you. Look at the following factors as you consider your options – they should help you decide.
The Selection
First of all, what is the selection like? Some services offer a huge variety of meals and ingredients in a big shop. They often allow you to either create a box and receive the same thing each week or change it up whenever you want.
Others, though, have a limited menu to choose from each week that features entire meals complete with sides. The menu will then change each week and you'll have to make your selections.
Both of these methods are great in their own way, but which one is right for you? Being able to choose from a larger selection may be better if you've got some picky eaters in your family. But, the more limited menu takes some pressure off and make for an easier decision-making process.
How Customizable is it?
This may be a major factor for some people. Pay attention to how flexible the plans are in terms of people and servings. Some services only offer a rigid selection of two or four servings, or three to five meals a week. If this works for you/your family – great!
If you have an odd number of people or just want a wider range of options, you'll need to find a company that offers more flexibility.
The Cost
Lastly, it's important to look at the cost. Considering someone else is doing all the brunt work, these services will most likely cost you more than a trip to the grocery store for the same things.
So, it's important to remember that you're also paying for the time saved and the convenience of the service. That being said, it's still important that you only sign up for something you can afford.
Compare some pricing before making a decision. Especially if you have a big family, some services may offer even better deals when you're buying large volumes of food.