Today the nail industry is a multi-billion dollar industry with thousands of colors, numerous brands, and several in-home nail color and design options. Plus, not long ago, companies began to introduce nail polish subscription boxes that allowed consumers to try new polishes, tools, and techniques from the convenience of their homes.
Best of all, many of the nail polish of the month clubs work with small artisan businesses that offer handmade products made from non-toxic, cruelty-free ingredients.
With the popularity of nail polish these days, the history of the fashion might surprise you. The first time historians found people painting their nails were warriors in Babylonia around 3200 BC. Before heading off to fight, warriors would spend hours having their hair curled and styled and their nails manicured and painted. The color of polish chosen by each warrior depended on their class; black was for higher-ranking members, whereas green was for lower-status fighters. Often the soldiers would match their lip color to their nail color.
And Babylonia wasn't the only place in history that nail polish played a role in society. In Chinese culture, around 3000 BC, nail color was worn to display the people's different ranks and dynasties. The ruling party wore red, and those of lower classes wore paler shades. And if someone of lower status wore nail color above their station, it was an offense punishable by death.
Of course, Cleopatra decorated her nails, usually in blood red, using henna mixed with plant extracts to add color to her nails. And before the nail polish we use today was created, cultures worldwide used various natural products to color their nails, such as kohl, beeswax, Arabic gum, and egg whites.
Over the centuries, as trade and commerce hit a global level, the use of nail polish spread worldwide. Eventually, nail color reached Europe in the latter part of the 18th century. However, once nail color came to the US in the second half of the 19th century, it began to evolve from powders and oils into the lacquer we recognize today.
In 1878 Mary E Cobb returned from France armed with the knowledge of nail color and manicures. She then proceeded to open the first nail salon in the US. Cobb also introduced the first home manicure guide and later invented the emery board. Since Cobb, there have been many other trailblazers in the nail industry that brought liquid polish, acrylic nails, and French manicures to the world of fashion.
These days, it's mostly women who wear nail polish and subscription boxes are often themed with this in mind. Still, some men are getting into the trend too.
Painting your nails is sometimes seen as a form of self-care, helping you to feel good about yourself. If this is the reason you're interested in nail polish, you could try other approaches too, like candles or adult coloring books.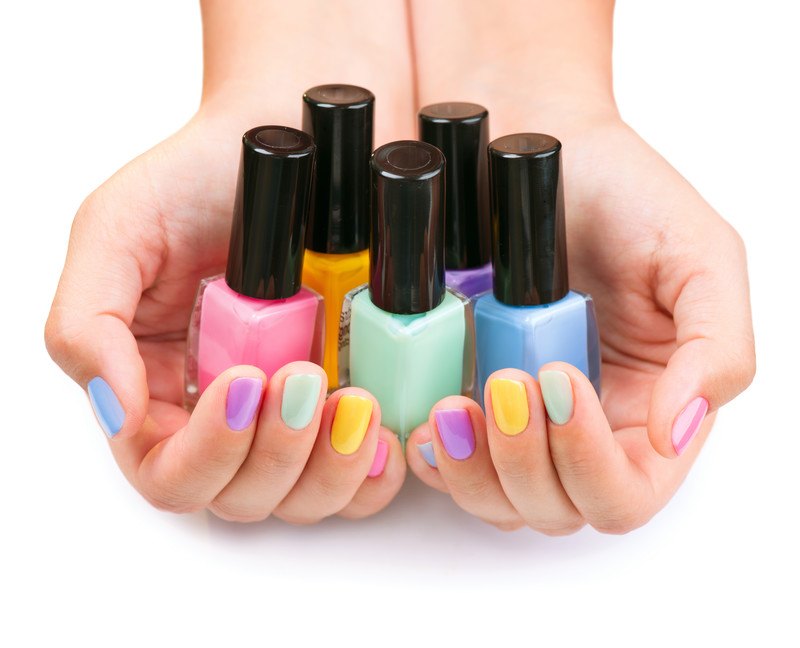 Nail Polish of the Month Clubs
Fanchromatic Nails
Nail Boxy
Maniology
Northern Nail Polish
Notably Nailed
Chika Nails
Aerial Nail Box
Fanchromatic Nails

Fanchromatic Nails, based out of San Francisco, was founded by Lynae Zebest. Lynae is the founder, brains, and creative soul behind the fun colors and scents of the various Fanchromatic products. And she is not alone in the endeavor of making and selling quality fun cosmetics; her partner, Orin, also works with her and is the wizard behind the curtain.
The Lynae and Orin pride themselves on providing body-safe, vegan, cruelty-free products that are "quirky" and unique. Not only are the Fanchromatic Nails products different than other nail polishes on the market, but they also sell their polish in two sizes, mini 5mL or full-size 15mL.
Those interested in purchasing Fanchromatic Nails products can do so through the online store or in person at their booth hosted by one of the many events they attend, such as Comic-Con and craft fairs. You can also see their products at some of the local boutiques that promote local artisans.
Though their company's name implies nail products, they create and sell a lot more than just nail care items. Lynae has expanded into other bath and body items like bar soap, body cream, fizzing bubble bath, emulsified sugar scrub, whipped soap, and DIY craft kits.
However, if you ever visit their online store, you can tell that the star of their show is their nail polish. Fanchromatic Nails has polish color options and unparalleled styles, like mood nail polish, glitter, matte, and metallic colors. If you love fun nail polish and would like to receive a monthly supply of colors, you should consider their nail polish of the month club.
Their nail polish of the month club is available in 2 different sizes, a full-size bottle for $15 per month or a mini bottle for $9.50. Their nail polish of the month club comes 2 durations, month-to-month or 6-month prepaid that's offered at a 10% discount.
Nail polish subscription boxes ship out at the end of each month.
Nail Boxy

Nail Boxy, located in Indianapolis, Indiana, is a nail care subscription company. Though they do not sell any of their nail products individually, you can purchase the previous month's boxes without signing up for a subscription. In addition to previous boxes, they also sell limited-edition boxes and bags without a membership.
When you sign up for the Nail Boxy nail polish subscription, you will get to choose from 4different Nail Boxy plans:
Month-to-month for $29.99 per month
3 month prepaid for $28.99 per month
6 month prepaid for $27.99 per month
12 month prepaid for $26.99 per month
Each of the subscription boxes includes 5-10 full-size professional-grade nail polish products such as gel polish, acrylic nail art, decals, builder gel, files, and nail buffers. Plus, Nail Boxy carries top nail products brands like Bio Seaweed, Lisa Kon, and Libra.
Because many of the boxes contain professional tools and quality nail art, Nail Boxy posts tutorials on their Facebook page to teach how to use the fun things in that month's box.
After placing your order for Nail Boxy, they will ship your first pack within 5-10 days. You can cancel the month-to-month subscription box anytime, but the prepaid memberships are not eligible for cancelation before the end of the subscription.
Shipping is free in the US, but there is an additional charge for boxes shipped internationally.
Maniology

Maniology is an online nail art store located in Oahu, Hawaii. Maniology offers a variety of nail art products, such as:
Nail polish
Nail stamping plates
Kits and bundles
Vinyl stickers
Though you can purchase any of Maniology's many products individually, they also offer a nail art subscription box. There are 3 different subscription duration options to choose from:
Month-to-month for $25 per month
3 month prepaid for $22.50 per month
6 month prepaid for $20 per month
All of the subscriptions auto-renew at the end of the original term. Each month the recipient of the nail polish box will receive:
2 exclusive stamping plates – Only available to members
2 coordinating nail polishes
A surprise bonus item
Free shipping
Plus, the first month has a couple of extra items to get you started; a free stamper and scraper set to be reused with future boxes.
When you sign up for a subscription box, you will also be eligible to receive members-only benefits such as 10% off purchases outside of the subscription, 50% more stamps from the Maniology rewards program, and exclusive access to previous boxes and plates.
And if you are new to nail art, you only have to visit their website to learn how to start nail stamping. Their website has detailed step-by-step instructions, plus an informative tutorial video.
All plans are flexible, so you can choose to skip any month.
Northern Nail Polish

KC Springberg is the founder of Northern Nail Polish, located in Traverse, Michigan. Springberg started Northern Nail Polish in 2013 when she read that many nail polishes contain toxic ingredients. Because she loved doing her nails as a way to pamper herself and knew she wasn't alone, she decided to formulate a cruelty-free, vegan, non-toxic, allergen-free nail polish. And Springberg was able to come up with a chip-resistant body-safe formula without compromising on quality.
In addition to nail polish, Springberg expanded her online shop to include Northern Apothecary that helps promote other women-owned small businesses that make safe, cruelty-free, self-care products like:
Handmade soap by Frolic and Fern
Natural deodorant by Rustic Maka
Anti-Aging facial moisturizer by Bee Fresh
Organic vegan makeup by River Organics
Perfume sticks by Wild Jasmine
In addition to Northern Nail Polish selling all of their products online individually, they also offer a subscription box. The Quarterly Subscription Box & VIP Membership is $69 per shipment. Each box contains at least 6 full-sized personal care products such as nail polish, bath and beauty, treats and sweets, jewelry, and self-care. The overall value for all 4 boxes is over $600. Each of the products comes from trusted woman-owned businesses that create non-toxic and often organic products.
When you sign up for the Quarterly Subscription Box & VIP Membership, you will receive a 15% discount off all Northern Nail Polish and Northern Apothecary products. All of the memberships are flexible and can be canceled anytime.
Notably Nails

Notably Nailed is a nail polish subscription company. They specialize in gel nail polish, nail art, and nail adornments. Though their primary focus is their Notably Nailed Nailbox, they do offer many products for individual sale. Some of the items you can find in their online store include:
Gel polish
Tools
Plates
Stencils
Slides
Stickers
Powder and glitter
All of the gel polishes sold and included in their nailbox require curing by LED or UV light.
Their monthly subscription box costs $23.99, plus an additional $4.75 for shipping. The subscription is month-to-month and can be canceled anytime. The Notably Nailed Nailbox ships out between the 16th-20th of each month and orders must be placed no later than the 14th of the month to receive the current box.
Each box comes with a specific theme; some of the past box themes were Valentine's Day, winter and snowflakes, spring and flowers, and autumn colors and leaves. Each box contains at least two full-sized bottles of gel polish, plus other items such as design tools, nail wraps, stickers, glitter, and more.
Chika Nails

Chika Nails is a nail polish wrap online company based out of Illinois. Chika Nails sells individual nail wrap sets for $2.99, seasonal kits that include a combination of different full-set nail sheets, and nail polish wrap monthly subscriptions.
If you are unfamiliar with nail wraps, they are a nail-shaped film with an adhesive surface. After attaching it to your nail, you can use a file to remove the excess material and shape the nail's tip. To make the wraps last longer, Chika Nails recommends applying a top coat type product.
Chika Nails offers over 150 different wrap options, including solid colors, ombre, seasonal, holiday, cartoon, and more. Plus, when you order from Chika Nails, they offer a loyalty and referral program that allows you to earn points towards more products.
The Chika Nails subscription box costs $9.99 a month and is a month-to-month flexible program that can be paused or canceled anytime. Each nail polish wrap subscription box includes:
A Welcome Discount for those who sign up for a 3-month prepaid plan
Loyalty points
Exclusive member savings
Free shipping
4 full sets of nail polish wraps
Nail file
1 sheet of decals
Aerial Nail Box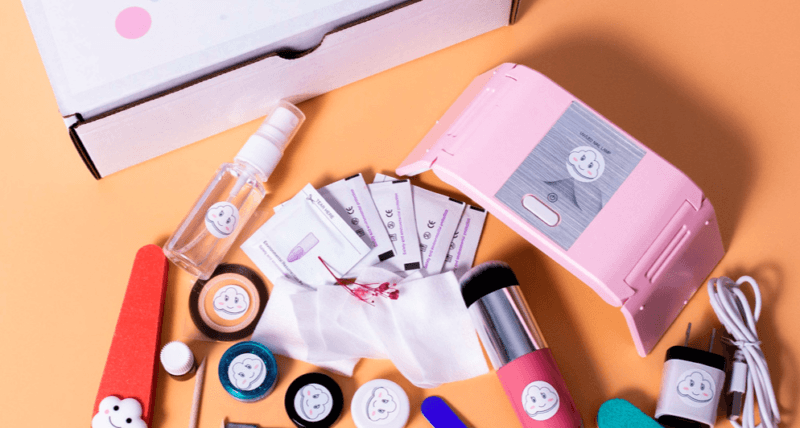 Aerial Nail Box doesn't sell individual products. Instead, they just feature their monthly box. This contains 10 or more items each month, focusing on products like gel polish, top coats, cuticle oil, remover wipes, decorations, and fills. The first box also comes with a complementary cuticle pusher, big brush, and UV lamp, so that you have all the tools you need each month.
There are 4 versions of the club:
Monthly for $29.99/month
3-month prepay for $27.99/month (you're committed to all 3 months)
6-month prepay for $25.99/month (you're committed to all 6 months)
12-month prepay for $24.99/month (you're committed to all 12 months)
None of the boxes include taxes or shipping. You'll need to pay these fees on top of the monthly price.