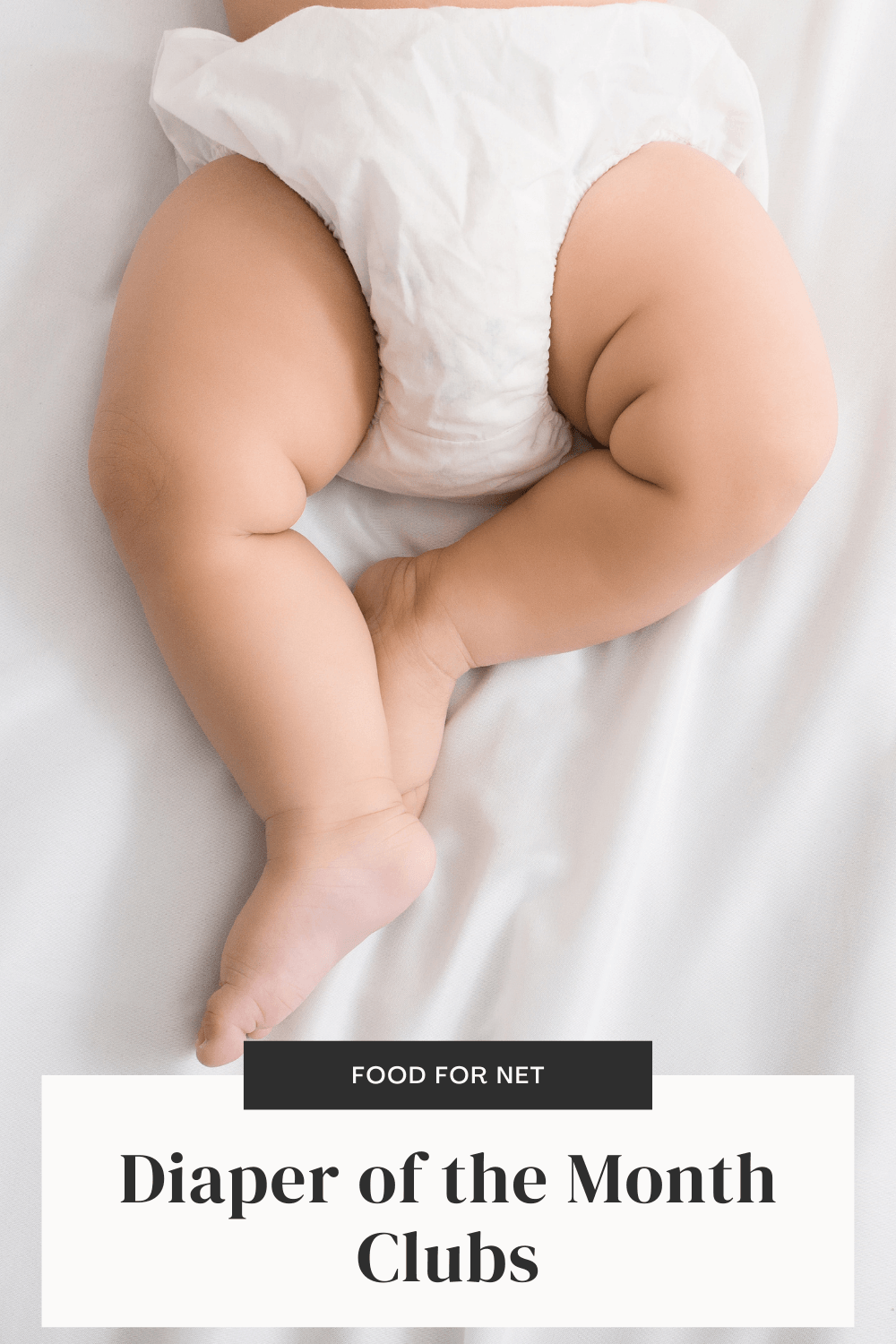 Diaper subscription boxes are an excellent way to make any parent's life easier. All parents know how busy life gets, especially with a new baby in the house. And one thing that would make things easier is signing up for a diaper subscription box, so you know you will never run out of diapers again. Diaper subscription boxes are not only convenient, but they are affordable too.
Most of the diaper of the month companies offer a variety of shipping schedules and bundling options. Also, when you choose to bundle and subscribe, you can often get diapers at a discounted price.
The different diaper subscription boxes are all unique. Some of the diaper subscription companies offer eco-friendly diapers; others offer popular name-brand diapers. A few companies design bamboo diapers that are better for the environment and can be an excellent option for babies with sensitive skin.
For people looking for the ultimate baby shower gift for new parents, a diaper of the month club is the ideal present (perhaps combined with a baby book subscription). Any parent would love to get a monthly supply of diapers conveniently shipped to their home.
Diaper Subscription Boxes
Honest

Actress Jessica Alba founded the company Honest to bring consciously created products to people who want products that work without causing harm. Honest makes several personal products for adults and babies; some of their top-selling options include:
Skincare products
Home cleaning products
Teen acne care
Makeup
Baby clothing
Baby bedding
Honest sells packages of diapers individually, in bundles, and as subscriptions. Their diapers are available in sizes from NB under 10 pounds up to 35+ lbs. All of the diapers come in a variety of fun patterns colored in pastels. When you purchase diapers, you can choose from more than 30 designs, including plain white.
All diapers come with a wetness indicator and are created with a super-absorbent core that wicks moisture away from your baby's body. Plus, the diaper sizes 3-6 are made to move with your baby with added stretchy panels.
Earth-conscious parents can take comfort in the fact that the diapers are created with sustainably harvested tree fluff, which saves over 7,000 trees each year.
In addition to standard diapers, Honest also designs overnight diapers and training pants.
The diaper subscription membership is a flexible plan that allows parents to choose standard diapers, overnight diapers, or training pants. After picking your baby's diaper size, you can pick out the patterns you want and you can add extras to your bundle, like:
Shampoo and body wash
Balm
Diaper rash cream
Wipes
Any extras added to your order are a la carte and are not part of your subscription.
When you are done making your selections, you just need to determine the frequency you want the diapers shipped every 3, 4, or 5 weeks.
Made Of

Made Of believes that products used by families and in our homes should be made from organic plant-based materials and always have 100% transparency regarding their ingredients, testing, sourcing, manufacturing, and certification results.
Made Of is a baby product-focused company that designs, manufactures, and sells baby wipes, shampoo, hand soap, diaper rash cream, sunscreen, lotion, and powder. Though you can purchase their products individually, you can also shop their baby bundles such as the Newborn Kit, Diapering Kit, and Bath and Body Kit.
Additionally, you can opt to choose to purchase one of their two diaper subscriptions:
Diapers and Wipes $80 per month

6 bags of diapers with 36 per pack
4 packages of wipes with 80 wipes pack

Diapers only $60

6 packages of diapers with 36 per pack
The delivery options available are every 3, 4, 5, and 6 weeks. All subscriptions are flexible and can be canceled anytime. Shipping is included with both subscription options.
Esembly Baby

Esembly Baby is an earth-friendly company that brings safe, sustainably made products to you and your baby. The diaper covers and their bags are made from TPU fabric created with 100% recycled yarn made from plastic bottles. And their organic cotton diapers use GOTS-certified cotton, which is made with reduced use of fertilizers and pesticides, so it is better for both the earth and your baby.
Esembly Baby designs cloth diapers for babies. They also sell accessories and cleaning products that go along with using non-disposable diapers. Some of the other care products you can find on their website include:
Outer waterproof diaper covers
Washable wipes
Overnight diaper boosters
Biodegradable wipes
Laundry soap
Baby balm
Rash relief cream
Washup foam kit
The Esembly products are all available for sale on their website, and if you aren't sure which products you want, you can always purchase their sample kits. And after you choose your favorite products, you can get your diaper subscription box started.
The subscription box is fully customizable, and you can include:
Inner diapers
Outer diapers
Cloth wipes
Overnighters
Laundry powder
Agitators
Balm
Cream
Cleaning foam
Storage and clean up items
Plus, for those new to cloth diapers, Esembly Baby offers classes to help you out.
Parasol

Parasol is another earth-conscious company that is looking to lessen its carbon footprint on our planet. Not only does Parasol make an eco-friendly product, but the baby products designed are all created with safety and comfort in mind.
What makes Parasol stand out against other diapers is that they are designed to help eliminate diaper rash and leaks. All of the diapers are made with RashShield Ultra-soft fabrics and have a breathable design. Plus, their diapers are created for comfort with a high-rise fit and an ultra-thin diaper core. Best of all, the diapers are free of chemicals.
In addition to diapers, Parasol also makes diaper pants, baby wipes, shampoo and body wash, lotion, hand sanitizer, and face masks. And if you aren't sure if Parasol is the right brand for you, you can purchase their diaper sampler. The diaper sample kit includes 4 diapers and is only $3. If you like the diapers, just wait for 15-days for your subscription to start.
There are 2 levels of diaper subscription boxes:
The standard plan, which is ideal for those looking to purchase 1-2 packs of diapers per order.
The other option is the VIP option which includes three giant diaper packs, four packs of wipes, and two friend diaper packs.
Plus, you will also get an additional 20% off all future purchases, baby wipes, and shareable diaper packs with the VIP diaper membership. Both plans include free shipping.
Abby and Finn

The meaning behind the company name, Abby & Finn, is unique and fun. Abby is an anagram for baby, the ampersand in their logo was designed to look like a baby and mother, and Finn is an acronym for Families IN Need.
And when you order from Abby & Finn, you can feel good that for each subscription box sold, Abby & Finn donates 30 diapers to parents in need. They partner with 7 organizations that help get their diapers to the babies that need them.
Abby & Finn diapers are designed to be extra absorbent to help prevent leaks and extra soft for added comfort. Plus, the materials used to create their diapers are free of chlorine, heavy metals, latex, fragrances, moisturizers, and dyes.
In addition to their diapers, Abby & Finn also sells wipes, hand sanitizer, diaper balm, bubble bath, bibs, and shampoo. Though you can purchase their baby products individually, they also have diaper subscriptions that are a convenient way to ensure you stayed stocked up on your baby's necessities.
First, you choose your diapers by selecting the quantity, size, and pattern. For each pack of diapers, you can choose a different size and design, which is convenient for parents with two little ones in diapers. When bundling, you need to order a minimum of 3 packs of diapers, and each contains 60 diapers.
Next, you can add other items such as baby wipes, antibacterial wipes, and hand sanitizer spray. Any add-ons can be purchased as part of your subscription or as a one-time option.
Last but not least, you can choose the frequency you want your diapers delivered; they have every 2, 3, 4, or 5 weeks as options. Shipping is included, and pricing starts at $49.95 for 3 packages of diapers.
Hello Bello

Hello Bello was founded by Dax Shepard and Kristen Bell because they want the best for all babies. However, the duo also knows that some parents must make the tough decision "between what's best for their kids and best for their budget," so they came out with premium affordable baby products. And, Hello Bello's products aren't just suitable for babies but are earth-friendly too.
In addition to diapers, Hello Bello also carries a variety of products for the home and family, such as:
Home cleaning products
Vitamins for parents and children
Laundry detergent
Kid safe bug repellent
Sunscreen
And if you sign up for the Hello Bello Diaper subscription box, it is not only is convenient, but it also offers additional savings. All of the diapers are hypoallergenic and free of lotions, fragrances, latex, and phthalates. Each diaper subscription box includes:
7 packs of diapers
4 packs of wipes
15% off add-on items
Plus, some of the boxes contain the occasional surprise freebie!
When you sign up, you will be given an option between diapers, training pants, or a combination. Next, you will choose the size, style, freebies, and add-ons. For the first box, you get to select the freebie. Their shipping options include every 3, 4, or 5-week options.
The basic bundle, if you don't have any add-ons, is $65.99. The quantity of diapers or training pants is dependent on which product you choose.
Dyper

Dyper offers a premium, safe, and very eco-friendly bamboo diaper. But what makes Dyper different isn't just the use of bamboo, but also that they have a REDYPER program.
The REDYPER plan offers parents a way to dispose of their baby's diapers responsibly and know that the diaper didn't end up in a landfill. When you sign up for REDYPER, you will receive bags, boxes, and a prepaid shipping label to get the used diapers to a commercial facility that will sort and process the diapers. The end product is created into a safe compost for vegetation in highway medians.
Dyper is a customer service-focused company and wants to ensure buying diapers is an easy and hassle-free process. DYPER lets you order the exact number of diapers you need, and if you need more, they have an SOS service to expedite another diaper delivery. And if you requested too many, you can return them using a prepaid label.
In addition to diapers, you can also find other essential baby products such as laundry pods, body wash, diaper cream, wipes, and more.
Their diaper of the month club includes regular-sized diapers, extra-wide, and training pants. Their delivery options start with once a week up to every 12 weeks. The diaper subscription starts at $76 per delivery and includes free shipping.
IncrediBundles

IncrediBundles is a diaper gift subscription company. They offer popular name brands such as Abby & Finn, Pampers, Huggies, Luvs, and Member's Mark.
And when you order with IncrediBundles, the first diaper subscription box includes a teddy bear and an announcement card.
IncrediBundles is excellent because when you send it as a gift, it allows the parents to choose their preferred brand.
You can choose to gift a diaper, wipe, or include both subscriptions; when you select a combination of wipes and diapers, you will receive a discounted price for bundling.
The diaper subscription boxes come in 4 options:
3 months for $199
6 months for $375
9 months for $549
12 months for $719
The wipes are priced differently but come in the same delivery options.
Happy Little Camper

Happy Little Camper's diapers and wipes are made with natural baby-safe materials. All of the diapers are fragrance-free, dermatology tested, contain soothing aloe vera and vitamin E for comfort, and use non-GMO cotton. But not only are the Happy Little Camper's diapers safe, but they are also leakproof and comfortable.
Happy Little Camper's has also developed natural baby wipes. There are two options, cotton wipes, and flushable wipes, and both are eligible to be added to your diaper subscription box.
The Happy Little Camper diaper box is easy to set up. First, you select your baby's diaper size, add some wipes (optional), and choose your delivery schedule. Shipping is available for every 3, 4, or 5 weeks.
The price for the diaper subscription box varies on the diaper size and if you choose to add wipes to your plan, but the starting price for newborns is $85 for 252 diapers. The number of diapers in each box changes based on the diaper size.
Shipping is included for all subscription boxes.
Ecoriginals

Ecoriginals was founded in 2011 in Australia and was one of the first companies to offer biodegradable diapers and wipes. Every year, they work hard to improve their products' earth friendliness and aim to be 100% biodegradable and 100% plant-based by 2023.
Ecoriginals also works to offset the unavoidable carbon footprint created by delivering their products. So, they also help to fund the planting of trees, remove plastic from the ocean, and offset carbon from the atmosphere.
And though they started in Australia, they have become a globally recognized company, helping to diaper more than 5 million babies. Parents in the US can easily purchase Ecoriginals and enjoy free shipping on specific orders. Parents can buy diapers and wipes a la carte, in multiples, or in bundles.
If you aren't familiar with Ecoriginals' products, they offer a trial pack that includes a package of diapers and 3 packets of compostable baby wipes. For parents ready to get their subscription started, there are 4 options to choose from:
3 bags of diapers and 3 packs of wipes for $56.24
6 bags of diapers and 6 packs of wipes for $93.74
6 bags of diapers for $74.99
12 packs of wipes for $67.49
Delivery options include every 2 weeks up to every 8 weeks.
Eco Pea

Eco Pea is a safe, environmentally conscious company that has designed a bamboo-based diaper and wipe. The inspiration behind the company was that the founders needed to find an alternative diaper for their baby whose skin reacted to traditional diapers. And because they were unable to find a brand that worked for their baby, they made it their mission to create a diaper and wipe that would work for babies with sensitive skin and was more environmentally friendly.
All of their products are "Mindfully Made," and you can find the materials used, where it is located on the product, and the environmental footprint each item has on our planet. Eco Pea believes in 100% transparency which is why they have made it easy to find how their products are made.
They offer 3 primary products:
Eco-Friendly Bamboo Diapers
Bamboo Biodegradable Training Diapers
Bamboo Wipes
Their diaper subscription saves parents 20% and starts at $11.99 a box. After choosing the size and quantity of diapers, you can then select the frequency of the shipments. You can choose to have diapers delivered once every month, every 2 months, or every 3 months.
Coterie

Coterie makes a high-performance diaper that prevents leaks and blowouts while also using safe materials for your baby. The materials used for the inner liner of the diaper helps to wick away moisture fast to reduce the risk of diaper rash. And the high absorbency material allows for your baby to have a better night's sleep. The wide back panel aids in ensuring there are no leaks.
Coterie understands you're busy, so they have made things easier for parents with an optional reminder for reordering and a customer service text line. Text any questions to the Coterie team to get your question answered quickly.
The Coterie's diaper subscription club gives subscribers a 10% discount on their monthly shipment. Pricing starts at $81 per box for 6 bags of diapers, which usually lasts up to 4 weeks. Also, you can choose to add wipes to your order, either 4 or 8 packs, for an additional charge.
All subscriptions include free shipping.