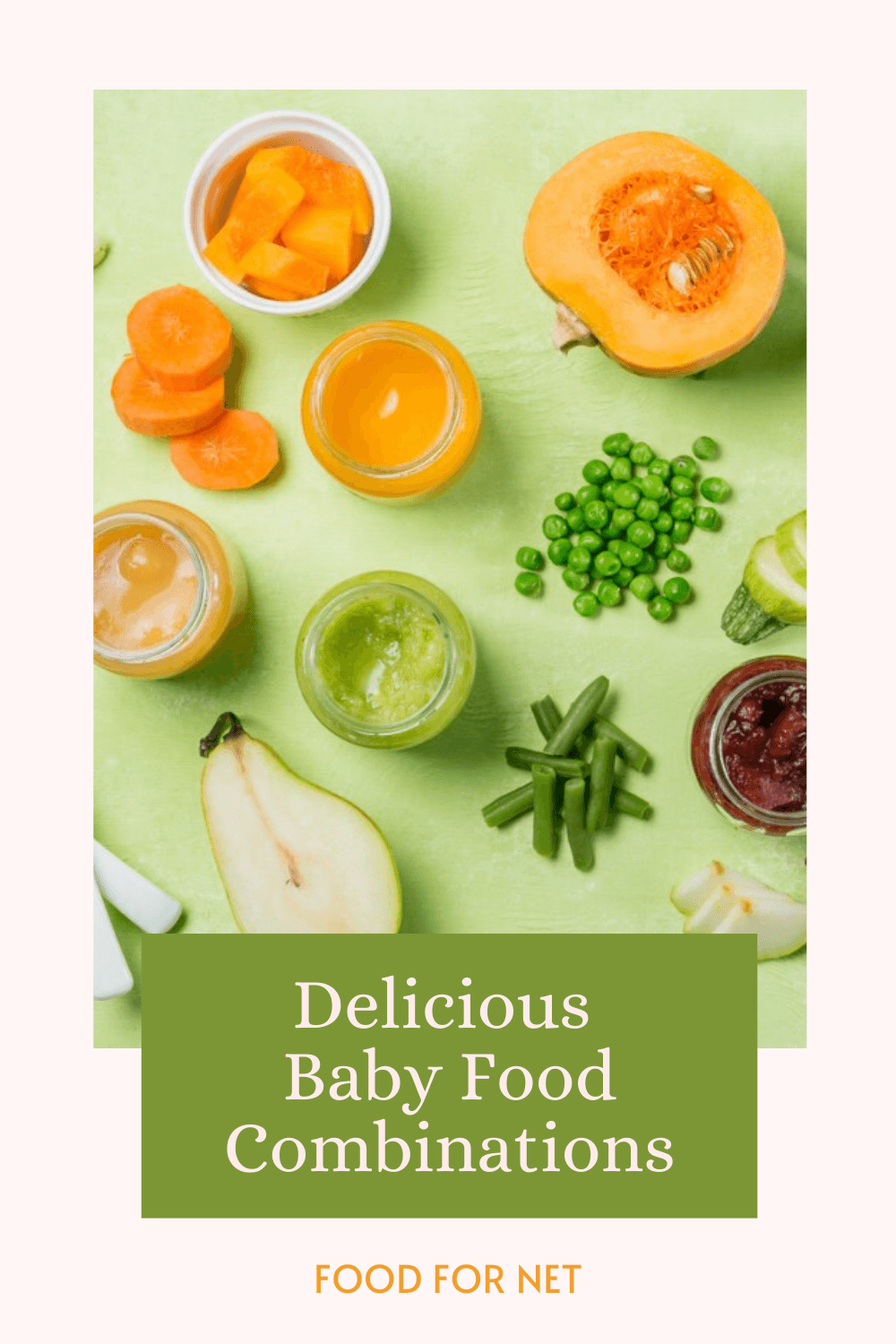 Buying baby food from the store gets expensive fast and the benefits are debatable. Sure, the food is nutritionally balanced, but it often relies heavily on additives and preservatives to make it shelf stable. Why not make your own baby food instead, using these baby food combinations as a starting point?
Making homemade baby food isn't as difficult as it first appears. You can cook food in batches and use a blender to get the right consistency. Small freezer safe containers are perfect for storing baby food. Many brands produce this type of container, so you have plenty of options to choose from.
Baby food isn't the same as food for adults. You'll find that babies love some combinations that might sound strange to you and hate some that you might enjoy. Plus, some experimentation will be needed, as each baby will have his or her own preferences.
If you're up to the next step, why not check out our list of food for baby-led weaning. Or, if making baby food sounds like too much work, you could try an organic baby food subscription box instead.
Baby Food Combinations
Stage One Combinations

Stage one baby food is suitable for babies from around four to seven months old. At this point, babies need soft smooth foods with no lumps. You'll need to fully blend the baby food to make this work and test the consistency before you serve it.
Most good combinations rely on a single vegetable and a single type of fruit. The vegetable is important for providing nutrients, while the fruit offers enough sweetness to make the baby food palatable.
Start With The Basics

When you first start babies on solid food, portions need to be very small. You're looking at just a tablespoon or two of food. If you're making and freezing puree, you can use ice cube trays to keep the portions small. You can easily thaw multiple cubes once your baby's appetite starts decreasing.
Experts recommend introducing a single type of food at a time. This way you can watch out for any allergens and quickly learn which foods are the most popular. Let your baby enjoy the food on its own multiple times before you add anything to it.
Once you have a sense of the single-ingredient baby foods that your child tolerates, you can then start to experiment. Adding a second ingredient is an easy way to make the baby food tastier and more nutritious.
Some good single-ingredient purees to start with include:
Carrot puree is often popular. It's an easy place to begin, as the puree isn't too sweet and rarely sets off allergies. Carrots lend themselves well to food combinations too, so it's easy to expand on this baby good as you go along.
Banana puree can be powerful, as bananas are packed with fiber, potassium, and plant-based nutrients. Just be careful with how often you serve banana puree, as bananas can cause constipation in high doses.
The healthy fats in avocados aren't just good for adults. Avocados make fantastic baby food too, as the fat creates a creamy texture. This baby food is a little finicky though, as you'll need to focus on ripe avocados. The baby food won't keep as long as other options either and can brown quickly.
Pea puree offers a fantastic source of nutrition. The texture of the peas is the biggest problem here, especially for babies who are new to solids. You can get around this by straining the puree after it has been blended.
The flavor and nutrients of sweet potatoes make them an easy choice. The bright orange potatoes contain plenty of antioxidants to. You'll need to bake the sweet potatoes before making this baby food. A little liquid could help the sweet potato to blend well, but you shouldn't need any additions beyond that.
Bananas and Avocado

The combination of bananas and avocado has multiple advantages. For one thing, both ingredients are healthy, providing your baby with plenty of nutrients. Avocados are also a fantastic source of healthy fats.
Both ingredients are delicious too.
This is also one of the few types of homemade baby foods where none of the ingredients need to be cooked first. You just need to mash them and possibly use a little liquid for thinning.
As such, bananas and avocados are perfect when you need baby food in a rush or when it's too hot to cook.
Baby Cereal

Babies can eat most types of cereal, including porridge and rice cereal. Rice cereal is often used as the first solid food for babies, as it rarely causes allergic reactions, can be made easily, and is bland. You can turn to brown rice cereal too, which offers more nutrients than the white rice version.
Making the cereal is easy. Just mix a little cereal with some type of liquid. Water, formula, or breast milk are all popular choices.
Resist the temptation to sweeten the cereal. It's much better to let your baby get used to the plain food first before you start tweaking things. Plus, you should always focus on a single type of food at a time. You can start mixing things together later.
Peach Pear

This is another simple two-ingredient combination.
Even though both types of fruit are fairly soft, you will need to peel and steam them before blending. Otherwise the food won't be soft enough for a young baby.
You can play around with other two-ingredient fruit combinations too. Apple is a fantastic base ingredient and will easily give you the texture that you want.
Stage Two Combinations

Stage two runs from around six months on. At this stage, you need to start bringing more texture into baby food. You can expand the flavor combinations too. This can include adding more than two ingredients into the baby food.
At around seven to eight months, thick purees will work well, especially those with added texture. From eight to nine months, the food can be minced and mashed. Lumps are fine, but these need to be soft. From that point on, mincing and chopping the food should be enough.
Of course, the amount of texture and the flavors you use will depend on your baby. Children mature at different levels, so yours might be ahead or behind the curve in some areas. That's nothing to worry about. Simply adapt the combinations until you find ones that work for you.
Sweet Potato and Spinach

Combining sweet potatoes and spinach is an easy way to introduce babies to spinach. After all, the dark leafy green might be nutritious, but it has a fairly intense flavor that isn't always popular. The sweetness of the potatoes is just enough to offset this feature.
Orange sweet potatoes would be the classic approach for this recipe, but you could use white sweet potatoes instead. These fall between white potatoes and sweet potatoes, offering some advantages from each. White sweet potatoes often aren't as sweet as orange ones, but this can be a good thing, as it stops your baby food from getting too sweet.
Asparagus and Apple

This is another combination that mixes one sweet ingredient with a more strongly flavored one. Doing so is the perfect way to introduce babies to new flavors, especially those they might be fussy about later in life.
Asparagus puree isn't difficult to make. You just need to steam the asparagus and then blend it. Just make sure that the finished puree is smooth enough. Asparagus can sometimes be fibrous, which isn't ideal for baby food.
Coconut Chicken Curry

This baby food is literally the same chicken curry that you'd make for adults. The main difference is that you're keeping the spices to a minimum and making sure all of the ingredients are soft.
But, you can still use some curry powder as an ingredient. Some mothers report that feeding their babies complex and slightly spicy meals helped them to tolerate bolder flavors later in life.
If your baby is nine months or older, you only need to make sure that all the chunks are smooth. If they're younger than that, you'll need to mash or blend the meal together to make it smoother.
Carrot, Apple, and Sweet Potatoes

Combining carrots, apples, and sweet potatoes will give you a vibrant baby food that contains plenty of antioxidants. The sweet ingredients help to make the carrots more palatable.
To change this one up, try swapping the apple puree for pear puree instead. Apples and pears are similar, so they'll work in many of the same recipes.
Chicken, Green Bean, and Avocado

Combining chicken, green beans, and avocado might sound slightly strange, but the meal can be a popular one for babies.
It's also a hearty choice, as chicken is a lean source of protein, while avocados offer healthy fats. The combination of protein and fat is much more filling than a meal that relies just on fruit and vegetables.
You also get a fun light green color in your puree from the avocado.
Zucchini, Mint, and Pea

Here's another green baby food puree. This time you're using zucchinis and peas, along with some mint. The mint ends up being the dominant flavor, especially if you're also relying on minted peas.
The meal is a good way to start introducing your baby to more interesting flavors.
When babies are a little older, the meal can also be used as a dip for easy finger foods.
Apple, Butternut Squash, Carrots, and Curry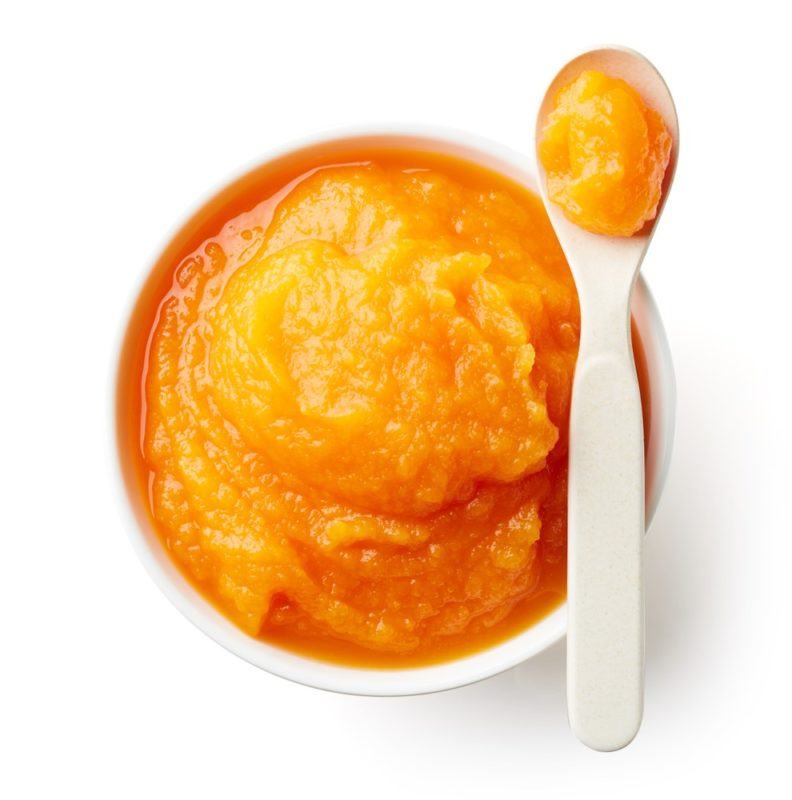 This baby food combination makes things even more interesting. It includes one type of fruit, two vegetables, and some curry powder.
The curry is a fantastic addition. Not only does this make the baby food more delicious, but it also helps to get your baby familiar with spices. Introducing such flavors early in life can help children have a varied diet when they get older.
Broccoli Tarragon Baby Food

This entry is a little more complex. It uses three green vegetables: broccoli, asparagus, and green beans. These give it the baby food a delightful green color and plenty of nutrition.
Pears are used as well. These add some sweetness, while helping with the texture. Tarragon is the final ingredient. This herb provides an extra depth of flavor. If you don't have tarragon on hand, try a different type of herb, like parsley.
Avocado, Peach, Pineapple, and Kale

Kale isn't just for adults. Babies can take advantage of this nutritious green too.
The trick is to pay close attention to the ingredients you're blending with kale. After all, the vegetable has a bitter flavor. You'll need to do some work to make it palatable.
Combining kale with ingredients like avocado, peach, and pineapple is a good approach. The peach and pineapple provide plenty of sweetness, while the avocado adds an interesting color and flavor to the baby food. It also helps to give you a smooth and creamy texture.
Kale, Blueberry, and Banana

Here's another baby food that features kale. Once again, you're using multiple sweet ingredients to offset the intensity of the kale. The blueberries also give this baby food a fantastic flavor.
You could use different fruits too. Why not play around a little until you get a combination that works well for you?
Parsnip, Spinach, and Sweet Potatoes

It's hard to go past a combination that is as nutrient packed as this one. After all, spinach is well-known as a nutrient powerhouse, while sweet potato contains plenty of antioxidants.
The sweet potato is also a great way to add sweetness to this meal without relying on any type of fruit. As a bonus, the puree avoids the major allergens and can be easily frozen.
Sweet Potatoes, Squash, and Peas

Here's another all vegetable three-ingredient combination. Sweet potato is probably the most important ingredient, as it lends a little sweetness to the baby food. Otherwise the flavor might be too strong.
Blueberry, Banana, Quinoa, and Flaxseed

This combination is more complex than most, so it's only suitable for stage two babies. Even then, you'll need to work up to it.
Still, the recipe is powerful. It's high in fiber, which is great for your baby's digestive system. The quinoa also provides many important nutrients, while blueberries are rich in antioxidants.
You're certainly getting a more nutrient-dense meal than baby food that simply blends two types of fruit together.
Blueberry, Chickpeas and Rosemary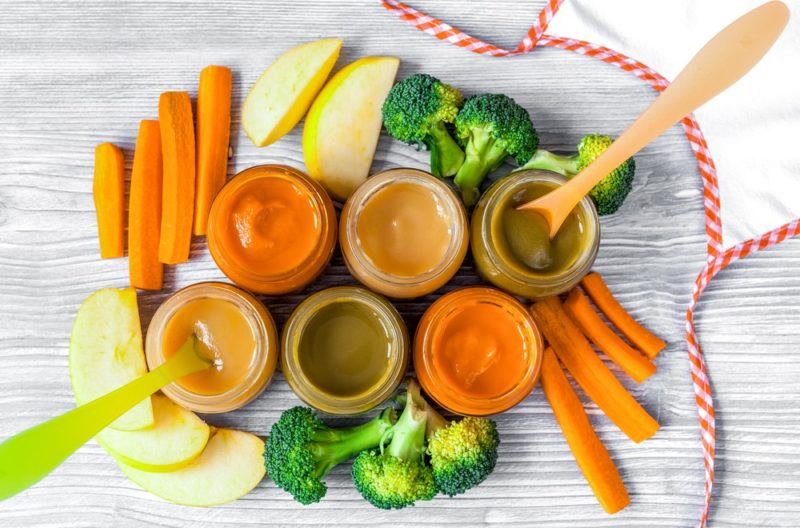 This baby food is surprisingly simple. The main ingredients are just blueberries and chickpeas. You can use chickpeas straight from the can, so there's no cooking to worry about.
Just blitz together the chickpeas, blueberries, and a sprig or so of rosemary. The three flavors complement each other well, creating a delicious meal.
Even more importantly, this is a very healthy meal. After all, blueberries are known for their antioxidant content, while chickpeas are packed with nutrients. What could be better?
Mix and Match

We've highlighted many baby food combinations on this list, but honestly, we're just scratching the surface. There are few rules about what you can include in baby food. You're just looking for textures and flavors that your baby will enjoy while ensuring the food is safe.
What this looks like will depend on your baby. You'll need to experiment with different ingredients to find the best choices.
An easy way is to start with single-ingredient baby foods, then mix in a second ingredient.
Some parents prepping multiple single-ingredient options at the same time and freezing them in small portions. This way, you can defrost a few at a time and experiment with mixing them. If your baby doesn't like a particular combination, you haven't wasted an entire batch of baby food.
Here are some ideas for simple base baby foods and ingredients that can mix into them. It's best to start with just a single added ingredient and let your baby get familiar with that. You can extend the recipe further as you go.
Carrot Puree. This simple vegetable is versatile and can be combined with many other ingredients, including peas, broccoli, sweet potatoes, spinach, zucchini, apples, pears, beef, chicken, lentils, and quinoa. Don't forget about spices. Cinnamon, ginger and paprika are all interesting additions.
Apple Puree. How can you go wrong with apple puree? It mixes well with yogurt, oatmeal, and cinnamon. You can combine it with vegetables too, like carrots, butternut squash, cauliflower, and spinach. In fact, apple puree is an easy way to make vegetables taste better. You can replace apple puree with pear puree and use most of the same combinations.
Banana Puree. Bananas are another sweet treat. Try combining them with peanut butter, yogurt or oatmeal, for a breakfast-like baby food. Bananas work well with avocado too, along with some unexpected ingredients, like beans.
Spinach Puree. Spinach has a strong flavor, even once it's been cooked. You'll often need something sweet to contrast this, like apple or pea puree. Mixing in a little yogurt can work surprisingly well too. Spinach also pairs with quinoa and with beans. Try adding a little parmesan cheese too. This helps balance the flavors out.
Sweet Potato Puree. The texture of sweet potato puree makes it a perfect choice for pairing with savory ingredients. The slight sweetness helps as well, giving your baby a more palatable meal. Try this with chicken puree or another type of meat puree. It even mixes well with carrots and beans. Or, try combining sweet potato puree with apple. This gives you even more sweetness.
Blueberry Puree. This puree is a fantastic way to give your baby antioxidants. It works with many of the ingredients you'd expect, like oatmeal, bananas, and peaches.
Pea Puree. Pea puree can be a little intense, so try pairing it with a sweet addition, like banana, apple, or pear.
Broccoli. Broccoli is another ingredient where you might need some sweetness to offset the flavor. Apple puree is an easy addition to begin with. You can also try kiwis or bananas. Some savory ingredients even work well with broccoli, like combining broccoli with butternut squash.
Cauliflower. Cauliflower is nutritious and has a mild flavor. What could be better? You can easily use it as the base for three-ingredient baby foods, like combining cauliflower, zucchini, and apple, or perhaps cauliflower, sweet potato, and apple.
Green Beans. Green beans don't combine with as many ingredients as the previous examples, but you can try the beans with apples or avocados. For a three-ingredient option, try combining green beans with banana and another type of fruit.