Until babies are around six months old, they get their nutrition from breast milk or baby formula. Starting at around six months, the baby begins to need more nutrients, and it's time to start branching out into other foods.
By this time, some babies will have a tooth or two. However, solid foods will still be new to them. In the beginning, it's a good idea to start with very soft foods, such as infant cereals and pureed veggies and fruits. As babies grow, you can offer them slightly firmer foods that they can hold with their fists. Eventually, they'll graduate to finger foods and begin using their own utensils.
While the grocery stores stock baby foods, the 12 best foods for 6-month old babies are usually fresh or made at home. If your baby is ready to start eating solid foods, read through this list for some ideas that could get you started. At the end of the article, I'll be sharing some ideas for first finger foods for older babies to try, too.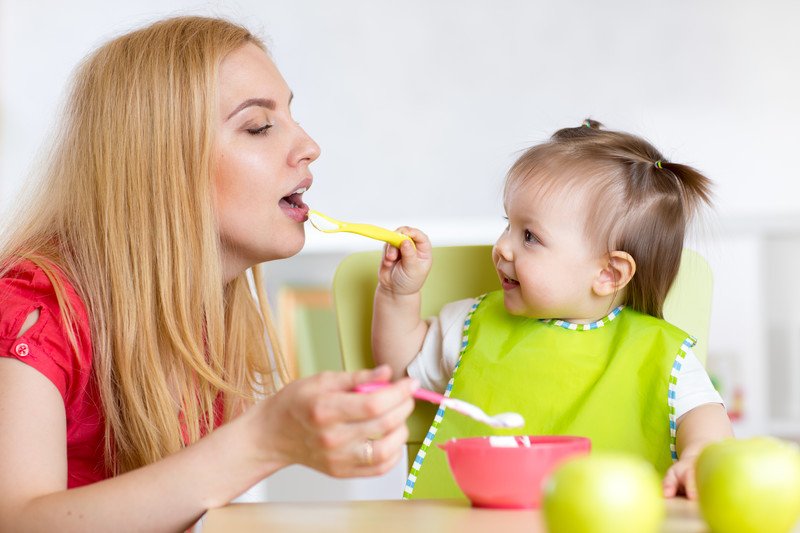 Best Foods For Beginning Eaters
Infant Cereals
Butternut Squash
Avocado
Sweet Potatoes
Bananas
Russet Potatoes
Chicken
Green Beans
Spinach
Applesauce
Full-fat Yogurt
Blueberries
Infant Cereals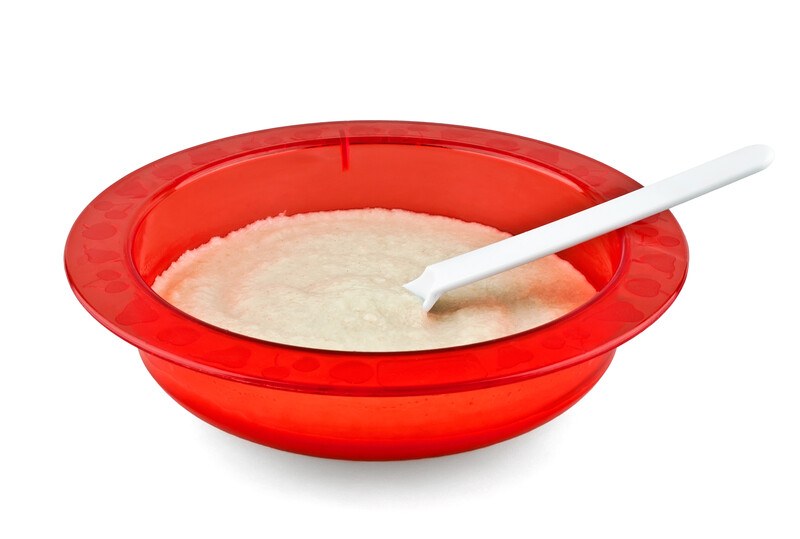 At about six months old, babies can begin to eat soft foods, such as infant cereals mixed in breast milk or formula. Infant cereals are often made from rice or oatmeal. They're easy to digest, so they're easy on the baby's developing digestive system. Starting with rice cereal could also help prevent the baby from developing food allergies.
One nice thing about infant cereals is that many of them are fortified with iron and other nutrients, such as vitamin E, several B vitamins, and zinc. The iron seems to be especially important, because the amount of iron in baby's bodies drops at around six months of age. Iron is usually obtained from food sources.
Butternut Squash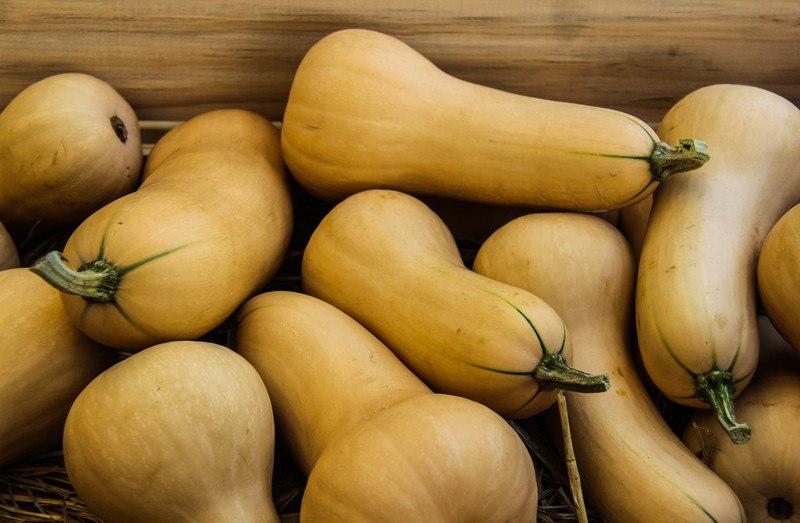 Butternut squash is a great food to introduce to new eaters because it's rich in nutrients like vitamin C, vitamin B6, and magnesium. Like other bright orange veggies, butternut squash also contains high levels of vitamin A, which can be good for the baby's developing vision.
One thing to note about butternut squash is that it doesn't contain as much fiber as some other vegetables do, so you might notice some harder or dryer stools in your baby's diaper as he or she adjusts.
To feed butternut squash to babies who are just beginning to eat solid foods, make sure you cook the squash until it's very tender. Then it can be pureed in a blender and spoon-fed to the baby until he or she is able to much on soft, squishy pieces of the vegetable safely.
Avocado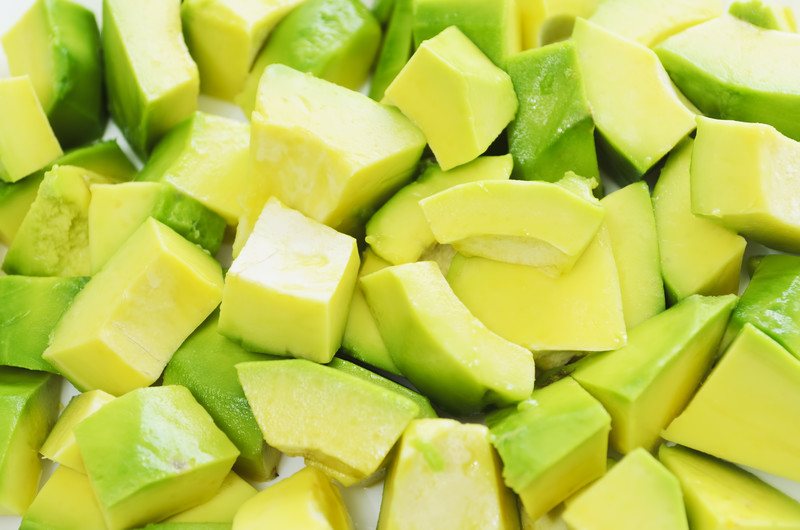 Like butternut squash, avocado is high in vitamin A. One cup of pureed avocado contains around 338 IU of vitamin A. This food is also rich in fiber, potassium, phosphorus, magnesium, calcium, iron, vitamin C, and several B vitamins.
One of the most interesting facts about avocados is that they're loaded with omega-3 fatty acids. One cup of avocado cubes supplies 165 mg of omega-3 fatty acids. These healthy fats are essential for the development of new cells, but also for developing the brain and nervous system.
Avocado is best served mashed on a spoon for very early eaters. Because it's a soft food, it can also be one of the first finger foods that a six-month-old baby could enjoy. Once your baby is ready to chew, try a peeled avocado spear that your baby can hold in his or her hand.
Sweet Potatoes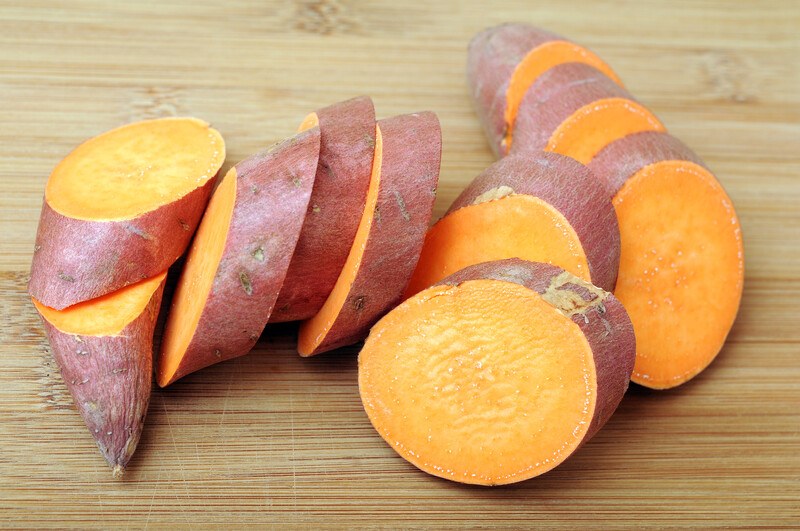 Sweet potatoes are a sweet, bright orange vegetable that can be served mashed to six-month-old babies. A one-ounce serving of sweet potatoes supplies around 22 calories, with around .7 grams of fiber. This food is high in vitamin A, and it contains vitamin C, several B vitamins, calcium, iron, potassium, magnesium, and other nutrients.
Like other beginning baby foods, sweet potatoes should be mashed or pureed to start with. As the baby develops, parents can serve soft cooked cubes of sweet potatoes as finger foods.
One nice thing about sweet potatoes is that many babies enjoy the naturally sweet flavor. This makes them a great choice for picky eaters or babies who are reluctant to try new foods.
Bananas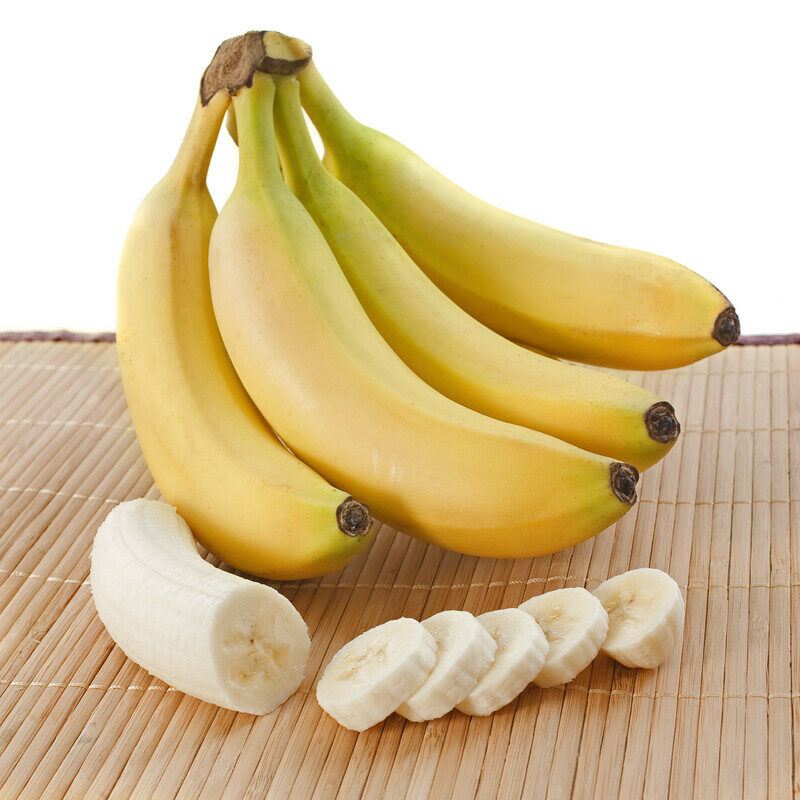 Bananas are another naturally sweet food that many babies love. They're high in carbohydrates, and when they're ripe, they're soft and easy to digest. They're also rich in potassium and magnesium, as well as fiber and vitamin B6.
Ripe bananas are easy to mash and spoon feed to 6-month-babies. Later, you can pre-load a baby spoon with mashed bananas and let your baby practice, or slice them into easy finger foods.
Bananas are a great choice for babies because of their convenience, as well. The banana peel acts as a wrapper for the fruit, making it an easy grab-and-go snack when you and your baby will be away from home.
Russet Potatoes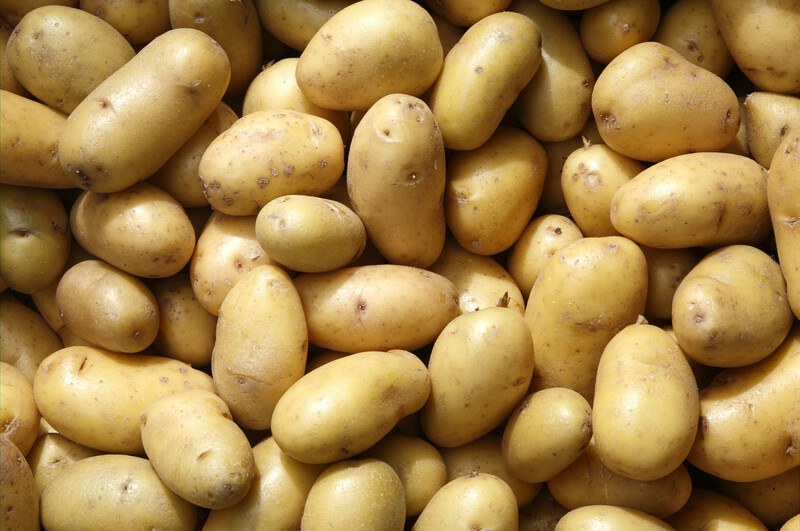 Like bananas, russet potatoes and other white potatoes are rich in potassium, and they're a good source of carbohydrates. Potatoes are also a surprising source of vitamin C. A half-cup serving of a baked potato contains 7.8 mg of vitamin C.
Potatoes also contain significant amounts of several B vitamins, including vitamin B6. Vitamin B6 is important for brain development and metabolism.
Potatoes can be whipped or mashed for beginning eaters. Later, as the baby gets more efficient at eating, parents can serve small cubes of baked potatoes for their kiddoes to gnaw on.
Chicken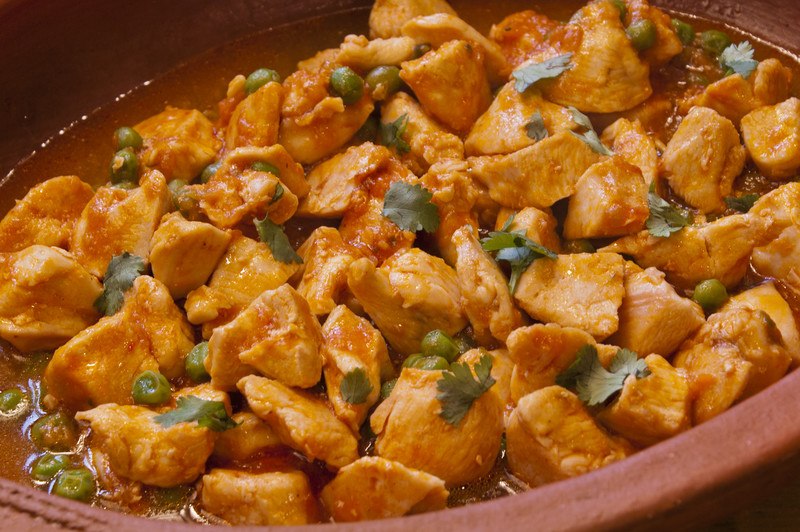 Although it may have to be pureed in the beginning, chicken is a great introduction to solid foods for 6-month-old babies. It's flavorful, and it's full of the protein that babies need to help develop their growing muscles.
Chicken supplies nutrients like vitamin B12, vitamin B6, iron, magnesium, and vitamin A. Vitamin B12, also called cobalamin, is necessary for supporting brain development. It also helps with the development of healthy red blood cells. For more foods rich in vitamin B12, see our list here.
Chicken should be cooked until it's soft, and then blended with water to make it easy to eat. It should be introduced after your baby has already tried and liked several vegetables and fruits.
Green Beans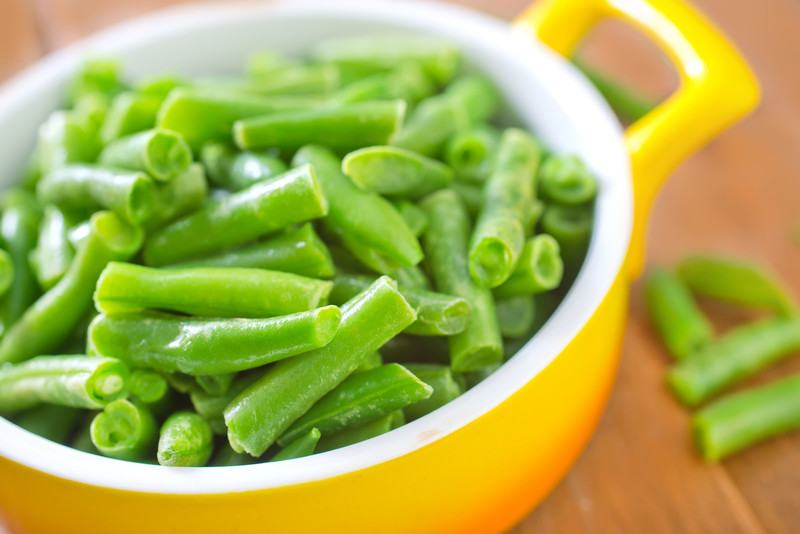 Green beans make a great first food because, like infant rice cereal, they aren't likely to cause food allergies. They're also a nutrient-dense food containing vitamin A, vitamin C, potassium, calcium, and iron.
Green beans are also a good source of folate, the naturally occurring form of folic acid. Folate is necessary for the proper development of the brain, red blood cells, and DNA and RNA within the cells. It's imperative for mothers-to-be to eat folate-rich foods during pregnancy. The recommended daily intake for a baby of about 6 months old is 65 mcg per day. At 7-12 months of age, it's recommended for babies to get around 80 mcg of folate every day.
Spinach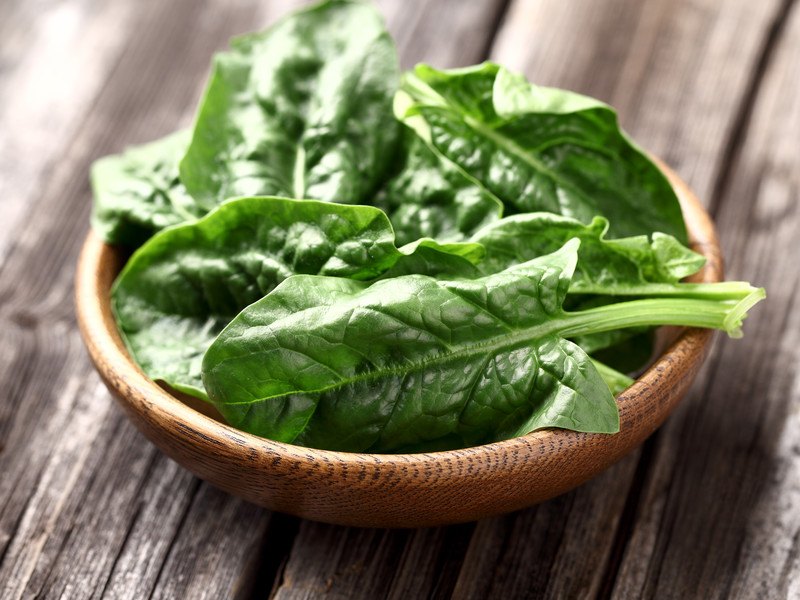 Spinach is a nutrient-dense food, which makes it a good choice for a new solid food for babies 6 months old and older. Spinach is rich in folate, potassium, magnesium, vitamin A, iron, and calcium. It also contains some fatty acids, and it's high in vitamin K, which helps proper blood clotting and plays a role in building strong bones.
Spinach does have a relatively strong taste. If your baby doesn't like eating pureed spinach, help make it familiar to him or her by serving it every day for about two weeks. You could also try mixing it with pureed chicken or sweet potatoes to make it more palatable. Frankly, most baby food combinations are not just nutrient-packed but delicious as well.
Applesauce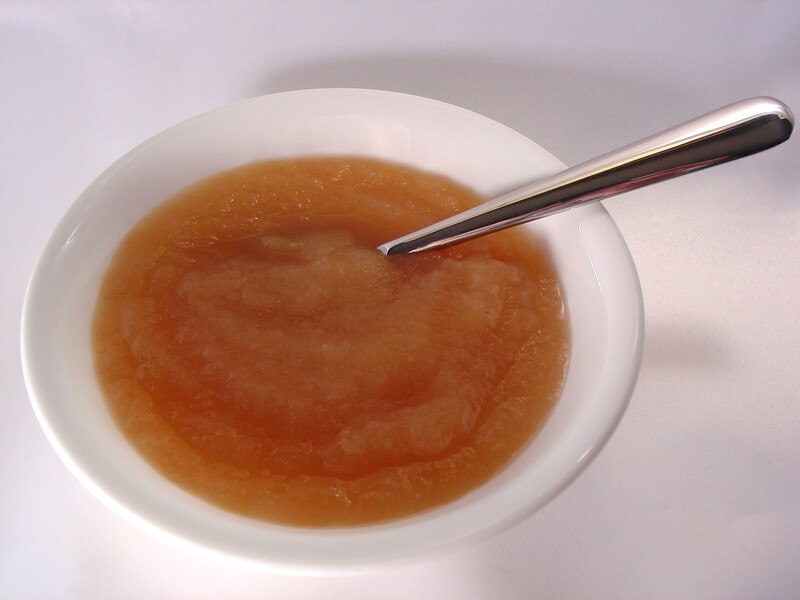 Applesauce is a convenient food for babies who are 6 months old because it's already pureed. It's also a sweet food, and it provides several nutrients to help babies grow.
A one-cup serving of applesauce contains around 102 calories and 2.7 grams of fiber. This food is rich in vitamin C. It also contains some omega-3 fatty acids and several vitamins and minerals, including iron, potassium, vitamin K, and a wide range of B vitamins.
One nice thing about applesauce is that it can be purchased in easy-to-carry cups or pouches, so it's a great take-along food. It's also easy to mix with baby cereals to give babies more variety in their meals.
Full-Fat Yogurt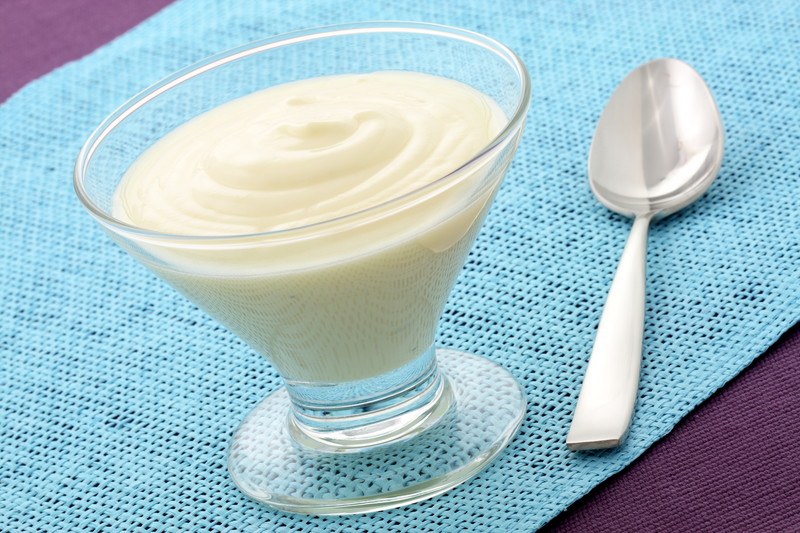 Full-fat yogurt is a good source of cobalamin, which helps with brain development. It's also high in protein, and it's got decent amounts of calcium and phosphorus, which help with bone development.
Besides being a soft food, the probiotics in yogurt make the milk proteins easier for babies to digest. It also gives them a boost for building healthy gut flora. Yogurt is another food that could be mixed with other foods, such as bananas or berries, as babies grow.
Like applesauce, yogurt can be purchased in cups or pouches, so it's easy to pack for day trips. However, parents should be sure to buy full-fat yogurt rather than skim or low-fat versions. This is because babies need fat to help their brains develop.
Blueberries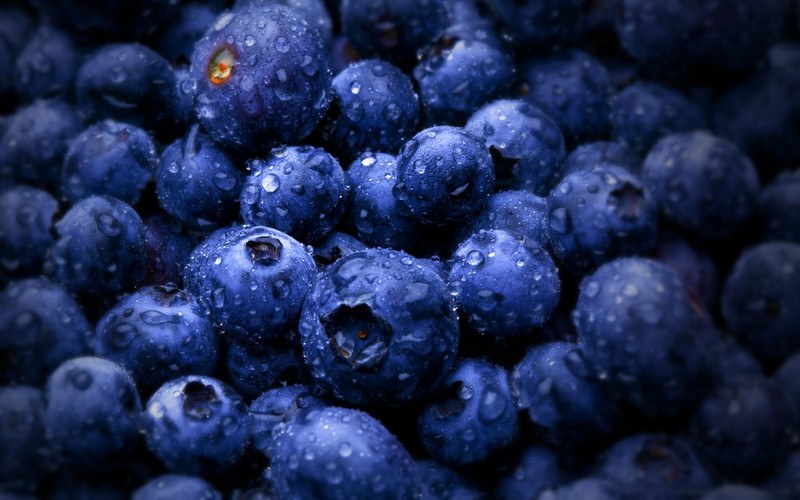 Blueberries, like rice and green beans, are unlikely to cause allergic reactions, so they're great solid food for 6-month-old babies. Blueberries are also naturally sweet, and they're packed with antioxidants and other nutrients to help growing babies develop properly.
One cup of blueberries contains 85.8 mg of omega-3 fatty acids, as well as significant amounts of vitamin C, vitamin K, and manganese.
Because raw blueberries are firm, they're a choking hazard for young babies. To introduce blueberries to a baby, cook them until they're soft and then puree them. As your baby grows, you can try mashing them with a fork. Later, whole fresh blueberries make great finger food.
Five Easy Finger Foods For Developing Eating Skills
Now that you've read through the list of the 12 best foods for 6-month old babies, it's easy to see that the top foods to introduce to young eaters are soft foods that can be eaten from a spoon. But what do you do when your baby wants to eat all by himself or herself?
If your baby is eating well and doesn't seem to have trouble with textures, it might be a good time to introduce some easy finger foods that they can munch on.
Cubed Or Grated Cheese
Besides providing babies with some extra practice for their small motor skills, giving babies cheese also gives them a boost of cobalamin, protein, and necessary fats. This helps support the development of a healthy brain and muscles.
Graham Crackers
Once a baby starts teething, they tend to bite a lot. Giving them a solid food that's a little more solid than a puree could be comforting to their painful gums. Graham crackers are a good choice for this because even though they're solid when the baby first bites them, they soften quickly in the baby's mouth. They're also sweet.
As alternatives to graham crackers, parents might offer their babies arrowroot biscuits or vanilla wafers.
Peas
Whole peas can be great finger food for little hands to practice with, and they provide a decent boost of protein and fiber, too. Just be sure to cook the peas until they're soft so they don't present a choking hazard for young eaters.
Cooked Baby Carrots
Baby carrots are easy for little fingers to wrap around and hold. However, if they're raw, they won't be soft enough for your baby to eat safely. Boil them until you could mash them with a fork. Then you can give them to your baby whole and let them mash them with their fingers and gums while they eat.
Peach Slices
Peaches are a tasty fruit filled with nutrients, including vitamin C, vitamin A, and potassium. Thin slices of peeled peaches can be tasty, and if your 6-month old baby is teething, they could be comforting, too.