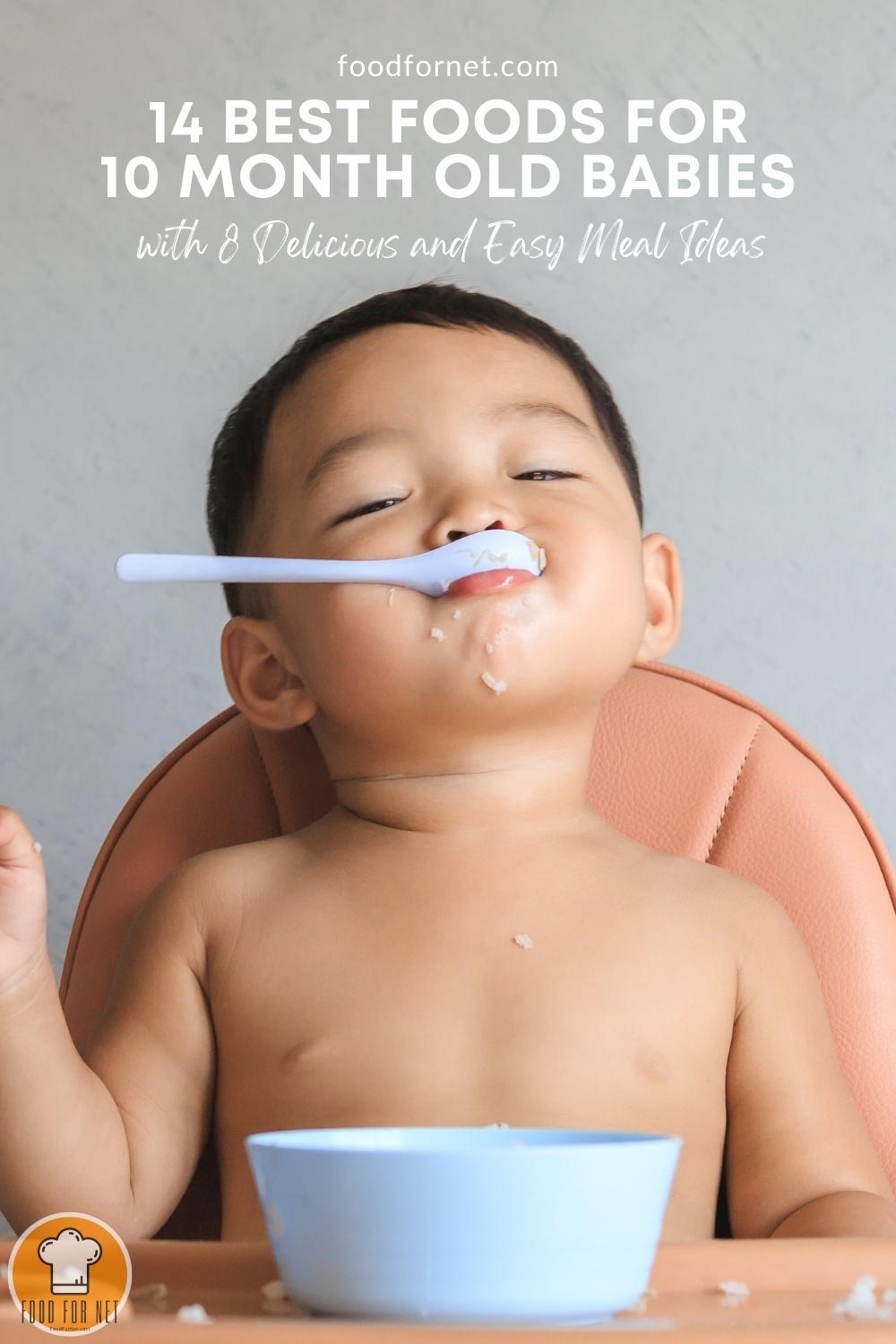 Babies don't stay babies for long, in fact, they grow really fast! In a blink of an eye, they'd go from contently feeding on the cradle of your arms to creating beautiful messes (highly debatable depending on how much sleep you had the night before) as they sit on their highchair.
You see, a baby's development varies from one baby to another. While some are absolutely fine still getting their nutrition solely from breast milk or formula milk up until the age of six months, some start early on solid foods at around four months. However at 10 months old, half of their calories needs should be coming from solid foods, hence the importance of knowing what are the best foods for 10 month-old babies.
At around this age, your baby is noticeably eager to become more mobile. They are now more curious about things, people, and sounds. They also now start imitating actions and sometimes even words that they're seeing and hearing from their immediate surroundings. You'll notice, too, that they have a better grip on toys, finger foods, or baby utensils, they may even try to pull themselves up to stand, or may even attempt to walk.
Again, each baby's development is different. They grow at their own unique pace. So, while some are quick to adjust to table foods that the family usually eats, some are better off starting with solids appropriate for 10-month-old baby food. This way, babies are gradually introduced to more solid foods at the same time that their fine motor skills are being developed.
Here's a list of the best foods for 10 months old. Check out, too, some meal ideas at the end of the article to help you with your meal planning.
Best Foods for 10 Month Old Babies (With Pictures!)
Fruits

Fruits including bananas, pears, berries, peaches, papaya, mangoes, apples, and pears are great 10 month old baby food. The soft ones can simply be cut into small pieces. You can also opt to steam harder fruits like apples or pears. These fruits can be pureed as well and used to add flavors to oatmeal, grains, or soups.
Not only are fruits rich in vitamins and minerals, but they're also great for introducing new textures and flavors to your little one. Not to mention that they're colorful, too!
Vegetables

Bite-sized pieces of vegetables like carrots, green beans, squash, potatoes, peas, broccoli, and tomatoes are a great addition to your baby's diet. Aside from steaming, you can also try baking, roasting, or microwaving them.
Aside from the fact that vegetables are nutritious, they're also perfect for delicious and healthy finger foods for your baby.
Leafy Greens

Leafy greens like kale, spinach, collard greens, lettuce, bok choy, or Swiss chard can also be safely offered to your baby. Just remember to remove any tough stems before you finely chop or shred them. You can also turn them into smoothies or puree them and use them as a flavor booster for their oatmeal or soups. These leafy greens can be steamed or sauteed, too.
Leafy greens in addition to being packed with antioxidants are also high in dietary fiber. These veggies also usually contain high amounts of folate, vitamin K, iron, calcium, potassium, and magnesium.
Grains

You can offer grains like rice, quinoa, or couscous as 10 month old baby food. As mentioned above, you can flavor them up using pureed vegetables. You can even add tiny bits to make it more appetizing for the little one.
Whole grains are great sources of protein, fiber, B vitamins, iron, copper, magnesium, and zinc. They're also good sources of antioxidants. Even white rice which is not as healthy as brown rice, is still a good source of energy (which growing babies will be needing for sure!) – you can simply amp its nutrition content by adding healthy vegetables.
Meat

Babies at this stage will be interested to try new flavors and textures that different meats can offer. You can boil chicken, pork, lamb, beef, boneless fish, or turkey until soft and cut them into bite sizes. Shredding them is an option as well. Just make sure you don't end up with long strands that can give them trouble swallowing. You can also try baking or roasting these meats.
Meats are great sources of protein. Red meat in fact also contains iron, zinc, and B vitamins. Fish, on the other hand, is also rich in calcium and phosphorus. And in the case of oily fish, they're also high in omega-3 fatty acids.
Oatmeal

About 3-4 tablespoons of oatmeal every day are just about right for your 10 month old baby. Having said that, practice caution and observe closely if your little one needs more or fewer oatmeal servings. Oatmeal is a great vehicle to use in adding more fruits or veggies into your baby's diet.
Oatmeal actually has more protein than most grains. It's particularly known for its beta-glucan content which is a soluble fiber. It also has antioxidants, manganese, phosphorus, thiamin, magnesium, copper, iron, zinc, folate, and pantothenic acid.
Pasta

Pasta, like macaroni, orzo, stellette, or orecchiette, is a great addition to a 10 month old food choices. Cook them until soft, leave the al dente ones for the older kids. You can also offer angel hair and spaghetti to encourage them to use their utensils.
Pasta, especially whole grain pasta, is rich in fiber. It also contains manganese, copper, selenium, and phosphorus. The refined and enriched pasta tends to have higher B vitamins and iron contents.
Soups

Now is a great time to introduce your little one to soups. Thin soups will help them become more accustomed to other liquids aside from milk, water, or juice. They can also start practicing dipping or scooping thick soups to further improve their mouth and hands coordination. Soup is also a great vehicle to add more veggies to your baby's diet.
Soups are of course mainly just water, which is, of course, important in a well-balanced diet. You can make it more nutritious by simply adding vegetables, meat, grains, legumes, or some herbs and spices.
Tofu

You can serve tofu raw, baked, boiled, or stir-fried. They'll make for a great addition to soups or grain dishes. They can be served as is as well, simply cut them into bite sizes or long strips that can facilitate easy grip by your little one. Keep in mind though, that tofu can be harder to digest, so be observant of your baby's reaction to it – take note of any signs of discomfort.
Tofu is a great source of complete protein (all nine essential amino acids), iron, and calcium. It also contains many anti-inflammatory and antioxidant phytochemicals.
Bread

Bread, especially the soft ones or those that easily melt, will make for a great addition to your baby's diet. Opt for plain ones with no or limited added sugar and sodium content. Make sure, too, that it doesn't contain honey (honey at this age is not advisable as it may cause infant botulism)
Bread is oftentimes enriched with vitamins and minerals like iron, riboflavin, niacin, and thiamine. Those made from whole grains are of course high in protein and fiber content.
Yogurt

Plain whole milk yogurt is also a welcome addition to your selection of 10 month old baby foods. Always opt for the unsweetened variety and simply flavor it up by adding pureed fruits or cubed bits of fruits.
Yogurt is high in protein, calcium, and vitamin D. Greek yogurt in particular contains less amount of whey protein and lactose which can be gentler to babies' tummies.
Whole milk

Around this age, it's safe to introduce your baby to whole milk or pasteurize whole-fat cow's milk. You can start gradually introducing it to their diet by mixing a little whole milk with your breast milk. When introducing dairy, make sure to pay attention to your baby's reaction to it – watch out for any signs of discomfort or distress.
Whole milk is rich in protein and calcium and also contains vitamin D. It's also very high in saturated fats. Keep in mind that whole milk should not replace breastmilk. The latter is still your best choice of milk that will give babies their much-needed antibodies, live cells, hormones, and special growth factors.
Cottage cheese

Cottage cheese is also one of the dairy products that a 10-month-old baby can generally make room for as their food choices continue to grow. Since dairy products are generally an allergenic food, practice diligence and make sure to watch out for any signs of discomfort or allergic reactions. You may want to stick with the 3-day rule (new food can only be introduced after 3 days of introducing a new one), to ensure that your little one is perfectly okay with cottage cheese.
Aside from calcium and protein, cottage cheese is also rich in B vitamins, selenium, and phosphorus. You can mix cottage cheese to foods that your baby is already familiar with – say with their favorite fruits or veggies.
Eggs

Eggs are actually good to introduce to babies as soon as they're ready for solid foods. But since egg is a common food allergen, it's best to introduce them gradually. Make sure, too, that it's fully cooked whether you're serving them whites or yolks only, or as a whole. You can boil or poach them. Scrambled eggs actually make for a great finger food idea for babies.
Eggs are great sources of protein, complete amino acids, and essential fats. It also contains folate, B vitamins, selenium, iodine, and zinc. Furthermore, eggs also contain choline which is an important nutrient that helps in supporting brain and nervous system development.
Meal Ideas for Your 10-Month-Old Baby
Fruity yogurt
Simply mix unsweetened yogurt with dice soft fruits, say avocado, bananas, or berries. You can try steaming apples or pears to soften them up. You can add one kind of fruit or a combination of two or more. The idea is to add flavor to the yogurt while adding varied textures as well.
Rice medley
Simply mix veggies or meat (chicken, pork, beef, fish, etc.) in freshly cooked rice. Make sure to cut them into small bite-sized pieces. You can opt for larger cubes (big enough for them to grab or stab with their fork) as long as the veggies, especially the meat, are boiled soft.
Scrambled egg
Simply make your usual scrambled egg, without of course the salt and pepper, and simply add whatever veggie you have ready and available – peas, squash, carrots, or shredded leafy greens. You can also use formula or breast milk instead of whole milk.
Flavored oatmeal
Simply add fruit or vegetable purees in their oatmeal. Not only will it amp the flavor but it will also change its color (depending on what puree is used). You can even add whole bits, say diced mangoes in mango-flavored oatmeal.
Mac and cheese
Simply throw together cooked whole wheat noodles (cook them until soft, not al dente) with butter, cooked peas, and shredded cheese. Don't go too heavy on peas, you just want a few green dots on your dish to pique their interest. You can also add shredded spinach instead.
Vegetable soup
Simply add diced carrots, peas, and chicken breast meat in vegetable stock. You can also simply use the stock where you cooked your chicken breast. Just cut the veggies and meat into little cubes. Shredding the meat, works, too. You can also use or add other veggies.
Toasty bread
Simply cut toasts in small, bite-sized pieces. You can even try cutting pretty shapes if you're feeling creative about it. Then just spread butter, cottage cheese, mashed fruits like avocado, mashed veggie like beans, or peanut butter, and simply serve! Take note though, that peanut butter can be a choking hazard so make sure to spread it thinly.
Healthy fries
Simply slice potatoes or sweet potatoes, or carrots, in long strips, about ½ inch thick. Toss them in olive oil, and then simply bake for about 20 minutes – make sure to flip them halfway so that they bake evenly. You can also sprinkle some herbs and spices!