If you have IBS or Irritable Bowel Syndrome, a chronic and functional disorder characterized by abdominal pain and changes in bowel habits, then you should really get to know low FODMAP foods. Tweaking your diet to include these foods and avoid high FODMAP foods will help you manage or improve the symptoms.
So, what is FODMAP exactly? It stands for "Fermentable Oligosaccharides, Disaccharides, Monosaccharides, and Polyols" – these are fermentable short-chain carbohydrates. Apparently, the small intestine isn't very good at absorbing these which leads to increased fluid and gas in the bowel. These then cause bloating and disarray in food digestion that ultimately leads to IBS.
People that for some reason can't tolerate FODMAP, experience bloating, stomach swelling, stomach pain, diarrhea, nausea, and constipation when they eat food high in FODMAP. These are very troublesome and at worst can be very debilitating. Hence the importance of intimately knowing your food. You have to be able to distinguish which food to include in your diet and which ones should be avoided.
But before you jumped head on to a low FODMAP diet, know that it's best implemented with the supervision of a qualified health professional. Keep in mind that over-restriction can cause harm to your body, too. And because you'll be cutting certain foods from your diet, it may also cause certain deficiencies in other nutrients as well. The good thing about this diet, though, is that it's not a lifetime diet that you have to stick to. Once you've identified your IBS trigger foods then you can simply adopt a diet without those foods in it.
Here's a list of low FODMAP foods to get you acquainted with what more or less a low FODMAP diet would look like. And just like with other diets, like low sodium or low carbs diet, meal planning is really important. It'll help you stay in the course better and ultimately help you succeed. So, are you ready to pen some meal plans with these low FODMAP foods?
Low FODMAP Foods
Zucchini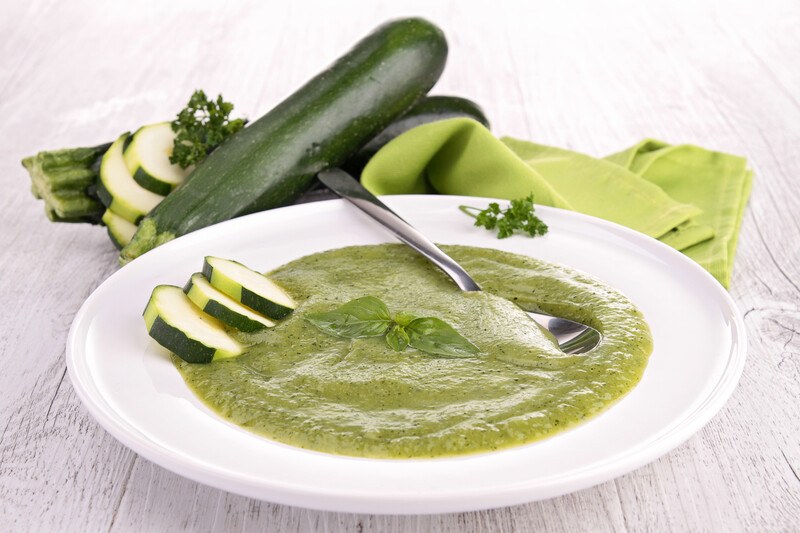 A single serving of 65g of zucchini is low in FODMAP. In fact, its edible flower seems to not have any FODMAP at all. If you're a zucchini lover, you're in the clear as long as you stay within the recommended serving.
Zucchinis are rich in lutein, zeaxanthin, manganese, and vitamin A and C. It's rich in antioxidants and anti-inflammatory nutrients that get rid of the body of free radicals.
Carrots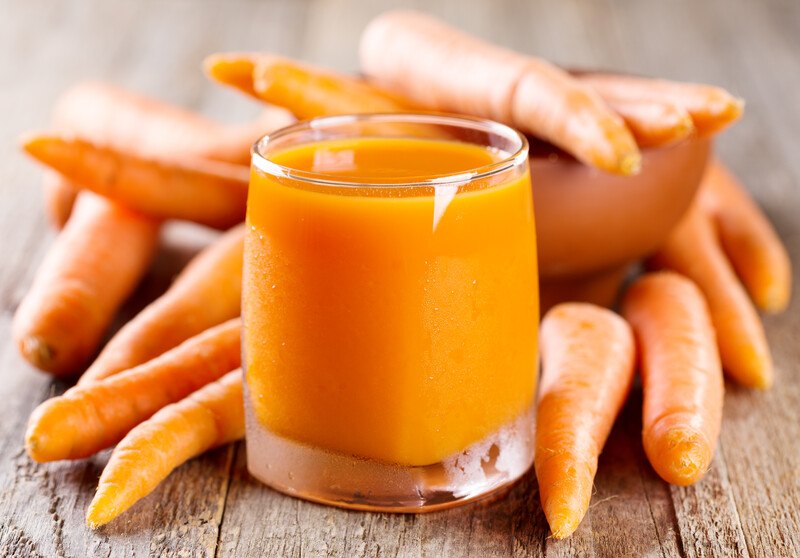 A great snack idea, carrots, are absolutely FODMAP-free! So, you can enjoy this one as much as you want. Roasted carrots? No problem. Carrots sticks? Yes, please.
Carrots are a good source of beta-carotene, biotin, potassium, and vitamins B6 and K1. It helps in improving vision, keep blood sugar levels in control, and lower cholesterol.
Green beans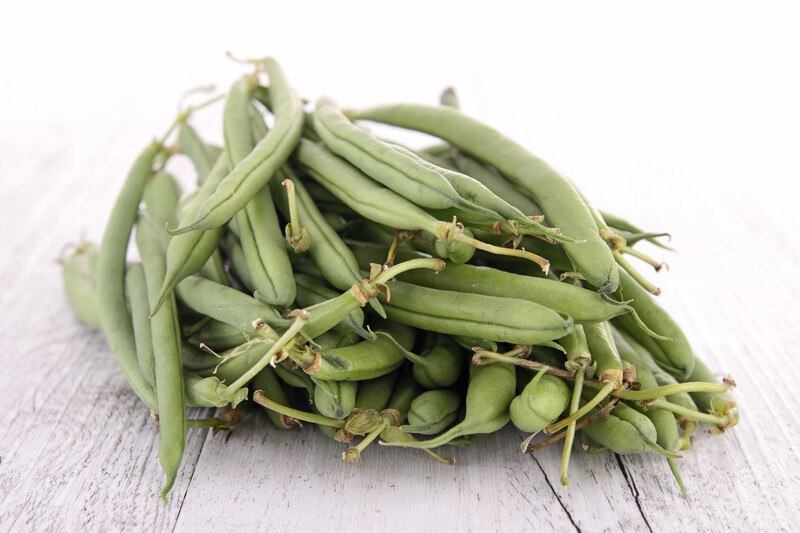 A serving of 75 grams or approximately 15 green beans is considered low FODMAP. So, feel free to try different spices with green beans and serve them in different ways as well to make dinner even more exciting.
It's a good source of fiber, and vitamins A, C, and K. It helps reduce the risk of heart diseases, manage diabetes, boost immunity, regulate digestive function, and maintain eye health.
Cucumber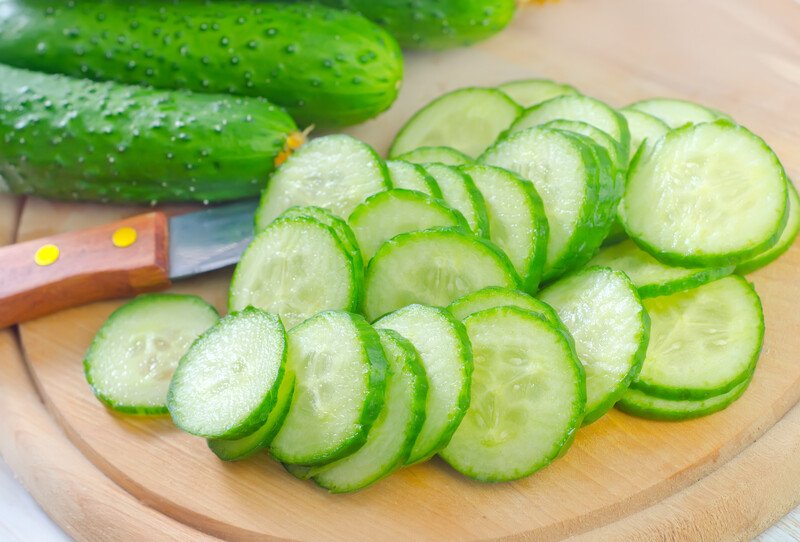 Cucumbers are another FODMAP-free food, so eat to your heart's delight! This means you can have as much cucumber as you want in your salads, smoothies, or what have you.
Cucumbers are rich in vitamin K. It also contains vitamins B and C, as well as minerals like copper, phosphorus, magnesium, and potassium. It promotes hydration, aid in weight loss, and lower blood sugar.
Lettuce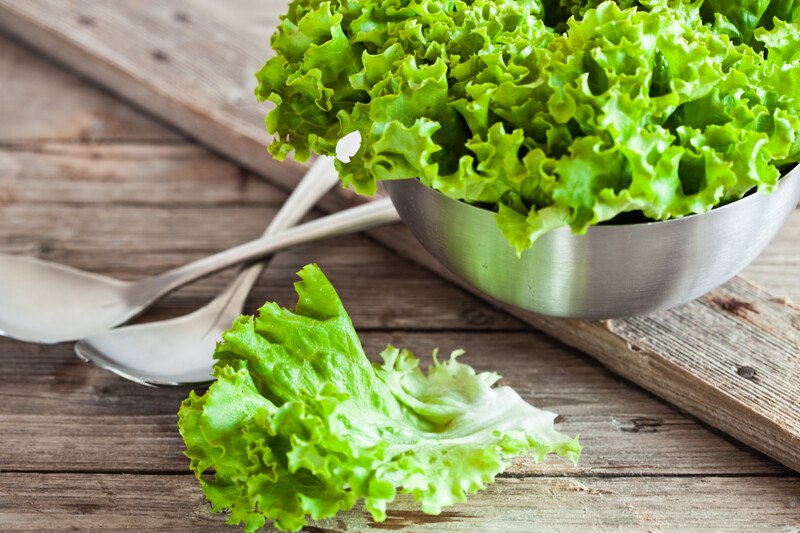 Lettuce, especially iceberg lettuce only has trace amounts of FODMAP. Meaning you can enjoy it with cucumber and carrots in your salad and you'll still be on the clear.
Lettuce is naturally low in sodium and contains calcium, phosphorus, potassium, and magnesium. It also has folate and vitamins A, C, and K. It helps with bone strength, improved vision, and sleep, and promotes hydration.
Cantaloupe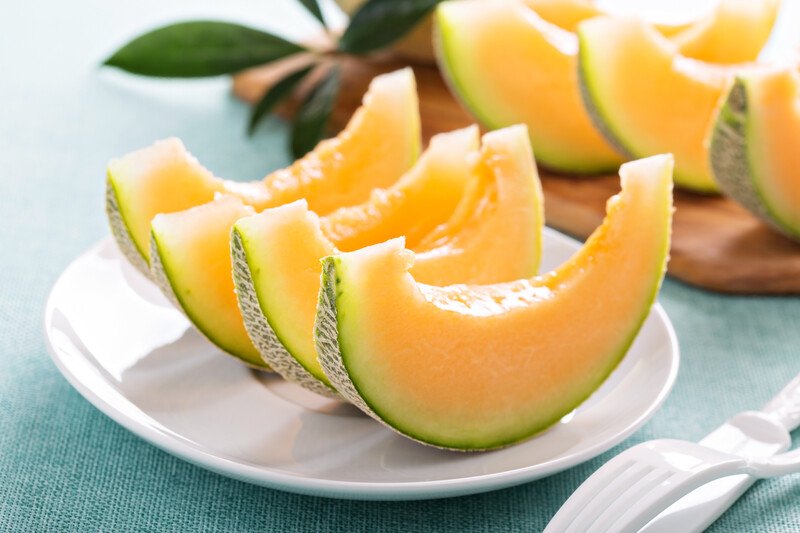 Serving size of 120 grams or ¾ cup chopped cantaloupe is low FODMAP. You can enjoy this refreshing fruit as long as you stay within the recommended serving. It's all in the portion control really.
Cantaloupe is a good source of vitamin C, vitamin A, potassium, folic acid, calcium, zinc, copper, iron, and other vitamins and minerals. It helps protect cells from damage and keeps eyes, bones, and skin healthy.
Pineapple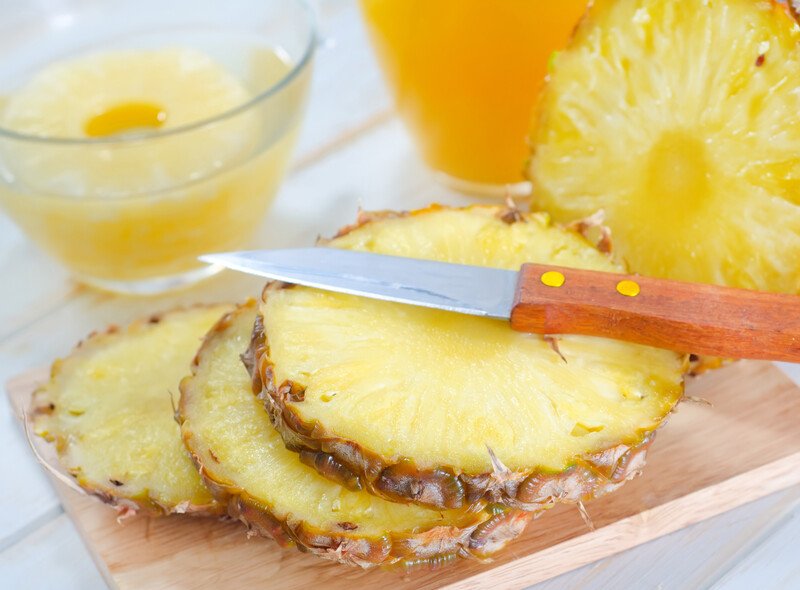 Another low FODMAP fruit is the pineapple with a serving size of 140 grams or 1 cup. You can hydrate with the delicious pineapple as is or you can also try grilling them, perhaps even in your smoothies!
Pineapples are rich in vitamin C and manganese. It also contains vitamins A, B6, E, and K. Its antioxidant properties help reduce the risk of chronic diseases like heart disease, diabetes, and certain types of cancers.
Grapes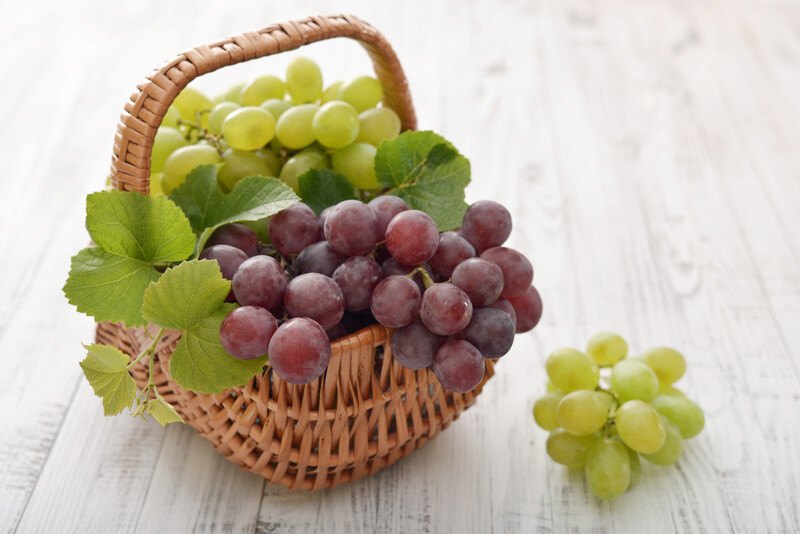 Whether it's red, purple, or green grapes, you're in the clear because it's low FODMAP with a serving size equivalent to about a cup. Enough said, grapes anyone?
Grapes are a good source of vitamins C and K. It's also high in antioxidants that protect against chronic health conditions and contain a beneficial plant compound called resveratrol that may protect against certain types of cancer.
Kiwi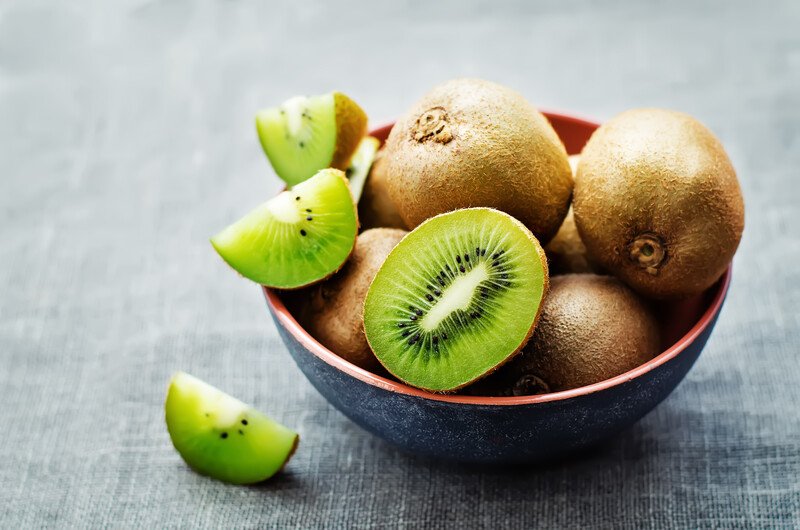 Freely enjoy kiwi in your fruit salad or green salad because it's another low FODMAP fruit. In fact, you can enjoy it straight out of its skin!
Kiwi contains a high amount of vitamin C and fiber that supports heart health, digestive health, and immunity. It's rich in vitamins and antioxidants that help lower the risk of blood clotting and reduce fat in the blood.
Strawberries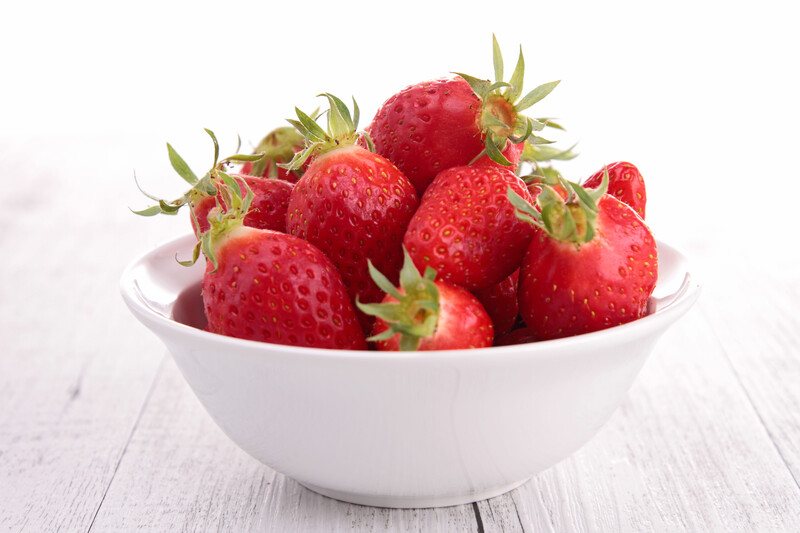 As long as you stick with the recommended serving size of 140 grams or roughly 10 medium-size strawberries, then you're all good. It's great for snacking or as toppings to your oatmeal. Smoothies are a good idea, too.
Strawberries are also rich in vitamin C in addition to potassium, folic acid, and fiber. It contains high amounts of antioxidants and beneficial plant compounds. It helps regulate blood sugar and decrease the risk of heart disease and certain types of cancer.
Feta cheese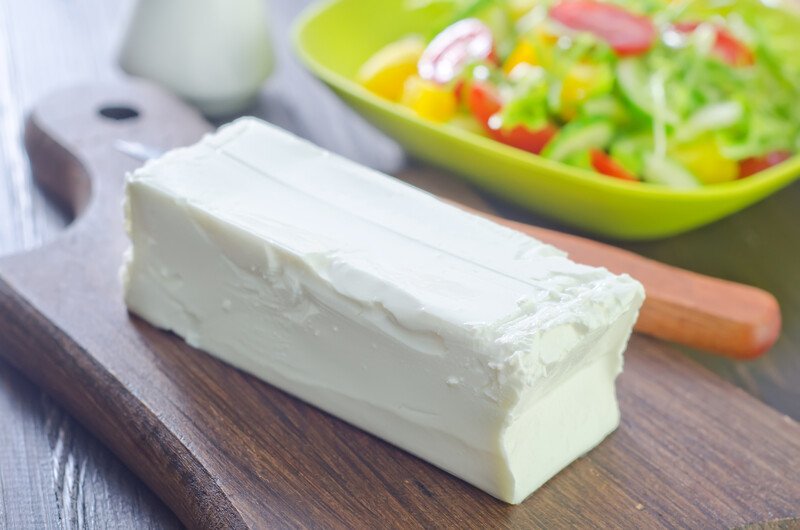 Feta cheese is low enough in lactose to be considered low FODMAP in serving size of 40 grams or approximately 3 tablespoons.
Feta cheese is a good source of calcium, riboflavin, zinc, selenium, and phosphorus. It helps improve bone density, prevent osteoporosis, promote a healthy gut, and support the immune system.
Brie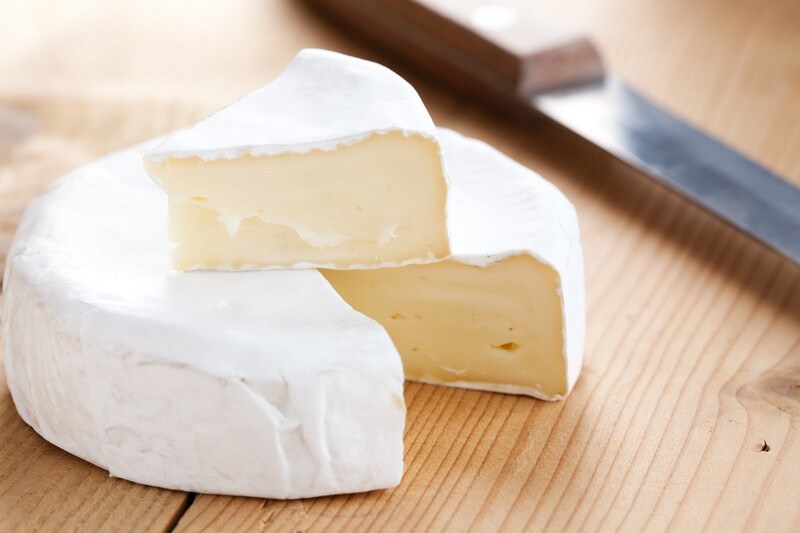 This soft cow's milk cheese is considered low FODMAP with the 40 grams recommended serving size. It contains only a small amount of natural milk sugar.
Brie contains fat and protein along with calcium, vitamin B12, and riboflavin. It helps promote appetite control and weight loss, and also contains anti-inflammatory properties.
Camembert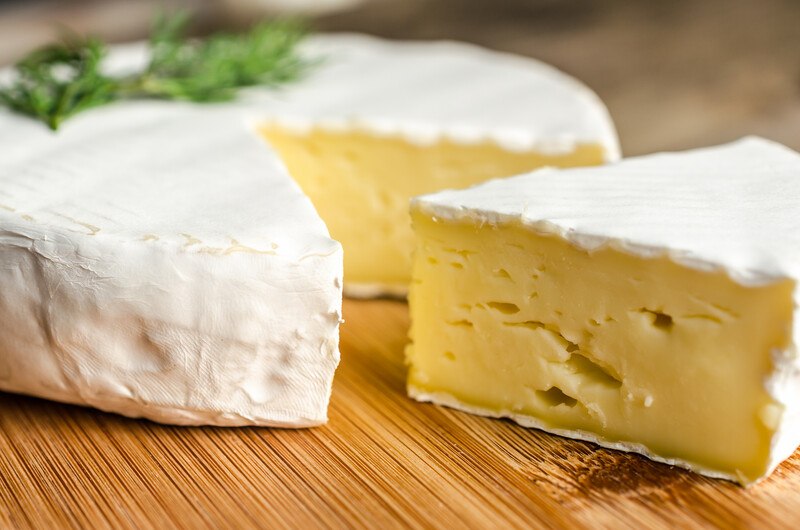 This soft, moist, and creamy surface-ripened cow's milk cheese is low FODMAP with a serving size of 40 grams. Compared to brie, camembert is more rustic with an earthier flavor and texture.
Camembert is rich in calcium and phosphorus and contains a lot of essential minerals. It is beneficial or neutral for cardiovascular health, reduces the risk of osteoporosis, and improves gut health.
Tofu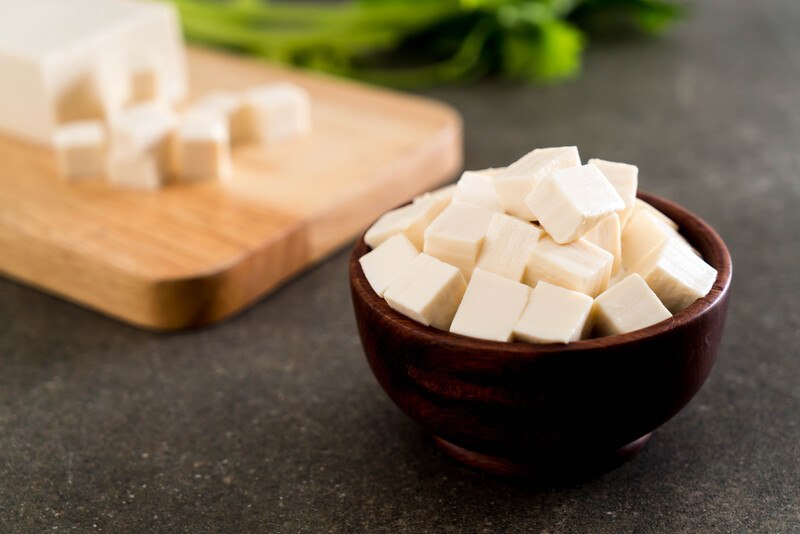 The firm or extra firm Tofu is considered low FODMAP. Apparently, it is separated from the tofu by the very process of making it from soybeans. So, you're in the clear.
Tofu is a good source of protein, iron, calcium, and minerals like manganese and phosphorus. It also contains vitamin B1, copper, magnesium, and zinc. It helps lower levels of bad cholesterol, decrease the risk of high blood pressure, enhance renal function, and may also help prevent liver damage.
Tempeh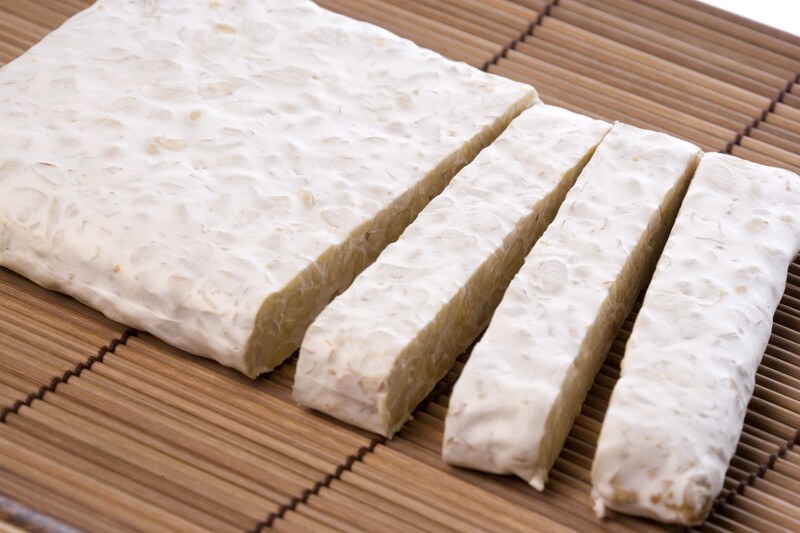 Tempeh is low FODMAP in servings of 100 grams or equivalent to 3.5 ounces. Like tofu, it is also made from soybeans, fermented soybeans to be exact.
Tempeh contains protein, iron, manganese, magnesium, phosphorus, and calcium. It helps improve cholesterol, lower blood pressure, improve insulin resistance, promote bone health, protect the heart, and help relieve menopause symptoms.
Oats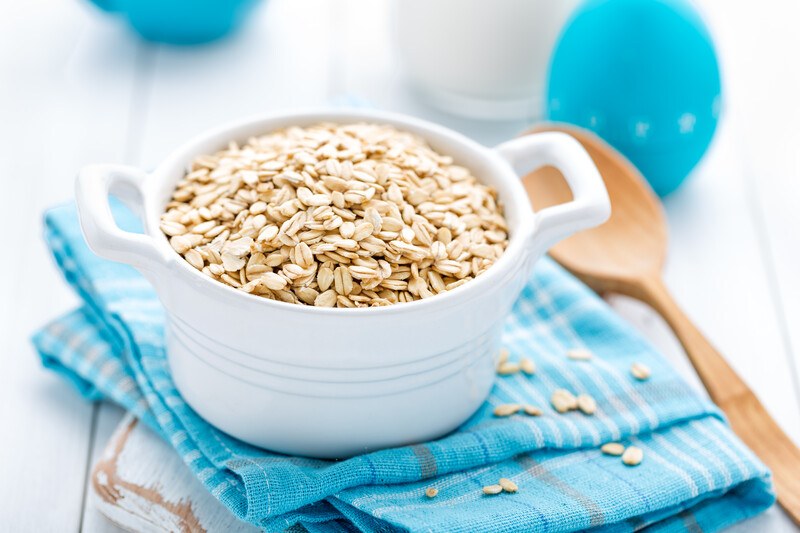 Oats are generally low in FODMAP with varying recommended serving sizes. Rolled oats serving size is ½ cup or 52 grams, quick oats ¼ cup or 23 grams, and oat groats or hulled kernels ¼ cup or 60 grams.
Oats are rich in carbs and fiber and also contain manganese, phosphorus, magnesium, copper, iron, zinc, folate, and vitamins B1 and B5. It aids in weight loss, lowers blood sugar levels, and reduced the risk of heart disease.
Quinoa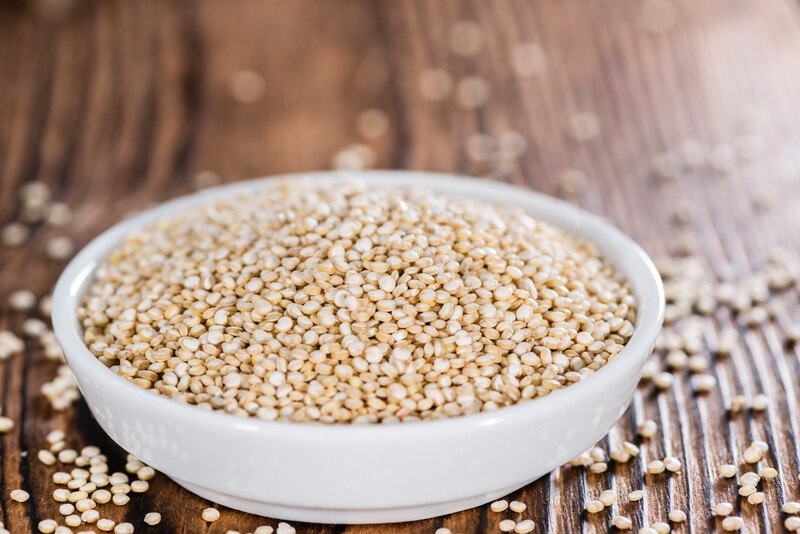 Quinoa in serving size of 1 cup or 155 grams is considered low FODMAP. Fun fact, it has 3-4 times more nutrients than brown rice. No wonder it's a favorite among dieters!
Quinoa is a gluten-free grain that is high in protein. It also contains fiber, magnesium, iron, B vitamins, calcium, potassium, phosphorus, and other beneficial antioxidants. It helps improve metabolic health by lowering blood sugar and cholesterol levels and prevent damage to the heart and other organs.
Sourdough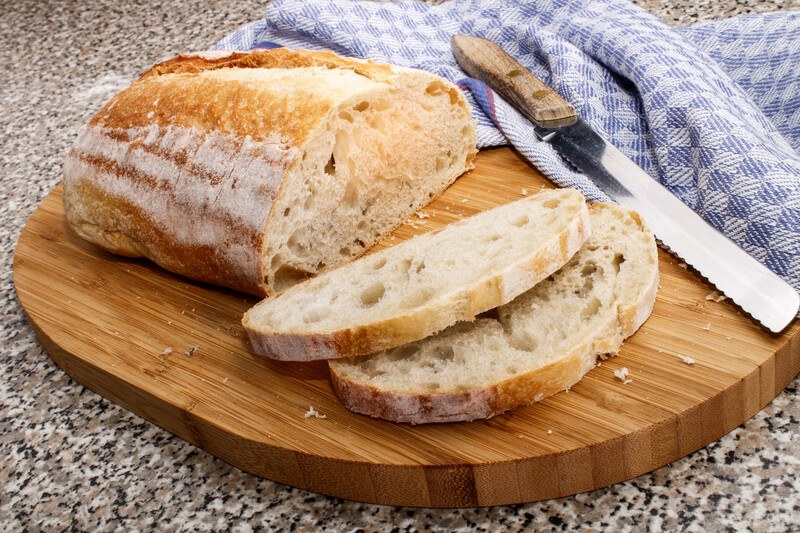 Traditionally made sourdough, especially when made from whole wheat or spelt flour is low FODMAP in serving size of 97 grams or equivalent to 2 slices.
Sourdough is a great source of calcium, potassium, magnesium, folate, and niacin. It helps stabilize blood sugar levels and improve digestion. Its antioxidants called peptides helps lower the risk for certain types of cancer and chronic diseases like rheumatoid arthritis.
Almond milk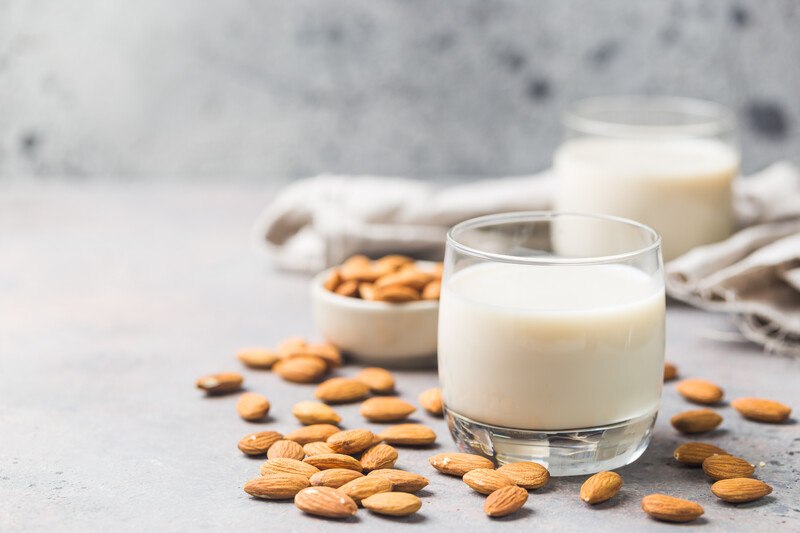 Almont milk in serving size of 250 ml or 1 cup is safe to have. Even though almonds in larger servings are high FODMAP, it is argued that almonds only make 2 percent of almond milk so you're still in the clear.
Almonds are rich in magnesium, calcium, vitamin E, and antioxidants. It's not just helpful for lactose intolerance, it also helps in controlling blood sugar levels, boosting bone health, and may also slow the progression of cognitive diseases.
Soy milk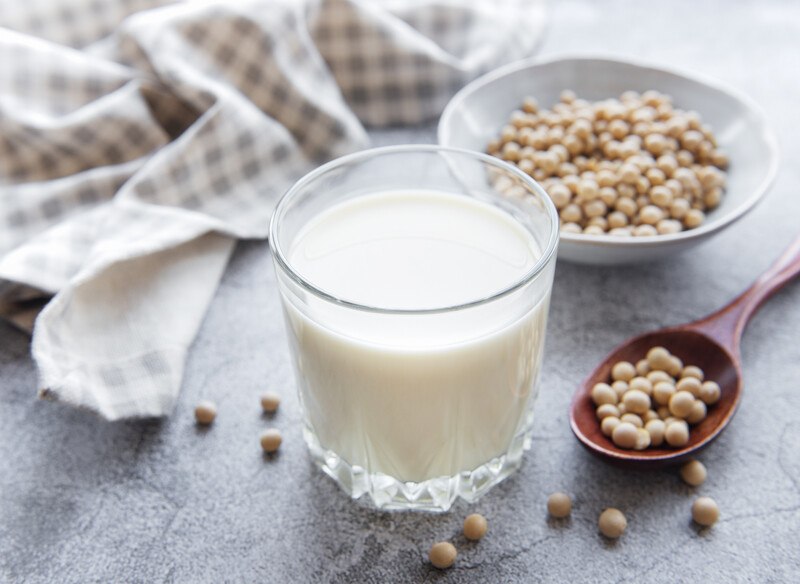 Soy milk when it's made from soy protein is considered low FODMAP in serving size of 1 cup. It turns out that the carbohydrate component is removed in the processing, so you're all good.
Soy milk is a good source of vitamins A and B, potassium, calcium, retinol, folate, and choline. Soy milk is rich in omega 3 fatty acids and is considered one of the best non-animal sources. Soy milk helps in improving heart health, boosting brain health, reducing symptoms of menopause, and supporting healthy muscles and organs.
Three Phases of Low FODMAP Diet
If you have health conditions like the ones mentioned above then perhaps it's about time you try a low FODMAP diet. Knowing what low FODMAP foods to eat is a good starting point, it can serve as a guide on what more or less the diet would look like. It is of course best to consult your doctor or dietician before starting on this diet – actually any diet for that matter, especially if you're going to strictly adhere to its requirement.
The low FODMAP diet has three phases:
Elimination
The elimination phase involves taking out all high FODMAP foods in your diet and replacing them with the low FODMAP alternatives. This phase will take approximately 2-6 weeks. The objective is to identify the high FODMAP foods in your current diet that are aggravating your IBS symptoms.
Reintroduction
The reintroduction phase will need a lot of patience on your part. This involves reintroducing one high FODMAP food in your diet at a time. If a particular food triggers symptoms, then it should be taken out of your diet for good. If on the other hand, it caused no symptoms whatsoever then it's safe to have it back in your diet. This phase usually takes 6-8 weeks.
Integration
The final phase, which is a lifelong one, is the integration of the high FODMAP foods that you've identified in phase two that didn't cause any symptoms back into your diet. Now you can create a diet plan that includes the high FODMAP food that you know now for sure, your body can tolerate. Here's a reference sheet that includes low vs high FODMAP foods.