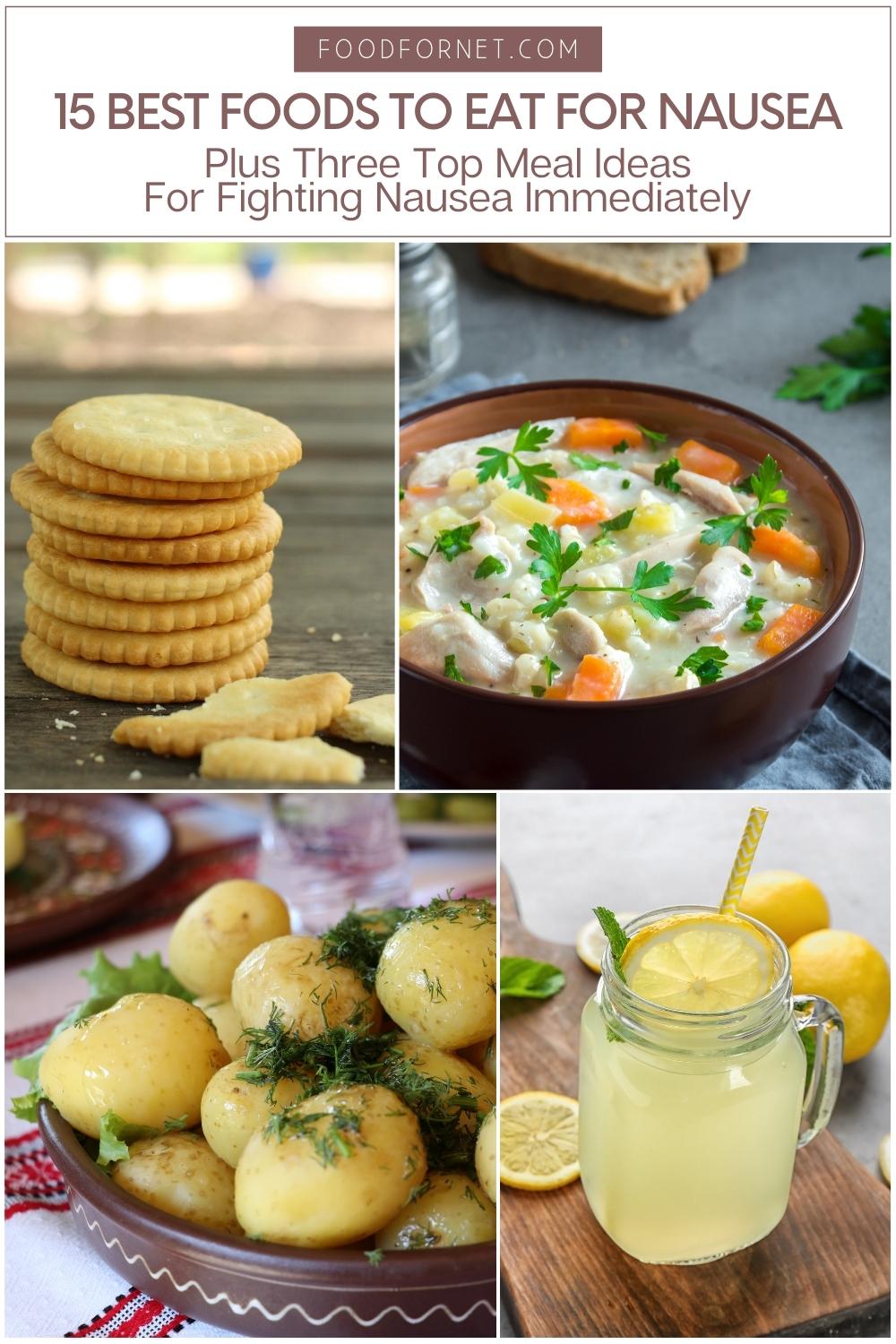 There's nothing worse than a bout of nausea. It's associated with many types of illness, ranging from stomach flu and Covid-19 to chemotherapy and morning sickness. Even though nausea can make you want to stay in bed, there are some foods that could help alleviate nausea and help keep you moving through life.
If you're interested, read through this list of the 15 best foods to eat for nausea. At the end of this article, we'll discuss some of the best meals for fighting nauseous moments.
Best Foods To Eat For Nausea (With Pictures!)
Ginger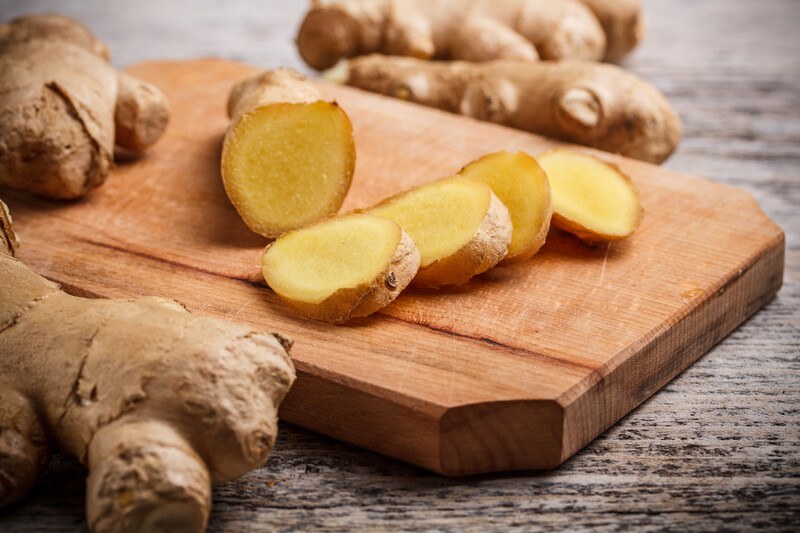 Ginger is a root herb that's often used as a spice in Asian dishes, but it's got several health and medicinal benefits, as well. It's a well-known home remedy for nausea, including nausea associated with pregnancy or chemotherapy.
Drinking ginger tea is one of the best and easiest ways to take ginger. Some sources suggest sipping around four cups of ginger tea to help fight nausea and vomiting. It's best if the tea is made from slices of fresh ginger rather than a dried, powdered form. Ginger can also be taken in capsules.
Ginger has strong antioxidant and anti-inflammatory properties. Besides fighting nausea, ginger could help with weight loss, heart health, and inflammatory diseases such as arthritis.
Chicken Soup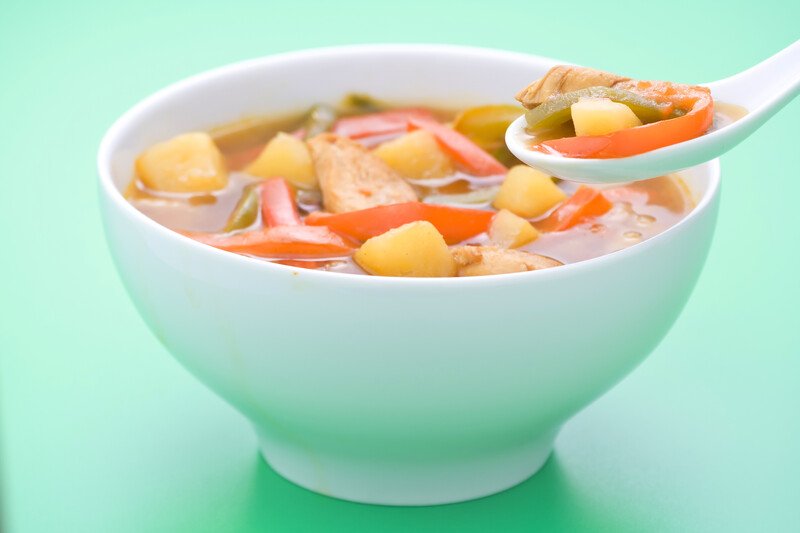 Chicken soup is another favored home remedy for easing nausea. Like ginger tea, the broth can be sipped slowly. Starchy foods like noodles, rice, or peas could give the soup substance and also help absorb excess gastric juices that might contribute to nausea.
Chicken soup has even been studied for its medicinal properties. It's been found to have a mild anti-inflammatory effect, which makes it helpful for respiratory infections as well as for nausea.
There are a variety of chicken soup recipes to try when you're not feeling well. These could include spices such as peppercorns, cumin, and fennel. One of my favorite chicken soup dishes is Lugaw, a Filipino dish that includes fresh ginger and rice.
Bananas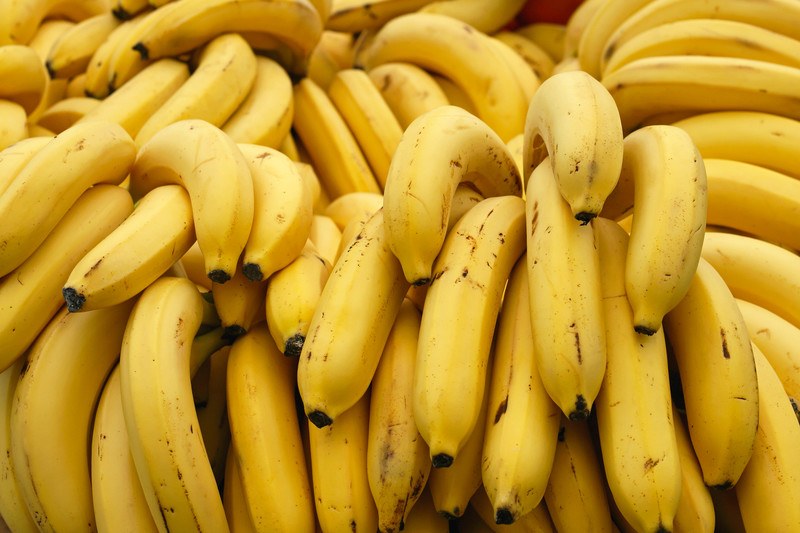 You might have heard of the BRAT diet for helping combat nausea and vomiting. BRAT is an acronym for Bananas-Rice-Applesauce-Toast, four foods that many people believe help reduce nausea. Part of the philosophy behind the BRAT diet is that these foods are easy to digest and don't create a lot of bulk in the digestive system. Starchy foods like bananas could also help absorb excess digestive fluids that are sometimes associated with nausea and vomiting.
Bananas have an advantage in this area because they contain soluble fiber. This soluble fiber, called inulin, is a prebiotic food, so it helps build gut health while moving food through the body. The greener the banana is, the more inulin it contains.
Bananas are a potassium-rich food. This is important because potassium could be depleted through vomiting and diarrhea. A medium-sized banana contains around 422 mg of potassium.
Crackers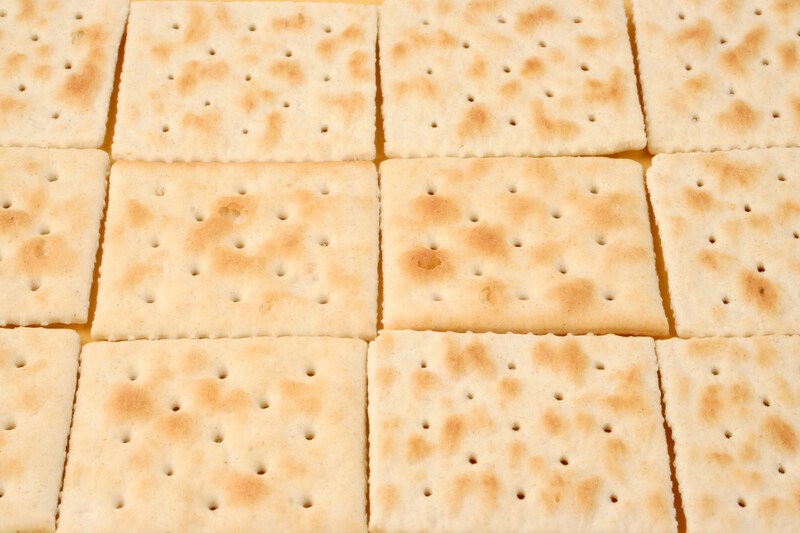 Like bananas, crackers are a starchy food, and they're excellent at soaking up extra digestive juices. They're also easy to digest, so they move through the digestive system quickly. Many crackers are made from refined wheat flour, which provides energy for people who are feeling sick, too. Some sources suggest that eating them first thing in the morning could help reduce nausea associated with morning sickness.
Crackers have several other benefits. They store well in dry places like cupboards or pantry shelves, so they're easy to keep on hand. They're usually not expensive, and they're easy to take on the go, too.
Pork And Poultry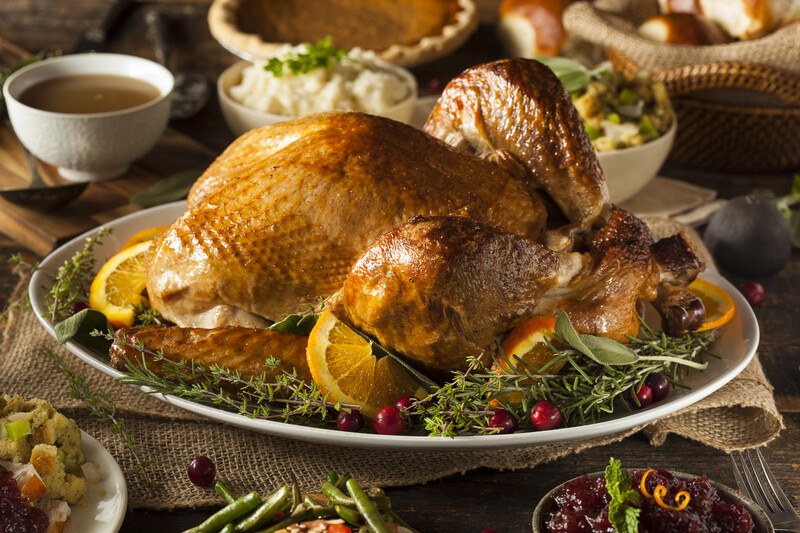 Pork and poultry are rich in vitamin B6, also known as pyridoxine. Vitamin B6 has been shown to help alleviate nausea associated with morning sickness. Pregnant women with morning sickness could benefit from taking 10-25 mg of vitamin B6 supplements every day. And pork and poultry are just some of the best foods for morning sickness.
Eating pyridoxine-rich foods such as pork chops, ham, chicken, and turkey could help, too. One slice of ham contains around 2 mg of vitamin B6. A two-ounce serving of roasted chicken breast provides around 0.167 mg or about 13% of the daily recommendation for vitamin B6.
One interesting thing to note is that chicken is also one of the primary ingredients in chicken soup, which is known to help ease the symptoms of stomach flu.
Applesauce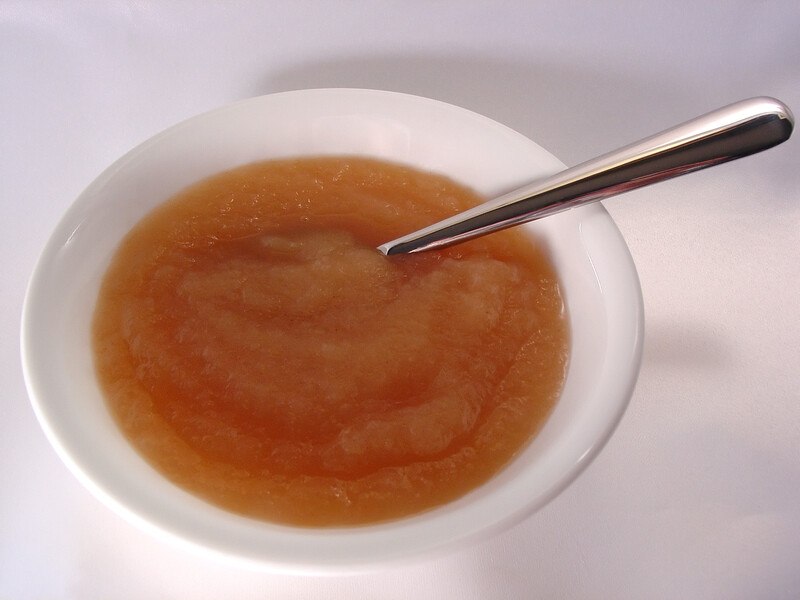 Like bananas, applesauce is part of the BRAT diet. Applesauce is easy to digest, and it contains fiber that could help soak up gastric fluids. It's also easy to swallow when nothing sounds good.
Applesauce also contains nutrients that could help improve and safeguard health. A cup of applesauce provides 3% of the daily recommendation for vitamin C, as well as 5% for vitamin B6, 4% for potassium, and 10% for fiber. Applesauce also contains several B vitamins, vitamin A, and minerals such as magnesium and zinc.
Peppermint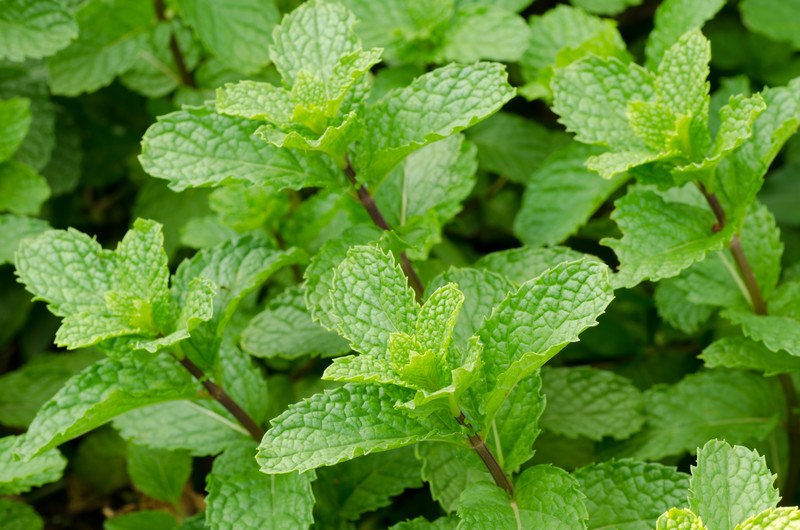 Peppermint is an herb that's often used for stomach ailments. It's been shown to reduce nausea after surgery and chemotherapy, as well as calm down issues like diarrhea and vomiting from viruses.
Some sources indicate that simply smelling peppermint oil—like peppermint essential oil in a diffuser—could ease nausea. One of the most popular ways to take peppermint is as a tea made from the leaves of the peppermint plant.
Many people suck on peppermint candies when they have stomach aches or indigestion. Peppermint is also a delicious flavoring. Around the holidays, it's used in ice creams, cookies, and cupcakes.
Potatoes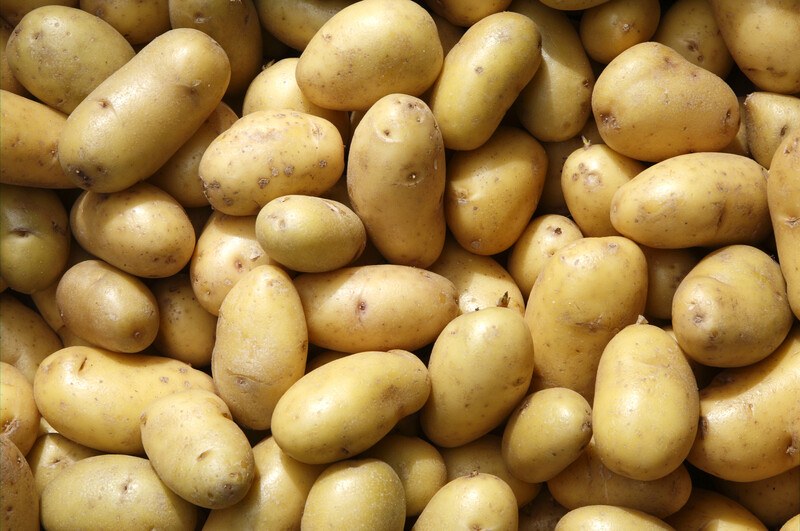 Potatoes are good food for nausea because they're relatively bland, but they're easy to digest and they're packed with nutrients. A medium baked potato with the skin on provides 22% of the daily recommendation for fiber, as well as 32% for potassium, 68% for vitamin B6, and 30% for vitamin C. Potatoes are also a good source of riboflavin, niacin, thiamin, and several trace minerals.
Potatoes are a versatile food that can be added to casseroles and soups. They can also be served fried, baked, and mashed to meet the tastes and digestive needs of people experiencing nausea.
Toast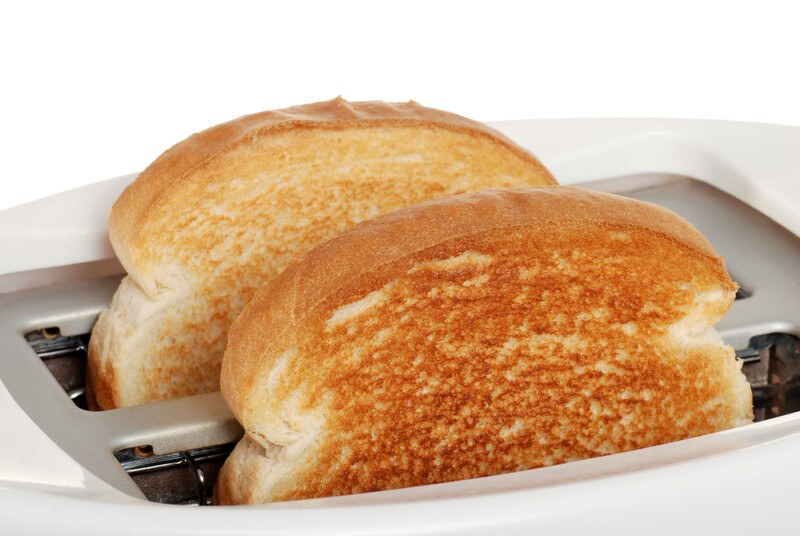 Toast is the tail end of the BRAT acronym. Like the other BRAT foods, it's easy to digest and starchy, so it helps soak up and carry away toxins and excess gastric juices. One of the benefits of toast is that it's easy to make when you're not feeling well but want something with a slightly crunchy texture.
Toast is also dry food, so it won't have much of an odor. This is a plus for people whose nausea worsens with strong odors and tastes.
Yogurt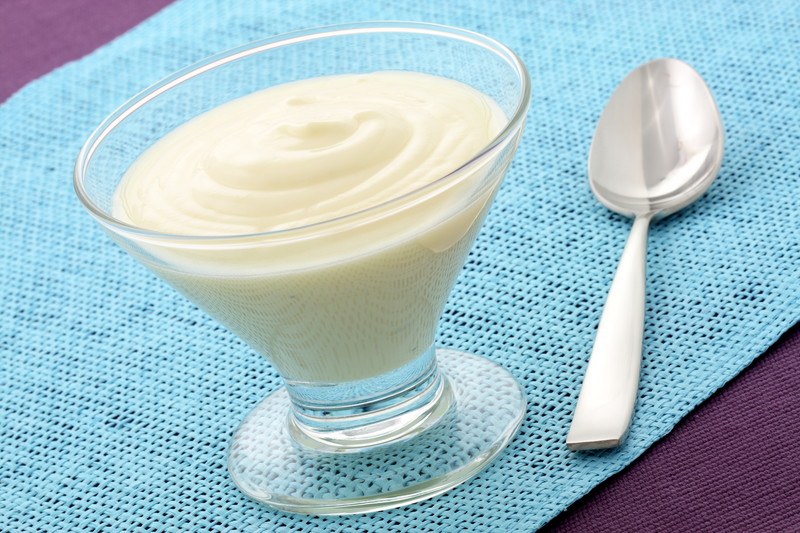 Yogurt is a fermented food made from cow's milk. It contains probiotic bacteria like Lactobacillus Acidophilus and Bifidobacterium. These health-promoting bacteria help with digestion issues and improve overall gut health, so that nausea, vomiting, cramping, and diarrhea are reduced.
Yogurt is also a good source of nutrients, and it's easy to eat when you're not feeling well. A seven-ounce serving size of plain, non-fat Greek yogurt provides 13% of the daily recommendation for calcium, 32% for protein, 8% for vitamin B6, and 45% for vitamin B12. It also contains minerals such as potassium, magnesium, and selenium.
Yogurt is just one of many nutritious fermented foods that promote gut health. People who are interested in controlling nausea by improving their gut microbiome could also try kefir, miso, sauerkraut, and kimchi.
Rice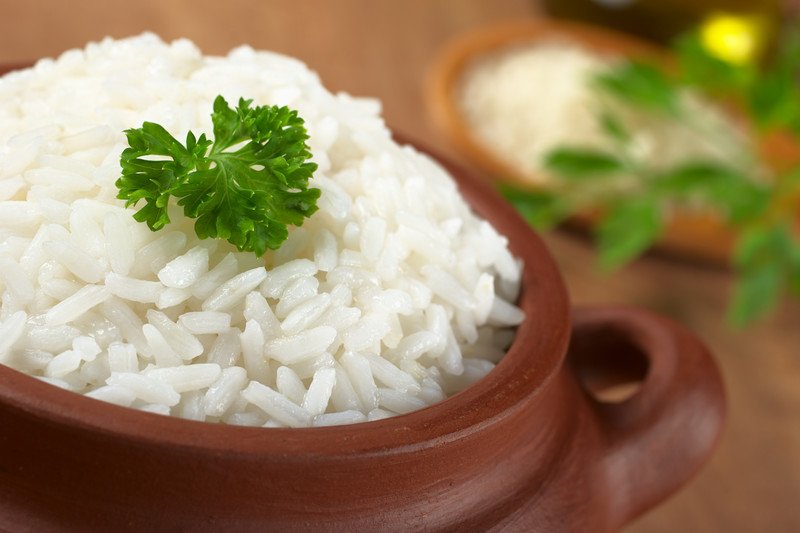 Rice is part of the BRAT diet. It's a bland, starchy food that can be served hot or cold, depending on what appeals to the person eating it.
White rice isn't as nutritious as brown rice or wild rice. People who can handle a little more fiber might opt for trying steamed brown rice to get more nutrients. A cup of cooked brown rice provides 22% of the daily recommendation for vitamin B6, along with several other B vitamins such as niacin, thiamin, and riboflavin. It's also rich in trace minerals like manganese, magnesium, and zinc.
Sweet Potatoes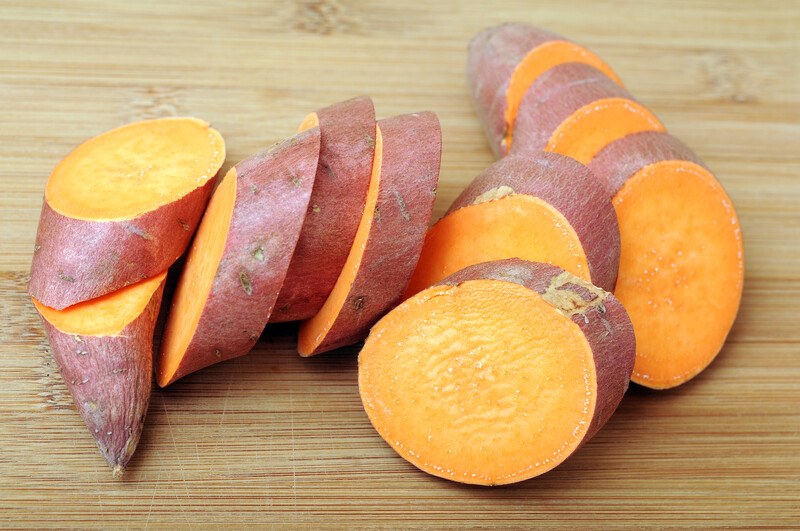 Like white potatoes, sweet potatoes are a versatile food containing starches and fibers to move things along in your digestive system. Sweet potatoes are also a nutrient-dense food. A cup of raw sweet potato cubes provides 105% of the daily recommendation for vitamin A.
Sweet potatoes contain several B vitamins, including 21% of the daily recommendation for vitamin B6 and 9% for thiamin. Thiamin is interesting because a thiamin deficiency could result in nausea. Sweet potatoes are also a good source of magnesium, potassium, and other minerals.
Gelatin Desserts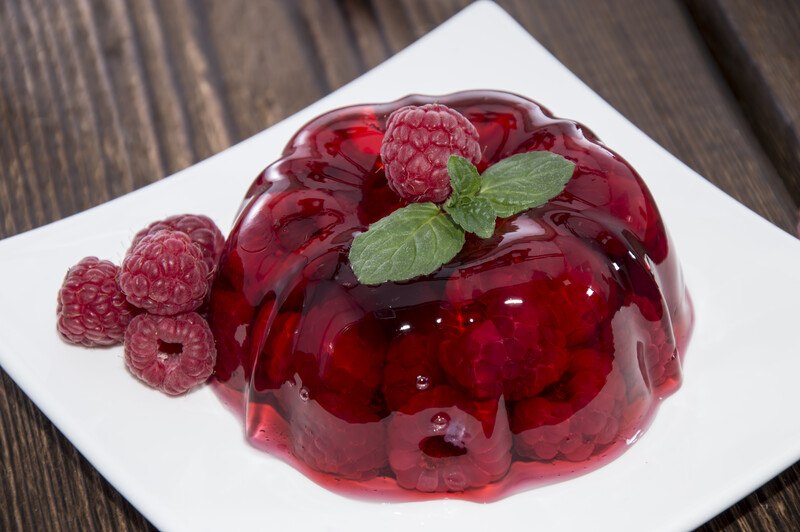 Gelatin desserts are easy to eat even when you're nauseous. The fruit flavors could be refreshing and appealing, and the cold temperature could be soothing to the stomach. If you're experiencing nausea because of morning sickness, you'll be happy to know that gelatin also provides amino acids that could help you and your developing baby.
Gelatin desserts are made from gelatin and bonded water, so it could also help add some fluids when it's difficult to take anything else. Here's another plus: gelatin is great for growing strong hair and nails, and its ability to help the body absorb calcium could help reduce the risk of osteoporosis.
Chamomile Tea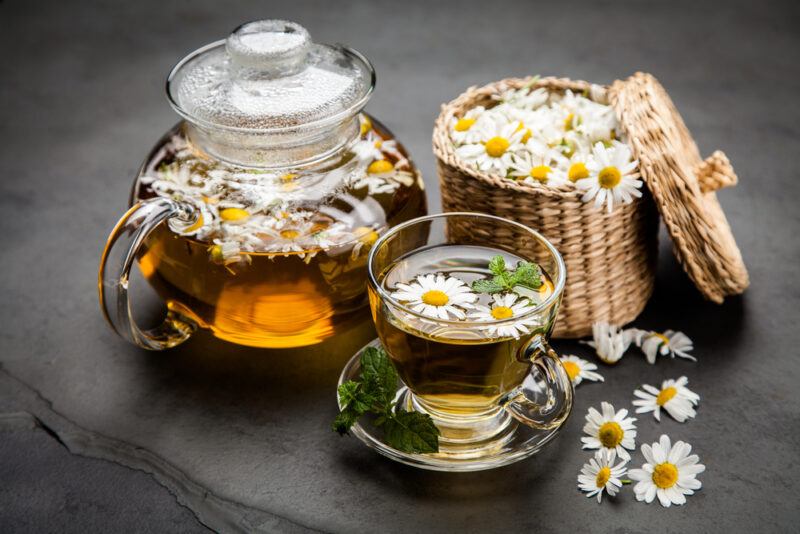 You may have heard of chamomile tea if you suffer from anxiety because it's one of the calming foods and is a common at-home remedy for calming the nerves. That's not all it does, though. Chamomile tea could help fight nausea by calming down the stomach. It's been studied for its ability to reduce nausea in patients undergoing chemotherapy.
Some sources indicate that chamomile tea contains coumarin, so people who are on blood thinners should drink it cautiously.
Lemons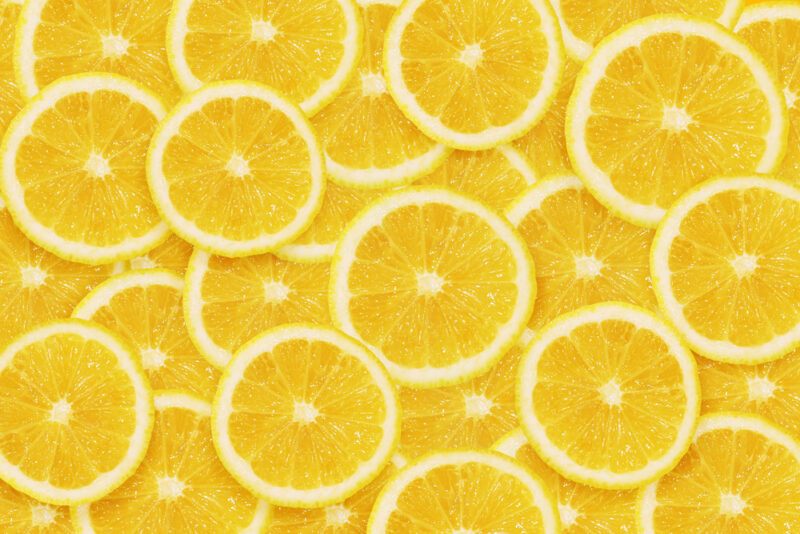 Lemons have been known to prevent nausea and to help relieve it. Eating a lemon or drinking lemon juice helps to neutralize powerful stomach acids and cleanse the digestive system, including clearing out phlegm and excess bile. There is no doubt that it's one of the healthy drinks for pregnant women.
Some studies show that the scent of lemons could help relieve nausea, too. One study on pregnant women with morning sickness showed that using lemon oil in a diffuser helped prevent vomiting by around 40%, and around 25.6% of the women studied said it helped them deal with their symptoms.
Three Top Meal Ideas For Fighting Nausea Immediately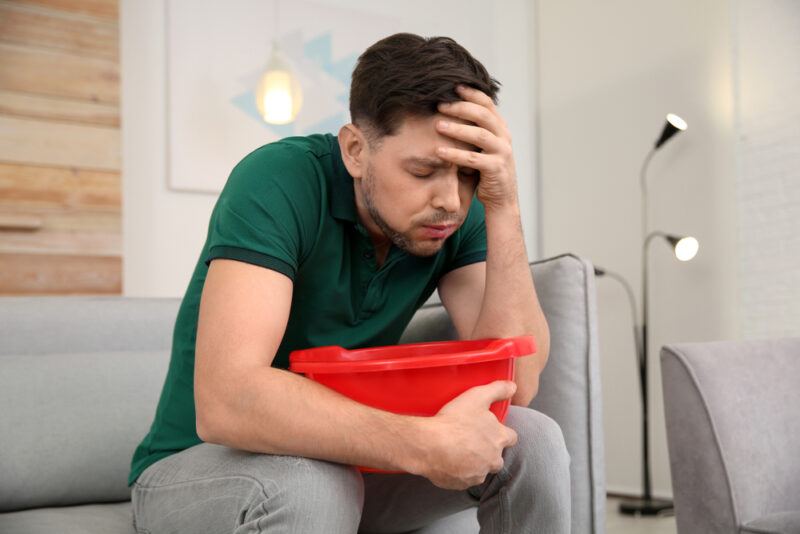 Now that you've read through the list of the 15 best foods to eat for nausea, let's talk about how to combine them into meals. The following meal ideas combine foods from the list above, so you can create easy, simple meals to help you fight nausea immediately.
Meal idea #1: Chamomile Tea And Toast
Try sipping a cup of chamomile tea while munching on dry or lightly buttered toast. The chamomile could help calm your stomach, while the toast provides sustenance without overloading your system.
Meal idea #2: Chicken Soup And Crackers
This is a favorite for many families. The combination of the soup and crackers is delicious and soothing, providing gentle nourishment as well as fluids.
Meal idea #3: Pork Chops With Applesauce And Sweet Potatoes
This meal is a little heftier than the previous two meals. The applesauce and sweet potatoes are easy to digest and provide vitamins, minerals, and fiber, while pork chops provide protein and vitamin B6.