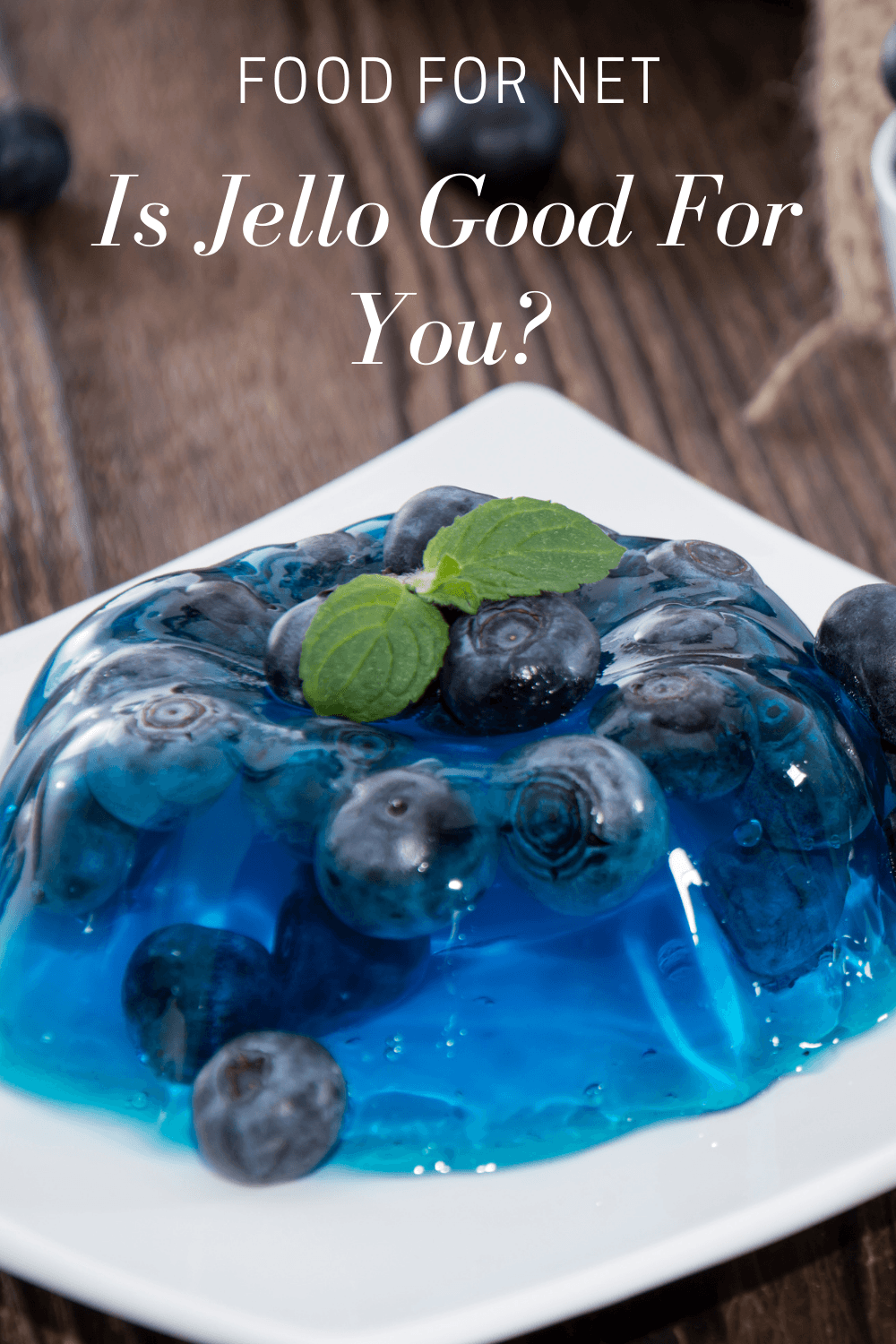 Whether you call it Jell-O or jello (for the off-brand versions), there's no denying the popularity of this ingredient, one that's used to create a variety of desserts, puddings, and even shots. Jello powder is most famously used to create the translucent brightly colored wobbly desserts that frequent children's parties, but the potential uses are only limited by your creativity.
That brings us to our question of the day, is jello good for you? To answer that, there are two main things we need to talk about – jello itself and gelatin powder. After all, gelatin is what gives jello its structure and has been linked to more health benefits than we can count.
Gelatin is interesting. It's a type of protein that's made from animal products (which means that it is never suitable for vegans). Specifically, it's often created by boiling together parts like bones, skin, and ligaments – hardly the most attractive process.
Still, gelatin is thought to be very healthy, partly because it acts as a source of collagen. Gelatin is even part of the reason that bone broth is so popular. This is good news for jello, as long as the negative features don't outweigh the positive ones.
Is Jello Good For Your Health?
What Is Jello Anyway?
Benefits Of Gelatin
How Gelatin Could Be Harmful
Jello Versus Gelatin Powder
Should You Make Your Own Jello?
Is There Vegan Jello?
Other Ways To Get Gelatin
Final Thoughts
What Is Jello Anyway?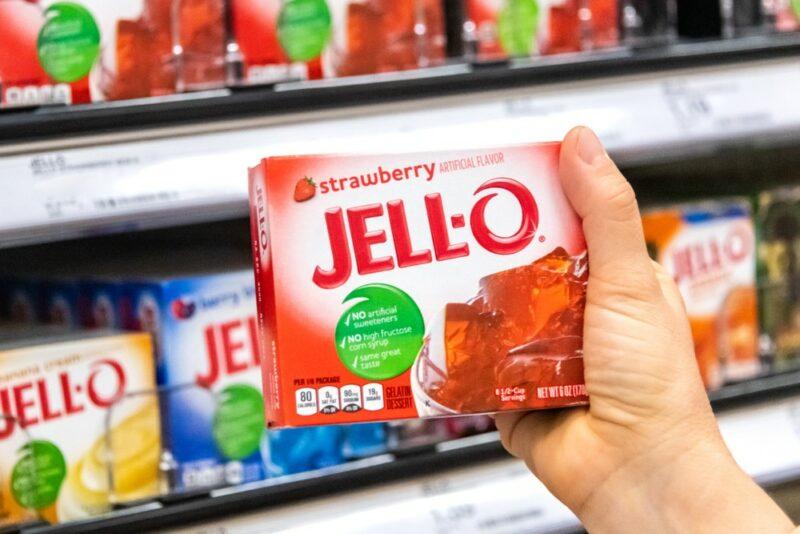 Jell-O is a branded product from Kraft Heinz that features on grocery store shelves everywhere. You can find it in powder or prepared form. Then there's jello, which is the generic term for desserts made using gelatin, sugar, and flavorings.  
You may see other terms used, like 'gelatin dessert', as other companies can't use jello as a term on their own products. Interestingly, if you're outside of the United States, you may see jello called jelly instead.
Regardless of the name, jello desserts all rely on gelatin. This is what gives them their consistency and their potential benefits.
Benefits Of Gelatin
Jello is generally seen as a dessert, so the potential benefits haven't been heavily researched. However, we have plenty of information about gelatin and how it might affect your health.
Let's start off with the protein. Gelatin is almost entirely made up of protein, so you get a decent amount of the macronutrient with little fat or carbs to worry about. Gelatin has an interesting amino acid profile too, one that may be responsible for many of the health benefits.
Some of the most significant amino acids include glycine, proline, valine, and glutamic acid. However, the exact composition varies depending on the animal source that you use and how the gelatin has been prepared.
The Glycine Might Be Particularly Helpful
While all of the amino acids in gelatin can promote health, the glycine is particularly important. Our bodies can make glycine, but we often don't create the amount that we need for optimal health. To fill the gap, we need to turn to food and gelatin is an exceptional choice.
A Source Of Protein Without Fat
Most protein sources contain a decent amount of fat, particularly red meat. Even if you focus on lean cuts, you're generally still getting some fat in the mix.
Now, fat isn't the enemy, not really. The right type and amount of fat in your diet can even make you healthier and promote weight loss, rather than putting you at risk. Even so, there are plenty of times to cut down fat intake too. If you need to do this, then gelatin becomes a great way to boost your protein intake.
Besides, there's no denying the benefits of protein. The macronutrient is essential for the building and maintaining tissues throughout our body, muscle development, organ functioning, energy, and much more.
We all need a decent amount of protein to survive. Some people may need extra protein, like athletes or anyone trying to build muscle.
There's another thing too. Because gelatin doesn't contain oil or fiber, it's easy to digest, even for people with digestive problems.
This might be why they keep serving jello at the hospital.
Could Improve Digestion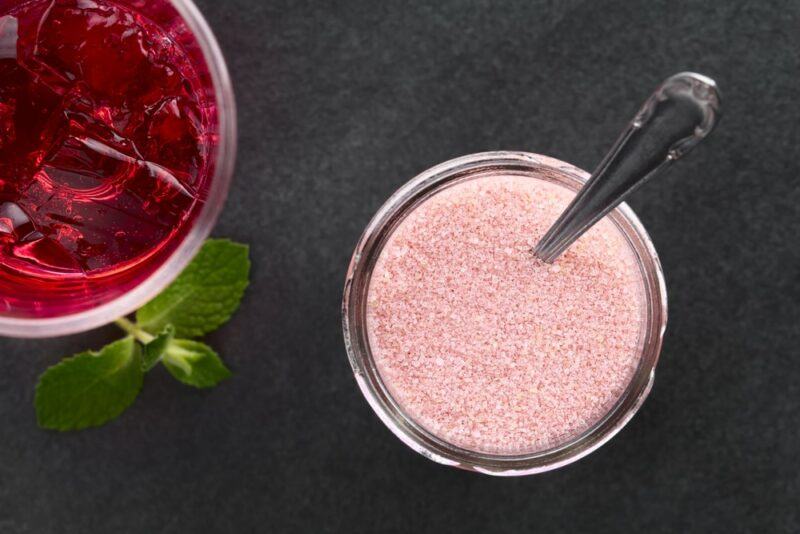 Gelatin has been linked to improved digestion too. This is partly because gelatin binds to water – an effect that helps food to pass through your digestive system.
The glutamic acid may be relevant too, as this helps with the mucosal lining of your stomach, reducing the risk of any digestive issues. The way that gelatin absorbs water is helpful too, as this keeps fluid where it needs to be and promotes healthy bowel movements.
These effects are partly why gelatin rich soups and broths are promoted as powerful ways to improve your digestion and gut health. They're even used as part of gut healing approaches, like the GAPS diet.
Could Help With Joints And Bone Strength
Gelatin is often used to promote joint health, which includes reducing pain and inflammation. This is partly because collagen is a key material in the cartilage that cushions your joints.
So, by consuming gelatin, you should be increasing the cartilage in your joints and improving the health of both your joints and your bones. This effect is why many athletes take collagen or gelatin supplements. The same is true for people with osteoarthritis.
There is some evidence for this effect although, as always, the jury is still out. Why not try for yourself and see whether gelatin has any effects on your joints?
Might Help With Your Skin
Some theories suggest that gelatin can help with your skin too. This is because gelatin is a natural source of collagen and collagen is what gives our skin its natural elasticity. Our collagen levels decrease as we age, which leads to skin becoming less firm, along with the development of lines and wrinkles.
Increasing collagen in your diet could theoretically increase collagen in your skin as well, leading to improvements in skin appearance.
Some studies suggest that collagen itself could have this effect, to some degree, but it's less clear whether consuming gelatin will. There is also debate about the size of the collagen molecule and whether our bodies can make direct use of the collagen that we consume.
It might be that our bodies need to first break down the collagen and then create the molecule anew in the cells that need it. Such mechanisms would decrease the effectiveness of gelatin for your skin (although, even in this situation, gelatin is still providing the base chemicals needed to create collagen).  
The best thing here is simply to use gelatin for a while and see whether there are any improvements to your skin. After all, we're all individuals with plenty of differences. There's only so much that nutrition research can tell us.
History Suggests That We Need It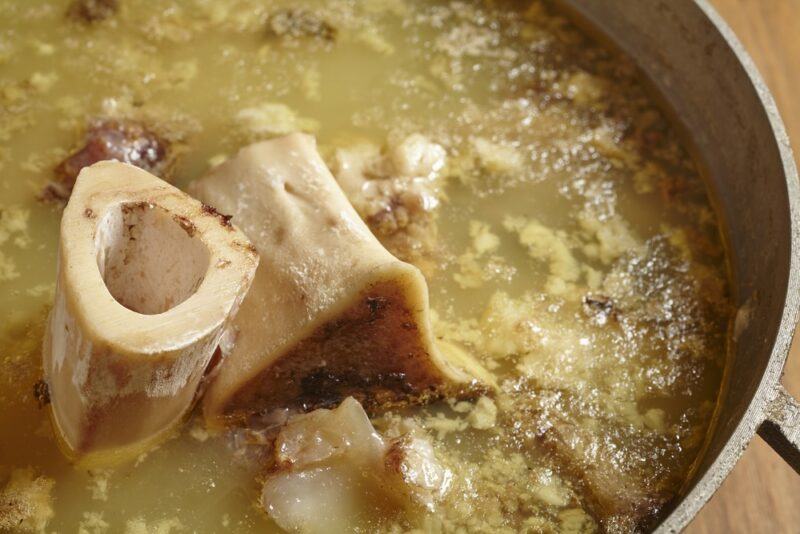 There's one other area worth mentioning – the paleo argument. Paleo dieters focus on the idea that our eating patterns have changed dramatically throughout history, with a growing focus on processed foods and grains, while other foods are becoming less common.
Such eating patterns might contribute to higher levels of oxidative stress, inflammation, and a host of other problems – leading to increased risk of diseases like cancer and heart disease.
One part of this shift is how we eat meat. Rather than trying to get the most out of an animal, we focus on the most appealing parts, like chicken breast. In doing so, we're avoiding most of the high gelatin ingredients, like the skin and tendons. Increasing gelatin intake, whether through bone broth, jello, or supplements, is a way to re-introduce this missing element back into our diets. Doing so may end up being powerful.
How Gelatin Could Be Harmful
Side Effects
Gelatin can cause some side effects, including bloating, burping, heartburn, and an upset stomach. Some people also report that they feel excessively full after gelatin. However, such side effects are rare and they're generally linked to gelatin supplements rather than jello.
The Potential For Disease
There are also concerns that that gelatin increases your risk of animal-borne diseases, including mad cow disease. While this effect hasn't been proven, the concern does make sense. After all, gelatin is often produced from the parts of animals that we don't typically eat, including bones and connective tissues. It's certainly possible that unexpected compounds end up in our gelatin.
The official word is that gelatin is safe, particularly when it comes from cows within the American dairy industry (as there's plenty of safety testing going on). There is also a Quality Management System in place to further reduce the risk of animal-borne illness getting into our food. 
We also know that the amount of gelatin we get through our diet is safe, which should mean that we can enjoy jello and bone broth without concern.
Less is known about gelatin supplements and gelatin powder. After all, you're likely to get much more gelatin through supplements than you'll ever get with jello. This means that you should always be more cautious with supplements and make sure they come from trustworthy suppliers.     
Jello Versus Gelatin Powder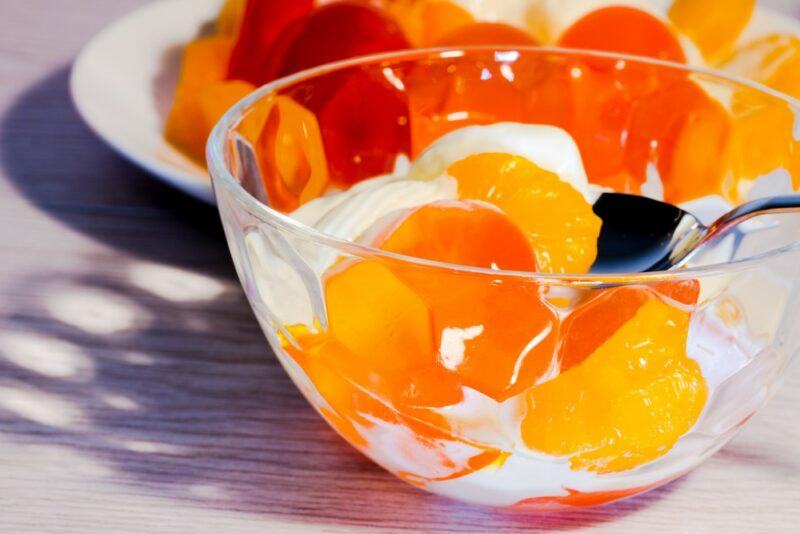 Jello is a commercial product that is made using gelatin as a key ingredient. The gelatin provides jello with its structure, while additives are used to create a dessert that is colored and flavored.
You can buy jello as a powder that you can use with hot water to create a jello dessert. Many people use the powder to create other interesting desserts, including layered jello dishes, jello cake, and jello mousse.
There are also pre-made jello products that can be eaten straight away. These make for easy snacks, especially when you're in a hurry.
Because jello contains gelatin, you'll get some of the gelatin benefits that we discussed earlier. However, there are other ingredients in the dessert too.
The gelatin also content will vary depending on the type of product that you choose. Some of the puddings and cheesecakes from Jell-O, for example, may not contain much gelatin at all.
Benefits Of Jello
Jello has one major advantage over gelatin, the flavor. After all, jello gives you a delicious dessert with minimal effort, while gelatin is colorless and flavorless on its own. While you can use gelatin in plenty of ways, doing so takes more work than simply preparing some jello.
Jello is also familiar, a popular family favorite, and is relatively low in calories.
Once prepared, jello is mostly water. This makes it useful as a way to promote hydration, especially for people who are struggling to drink water (including when they're ill or just after surgery).
The sweetness of jello can be helpful in this context too, providing extra energy to people who need it – and an incentive to eat jello.
Problems With Jello
The first issue is the sugar content. Jell-O Original Strawberry Gelatin Snacks, for example, contain a whopping 17 grams of sugar per serving. The powdered version isn't much better, with a serving of Jell-O Black Cherry Gelatin Dessert containing 19 grams of sugar per serving (and there are 8 servings in a box!).
You can find sugar free versions, although these rely on artificial sweeteners to create the desired sweetness. Those sweeteners are concerning in their own right, so they're not much better than the sugar.
There are other additives too, including artificial flavors and some food dyes, like Red 40 and Blue 1. These additives give jello its desirable taste and flavor, but they don't offer any health benefits. There are even concerns about them, like ideas that the food dyes might lead to hyperactivity in children.
While most concerns about additives haven't been proven, do you really want to take the chance? After all, your body certainly doesn't need the additives, so why even go down that road?
Should You Make Your Own Jello?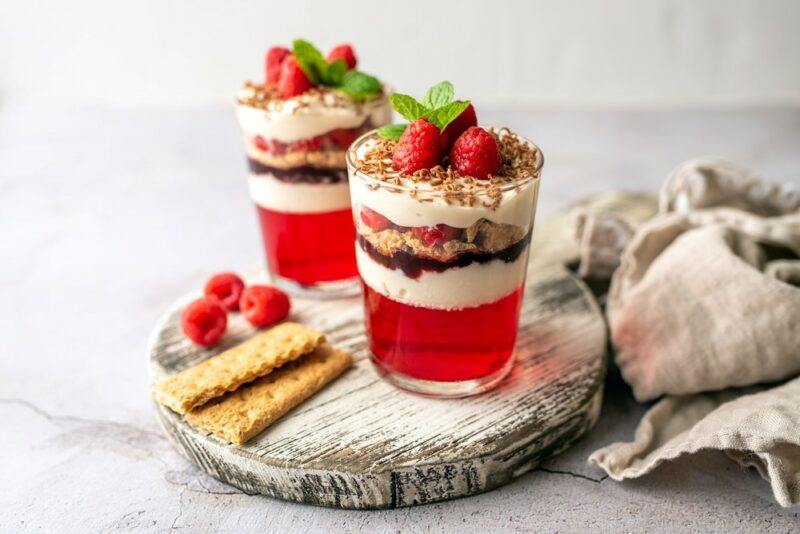 The gelatin in jello offers some health benefits, while the other ingredients certainly don't. To get around this problem, you could try making your own jello, using natural ingredients.
This recipe, for example, uses just three main ingredients – juice, gelatin, and some added sweetener. The extra sweetener is an option, but you're likely to need it, as the jello dilutes the flavor of the juice somewhat.
A recipe like this does still contain some sugar (as will any version of jello). Even so, the sugar content should be much lower than with commercial jello. You're also avoiding all the artificial ingredients. That's got to be good, right? 
Is There Vegan Jello?
Jello relies on gelatin, which always comes from animals. As such, jello itself will never be vegan-friendly.
However, some alternative products use vegan-friendly ingredients, like agar, pectin, and carrageenan. Such products aim to mimic the taste and texture of jello, while being entirely animal free. Still, because these products don't contain gelatin, they won't give you the benefits we've been discussing in this article. They have their own useful features instead, but that's a topic for another time.
Other Ways To Get Gelatin
Jello, homemade or otherwise, is only one way to get gelatin – and not necessarily the best. After all, if you're for health and digestion benefits, is making a sugary dessert really the best way to go?
Bone broth is one popular approach for obtaining gelatin. This is created by simmering bones in water for hours, until you get a rich broth. This can be consumed as-is or used as the base for a more nutrient packed soup.
These days you can even find pre-packaged bone broth products. These provide you with all the benefits of bone broth, without requiring any effort on your part.
You can also buy gelatin powder and gelatin sheets. In both cases, the gelatin needs to be bloomed before you use it, which involves hydrating it. Working out how to use the gelatin well takes a little effort, but thankfully there are plenty of good guides online.
If you're just interested in the health benefits of gelatin rather than the gelling properties, things couldn't be easier. There are now plenty of gelatin powders and supplements that you can use as-is or mix into your protein shakes. Such products give you the benefits of gelatin, without the sugar that comes with jello.
Final Thoughts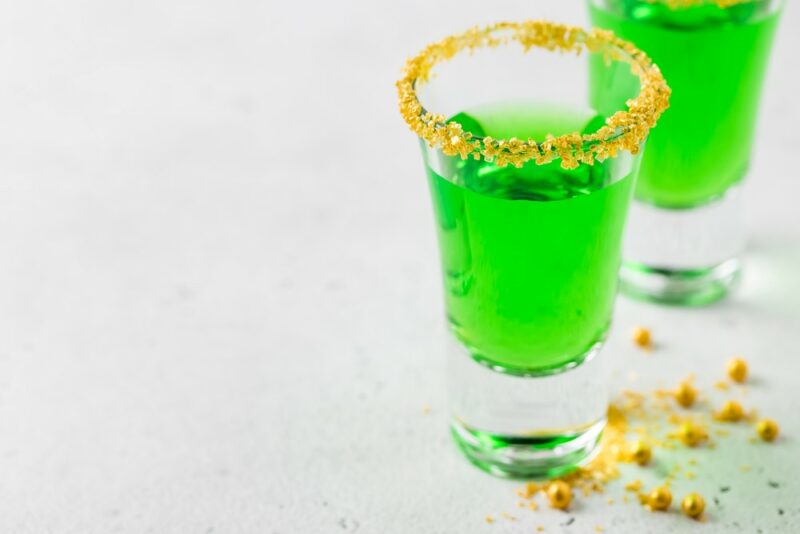 Jello is hardly a health food, especially if we're talking about the official Jell-O version, which is filled with sugar and additives. Still, the gelatin in jello does offer some potential benefits, including helping with your digestion, your joints, and perhaps even your skin.
In the right context, the gelatin can even be a useful source of protein.
The real question is how you use gelatin. Supplements are the easiest option, but bone broth is powerful as well. Bone broth might even be the best approach, as you can turn this into a soup and get plenty of benefits from the other ingredients as well.
We can't rule out jello either, particularly not if you're making your own version from gelatin. After all, the sweetness of jello does make it easy to eat. There's also a decent amount of water in jello too, making it a useful way to combat dehydration.  
It's also important to be careful, regardless of the approach you take. While gelatin looks promising, there's limited research into the effects of high gelatin intake, particularly from supplements. Overdoing it on gelatin could easily be harmful, so it's best to take things slowly and always listen to your body.
Frequently Asked Questions
Is Jello Gluten Free?
Yes. Jello is normally made from completely gluten free ingredients, making it safe for anyone with celiac disease. However, it's important to check the label, though, especially for off-brand jello and jello-related products, as some may use gluten contain ingredients.
Does Jello Go Bad?
Unopened jello has a long shelf life. It often lasts far past its expiration date and almost indefinitely if it does not get damp. Prepared jello is a very different story. This will normally last just a week, although some recipes made using jello won't even last this long. 
Is Jello Vegan Friendly?
Regular jello isn't vegan, as it is made using animal-based gelatin. However, some companies have created vegan jello mixes, often using agar agar instead of gelatin. 
Is Jello Good For Weight Loss?
Gelatin can be helpful for weight loss, as it's low in calories and can help you feel fuller. Commercial jello is trickier, as it's often high in sugar. To promote weight loss, you'll need to look for low sugar versions. But, be careful of those that use artificial sweeteners, as those sweeteners aren't always helpful. 
Is Jello Halal?
Jello generally isn't halal, as the gelatin used can be sourced from pig skin. However, vegan friendly jello is often halal, as this avoids gelatin entirely.