Collagen isn't just an ingredient used in skincare products. The protein is used extensively throughout our bodies, including in our muscles, skin, bones, and tendons. To put it simply, we'd fall apart without collagen. But, while the importance of collagen itself is clear cut, what about collagen in food or supplements? When used like this, is collagen good for you?
After all, the benefits we get from food aren't solely related to the nutrients that we're consuming. The benefits come from the way our bodies use those nutrients. Consuming high amounts of iron rich foods, for example, isn't that helpful if we're already getting more than enough iron in our diets.
Collagen is a particularly interesting case. It isn't considered an essential nutrient at all, as our bodies produce collagen themselves (provided that we're getting the building blocks through our diet).
Plus, our bodies don't use collagen directly. It's first broken down and then those broken down components are used. That pattern changes the game considerably and begs the question, is using collagen helpful at all?
Is Collagen Good For Your Health?
What Is Collagen?
Why Collagen Might Be Helpful
Why Collagen Isn't As Powerful As It Sounds
Ways To Get Collagen
How Do You Promote Collagen Production?
Final Thoughts
What Is Collagen?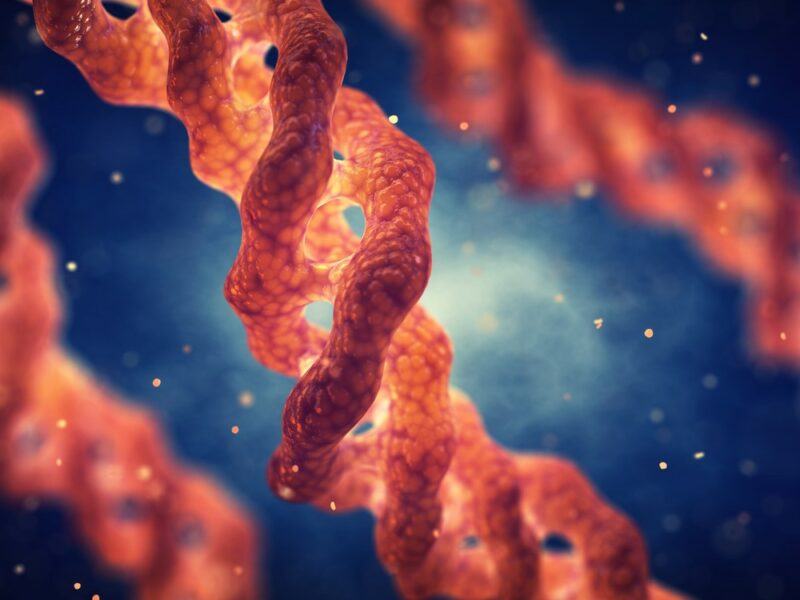 Collagen is a type of protein. But, that phrase completely glosses over just how important collagen really is. Instead, collagen may be considered the most significant protein in our body.
It's responsible for roughly 75% of the dry weight of our skin and is used in countless other parts of the body as well. In fact, a third of all the protein in our body is collagen. How's that for impressive?
One of the defining features is that collagen has a triple-stranded structure. There is also a variety of types, which differ in their structures and roles. Type I collagen is the most significant for humans. This type of collagen is involved in the skin, bones, organs, and other parts of the body. However, some other types are relevant to human health too, including types II and III.
Like other proteins, collagen is made up of amino acids, with proline and glycine being particularly significant. Those two amino acids are important for your joints and bones.
The amino acid composition is important, as these amino acids can be used in many different ways, not just for collagen.
Why Collagen Might Be Helpful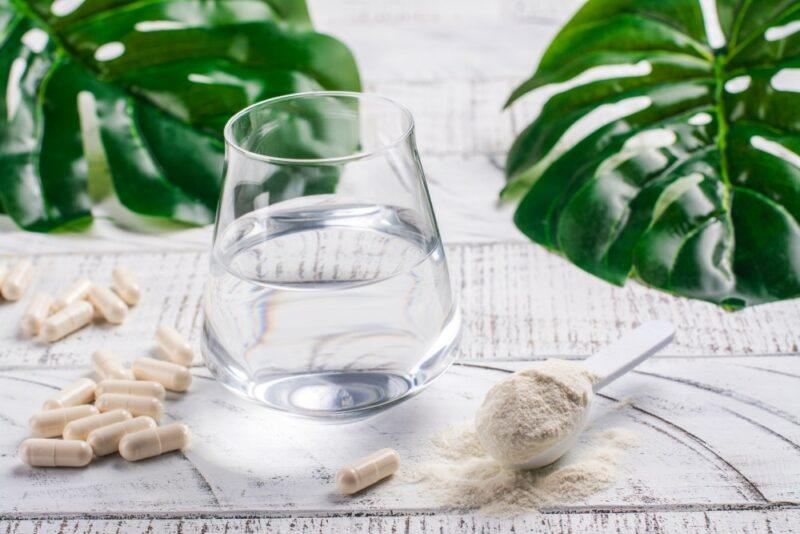 Collagen Production Decreases With Age
While our bodies produce collagen on their own, collagen production gets more difficult as we age. The breakdown of collagen can also decrease, leading to a situation where we're losing more collagen than we're creating.
This effect is why collagen often features in anti-aging products. Theory suggests that increasing collagen in your diet could decrease some visible signs of aging.
Besides, if your body is no longer making enough collagen, getting more in your diet is an obvious next step. It's easy to see how this could be helpful and the chances of harm are minimal.
Collagen Itself Is Essential
Let's not forget that our bodies need collagen to function well. That's not all. Because collagen is used in such a large number of places, it's reasonable to assume that we're going to need a lot of it.
Our bodies can produce collagen on their own. Still, collagen supplements could provide an extra boost, giving your body the building blocks needed to create collagen.
More Collagen Could Provide Benefits
Increasing dietary collagen, whether through food or supplements, is thought to provide many benefits. These include improvements in bone strength, improved skin elasticity and hydration, decreased hair loss, and healthier nails.
Collagen supplements could help with your joints too and may even decrease arthritis pain. Those effects make sense, as collagen is important for your skin, hair, nails, and bones.
The claims aren't just theories either. While research in this field is extremely limited, some studies do highlight potential benefits from collagen. For example, one study showed that collagen supplementation increased skin elasticity in senior women, while another suggested benefits for wound healing and decreasing skin aging.
Collagen Tends To Be Safe
Collagen is well-tolerated. So, as long as you choose a reliable product, you shouldn't experience many side effects. Some people experience mild diarrhea or skin rashes, but these issues don't tend to stick around and aren't that common.
This gives you the chance to try collagen for yourself and see whether it helps. If it doesn't, then you've just wasted a little time and money. You haven't put your health at risk.
Collagen Powder Is A Useful Source Of Protein
Collagen powder is currently one of the most popular choices for collagen. It's a useful choice too, as the powder can simply be used as a source of protein.
In fact, collagen is particularly good for protein, giving you a decent amount per calorie, with little sugar to worry about. It can be used in the same way as regular protein powder too, making it easy to include in your diet.
Plus, all protein is made up of amino acids. Our body breaks down the protein into the amino acids and then uses these. So, even if you don't need collagen itself, your body can still take advantage of the amino acids in other ways.
Why Collagen Isn't As Powerful As It Sounds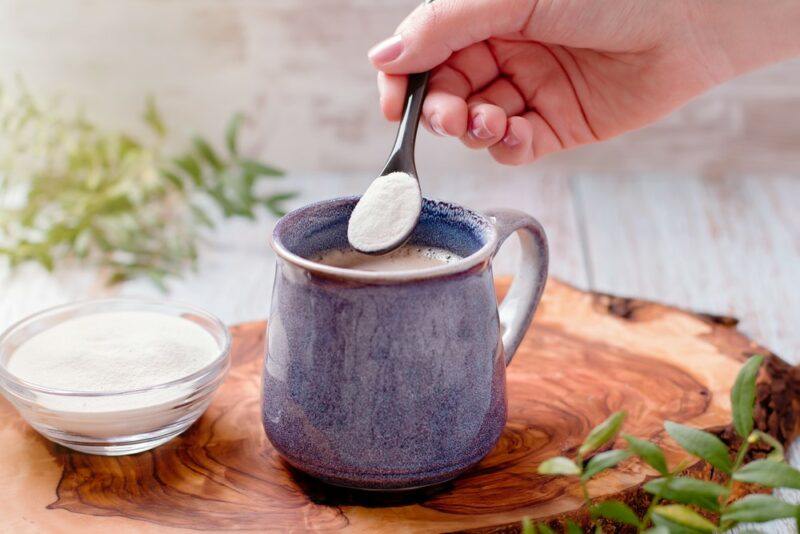 The Evidence Is Limited
Collagen research is ongoing. While some studies have shown small benefits by taking collagen supplements regularly, others have failed to find much effect at all.
While a handful of studies have shown benefits from collagen, these tend to be small, often focus on a specific type of participant, and are sometimes funded by companies that create collagen products. That combination of features doesn't make for highly reliable research.
For that matter, many of the proposed benefits of collagen come from the idea that collagen should help in specific areas. Much more research is needed before we know where collagen does actually help, along with the required dose size and frequency that's needed.
And, even if collagen does provide benefits, these may not apply to everyone.
For example, most of the research that links collagen supplementation to improve skin appearance has been conducted in older women. Younger women, whose bodies have different rates of collagen production and breakdown, might not see the same effects at all.
The Mechanism Isn't What You Might Expect
We also need to talk a little about the mechanism of collagen supplements. It's easy to assume that the collagen in these supplements is used by your body as it is, which helps to replenish your collagen supply and leads to various health benefits.
That's not really the case.
Collagen is a large protein. We can't absorb and use it directly. Our bodies must first break the collagen down into smaller peptides or individual amino acids before anything can be used.
Our bodies may use these building blocks to create collagen where it is needed, but this effect isn't guaranteed. The amino acids could be used in other ways instead. Or, if collagen is created, it might not be in the cells that you want it.
After all, your body doesn't know that you want to improve your skin elasticity. All you can do is take the supplement and hope your body does the 'right' thing with it. That's a shot in the dark, really.
The Supplement Industry Is Problematic
Many people get their collagen in the form of collagen powder or perhaps a capsule. This gives you a more concentrated source of collagen than food but means you're relying on a processed product.
This type of product always comes with some risk.
Part of the problem is the supplement industry. Getting supplements to the market is much easier than you might expect and some supplements aren't very good at all. Sometimes the product may be different than the label claims, perhaps with less collagen than you expect.
There's also the risk of contamination.
The contamination aspect is highly significant. After all, collagen powder often ground up animal parts, including skin and bones. These can easily be a source of heavy metals or other contaminants.
To get around this issue, you need to pay close attention to the products that you rely on. Look for companies that use independent third-party testing and are transparent about their quality control measures.
Success Stories Are Often Biased
You've probably heard plenty of success stories about using collagen. Many people say that their skin has brightened, nail problems have disappeared, and that they feel much better all around.
Be careful about taking such stories at face value. Much of the time, people haven't just started taking collagen supplements. Most will have made other healthy changes at the same time, like decreasing sugar intake, relying on fewer processed foods, and eating more vegetables.
There may have been other less obvious changes too, like decreases in stress levels and a better outlook on life.
When many changes are made all at once, there's no way to know what caused the observed benefits. The health improvements may even be linked to the combination of changes, rather than any specific thing.
There's also the placebo effect, where we convince ourselves that there are benefits simply because we expect them. This means that some success stories come from people's expectations of collagen, rather than the effect of the supplement.
And finally, some of the collagen hype comes from people promoting collagen products. This includes anyone selling collagen as part of an MLM, along with brand representatives and other people paid to promote collagen.
These effects don't mean that collagen is useless. Instead, they're a reminder to be wary about the hype. Positive reviews alone don't prove that a product is actually any good.
Collagen Products Are Highly Processed
If you're relying on collagen cream, powder, or supplements, then you're dealing with a highly processed product. The processing is crucial, as this is what provides you with the collagen that you need and little else.
Even so, we're starting to recognize that highly processed foods aren't the best choice for health. Whole foods offer more nutrients and don't contain concerning additives. Plus, you know exactly what you're getting with whole foods, which isn't true for anything highly processed.
Collagen Can Be Expensive
Collagen products aren't cheap. They often cost more than other types of protein powder and provide less protein per serving.
The price may be high enough to make them unrealistic if you're on a budget. Besides, should you be paying that much for a supplement when it's unclear whether there are any real benefits?
Ways To Get Collagen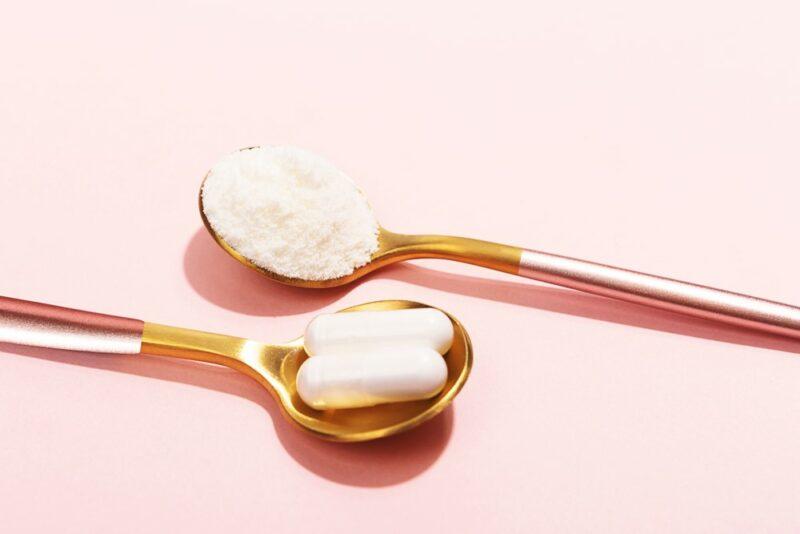 Collagen has become incredibly popular. One estimate suggested that 2020 sales of collagen products would net $293 million. That's a lot of money to spend on collagen. Then again, with all the proposed anti-aging and skin health benefits, that amount of money isn't so surprising.
Collagen Powder
Collagen powder has become the most popular way to increase your collagen intake. This powder can be simply mixed into water or used as part of a protein shake. You could even stir the powder into your coffee.
Most collagen powders contain collagen type I, II, III, or a combination of those types.
The collagen has often been hydrolyzed too. The label may use a term like collagen peptides or collagen hydrolysate. This means that the collagen protein has already been partly broken down.
Hydrolyzing the collagen in this way is helpful, as the process makes it easier for your body to digest the collagen.
If gelatin is used instead, then the collagen protein is only partly broken down. Some products may market themselves as raw instead, which means that there's been no denaturing. But, as we mentioned earlier, your body will still break down the collagen rather than using it directly.
The powder itself is created from animal tissues that are highly processed to create a powder that's easy to digest and doesn't contain unwanted compounds.
The downside is that the animal tissues used aren't the most appealing. They can include fish scales, egg shells, animal skin, and animal bones. Don't worry though. These ingredients aren't an indication that the powder is low quality. They've been chosen because this is where the collagen is found.
If you haven't already guessed, collagen powder will never be vegan-friendly. Collagen comes from animals and marine creatures. Any vegan collagen products just contain a selection of amino acids, minerals, and vitamins, which might promote collagen production. That's not the same thing at all.
Collagen Supplements
As the name suggests, collagen supplements give you collagen in the form of a capsule, rather than a powder. This may be helpful, as you can simply take them with a glass of water. There are even gummy collagen supplements.
The effects of collagen supplements and collagen powder should be similar. And, in both cases, you need to make sure that you're choosing a reliable brand, as it's impossible to work out the quality of the product from its appearance alone.
Collagen Cream And Injections
Collagen also has a history in the skincare industry. At one point it was regularly used for injections, to help people's skin to look more youthful. It's been a popular ingredient in skincare creams too.
Both practices are becoming less common these days. For collagen injections, the decrease in popularity is partly because other fillers tend to last longer. There's also too much risk of allergic reactions.
As for skincare, collagen isn't as effective as you might think, as the protein isn't well-absorbed when it's applied on the skin.
Bone Broth
Bone broth is created by boiling bones for hours, so that many of the nutrients from the bones end up in the liquid. The resulting broth is sometimes consumed as-is, which gives you a warming drink. Or, you can use it as the base of a more complex soup.
When prepared well, bone broth provides a wide variety of nutrients and other compounds including the amino acid glutamine and fats called alkylglycerols.
While bone broth doesn't provide as much collagen as collagen supplements, the extra nutrients could make bone broth the more powerful choice. It could be particularly good if you suffer from joint issues or need to improve your gut health.
Collagen Rich Foods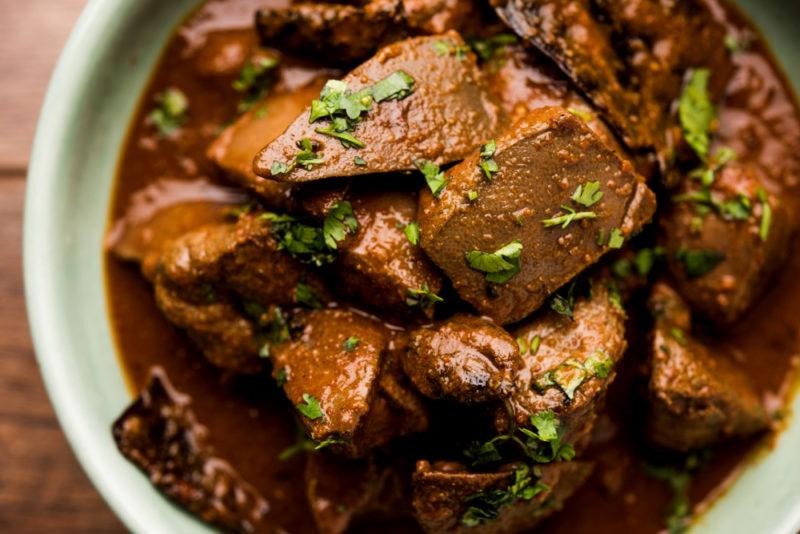 There are a few other foods that contain collagen as well, starting with organ meats. While liver and kidneys are some of the most popular organ meats, there are plenty of other types too, including skin, cartilage, tripe, and joint material. The significance of those parts of the animal is partly why bone broth is so powerful.
Organ meats often aren't that appealing but, thankfully, they're nutrient dense. You only need a small serving size to get the collagen you're looking for. Organ meats offer plenty of other nutrients at the same time too, including zinc, vitamin B12, and vitamin A. The exact combination of nutrients varies depending on the specific type of meat that you choose.
Some types of shellfish and fish provide collagen too. The trick is to look for cases where you're eating the whole animal, internal organs included, rather than just the flesh. For shellfish, this includes oysters, shrimp, and scallops.
Soft boned fish that you eat whole, like sardines and pilchards have the same benefits.
How Do You Promote Collagen Production?
Getting collagen in your diet isn't your only option. You can also choose your foods carefully to make sure you're getting all the amino acids and minerals that your body needs to make collagen itself.
Proline and glycine are the most important amino acids to focus on. You can find both of these in protein rich foods. Animal sources of protein are particularly good, as these are considered complete proteins and contain all the amino acids you need for health.
You also need vitamin C, which is an easy one. You should be able to get enough vitamin C from your diet alone, without ever needing to use supplements.
There are also two important minerals – zinc and copper. Zinc is particularly common in red meat. It can also be found in nuts and seeds, legumes, and dairy. Sesame seeds and cashews are both good choices for copper, although there are plenty of other options too.
Final Thoughts
While collagen supplements remain incredibly popular, the evidence for benefits isn't nearly as strong. We just have a small number of studies that show positive outcomes in some situations, coupled with a large number of testimonials (which all have their own biases).
Still, on the plus side, collagen does appear to be safe. There are few side effects and you can get around issues with the supplement industry by choosing your brand well.
The safety factor means that you could try collagen supplements for yourself and see whether they have any benefits.
Or, you could simply focus on foods that contain collagen, like bone broth and some shellfish, along with foods that boost collagen production. Doing so could be an even more powerful approach, as the foods are all packed with important nutrients.