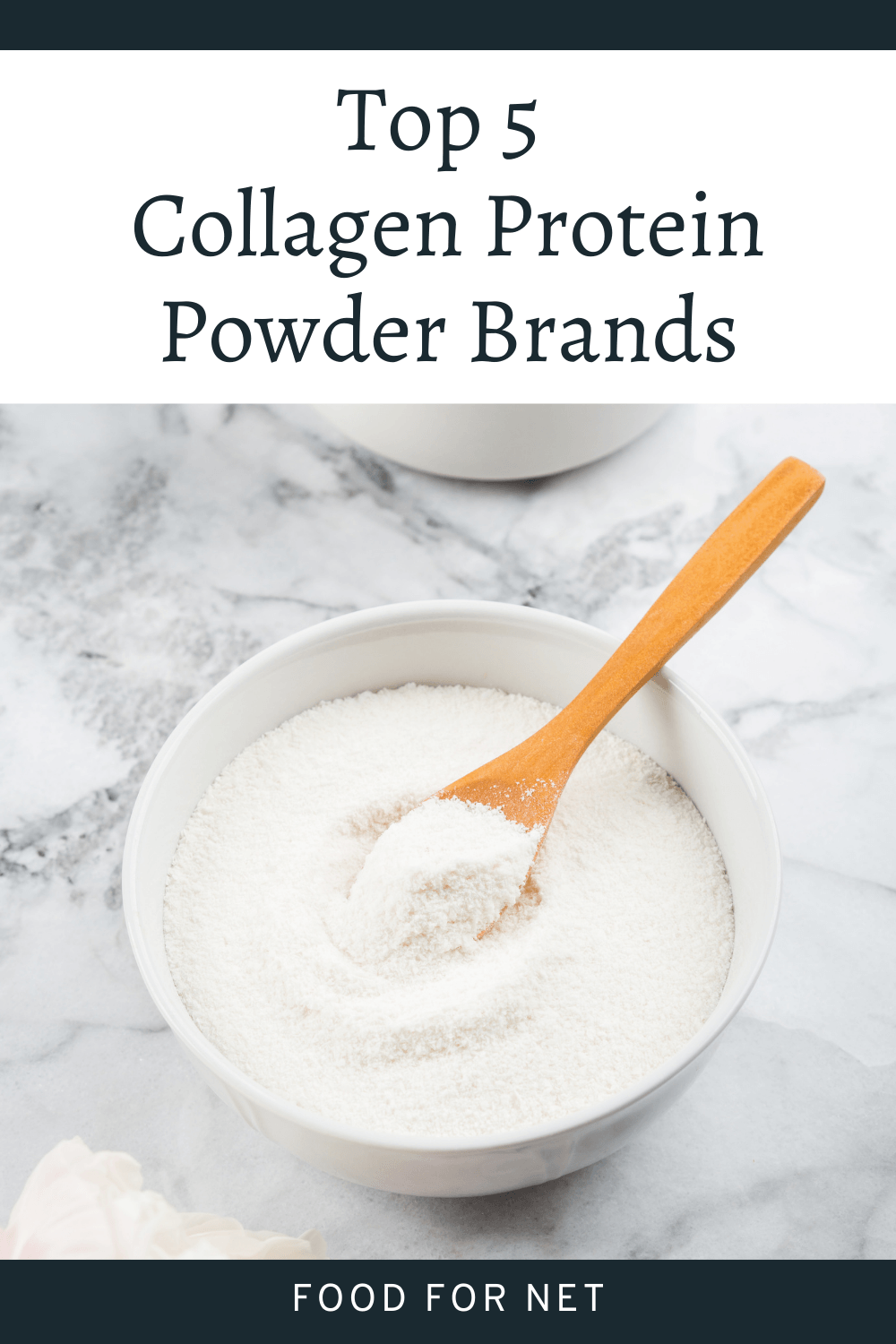 Collagen is a type of protein in the body that pertains to your joints – keeping them healthy and functioning. It's also responsible for the elasticity and health of your skin and is in bones and muscles, holding everything together. It's an extremely important part of the human body. Not everyone needs to supplement with collagen though as the body does produce its own! However, your body can start losing it as early as your 20's.
As you get older, your body starts producing less collagen, and it starts breaking down faster. As we learn more about collagen, supplementation becomes more and more common, and for good reason. Collagen is responsible for and contributes to many things in the body, so running low isn't a good thing.
There are plenty of collagen supplements out there that either provide your body with the collagen itself or offer the amino acids that help your body produce more of it.
Both approaches are good options, but if you want to do more at once you can also try collagen protein powder. This is a supplement that contains a good dose of collagen peptides as well as a serving of protein. This works well because collagen is a protein itself. Whether you like a good protein shake for nutrition or you work out daily, having some collagen with your protein powder never hurts!
The Best Collagen Protein Powder Brands
1. Vital Proteins Collagen Peptides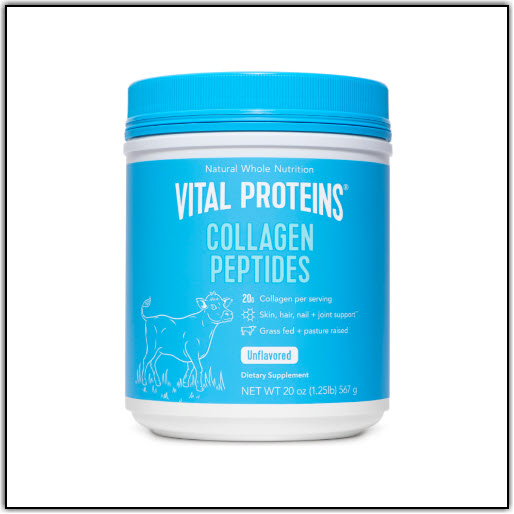 Vital Proteins Collagen Peptides is the perfect supplement for those that want a large dose of collagen. At 20 grams, this one has plenty. It also offers 18 grams of regular protein, keeping it pretty much on par with the average protein powder out there. Not only will you feel the benefits of this powder in your hair, skin, joints, and more but you'll be building muscle at the same time.
It also has 80mg of hyaluronic acid which further contributes to the hydration and elasticity of your skin. Hyaluronic acid is a popular skincare ingredient, so it's normally used topically. Most of us don't consider taking it internally! Also included is 100 percent of your daily vitamin C intake. Vitamin C helps to promote natural collagen production in the body while helping you maintain a youthful appearance.
The best thing about this supplement is that the above-mentioned things are the only three ingredients – collagen, hyaluronic acid, and vitamin C. Clean and simple, you can add this versatile powder to any liquid, your favorite smoothie, or even your morning coffee for a healthy creamer.
2. Naked Nutrition Collagen Peptides Protein Powder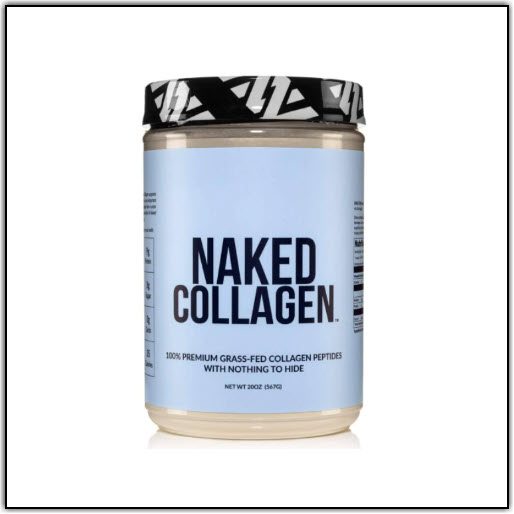 Naked Nutrition Collagen Peptides Protein Powder is another extremely clean supplement, containing only collagen peptides. It's free from artificial sweeteners and any other additives. With only 35 calories per serving, it's a versatile powder that you can use any way you want.
Using collagen as a coffee creamer has become a popular method but you can do anything with it – smoothies, shakes, mixed up in juice, or anything else. The powder is smooth and flavorless so it won't ruin or interrupt the taste of whatever you put it in.
It offers nine grams of protein which is lower than some, but it's still perfectly useful and adequate for those looking for collagen support and a protein boost at the same time. The cleanliness and quality of this product make it more than worth it.
3. MyProtein Collagen Protein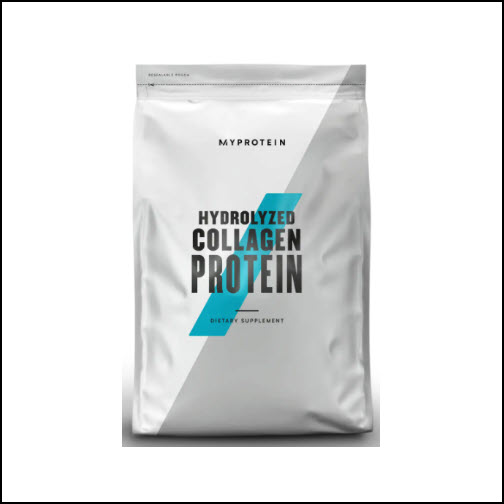 MyProtein has a collagen protein that's naturally low carb. It's also a fantastic source of protein, offering 18 grams of protein per serving, with only 40 calories and 20 solid grams of hydrolyzed collagen. Not only will this help you build and maintain muscle but it supports your joints and reduces discomfort while improving ligament and tendon health. It also has the added bonus of improving the condition of your hair and skin as a result of better collagen production.
These features are important, as protein plays many roles in your body. It also helps with weight loss and muscle building.
MyProtein offers an unflavored version that is perfect for just about any smoothie or as a mild coffee creamer. They also have a chocolate flavor if you want something a little sweeter. It's the perfect way to satisfy sugar/sweetness cravings without actually cheating on your diet
4. Bulletproof Collagen Protein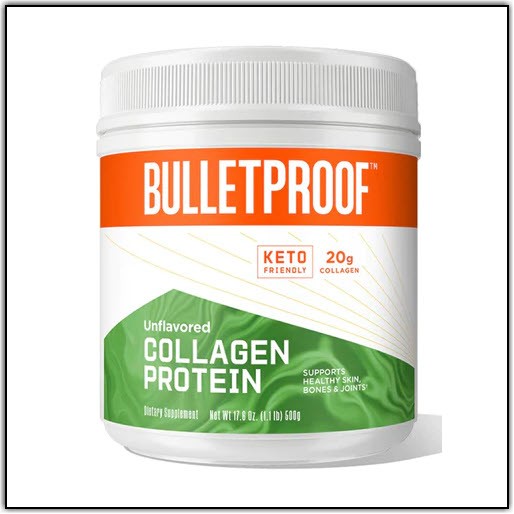 Bulletproof Collagen Protein is a versatile, clean, quality collagen protein powder. It's flavorless and mixes effortlessly into any hot or cold drink. Smoothies and coffees are common but the options are endless, especially with the lack of flavor and smooth texture. Add the collagen powder to nut milk for a quick shake or even a hearty vegetable soup.
With 18 grams of protein, 20 grams of collagen, and a strong amino acid profile, this supplement is the perfect all-rounder for gym rats and healthy eaters alike. Everyone will enjoy glowing, hydrated skin with simultaneous bone and joint support.
Bulletproof also has a large collection of other products – most of which are keto-friendly and super healthy. They're most well-known for their infamous "keto coffee" which involves mixing grass-fed butter and MCT oil into your coffee for a super filling, energy-boosting cup of coffee. They've grown from here to offer a wide range of impressive products, all of which work together to support your overall health and fitness goals.
5. Perfect Keto Collagen Protein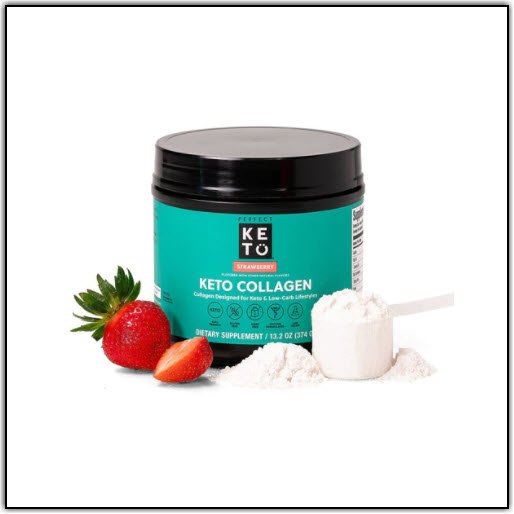 Perfect Keto Collagen Protein offers a clean, well-rounded product that serves many purposes. It offers 10 grams of protein and 10 grams of collagen, along with five grams of MCT oil. MCT oil is packed with healthy fats while helping to keep you full and satisfied for longer.
This protein powder is suitable for making nutritious protein shakes and for aiding in muscle building and recovery after a workout. It's also perfect for those who simply want to add a little of both collagen and protein to their diet – it's the best of both worlds!
The MCT oil will help with weight loss as it'll curb your appetite a little and the formula is dairy-free and contains no artificial sweeteners or other unwanted additives. The unflavored formula is very versatile, or you can satisfy that sweet tooth with a selection of chocolate, vanilla, strawberry, salted caramel, peanut butter, or cinnamon toast.
Keto Protein Recipes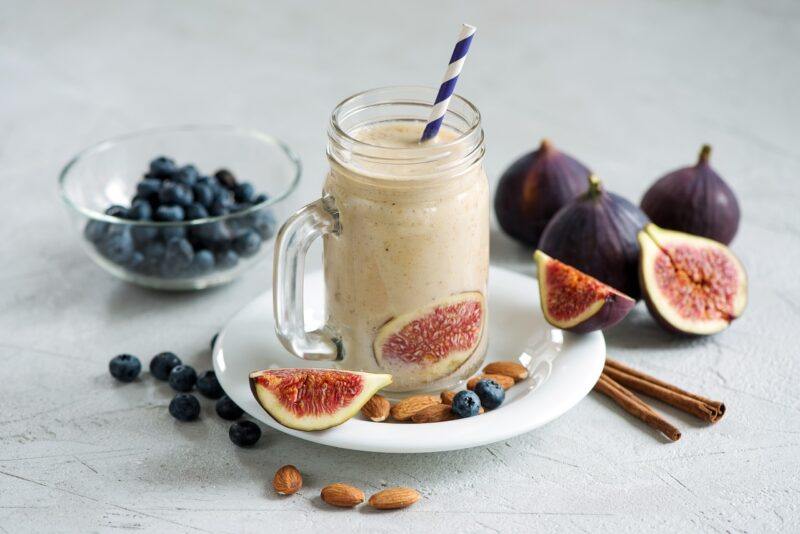 There are many known benefits of the keto diet, and it works well for many people. If you've chosen this path, though, it can sometimes be hard to find healthy recipes that meet all your needs while still following the keto guidelines.
Keto-friendly protein powder and other supplements are a fantastic place to start and they'll help you maintain your nutrient intake regularly. If you're looking to switch things up though, try these high-protein, keto-friendly recipes to deliciously complement your protein powder intake!
Pork and Bacon-Wrapped Green Beans
Bacon is a favorite for many, and a lot of diets would require you to give up bacon. Not keto, though! Bacon is definitely keto-friendly and wrapping it around some crispy green beans isn't nearly as hard as it sounds.
This recipe gives you great instructions, along with details for a low-carb, protein-filled meal. You can substitute any meat or main dish here – it's the bacon-wrapped goodness that shines!
Spinach Tomato Frittata
This recipe is as versatile as it is delicious. The eggs offer plenty of protein while the spinach fills you to the brim with powerful nutrients. Not only can you then add any other veggies you want, but it's a great meal for any time of the day.
It's hearty enough for dinner if you make a side to go with it, or you can heat the leftovers up for a quick, protein-rich, energy-inducing breakfast! Not only is it a great breakfast but it keeps extremely well in the fridge, so it'll taste just the same the next day.
The base recipe here simply calls for tomatoes and cheese to be added, but you can try it out with any keto-friendly vegetable – or multiple at once. You could also replace the spinach with kale, or any other greens. There are so many options, you'll never get bored of this one.
Salmon Salad
Salmon may not be the first thing you think of when it comes to salad, but it's surprisingly delicious when paired with spinach and almond slivers. This unique combination provides a delicious array of flavors but also tremendous support for heart health.
It also offers about 27 grams of protein. It's not too often a salad can be recommended as a post-workout meal, but this is one that can be!
Related Content