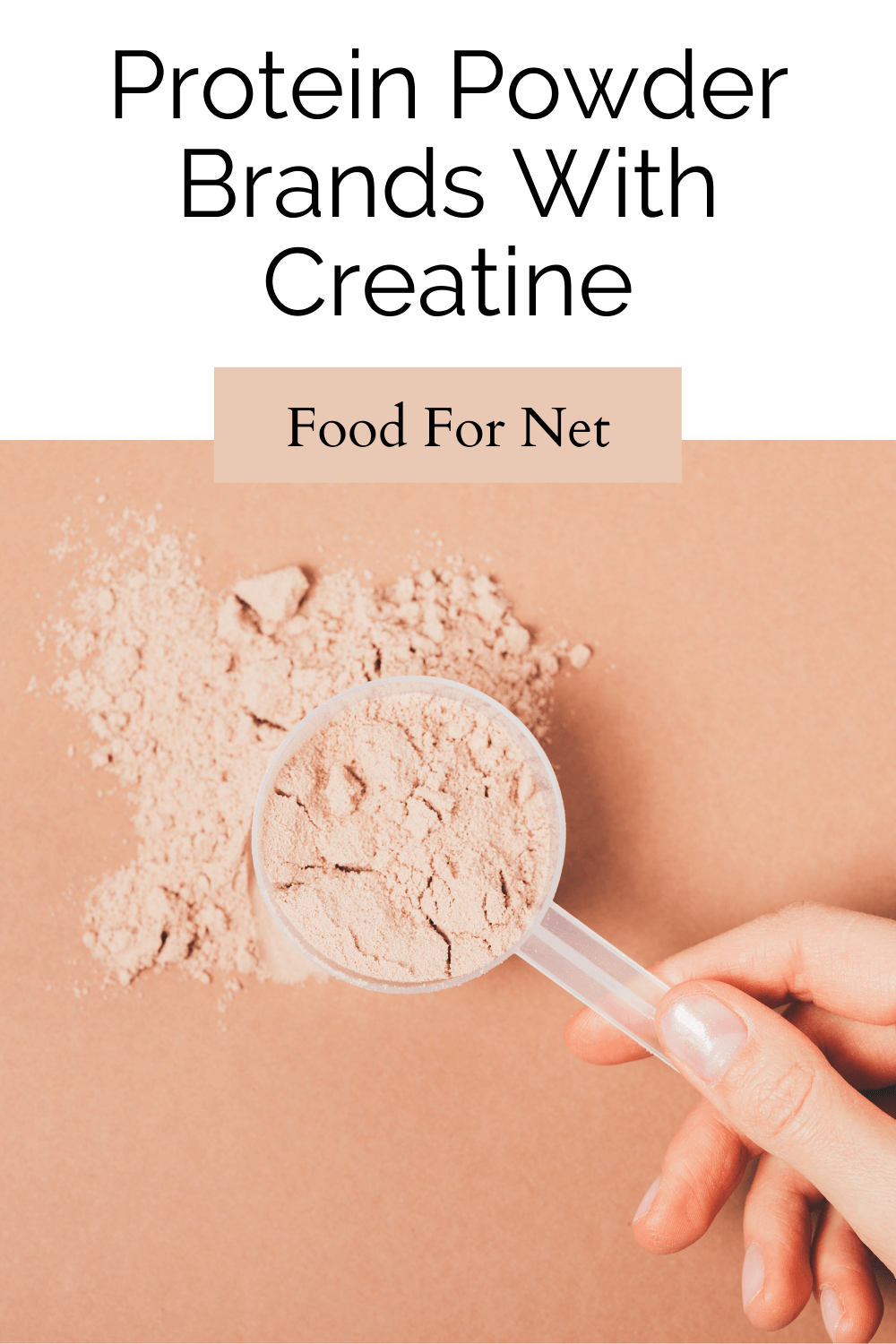 While protein is a widely accepted and commonly used supplement for both everyday life, working out, and even intense bodybuilding, creatine is often more overlooked despite its benefits. Creatine is a simple but fantastic supplement that does wonders for supporting your muscles, especially when taken in conjunction with protein.
Creatine is a substance that can be found naturally within your muscle cells. Its main purpose is to help your muscles produce energy, particularly while lifting heavy and exercising. So, while we have some naturally occurring in our muscles already, supplementing only serves to enhance the benefits. Taking creatine as part of your workout regime will help you gain muscle even faster, enhance your strength, and improve your overall performance.
Creatine monohydrate is the most common and most effective form to take it in. It can be purchased as a standalone supplement, usually with five grams per serving. If you know you want to take it with your protein, however, look for a protein powder with creatine instead! Below are some of the best ones, with doses ranging from 2.5 to five grams per serving.
The Best Protein Powder Brands With Creatine
1. Optimum Nutrition Serious Mass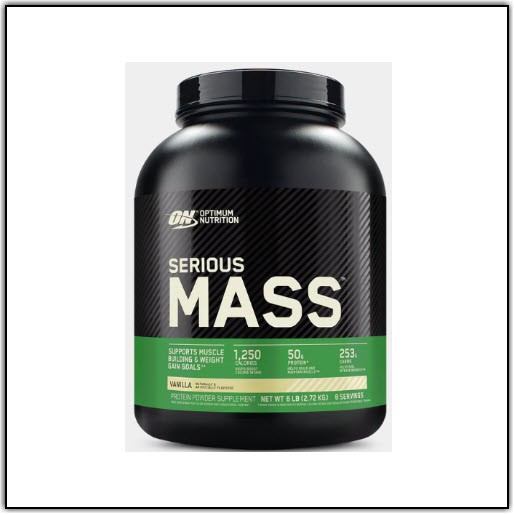 Optimum Nutrition Serious Mass is a supplement meant to not only support your workouts and help you build muscle, but it's made to help you gain weight and general mass as well. While most traditional protein powders like to keep calories low as they're often used for weight loss, this one has sky-high calories for those looking to gain weight.
It comes in at 1,250 calories per serving, which is exactly what some people are looking for. It also offers 50 grams of protein to help you build and maintain the muscle you want. The carbs are also extremely high at around 250 grams – it's the perfect recipe for gaining the weight you want while putting on tremendous amounts of strength and muscle.
In addition to the serious amounts of protein and carbs, it offers an impressive list of 25 vitamins and essential minerals as well as three grams of creatine monohydrate per serving. The vitamins and minerals are an excellent nutrition boost and the creatine tops the supplement off perfectly as some of the best support your muscles can get.
2. MuscleTech Nitro-Tech Whey Gold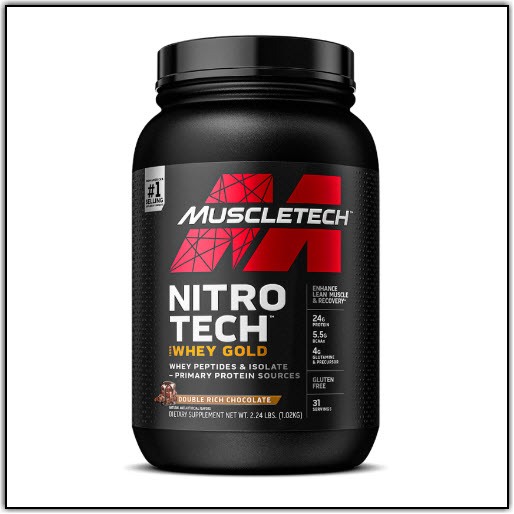 MuscleTech Nitro-Tech Whey Gold features a solid 24 grams of whey protein peptides and isolate. This combination helps facilitate fast recovery and helps build strong, lean muscle mass. It also works to enhance your performance when taken before a workout as it offers strength and fuel to your body.
Each serving contains 130 calories, 2.5 grams of fat, and two grams of carbs. It's a lean, clean protein that's perfect for helping you reach a variety of goals either in the gym or out. Other than building muscles, it can act as a meal replacement, nutrition boost, or just a nice snack throughout the day. It can also be used in a weight loss program to help maintain nutrition and help you feel full while trying to get the weight off.
Lastly, it contains a dose of creatine with three grams per serving. This is a great bonus as it'll contribute even more to building and repairing muscle, without inflating the calorie count or getting in the way of losing weight! It comes in several yummy flavors including rich double chocolate, cookies & cream, and French vanilla creme.
3. Six Star 100% Whey Protein Plus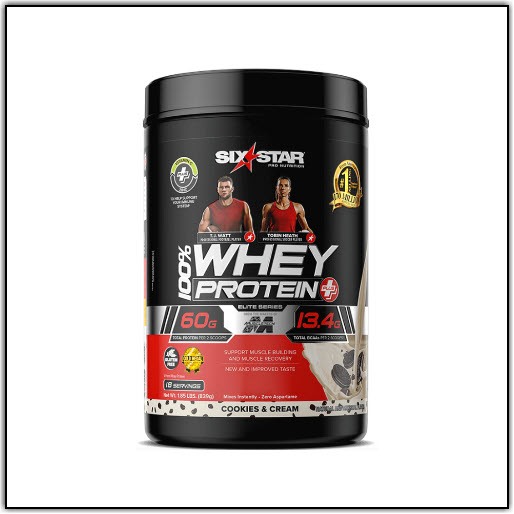 Six Star 100% Whey Protein Plus is a protein powder with above-average protein content at 30 grams per scoop. This also results in higher calories, around 170-180 depending on the flavor you choose, and slightly higher macros. You're getting eight grams of carbs, three grams of fat, and two grams of sugar in addition to your protein.
You're also getting plenty of vitamins and minerals here. The supplement features 125% of your vitamin D, 100% vitamin C, 100% zinc, and smaller amounts of iron, calcium, and potassium. Six Star also chose to add 2.5 grams of creatine per scoop to further increase the benefit to your muscles and overall performance.
This protein is available in several tasty flavors including triple chocolate, strawberry, vanilla cream, and cookies & cream.
It's recommended to take this protein after a workout to get the most out of the muscle-repairing benefits, but you can still utilize it at other times of the day if you wish. The flavors are decadent enough when mixed with a serving of your favorite milk, but do well in a smoothie, too!
4. Maximuscle Cyclone All-in-One Protein Powder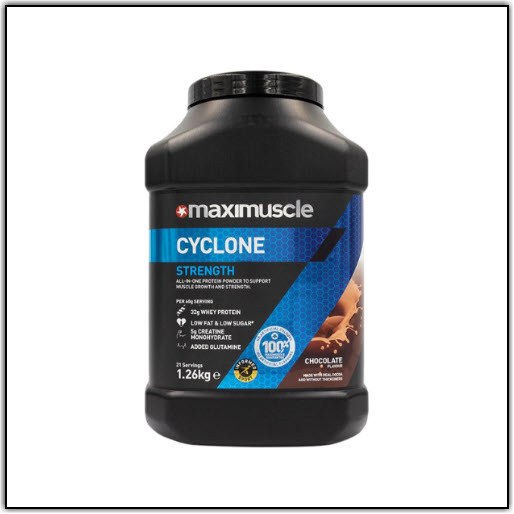 Maximuscle Cyclone All-in-One Protein Powder is a unique product that offers a little of everything. It starts with an above-average amount of protein per serving, offering 31-32 grams. It uses an improved protein blend that's 54% whey protein isolate that supports muscle strength and growth to the max. It also boasts moderate sugar and fat content, at around 2.5 grams of each, and about 15 grams of carbs.
You're also getting five grams of creatine per serving which is also slightly above average and works to even further support your muscles in their growth process. Lastly, it includes high levels of calcium and zinc for a nutrition boost, and it has added glutamine!
Creatine and glutamine are both available as separate supplements, and there are times and places to take them individually, no doubt. But there are also times when it's most beneficial to combine them with your protein and have them support you in your workouts and training sessions. When that's what you want, this protein has you covered. The flavors include all three classics – strawberry, vanilla, and chocolate, along with what they call banoffee, a flavor made with real bananas.
5. Cellucor Whey Sport Protein Powder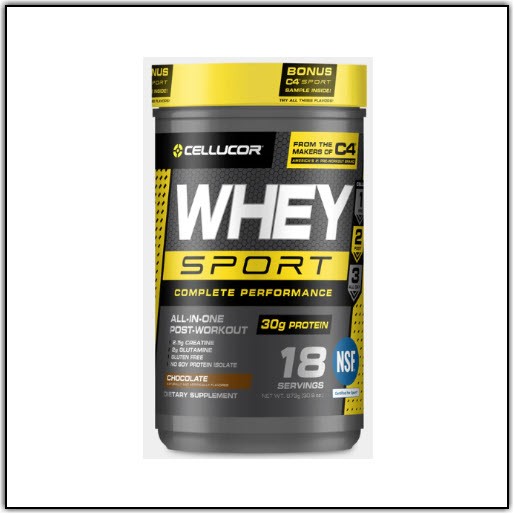 Cellucor Whey Sport Protein Powder is another great supplement that offers some of everything for athletes or gym-goers who want to maximize both their performance and their muscle growth.
Each serving of this protein features 30 grams of protein, 2.5 grams of creatine monohydrate, and two grams of glutamine. This offers optimal support to muscles while supporting your joints as well – making your workouts that much better and more effective. It's also been NSF-certified for sport, meaning it's been tested for safety as well as purity, and athletes competing in high-level sports can take it with confidence.
It features a high-quality blend of whey protein concentrate and whey protein isolate that offers wonderful mixability and an incredible taste. There are several flavors available including the classic chocolate and vanilla, with each one ranging from 160 to 170 calories per serving.
Natural Sources of Creatine
While supplementing with creatine is a powerful and effective way to boost your workouts, you can also try getting more into your body through whole food sources. It's not something many think about when deciding what to eat and which nutrients to aim for, but it's good to know where to find it in nature!
Red meat. Things like beef, pork, and even lamb are not only high in iron but they offer some natural creatine as well. Steak, in particular, is very high in creatine, with an average steak offering about five grams per kilogram of uncooked meat. This alone is the dosage offered in many supplements. 
Herring. Herring is a delicious, flaky fish that is beneficial for many reasons. In addition to high levels of omegas, protein, vitamin E, and selenium, it offers 3.5 to 5 grams of creatine per pound. It's also known to contain some of the smallest amounts of mercury among fish.
Eggs. Eggs are healthy, low-calorie, high-protein food with many benefits. In addition to the many vitamins and minerals you'll get, eggs also contain methionine, a substance that will help your body produce more creatine on its own. 
Seaweed. Like eggs, seaweed is quite healthy on its own with a concentration of essential amino acids and iodine. Spirulina is a type of seaweed with the most creatine at about 0.86g grams. This doesn't sound like a lot but you can work greens like this into a lot of recipes. Spirulina also helps lower body weight by stopping the body from absorbing fat!
Watercress. This veggie is powerful and healthy in many ways. It contains glycine with helps the body produce more creatine naturally. It's also extremely low in calories, which, when paired with enhanced creatine production makes it a bodybuilder's dream come true.
Parmesan cheese. Many kinds of cheese contain plenty of protein and creatine along with other healthy nutrients. Parmesan, however, offers the highest creatine content at about 2.9 grams per serving. Cheese also tends to have lots of calcium, but also features lots of fat and salt so it's important to be moderate in your cheese consumption!