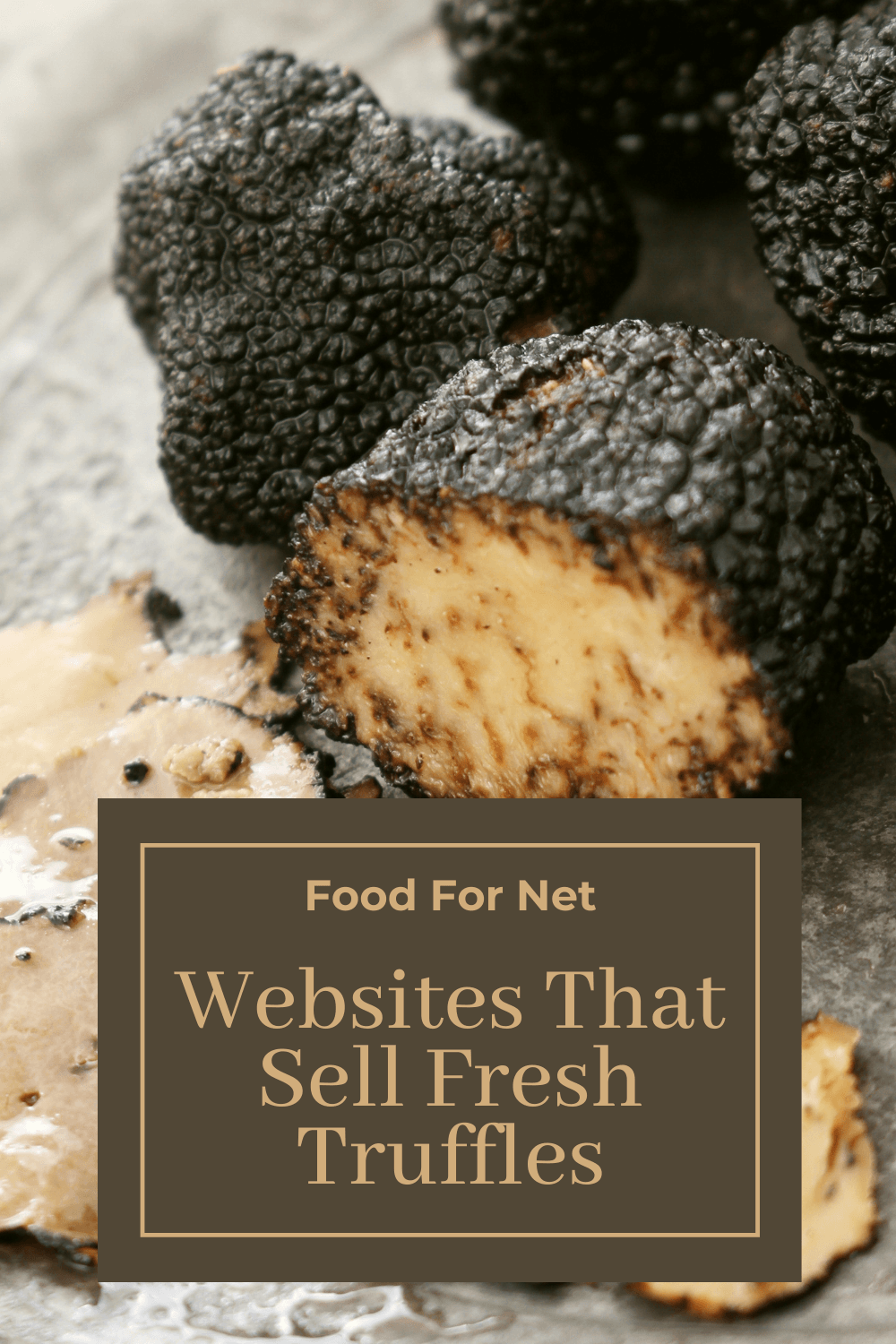 Most commonly grown in Italy, truffles are an exotic treat with a unique and interesting flavor and a strong aroma that makes eating them an entire experience. They have a deep, musky, earthy smell and many say their flavor matches the aroma.
They are often described as sweet and juicy with savory notes. Many like to enjoy them on their own, but their strong and abundant flavor makes them a great addition to many dishes. They're also used to create other unique, truffle-flavored products like oils, butter, salt, spreads, juices, and more.
For a truffle enthusiast, there are many ways to enjoy them. There are also various different types, including multiple varieties of both black and white truffles.
Some kinds are more common than others, but all are difficult to come by. This is why you're probably best to buy fresh truffles online. Online suppliers will likely have more in stock than any local store, and they'll deliver to you immediately, meaning you're getting them as fresh as possible.
In fact, looking online is the best way to find anything that is a little tough to find locally, like durian fruit. Many other foods can be found online too, including fresh fruit, vegetables, and seafood.
Where to Buy Fresh Truffles Online
Dartagnan8
Marky's
Oregon Mushrooms
Truffles USA
Gourmet Food World
Regalis Foods
Truffle Hunter
Trovatore Truffles
1. Dartagnan

Dartagnan is committed to free-range, natural, sustainable production, and humane farming practices. This is at the core of their operation and they partner with only the best farms with the strictest standards. When it comes to meat, they must use not additives, antibiotics, or hormones. Ultimately, their goal is to offer you not only the best tasting meat but the most consciously raised.
Their variety of meat includes beef, pork, lamb, bison, buffalo, rabbit, venison, wild boar, veal, duck, chicken, and turkey. Beyond meat, they also have a selection of foie gras, caviar, charcuterie, pantry items, and a section for truffles and mushrooms.
Their fresh truffles include burgundy truffle, Italian white truffle, summer truffle, and black winter truffle. They are all available fresh while quantities last. They are seasonal and often sell out fast. If you miss out on their fresh truffles you can get their summer and black winter truffles preserved in the form of either juice or peelings.
They ship all their products to all 50 American states and the District of Columbia.
2. Marky's

Marky's began in 1980 when it's founder moved from Ukraine to Miami in search of a better place to start his business. By 1983 he opened a small shop that sold smoked salmon and caviar. Soon after the store began expanding to other products and it quickly became known as the "Russian store" as it was a great resource for Russian specialties and delicacies.
Today they are known around the world as one of the largest resources for specialty and elite products. Many things led to their great success, including their dedication to remaining true to their brand's identity and only supplying the absolute best of the best when it comes to quality while maintaining affordable prices at the same time.
They have a huge selection, including seafood, deli meat, pasta, chocolate, cheese, butter, and more. Their truffle section specifically is large and you have lots of options.
You can choose from several different types of fresh truffles – black, Perigord, burgundy, and Italian winter. They also have more truffle products such as truffle butter, truffle honey, truffle sauce, truffle juice, and so much more.
They can ship everything to all 50 states of America. For international shipping, they ask you to contact them to get a quote and check availability.
3. Oregon Mushrooms

Oregon Mushrooms began when its founder began hunting for wild mushrooms and drying them for his own use later on. Then, he began selling bags of his findings on eBay in 1999. The company soon began drawing a loyal following of returning customers and they grew into the diverse online store they are today.
They've expanded from mushrooms to also include truffles, and they have a wide variety of each. They also dabble in berries, sauces, and produce.
Their selection of fresh truffles includes black, white, burgundy, and Italian varieties. You can also get frozen truffles and truffle honey.
Their entire stock can be shipped throughout the United States, and non-perishable products can be shipped internationally.
4. Truffles USA

Truffles USA is run by a family that has been in the business for generations. They are passionate about truffles, specifically truffles and truffle-related products from authentic, family-owned farms in Italy.
They sell a variety of fresh truffles and other artisan products all straight from Italy. They will never mix their stock with truffles from another country as their goal is and always has been to preserve the world-renowned flavors of the Italian truffle.
As truffles are their biggest focus, they have quite the selection. They have a wide variety of both fresh and frozen truffles available, both black and white. They also have specialty products like truffle sauces, butters, oils, and more. They do ship internationally.
5. Gourmet Food World

Gourmet Food World offers a large selection of the finest foods and ingredients from around the world. They look for the best of what every country has to offer and compile it all in one place for the convenience of its customers.
They boast more than 300 gourmet cheeses from around the world, including some of the rarest you'll ever see. Their truffles are top-notch and come from both France and Italy.
In addition to their selection of fresh truffles, you can also get them dried or frozen. They also have many other interesting truffle products like truffle oils, truffle honey, and even truffle cheese.
While their perishable products are only available in the United States, they will ship non-perishable orders internationally.
6. Regalis Foods

Regalis Foods is New York City's biggest importer of exotic and specialty foods like caviar, rare seafood, truffles, and other rare, foraged edibles. They began in 2012 when its founder turned his love for hunting wild mushrooms into a business. He began looking for wild mushrooms when he was only 15 so he brings plenty of knowledge and experience to the table.
The selection of truffles includes two fresh varieties – the Hungarian honey truffle and the burgundy truffle. They also offer winter black Perigord truffles frozen. They also have many truffle products available such as oils, honey, butter, salt, juice, and more. Currently, they only ship their products to locations in the United States.
7. Truffle Hunter

Truffle Hunter is based in the UK and they are a leading supplier of fresh truffles and truffle products. They are as passionate about quality and flavor as their customers are, and they work hard to source and supply only the best. Their black autumn truffles are available fresh while supplies last.
They produce their own signature truffle oils which can be purchased from the website or found in many stores around the world. They also have a selection of preserved truffles, truffle condiments, truffle dairy products, and more.
Once you've purchased your truffle goodies they also have a recipe section where you can learn to make many amazing and unique dishes featuring their truffles and truffle products.
Truffle Hunter delivers to all countries except for Australia, though they don't cover duty charges for orders outside the EU.
8. Trovatore Truffes

Trovatore Truffles source the best, freshest truffles directly from Italy and offer them fresh to customers. They have some information on truffles and where they come from on their website if you're interested in learning a little bit about truffles. They explain that there are dozens of varieties, but they offer only the best.
Their selection of fresh truffles includes white truffles, burgundy truffles, and Norcia black winter truffles. They ship their truffles directly from Italy, with fresh products arriving within 72 hours at most. They ship worldwide.
Things to Consider When Buying Fresh Truffles Online

Truffles are a rarity not often found in grocery stores. This is why many must buy fresh truffles online. There are many online stores that work hard to source the best, freshest, most flavorful truffles to offer their customers. But, there are many different kinds of truffles and plenty you can do with them, so look for a company that meets all your needs.
The Variety
If you're new to truffles, you may want to try a few different kinds. Or if you're an experienced truffle connoisseur, you probably have a favorite. Not all stores will offer all varieties, so if you want a specific type of truffle, don't settle. They may be rare, but there is a store out there that has what you want, even if it takes some time to find.
The Cost
Because of their exotic nature and limited harvest each year, truffles aren't cheap at all. Even a quarter of a pound can cost upwards of $100, so make your selections wisely. If you want some truffles as a treat but don't have much to spend, look for a company that sells them in very small quantities.
Other Products
While fresh truffles are a delicious and aromatic experience on their own, they can also be made into a variety of other products. Their flavor lends itself well to oils, special salt, juice, spreads, and even truffle butter. If you're interested in this, look for a company that does it all so you're only ordering from one place.