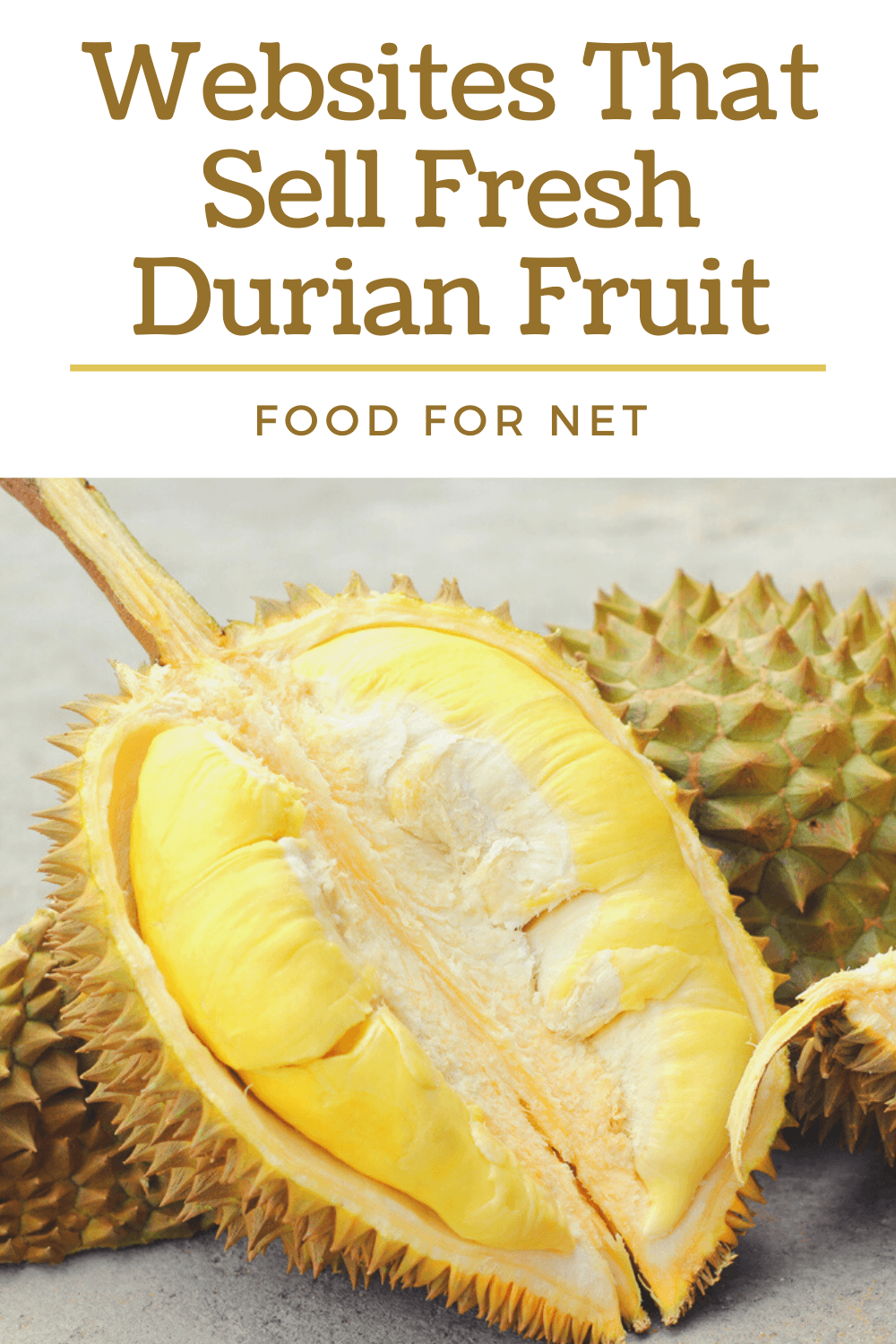 Durian fruit is known as the smelliest fruit in the world. This may sound a little dramatic, but it's true. It's so true, in fact, that most public transit systems throughout Hong Kong, Japan, and Thailand – here the fruit is quite common – have banned the fruit. Even most taxis refuse to carry passengers with the fruit. If it's so smelly that taxis won't handle it, can you even buy fresh durian fruit online and ship it to your house?
So why, then, do people suffer through the smell to eat it? It's still a desirable fruit due to it's sweet and unique flavor, cheesecake-like texture, and an incredible list of health benefits. While it might be difficult to get home, it's well worth the effort – often nicknamed "the king of fruit."
To begin with, the durian fruit has a long list of nutrients with high potency. Highlights include 80% of daily vitamin C, 61% of daily thiamine, 39% of daily manganese, 25% daily copper, and many more – in just one cup. It also contains 9 grams of fiber and 4 grams of protein per serving.
This strong nutrient profile makes the durian fruit not only the smelliest fruits in the whole world but one of the most nutritious as well.
The durian fruit and its parts – the leaves, husk, root, and fruit – have all been used in traditional Malaysian medicine to treat various conditions, such as fever, jaundice, and skin problems. It's also a popular healing aid as studies suggest it can fight infection, lower blood sugar, and help prevent cancer and heart disease.
While it's extremely nutritious, it's important to note that the fruit should not be mixed with alcohol. This sounds like a strange directive for a simple fruit, but studies have found that the sulfur-like compounds in the fruit may prevent enzymes from naturally breaking down the alcohol. This results in higher levels of alcohol in your blood.
If you're game to try this enticing, exotic treat, you may have your work cut out for you searching for durian fruit for sale locally. If you don't live in a country where it's common, you're likely better off to buy fresh durian fruit online and have it delivered. Be prepared, though, as the fruit is only available in limited quantities even online and it's often extremely expensive.
If you're looking for something a little closer to home, then there are many other types of fruit that you can buy online, like cranberries, apples, blueberries, and sour cherries.
Where to Buy Fresh Durian Fruit Online
Exotic Fruits USA
Miami Fruit
Centra Foods
Tropical Fruit Box
1. Exotic Fruits USA

Exotic Fruits USA has been passionate about exotic fruit since 1899 and is currently the lead online retailer of exotic fruits. They work hard to source the rarest and most exotic fruits that so often seem impossible to come by. Beyond finding them for you, they guarantee superior flavor, maximum freshness, and premium quality.
While you can create an order of individual fruits, they also have many other options for even the most dedicated exotic fruit enthusiasts. They have gift baskets available if you want to treat yourself or someone else.
Their fresh durian fruit is particularly spectacular – they boast the most flavorful durian available. Considering the durian fruit is already known for its potent flavor, this is a bold and exciting claim. They have five different kinds of durian available, including regular durian fruit, mao shan wang durian, XO durians, sultan king durians, and musang king durians. However, availability varies over time. You might sometimes only see one or two types of durian sold on the site.
Currently, the only ship to the United States.
2. Miami Fruit

Miami Fruit is another company that's passionate about its exotic and tropical fruit and they work hard to deliver the best quality fruits throughout the United States. What sets them apart from other resources is that – almost – all of their fruit is grown right in the United States, by hardworking farmers that are just as passionate about producing high-quality tropical fruit.
You can buy boxes of fresh fruit based on what's currently in season, from coconuts and limes to dragon fruit, passionfruit, and everything in between. You can sign up for their newsletter for regular updates, or check their website to see when your favorite comes back in season.
If you don't want to wait, they have a huge variety of freeze-dried, dehydrated, and otherwise preserved tropical fruits that are available online at any time.
In addition to individual fruits, you can buy a variety box if you want a little of everything. Their basic variety box will include the best of what they have in season at the time of ordering. The premium variety box includes the same as well as a limited number of rare fruit. For banana enthusiasts, they also have a banana variety box that contains a mix of their available exotic bananas.
Their durian fruit is available fresh and shipped to your door quickly and well-preserved. Durian is one thing that they do have to import and quantities are extremely limited. To guarantee you get one after the next harvest, you can pre-order. Or, you can see if they have any frozen durian available if fresh isn't an option.
If you're new to any of their exotic and tropical fruits, they offer a free smoothie recipe e-book to get you started with some ideas.
They ship throughout the United States and have recently started shipping to Canada as well, though they don't offer their sales or discounts to Canadian customers.
3. Centra Foods

Centra Foods is a Canadian company that focuses on north of Toronto and the York Region. This likely means you can only order durian fruit from them if you live in Canada, ideally within their focused regions. I say 'likely' because delivery information isn't clear on their site at all.
Still, with so few companies offering fresh durian fruit, Centra Foods is worth talking about. Their fresh durian fruit is shipped by air and costs $12.99 per pound. This averages to around $78 per fruit, although the exact price will be determined by the weight of your order.
You can also order frozen durian fruit. While this mightn't be as appealing as the fresh version, it does cost $5.99 per pound, making a whole fruit considerably less expensive. You can also find other exciting fruits on their site, including dragon fruit, mangosteen, soursop, longan, and cactus pear.
4. Tropical Fruit Box

Not surprisingly, Tropical Fruit Box focuses on tropical fruits. But, we're not just talking about the familiar ones like mango and pineapple (although those are available too). Tropical Fruit Box goes far beyond those offerings to focus on fruits like soursop, mangosteen, Pinkglow pink pineapple, cacao, yellow dragonfruit, and longan.
Many of these fruits can be ordered in their own boxes or you can choose a mixed box instead. These mixed boxes allow you to try a huge variety of exotic and exciting fruits. There's even a tropical roots box, the like of which I've never seen before.
At the time of writing, Tropical Fruit Box is completely sold out of fresh durian. However, they're likely to have more in the future.
The durian is always fresh and averages 6 pounds. It's expensive, though, costing $159 for a single fruit. Reviews show that some customers did pay the price and were extremely happy with what they received.
Special Mention: Year of the Durian

Year of the Durian doesn't actually sell fresh durian. The company focuses on frozen durian instead, but has some unique features that make it worth considering.
The most interesting thing is that you're not buying an entire durian fruit. Instead, you're getting small vacuum sealed bags of durian flesh. Each bag comes with tasting notes and an explanation card about the fruit.
The card is incredibly helpful, as the boxes from Year of the Durian often contain multiple varieties of durian (sometimes six or more!). You get to compare and contrast the different types of durian, noticing their nuances and learning more as you go. Most other companies just provide a single large durian fruit.
You can even build your own box of durian and choose the varieties that interest you the most. The price varies depending on the types of durian you choose and the size of the box, although you're still paying a decent amount. For example, the 400 gram bags of durian pieces are often somewhere between $19 and $30.
You need an order size of at least 2,400 grams, suggesting you'll normally need to pay more than $100 for your durian.
Things to Consider When Buying Fresh Durian Fruit Online

Named the king of fruit for a reason, durian is a widely sought-after fruit by exotic enthusiasts, and yet it's often very hard to come by due to a limited quantity being imported from overseas. There's also a lot to consider when finding fresh durian for sale, so make sure you don't rush into a purchase.
The Cost
One of your biggest considerations should be the cost. Due to its rare and elusive nature, the fruit is often quite costly. Most companies do their best to keep prices down as much as they can, but pricing is subject to the availability of the fruit. A single durian fruit can cost around $150 if you're lucky, it can be even more.
If you've got some money to spare it's a great treat to order yourself, even if it's just to say you've tried it. However, the price point of the fruit makes it difficult for most to incorporate it into their diet regularly.
The Source
Considering the amount of money you're paying, you want to make sure that your durian fruit is coming from a good place that produces them in a healthy way. A good exotic fruit company will be open and transparent on their website about where they get their fruit and how it's handled.
Durian is grown in Indonesia, the Philippines, Thailand, and Malaysia, with some locations importing to the west more than others.
There are a few American locations that attempt to grow the fruit, including Hawaii and Puerto Rico, where the temperature is sometimes favorable. There is also a small area in Miami where the fruit is sometimes grown. Of course, purchasing it from an American grower will likely be cheaper, but don't get your hopes up as quantities will be limited and the fruits will go fast.
Availability
Of course, availability is limited so even if you're willing to spend the money, you might not be able to get the fruit. If you can't find it fresh, consider looking for frozen or freeze-dried options. If you don't want to wait, this is the next best thing.
What To Expect With Durian Fruit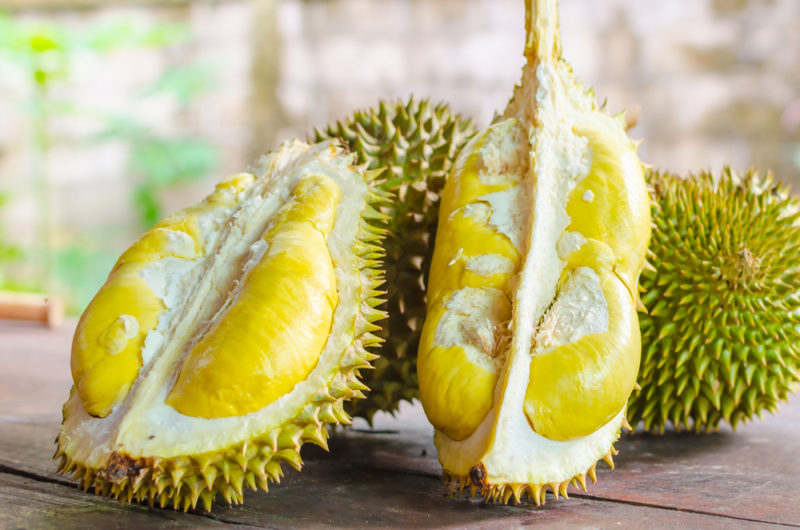 What Does Durian Smell Like?
Durian is most famous for its smell, which is intense and quite unpleasant. It is sometimes compared to sewage or garbage and is strong enough that some hotels in Asia have actually banned the fruit entirely. Keep this in mind when you're ordering durian online, especially as the smell tends to linger.
What Does Durian Taste Like?
Despite the intensely unappealing smell, durian actually has a delicious flavor. It's often said to taste sweet and a little like custard. Other flavor notes are present too, including some unexpected ones like cheese and garlic. While this flavor profile doesn't appeal to everyone, many people do love durian and seek it out.
Durian Vs Jackfruit
You've probably seen jackfruit flesh or products before, as the fruit has become popular as a plant-based meat alternative. Durian and jackfruit are similar visually, although jackfruit tends to be larger and doesn't have the same spines found on durian.
The flavor profiles differ too. Both fruits are sweet, but durian has some savory and salty notes, while jackfruit tends to be just sweet. Jackfruit also doesn't have the same intense smell, which is helpful if you're getting it shipped to you.
Because there are so many differences, it's worth trying both types of fruit at least once. They're both an amazing experience and you might find a new favorite.