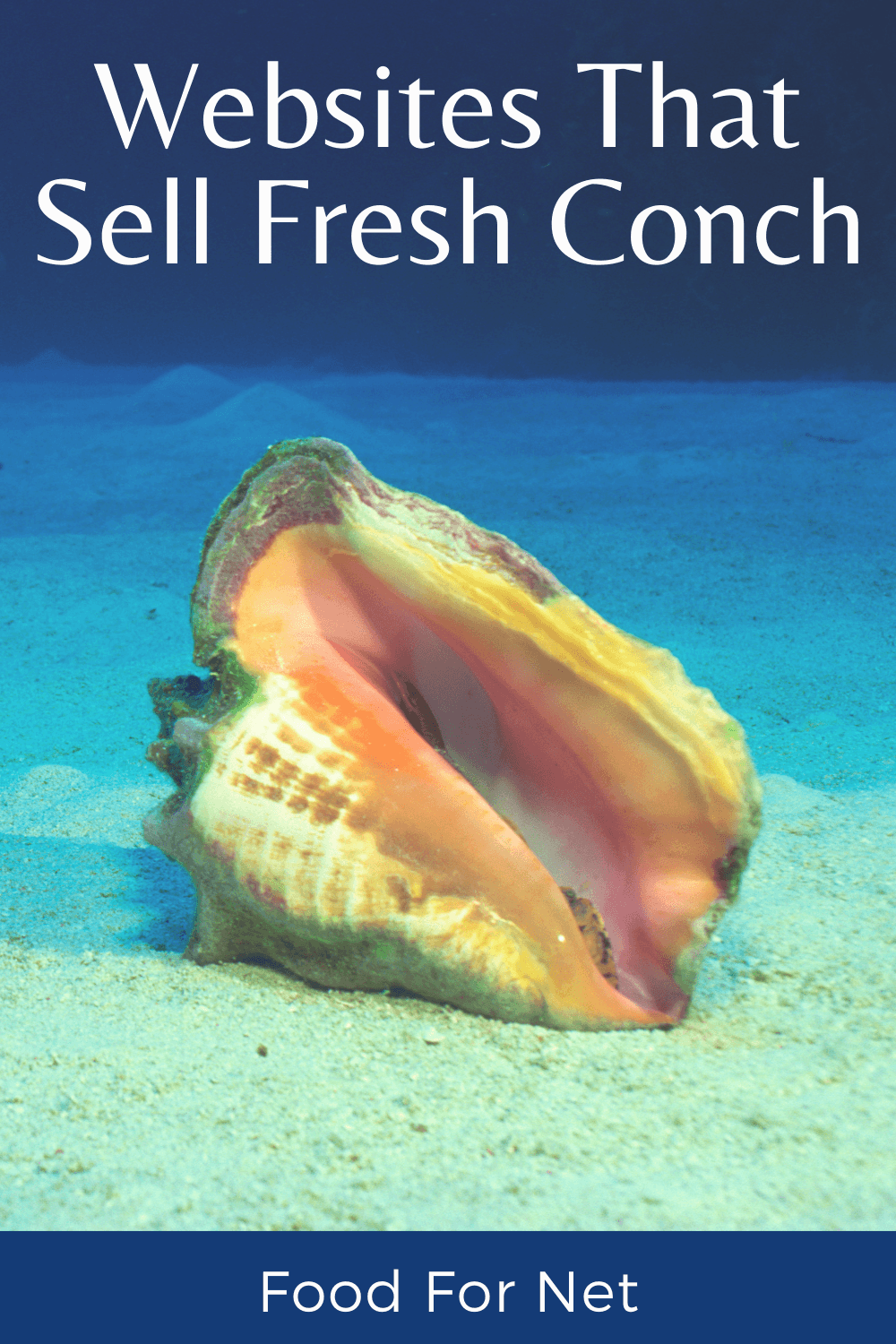 Not only are conch shells lovely to look at, but their meat is also an underrated, flavorful delicacy with many health benefits to offer. 
First of all, it's a good source of lean protein as well as iron, vitamin E, B12, selenium, folate, magnesium, and calcium. Like other shellfish, it's also a good source of fatty acids that work to support heart health and prevent heart disease. 
If you've never considered eating conch before, you may wonder how you even go about eating it. It's great when minced and marinated, though some do like eating it raw and chopped up into salads, soups, chowders, stews, and more. 
Conch is pretty versatile due to its mild, slightly salty flavor. It's soft and rubbery when chewed, meaning it's great for adding texture, bulk, and nutrients to a meal without drastically altering the desired flavor profile. 
Because conch isn't as common as many other sea creatures, it may be a little harder to come by especially in a typical grocery store. When you buy fresh conch online, though, you can get access to the freshest meat with the fastest shipping, and peruse your options.
You can find many other types of seafood online too, including various types of fish, prawns, and oysters.
Where to Buy Fresh Conch Online 
Key Largo Fisheries
Eaton Street Seafood Market
Keys Fisheries 
Carolina Fish Market
Wholey
Giovanni's Fish Market
Key West Shrimp Company
Fishbusterz
1. Key Largo Fisheries 

Key Largo Fisheries was opened in 1972 by a family that loved fishing. They started small, working hard to provide high-quality and sustainable seafood to their community. They've become somewhat of a local legend while also shipping their products throughout the United States. 
The fishery is currently owned by the fourth generation of the founding family and is the go-to source for seafood for locals and tourists alike. They have a great selection of conch products including fresh, tenderized conch, conch steaks, conch salad, and conch chowder. They also sell their own cocktail sauce to go with all their seafood. You can also buy wholesale through them and they offer catering to those in the area. 
2. Eaton Street Seafood Market

Eaton Street Seafood Market was founded in 2007 with a desire to sell the amazing, quality seafood caught by the local fisherman and give customers a convenient place to look for it all. The market started very small but has since grown into a well-known thriving market with an online store that ships nationwide. 
Their selection of conch includes fresh meat a well as conch chowder and conch ceviche. They also have a selection of shrimp, lobster, crab, and plenty of salads, sauces, and meals made from their fresh seafood. 
They also operate a local restaurant, which was praised by the New York Times a year after its opening for the work they were doing to bring local fish to the community while ensuring everyone gets a good deal. 
3. Keys Fisheries 

Keys Fisheries is located in the heart of Florida and is one of the most popular restaurants in The Middle Keys. They serve amazing seafood meals as customers overlook amazing views and gorgeous sunsets. They also operate a local seafood market for those wanting to bring some home for themselves. 
Their online store also has a great selection of fresh, quality seafood that goes right from the ocean to homes across the United States. They have quite a few options when it comes to conch, including conch steaks, ground conch, conch salad, and a special pre-made batter for making conch fritters. 
They also have fresh lobster, shrimp, crab legs, hogfish, and more as well as some pre-made soups and sauces.  
4. Carolina Fish Market

Carolina Fish Market offers a vast selection of seafood, exotic meats, and other fine foods. Their selection of seafood includes flounder, snapper, halibut, salmon, cod, trout, clams, mussels, conch, and much more. Their website lists what's in season and available that day, and indicates whether the seafood is caught locally or not. Many are locally caught. 
Their meat department has just as impressive of a selection, offering all the basics like beef, chicken, pork, etc. They also have a great selection of rarer and more exotic meats like lamb, elk, venison, and more. 
Lastly, they have a section for specialty pasta and sauces. This includes egg noodle pasta, spinach pasta, wild mushroom pasta, and more. All are shipped fresh. Shipping on all products is available throughout the United States. 
5. Wholey

Wholey is an online seafood market that specializes in getting fresh, high-quality seafood to you fast. They chose to go with an online store because it allows them to get a greater selection of food to more customers, fresh and fast. You don't have to worry about making a trip to the grocery store and they can process the product quickly and get it shipped while still nice and fresh. 
They did start as a local store back in 1912 but took to the online side of things as soon as being online became a viable option. 
When it comes to meat and fish, they have all the basics like shellfish, shrimp, lobster, pork, poultry, etc. But, they also have a great selection of specialty options. This includes lamb, turtle, rabbit, escargots, conch, and more. Delivery is available nationwide. 
6. Giovanni's Fish Market

Giovanni's Fish Market has been around for more than 25 years and is still family-owned and operated to this day. It was taken over by Giovanni himself in 2004 and he has continued the family tradition of providing fast delivery of delicious, fresh, high-quality seafood and other seafood products at the best prices possible. 
They have a great selection available, including shrimp, shellfish, lobster, oysters, crab, and even sushi. They also have specialty fish like conch, spiny lobster, poke cubes, and sablefish. If you're new to cooking conch, they have some information available on the product page as well as a recipe for conch fritters. 
They also have a selection of sauces, spices, and soups all geared toward making the seafood experience even better. They have cocktail sauce, wasabi, tartar sauce, tempura fish batter, clam chowder, and more. Shipping is available throughout the United States. 
7. Key West Shrimp Company

Key West Shrimp Company is a small, family-owned company that began when the founder retired from the Navy and decided to go back to his roots in fishing and seafood. Today, he runs the place with his children, fishing daily for the best catches, and serving or shipping them to their customers right away. 
They began as a wholesale provider but eventually grew into more of an online store, available for everyone to order from even if you're only looking for one pound of fresh fish. 
Their selection includes crab, lobster, shrimp, grouper, snapper, lionfish, salmon, conch, cobia, and more. They also have a selection of sauces, bakery products, seasonings, spices, and alligator meat for sale as well. Shipping is available nationwide, with free shipping to Southeastern states on orders above $300. 
8. Fishbusterz

Fishbusterz is the largest wholesale fishery in the state of Florida, operating out of a state-of-the-art facility in Key West where they process a huge variety of fresh-caught fish. Their selection includes shrimp, swordfish, tilefish, kingfish, mackerel, calamari, lobster, conch, and more. 
In addition to their fresh conch meat, they also sell conch ceviche, conch fritter mix, conch chowder, and ground conch. 
They ship out truckloads to places all over the country every single day as well as smaller overnight deliveries to residences. They also offer wholesale bait, ice, and fuel. They ship nationwide and offer free delivery to those living in the Keys. 
Things to Consider When Buying Fresh Conch Online

Conches are well known for their large and beautiful shells but they're not eaten nearly as often. This is a shame, as their flavor is mild and the meat is versatile – some even put it into salads raw. If you want to buy fresh conch online, consider the following things first: 
How You Want it 
While many places sell fresh, plain conch meat, there are a few popular ways to cook it that are most popular. Conch ceviche, conch chowder, and conch fritters are popular ways to prepare conch. Many places sell these things pre-made in addition to the fresh meat, so if this is what you're after buying it pre-done could save you plenty of time and ensure that it gets done right. 
Other Fish 
While it might conch that you're after specifically, it's good to get all your seafood from the same place if you can. This helps you save on shipping and you can be confident you're getting good quality fish, once you find the right place. 
Consider the variety offered by those selling conch. Do they only carry a few small specialties, or does their selection include a wider ranch of options? 
How Much You Want
Lastly, consider the amount of conch meat you need or want. While it's not a terribly expensive seafood, most places sell it by the pound, meaning you'll need to buy at least a full pound of the meat. This just means you'll need to either eat/cook it all at once or be prepared to store it properly to make it last.