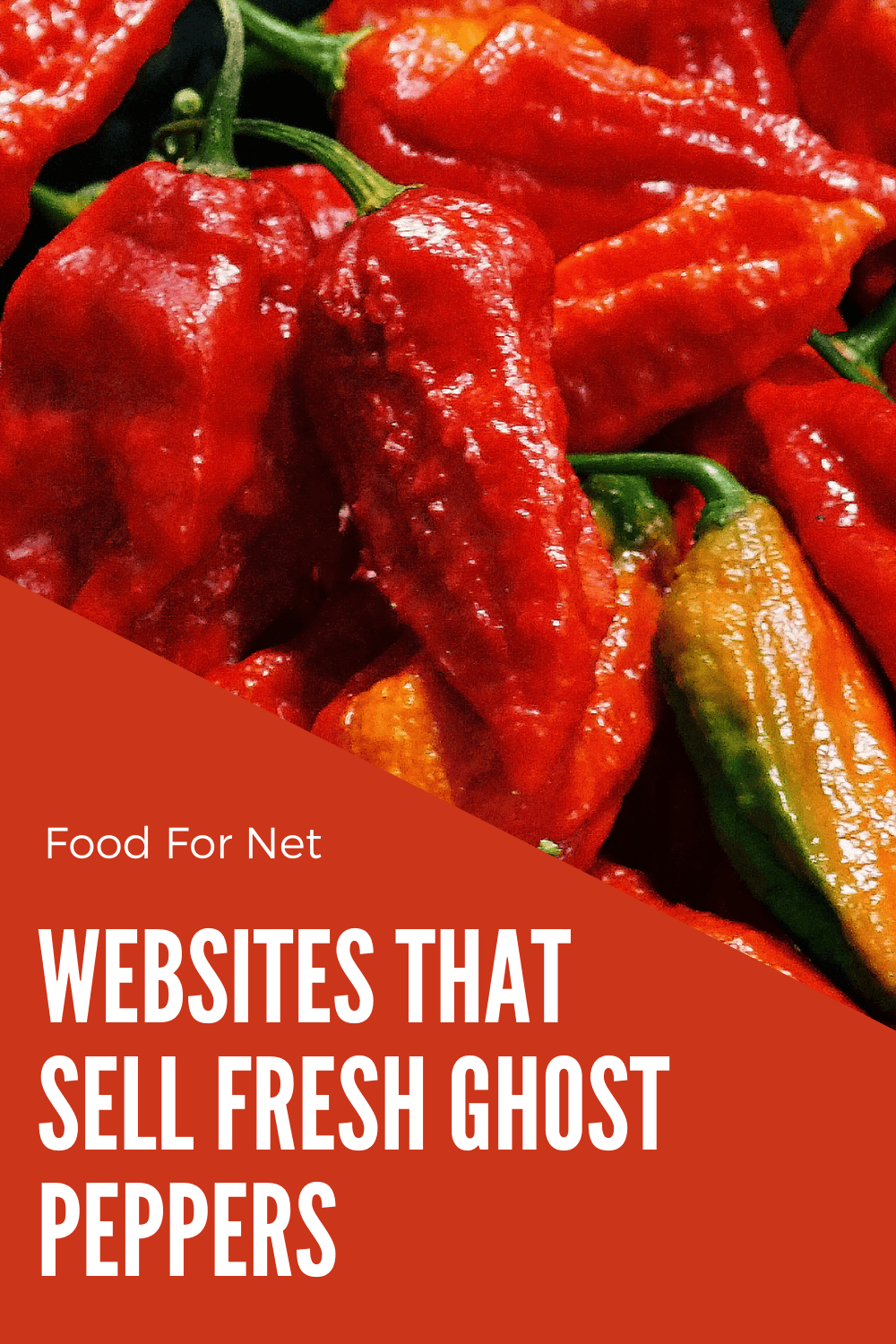 Many people are familiar with chili peppers and jalapeno peppers and the like, but few can withstand the heat and intensity of a ghost pepper. With some varieties being up to 100 times hotter than a regular jalapeno, it's not for everyone.
If you think you're up to the challenge though, eating these peppers and/or using them to spice up and season your cooking is a unique experience and you'll get bragging rights. Not only is the flavor something unique but these peppers come with many health benefits.
Regular consumption of certain ghost pepper varieties can be a good addition to a weight-loss program as the peppers can help curb your appetite and ramp up the speed at which your body burns calories. They can also ease pain, clean your sinuses, and even stop certain bacteria from growing. They also contain a solid amount of vitamin C.
However, it's also important to note that eating too much of the peppers can potentially be detrimental to your health so you must find a good balance. The possible side effects aren't life-threatening, but it's good to be aware.
While it's more of a myth that the super-hot peppers themselves can cause physical damage, what it can do is send "pain" signals to the brain. Too much of this too quickly will cause the stomach to react as though there's a toxic substance. This can cause vomiting, and the acid that comes up with this is what can cause damage and irritation.
If you can find a pepper you like, the best way is to incorporate the pepper into your regular cooking routine so you're consuming small amounts along with other food. You can also get organic ghost pepper hot sauce or get a powdered spice blend to use as seasoning.
Unfortunately, ghost peppers can be tricky to find in stores, especially fresh. They are becoming more common as time goes on and more and more people are starting to grow them, but in the meantime, it's probably easier to buy fresh ghost peppers online.
You could look online for other seasonings too, like turmeric root and fresh spices.
Where to Buy Fresh Ghost Peppers Online
Ghost Pepper Store
Home Sweet Home Grown
Ghostly Hots
Firehouse Chili
Ghost Pepper Farms
1.Ghost Pepper Store

Ghost Pepper Store began in 2009 when the founder embarked on a search for domestically grown, fresh ghost peppers that were of good quality. The company came up empty-handed. The only options available were dried, imported peppers and they weren't great.
So, they decided to grow their own and started with a single variety of ghost pepper – the red ghost pepper or bhut jolokia as it's also known. They launched their website in 2010 and officially became the first company to offer fresh ghost peppers to the general public in the United States.
They went through much trial and error in the early years but soon developed the best practices in the industry for growing and shipping peppers as well as handling customer service. Once they had secured a small but stable customer base they began offering more varieties of the ghost pepper. Today, they grow 20 different varieties each year and are always looking for opportunities to expand even further.
You can buy the peppers fresh and individually, or get them in variety packs if you want a few of each. You can also get them dried and/or smoked if you'd prefer, though all varieties are always available fresh. Some are also available as a powder.
They ship their peppers throughout the United States but if you really want them fresh you'll have to be quick. Most varieties sell out very fast once they become available.
2. Home Sweet Home Grown

Home Sweet Home Grown essentially began when the founder accidentally planted too many peppers in her garden before taking off on a cross-country book tour. She came home to hundreds of pounds of peppers. She and her husband decided to turn them into hot sauce.
With these peppers, they created a ton of new, unique flavors and blends while also adding other super healthy ingredients like chia seeds and raw cacao. Each bottle of hot sauce is free from additives, colors, preservatives, pesticides, and are all farmed and made organically by them.
Any peppers they don't use for their specialty hot sauce they'll sell fresh to the public. You can choose from 18 varieties, or try them all. Like the hot sauce, you can be confident in the way these peppers were grown – organically and with no sprays or chemicals.
For those that are particularly passionate about peppers, they have a special subscription box available as well. For each month of their harvest season – September, October, and November – subscribers will be sent a large box filled with different peppers, ranging from the mildest to the hottest available. The company is always looking for new and rare varieties to add to their roster, so each year will be a different experience.
Their peppers and other products can be shipped internationally, though they will be subject to any laws or restrictions a country has in place.
3. Ghostly Hots

Ghostly Hots is owned and run by a small group of military veterans who love working together to provide some of the best food and other products on the market. One of their specialties is ghost peppers. They sell their fresh ghost peppers by the pound but they also make some incredible hot sauce.
They use a combination of regular ghost peppers and scorpion peppers to achieve a flavor that is like no other. It's so hot and potent that you only need a few small drops to experience the sauce in your desired dish.
Their hot sauce comes in two flavors, either pre-made by the bottle or in concentrate form, which you can buy in various quantities ranging from a quarter pint to an entire quart. They also offer a ghost pepper powder if you'd like to have their signature flavor as a regular seasoning.
Their peppers and related products can be shipped anywhere in the United States, including army bases.
4. Firehouse Chili

Firehouse Chili proudly exports the world's hottest peppers around the globe. They work hard to ensure their peppers are harvested in the purest form and have the highest concentration of heat and flavor.
They have several varieties of ghost peppers and chili peppers available, all of which they promise will deliver a unique and exhilarating experience. They service all kinds of customers, from individual pepper enthusiasts to food manufacturers and award-winning restaurant professionals alike.
For those that want to expand their ghost pepper experience, they also offer high-quality seeds that you can use to plant and grow peppers at home. You can also get a variety of hot chili seasoning and specialty pepper-infused salts to make cooking that much more interesting.
If you're wondering exactly how to use the peppers or just want some new ideas, they have a series of hot chili recipes on their website that you can browse and try out once you get your peppers.
5. Ghost Pepper Farms

Ghost Pepper Farms is a farm dedicated to all things ghost peppers. The company is run by a father-son team committed to growing the hottest peppers in the world. They carry many varieties, including the world's hottest Carolina reapers. Their peppers can be purchased and shipped fresh or you can browse their selection of other pepper products.
Other products include high-quality seeds, unique spice blends, and some of the world's hottest hot sauces. They also make what they call super hot peanuts. These are extra-hot little pepper bites that are coated in more pepper and are supposedly even hotter than eating regular peppers – up to three times hotter.
They're a fairly new company so they're still working on building their inventory and coming up with newer and hotter creations all the time. Currently, they only ship their products within the United States.
Things to Consider When Buying Fresh Ghost Peppers Online

Shopping for ghost peppers isn't always the easiest thing so if you've opted to buy fresh ghost peppers online, consider these things before you place an order:
Variety
There are several varieties of ghost peppers, with some being hotter than others. The California reaper currently holds the record as the hottest in the world, but new varieties and hybrids are being created and discovered all the time.
If you want to take on the hottest possible pepper, look for the California reaper. If you want a challenge but hope to keep it milder, do your research on different varieties before buying anything.
Availability
Many ghost peppers, especially the more popular varieties, aren't often available. Harvest season only lasts a few months and after that, they usually sell out pretty quickly. If you're hoping to buy them fresh, make sure you're looking at the right time of year and that you order them before they sell out.
Other Forms
If you want to reap the health benefits of these intensely hot peppers but can't handle the heat directly, consider getting them in another form. You can get sauces and powders to add to your food that won't be as intense and it gives you more control over how much goes into your dish.
Many farms that harvest their own peppers also make products like these.