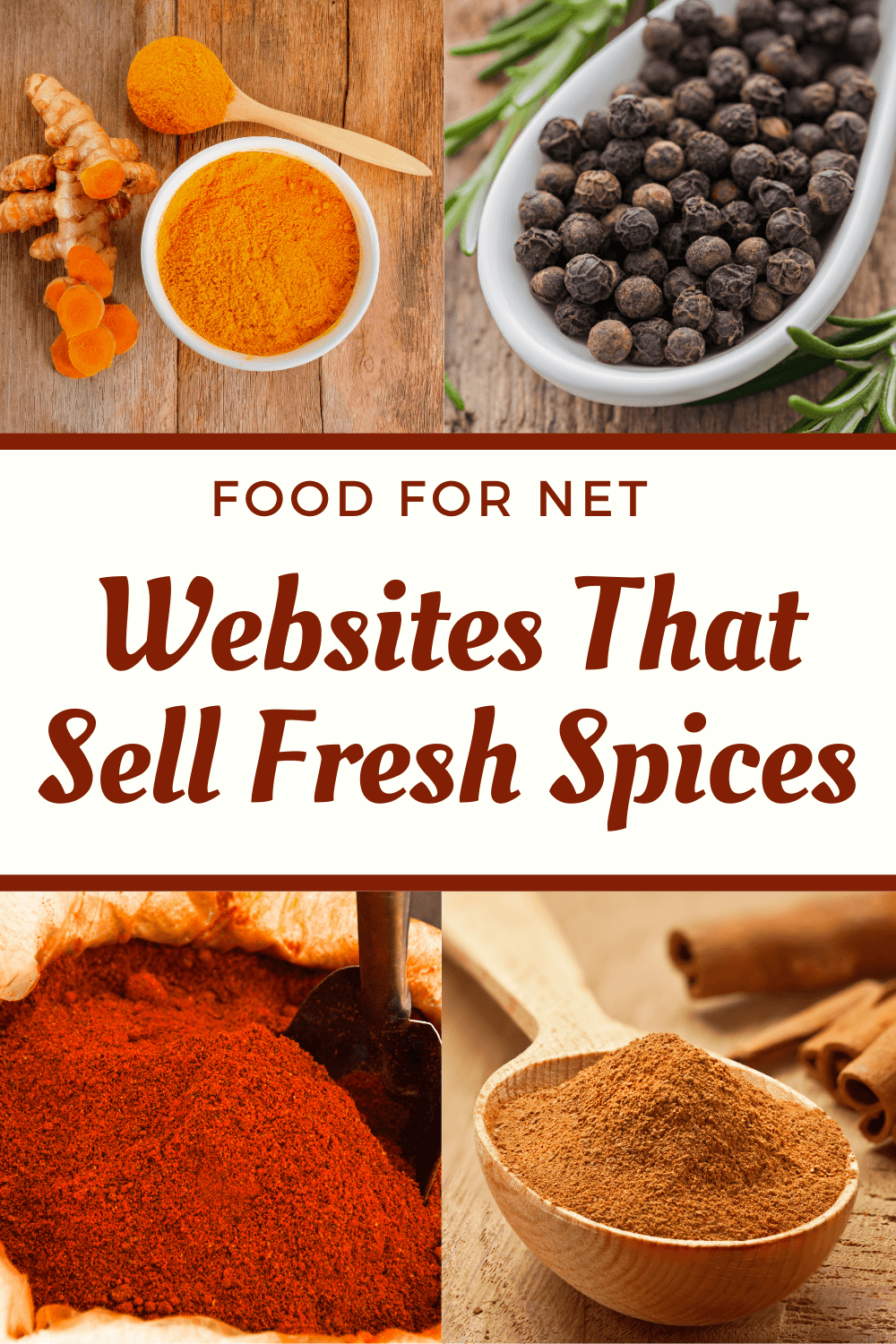 Spices have been used for many purposes throughout history. Some cultures have used them for health and healing, though their most common use is for flavor. Different spices can be used for anything, from seasoning meat to spicing up a smoothie.
Even though the flavor is often the main goal, however, many spices do come with a series of health benefits, especially when bought fresh and organic with no additives.
That being said, not all spices are made equal. Some companies are much more interested in pumping out cheap spices with plenty of filler in order to profit. You need to find a company that cares about not only the quality of their spices but the freshness.
If you want to get the most freshness and flavor out of your spices, it's best to buy them whole and grind them yourself. Much like coffee is best when it's ground immediately before brewing, spices don't retain their flavor forever once ground.
Many coffee grinders work just as well for whole spices. If you're already a regular coffee grinder, it may be a good idea to get a second grinder to dedicate to spices, otherwise, you'll be cleaning all the time!
Either way, grinding spices yourself it is the best way use spices, but not many grocery stores sell whole spices. This is why it's often better to buy fresh spices online. You can often find other important ingredients too, including herbs, fresh fruit, and fresh vegetables.
Where to Buy Fresh Spices Online
1. The Spice House

The Spice House was founded in 1957 and has been providing some of the finest spices, herbs, extracts, and blends to everyone from professional chefs to home cooks all over the world. They've worked hard to create a global network of high-quality growers and distributors of all kinds, enabling them to offer customers only the finest quality and the best selection.
You can shop their spices by category – such as baking, salts, extracts, etc – or by region – such as the Middle East, North Europe, India, and more. Many of their spices are available either already powdered, or as whole seeds.
They ship everywhere in the United States and Canada, as well as internationally to select countries.
2. Spices Inc

Spices Inc was born from a couple's shared love of spices and desire to start a business. They put in a lot of hard work and learned as much as they could, and Spices Inc. was born. Even through all their growth over the years, they're proud to have maintained their integrity. They haven't commercialized anything and their spices are still blended and packed by hand.
This not only ensures quality but gives customers confidence in the product. You can shop for individual spices that can be searched for by category, or you can choose one of their spice sets. These sets are pre-selected groups of spices and seasonings that go well together based on purpose, category, or flavor profiles.
They can ship to anywhere in the United States, Canada, Peurto Rico, Guam, and The Virgin Islands.
3. Spice Jungle

Spice Jungle is a great source for exotic, rare, and otherwise hard to find or expensive spices like saffron, turmeric, and mace. Their spices have come from all over the world, including spices straight from Indian markets, or the hand-pollinated vanilla orchids in Madagascar.
They spend the time searching for and creating these extraordinary spices so that you don't have to. They are passionate about what they do and vow to never compromise on quality. They have over 100 different spices available from all corners of the globe, 41 of which are available whole if that's what you prefer. They also carry a selection of other baking ingredients, loose-leaf teas, and kitchenware.
They do ship internationally, though some countries can expect a long wait time of up to 45 days.
4. Savory Spice Shop

Savory Spice Shop was founded by a couple who share a love of cooking and baking. They have always loved creating new and unique spice blends that they would share with friends and family. It was in 2004 that they decided to use their skills and expertise to open a shop.
They offer an impressive range of spices, from traditional American choices to flavors from around the world. Their website also has an impressive recipe section, featuring recipes for everything from drinks and meat seasoning to desserts and sauces.
They ship everywhere in the United States.
5. American Spice

American Spice remains dedicated to its motto of "fresher spices and better prices." They do their very best to offer the highest quality spices at the lowest prices they can. The company began when the whole family began learning how to cook better and appropriately use herbs and spices.
They started with a small shop and eventually moved online in 1999. They have grown and evolved but always stay dedicated to quality products and customer service. They have hundreds of spices to choose from, including both powdered and whole. They also offer a variety of mushrooms, oils, sugars, and other baking necessities.
They can ship their products throughout both the United States and Canada.
6. The Spice Mill

The Spice Mill opened in 1996 and has remained a family-owned business. They specialize in gourmet spices, herbs, and seasonings. They quickly garnered a reputation among the finest providers in New England, and they maintain this reputation 20 years later.
Today, their premium quality spices and exclusive custom blends are used in thousands of restaurants and purchased in bulk by many professionals. But, they are also available to the individual consumer who wants to use them at home.
In addition to their selection of spices, they also offer a series of nuts, chili powders, soup bases, salts, and more. They are based in New England but ship worldwide.
7. Rural Spices

Rural Spices offers a quality selection of spices in their online store, both traditional and organic, along with a series of dried fruits. What sets them apart from other online stores of their kind, however, is their direct collaboration with local, ethical farmers. They source all their products from the farmers themselves, ensuring only the best and freshest spices hit your table.
They offer a combination of powdered and whole spices and work hard to carry all the traditional spices everyone needs as well as a variety of others. They also sell a variety of tea and coffee, sourced the same way.
They work hard to keep prices down and sell everything wholesale. They also ship internationally.
8. World Spice

World Spice has been selling its award-winning spices for 25 years now, both at their original shop locations and their online store. They have a curated selection of fresh, premium-quality spices for all purposes. You can shop for baking spices, chiles, exotics, peppers, salts, etc.
They also offer a series of spice blends, teas, and accessories. For those that want spices delivered on a regular basis, you can join their spice club. This offers members-only discounts, seasonal spice boxes, and a free travel kit.
They do offer international shipping, however, they caution shoppers that anyone shopping outside of the United States, Canada, and a few other select countries may run into duties or customs issues. It's rare, but if it happens they won't offer refunds or replacements.
9. Fresh Jax

Fresh Jax offers a selection of organic spices with a focus on both freshness and flavor. They specialize in unique and flavorful blends that are versatile and always USDA certified organic. Popular blends include maple cinnamon, grill master, garlic herb, citrus peppers, and an organic Mexican taco blend.
In addition to unique and organic spice blends they are also dedicated to sustainability. They do all their packaging with recycled paper and they air-dry their bottles after sanitization rather than using electric driers.
Currently, they only ship their spices within the United States.
Things to Consider When Buying Fresh Spices Online

Considering spices are so much healthier when bought from the source and consumed fresh, it's important to find a trustworthy resource that's transparent with customers. Consider the following when looking to buy fresh spices online:
The Variety
What kind of spices do they have available? Do they carry a little of everything or do they specialize in one thing or one type? If you're an avid spice user and like variety, it's best to find a more generic spice store that carries everything you'll need.
The Source
If you want your spices to be as healthy as possible, this is crucial. Where are the spices coming from, and how are they processed? To ensure you're getting the best quality, it's best to buy either directly from a grower if possible, or a company that works directly with them.
Other Products
If you're using your spices primarily for cooking and baking, it'll be convenient for you if the store offers other, related things as well. This includes things like herbs, oils, salt, pepper, or even tea. If you find a quality company that offers it all, it's easier to purchase from the same place and you save on shipping costs.