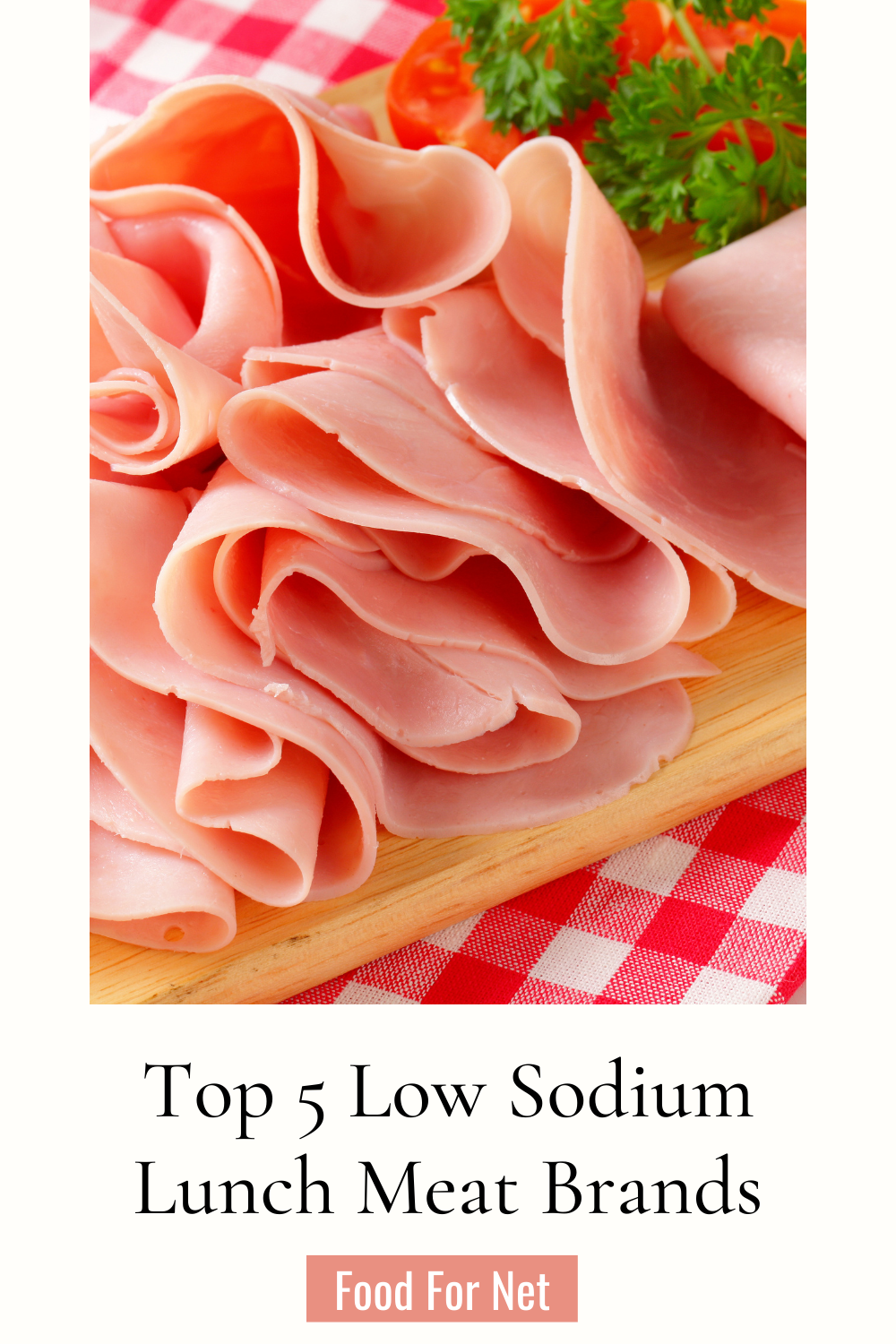 Deli meat is no doubt one of the most convenient meal prep items out there. It offers a fast, easy, and tasty way to throw a sandwich together, either to pack up for the day or eat right away. Whether you're short on time or just don't feel like exerting the effort, deli meat is an excellent solution. The best low sodium lunch meat brands help you make a tasty sandwich, without the high salt content.
The tough part about lunch meat, though, is nutrition. Many brands of lunch meat are highly processed and packed with lots of artificial preservatives and additives in order to give it a longer shelf life. Some of the cheaper options can even be harmful if you consume too much of the meat, so it's important you pay attention to the ingredients, nutrition facts, and even the way it's created and processed. All of these things will contribute to how healthy the meat is.
One of the biggest things here is sodium. Traditional lunch meat is so high in sodium. This isn't so bad if you're eating lunch meat in moderation, but it can become a concern if you're using it regularly, especially if you like a tasty, convenient sandwich for lunch every day! The good news is that not all lunch meat is terrible, and there are plenty of low sodium lunch meat brands specifically.
If you can find a low sodium brand you like, you can enjoy other benefits like high protein content and low fat. Whether you're looking to cut back on sodium for your health in general or you have a condition that dictates you must, these lunch meats are a great, healthier place to start:
P.S. Don't forget that there are plenty of lunch meat alternatives. Some of these are even vegetarian or vegan friendly.
The Best Low Sodium Lunch Meat Brands
1. Boar's Head

Boar's Head is a premium brand that's been around for more than 110 years. Right from the beginning, they decided to operate with the highest standards. They were dedicated to quality and authenticity – no cutting corners and no compromises. This has helped them produce some of the best quality meats and other products on the market.
Not only are they dedicated to the best ingredients but they cater to many different restrictions folks may have such as milk/lactose-free, gluten-free, and sugar-free. They also focus on lowering sodium in all their products, which is a big concern, particularly with lunch meat.
They have several meat options, including turkey, beef, ham, chicken, and bologna. Each meat then has several different options and flavors – giving you so many options it may be hard to pick!
Their golden roasted turkey breast is a great example of healthier lunch meat. It has only 60 calories per serving, one gram of fat, 380mg of sodium, and 12 grams of protein. This is about 43 percent less sodium than traditional white turkey slices.
2. Butterball

Butterball is a passionate company that strives to provide the best possible products with premium ingredients with a focus on turkey! They have whole turkeys, roasts, breasts, all kinds of cuts, and even turkey burgers and meatballs.
Among their many offerings are a selection of low-carb, low-fat, and low sodium deli meats! All of their low sodium lunch meats are some variations of turkey but they have several to choose from. There is a roasted turkey breast, Cajun, oven-roasted, and more.
The oven-roasted turkey breast is one of their most classic. A serving size of this flavor is about two ounces and has one gram of fat, one gram of carbs, one gram of sugar, ten grams of protein, and 400mg of sodium. Other than turkey breast, there are only a handful of other ingredients like turkey broth, salt, and vinegar.
Meats from Butterball are among the freshest and they are not riddled with additives and preservatives, meaning they are one of the healthiest choices if you want some sliced turkey on your sandwich! If you're wondering exactly what to do and how to handle your turkey, they've got plenty of information on the site to help you choose your turkey and details on thawing, roasting, stuffing, and more. Once you've selected your deli meats, they've got turkey in every other form you could imagine!
3. Applegate

Applegate has an amazing selection of premium meat products including bacon, chicken, sausage, burgers, meatballs, hot dogs, and more. In addition to providing amazing products, they are dedicated to creating a positive impact on the world, the environment, and the animals in their care.
All of their animals are humanely raised with no antibiotics used, and no GMO ingredients whatsoever. They have been on this mission of health and positivity for more than 30 years, always staying transparent about their processes. You can view information on their website regarding the meat itself as well as exactly how they treat their animals.
Their deli meat comes in many variations including black forest ham, herb turkey breast, oven-roasted turkey breast, slow-cooked ham, honey, and maple turkey breast, and so much more!
The exact nutritional information will vary depending on which type and flavor you choose, but their black forest ham is a great example. This deli meat option has 70 calories per serving, with a serving being two slices. It contains three grams of fat, one gram of carbs, 11 grams of protein, and only 410mg of sodium.
4. Hillshire Farm

Hillshire Farm was founded in 1934 by a man by the name of Fritz Bernegger who wanted nothing more than to provide his customers with the best quality and most delicious cuts of meat possible. He also wanted to ensure he used only the best practices so that quality permeates the entire process and customers are given only the best.
Their slow-roasted lunch meat is a fan favorite with 19 different options to choose from. They have flavors like smoked ham, rotisserie chicken, black pepper turkey, and more. They also have a few that are sliced extra thin too if that's your preference.
If sodium is your concern they have a few options that are labeled specifically as low sodium that you can browse, including a honey ham flavor. This flavor has 70 calories per serving, 2.5 grams of fat, four grams of carbs, nine grams of protein, and 370mg of sodium, which is on the low side even for low sodium!
5. Dietz and Watson

Dietz and Watson were a bit ahead of the curve as one of the first to create low sodium deli meat. They are committed to quality on all fronts, promising to never use antibiotics, hormones, nitrates, or nitrites. They also have organic options if that's what you prefer!
They have several options to choose from including a classic black forest ham with only 400mg of sodium per serving. Each serving also has 60 calories, only one gram of fat, no sugar, and 12 grams of protein.
If you like the taste and quality of the meat they have many other things to offer in the area of the meat, cheese, and even snacks like beef jerky and nuts.
Choosing the Best Meat

Low sodium is only one thing that makes a cut of meat better and healthier than others. There are many things to consider, from things that affect your own health to the way the animals are treated and the meat processed. If you want to ensure you're eating the best in terms of both health and ethics, look for these things:
The animal's diet. No hormones, no antibiotics, and ideally, little to no grain. Grain isn't necessarily bad, but it needs to be natural and healthy. Even with grain in their diet, animals should have access to grazing as well.
Their treatment. Is the company transparent about how their animals live? The animals should be given a good life, with room to roam and live happily.
Additives and preservatives. Some lunch meat has a long shelf life, though this is often due to the use of many preservatives and high levels of sodium. The more natural, the better. Always read the ingredients, usually, the fewer the better.
GMOs. GMOs are becoming more and more rampant because they make things easier and cheaper. But, they're not always healthy so try to avoid them when possible!
Choose your cut wisely. If you're looking out for your health, certain cuts are leaner and better than others. Turkey, chicken breast, and ham are among the leanest lunch meat options.
Choose fresh if you can. Some places will slice it for you on the spot, or you can get larger cuts of meat and slice it yourself. If you don't have access to fresh, look for the freshest prepackaged meat you can. Your best bet is to buy from a farm that produces their own meat, rather than a company that processes meat they source elsewhere.