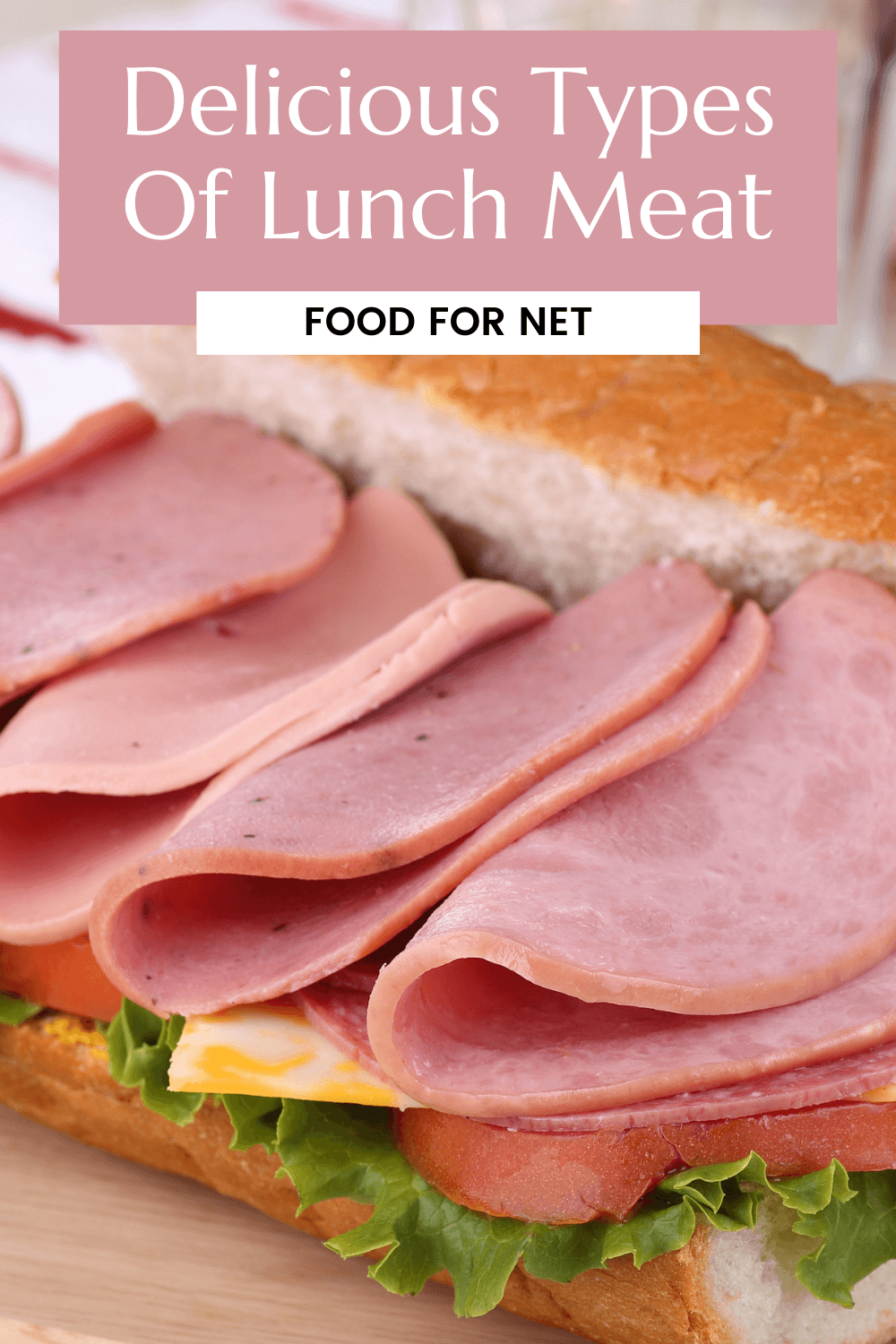 Lunch meat, also known as deli meat or cold cut meat is a quintessential ingredient for many American households. Sure, you can make a sandwich without it, but most of us don't. Instead, we use lunch meat time and time again. Why not? It's delicious, convenient, and there are many types of lunch meat out there.
Now, it must be said that these lunch meats aren't always that good for you. Many are loaded with salt and may contain a surprising array of preservatives and other artificial ingredients.
Such issues don't mean you need to avoid lunch meat entirely. However, it helps to choose high quality brands, particularly those that are low in sodium. Adding plenty of vegetables is useful too. Not only do these provide you with nutrients, but they also help you to keep your lunch meat portion sizes reasonable.
Then there are all the alternatives to lunch meat. Many of these are plant-based, making them a perfect way to boost your health.
If you are going to use lunch meat periodically, then it's worth looking at the different types – seeing how these compare and which are the healthiest.
Types Of Lunch Meat (With Pictures!)
Ham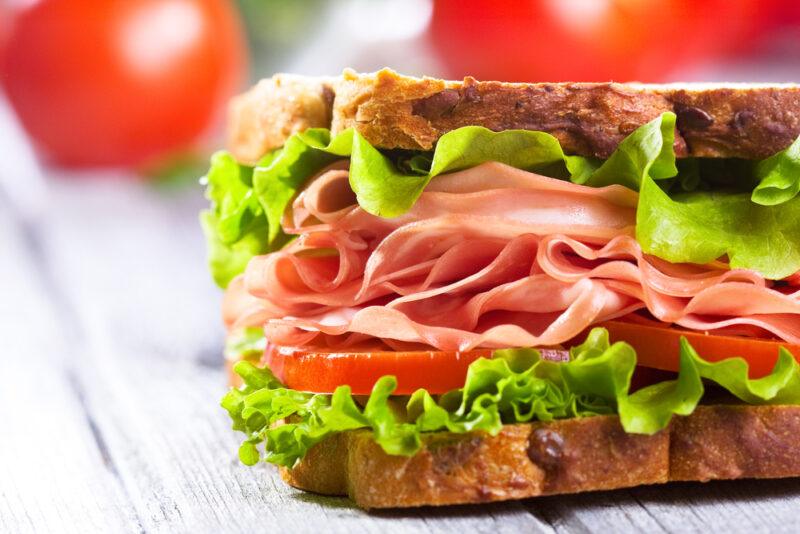 Ham is the single most popular type of lunch meat in America, making it the perfect place to begin our list. Ham is also inexpensive, making it a delicious and easy choice for families across America. .
The meat is a type of pork, which comes from the hind leg of a pig. It's then preserved through curing, smoking, or salting.
While regular ham is common, you can also find flavored versions, including smoked ham, honey ham, and black forest ham. Such flavors make the meat taste much more interesting but are often higher in additives.
There's also ham off the bone. This is often minimally processed and can have a richer flavor than other ham products.
Chicken

Sliced chicken breast is another popular choice. The flavor is subtler than ham, which can be a good thing. After all, you don't want your lunch meat to overpower your other ingredients.
Chicken lunch meat isn't as predictable as you might think. Some products are heavily processed and use plenty of additives. For example, the ingredients list for Oscar Mayer Rotisserie Seasoned Chicken Breast includes cultured dextrose, sugar, natural chicken type flavor, and carrageenan. The inclusion of chicken flavor is particularly odd.
Some companies take a different approach, using minimal additives and focusing just on the meat. The best versions use fillets of chicken breast that are first pressed then steamed.
You can even make your own homemade chicken breast sandwich meat. Doing so gives you a healthier snack without any unexpected ingredients.
Turkey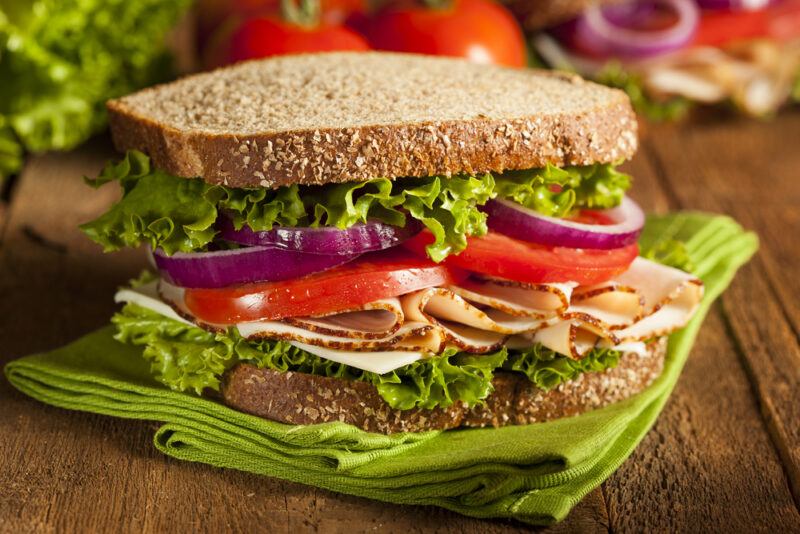 Sliced turkey meat is often used by people hoping to lose weight. This is hardly surprising, as the lunch meat tends to be low in calories and fat, while providing plenty of protein (chicken breast has similar benefits).
As with chicken, many turkey lunch meats are incredibly processed. The minimally processed versions tend to be healthier. These often taste better too!
If you're going to eat lunch meat regularly, then turkey and chicken are your healthiest options.
Bologna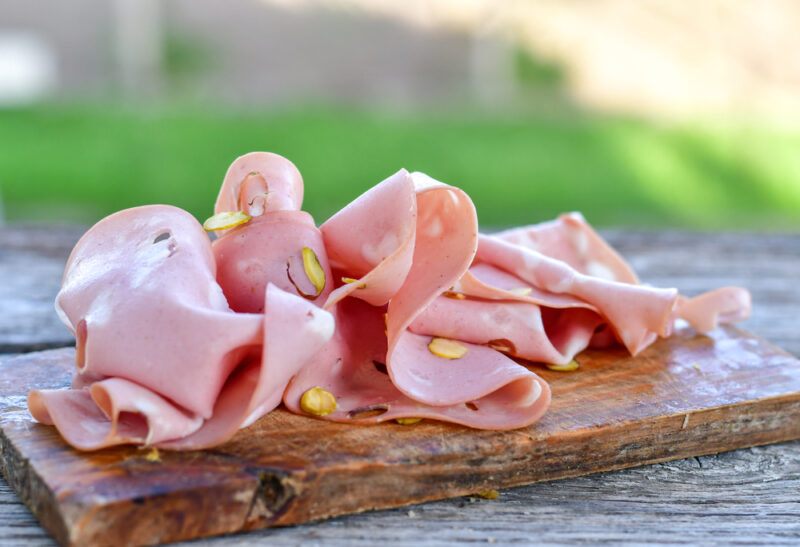 Bologna isn't the best tasting lunch meat, but it stands out because it is inexpensive and lasts for quite some time. It's a processed type of lunch meat, often made using a combination of beef and pork, along with various seasonings and some additives.
Bologna does vary. While most grocery store versions are heavily processed, there are also artisan products, ones that have more complex flavors, and are much more natural.
However, bologna does have some serious issues. Not only is it processed, but it also contains a decent amount of fat and saturated fat. It's a notable source of sodium and cholesterol too.
This combination of features isn't great news for health. They suggest that it's best to only rely on bologna occasionally, rather than using it as a daily ingredient.
Pastrami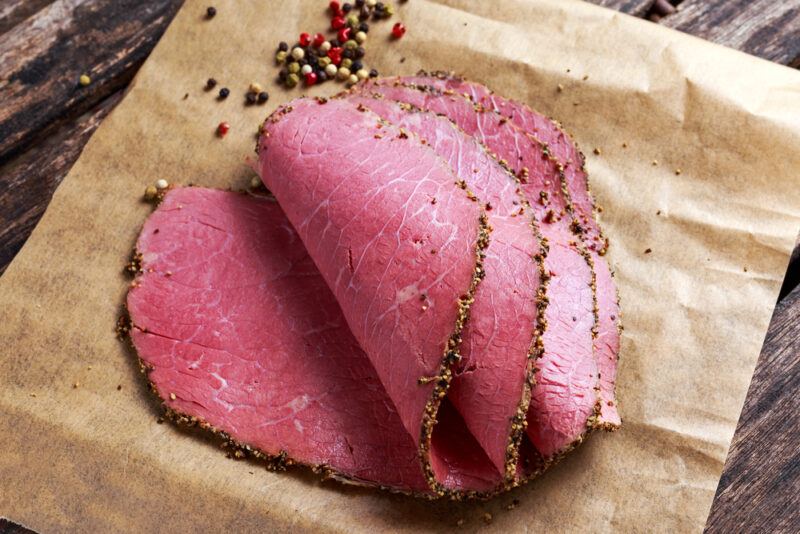 Pastrami is a beef-based lunch meat. It's traditionally made from the beef navel, but these days is often made using beef brisket instead. The meat is then brined, dried, seasoned, smoked, and steamed. These processes give the meat a richer flavor than many other types.
You are getting more fat with pastrami than with ham, chicken, or turkey, which can be concerning. Watch out for the sodium too. Lunch meat often contains more sodium than is ideal and pastrami is one of the highest sodium options.
Still, the protein content is incredible, which makes pastrami a filling addition to your sandwiches. Pastrami has a strong flavor too, which works well in meals and sandwiches.
Meatloaf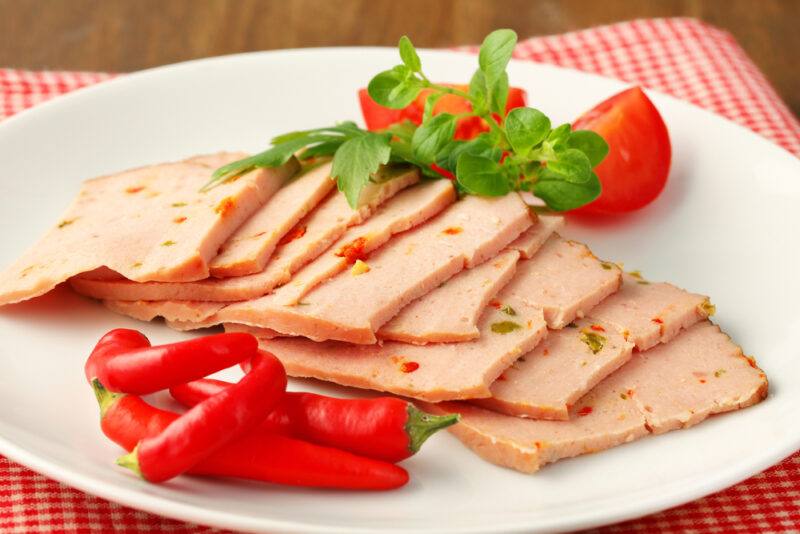 Meatloaf isn't just a dinner dish. You can also find a version of meatloaf that's sold as lunch meat. Some versions come from the deli, while others come from famous brands, like Oscar Mayer Ham & Cheese Meat Loaf.
Many products will have similar patterns to bologna, meaning they contain a decent amount of saturated fat and cholesterol and are heavily processed.
It's much healthier to make meatloaf at home, then slice it up thinly for your lunches. You might be able to get dinner and a few lunches out of a single meatloaf.
Roast Beef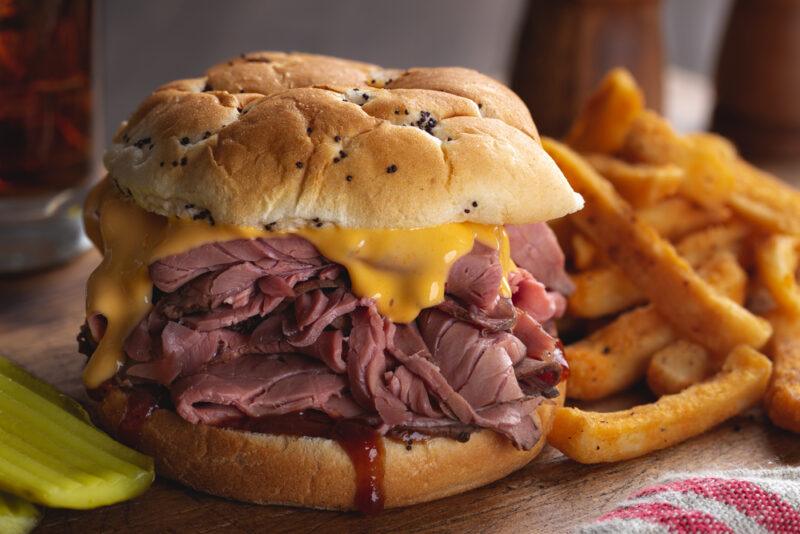 Roast beef tends to be higher in fat and calories than chicken and turkey, but it's still a delicious addition to sandwiches. It's particularly good if you want something with a bit more 'oomph' to it, as the white meats tend to be mild.
Roast beef can also be excellent when you're making snacks for a party, as the color and flavor will stand out.
Salami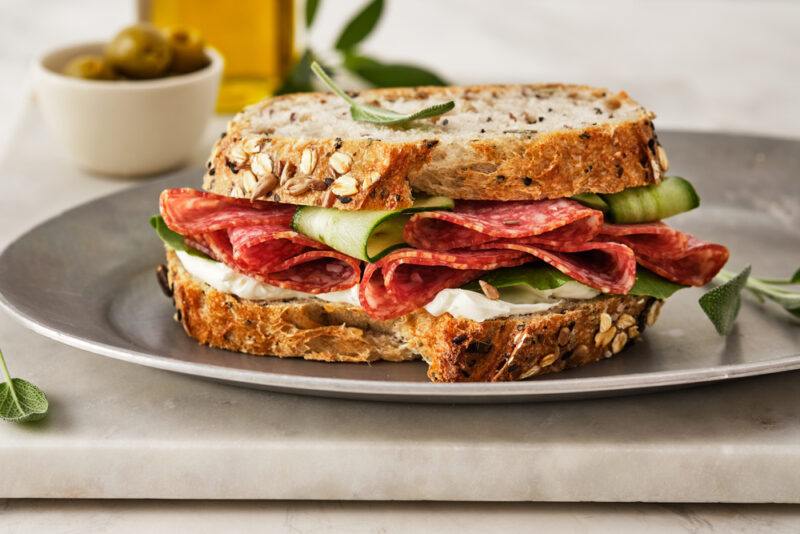 Salami is a famous type of cured sausage. It's often made from beef or pork and tends to be fairly high in fat. It has a distinct flavor too, one that's perfect for sandwiches and many recipes.
There are also some fantastic salami products out there, including those that feature in salami of the month clubs.
The shelf life of salami is interesting. Because salami is cured, it can actually stay at room temperature for a long time.
The longer than normal shelf life makes salami versatile, but don't get too excited yet. If you want your salami to last that long, you'll need to have a whole salami roll. Once you've opened and sliced into your salami, it has a similar shelf life to other types of meat.
The main exception is packets of vacuum sealed salami. These will generally be good at room temperature for a day or two – as long as you leave them unopened.
Also bear in mind that salami is rich in fat, which makes it high in calories as well. Even a single slice of salami often contains around 70 calories. You might need to stick to one or two slices per serving.
Pepperoni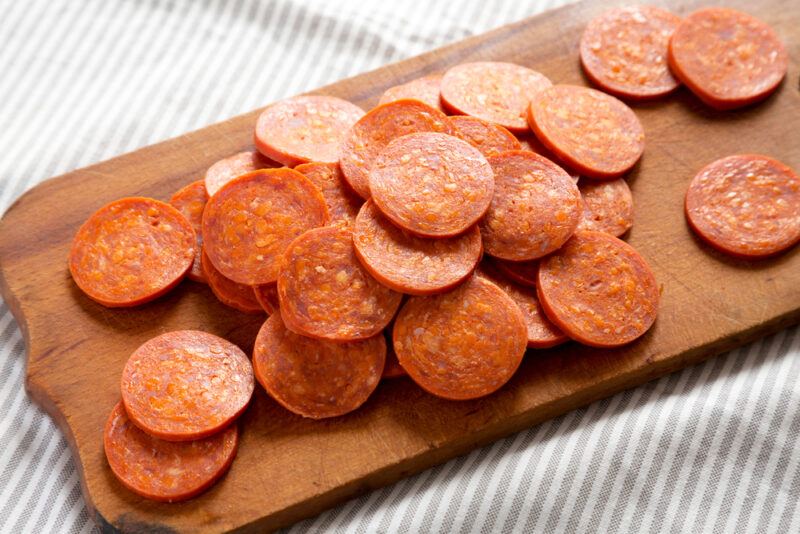 Pepperoni and salami are similar in many ways. This isn't surprising, as pepperoni is simply one type of salami.
As a result, there are many more differences between various salamis than between different pepperoni products.
Generally though, pepperoni tends to be spicier than most types of salami. It also tends to be softer and more finely grained.
You can use pepperoni or salami on pizzas, in sandwiches, or in many recipes. Which you choose will simply depend on the flavor you prefer.
Turkey Pepperoni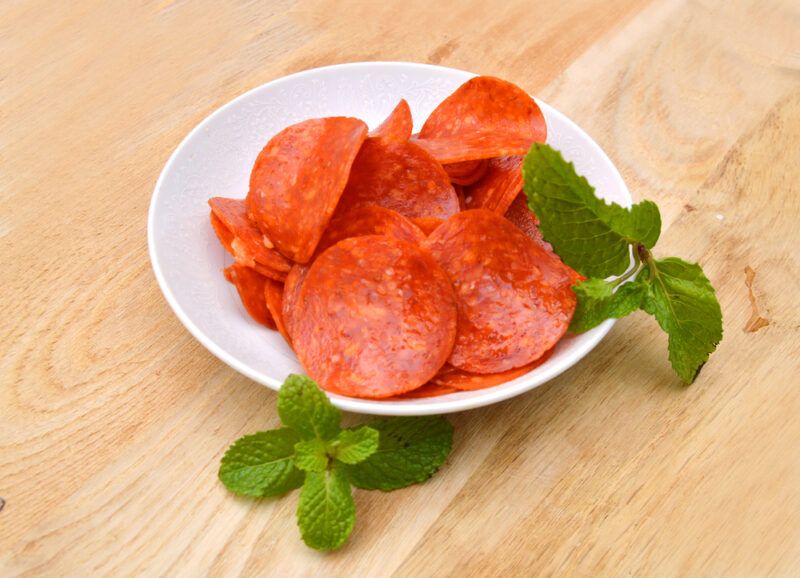 Not surprisingly, turkey pepperoni is simply pepperoni that's made using turkey, rather than more traditional meats, like beef and pork.
The processes and other ingredients are similar between turkey pepperoni and regular pepperoni, which makes the flavors similar too. That said, turkey pepperoni doesn't taste quite the same and is sometimes seen as being inferior.
Turkey pepper could be healthier though, as it's lower in fat and relies on white meat rather than red meat.
Corned Beef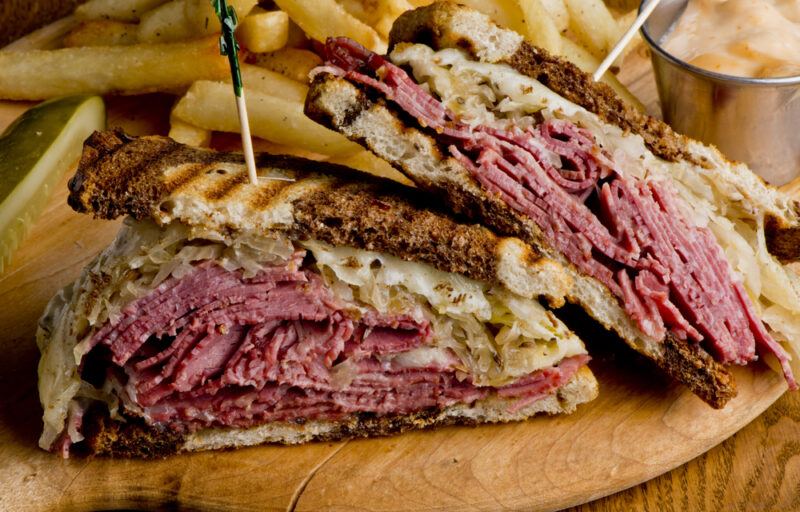 We talked about pastrami earlier in this list. Corned beef is similar in that it's also a beef product that's both spicy and flavorful.
The big difference is the curing process. The salt used in to cure corned beef creates the pink coloring of the meat and contributes to its flavor.
Corned beef is especially popular in Reubens, but that's just one option. You can make plenty of other amazing sandwiches using corned beef.
Chicken Ham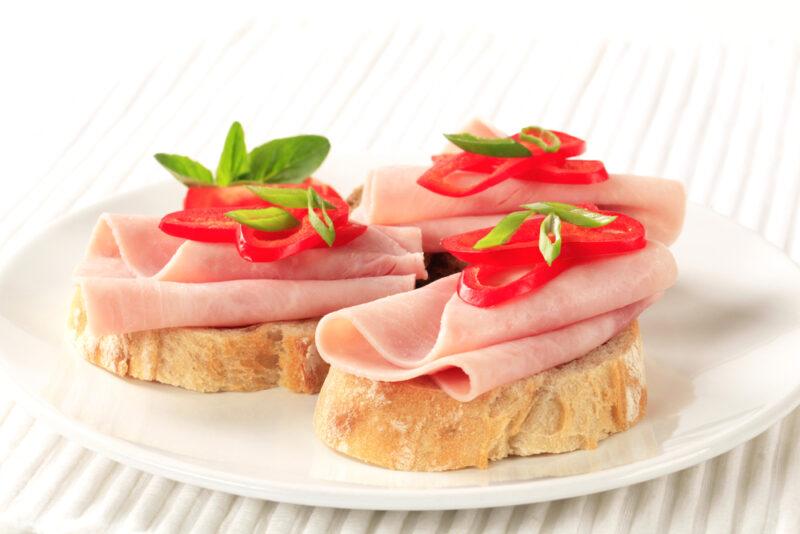 Chicken ham is an interesting one. It's basically chicken that's been processed in a similar way to ham. The approach means you get similar flavors to ham, but with fewer calories and less saturated fat.
Of course, you're still getting a decent number of additives and sodium, so chicken ham isn't at all healthy from that perspective.
Plant-Based Meat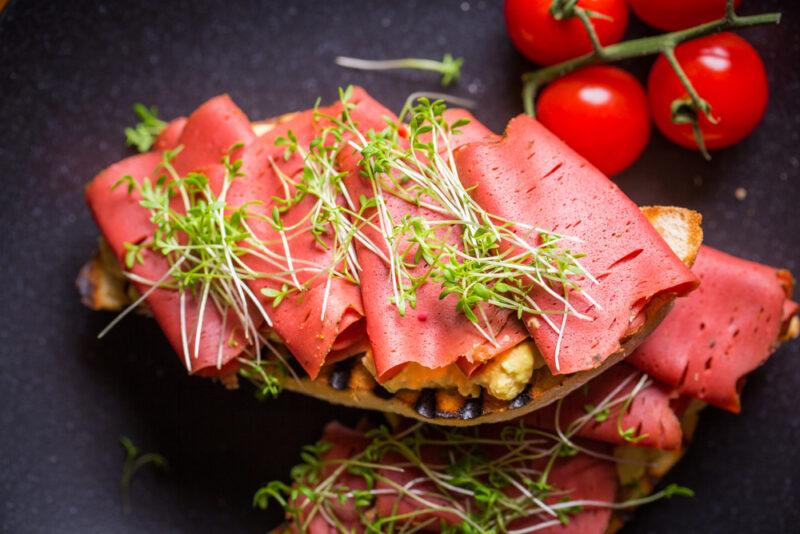 We also need to talk about plant-based meat. This is a little different because, well, it's made from plants. Many products rely on soy or other legumes as one of their base ingredients, although there are some more creative versions out there as well.
Plant-based lunch meat tries to mimic the appearance and texture of regular meat, without using any animal products at all. There are some pretty amazing brands out there too, ones that create delicious products that you mightn't even realize are plant-based.
Such meats are an excellent option if you want more plants in your diet, are trying to lower saturated fat intake, or are avoiding animal products.
But, don't assume that they're all good for you simply because they're plant-based. There's still an incredible variety of products out there and some are much better than others. It's worth taking the time to do your research first, then decide which types best meet your needs.