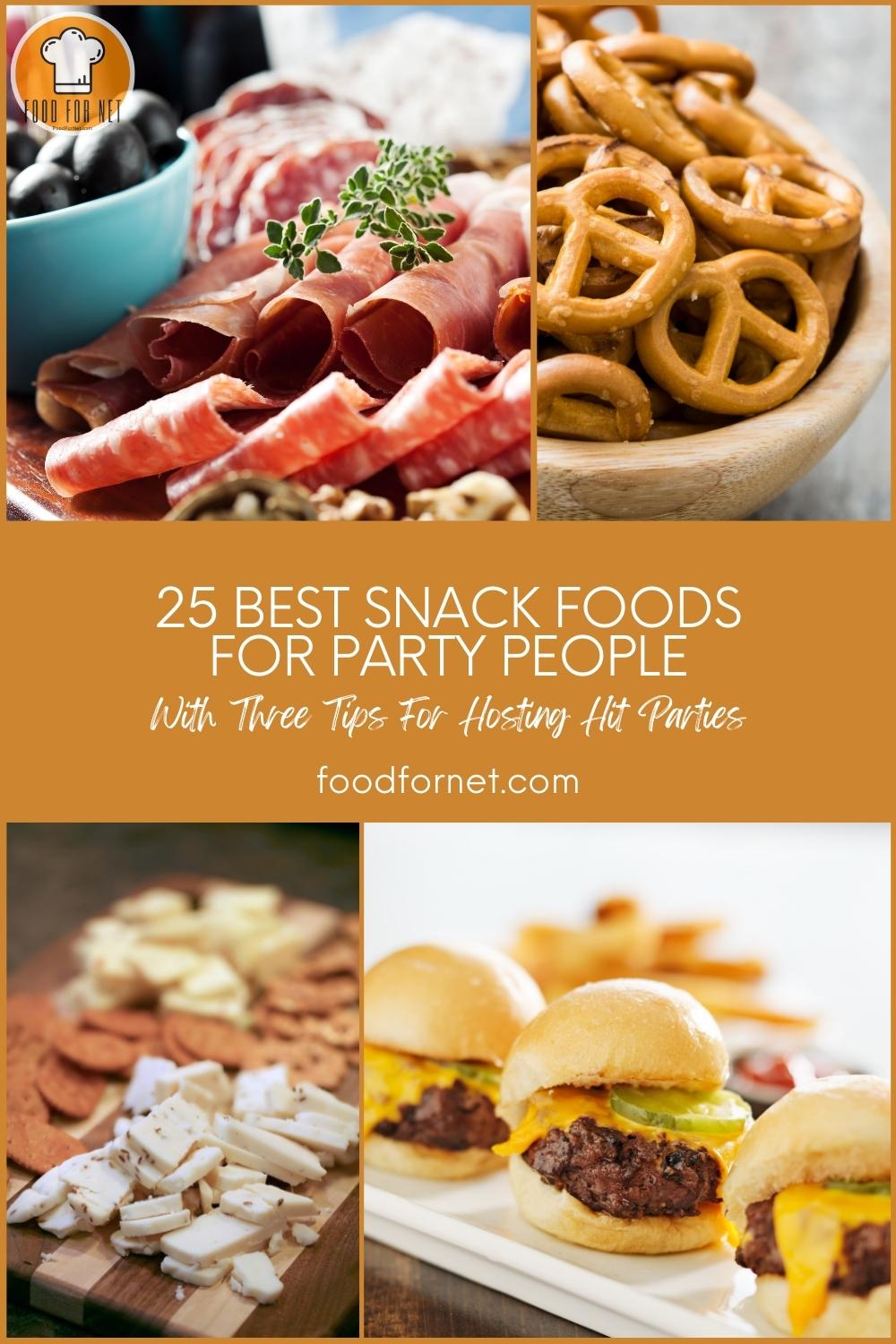 Any time of the year can be party time. There are currently eleven nationally celebrated holidays per year in the United States—almost one per month. There are also unsanctioned holidays, such as National Ice Cream Day or National Device Appreciation Day. Besides birthdays and other common celebrations, it seems like there's always a reason to throw a party. Whatever the occasion, you'll need some snack foods for parties to keep guests fed and talking about how good the food was when they leave.
But what do you serve? If you're looking for easy appetizers and delicious desserts, the following list of the 25 best snack foods for party people could help you get into the right mindset for throwing brilliant parties. Read through it, and at the end, I'll share three more tips for hosting hit parties.
Top Snack Foods For Parties (With Pictures!)
Chicken Wings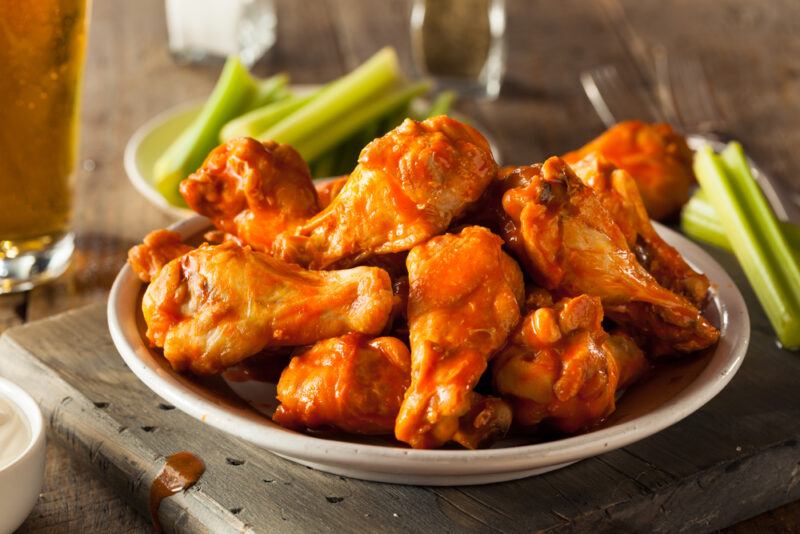 Chicken wings are a must-have for football get-togethers, summer parties, and midwinter game nights. They come in a variety of flavors ranging from buffalo and honey garlic to sesame and Caribbean, and you can get boneless versions if you want to
If you buy chicken wings pre-packaged or frozen, they're also convenient, but you can make your own, too. One of my favorite recipes for chicken wings is Crispy Baked Lemon Pepper Wings.
Crackers And Cheese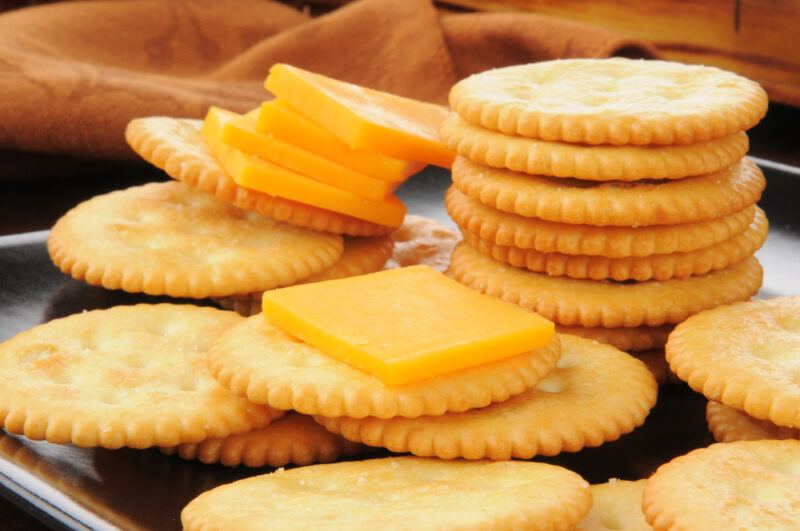 Crackers and cheese are a party stable because they're as easy and quick to prepare as they are tasty and fun to eat. A simple way to serve them is on a rectangular tray, with sliced cheeses on one side and rows of crackers on the other side.
If you want something fancier, you could serve a cheese ball or cheese dip in the center of a round tray, with crackers arranged around them. You could also take the time to top each cracker with a fancy cheese dip and serve them on a plate.
One nice thing about cheese and crackers as a snack is that you can offer whole-wheat crackers and hard cheeses for guests who struggle to keep their blood sugar levels under control.
Mini Sausages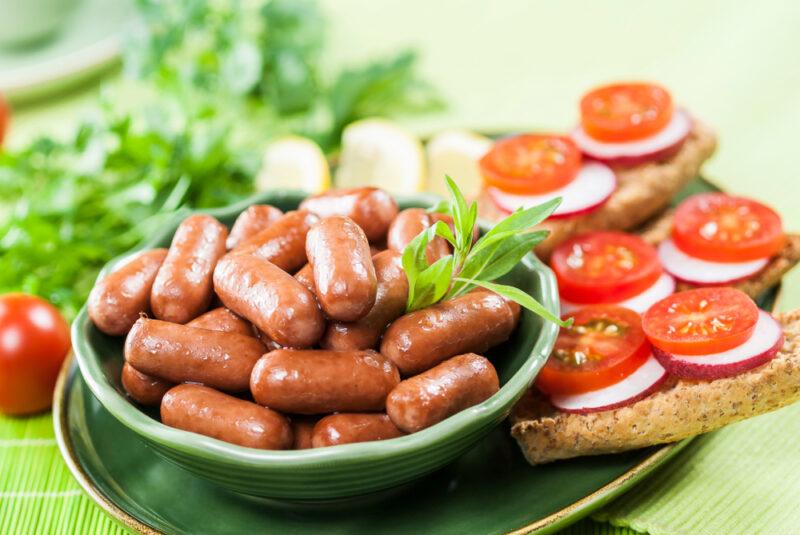 Mini sausages are fun because they're so versatile. You can serve them cold or hot, as finger foods or with plates and forks. Like chicken wings, they can also come in a variety of flavors that you can play up or tone down with your own dressings and sauces.
One of my favorite super-easy ways to serve mini sausages is to put a package of them in a crock pot with a bottle of barbecue sauce. It's a fabulous heat-and-serve appetizer for barbecues or game nights.
Glogg With Raisins And Almonds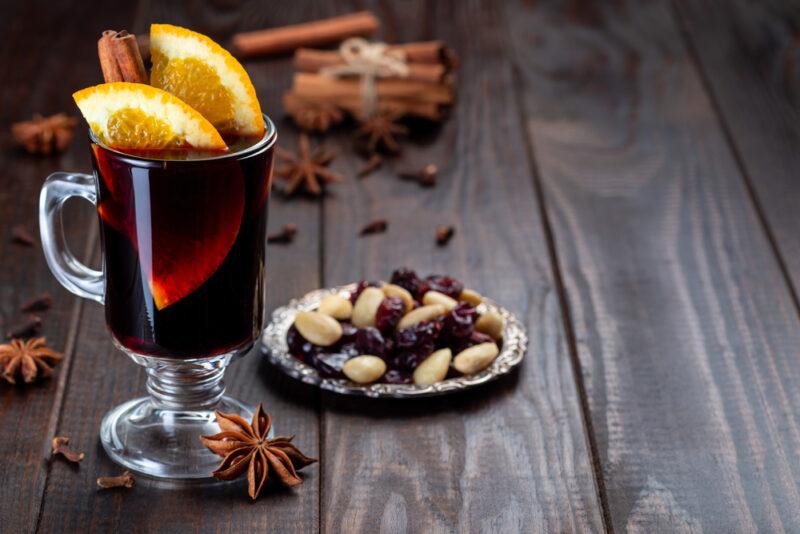 One of my friends, who is deeply interested in Scandinavian cultures, recently introduced me to Glogg. Glogg is also known as mulled wine. It usually contains some citrus juices, as well as spices such as cinnamon, ginger, and cardamom.
Glogg is often served with raisins and almonds. There are non-alcoholic versions, so it can be a family-friendly addition to casual holiday get-togethers with neighbors.
Mini Tacos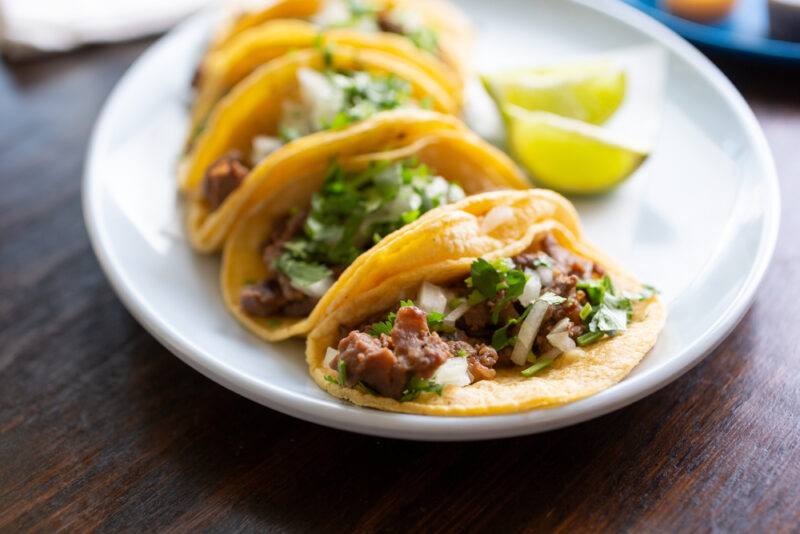 Mini tacos may be one of the most fun appetizers I've ever tried. Besides being delicious and easy to make, they can be tweaked to become part of the party decorations. For example, one year a friend of mine served them decorated as monsters for her Halloween party, with enormous eyes made from sour cream and sliced olives.
If you don't want to go to the trouble of making mini tacos, you could opt for frozen taquitos. Taquitos are tortillas rolled tightly around chicken, beef, or pork and then cooked. They're another easy heat-and-serve option.
Olive Bar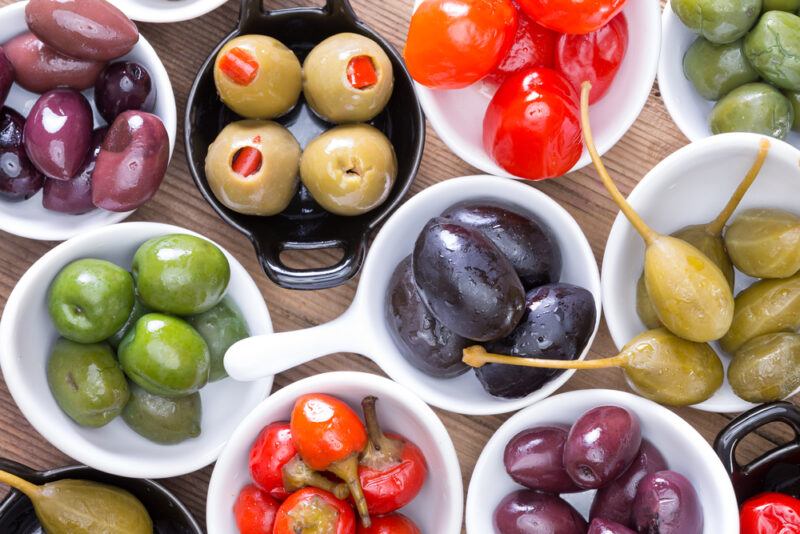 One of the most intriguing things I've ever seen at a holiday party was an olive bar. I was amazed at how many types of olives there are and how many different flavors they come in. Most people are used to green olives with pimentos or black table olives, but they may not know about purple or red olives.
Serving a small olive bar could be a great ice-breaker as people taste-test and discuss what they like and don't like about different types of olives. Jars of unique olives, such as feta-cheese stuffed olives or lemon-stuffed olives could make great door prizes, too.
Chips And Salsa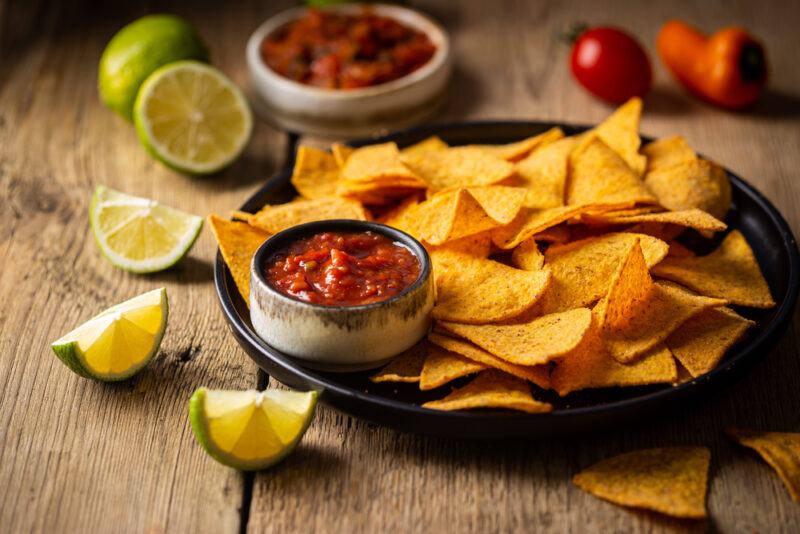 Chips and salsa are wonderful appetizers for themed parties like Mexican Fiestas. Serving this appetizer is as easy as pouring a bag of tortilla chips into a large bowl and setting it near a smaller bowl of canned salsa.
If you want something a little different, you could make fresh salsa in a variety of flavors, such as Mango-Tomato salsa or Pico de Gallo. You could also serve a variety of tortilla chips, including ones made from blue corn or red and green holiday-themed chips.
Veggie Trays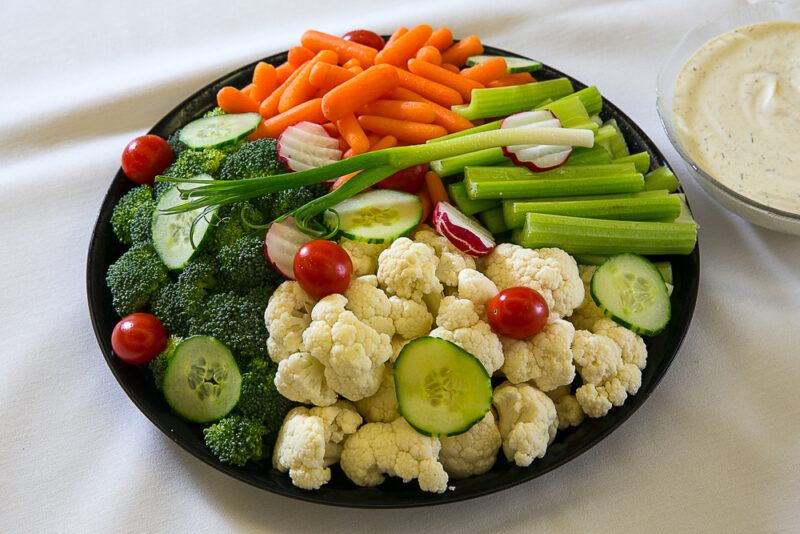 Veggie trays are a nice addition to parties because they're a healthy alternative to processed foods and sweets. Baby carrots, celery sticks, cherry tomatoes, and cauliflower florets are common components of veggie trays.
You could make them fancier by serving veggies on a kabob stick, and by including items like whole mushrooms or pepper strips. You could also serve them with a dip.
Cold Cuts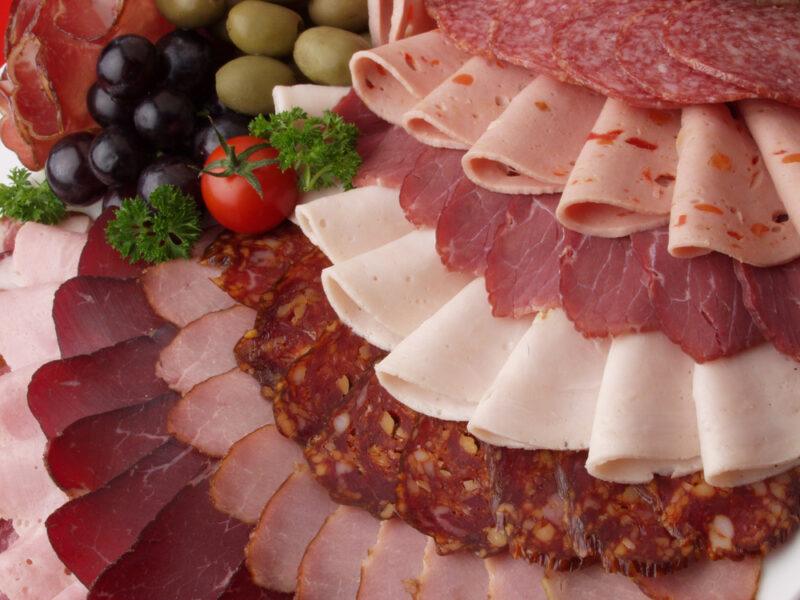 When I picture cold cuts, I envision trays of sliced turkey, ham, roast beef, salami, and other meats. Guests can use these to make their own sandwiches, which saves time for the host and allows guests to get exactly what they want.
If you're not sure how to get started with a cold cut tray, ask your local deli or someone in the deli section of your favorite supermarket to give you some suggestions. You could also have them make the trays for you rather than doing it yourself.
Bars And Brownies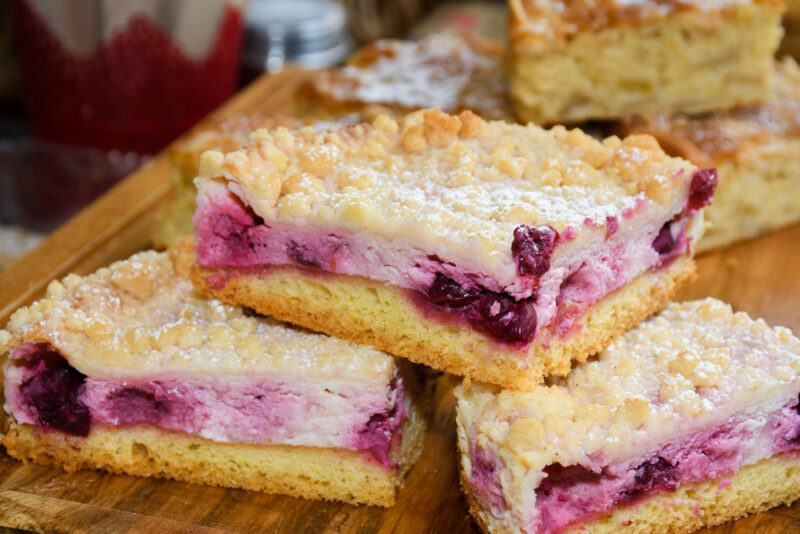 Brownies come in a variety of flavors, ranging from plain chocolate to Mexican chocolate, peanut butter, cheesecake, and mint. Other types of bars have a similar flavor range. Simple chocolate chip bars are great for picnic-type parties, while cranberry-orange or white-chocolate-pecan bars make great holiday party treats. One of my favorite recipes for bars is the Slow Cooker Tangy & Sweet Lemon Cookie Bars.
Pickled Foods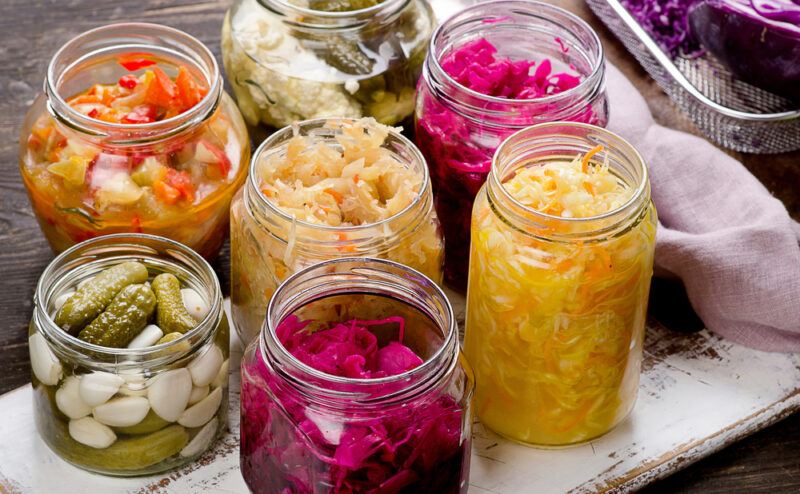 Pickled foods are often served on relish trays for Thanksgiving dinners, but you could incorporate them into almost any party. Beyond sweet gherkins or dill slices, you can serve up pickled radishes, red cabbage, boiled eggs, and ethnic dishes like sauerkraut or kimchi.
Chocolate Chip Cookies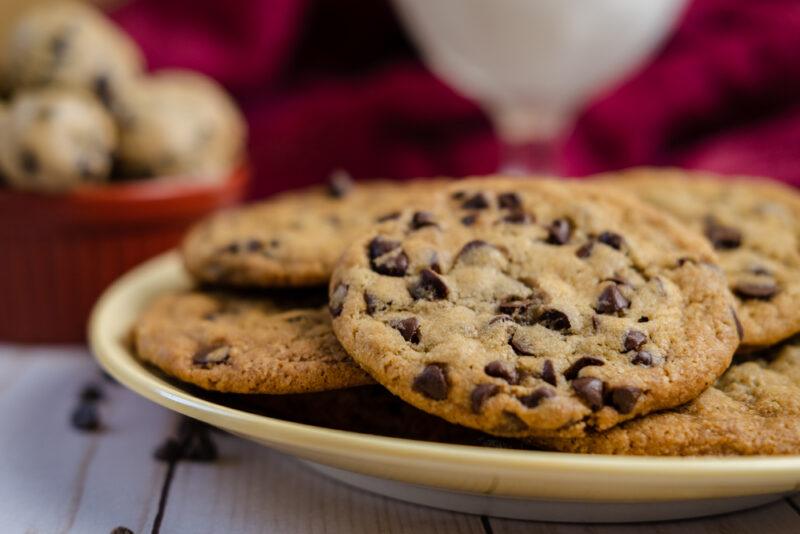 If you're having a party where kids are invited, chocolate chip cookies are a standard. They have been since around the 1930s, when they were created by accident and became a hit at a bed-and-breakfast in Massachusetts. Now, there are around 7 billion chocolate chip cookies eaten in the United States every year.
Cereal Mixes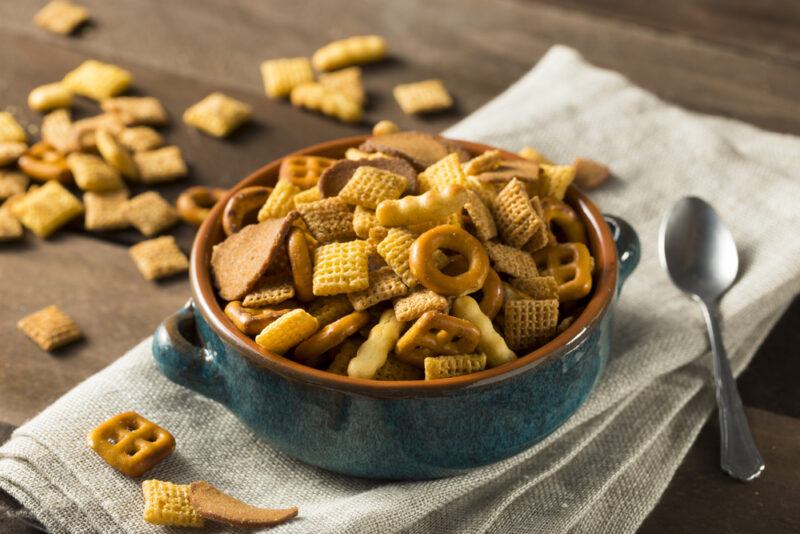 I remember one New Year's Eve, several years ago, when I tried Chex Mix for the first time. My mother had made it for a party. The flavor was tangy and salty. Years later, I tried Muddy Buddies, a sweet chocolate cereal mix. These and other cereal mixes are easy to make (or buy) and serve buffet-style with other snacks.
Doughnuts And Hot Spiced Cider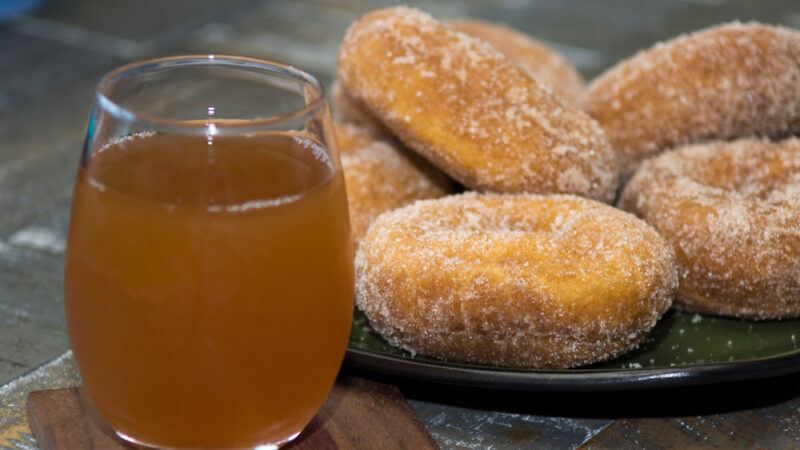 Doughnuts and warm drinks like hot apple cider or hot cocoa are perfect for parties that require you to spend some time in winter weather. These treats can be served after an evening of caroling, a hayride, or an afternoon of sledding. One family I know has made a tradition of serving homemade doughnuts and cocoa to family and friends who stop by when they're trick-or-treating on Halloween.
Pretzels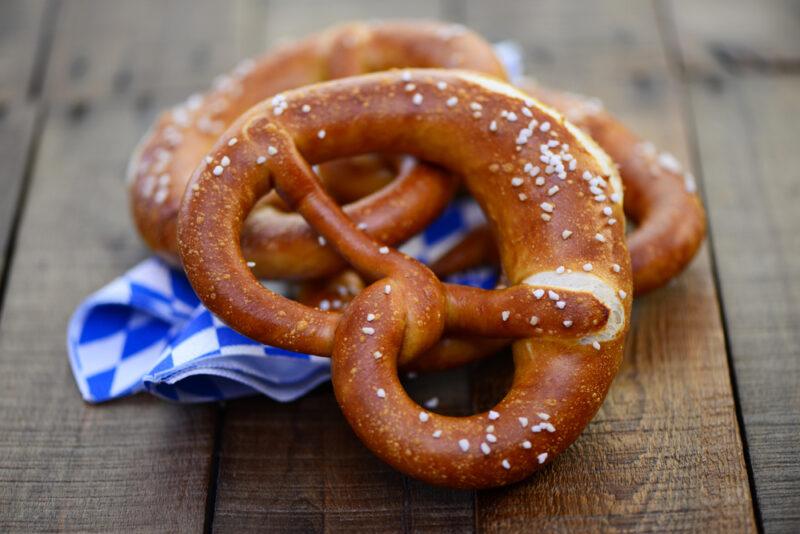 You can buy pretzels and pretzel sticks in bags at the local grocery store, or order the large, softer pretzels from a pretzel specialty shop. You might opt to make your own, too, and sprinkle the pretzels with toppings like parmesan cheese or Himalayan Sea salt. Pretzels are great for parties because they're easy, non-messy finger food.
Popcorn Shrimp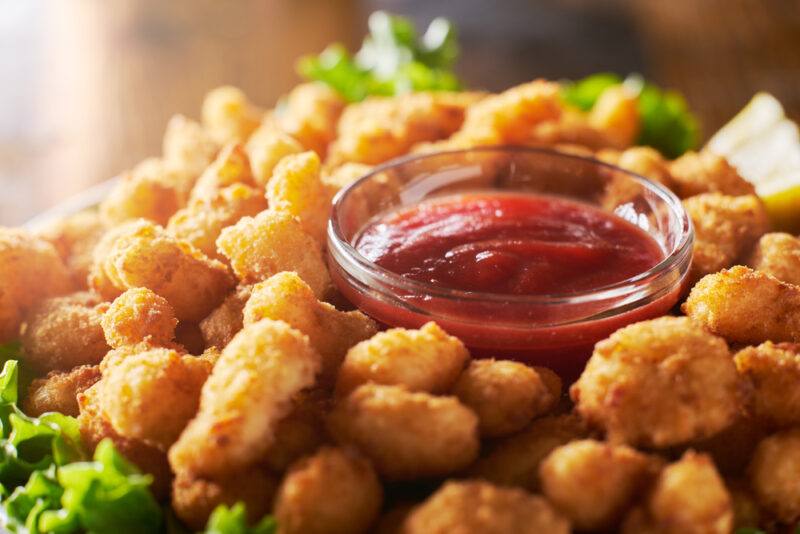 If you're serving mini sausages or chicken wings, you might consider serving popcorn shrimp, too. These easy finger foods provide a different flavor and texture. You can usually buy them in the freezer section of your local grocery store. Many brands come with serving ideas that can make them fancier, too.
Chocolate Fountains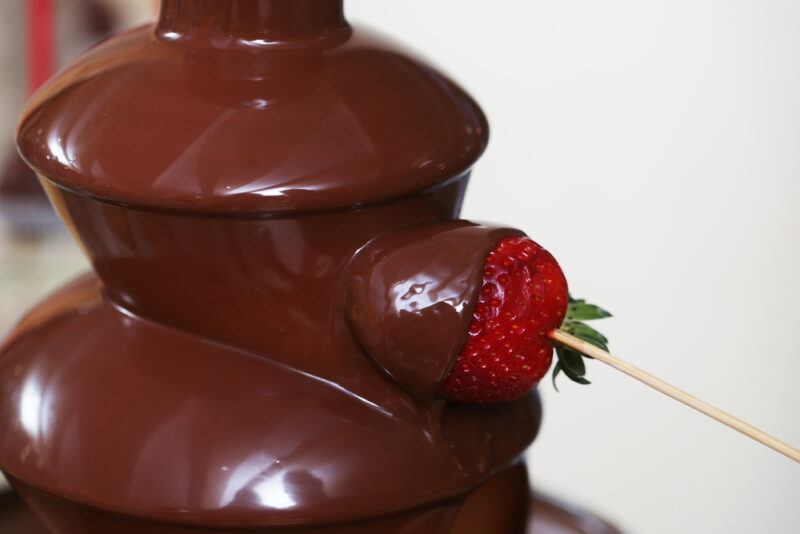 Chocolate fountains are great for girly parties like wedding receptions, baby showers, and tea parties, but they could be served at almost any party where you want to offer a sweet, do-it-yourself snack for guests. Prep a tray of fruit kabobs or plain cookies for guests to dip in the chocolate at will.
Fondue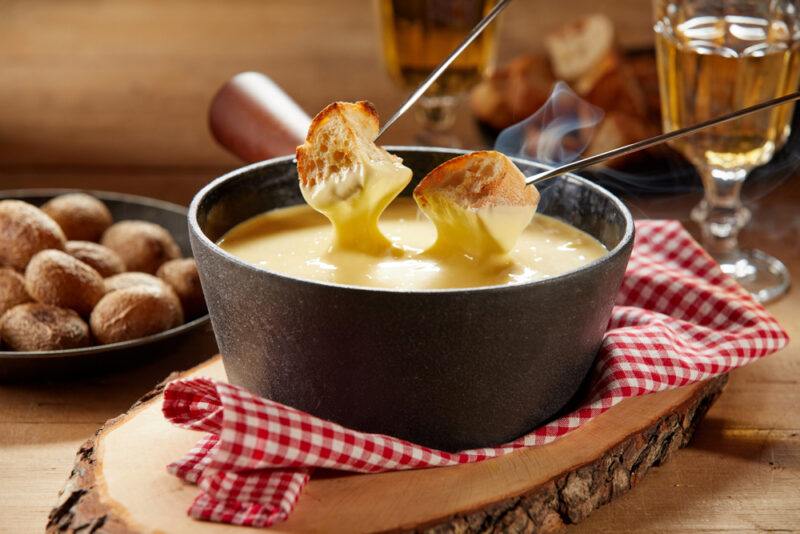 Like chocolate fountains, fondue creates an easy air of elegance. Because fondues are made from cheese, they provide a savory option rather than a sweet one. You could serve cheese fondues with crackers, toasted bread, and vegetables or even cubed meats. As with the chocolate fountain, having kabob sticks or cracker trays ready for your guests could make things easier.
Nuts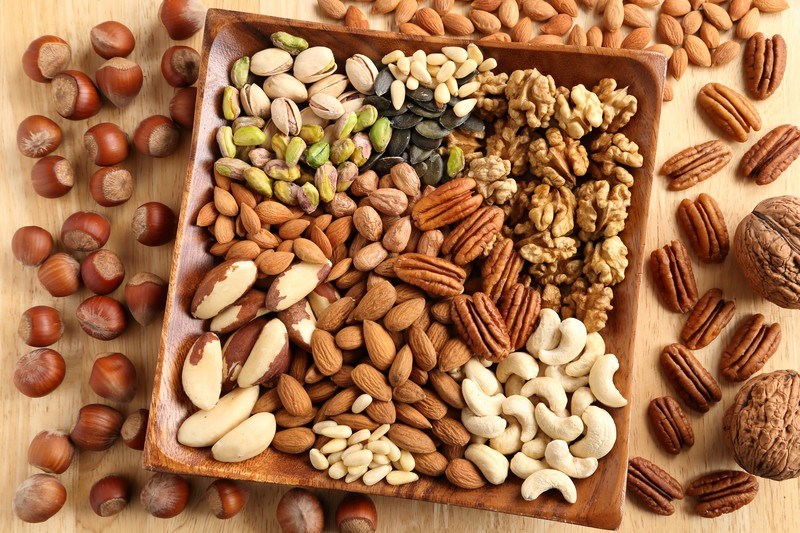 Holiday parties often include nuts, with good reason. They're a savory option to sweets, and they provide protein and healthy fats, too. This makes them an excellent choice to serve at parties where many of your guests live the ketogenic lifestyle or struggle to keep their blood sugar levels in check.
Fruit Salads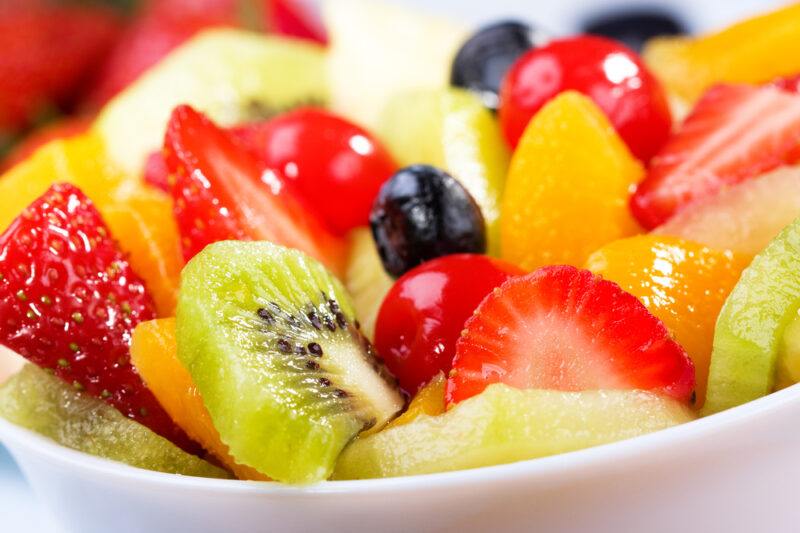 Fruit salads are great for parties because there are so many types to choose from. The simplest fruit salad is one where chopped fruit is mixed together and served plain. Other options include toppings such as whipped cream, cream cheese, sweetened yogurt, or gelatin desserts. Some fruit salad recipes call for other ingredients, such as nuts, cheeses, or marshmallows, too.
Sliders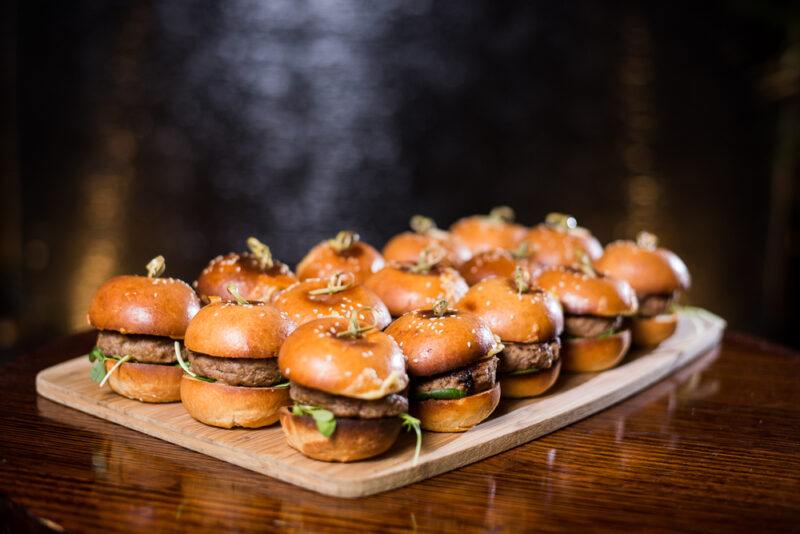 Sliders are a great option for football games or poker night. These tiny sandwiches are fun to make and serve. Once again, they come in a variety of types. You could make tiny burger sliders, ham and cheese sliders, or even chicken salad sliders. You could also make them yourself or buy them pre-made.
Candy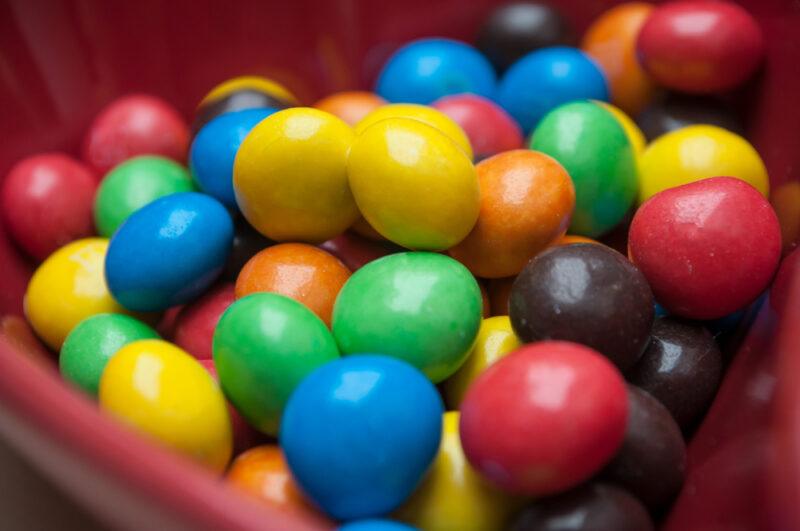 Some parties just need a bowl of candy on the table to be complete. Consider Halloween, with its bowls of fun-size chocolate bars, or Easter, with its pastel jelly beans. One of my favorites is holiday chocolate kisses, arranged under a sprig of mistletoe. Another party favorite is candy-coated chocolate-covered peanuts. They're colorful, bright, and delicious.
Chips And Dips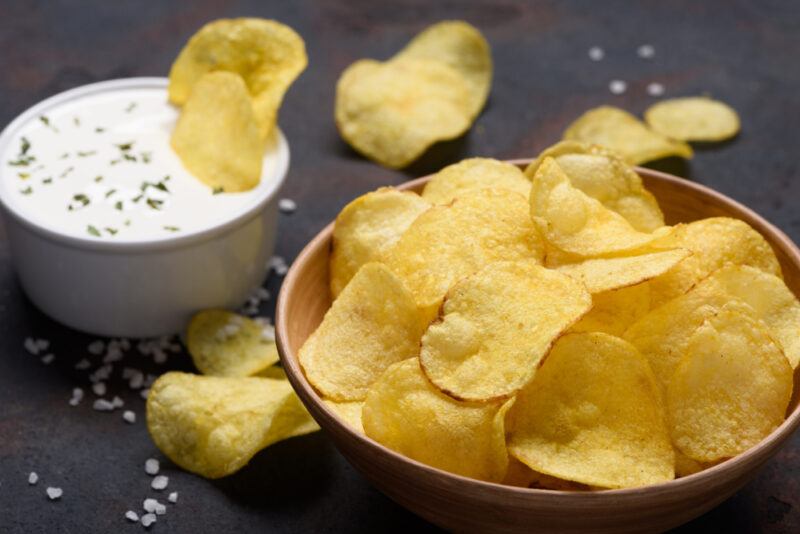 Chips and dips are an easy way to start any party. Just set out a variety of potato chips on a table, along with a variety of dips, and let your guests gather around to chat while they snack. Some fun dips to try to include French onion dip, bacon and bean dip, or ranch dressing dip.
Vegetable Salads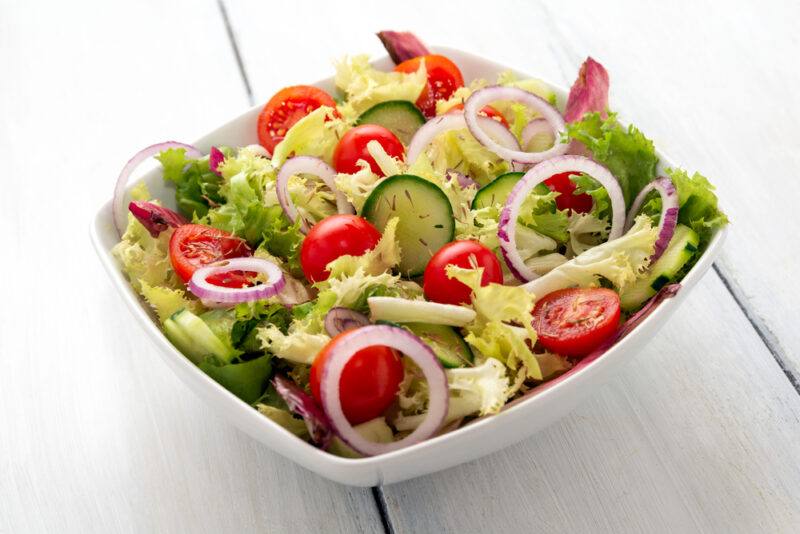 Like fruit salads, vegetable salads are fun to play with for parties. Go beyond the traditional green salad to offer things like spinach strawberry salad, coleslaw, peas and bacon salad, or marinated bean salad. If you're struggling for ideas, ask your local deli for advice.
Popcorn

Popcorn is a staple for movie parties. Buttered popcorn is always a hit, but since popcorn is so versatile, you might consider offering other flavors, too. Try serving cheddar popcorn, white chocolate popcorn, caramel popcorn, or siracha-coated popcorn. For some holidays, such as Halloween, you might consider making popcorn balls, too.
Three Tips For Hosting Hit Parties
Now that you've read through the list of the 25 best snack foods for party people, let's talk about other ways you can throw exciting parties. These tips are quick and easy to use, but they can make a world of difference in your party-throwing prowess.
Tip #1: Theme Your Party
Having a theme, such as a Mexican Fiesta or a Football Watch Party, could help you decide which snacks to serve. It's especially easy for little-known holidays like National Pie Day, where you could easily serve a variety of pies.
Tip #2: Rely On Your Local Deli
If you decide to go with cold cuts and salads, make sure to check in with your local deli. Even if you're making the trays and salads yourself, they may have suggestions for you that will make each platter perfect. If you don't have time to make the trays, many of them can make them for you, too.
Tip #3: Consider Your Guests
As you make your guest list, consider the health concerns and personal preferences of the people you'll be inviting. If you've got diabetic guests, you might want to serve more veggies and less desserts. If someone is allergic to nuts, you'll need to take that into account, too.